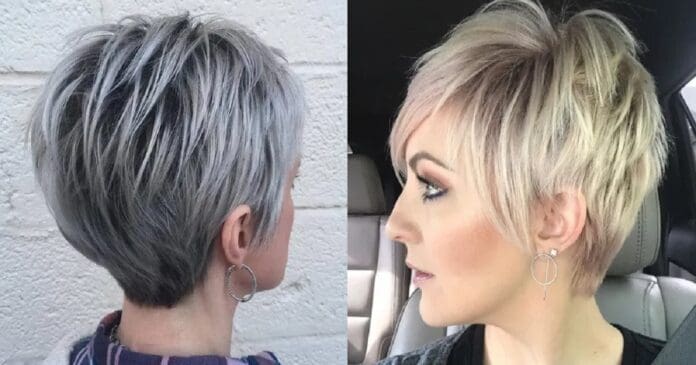 A pixie cut is a short women's haircut you typically see on a fashionably gamine woman. If you are a tomboy at heart or just want to shake things up a bit and don't mind a crop, definitely go for a pixie haircut! You may lose most of your locks but what you gain is a simple wash-and-go style, an added edge to your and lots of compliments.
What Is a Pixie Cut?
Pixie crop or pixie cut is a women's haircut about half an inch to 3-inches in length. It may either be one-length or cut shorter on the back/sides and longer on the top.
Pixie haircuts became popular in the 50s, after the premiere of the Roman Holiday featuring the charming short-haired Audrey Hepburn. In the 60s, actress Mia Farrow and supermodel Twiggy wore the cut as well. Moving to modern day, many celebrities have tried pixies, too, such as Katy Perry, Cara Delevingne, Pamela Anderson, and Miley Cyrus, among others.
Pixie Haircut Benefits
If you are ready for a short crop, here are some reasons to choose a pixie:
It's practical. That means less time and money on styling.
It's expressive. It perfectly frames the face and makes cheekbones pop.
It's ideal for hair color experiments. Less hair to bleach and your tresses quickly regenerate.
As a disadvantage, many point out the lack of versatility. A myth! Just look below in our gallery at how differently short hair may be styled and put that hesitation aside. The only drawback is that a Sunday-bunday and lazy ponytail is not an option.
Best Pixie Cut Ideas for 2020
Modern pixies are often paired with long side bangs or a shorter angled side fringe. They are upgraded with choppy, spiky layers and undercuts. The contrast of lengths, such as long hair on the top and very short tapered sides and back is very in. A great idea for a pixie is to try a new fashionable hair color you've never tried but have always wanted to. Now's the time! Check all these variants and other beautiful ideas — flip through!
#1: Pixie Wedge
Finding a picture of a haircut you kinda dig, can be the foundation for getting your vision across to a stylist. Keeping the top and sides longer than a traditional pixie can add volume, and change the shape accordingly. These small changes make this pixie linger near the borderline of turning into a Dorothy Hamill wedge; a testament to why it will always be a classic cut.
#2: Classic Pixie
The hairstyle you think of when you hear 'short hair', is the classic and timeless pixie cut. Sticking to the classic cut, you may at the same time go for a trendy hair color, such as this gorgeous silver blonde.
#3: Two-Tone Pixie
Normally, there is no such thing as any style being age specific, but a disconnected haircut could be too extreme for the working professional. Modern pixie cut hairstyles may seem too mainstream for someone requiring only a bit of sass, so if it's the case, allow your stylist to add some "neat" texture throughout. Using a little pomade to emphasize the texture will do the trick in adding that missing spunk, and also a bit of shine.
#4: Pixie Bob
A long shaggy pixie cut is the perfect transition if you do decide to start the process of growing out your hair. Having more long hair in front will now give you more color options to play and experiment with.
#5: Disconnected Blonde Balayage Pixie
A longer tapered pixie cut provides enough length to play with texture and color. Try a pixie with long disconnected layers, a soft nape line and piece-y bangs. If you have fine yet dense straight hair, it will look awesome in easy tousled styles with a dab of root-lifting product and a quick blowdry.
#6: Choppy Gray Pixie
The number one reason to be smitten about the pixie cut is its brilliance in versatility. Knowing you can quickly grow out color with shorter hair, means making more confident color choices, and possibly experimenting with the symmetry of your cut.
#7: Razored Cut with Precise Nape and Sideburns
What makes this cute pixie stand out is the combo of wispy layers and precise cuts, basically two contradictory things. Ash blonde layers soften the straight cut nape and angled pieces in front of the ears creating a sophisticated style in a short length that looks 100% feminine.
#8: Bleach Blonde Pixie
Disconnecting a long, razor-cut top section from a significantly shorter undercut is anything but classic. Texture and movement in a haircut make it more enjoyable to style different ways, and help us discover new styling techniques and products we've never needed or used on longer hair.
#9: Pastel and Ash Pixie with Fused Layers
Longer and shorter pieces, deeper and paler hues are fused into a funky pixie haircut that still doesn't go overboard. The faded pink-violet roots provide a perfect background for the swoopy ashy layers. They appear super dimensional and full of air.
#10: Side-Parted Silver Pixie-Bob
A long pixie is certainly all the rage. With bangs, of course. And certainly in a trendy color. This shiny silver is a worthy alternative to the ever popular platinum blonde. Be sure to complete silver hair with bright lips. Simply flawless.
#11: Long Tapered Pixie Cut with Side Bangs
Buttery blonde hair is all well and good, but the latest color trend involves a more ashy finish. Give your long choppy pixie cut a trendy edge with a matte blonde hair color that lets your dark roots show a bit.
#12: Choppy Bowl-Cut Pixie
When you view images like these, you realize that undercut pixies are absolutely the hottest options among short women's haircuts. A nape and sides undercut topped with choppy layers give you a cool badass look. If you can pull it, you should definitely try. No excuses.
#13: Pixie-Bob with Temple Undercut
Half pixie, half undercut bob, the pictured style can be a leader of the trendy edgy haircuts group. Asymmetry is what always makes your hairstyle way more interesting. So does a dimensional two-tone color. And tousled texture.
#14: Undercut Pixie
If you are confused in trying to decide whether you want a softer style opposed to a rough, edgier look, do both! An undercut is the current trend in bringing out your inner bad girl, while still maintaining the lady-like side of you.
#15: Stacked Pixie with V-Cut Nape
If you decide on a voluminous pixie with stacked layers in the back, you'll have to include a shaved nape. A square nape looks blocky and masculine, that's why it's recommended to fade the nape in women's short cuts. Another great solution is a V-cut nape. It adds up to the edginess of your shaggy pixie and works as an unexpected detail drawing attention to your graceful neck line and shoulders.
#16: Long Red Pixie Cut
The phenomenal haircut AND wicked color make this red pixie cut daring, yet manageable for everyday wear. Keeping the color fresh and vibrant is less complicated on shorter do's. Applying a color mousse or toning shampoo is much simpler and less demanding on short hair than it is on longer tresses. This simple maintenance step will assist in maintaining the dynamics of your color.
#17: Uneven Undercut Pixie
Uneven choppy layers that twist and turn on a whim cover the back undercut partially creating a cool asymmetrical half-shaved cut. Play up your pixie with a popular platinum blonde shade. If you boast porcelain skin, you can make the hair shade almost icy.
#18: Side-Parted Blonde Balayage Pixie
This boyish tapered pixie cut is upgraded with long girly bangs and enhanced with a sun-kissed color. Blowdry those bangs with a round brush to achieve the swoopy effect that never goes out of style.