An inverted bob is a longer in the front and shorter in the back haircut. Depending on the way you style it, it can add volume and dimension to your hair, create a perfect geometric shape, elongate or widen your face if necessary, draw attention to your favorite facial features, etc. Whether with straight or textured locks—a bob cut is a perfect canvas for various hairstyles. It's customizable to suit a round, oval, or square face shape. Moving the partition from the center to the side can create a subtle yet visible change to your look. Michelle Summers-Davies, a Matrix Artist ambassador from Wales, UK, shares her expert view on this cut. "Hair texture, hairline, and face shape are factors to consider in getting this cut," she says. "It's vital to ask your stylist about the suitability of this cut with your features and lifestyle." She continues, "The bob haircut is a classic piece that is popular for all ages. Styling this versatile cut means changing it from an inverted to a boxy, chin-length bob or lob." It's imperative to know that for short inverted stacked haircuts, the sides must carry the same angle as the back. "This way, it's easier to avoid producing a heavy baseline. It's also vital for layers to be texturized and not too blunt to add movement and takeaway extra bulk," she adds. A drawback to this cut relates to women with curly or frizzy hair wanting pin-straight hair. "This situation calls for more styling to achieve the desired look," she explains. "Having skills in hairstyling while using good styling tools will solve this drawback." Check out these photos of inspiring short stacked inverted bob hairstyles. Then, share your top 5 picks with your hairstylist!
Inverted Bob for Short Wavy Hair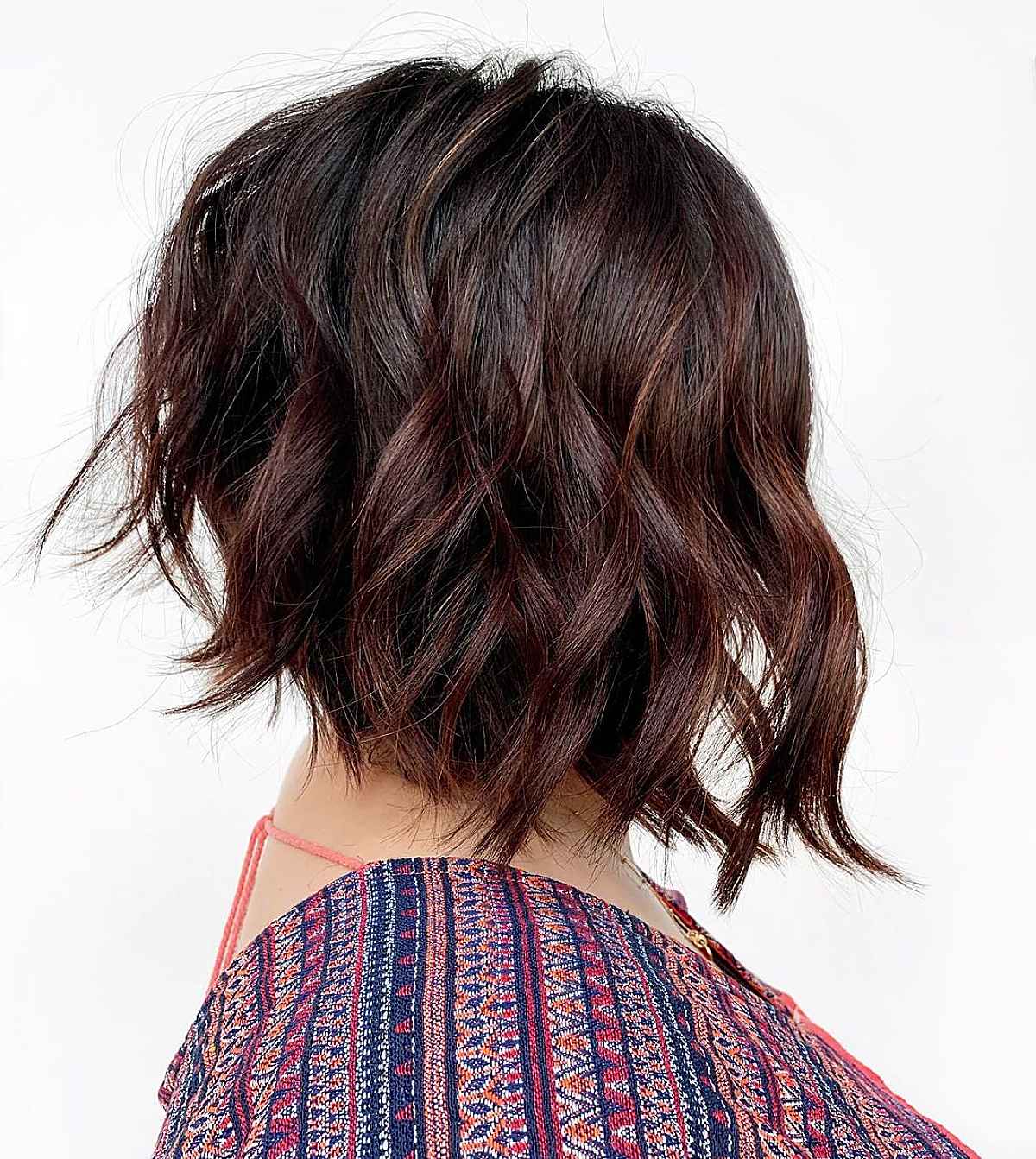 Opt for a chop that's inverted for wavy hair to gain more body and structure. It's ideal for tresses with fine to medium density. It features a sexy, angular perimeter that's perfect for most face shapes. This inverted haircut is such a gem!
Stacked Bob Cut for Curly Hair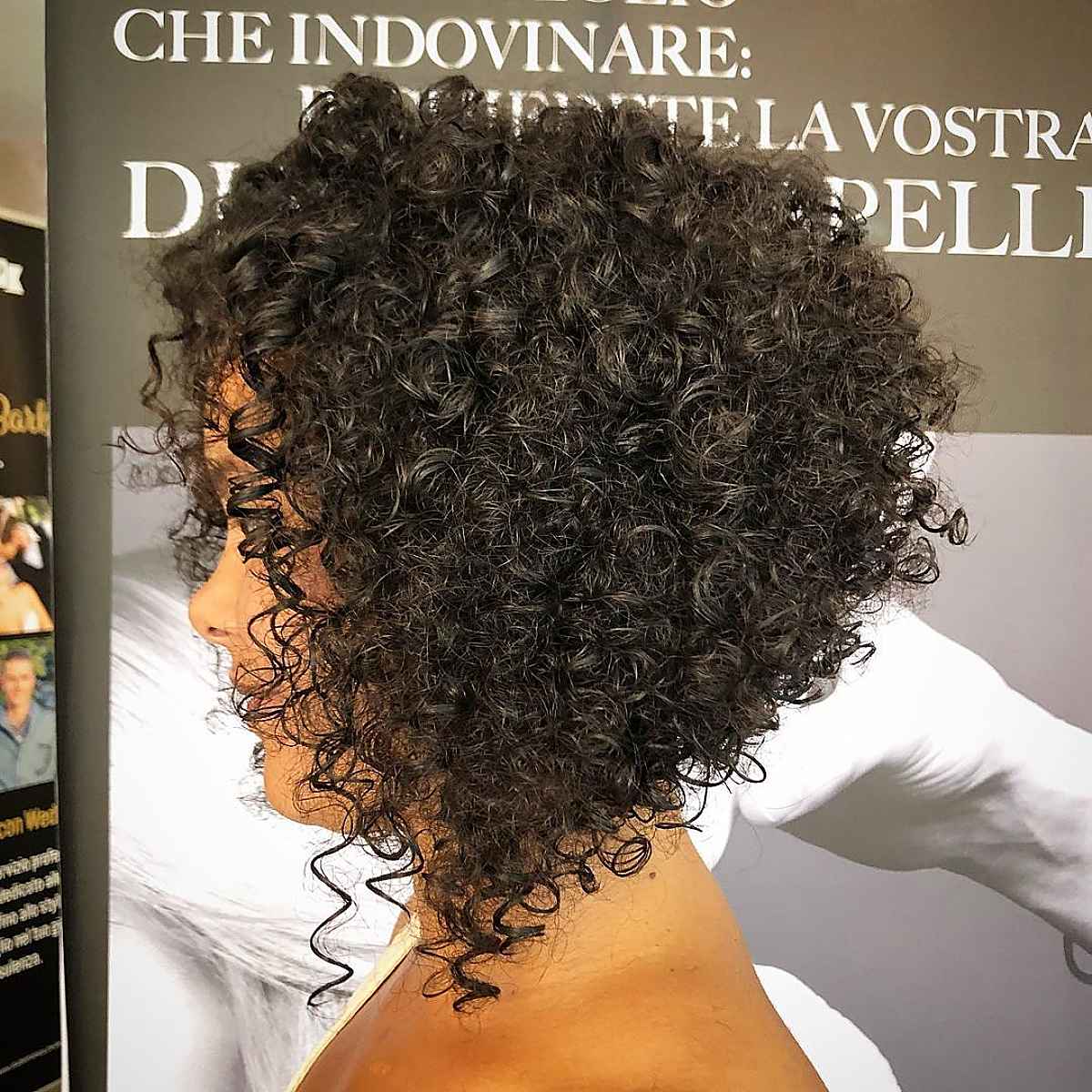 Consider a short stacked bob cut if you have curly hair. To achieve that bouncy-looking shape, go for a dry-cutting technique. This technique creates an accurate result after the haircut. Such a graduated, stacked haircut may require a trim every 6-8 weeks.
Stacked and Shaggy Hair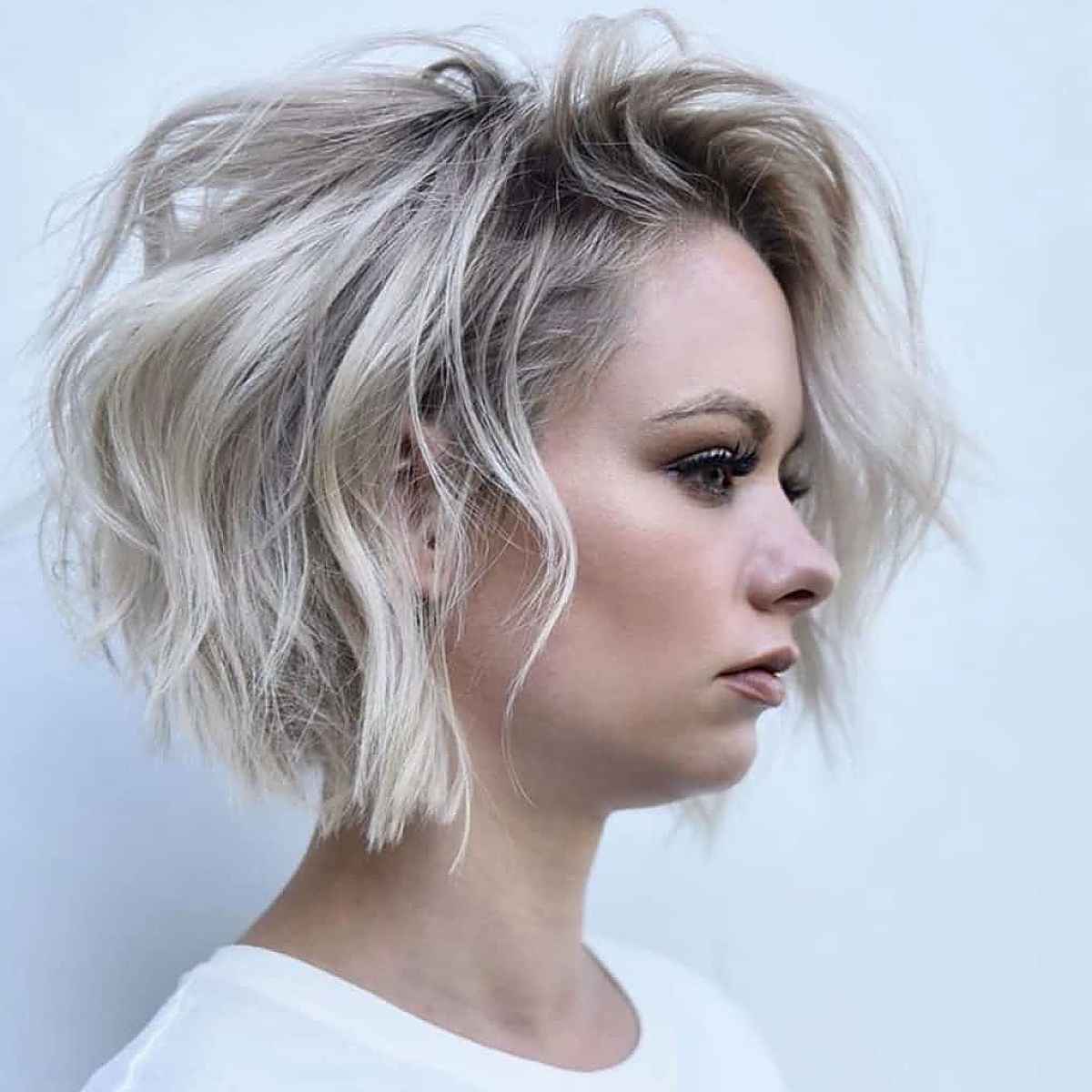 Stacked and shaggy hair makes a short-length cut carefree. It seems so natural, especially with waves to enhance the texture. This short stacked shaggy inverted bob will require styling each day. So, keep your styling tools handy.
Stacked Inverted Chin-Length Haircut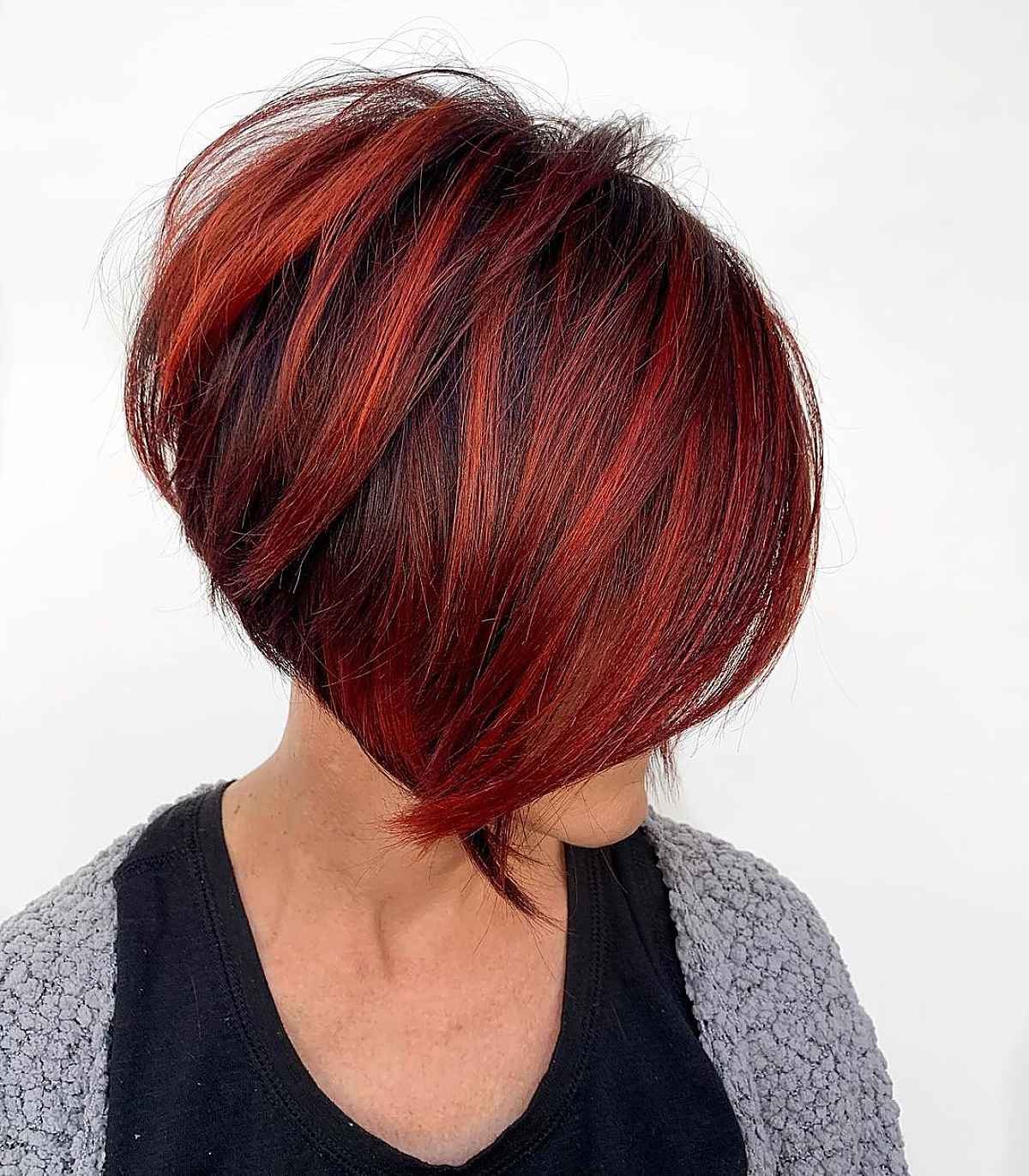 Choose a stacked inverted chin-length bob haircut if you have thin hair. A shorter length is best to give tresses a full-bodied finish. Since hair like this looks great with texture, why not try some blazing red highlights? The result will be epic, for sure.
Dramatic Stacking of Wispy Layers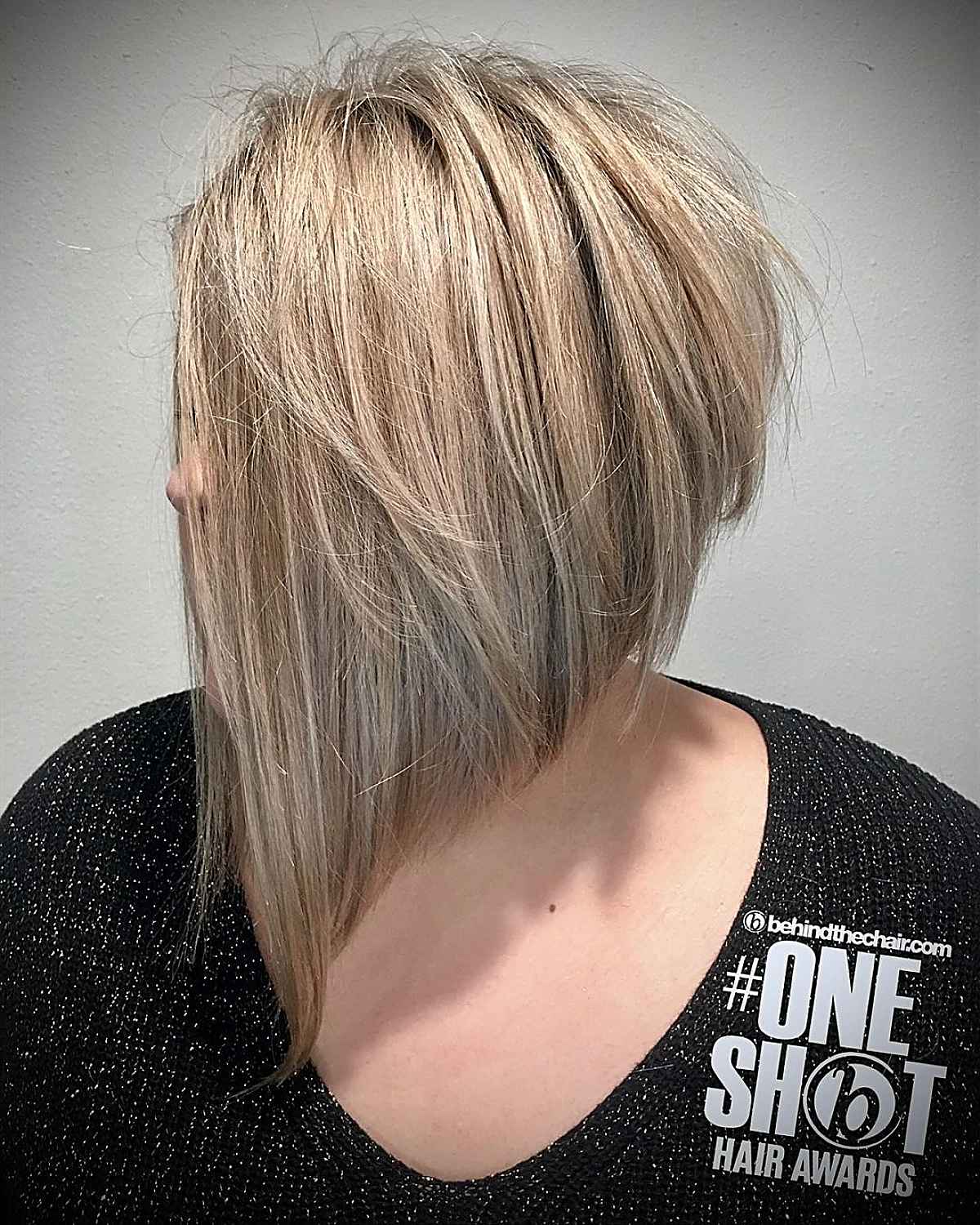 A dramatic stacked bob with wispy layers creates an illusion of volume and texture. The stacking of layers creates a style that thin, fine tresses can enjoy. For a finishing touch, style the hair with a lot of texture. That will accentuate the layers of the chop.
Edgy Nape-Length Inverted Bob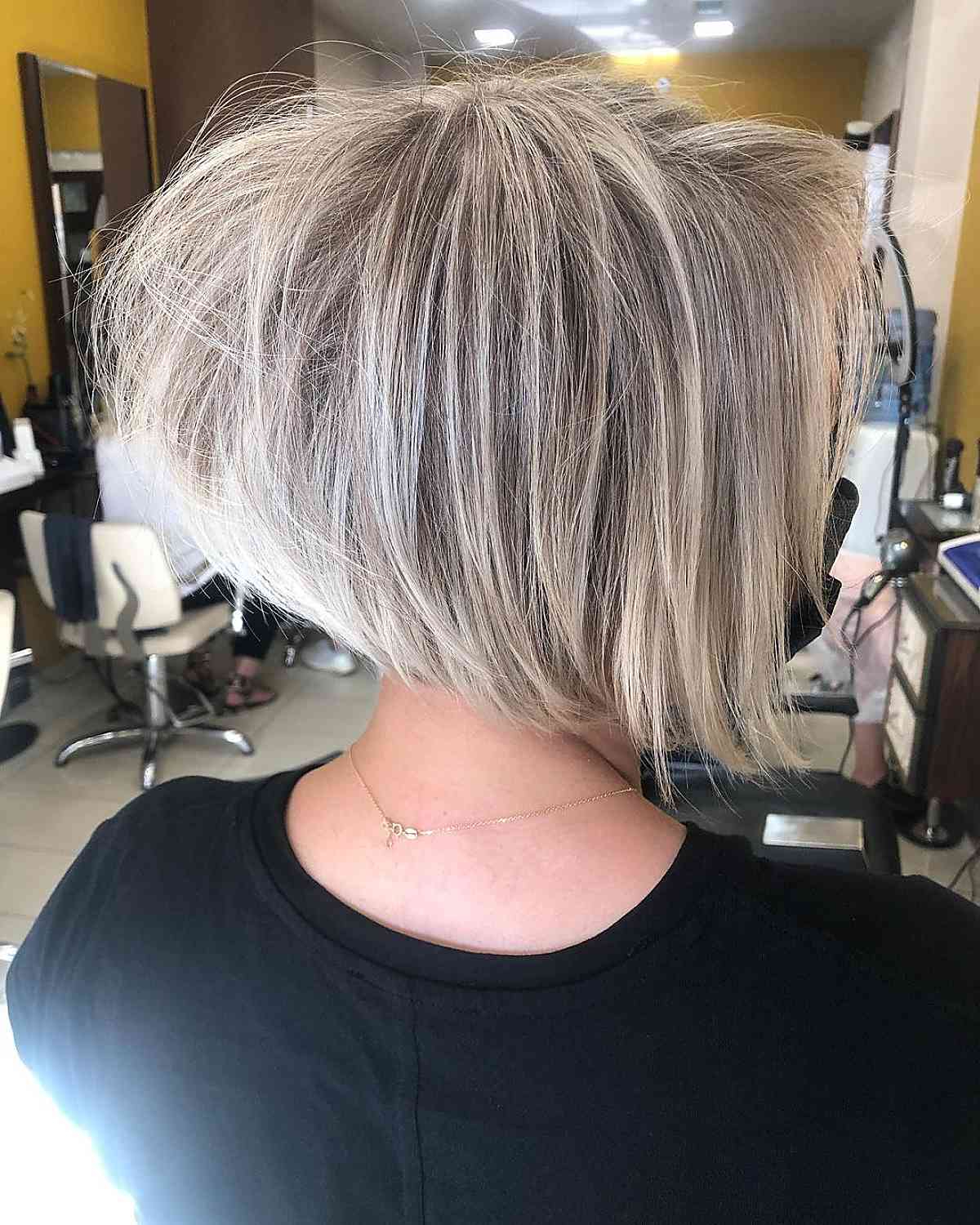 A short and edgy inverted bob with added crown layers that are stacked looks great with a lot of texture. The finish creates a tousled, undone style that's sure to catch attention. What makes this stacked nape-length bob awesome is the ease of manipulating and styling it.
Inverted Bob Cut for Short Thin Hair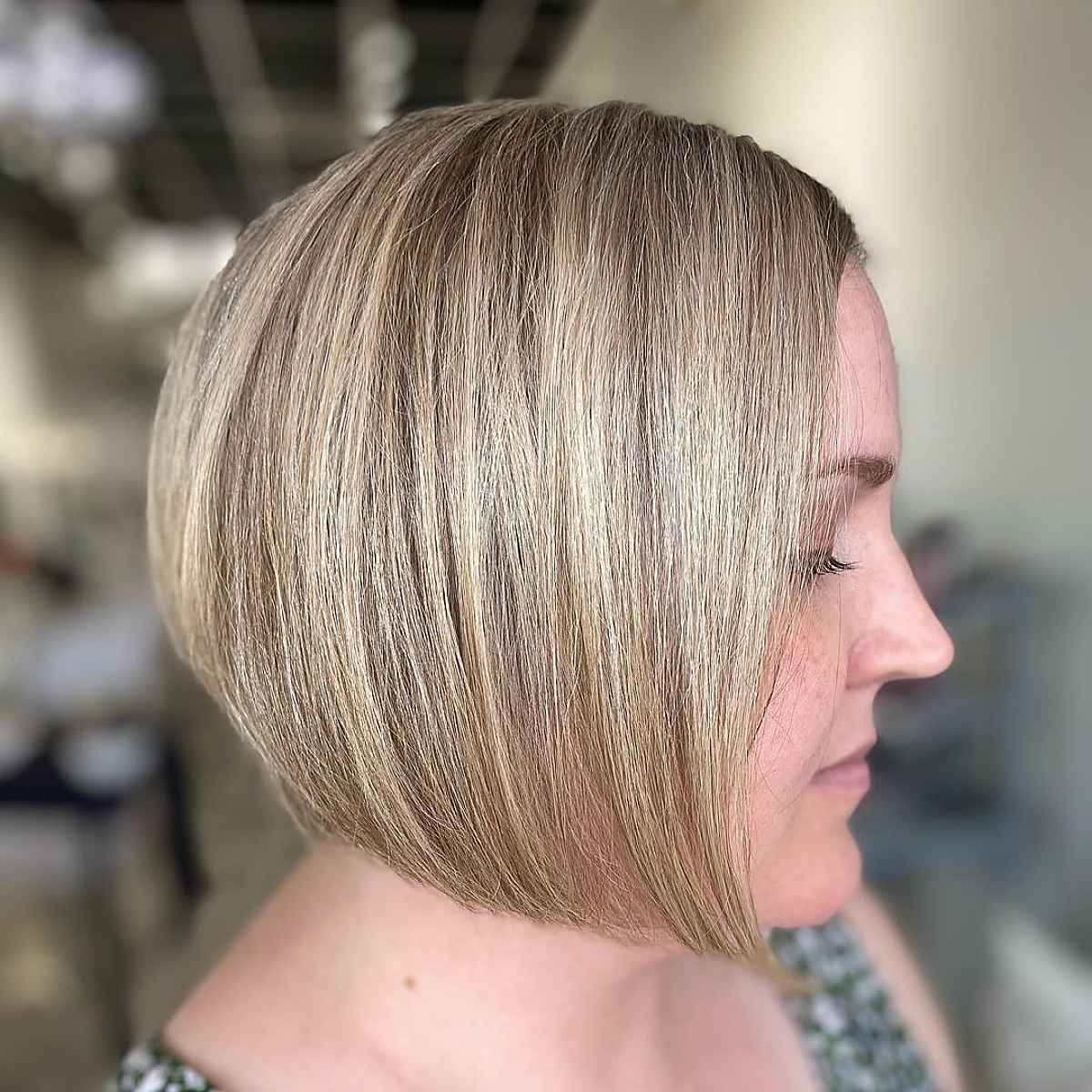 This inverted bob for short, thin hair has stacked layers in the back to create a bulkier shape. It makes an ideal match to take the attention away from the symmetry of a round face shape. It looks classic and older ladies can pull it off the best.
Neck-Length Stacked Inverted Cut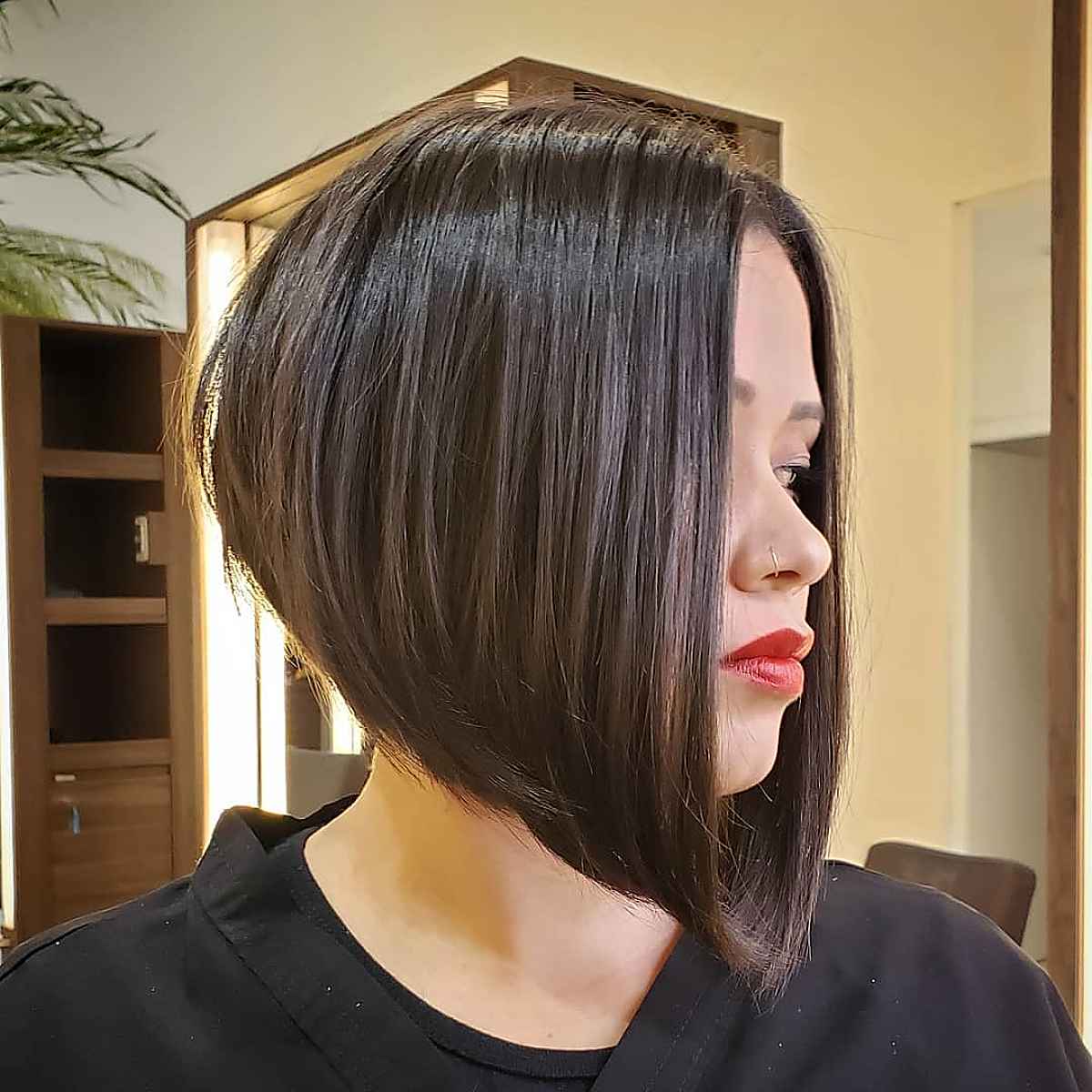 A neck-length cut on a straight, inverted bob is a sassy spin on a classic hair trend. Its sharp perimeter keeps it looking edgy. What's great about it is it works on both thin and thick density.
Stacked Angled Bob Ideal for Thick Hair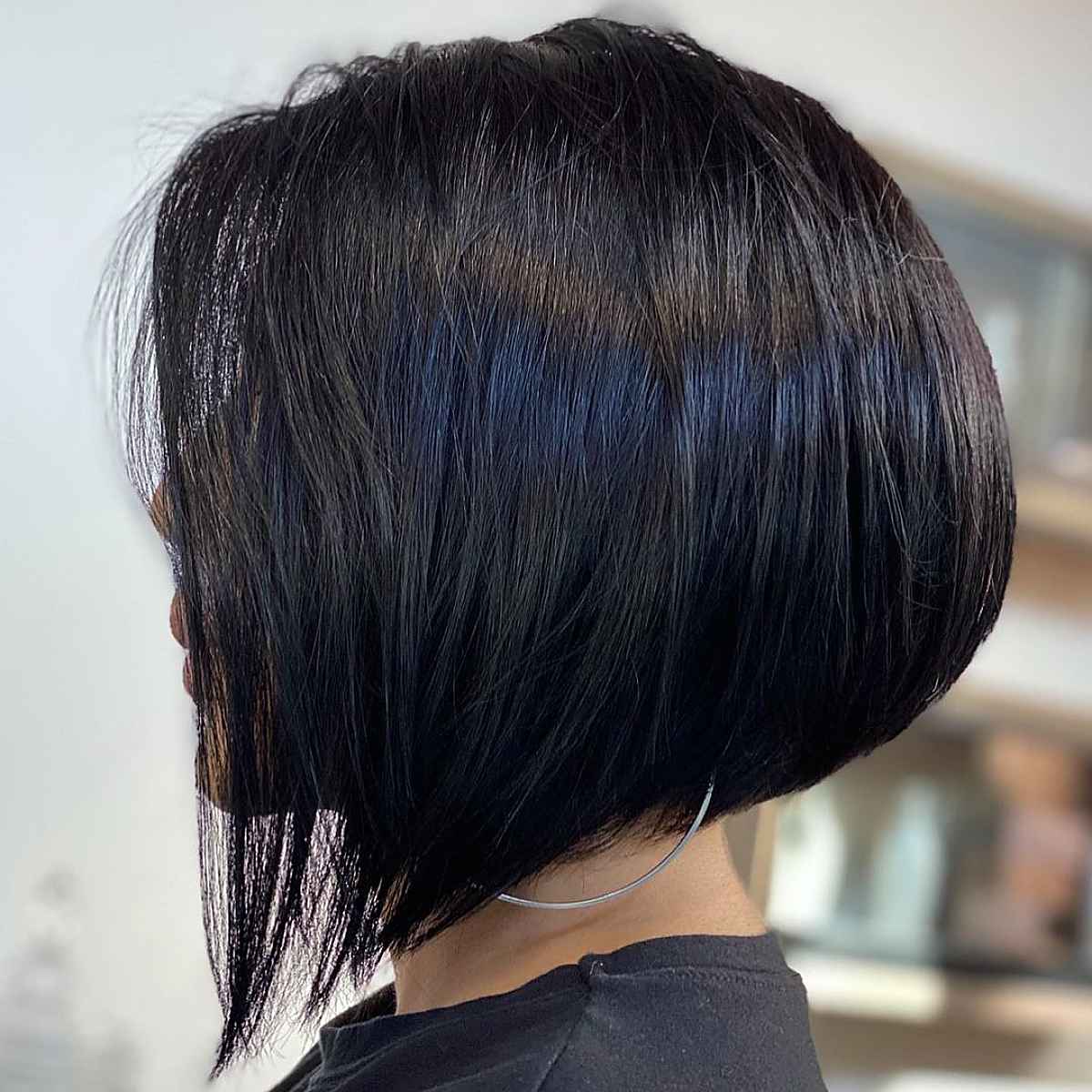 Ideal for thick hair, this short stacked inverted bob removes weight and length. Internal layers help the tresses become weightless. The length grazes the neck to keep the fullness of the locks. Iron the ends when styling and achieve a more polished edge.
Stacked Short Bob for Older Women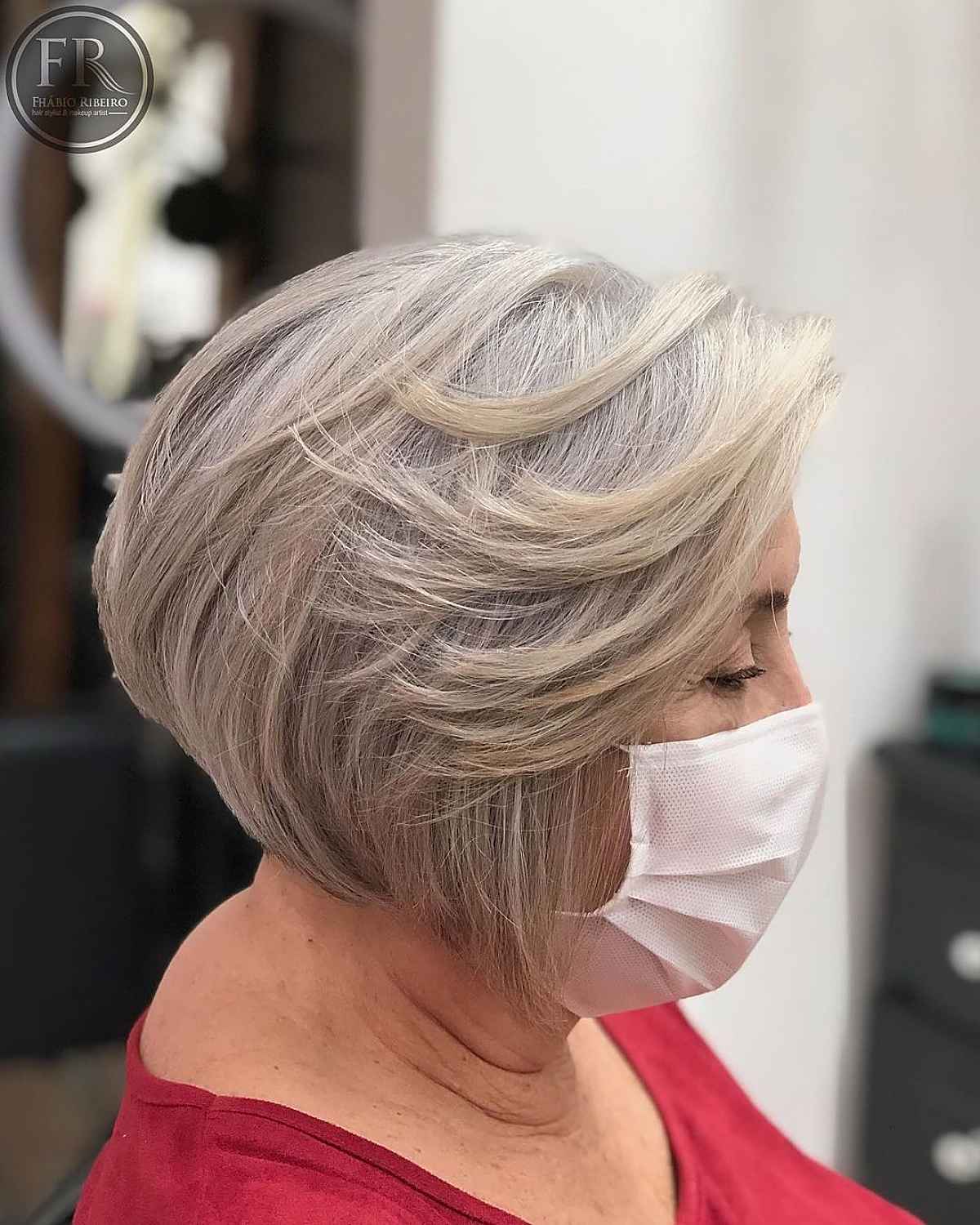 The stacked layers in this short bob are for older women who want to look young and beautiful every day! It offers a rounded shape, so thin tresses can appear bulkier and more voluminous. Go and chop a few strands at the front to create side bangs. The fringe carries out an additional movement, for sure.
Ear-Length Inversion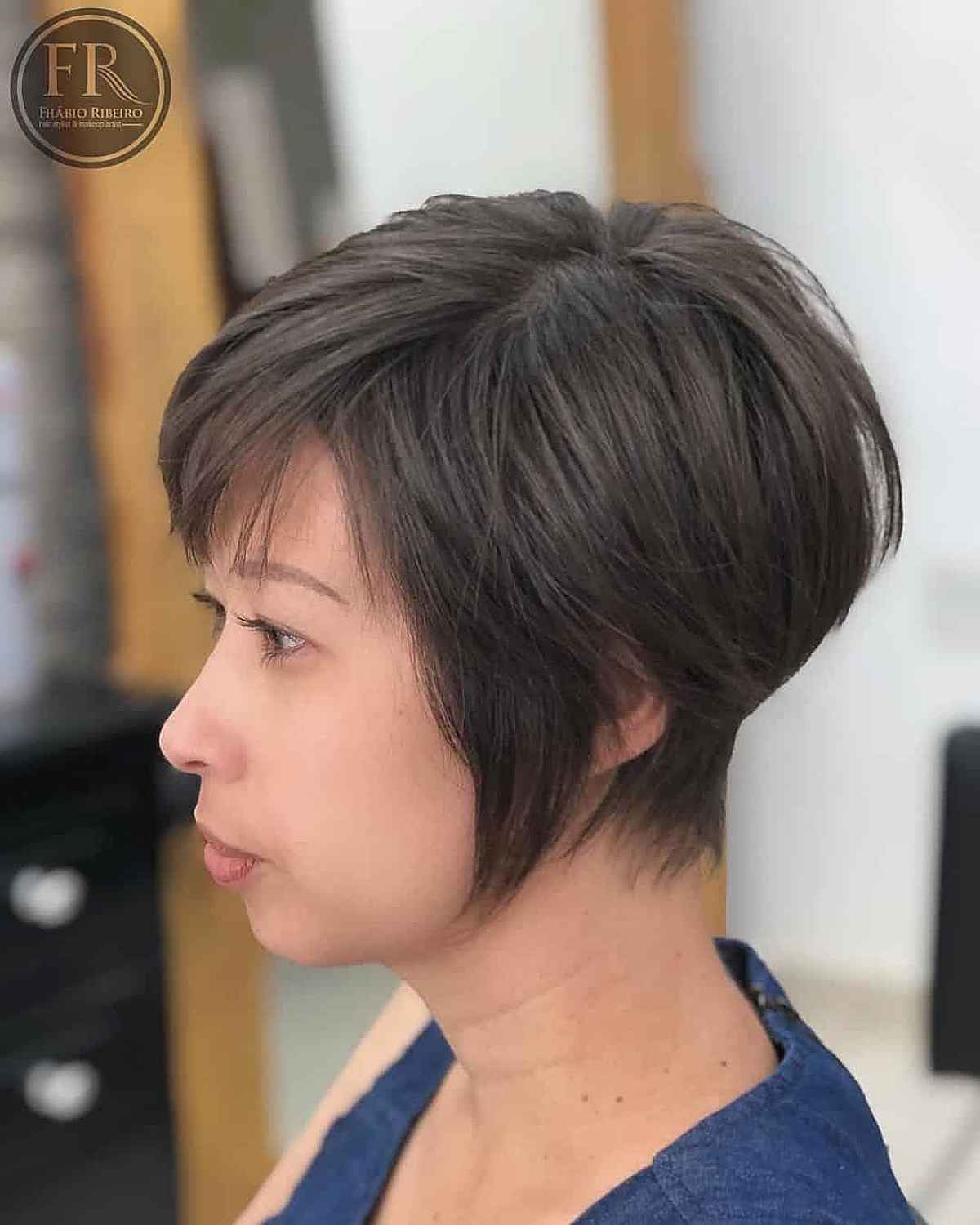 An ear-length inversion is a bob with a stacked nape haircut that features shorter strands at the back and longer ones at the front. A short bob cut can be edgy with lots of texture. But when on straight and fine locks, the finish offers a softer style.