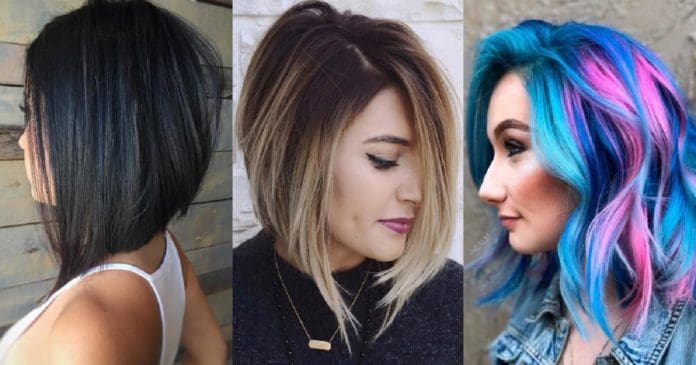 Medium length hairstyles can look amazingly beautiful on every woman. They are especially suitable for the women with thick hair, – and if chosen and styled properly such haircut will add a spark to your appearance becoming the catcher of the delighted looks from all around.
Medium haircuts are perfect for those who got tired of wearing long hair but are hesitant of making too radical changes and getting a very short haircut. Such haircuts look classy, yet stylish, beautiful, yet bold.
There are varieties of mid-length haircuts, and every woman can choose the haircut that best fits her hair type. If your hair is too thick and you have problems with styling it, try shoulder length haircut that can help make your hair more manageable. No matter whether you have curly or straight hair, there is a haircut designed specifically for you.
Now, let's have a close look at medium length hairstyles.
1. Medium Blonde Bob With Longer Sides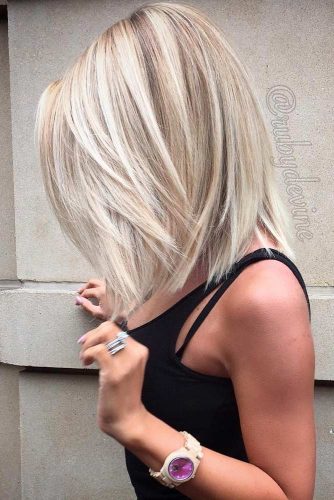 This long bob with longer sides is a perfect hairstyle when considering various medium hairstyles for thick hair. This bold look does require some experimentation, but the end result of a trendy look is well worth the trouble. This style looks well on various hair types but works especially well for straight hair. If you are a natural blonde, then you may want to consider adding the effect of highlighted hair to your look. This will cause your hairstyle to appear more dramatic and interesting. While this style is easily adaptable to the messy look, with a little time and effort, it can be transformed into a stunning, sleek style that will stop onlookers in their tracks.
Source: Rubydevine via Instagram
2. Angled Long Bob Hairstyle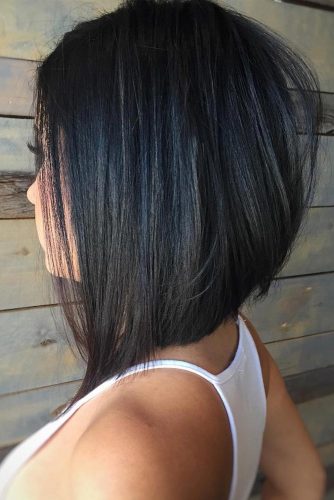 The inverted bob is a favorite hairstyle that has been in for at least a couple of decades. This style looks fantastic on both curly and straight hair. There are several variations of the bob haircut that women tend to rely heavily on as their favorites. If you decide to angle this style more sharply, it will add the whole new air to the look. While this is a rather easy hairstyle to obtain, one of the factors that leads to its popularity would be the "blow and go" due to the fact that it needs little to no styling to look amazing. This style is preferred by women with all hair colors, but it looks especially mysterious on women with black hair.
Source: Hairbyedwin via Instagram
3. Shaggy Medium Length Haircut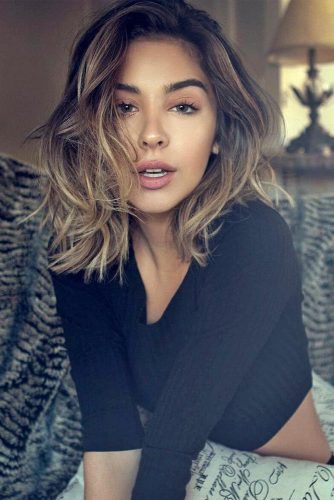 There's nothing quite like hair highlights to give a woman a boost of confidence in her hairstyle. The haircuts that appear the most natural are the shaggy type cuts that are very popular. The long bob haircut in the photo is a beautiful example of a cut created by using the model's natural volume and hair type to accentuate her features. Women with thick hair absolutely love this hairstyle. It's due to its ability to be a hairstyle that has a careless and beautiful look. The layered haircuts always grant the additional volume.
Source: Nadia_mejia via Instagram
4. Medium Length Style With Layered Edges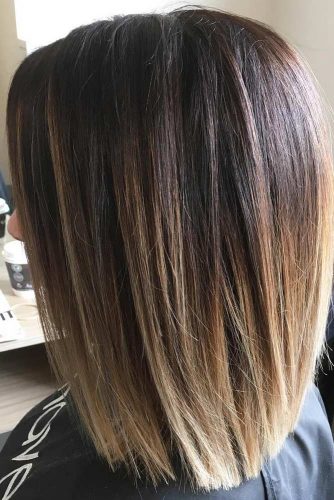 If you're looking for the perfect haircut for your straight hairstyle, this layered edgy cut may be just what you're looking for. If you would like to class up your hairstyle, then adding some highlights or ombre hair accents will do the trick. If you're brave enough to experiment, then you may just find the perfect color to compliment your personality. This is the perfect bob haircut for an easy chic style.
Source: Cutting_edge_hair_room via Instagram
5. Wavy Shoulder Length Bob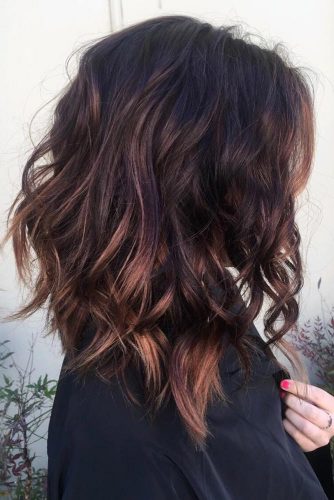 If you have naturally wavy hair, then this is a great option for a shoulder length bob hairstyle. This model's brown hair color has gorgeous low lights. Even if you have straight hair, this style is obtainable by using a curling iron. The layered haircut gives this look tons of volume for a beautiful lustrous look.
Source: Sadiejcre8s via Instagram
6. Hairstyle With Edgy Layers
For women with shoulder length hair finding a style that you would adore could be a difficult process. The reason is that a huge number of various styles is available. Here the layers give this cut a good amount of volume. This is a style that is obtainable with minimum effort. The wavy hairstyle does lean slightly toward the edgy look that becomes more and more popular. The beautiful balayage hair color on this model gives her style a depth and dimension, while the ragged edges give off a fun effect.
Source: Itsjerryanthonyhair via Instagram
7. Fluffy Ends On A Medium Length Haircut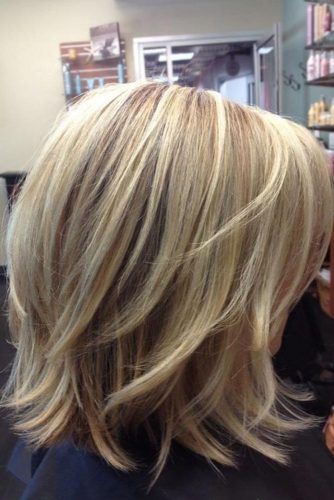 This gorgeous blonde bob is a great style for these warmer months. It has long layers lightening up a thicker hair type and adding volume to a thin hair type. The wispy haphazard ends give this style a soft and appealing look. This shag haircut is a favorite for an easy style. This style is also versatile to be worn by women across a wide age range. It looks phenomenal on everyone. Bob haircuts are timeless, being around for several decades now.
Source: MomFabulousBlog via Pinterest
8. Classic Lob With Bangs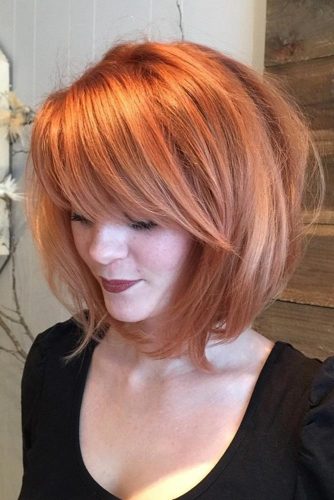 This gorgeous lob haircut has a breath-taking rose blonde hair color that is impeccable. While some people are dead set against any and all hairstyles with bangs, this style is proof that they are gorgeous if paired with the right cut and color. If you are looking to alter your straight hair, you could try a slight elongation toward the front, making this haircut easy to manage.
Source: The Nest Hair Boutique via Facebook
9. Grunge Haircut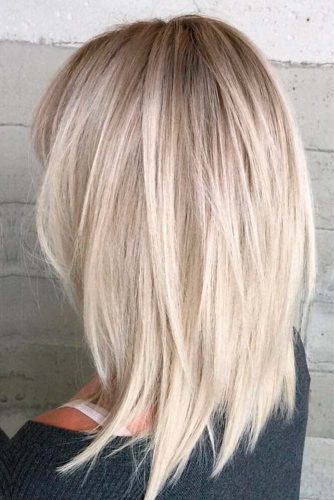 This haircut title – a grunge cut – is a contradiction in terms of speaking about a blonde hair color. When we use the word grunge, we expect a bold color or dark color, but this is proof that a grunge cut will work for any hair color out there. This straight hairstyle has a slightly messy aura and it has been made more popular by the Hollywood elite. Among layered haircuts, this is one that adds a slight amount of volume but still blends beautifully with the length.
Source: Harttofcolor via Instagram
10. Shoulder-Length Layered Lob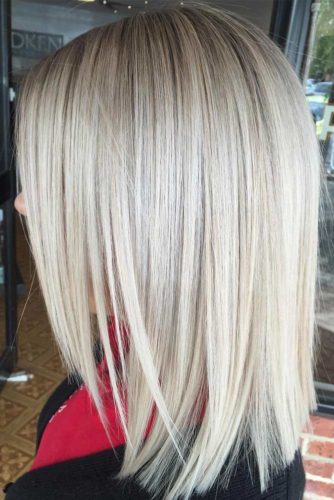 For those who refuse to let go of their length, here is an option with a platinum blonde color job. This long bob also called a lob is a beautiful cut that works exceptionally well on straight hairstyles. While women with thick hair have an easier time pulling this cut off, it is still attainable by women with thin hair. If you are seeking a more sophisticated look, simply add in some layers to your cut. This type of cut is on the long end of the bob haircuts spectrum and borderlines being considered long hair.
Source: Hairbymelissamelbourne via Instagram
11. Careless Hairstyle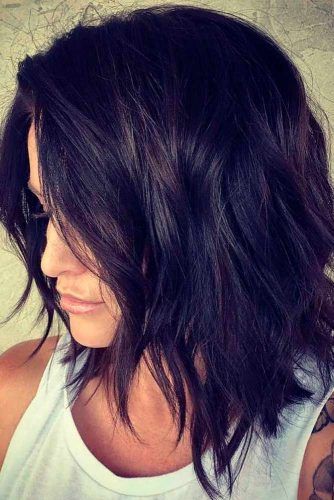 Let your hair be not too ideal and flow carelessly. Let the whole world see your wild and adventurous nature. You can wear it with or without bangs! Go for a walk and let the wind create even more mess with your hair!
Source: cortes_de_cabello via Instagram
12. Balayage Sexy Hairstyle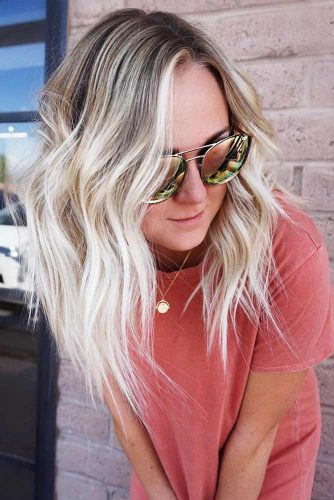 Combine your mid-length hair with balayage, and you are ready to have a summer rest. It looks cute and sexy. Go to the beach, party or a restaurant, – your hair will look incredible!
Source: riyathai87 via Instagram
13. Bright Balayage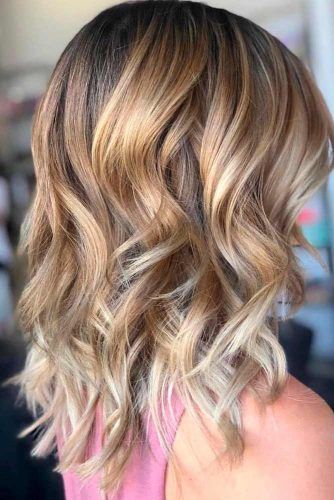 When the summer comes, everyone looks for some brighter colors, so why not dye your hair with some brighter colors for a stunning summer look? Choose your favorite bright colors and let your hair shine in the sun!
Source: butterflyloftsalon via Instagram
14. Asymmetrical Bob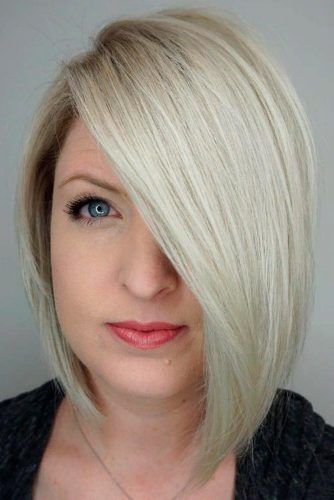 Want to experiment with your hairstyle? Then why not try asymmetrical bob to show off your experimental and adventurous nature? This kind of hairstyle gives a lot of room for variety and can be worn slightly differently every day.
Source: emilyandersonstyling via Instagram
15. Trendy Undercut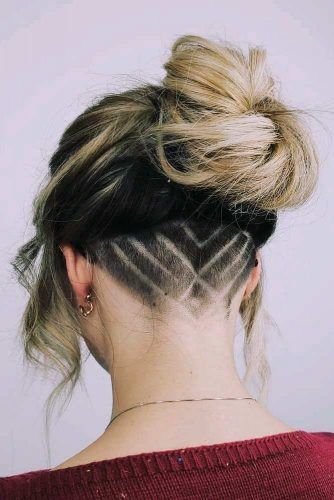 Undercuts are very popular this year. You can change your image according to the mood. To do this, just part the hair or gather it in a top knot.
Source: kyliesummershair via Instagram
16. Sweet Colored Waves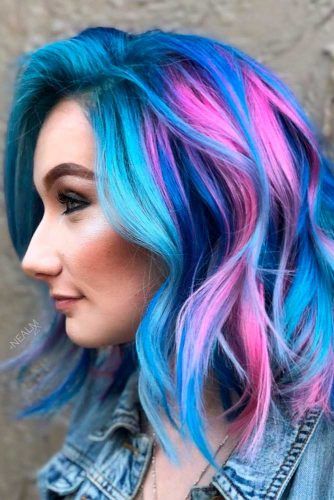 Soft pink shades will help you create a cute but bright look. Ideal for more daring ladies.
Source: nealmhair via Instagram
17. Edgy A-line Bob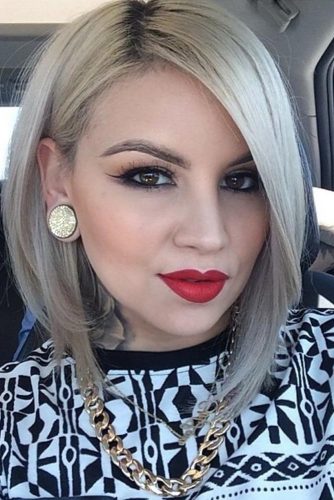 This look will especially suit the women with a round or square face as it creates an oval silhouette and adds overall cuteness. This cut can be styled in a different ways leaving a lot of room for experimentation.
Source: Loveoleander via Pinterest
18. Sexy Look With Side Swept Bangs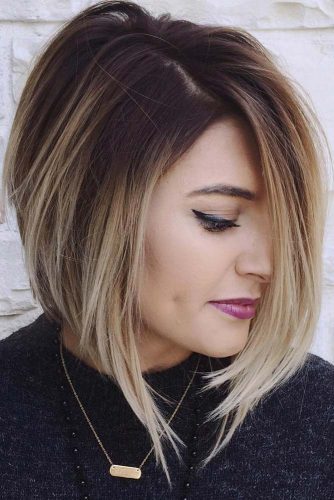 Side swept long bangs create an asymmetrical effect that gives you a sexy and irresistible look. With some bold makeup added, you will definitely rock the scene.
Source: Hairbyjessica_ via Instagram
19. Hairstyle With Swoopy Layers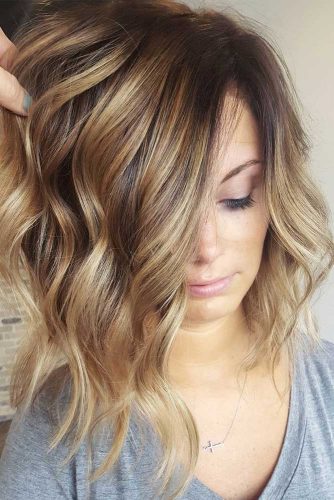 Add swoopy layers to your bob if you want to have a more dynamic look. Depending on your hair color, add some highlights or lowlights to add the texture to your hair. Such hairstyle looks interesting and adds a spice to your overall image.
Source: Mikaatbhc via Instagram
20. Wavy, Shoulder Length Cut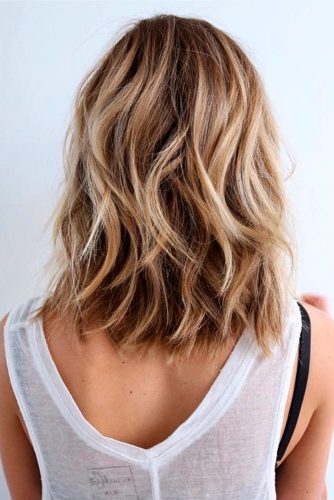 Shoulder length bob looks especially gorgeous with the wavy hair. Let your waves fall restlessly from the mane to the shoulders and create careless, yet sophisticated look. Such a look creates a retro vibe and is especially good for women who enjoy 1940's style.
Source: Anhcotran via Instagram
21. Medium Haircut For Curly, Thick Hair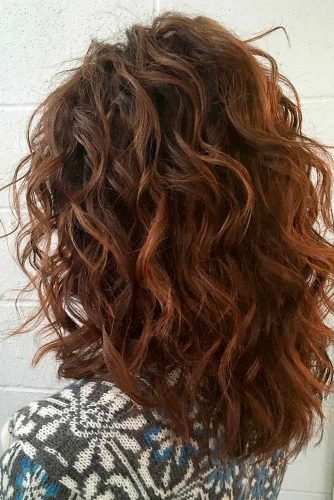 Women with naturally curly hair can achieve a stunning look by adding proper layers to shape and define shoulder length hair. If you want to give more dimension to your hair, you could try some bold color, for example, a cherry red with darker roots, a honey blonde to frame your face or any other color.
Source: Freeelancing via Instagram