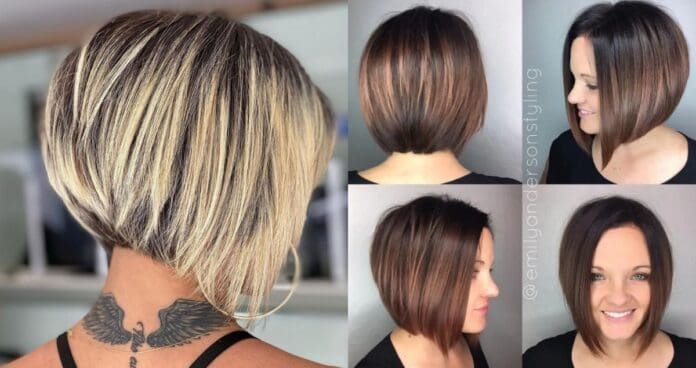 Hailing from the classic 60s, the stacked bob is a shorter haircut that makes use of precisely cut graduated layers to create a rounded, full-bodied shape at the back of the head. Stacked bobs can be mid-length, super short, or with cute bangs, and this versatility is the reason why it never goes out style!
Look up to fashion stars Victoria Beckham, Jenny McCarthy, Evan Rachel Wood, and Halle Berry and how they pulled off a short bob that's stacked and made it timeless! What's exciting is that their stylish stacked bobs can now be easily duplicated in a variety of style.
Color and haircut specialist Daisy Villa from San Diego, California wows her clients with how she brings out the best version of their short hair regardless of their hair types – curly, straight, and wavy – the results are unfailingly super chic and cute!
Based on your face shape, desired length, and hair density, your hairdresser can also incorporate highlights, bangs, an A-line, or an undercut to suit your personality. Consider this your ultimate hairstyle change that's surely flattering no matter your age and character.
If you are in search of a trendy short 'do, then check out this list of popular short, stacked bob haircuts!
Short Stacked Bob For Thick Hair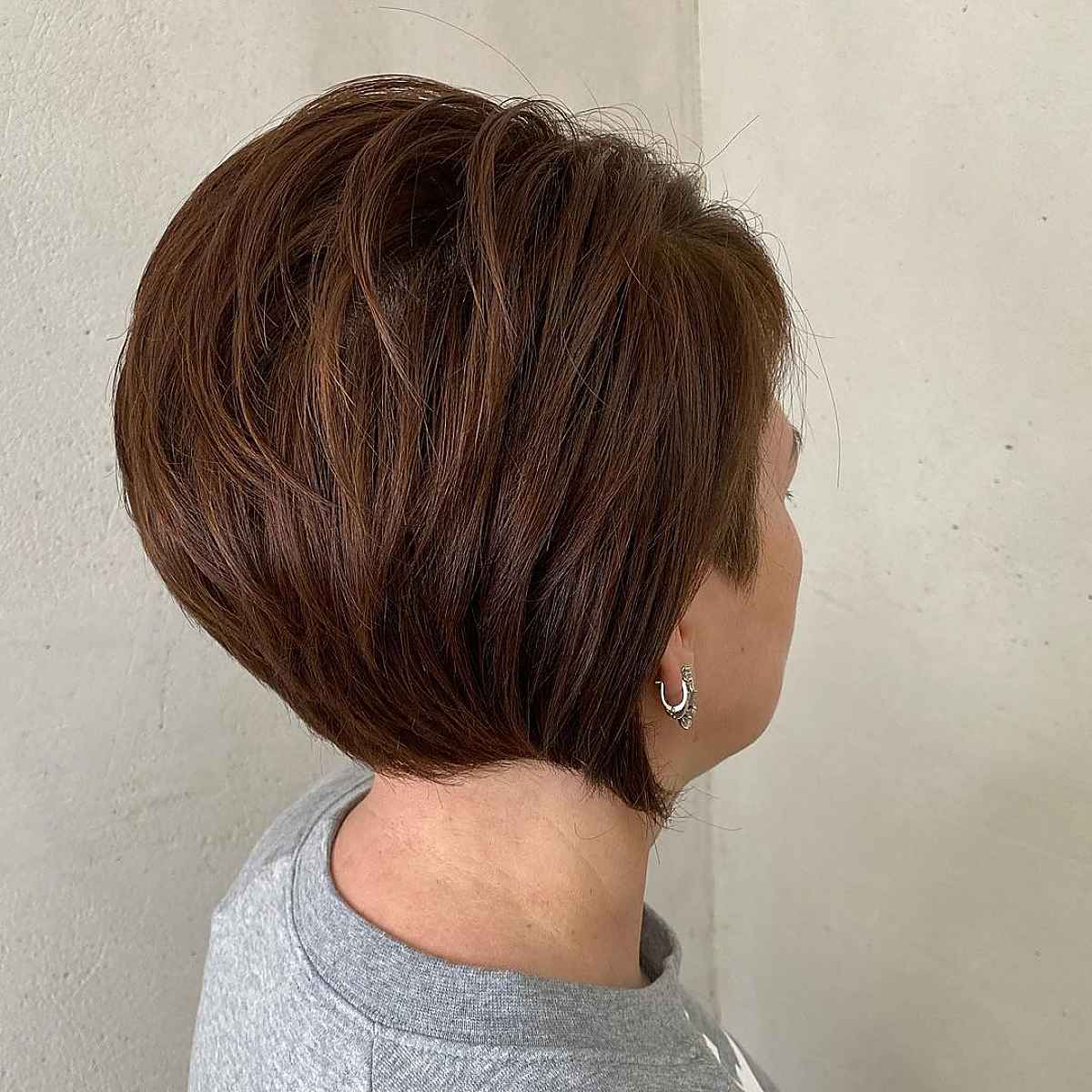 Instagram @nikitenko_elen_
Spice up your thick bob by giving it a warm amber color. If you're being adventurous, you can style wavy curls at the ends to create more texture in your stacked hairstyles.
Stacked Bob for Older Women with Short Hair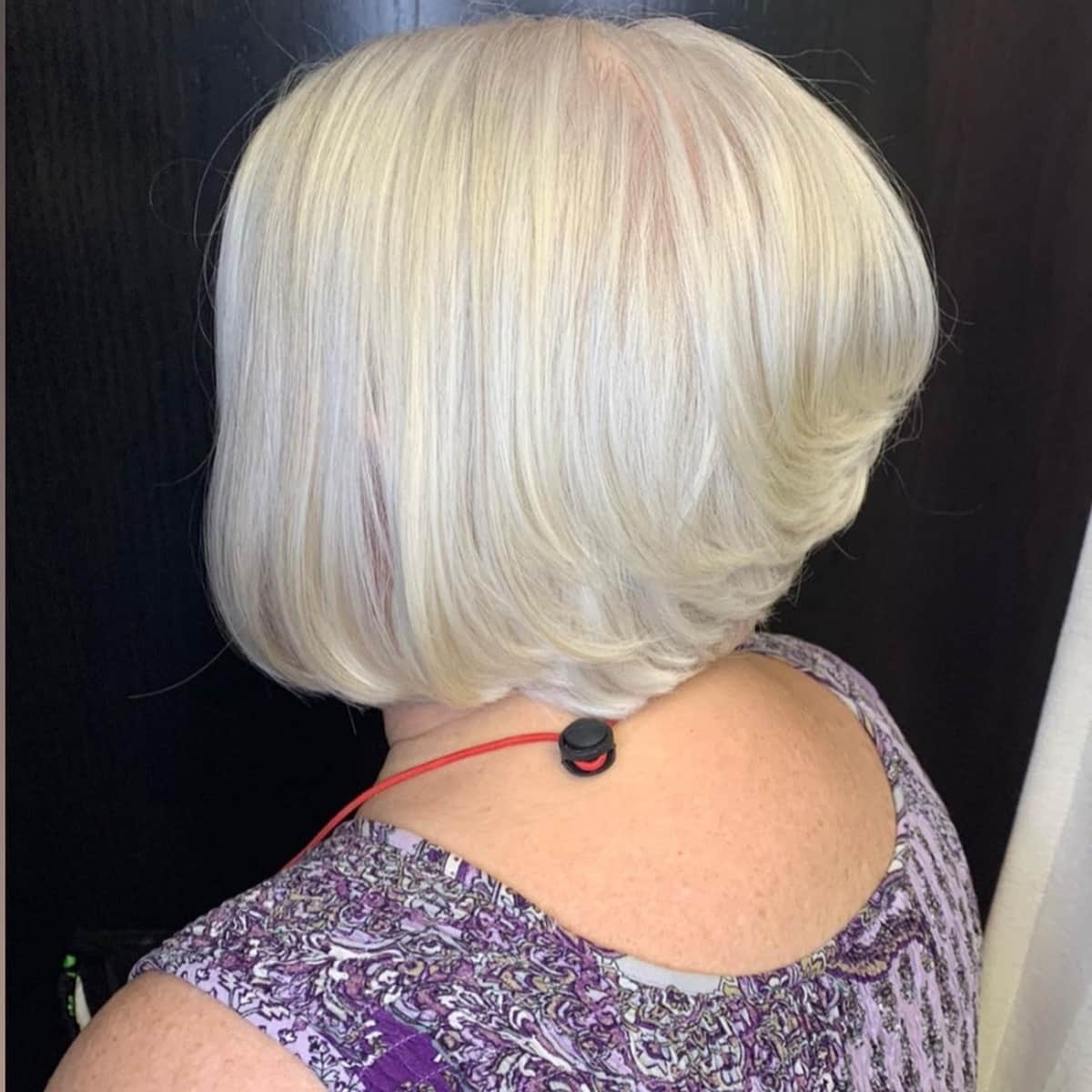 Instagram @fearlessbeautybyidalesse
A stacked bob for older women with short hair is a great option for women who are experiencing some thinning on their hair. Add soft layers and texture for added volume. When styling, add Aveda Smooth Infusion into a boar bristle brush when blow-drying for a smooth, sleek finish.
Wedge Stacked Bob for Women Over 70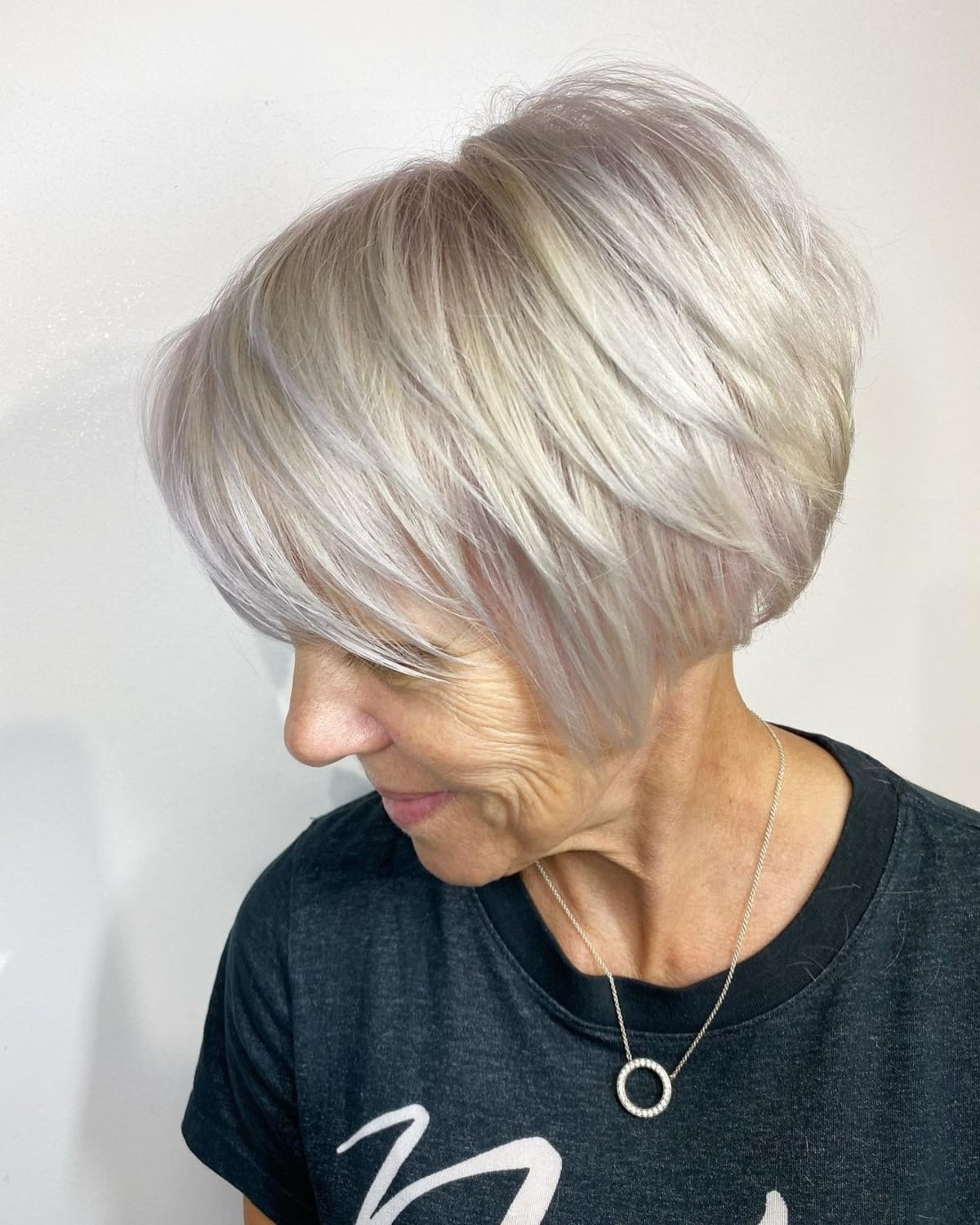 Instagram @brits_elizabeth
A wedge stacked bob for women over 70 is perfect for creating a fuller style for fine hair. If you're looking to be bold, adding a touch of lilac coloring just makes it more fun!
Silver Stacked Bob for Women Over 60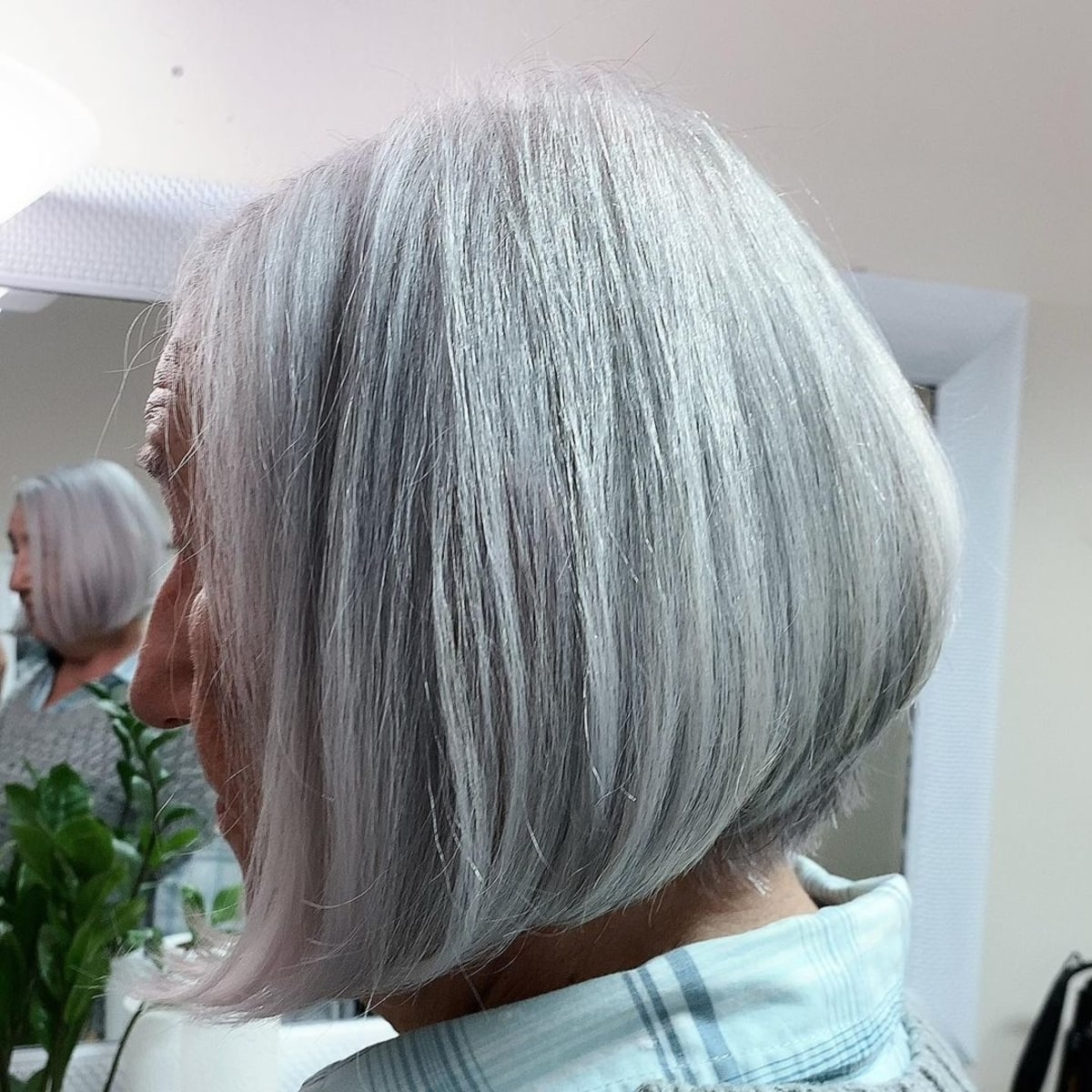 Instagram @ninis_hairstudio
A silver stacked bob for women over 60 is absolutely perfect. The long layers and short undercut allows for easy styling and maintenance.
Feathered Stacked Bob with Piece-y Layers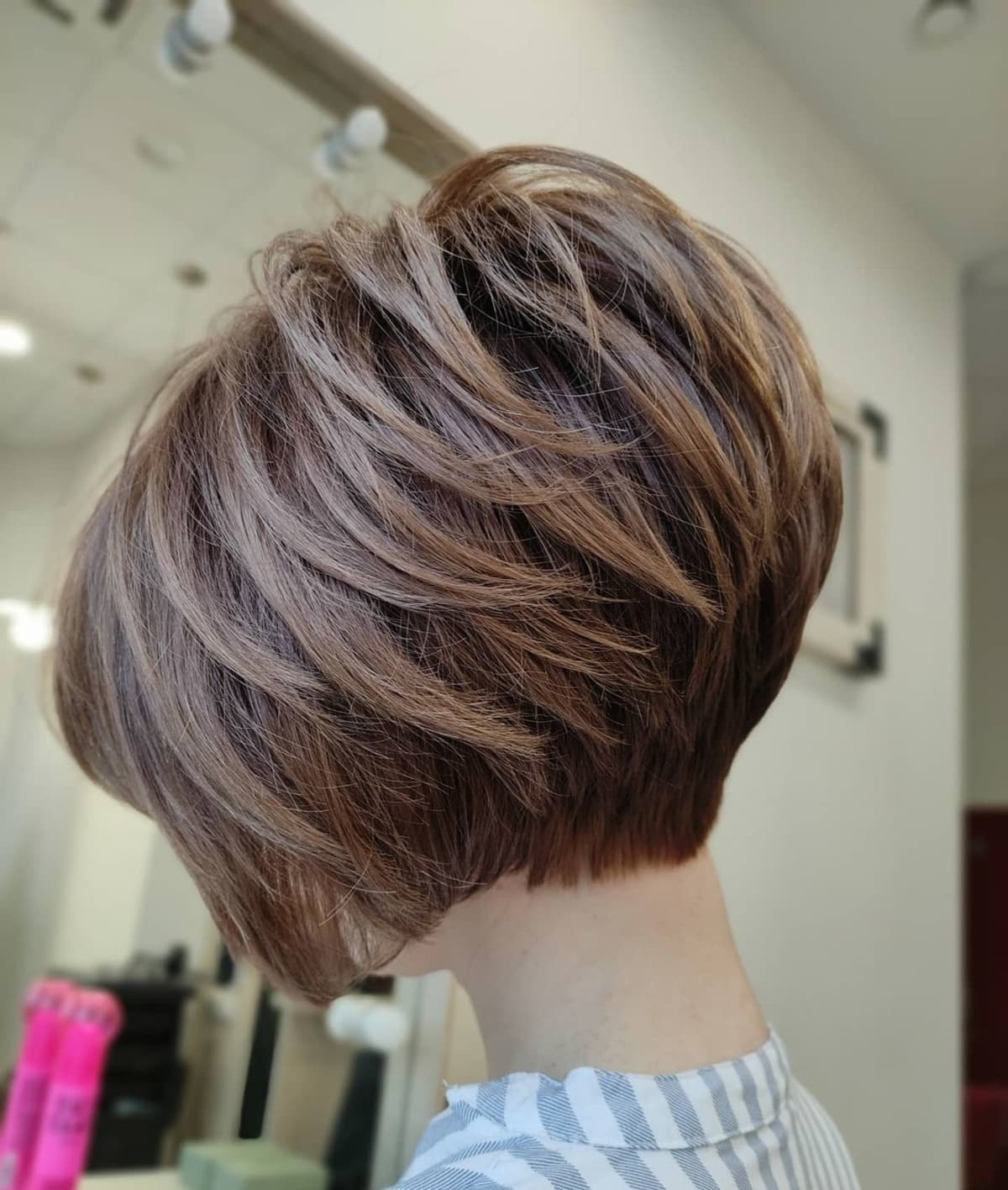 Instagram @aheadhairmedia
A feathered stacked bob has graduation in the nape, and lots of piece-y layers throughout. A cut such as this will need some maintenance. A five or six week trim should do the trick.
Stacked Bob with a Nice Back View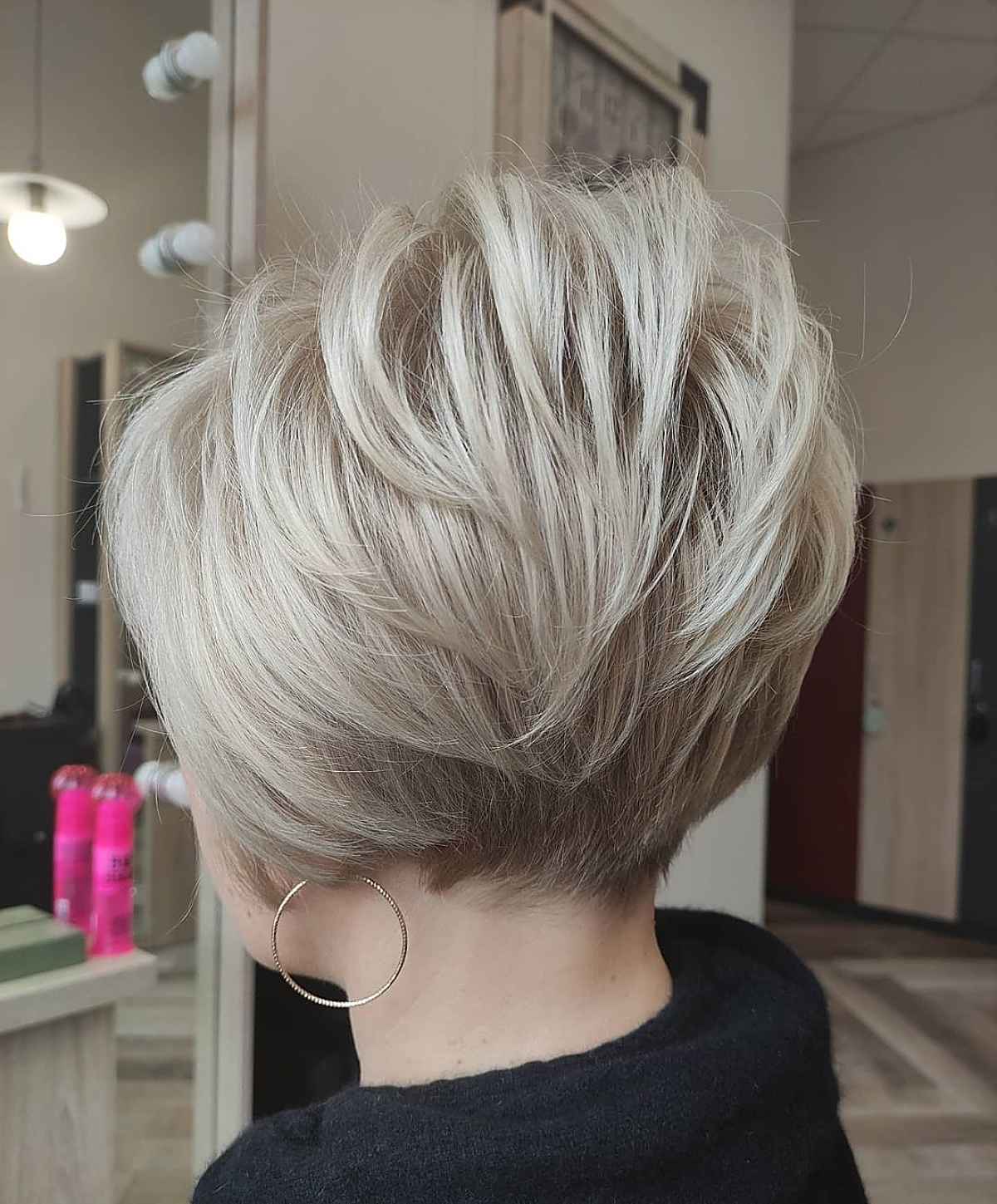 Instagram @lara_stelmashuk
A refined short, stacked bob haircut that is both attractive at the back and front is one to try out! Get the look by straightening out your hair and brushing it inwards to achieve a rounded look.
Inverted Stacked Bob for Thin Hair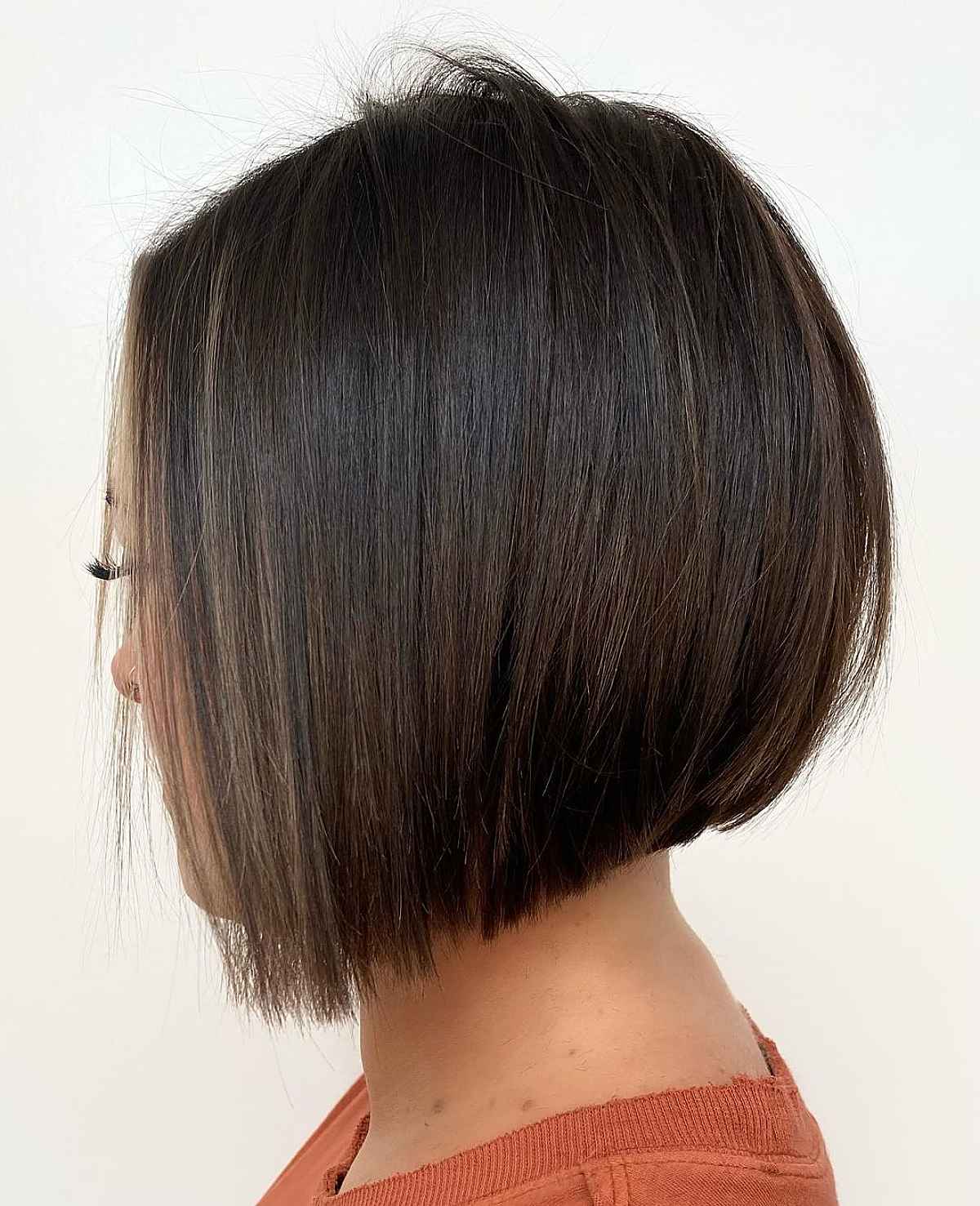 Instagram @shmoakin_hair
A short stacked bob with layers is more fun as you explore multiple stacks of short hair that are sure to rack up your hair's volume. The longer hair at the front gives a flattering effect on this short stacked bob for thin hair that is sure to complement your hairstyle and color.
Stacked Bob for Fine Hair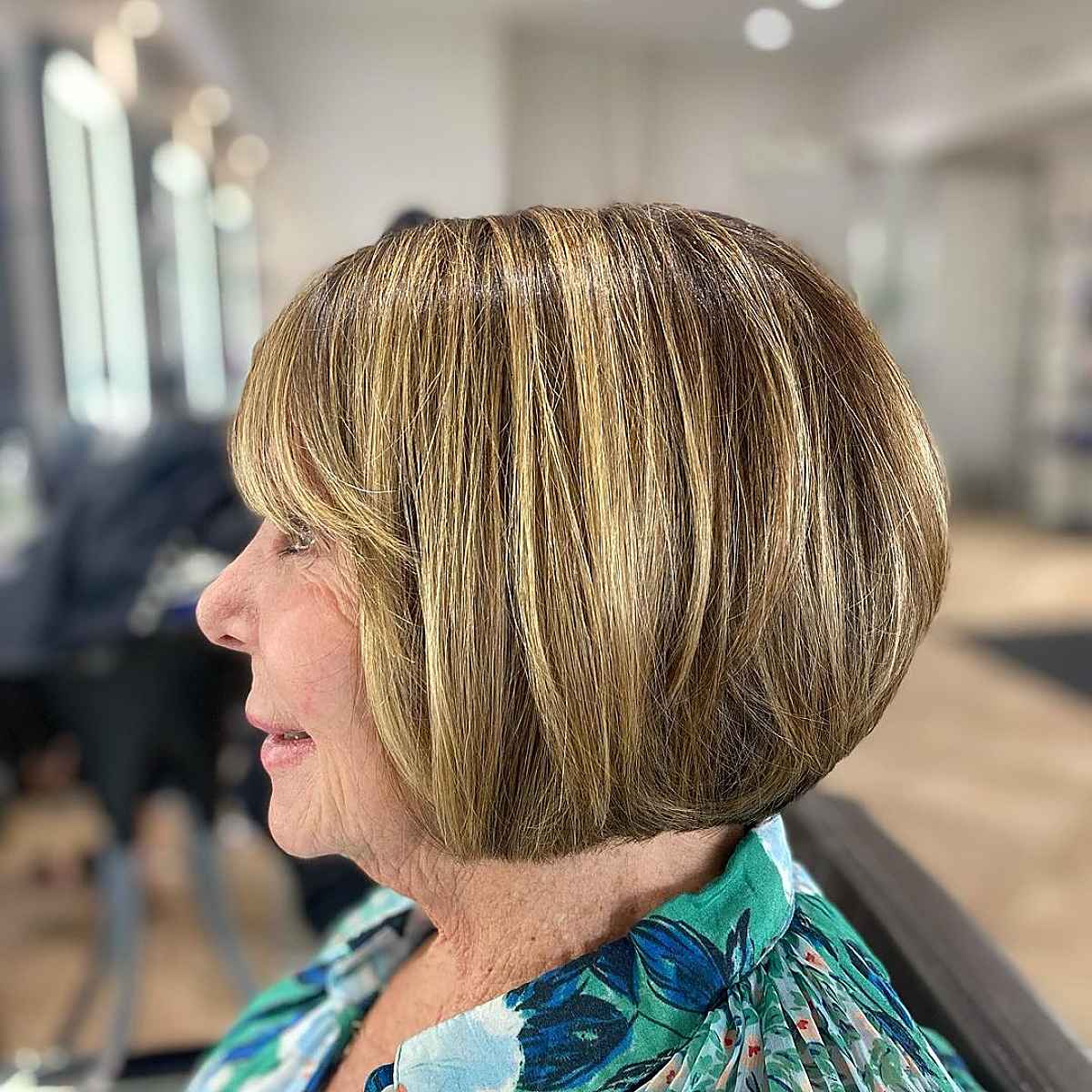 Instagram @flauntbybrynn
A subtle and clean stacked bob on short hair that allows women with fine hair types to achieve great volume and shape for their everyday hairstyles! Short hairstyles for women over 60 with fine hair include bobs and pixie cuts.
Dramatic High-Stacked Bob for Women Over 50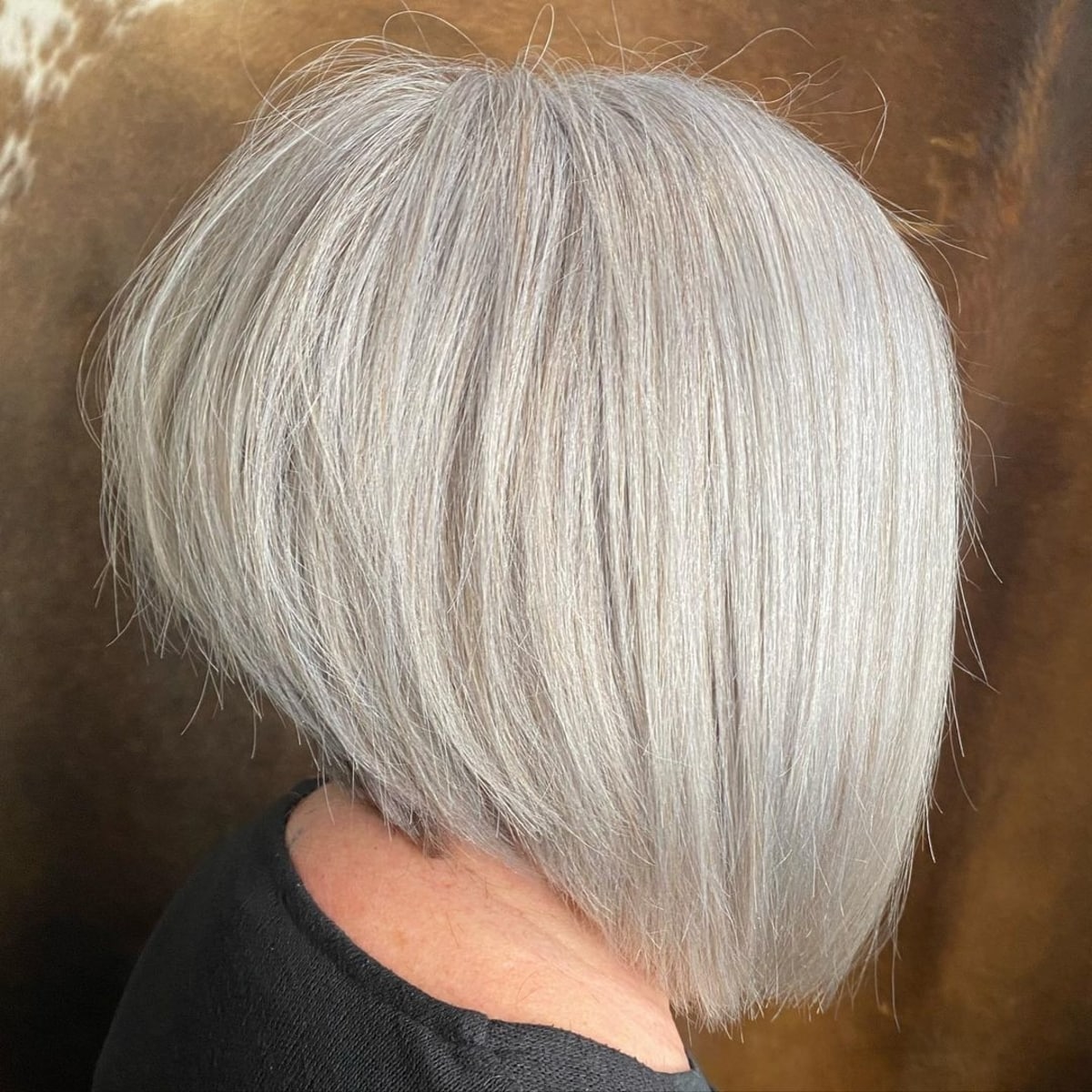 A dramatic high-stacked bob for women over 50 is a great cut to add volume to flat, limp hair. Salon owner Emily Horsefield from the UK created it, which looks pretty with full-head highlights, too!
Horsefield says, "The graduated cut makes it easy to get volume into the hair. There's no need to put in the hours of blow-drying, styling, and applying products."
Super Short Stack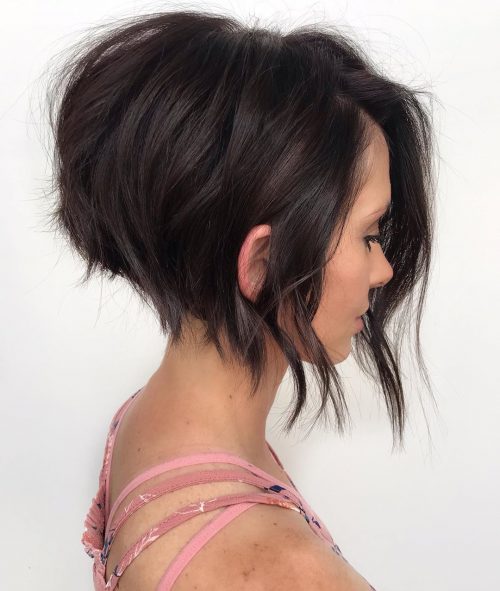 This short cut is a stacked, slightly short inverted bob. It was created by hairstylist Sheridan Holyoak of Ogden, UT. "Get an undercut at the nape to eliminate cowlicks. You can wear it choppy, wavy or you can rock straight hair or curly hair, and the texture is still going to be visible," says Holyoak.
When considering short stacked haircuts like this, make sure you find a stylist that is confident in cutting short hair, as that can make or break this hairstyle. Also, make sure you have time to style this cut. It is not a wash-and-go style.
For short bob haircuts, Holyoak says to make sure you have proper styling products volumizer, heat protectant, a dry texture spray, and possibly a light pomade.
Short Stacked Bob With Side Bangs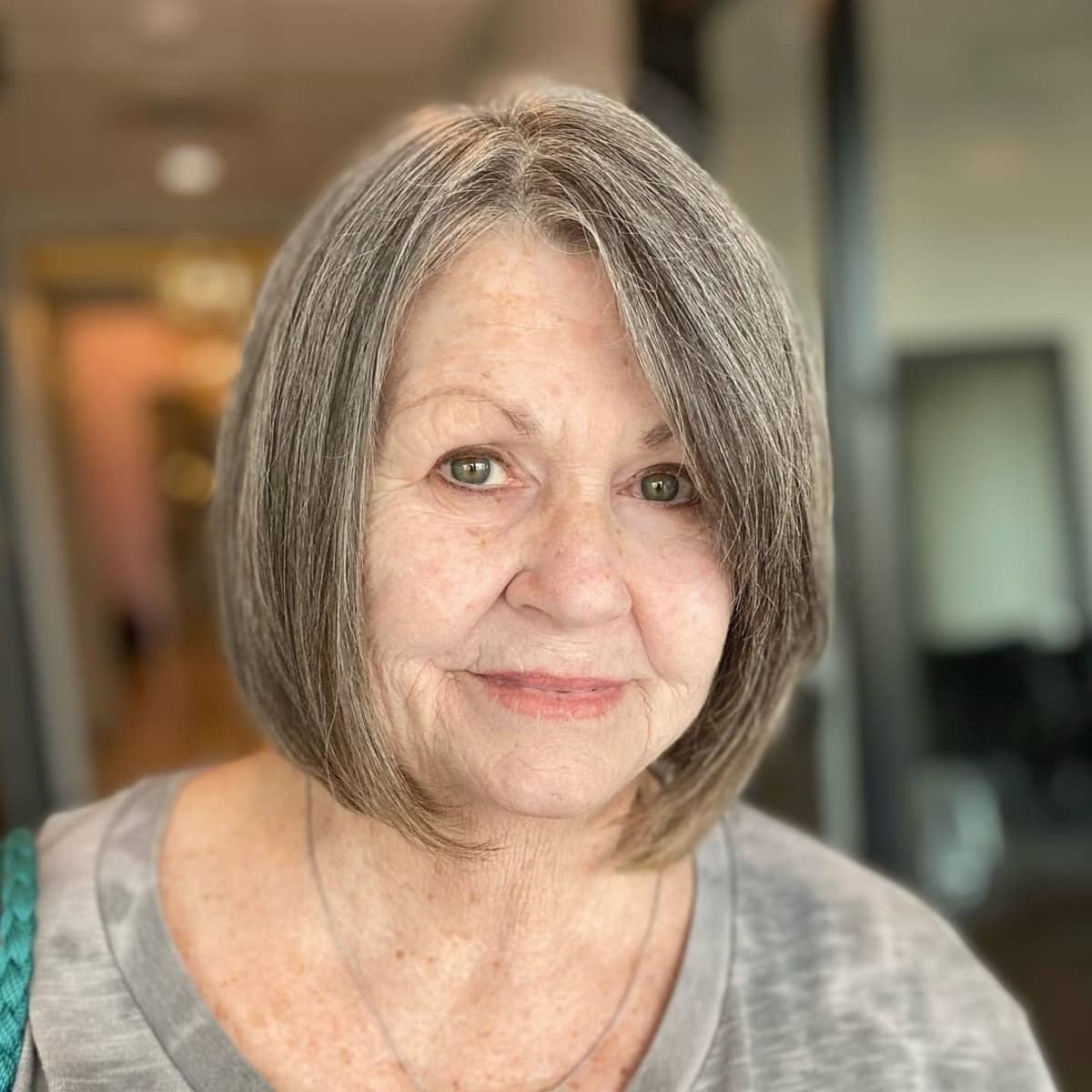 Instagram @design_danette
A short stacked bob with side bangs is a beautiful classic cut. A bob that's stacked meaning it has shorter layers in the back that get longer in the front to the desired length. This is a short stack style for women of all hair textures and face shapes you can't go wrong.