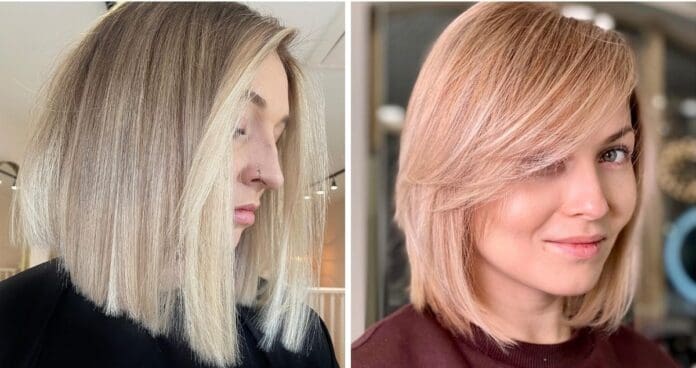 Who does not dream about shiny curls, which will attract the attention of others and delight you when you look at yourself in the mirror? Unfortunately, not everyone can boast wonderful thick hair. We all know that genetics directly affects hair texture, and many still believe that they can do nothing with their fine hair.
Of course, the main thing to consider is your health conditions. Lack of appropriate vitamins may cause thin hair, so the first thing to do is consult your doctor. However, if you are confident that everything is fine, consider making a new haircut, which will help even very thin hair look more attractive and healthier. In this article, you can find the best pieces of advice, allowing you to get the coiffure of your dreams. Sit back and enjoy some ideas!
1. Slightly Angled Bob Haircut
With the proper approach to a bob haircut, you can create original looks and do various styling from such a neat hairstyle. And if there is no time for styling, then you can just dry your hair and continue your daily affairs since a voluminous bob haircutr itself falls into a beautiful hairstyle, making your flat hair look thicker. If you want to get such a hairstyle for thin hair, you shouldn't obligatorily have short hair. It is worth noting that bob will suit perfectly for medium-length hair, providing extra volume without any additional cosmetics.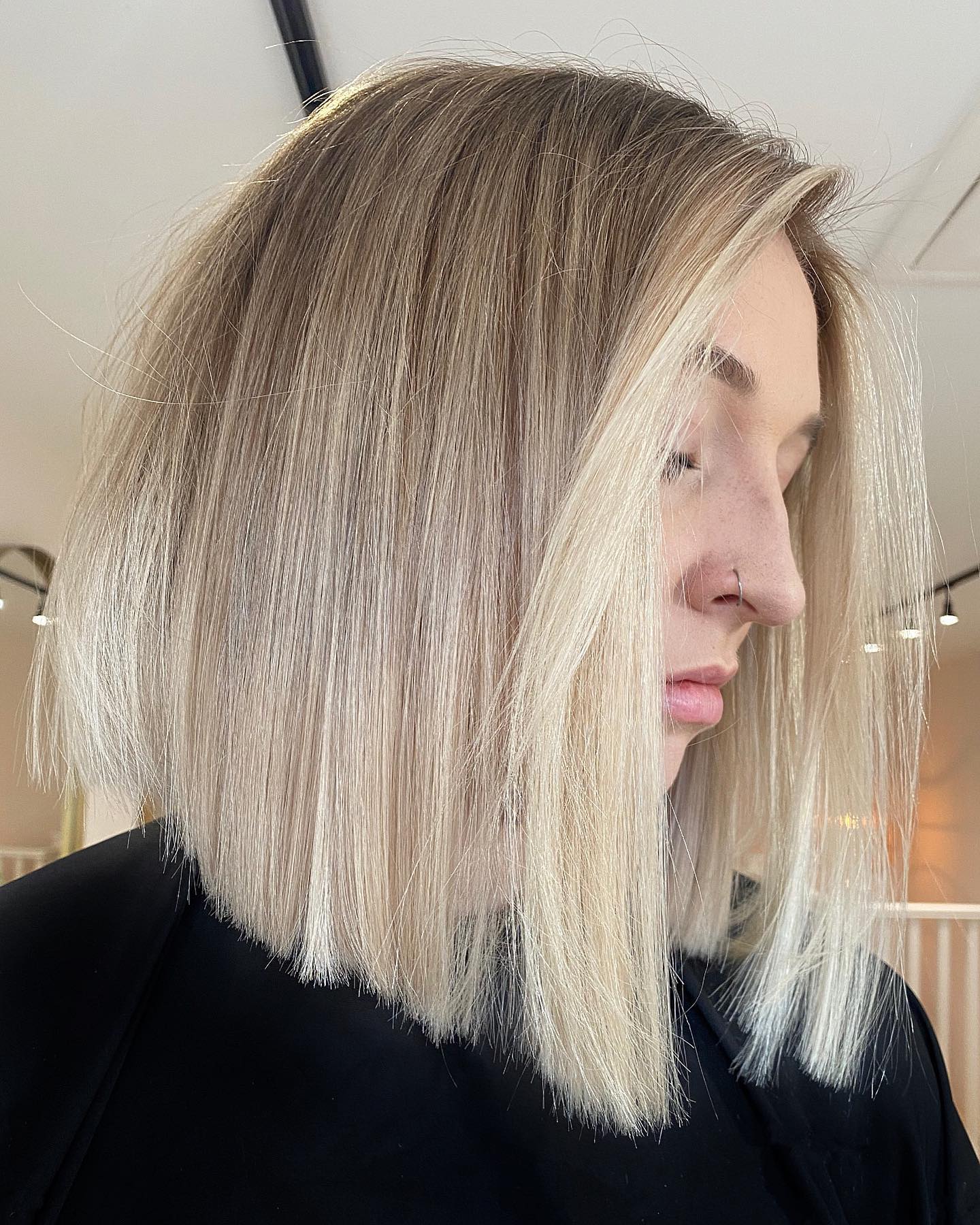 via @jasonanthonyhair
2. Shag Haircut for Long Hair
Overall, there are not so many haircuts for thin hair, allowing to leave length without the necessity to cut hair. The main peculiarity of such a coiffure is that you get a voluminous crown and feathered look. Of course, the natural texture of the hair is kept. Here are some main facts about shag:
Ladies with round faces can do such a hairstyle and look perfect.
It doesn't require you to cut hair to get extra volume.
Shag is perfect for medium-length hair.
The hair volume will increase even if you don't use any additional styling products.
Moreover, adding side swept bangs is a great idea. It will make your appearance even more unique. Overall, the shag haircut is a great alternative for all ages. For young girls, it is a way to emphasize their individuality. On the other hand, older women will undoubtedly look younger.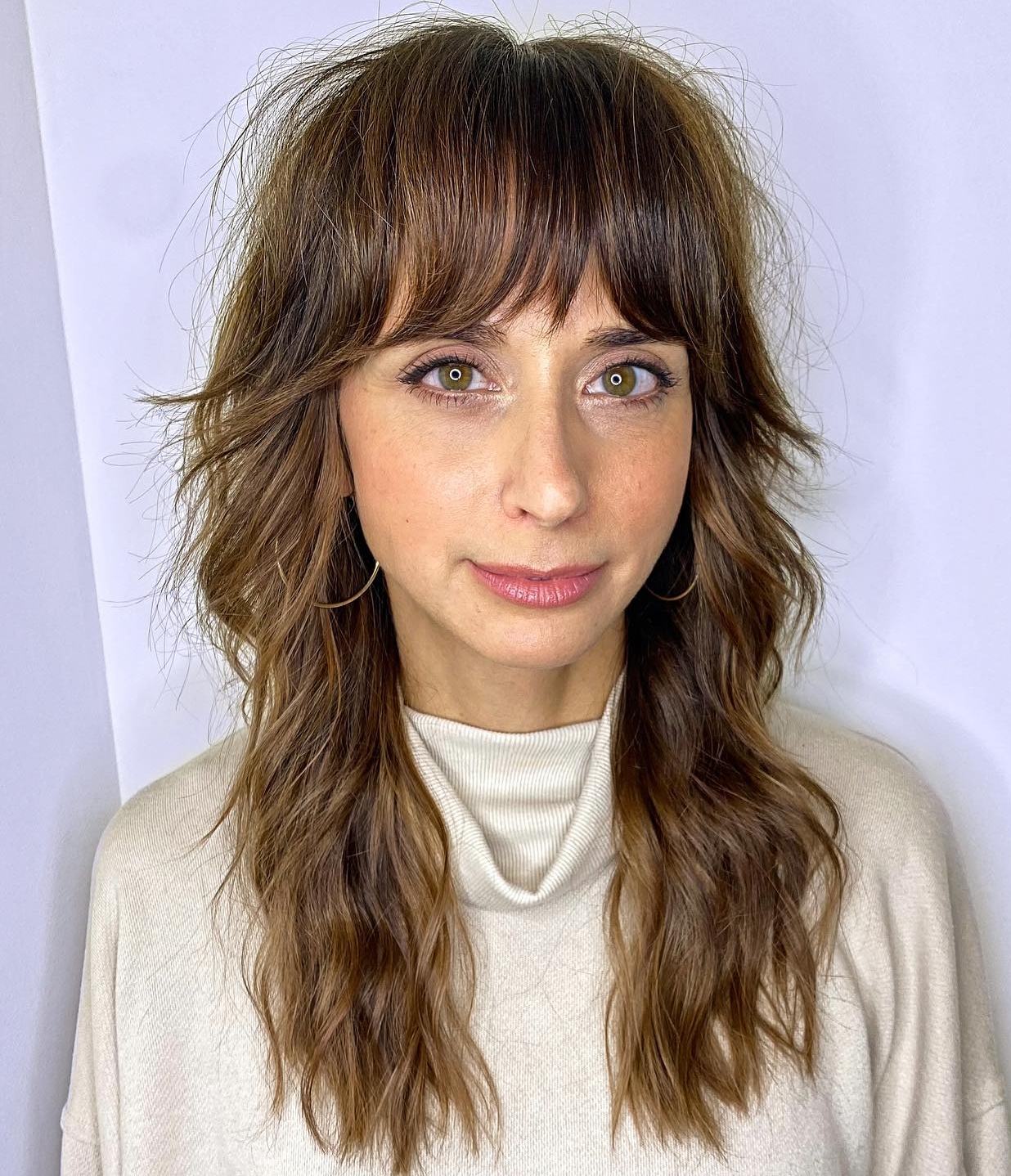 via @davidwbullen
3. Inspiring Textured Lob Haircut
Undeniably, such a haircut will help you to create volume and get a lusher coiffure immediately. Making one short thin cut will transform your appearance. Undeniably, each experienced hairdresser will easily cope with such a task. Your facial features and hair color is not significant since such a hairstyle is perfect for all. Moreover, it will make your natural hair look thicker, and you will receive finer hair texture even without utilizing additional cosmetic products.
via @seolahair
4. Curtain Bangs for Thinning Hair Type
For numerous people, bangs were left in school years, but it is rapidly returning to fashion. It allows you to transform thin hair with one scissors stroke. You will be surprised at how finer hair changes! Some women think that the length cascades down hair will be more difficult to style, but it isn't. Just use a round brush and blow-dry your hair after washing. If the hairstyle looks a little sloppy, that's even better since it will add more charm. This chic haircut suits all ages, so choose this option for your flat hair.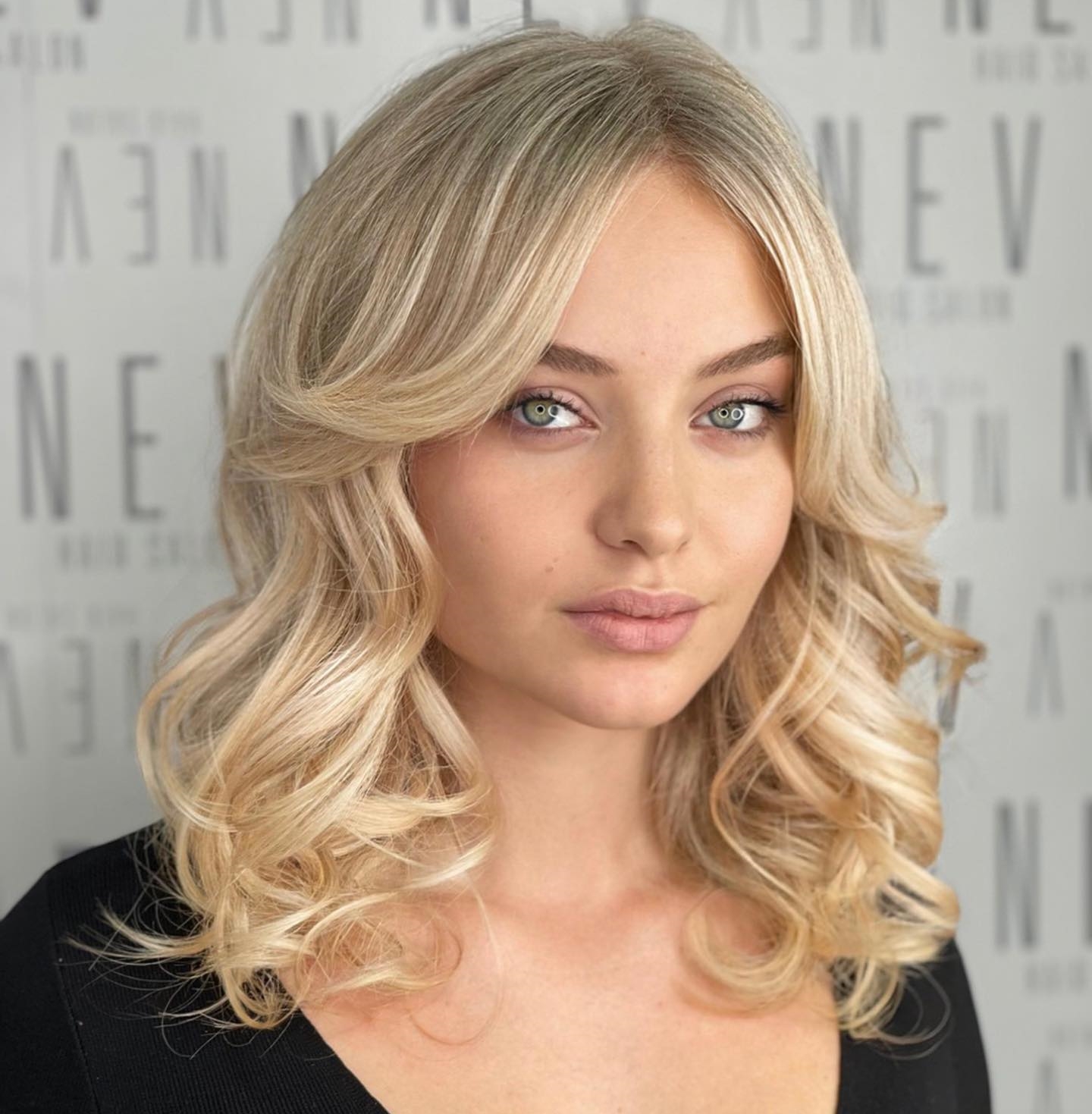 via @nevilleromanzammit
5. Long Hair Length with Side Bangs
It seems unreal, but long thin hair can easily become lusher! Such a hairstyle will visually add more volume and will surely please all the girls. When selecting a fringe type, consider a long one, suitable for all ages and face shapes. Styling is easy since you should just use some texturing sprays during blow-drying. You can put the bangs on one side or divide them properly into two parts. Just pick the alternative that you like most.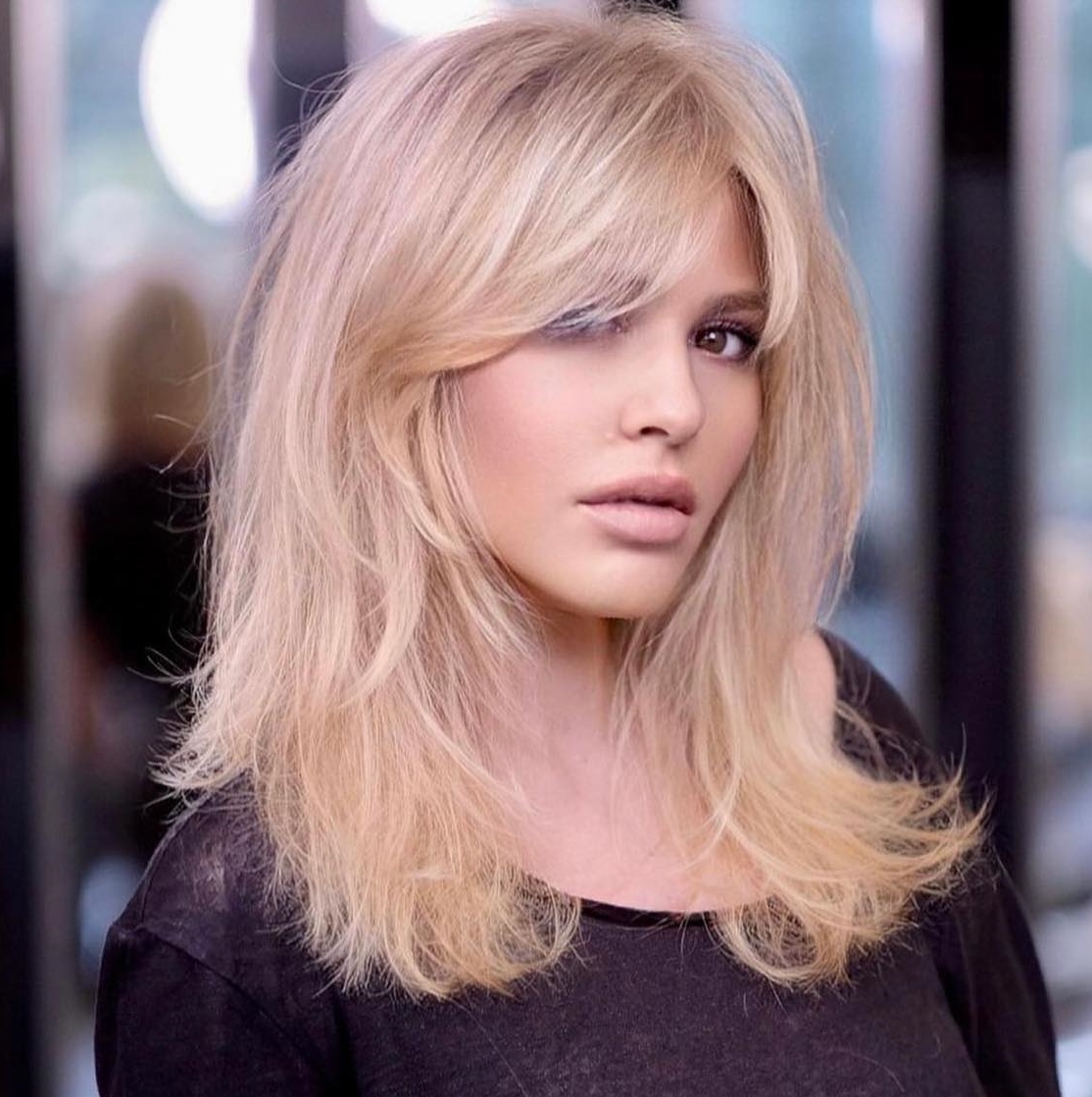 via @miguelboghos
6. Lob Haircut for Thin Hair
This hairstyle has already become classic and suits any hair texture. Consider your face shape and preferences and pick the comfortable length and enjoy your new hairstyle. Lob is a great way to get thicker hair without any complicated styling. In addition, the hair color doesn't matter since such a coiffure suits perfectly both blondes and brunettes with thin hair. It is not necessary to use any volumizing products. Just dry your hair, but don't forget about heat-protectants.
via @garageizmir
7. Envious Thick Blunt Bangs
For many people, such a hairstyle looks childish and outdated. But the truth is that it's at the peak of its popularity again! Making such bangs is one of the best ways to increase hair thickness and enjoy a fresh look, attracting attention. One of the most significant points is not leaving wet hair and drying it immediately. Use some volumizing products and a blow-dryer after washing and enjoy your thicker-looking hair in a few minutes. If you prefer looking extravagant, make short bangs, which are increasingly common now. Those who enjoy street style will for sure appreciate this idea.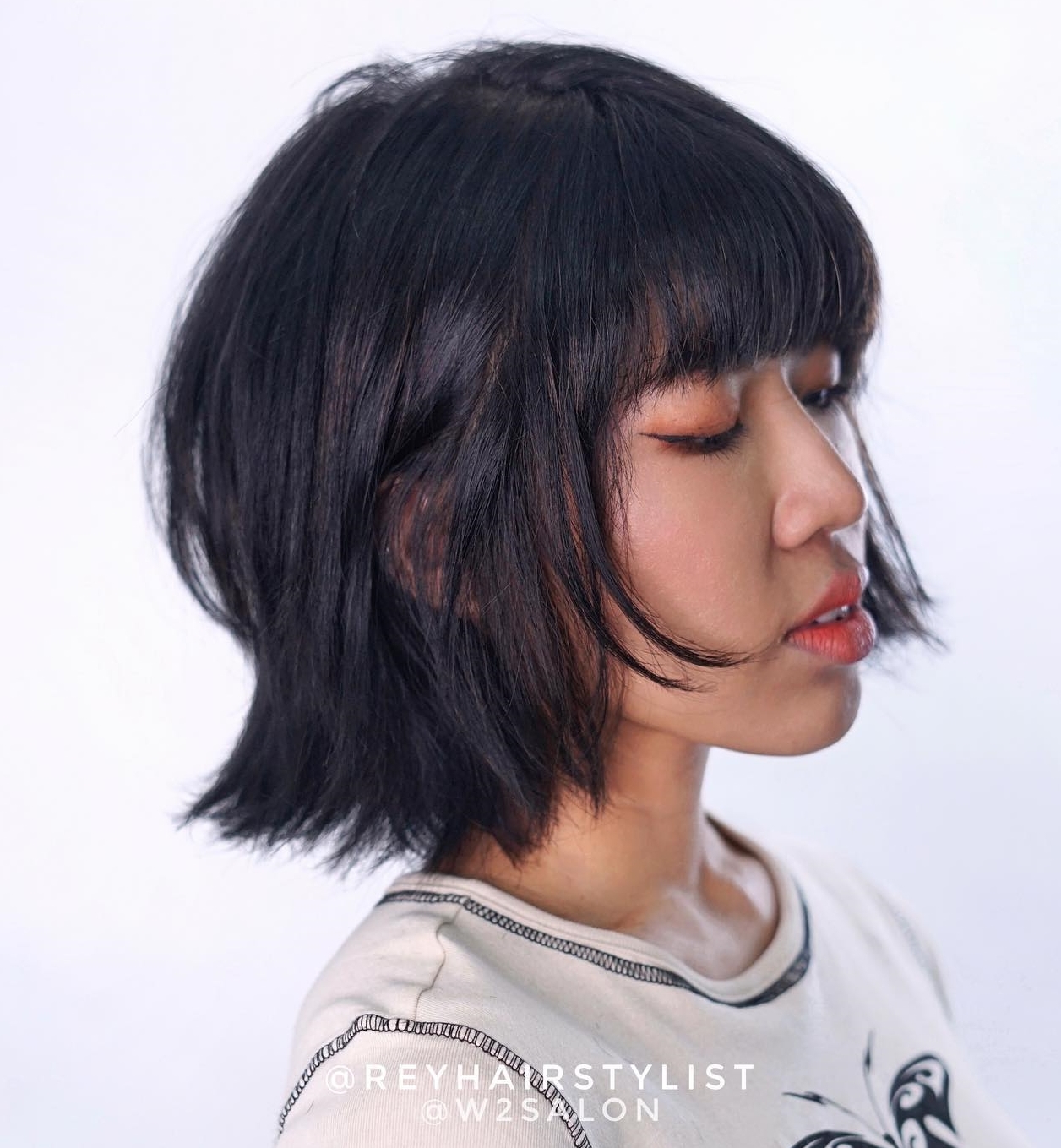 via @reyhairstylist
8. Always Winning Look with Blunt Bob Cuts
Many people know this haircut, and its main peculiarity is a blunt cut, giving an incredible volume. It suits all hair types, but there is one peculiarity. People with round face shape better consider a long bob or other longer hairstyles. Blunt ends outline the oval of the face, making it visually wider, so consider this fact when choosing a hairstyle. This option suits both dark and blonde hair since a blunt bob is a good option for all. It is worth noting that it doesn't imply many layers. However, the volume of hair increases because they become lighter in a short hair cut. Use your favorite thickening mousse when drying, and enjoy your impressive coiffure!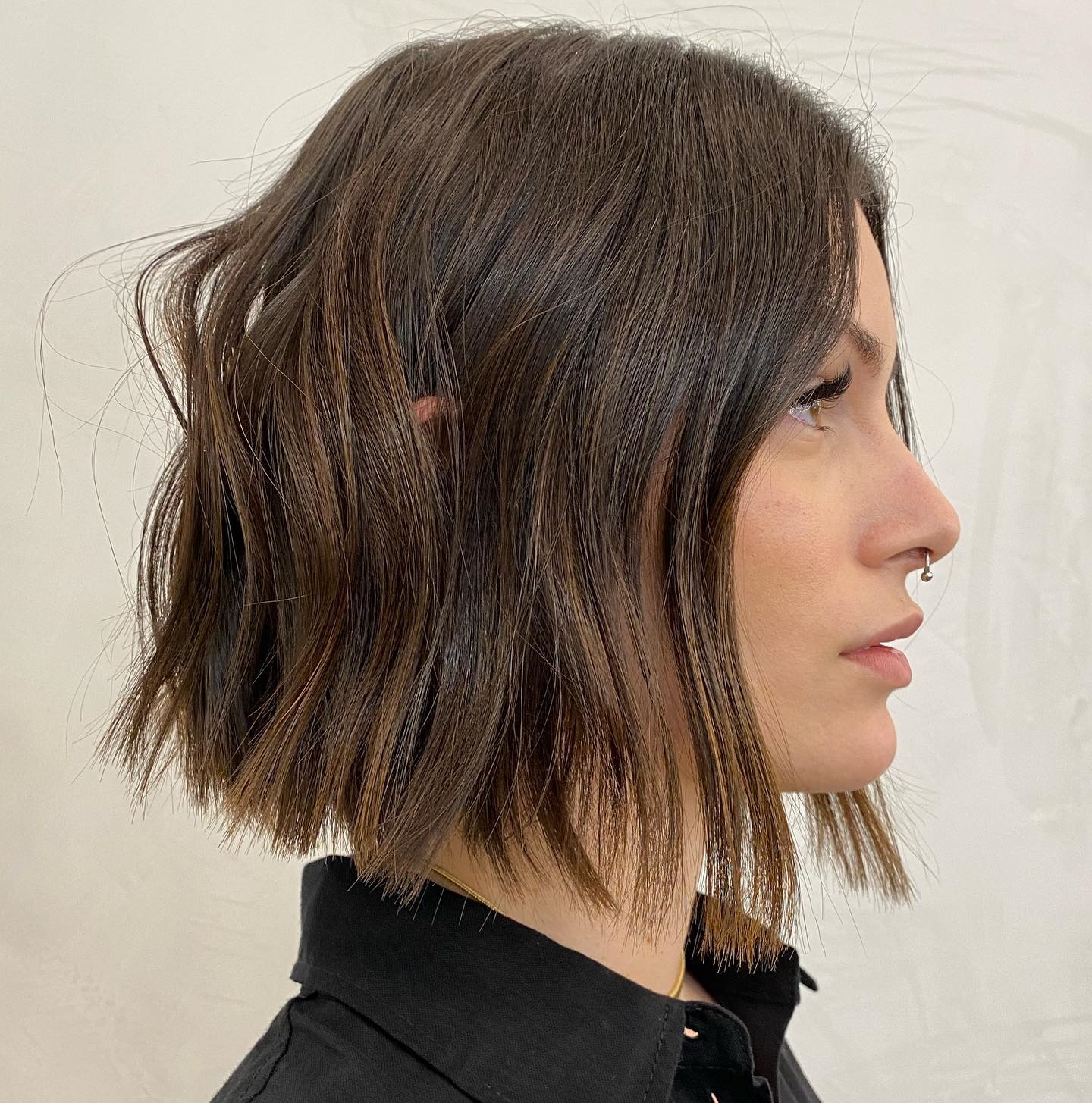 via @nikcabral
9. Fresh Choppy Pixie Cut Look
Are you risky enough to get one of the top short haircuts for thin hair? There are hundreds of stylish pixie cuts, so just pick the one you like most and ensure it suits your hair texture! Browse the web and find inspiration in numerous celebrities such as Twiggy, Cara Delevingne, Chris Jenner, and others, impressing us with the best haircuts that are always in trend. Grab a quick guide on how to make your styling process easy:
choose the most suitable hair cosmetics;
add mousse on damp hair before drying;
do not turn on your blow-dry on maximum not to damage your hair texture;
add a bit of hairspray for better styling.
The procedure won't take much time but will significantly volumize thin hair. Pixie will be relevant for the shape of an oval, medium-sized face with large, expressive features. Stylish pixie cuts will also suit women with elongated and thin faces.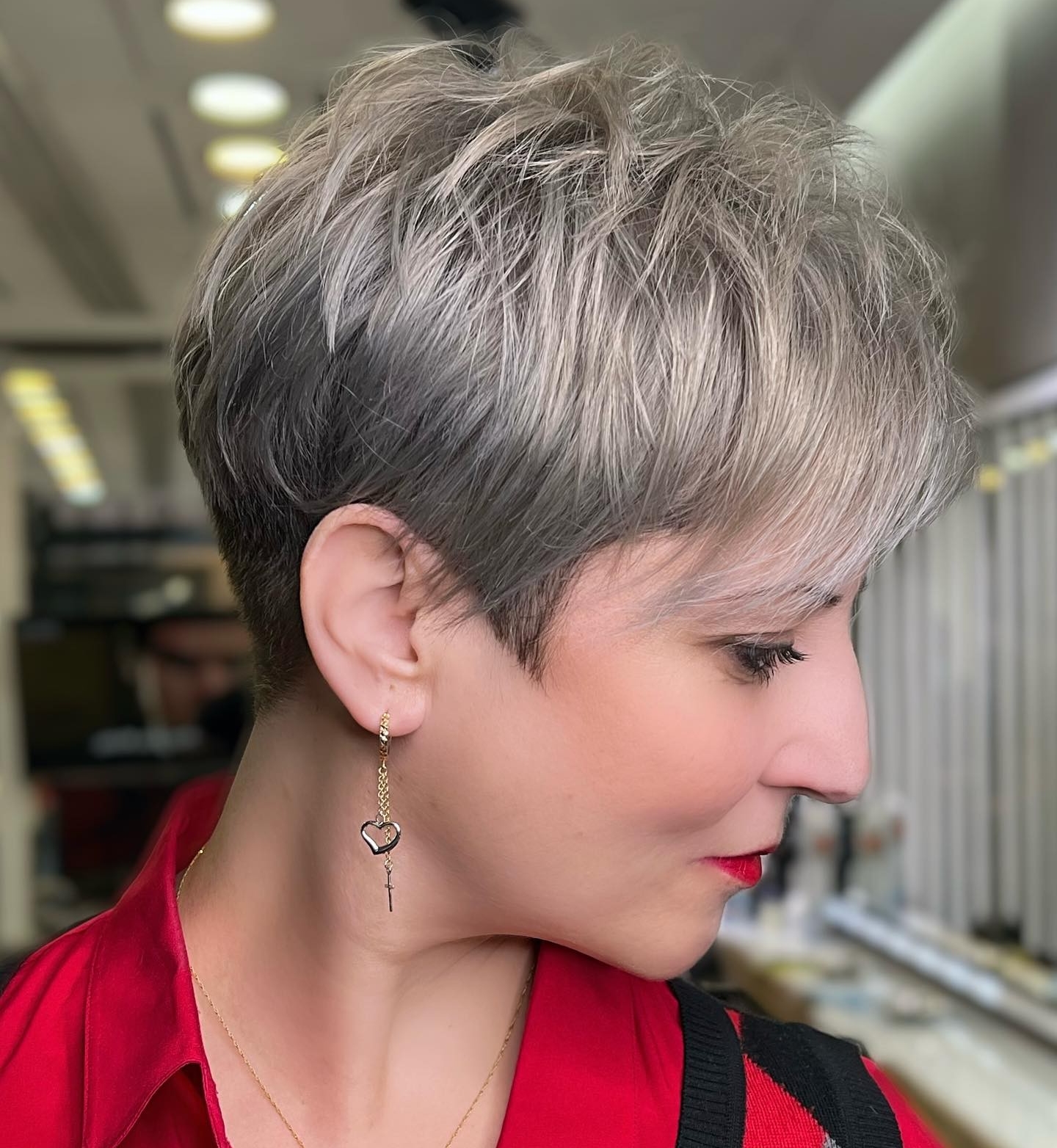 via @jeanclaudeelmoughayar
10. Mind-Blowing Asymmetrical Bob Cuts
The asymmetrical bob is a classic haircut in the newest variation for bold and bright personalities. Unlike blunt bob, its main feature is that the hair is longer on one side, which undoubtedly highlights your style. Like any other bob, this haircut immediately adds volume to the hair.
Due to the additional layers, your hair looks more volumized and thick. Get inspired by famous people with such a haircut and try to visually pick up the length to suit the face shape. It is not obligatory to make extremely short hair, think well, and pick the proper length.
Right after you cut hair, you will notice that even the hair texture becomes different. Many people also notice that their facial features change so that you can even feel like you are a new person after leaving a beauty salon.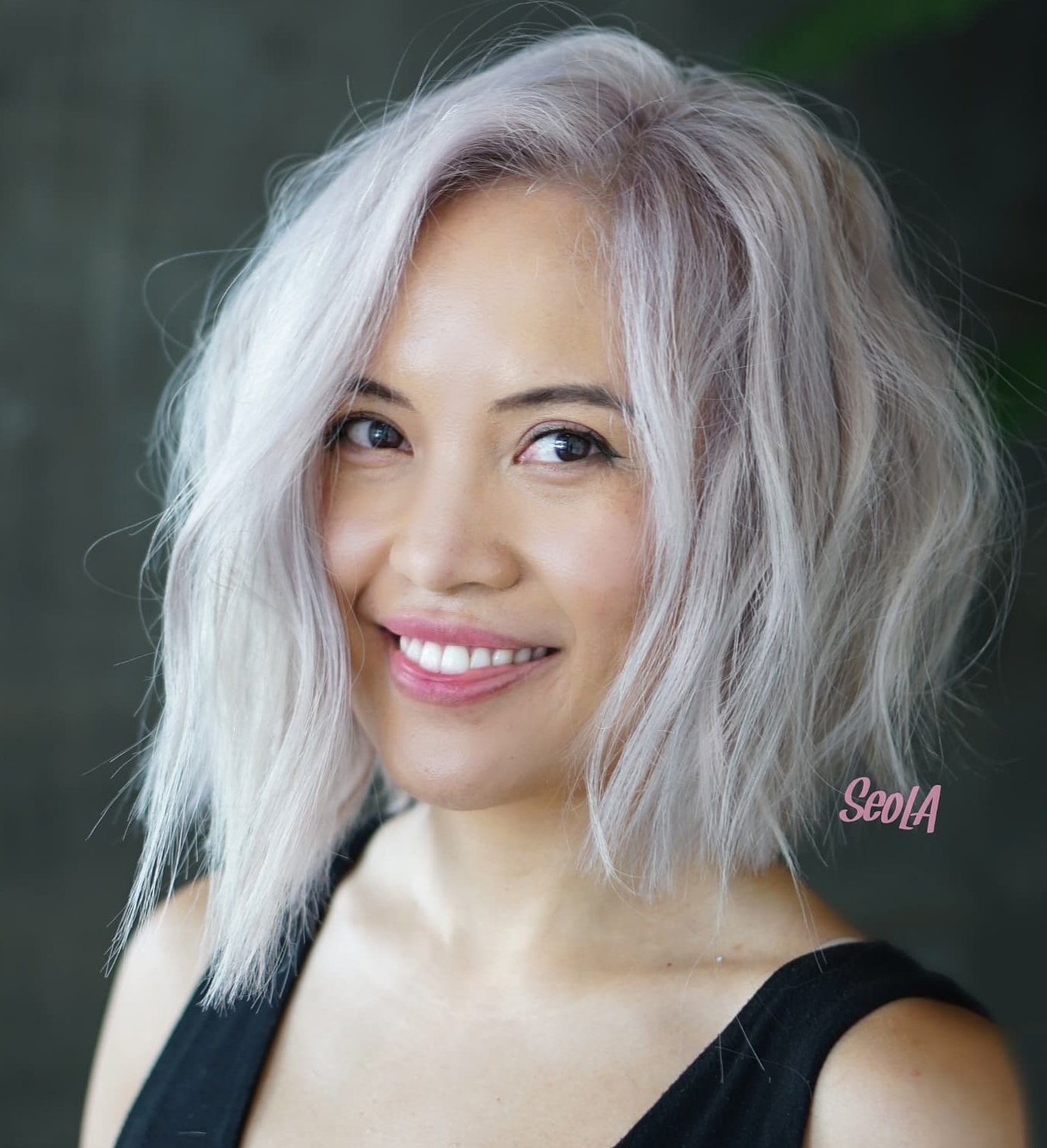 via @seolahair