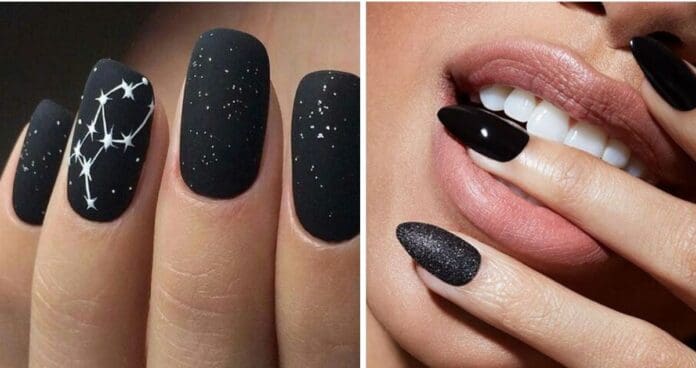 Welcome to the dark side! Few colors can make a statement like black. This shade is often associated with power, strength and sophistication, so it is not surprising that it has become a source of inspiration for manicure. It's also a color that goes with everything you have. Plus, it pairs well with a variety of designs, whether it's a base coat for bold and vibrant decals, or paired with white for a bold monochromatic look. There are so many ways to use this color that there is something for everyone and for every aesthetic. wear it on a date or blow heads at a nightclub; it is a brilliance that is sure to be noticed. Keep reading to find out more about the chicest nail designs to try.
1. Yin-Yang Black + White Nails
To some, black nail polish may seem too dark and vulgar, so why not simplify the look with a black and white manicure? Fantastic and meaningful yin-yang design. The symbol represents dualism, cause and effect, and how one force directly affects another. It represents balance and unity and is a great way to show off your nails and make a thoughtful statement about life.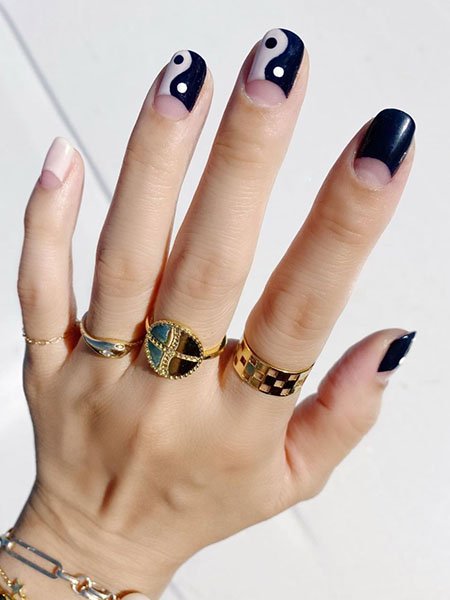 2. Matte Black Nails + Face Line Art
Black nail polish is one of the easiest ways to make a statement. It's such a bold color choice that it's sure to draw attention to your hands, and while glossy nail polishes are great, you can also opt for a matte finish that looks especially trendy. To make the image even more interesting, try line art. Incorporating it into your look requires precision and a steady hand, but the result is beautiful. alternatively, you can opt for stickers or false nails. Artwork is a must for anyone who wants a manicure with a bit of edge.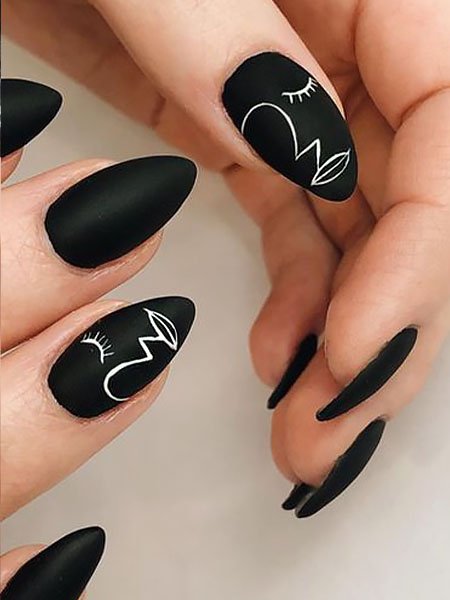 3. Black Nails + Snake Design
If you're brave, you can try painting one hand with white nails and the other black. This in itself is a visually interesting option, but the decision to create a snake image in a contrasting hue (such as white art on a black nail) creates an incredibly cool look. It is also deeply symbolic. Not only do snakes have an interesting shape and can be thrown on a nail, they are also filled with meaning. The snake is often associated with rebirth and transformation. This can be a great way to celebrate the changes in your life. Or recognize that you have the power and determine in which direction you want to see your future.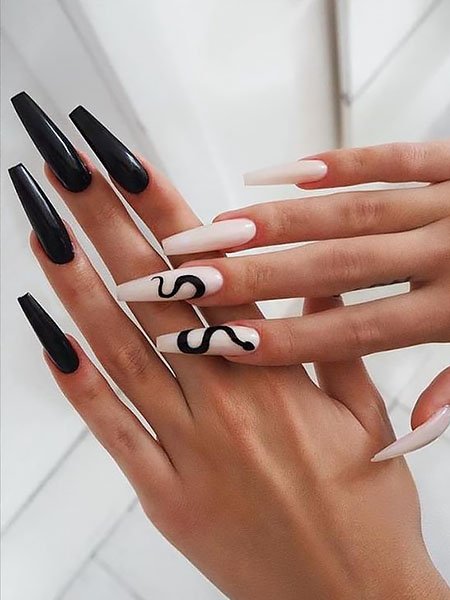 4. Black Nails + Star Constellation
Star constellation nail art is a big trend these days, and for good reason. Detailed, beautiful and symbolic. For some, our galaxy represents hopes and dreams, while for others it can mean good luck or protection. By choosing this look, you can get creative, even using a sticker of your zodiac sign to make it more personal. Consider focusing on one nail for a more comfortable look and pair it with a less busy design to create the perfect astrology-themed piece of art.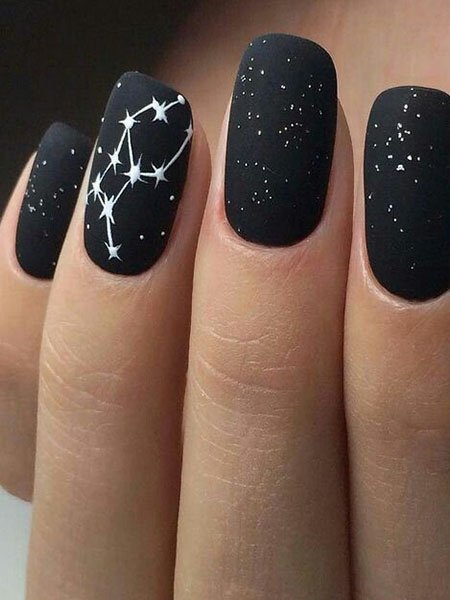 5. Black Nails + White Design
Pink nail polish has its own appeal, but if you're looking for something whimsical and fun, then black nails with a white design are exactly what you've been looking for. Against the dark background, the white details really stand out, creating an impressively simple look. The abstract feel of the design draws attention to your nails, so make sure they're polished and neat. Did we mention that this color combination is also very versatile? You can wear it with almost any color of clothing. However, if you want to look more streamlined, choose clothes in a solid neutral tone.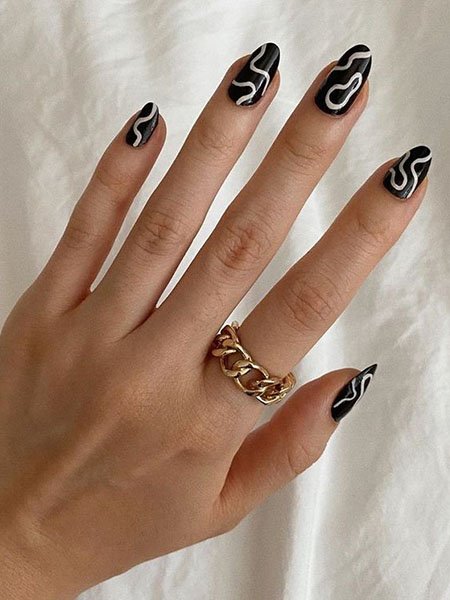 6. Black Nails + Different Line Art on Each Nail
Nail art is a fun way to show off your personality. You can get creative with your design by choosing everything from faces to interesting shapes. Black is a very dramatic color, so it requires attention and, together with a work of art, creates a modern look. The best part about this nail art is that it works on any shape and length so you don't need to have claws to pull it off. It is also very comfortable to wear.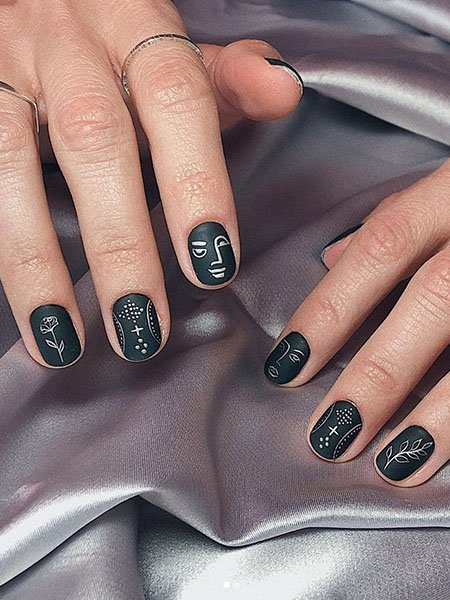 7. Black Nails + Gold Flames
Flame nail art is a beauty trend that has proven extremely popular over the past few years and is still one of the most popular looks today. To make this design look its best, you will need long, pointed nails. Start by applying a black base coat; whether it will be a matte or glossy effect is up to you. Then add the flame sticker. Stickers work best if you're not very good with nail tools, then be sure to try your hand at it. The combination of gold and black is striking, despite the fact that the manicure is relatively simple; this makes it extremely wearable.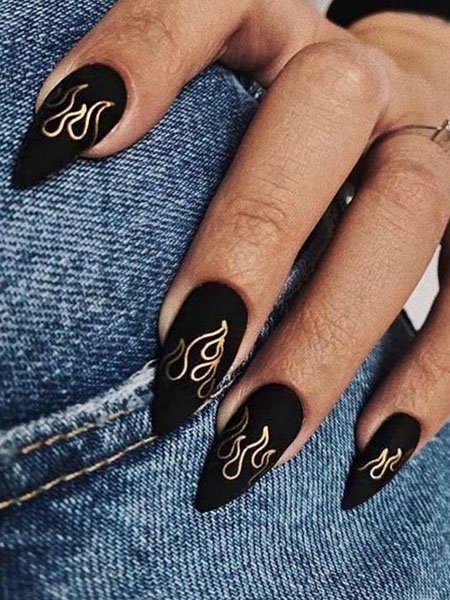 8. Cute Black Nail Art
When it comes to nail art, often the only limit is your creativity. This is a chance to show your personality and have fun. Get inspired by things you love, whether it's a cute cat design or the sun and moon. It can also help keep the theme organized for a more organized look. However, there are no hard and fast rules about what you should or shouldn't do when it comes to cute nails.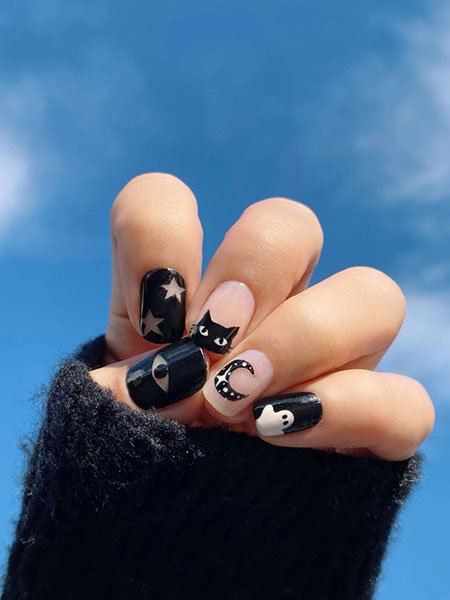 9. Christian Louboutin Inspired Nails
Fashionistas understand the appeal of Christian Louboutin shoes. The bright red soles of the shoes instantly make them stand out in everyday looks. These are shoes that give you confidence, so it's no wonder this look inspired nail art. Can you think of a color combination more dramatic than red and black? The beauty of having only the bottom of your nail painted red makes it look thinner and it's almost like you have a secret. However, this look works best on long nails, and the bigger the pointer the better, so you can feel like you're recreating the sole of a killer heel.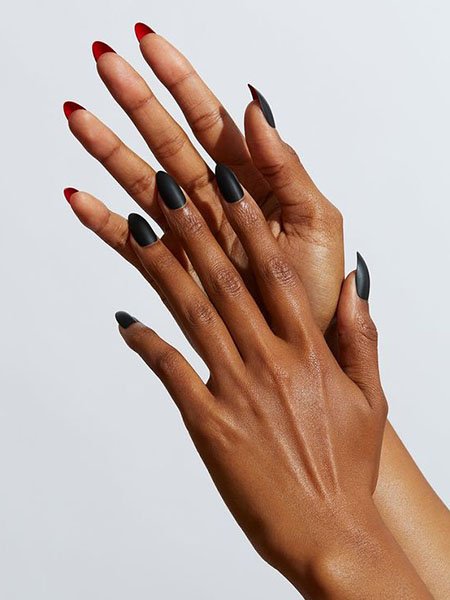 10. Black White + Nude Artistic Nails
A bold manicure is a great way to show off your personality, and you can get as creative as you want. Artistic black and white nude nails will draw people to your hands. Artwork is a little trickier to create because it requires negative spacing from different angles, but once you get the hang of it, the result is breathtaking. Choose stickers that reflect your personality or follow a theme for a truly standout look. Alternatively, if you have a steady hand and enough time, you can try to recreate your own designs.