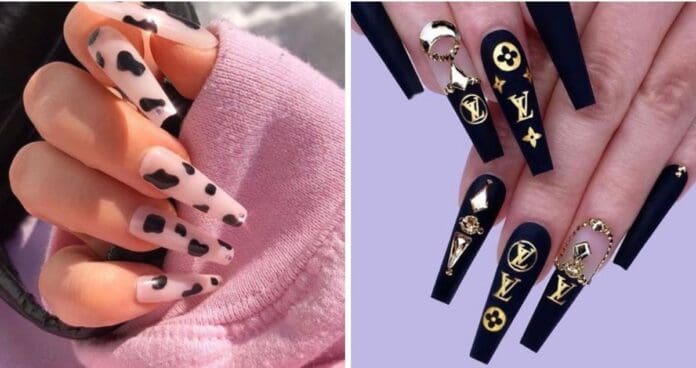 If you want your nails to be very feminine and eye-catching, consider using long forms. Oval, almond, coffin, and lipstick are just a few popular options that help elongate your fingers. They are also exceptionally versatile when it comes to design and polish because the length allows you to play around a bit and have some fun. Whether you want the sophisticated look that can be achieved with dreamy pastel polishes, or something a little more daring, like whimsical long coffin-shaped nails or fluorescent flame decals, there are plenty of options to suit every personality and style. Manicure is a great way to show what you love, so don't be afraid to experiment with bright colors or playfully. If you need inspiration for your next fashion look, keep reading to find out more!
1. Raspberry Ombre Long Almond Nails
Do you want a simple but stylish manicure? Then you will love the raspberry ombre on your nails! You have probably already seen ombre designs because they are very trendy. To achieve the effect, you will need two different colors: a lighter shade and a darker one, which are then expertly blended together. The rich color is not so dark that it looks like a vampire, and not too bright that you need a bucket of confidence to pull it off. This makes it the perfect and comfortable shade to try this year.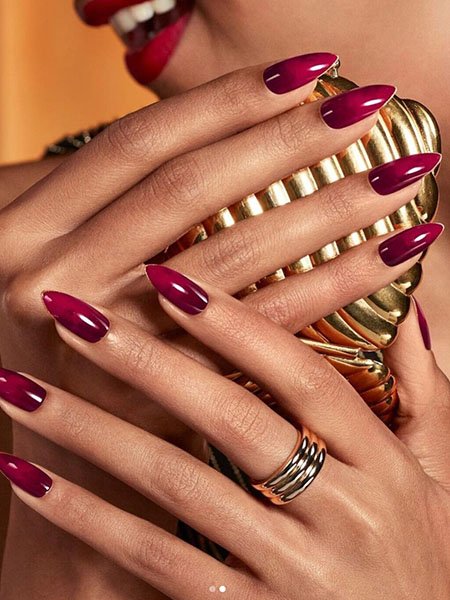 2. Long Coffin Logomania Nails
If you love brands and their logos, logomanic nails are a great way to tell the world about your fashion expertise. There are many ways to interpret this look; You can choose from a variety of vibrant colors or keep it simple with a chic black and gold option. The dark base layer brings the characters to life and makes them even more visible. If you want something different, you can even work with your manicurist to recreate your company logo, which also creates an interesting marketing opportunity.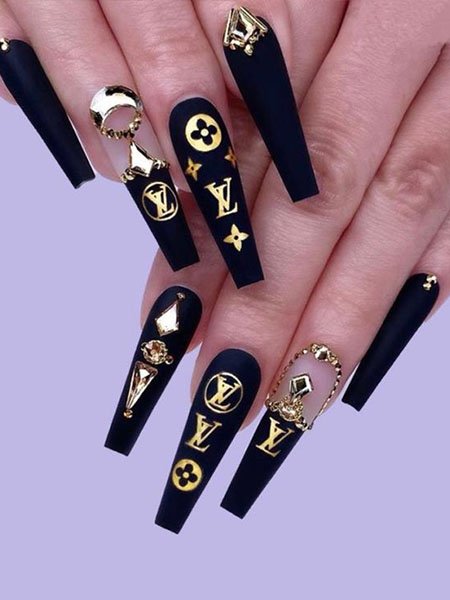 3. Long Almond Nails with Boob Art
Boob nail art is a fantastic way to celebrate female power! As the name suggests, these are designs with breasts and nipples in different shapes and sizes. It can also be a recognition of how unique and beautiful each person's body is. Almond nails are a beautiful and versatile nail shape. They go well with most designs, but this one will make you celebrate your femininity! To make the look even more interesting, you can paint each nail a different shade of pink or red. The combination is interesting, fun and a great option for those who want something different.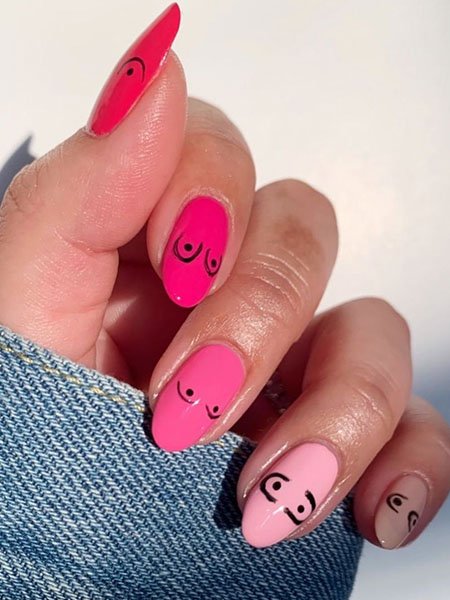 4. Long Coffin Pastel Nails
Coffin nails are dramatic and they are sure to draw attention to your hands. They not only lengthen the fingers due to their impressive length, but are also versatile in terms of nail art. If you want a simple yet magical look, paint your nails in different pastel colors. Some of the most popular include mint green, pale yellow, pale blue, and candy pink. You can also get creative by adding various other details such as rivets or interesting accents.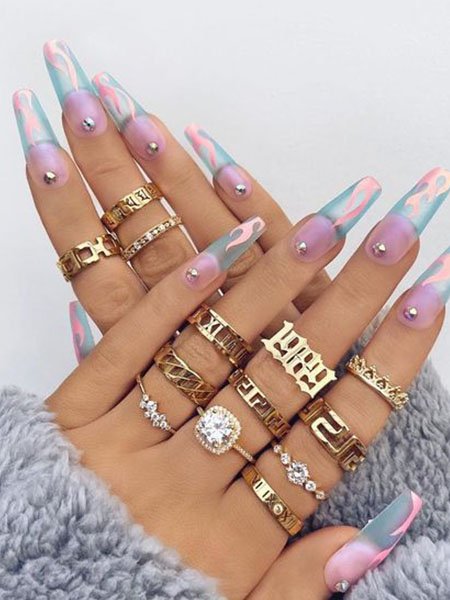 5. Line Art Oval Long Monochrome Nails
One of the best things about monochrome nails is their versatility. They tend to work well in a variety of settings and can be worn with clothing in a variety of colors and patterns. Line art is easy to create, and the abstract approach draws attention and draws the eye to your fingers. If you want your nails to be the center of your look, you can wear bright colors with them, like a red or pink outfit. In addition, you can opt for formal white or black clothing for a dramatic effect.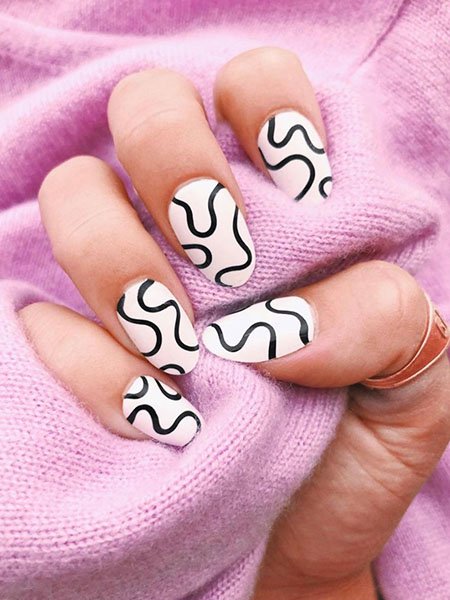 6. Mickey Mouse Long Ballerina Nails
There's a good chance that images of Mickey Mouse will take you back to your childhood, and choosing a nail art inspired by a Disney character can bring back good old memories. What better way to put a smile on your face?! This option is fun and there are several ways to try it. You can select just a silhouette or a detailed character image, and then either select a nail to make it thinner or decorate each nail to give it a bolder look.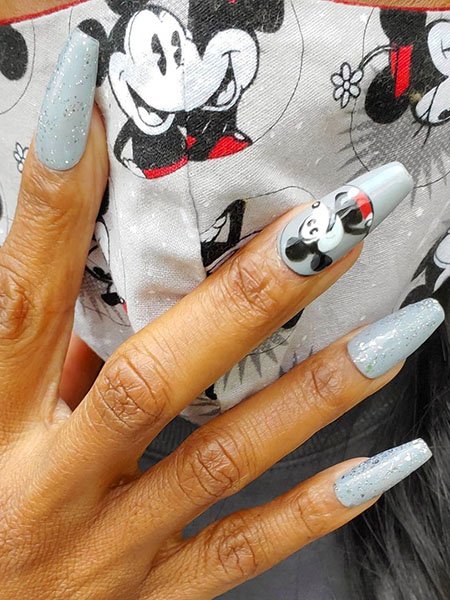 7. Red French Long Almond Nails
Almond nails are one of the most popular shapes for women because they are long and elegant yet look natural. The shape also allows you to experiment with different colors and patterns. Instead of the classic French manicure with white on the tips, you can recreate this look with a fiery hue, which is an interesting and daring option. Red color requires attention and self-confidence. It is also a shade that makes us feel bold and strong and often symbolizes passion or romance. Is there a more fashionable or chic option? We think not!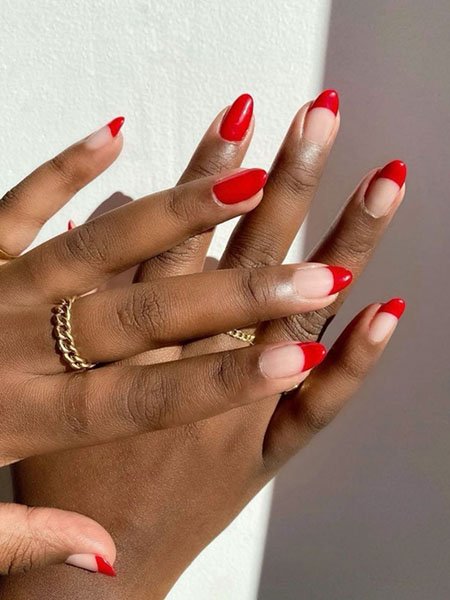 8. Tattoo Inspired Long Lipstick Nails
Body art is a great way to showcase the symbols and designs that matter to you. It's a form of artistic expression and an extension of your personality, and your nail art does the same. If you want bold nails that make sense and make a statement, then long nails with lipstick and a tattoo-inspired design are the way to go. Your creativity is your only limit in this option, so don't be afraid to try something bold or bright. Dragons, flames, snakes and a combination of bright colors create a brilliant look that is sure to draw attention to your hands.