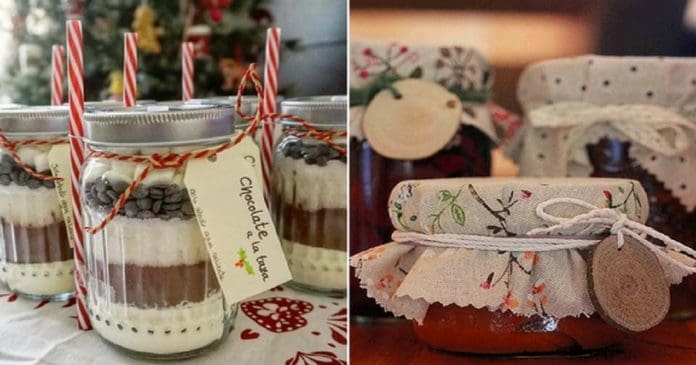 Christmas is just around the corner! So, you might be thinking about your Christmas gift list. We know it can be difficult finding the perfect present so we have put together a list of 23 DIY Christmas gift ideas. We have something for everyone from homemade body scrubs to hamper ideas that you can put together yourself. Giving someone a DIY gift will make them feel special, will be a fun project for you and it can save you some cash. Don't leave your shopping until Christmas Eve have a look at these gifts and get started!
1. HOT CHOCOLATE IN A JAR
First up we have this cute hot chocolate in a jar gift idea. You just fill up the jar with the ingredients and add a personalized tag. There are a few variations on recipe but a basic one is powdered milk, cocoa powder, powdered creamer, sugar, chocolate chips and marshmallows. You could make a few of these for different people.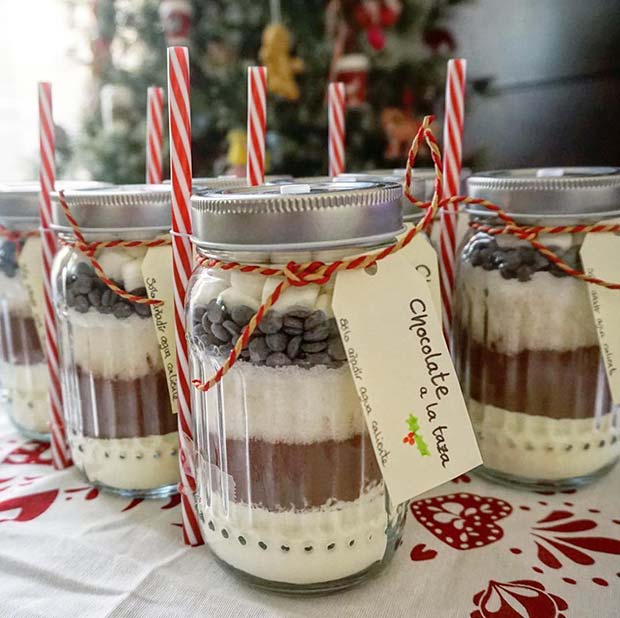 Source: @sweetscupcakesymas
2. DIY EXFOLIATING SCRUB
Our next idea is the perfect pamper gift for Christmas, it is a salt body scrub. There are so many different recipes you can use for this, each one will have a different smell. For salt scrub like this one you will need: salt, Bentonite clay, olive oil, peppermint oil and lemon oil. You could make a bunch of these for family and friends.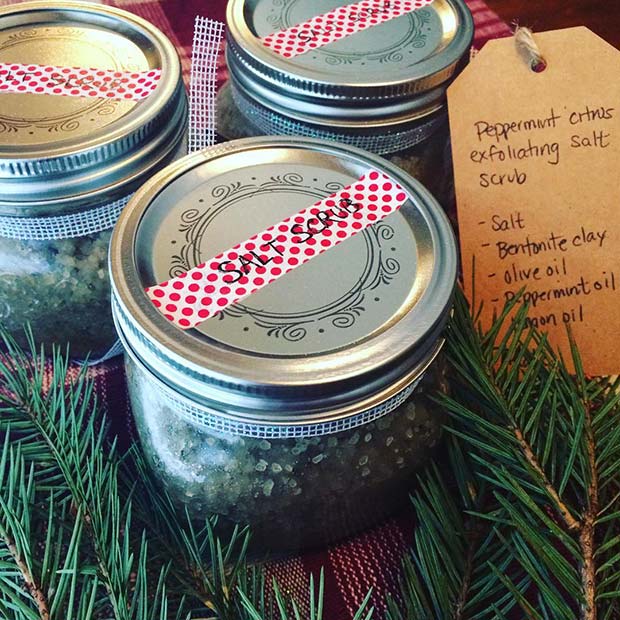 Source: @tohealthwithit
3. CHRISTMAS COUPONS
If you are looking for creative and unique gift ideas, then this could be for you. Our next pick is a Christmas coupon. It is for a date night away but you could recreate this for anything you like. You could give a coupon for a free house clean, to wash up for a month and more. The choices are endless for this and you could have any coupon design. It is a fun and low-cost gift.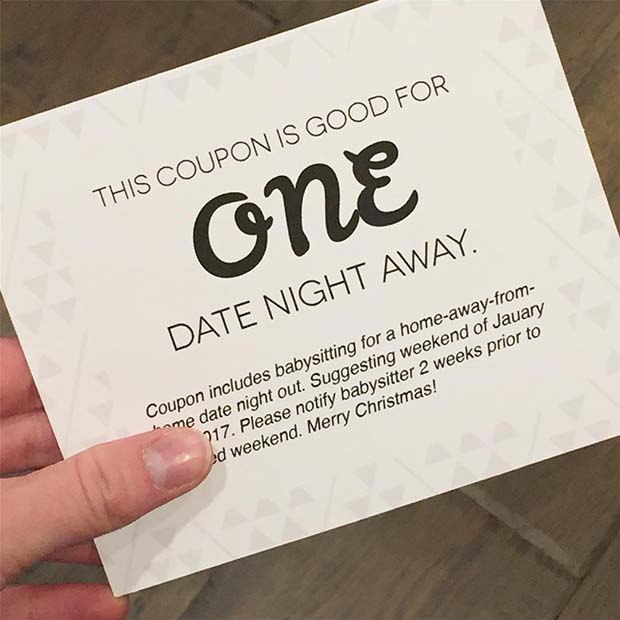 Source: @designsbytiffanyco
4. DIY TEACUP CANDLES
Candles always make a great Christmas gift. Instead of the standard candle or candle holder these candles have been put into teacups. Teacup candles can be created in a few ways. You could melt down some tealights, pour the wax into the cup and let is set. Make sure the wick is at the top. There are plenty of tutorials online to help you recreate this cute and quirky gift.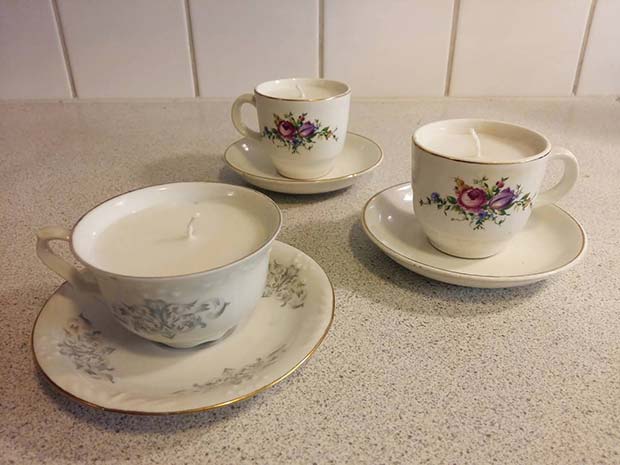 Source: @nookku_
5. GIFT HAMPER
Everyone loves a gift hamper. Instead of giving loved ones a ready-made hamper why not make one yourself. All you will need is a pretty box and then fill it with all their favourite things. You could create a mermaid box like this one or make a movie box and more. The possibilities are endless it is a fun gift that will be unique to each person.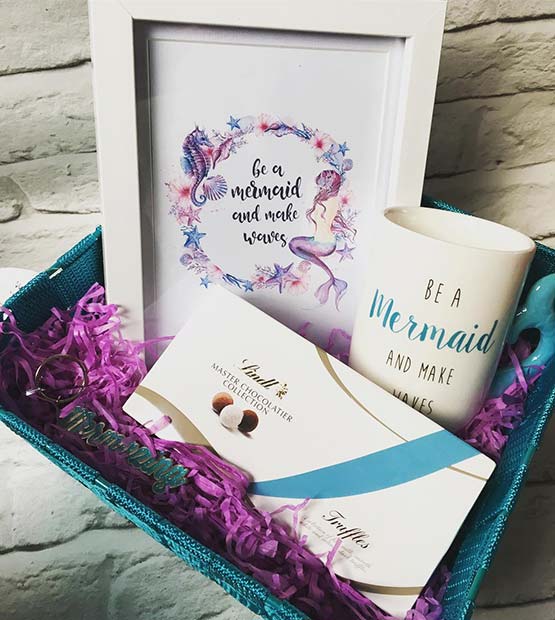 Source: @patch_works
6. SCRABBLE PICTURE
Scrabble letter pictures are very popular decorations. So, why not make one as a DIY Christmas gift. This one features "our family Christmas" but you could make one with your own message or maybe a name. Pick your background image, stick on the letters and you're good to go.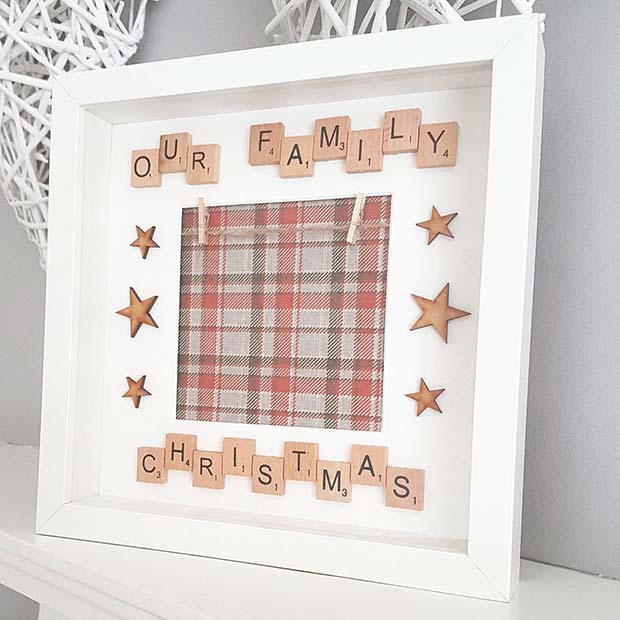 Source: @pagesandbows
7. CHRISTMAS FRIENDSHIP POEM
Giving a gift to a special friend this Christmas? Then this next idea could be for you. It is a Christmas light with a beautiful poem attached. The light can be added to the tree or just kept as it is. It is a cute and creative way to show a friend you care.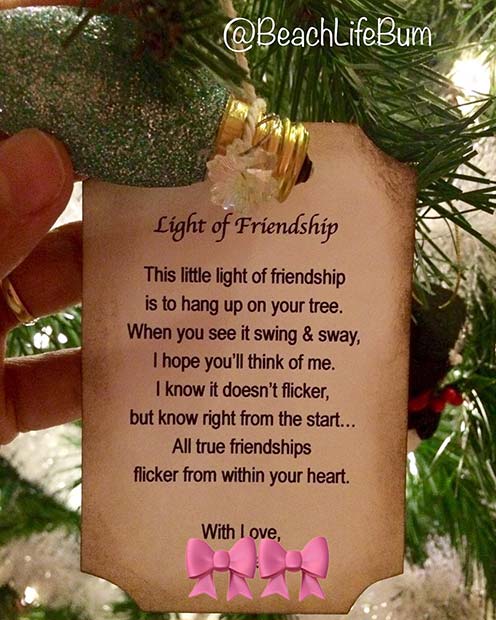 Source: @beachlifebum
8. DIY FINGERLESS GLOVES
Next, we have a DIY idea that is perfect for anyone who can crochet. You can create stylish fingerless gloves like these ones and give them as a gift. Anyone would love to receive a pair of these. You can use any color yarn and there are plenty of tutorials and patterns online to help.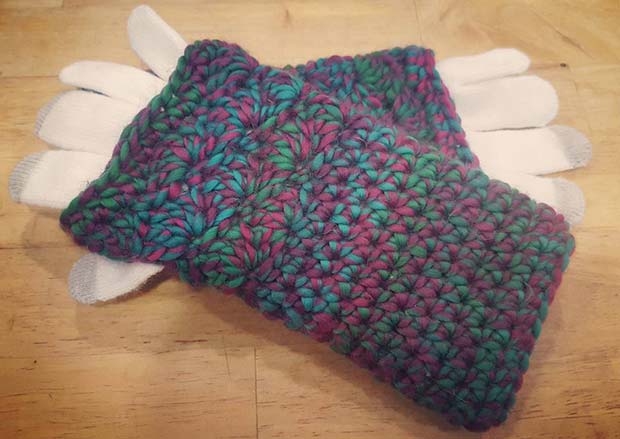 Source: @lindenbergnikita
9. CHRISTMAS CANDLE
Here is another DIY Christmas candle idea. This one uses a pillar candle with cute Christmas decorations. You could stick any decorations to your candles so use this as inspiration and get creative. The candles could be made in bulk so you can give a candle to all your friends and family.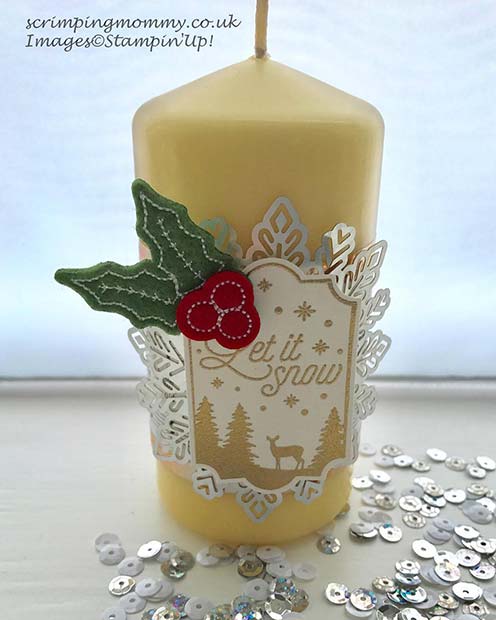 Source: @scrimpingmommy
10. CHRISTMAS PLANT GIFT
Looking for a gift for someone who likes plants and gardening? Then this next pick could be for you. It is a little glass bauble terrarium filled succulents and stones. You could put a variety of succulents in the bauble that will suit the recipients style and personality. A gift like this will last long after Christmas is over.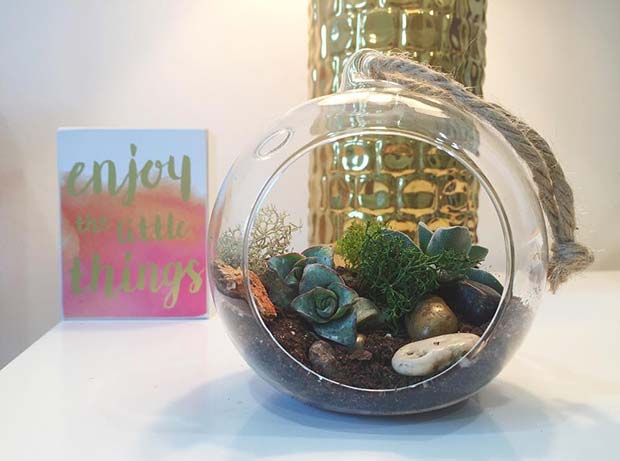 Source: @calii_cal
11. CHRISTMAS CHOCOLATES
You can jazz up the simplest of sweets or chocolates with beautiful presentation. This next idea shows a selection of treats that have been put into a pretty box with a bell, ribbon and label. You could personalize each box for each recipient. If you wanted to take the DIY a step further you could also bake and make the treats yourself.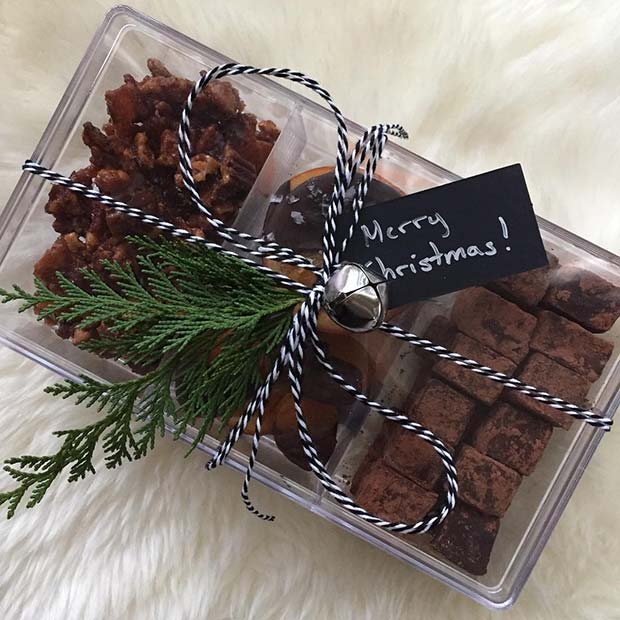 Source: @ashleyatmos
12. DIY CANDLE HOLDER
Next, we have another cute candle idea. This one used a star paper punch on some paper which has then been placed inside a candle holder. When the candle is lit the stars will look pretty. You could recreate this with any shape. Just make sure you use flameless LED tealights so the candle is safe.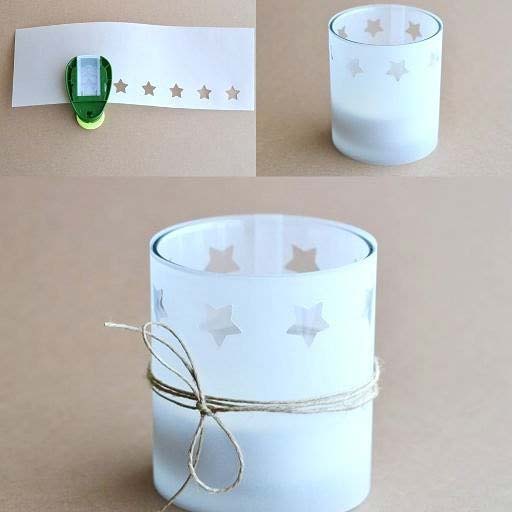 Source: @happyminots
13. LAVENDER BODY SCRUB
If you liked the salt body scrub from earlier in the post, then you might like this one to. This body scrub is lavender. A DIY gift like this is perfect for anyone who needs to relax and be pampered. There are a variety of recipes for this but for a basic scrub you will need: granulated sugar, coconut oil and lavender essential oil.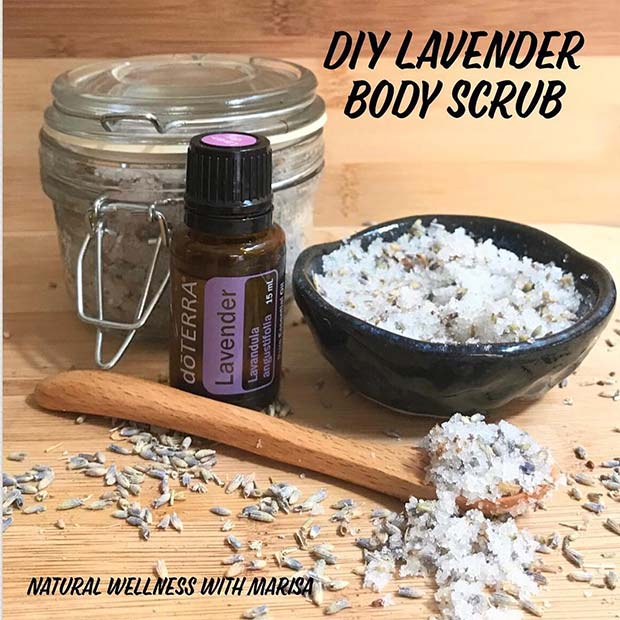 Source: @natural_wellness_with_marisa
14. HOMEMADE JAM
Like to bake, cook and be in the kitchen? Then try giving your friends and family homemade jam this Christmas. It is a cute gift that anyone will love to eat. There are lots of jam recipes available online to help you. Try and include pretty fabric lids like these. It gives the jam an extra special finishing touch.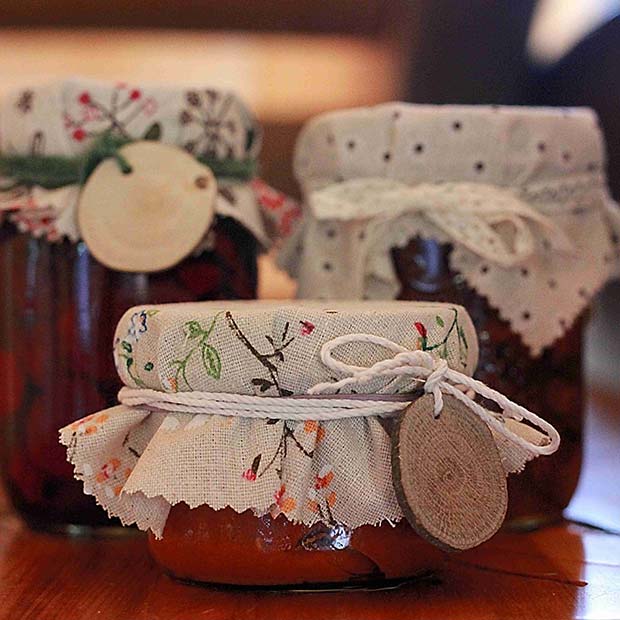 Source: @walkerland
15. DIY CHRISTMAS MUGS
Mugs are popular Christmas gifts. Instead of giving them one you can buy in shops why not design one yourself? This creative gift giver created awesome personalized mugs. You could create something like this or add in the recipients favourite colors or things. Mugs like these can even be created with Sharpie pens.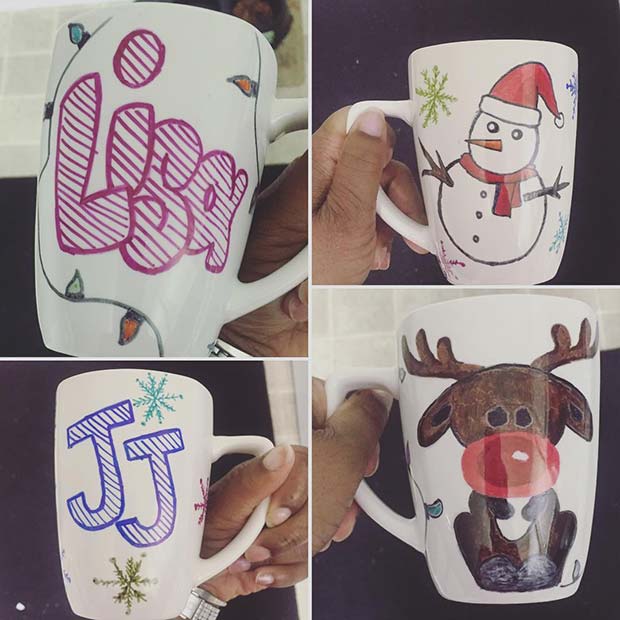 Source: @young__inspiration
16. REINDEER NOSE CHOCOLATES
Here is another way to jazz up your chocolates and treats. These DIY gifts were created with brown and red chocolates. The brown ones were added to a small bag with one red chocolate and were finished off with a label that says, "Reindeer Noses". This is a cute and creative way to give your treats a Christmas theme.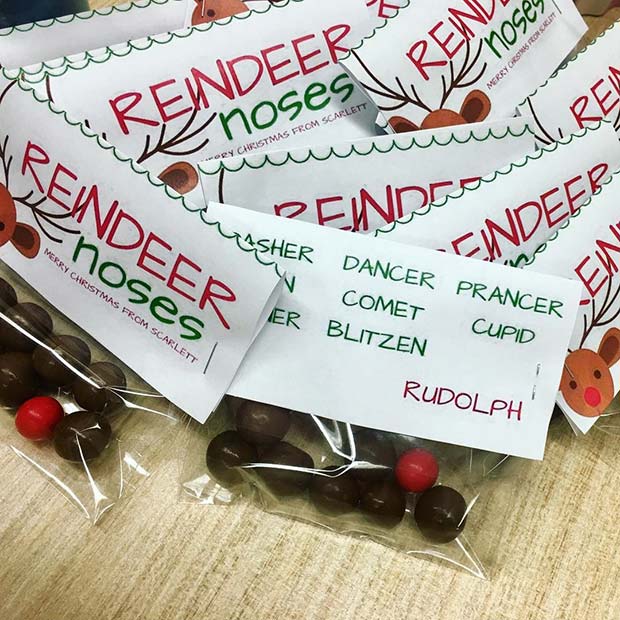 Source: @mummamealey
17. DIY PASTA WREATH
You can get the whole family involved in DIY Christmas projects. You could create pasta wreaths like this one. All you will need is some card, pasta, paint, glue and ribbon. The kids can make these and give them out to family and friends.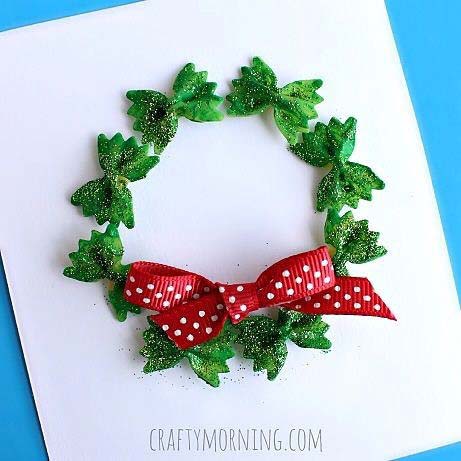 Source: @kissourcraftmas
18. CUTE BRACELETS
Give the gift of style this Christmas with DIY bracelets like these. There are so many tutorials online to help you create pretty bracelets like these. You could make these in any color and in any style to suit the recipient. Maybe add in a charm to make the bracelet personalized.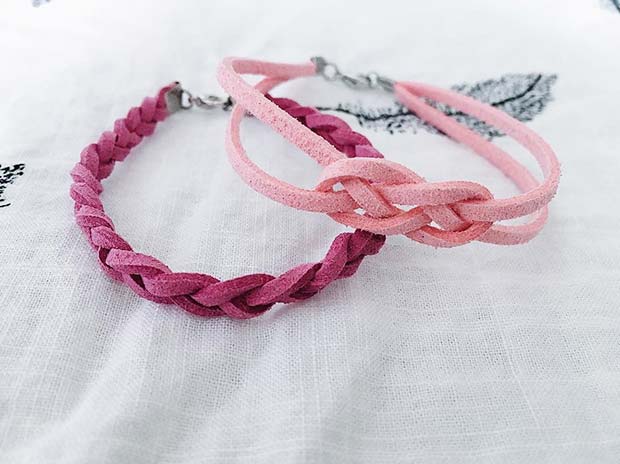 Source: @malimaleee
19. DIY WINE GIFT
Next, we have the perfect gift idea for anyone who loves wine. This gift is a blackboard with a Christmas song that has been changed to be about wine. Something like this is fun and the recipient will love it. You could recreate the chalkboard style or even make it into a card or computer printed image.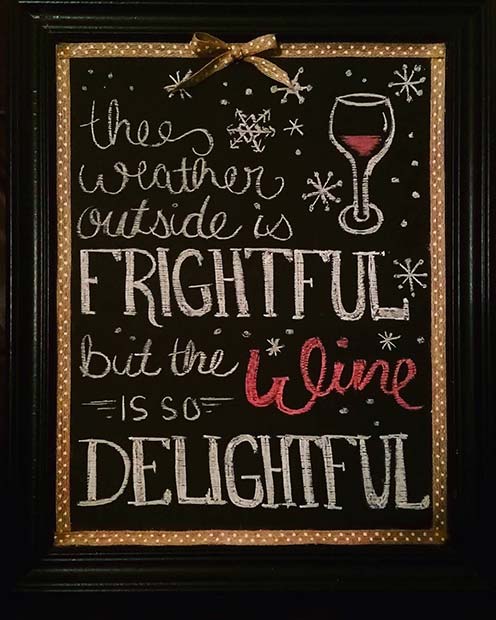 Source: @kirstieciccone
20. KITCHEN GIFT HAMPER
If you liked the hamper idea from earlier in the post, then you may like this next idea to. It is another creative way to make a hamper. Instead of the favourite things it could be a hamper about their hobbies or things they need. This kitchen one would be great for anyone who loves being in the kitchen or if someone has moved into a new home. You could fill it like this or add your own bits and pieces.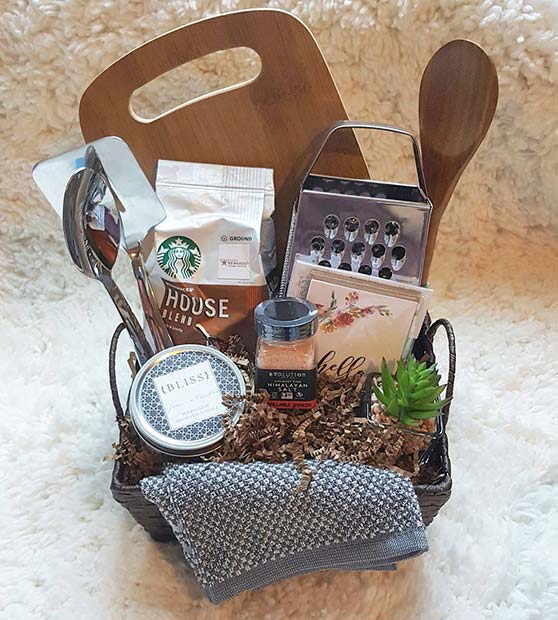 Source: @theatwoodgiftery
21. DIY STRING ART INITIAL
String art is very popular. Many crafters have created beautiful string art decorations for the home. This next DIY idea is of a string art initial. You could create something like this for any loved one this Christmas. There are many tutorials online to help you with this project.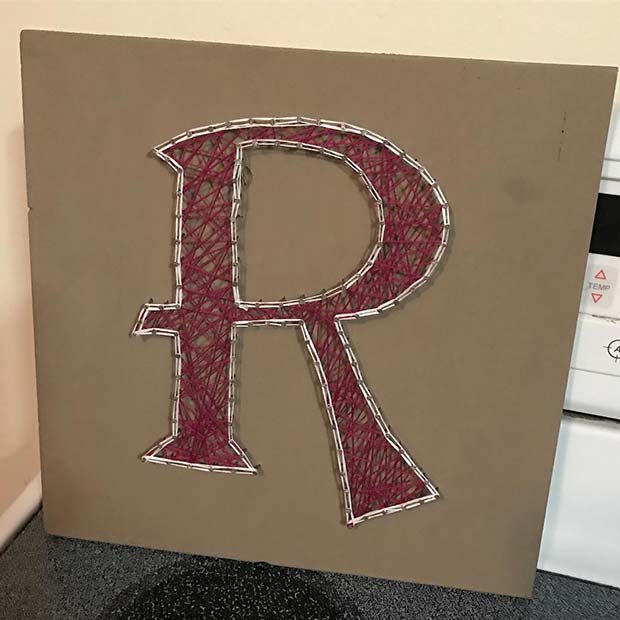 Source: @livefromtwelfth
22. DIY CHRISTMAS TEA TREE
Know someone who loves tea? Then this next gift idea is for them! This DIY gift was created with teabags that are put into the shape of a Christmas tree. You could recreate this with the recipient's favourite tea bags. We love this unique idea!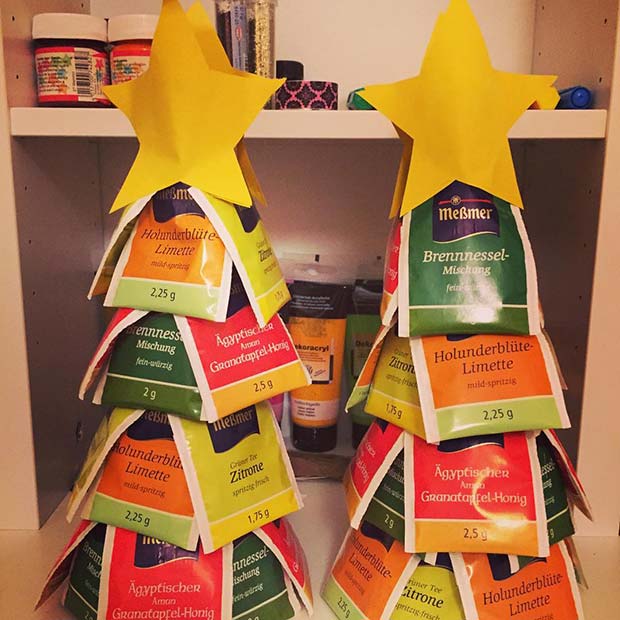 Source: @saroichen
23. CANDLE GIFT
Last on our list is this candle DIY Christmas gift idea. Each candle features a different decoration with a different label on the front. You could create a personalized candle for each person on your gift list. Maybe even get the whole family involved so everyone can make one.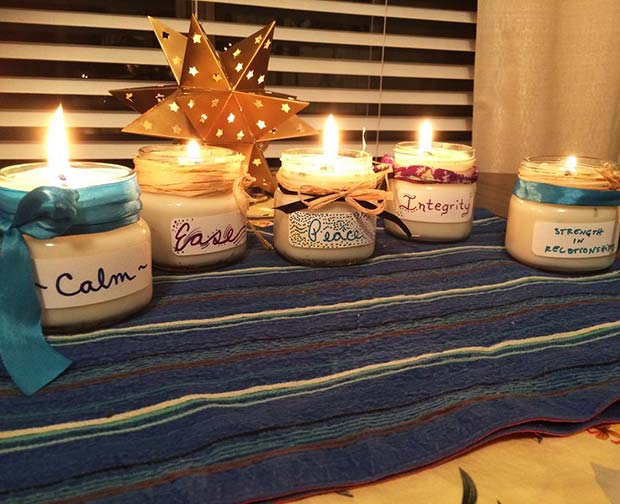 Source: @gypsiiiii
We hope you have found inspiration from our DIY Christmas gift ideas.