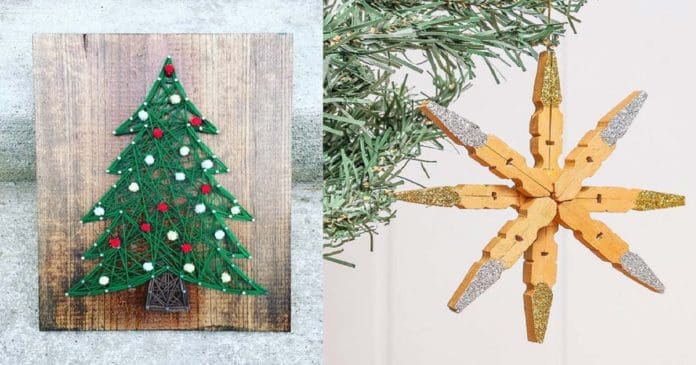 At this time of year many of you will be thinking about Christmas decorations, gifts and more. This year why not make some! We have found 21 DIY Christmas crafts that you can create at home. There is a wide range of ideas from tree decorations to cards you can give out to family and friends. Whether you're new to creative crafts or are a bit of a pro there is something for you to make.
1. CHRISTMAS TREE GARLAND
First up we have this cute Christmas tree garland. The trees have been made from felt in a cool color palette. All you need to do is cut out tree shapes in different colored felts and put them onto a string. You could glue or sew the trees. We love the colors used because they are wintry, but you could go for something more festive like red.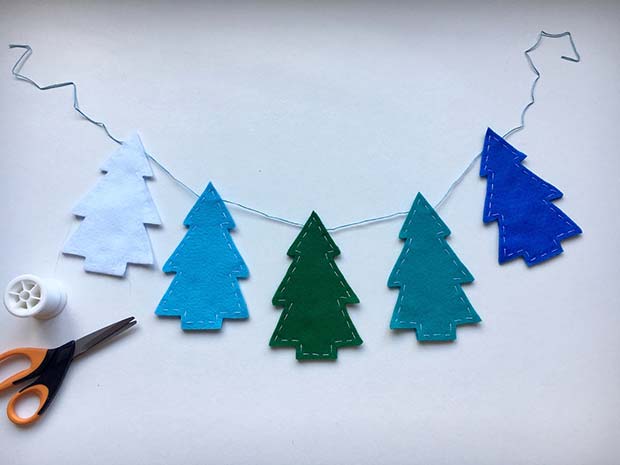 Source: @feltgoodcustomcraft
2. WOODEN CHRISTMAS TREE DECORATION
Next, we have a creative tree decoration idea. Sticks varying in length and string have been used to create a wooden hanging tree. The tree has been finished off with cute baubles. This is a unique idea and it would look festive on any wall. You could make this in any size.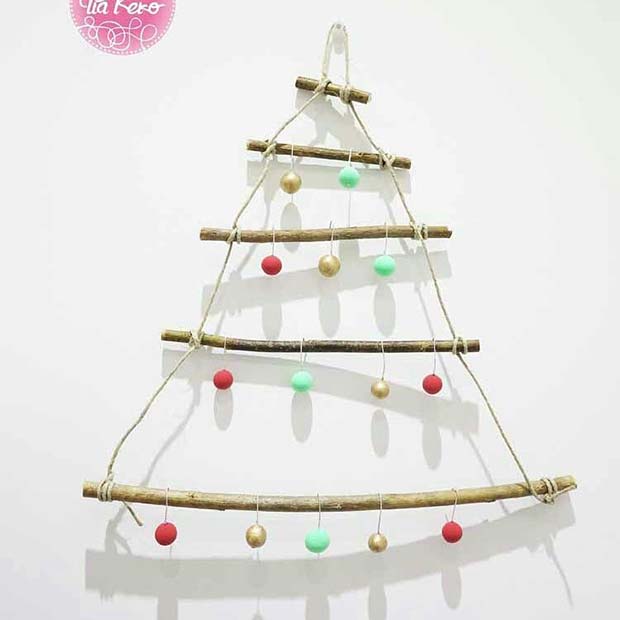 Source: @tia_keko
3. SPARKLY PEG DECORATION
Pegs are not just for hanging clothes. This next idea shows you how to make a sparkly decoration for your tree with pegs. All you will need is a pack of wooden pegs, glitter, string and glue. When the pegs are glued together like this they make a star or snowflake design. Recreate this design or choose your own.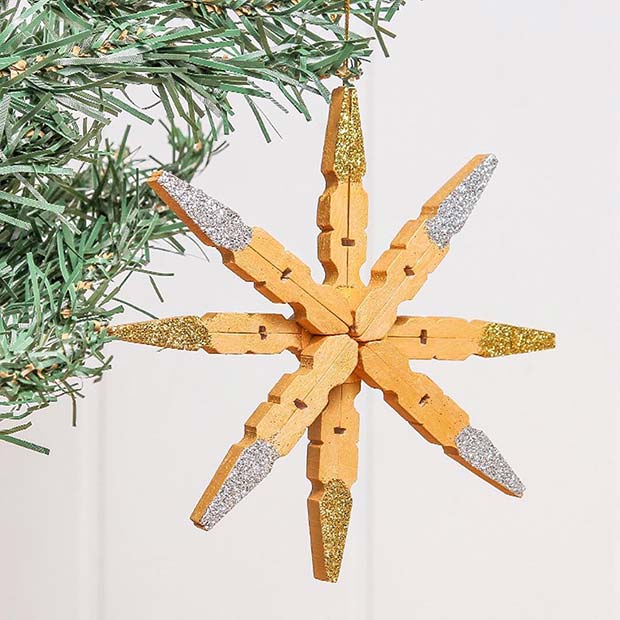 Source: @cleverpatch
4. WINTER WONDERLAND FRAME
Our next idea looks very difficult to create but it is not! For this Christmassy craft, you will need a box frame which can be bought online, a glitter background, fake snow and a sticker or paint of your choice. Put the glitter background inside the frame then add the snow. Close it up and put on the sticker or paint your words or design. You could give something like this a gift.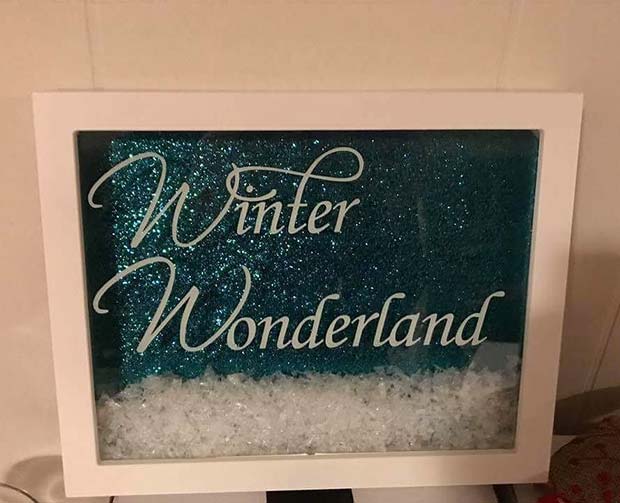 Source: @sue_b_creations
5. BAUBLE WREATH
Wreaths are a must-have Christmas decoration. This wreath isn't the classic traditional green you would usually get, it is gold, glittery and glam! The wreath features gold baubles, hearts and reindeer. It would look stunning and festive on any door. There are tutorials online to help you make something similar.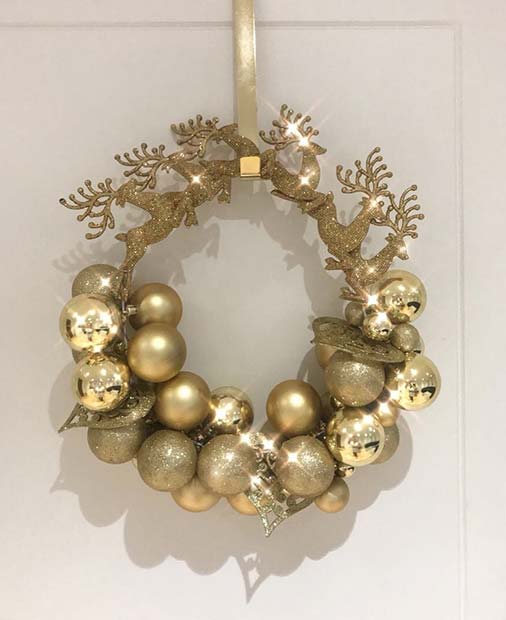 Source: @maxxi_a
6. CHRISTMAS STRING ART
String art is trendy and unique. You can give your art a festive look by creating a Christmas tree like this one. DIY Christmas crafts like this will take time, practice and patience but the result will be worth it. You could also give this to someone as a gift. There are tutorials available to help you get your string art started.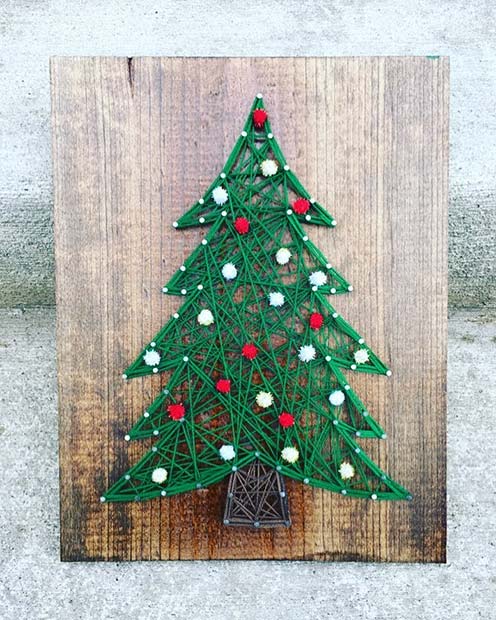 Source: @_babycraft
7. CUTE PINE CONE DECORATIONS
If you are looking for cute Christmas crafts, then our next pick is for you! This crafter has turned pinecones into adorable little figures. The pine cones have had a wooden bead glued on the top to make it look like a head. The head has then been painted. To finish off little accessories like hats, gloves and scarves have been added. We love these, they will make any house look Christmassy.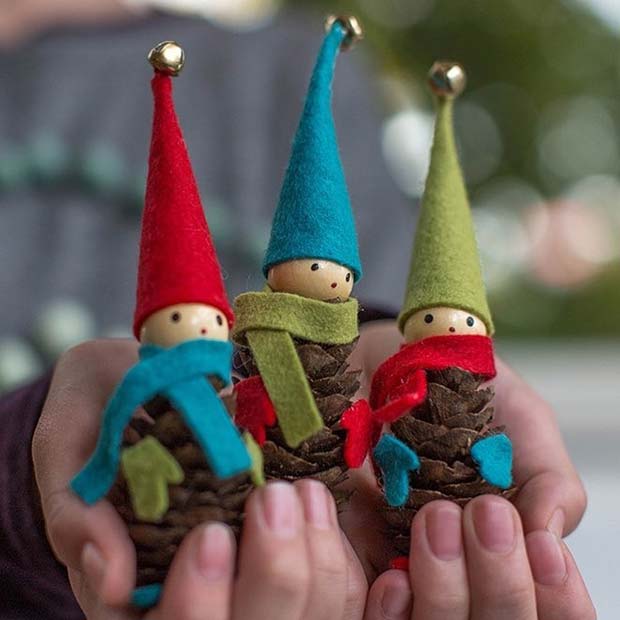 Source: @liagriffith
8. SPARKLY SNOWFLAKE
Next, we have a sparkling snowflake craft. To make this you will need felt and sequins. Cut out a snowflake design on felt. You could use a template and then sew on your sequins. You could hang these on the wall or put them in a tree. If blue isn't your color you could try a different color like white, silver or gold.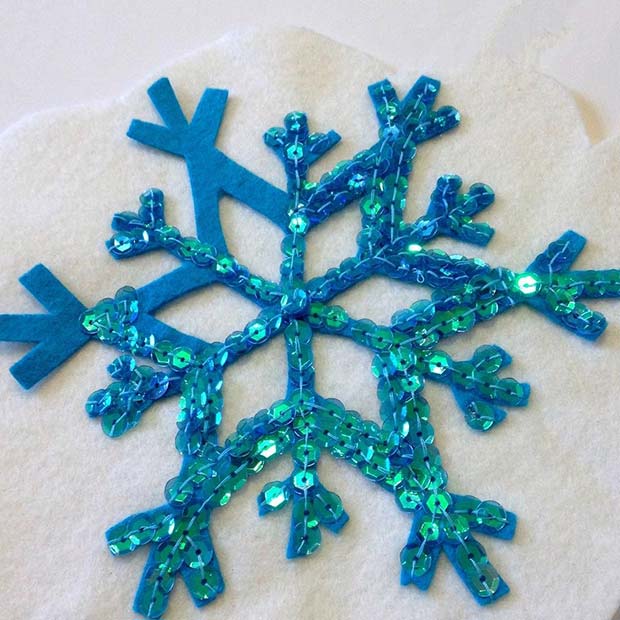 Source: @afc_andie
9. DIY ADVENT CALENDAR
An advent calendars is must-have for the countdown to Christmas. Instead of buying one why not make one?! By making it you get a unique calendar that can be filled with whatever you like. This one was made cardboard tubes, sticks and string. Assemble your calendar and then decorate with the day. You could decorate in any way you like.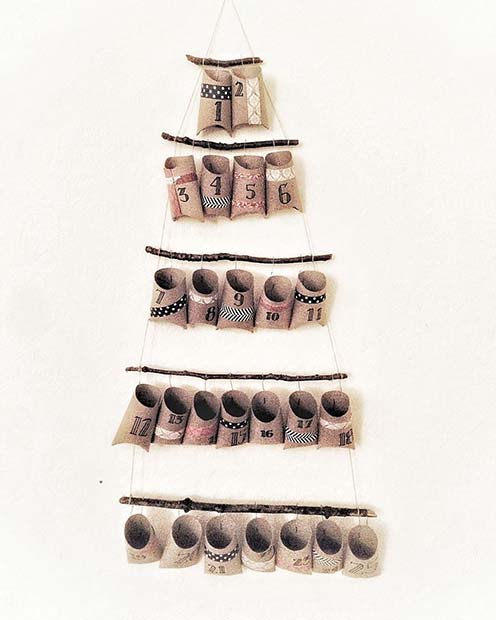 Source: @abigail_joy_carter
10. ORANGE POMANDER BALLS
Orange pomander balls are traditional and easy to make DIY Christmas crafts. All you will need is an orange, something small and sharp like a toothpick, cloves and ribbon. Make holes in the orange with the toothpick and then push in the cloves. You can then finish off with a ribbon. These will look Christmassy and smell great to!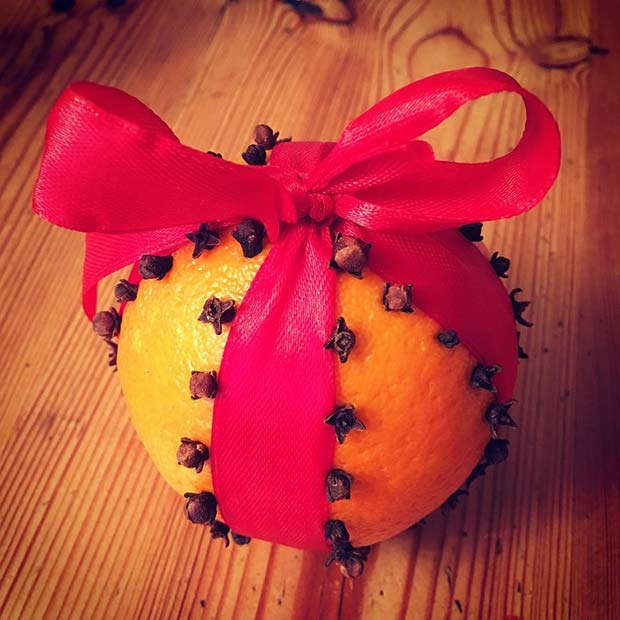 Source: @samthrossell
11. DIY CHRISTMAS CARD
Every year most of us give out Christmas cards to friends and family. This year make it extra special and make your own cards! This card features a super cute penguin. You could draw or paint your design or print a picture to use. Make a penguin card like this or create your own.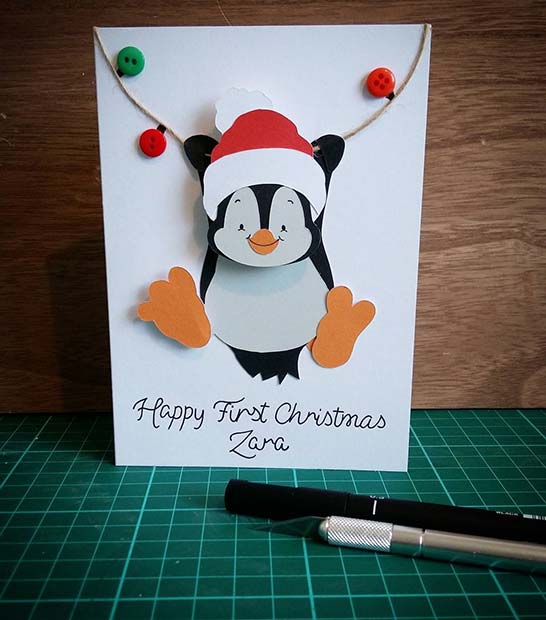 Source: @offthecuffcrafts
12. CHRISTMAS PHOTO BOOTH PROP
When the big day arrives, you may have family and friends over for dinner. Make it a fun day to remember with a festive photo booth. For a photo booth you need props. These props would be perfect for Christmassy pictures and you can make them at home. Print off some images like these, laminate them and glue on some sticks.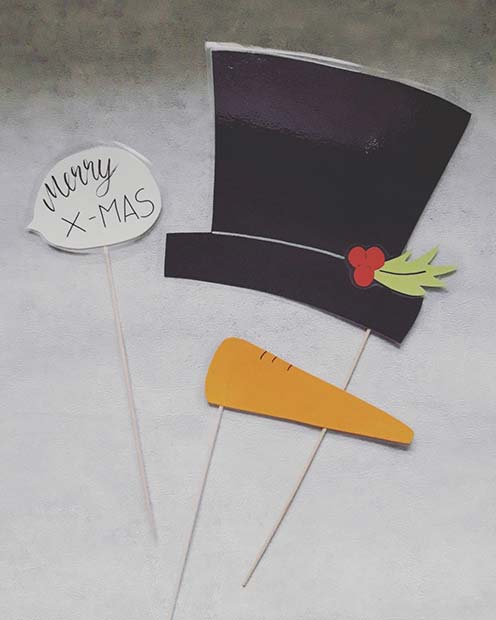 Source: @my_colorful_life_1982
13. DIY GIFT TAGS
Personalize your gifts this year with DIY gift tags. You can create super cute tags easily at home. These were made with a variety of pieces including buttons and colored card. Anyone would love a present that has tags like these. You could make a variety of designs or just choose one.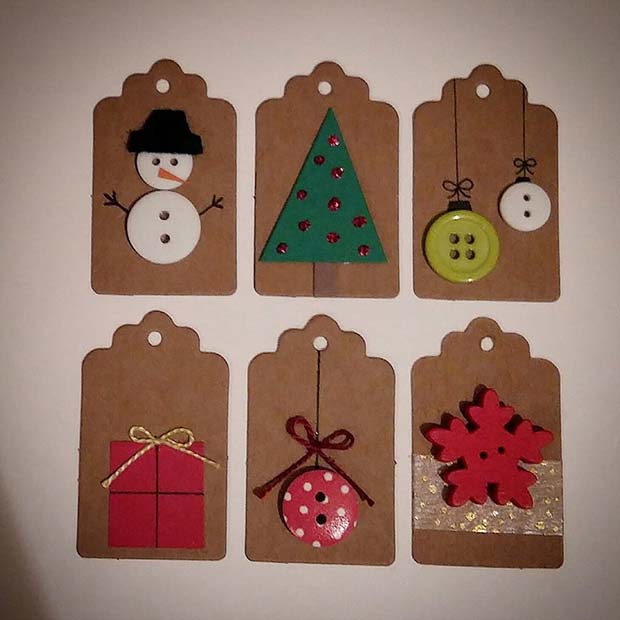 Source: @offthecuffcrafts
14. ICE SKATE DECORATION
Ice skate decorations are very popular this year. All you need is an ice skate and then fill it with all Christmassy items. There are tutorials online to help you with filling them, how to hang your decoration and even how to turn them into wreaths.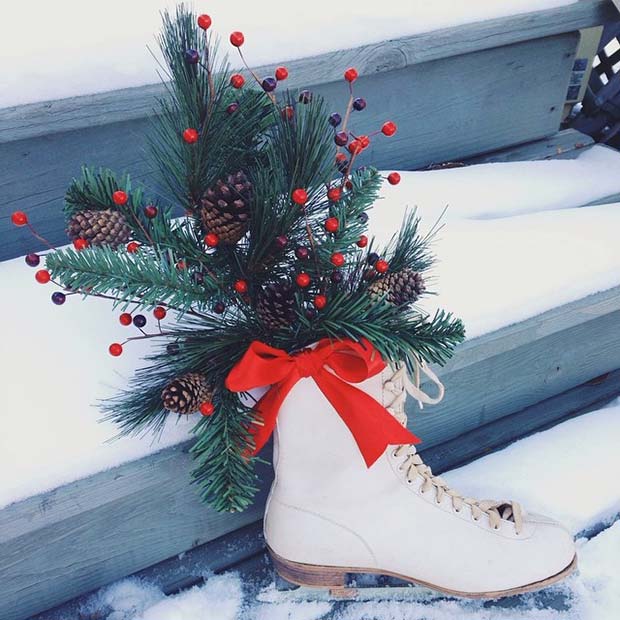 Source: @calliethiggins
15. CUTE DIY PENGUINS
Our next pick is super cute! We have a pair of festive penguins that would look adorable as a tree decoration or placed around your home. All you will need to make these penguins are two corks. You can buy the corks or recycle wine bottle ones. Then paint your penguin design.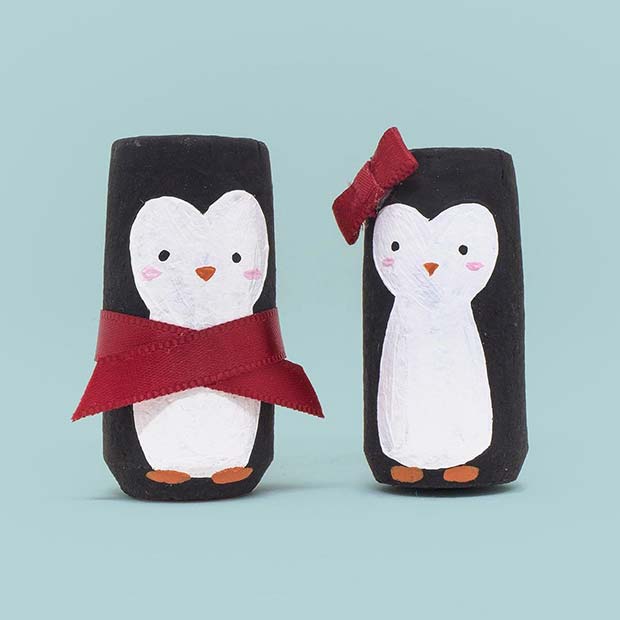 Source: @mollymoo_ie
16. BEADED CANDY CANES
Candy canes are traditional Christmas decorations. The downside to having candy canes in the tree and around your house is that people may eat them before Christmas comes. Our next craft idea solves that problem! These candy canes have been made from beads and pipe cleaners. This decoration is super easy to make and will last year after year.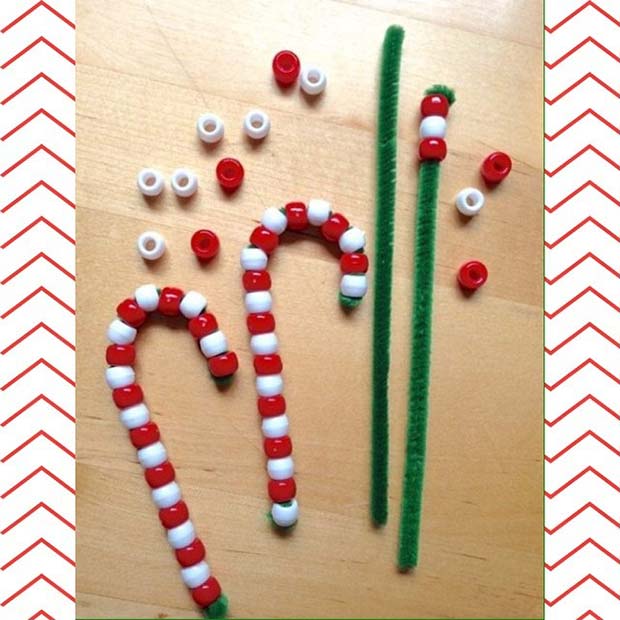 Source: @center_of_attention_parties
17. FESTIVE CANDLE
Give your candles a festive look by adding some Christmassy decorations. This candle features a variety of things including pine cones and berries. You could add anything to these such as ribbons or tinsel. Make sure your candle is safe, you could even decorate a flameless candle.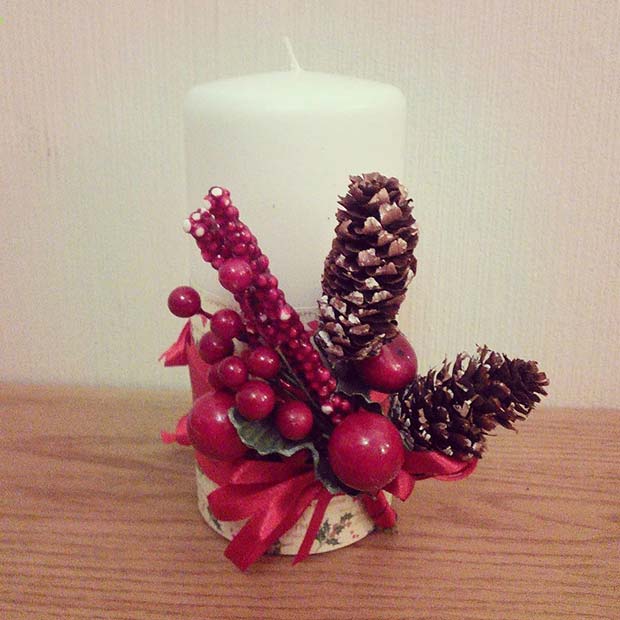 Source: @artfulpelicanlifestyle
18. GINGERBREAD PUPPETS
Our next Christmas crafts idea is perfect for families with younger children. You can make gingerbread puppets! Not only will your kids enjoy making them with you, but these will also bring the family together for puppet shows and more. You could also give these out as gifts. There are many tutorials available online to help you make puppets similar to these.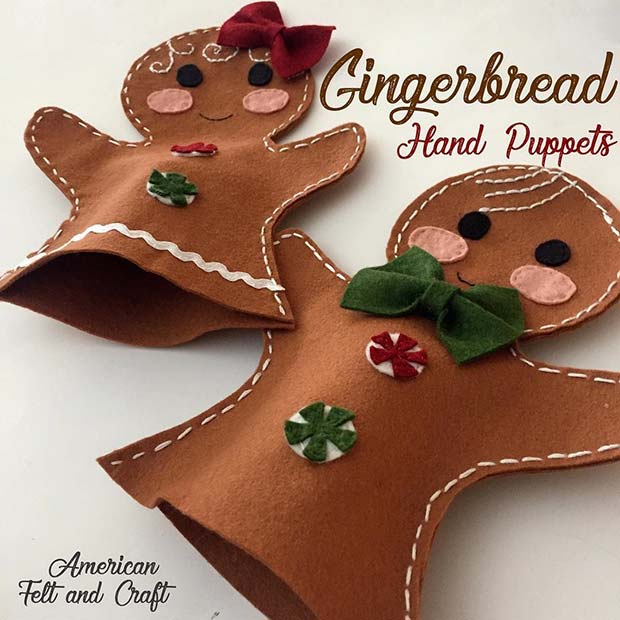 Source: @afc_andie
19. DIY CHRISTMAS FLOWER
Christmas flowers are very popular decorations. Next, we have a craft idea that will make your Christmas flowers last for years and years. You can make flowers with felt and pom-poms. You could make a few of these and decorate the tree or even turn them into a garland.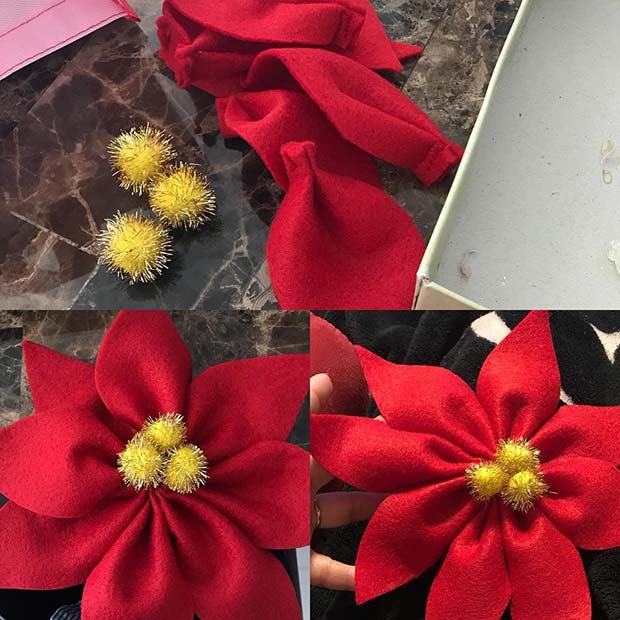 Source: @johanelasalvatierra
20. DIY PAPER BAUBLES
Make your Christmas tree unique by decorating it with paper baubles. These can made from any paper. Plain, festive, sparkly the possibilities are endless. You can also make these in different shapes. There are tutorials online to help you create the baubles. We love these Christmas crafts!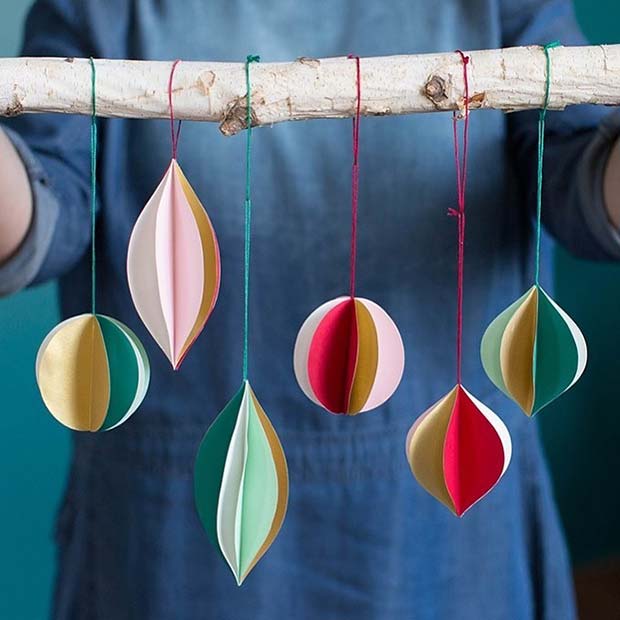 Source: @liagriffith
21. DIY PAINTED WOODEN DECOR
Wooden decorations are very trendy this Christmas. This small piece of wood has been painted with baubles and snowflakes. This would look super cute hung up in your home. You could recreate your decoration like these or create your own design.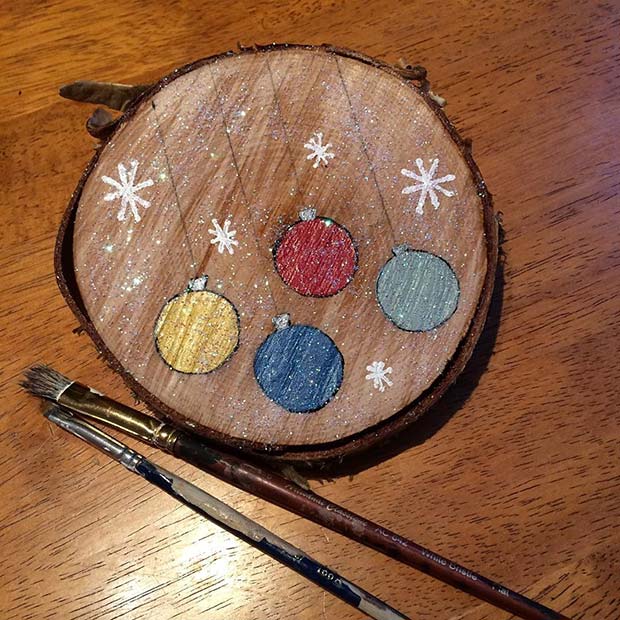 Source: @maggies_inn
We hope you have found some festive Christmas crafts.