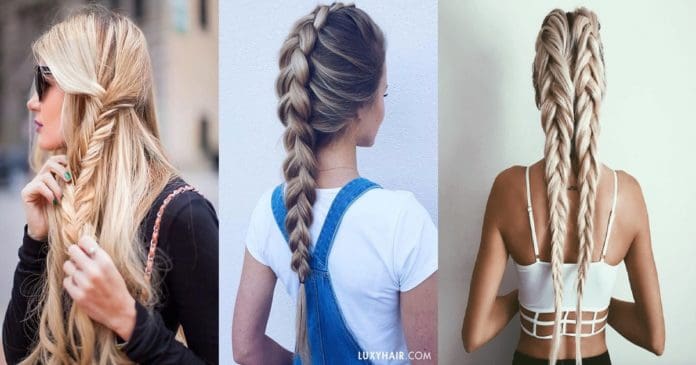 Many people talk about having a braided hairstyle, but what is that exactly? A braided hairstyle is when you interlace three or more strands of hair together to create a unique look. These hairstyles became popular due to their distinctive way they make your hair look and are even fashionable enough for a celebrity hairstyle. Joan Smalls looked spectacular at the American Crime Story screening with her symmetric cornrows hairstyle and Demi Lovato wore a braided ponytail to the Simply Complicated in Los Angeles, and she looked very stunning.
Of course, I only mentioned a few celebrities that used a braid to entice their look this year. With more celebrities wearing braids, the hairstyle is becoming more popular than it has been in the past. What type of braid hairstyle is part of the fashion world today?There are many braid hairstyles for long hair such as the Dutch braid, the waterfall twist, the fishtail, crown braid, and more. Most of these braid hairstyles require a specific pattern to follow to get the perfect look. Below are 50 great hair ideas to inspire those who enjoy twisting and turning their hair.
1) High bun and flowing locks this summer to keep your neck cold
You can let the breeze tickle your tresses, but keep your look secure with a half-up hairdo. Just a simple twist that puts the top layer of your hair in a loose bun leaves the rest loose as a casual vibe. Add some cute braid styles or two that start under the messy topknot for the best effortless style.
2) Fishtail over the shoulder for spring and summer fun
By giving your fishtail braid a messy, over-the-shoulder start, you can get away with making a few mistakes. This comes in handy if you're still learning to master the art of fishtail braid styles, but it's still a great look even when you have the hang of it. Try varying the width of strands as the braid comes to an end for a dynamic look.
3) Fluffy braids over streaming hair for summer
You can give half-size braid hairstyles a ton of volume by teasing and tugging the strands apart once it's tied off. Adding smaller and more narrow braids that blend in with the rest of the tousled and loose look add an easy and cute flair.
4) Flowers in a loose braid for the flower child look
Threading flowers in while hair braiding instantly adds a nice, natural touch to any look for any occasion. This could be as simple as a quick 2018 festival style or as lavish as a bridal up-do. If you're worried about wilting and drooping petals, use dried or synthetic flowers to make the style work for you.
5) Braid four strands to create a full braid over your long hair
With this woven braiding style, go slow or practice on a smaller section of hair that you can see easily in the mirror. After a little know-how, you can create this full four-strand look with an effortless grace that's elegant and classy. Wrap and pin a piece of hair around the tie at the end to give the braid the best natural finish.
6) Braid to two buns for a new look
Source: instagram.com
Two French-style braids that end in twin buns turns up the fun for any cool or cute outfit. While the braids themselves should hug close to the head and look tidy, the buns can be teased for more volume. A messy look that blends in with some volume and waves for the loose hair works in any season.
7) Loose braids will create a wispy look in your hair
Combining sections with simple twists and a chain of interlocking pony-tails over loose waves looks complicated but is super simple to recreate. It doesn't need to be a super sleek hairdo for a nice finish, but the twists and waves shouldn't be too messy, either. The small rubber-bands helping the braid stay in place should be close to the natural color of the hair in order to blend in.
8) Braid around your head like it is a laurel
By parting your hair at the top center of your forehead, you can bread two separate pieces that wrap around your head to look like a leafy crown. Fishtail braid styles work best for this effect. The strands should be thick enough to create a braid that's at least an inch wide, but not too thick so the ends aren't poking out awkwardly from under the pinned back.
9) Invert your braids for fun and a new look
To get a braid hairstyle that looks like it's climbing up instead of falling down, use the pull-through method in reverse. Clear rubber-bands disappear easily against light or brightly dyed hair, but darker tones can find them in black and brown, too.
10) Messy braids are easy to pull together
Source: instagram.com
Very loose braids where each stand is twisted and fluffed before being woven together with the rest results in a look with a lot of volume and waves. When some smaller braids are threaded through this gently pulled-together look, they add to the pretty and dreamy finish.
11) Braid up to a bun behind your head
Making sure to carefully section your hair into two equal halves before you begin braiding one side is the trick getting this cool style looking tidy. Though the braids should be neat and uniform, you can get a little messy with the buns for casual wear. Rock some bangs or loose strands around the frame of your face for the ultimate quick style.
12) Tiny braids atop your head will find your bun
Row-style hair braiding tricks are a great way to get your bangs out of your face and hide them in a look that's easy and pretty at the same time. A bun at the very top of your head will hide their ends if they're too short to wrap into the twist itself. Just a bit of teasing will give the bun enough volume to work.
13) Let your braid split into two when you are finishing off your style
This is the pajama-party answer to pigtails with its casual and cool vibe that looks messy bedhead chic. Quick kinds of braid hairstyles like these pair best with a face mask and hot mug of herbal tea. They can hold up during a workout, too, when you use a headband to keep the wisps back from your face.
14) Cross over braids just for fun when you get ready
To make these four braids look their best, keep them in tidy and evenly separated sections that line up on either side of your face. Adding bows or flowers to where they pin into the back of the head can hide the work that makes this style look so simple and pretty.
15) Braid across your head to a bun
A chunky center braid that gives a bit of poof to your bangs can finish at the top of your head with a little bun to hide the ends. When you need your hair pulled back but don't mind a bit of a longer style for the lower half, this style fits a cool and easy blend.
16) Braid up the side of your head instead of shaving
When you want an edgier look, braid evenly-spaced rows up one side of your head and leave the ends to blend in with the rest of the loose hair. Teasing the crown and leaving the rest in messy waves gives a fauxhawk look that can just as easily brush out at the end of the day.
17) Flowing hair, small bun and a tiny braid
Flirty looks like these combine a few different elements for an easy result. The quick little bun at the back matches the uneven braid for a boho-chic feel. Keeping the loose hair messy around the shoulders makes this a fast and fun style for the beach or around the pool at home.
18) Pull hair through knotted braids
This braiding style works by leaving each top-layer strand on its own as you braid through the rest of the sections. After it's finished, you can adjust the way those top strands weave through by fluffing them at the root. This is a great way to have an elegant style that also keeps loose hair away from your face.
19) Wrap braids to a pony tail to look your most magical
When you need a style that works for the concert lawn or a shopping mall, use chunky braids that gather your hair into a pony tail that flows down your back. Beachy waves and soft tendrils that frame the face keep that casual and playful vibe fresh.
20) Fold under your pony tail for a fun style
Pulling your half-size pony tail through a loop once or twice gives it a twist and leaves a long strand you can braid a few different ways. With an artsy look like this, leave it messy for the first half, then use a tightly braided fishtail to give it a special finish.
21) Let loose braids fall into two
Even sections and a centered part help these braid stay neat and tidy so that you can finish them up after tying them off. By starting at the bottom of the finished braid, gently tug each piece to get the volume you're looking for. Keeping the proportions the same throughout the braid makes the style look polished.
22) Make mermaid braids for fun when you head to the beach
Source: instagram.com
Braids like these look like magic from an undersea adventure, but they're just a series of pull-through braids that end together with a fishtail finish. Leave the ends unbound when you're ready to let the oceanside wind and waves work your magical braids loose for a saltwater treatment.
23) Tie under a braid for your updo
Working the long tail of a braid into a wispy, off-center bun is a great way to turn a look into an updo that's ready for any fancy or casual event. The braids can be tidy or messy and the bun can hold special jewels or flowers to turn the dial up on an outfit for a special occasion.
24) Use one side braid for fun
A side-part and cascading braid make a casual look glammed up for daytime or nighttime wear. It's a great way to try out a more complicated braid style like the fishtail. Since you can see it so easily from the side like this, you can practice mastering the trick to getting it looking just right.