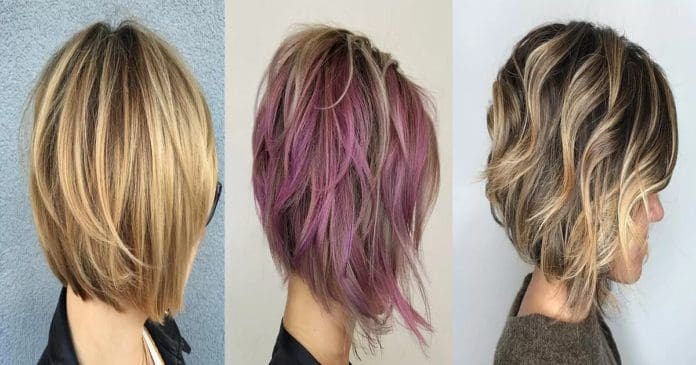 We wonder if there's any girl or woman out there who has never tried a bob haircut. With a variety of lengths and finishes, there's, for sure, a bob that flatters your face and suits your hair type. Modern on-trend bobs opt for layering that works for the increase or reduction of volume and makes the overall look chic and present-day. The other thing is when choosing an appropriate cut, we always think of how we are going to style it. Making a stake on low-maintenance, ease and up-to-date looks, more and more celebrities and bloggers are rocking stylish bob hairstyles with grading, highlights and natural-looking finishes. Why not to follow the examples of the most renowned trend-setters in this matter? Anyway, there's a full gallery of chic bob styles here with all the modern twists you can imagine. So, feel free to join!
Layered Bob Hairstyles as They Are Today
Nonchalant styles are sported by many red carpet regulars. These days everyone wants to look fresh, rested and as if just from a luxurious resort. Layered bobs offer freedom in the choice of styling solutions: sleek flat styles, slightly tousled and voluminous curly dos are all at your disposal this season.
Chin-grazing and shorter cropped cuts are occupying the leading positions as the most stylish bob versions. These show off cool choppy or fringy edges, fun asymmetry and gorgeous textures. "Demi-bobs" with better length opportunities can be worn both in loose styles and chic updos. The trendiest long bobs of today often feature breathtaking highlights or ombre.
Texturized bobs look fantastic on thin and medium dense hair. Thick straight or curly hair with a bob cut has a risk to settle in a triangular shape that doesn't look very appealing. Thourougly texturized ends and heavy layering helps to save us from the dreaded triangular. A good option loved by many contemporary women is a graduated or stacked bob with shorter stacked layers at the nape and longer tresses in front. Okay, time for pictures!
#1: Pretty Pale Blonde
Source
If you have thick hair, you don't really need the dye tricks to make your strands look fuller. Instead a solid color adds a cool touch to your layered bob haircut. The pastel blonde is romantic and whimsical with a bit of toughness; perfect for a woman who is both seductive and sweet.
#2: Modern Blonde Bob
For a layered bob with urban appeal, try a deep side part and long bangs that blend in with the rest of the choppy cut. There are lots of options for styling the layers and helping them stand out. You can use sea salt spray or pomades designed for short hair. Experiment to see what works for you personally.
Instagram/ @love.your.hair
#3: Stylishly Wispy Bob
In need of a bob cut that will have you feeling girly and modern at the same time? This bob is mostly all one length, but with some wispy pieces that give it a soft feel. What really pulls the cut together is the swooping hair at the front and the volume in the back.
Source
#4: Finely Chopped Tousled Bob
A colored bob that has been finely chopped creates a smart and sophisticated look with added depth. The extra attention to detail takes the weight out of thick and heavy hair, while the highlights and tousled styling generate a breezy and sun-kissed feel.
Instagram / @studio417salon
#5: Sophisticated Bob with Subtle Layers
A layered bob with blunt edges is more intense when paired with a dark or vibrant hue. The subtle layers build shape and texture to your tresses while allowing your color to shine. Wear straight for a neat, polished look.
Instagram / @hairbydarcigray
#6: Half in the Shadow Bob
This bob features short layers — great for anyone who wants to try the all-one length look but also wants a little dimension. The colors are just stunning! From a dark deep purple through orchid fuchsia to white…we're in love. With dark under layers, the colors gain even more visual interest.
Source
#7: Touchable Easy Wear Bob
Here's a look that will have you playing with your hair and tossing it back and forth all day. For a cropped cut with expertly done layers, you'll want to go to the best stylist you can find. Scope out their pictures on Instagram or Facebook to be sure they can do the layered style you're after.
Source
#8: Tousled Lavender Feathers
So pretty! Layered bob haircuts are definitely having a moment. Remember when young girls rarely went for short hair and the bob was considered more of a "mom" cut? Yeah, well that is no longer. Everyone is experimenting with short hair now, because it's so freeing. These pink, lavender, soft brown, and blonde colors are worth a try.
Instagram/ @sammiiwang
#9: Cute Straight Bob
For a classic bob, go for hair that is slightly longer in the front (near the ears) with side bangs, body in the back, and soft layers. This style gives you endless styling options. For a more modern look, you can part it deeper on the side and add some texture with natural waves or heat-styled crimping.
Source
#10: Messy Chopped Bob with Extra Short Back
Super sassy and youthful-looking, this stacked bob is heavily layered with an extra short back, which increases the volume at the crown of your head. The long bangs can be left tousled, curled, or blow-dried straight depending on the occasion and your mood.
Instagram / @shmoakin_hair
#11: Teased Layered Bob
Our favorite layered bob hairstyles make a woman feel like a million bucks. Otherwise, what's the point? This style is really flattering, and the reason is simple. Volume! It's so much easier to get body when the hair is short because it's lighter. So tease your hair sky high and rock it.
Source
#12: Curly Bob with Highlights
For a stunning, dimensional bob, opt for layers that reveal highlights and lowlights. Because of the beautiful colors, these curls are more like swirls. Curl the bottom layer under, and the top and middle layers in alternating directions for a gorgeous, feminine style.
Source
#13: Steeply Angled Bob with Layers
The dynamic lines of a steeply angled bob mean that it's not for the faint-hearted. With this cut, the bigger the slant the better! To style, fluff up your locks at the roots and apply a styling paste or mousse to the lengths to accentuate your natural volume.
Instagram / @kendallxfire
#14: Blonde Layered Collarbone Bob
Layered bob hairstyles with balayage colors are particularly fashionable right now. For those who like the chicness of the bob, but don't want to lose their length, choose a tapered collarbone cut and you won't be disappointed!
Instagram / @ashalily
#15: Medium Shag with Subtle Highlights
Meant to be worn messy, a medium shag cut is layered to various lengths and then feathered throughout. This approach suggests that your tresses are generally fuller yet thin at the ends, giving off a cool and carefree impression.
Instagram / @switch_hair_design
#16: Short Layered Bob with Accurate Edges
Precision is key when it comes to getting a short layered bob with accurate edges. Retro-inspired and associated with Mary Quant's hair from the sixties, this cut has been given a contemporary twist in the form of highlights and choppy layers.
Instagram / @becca_vanmichael
#17: Neat Rounded Blonde Bob
To create the circular effect of this layered bob, the ends have been graduated. If you have a round face, be sure to wear the long face-framing layers straight. A word of warning: bobs that have been curled under can make your face look rounder.
Instagram / @_ninamonique_
#18: Steeply Angled Brunette Bob
Quirky and unique, the image shows that this steeply angled bob is meant to appear uneven and slightly disconnected. Rather than creating a smooth slanted line, the stylist opted for an unexpected detail – elongated front pieces that live somewhat separately from the rest of the cut. The subtle warm brown highlights add to this striking effect.
Instagram / @luisramirezpr1
#19: Curly Bob with Cool Toned Highlights
This gorgeous bob has chunky layers and blunt-cut ends for a cool, modern style. The ashy tone of the blonde and brown balayage highlights is undeniably on-point. When you have cool toned hair, it's best to mirror that in your makeup too. The berry lip and gray shadow create a lovely combo with the colors of the curls.
Instagram/ @salon_sessions
#20: Inverted Shattered Bob for Straight Hair
The shape of an inverted bob looks sleek and sexy on straight hair, especially because the nape section is lifted. By adding shattered layers, you create a rough texture that will make your facial features sweeter, in contrast.
Instagram / @prissyhippiebeautyshop
#21: Wavy Layered Bob
This adorable look features cute short waves and a warm, cinnamon-honey color that would be nothing short of life changing for anyone with brown or red hair. Women with naturally wavy hair will have a haircut that is as close to wake-up-and-go as possible.
Source
#22: Ash Blonde Voluminous Shaggy Bob
This fluffy bob haircut with layers throughout gets its shaggy appearance thanks to backcombing styling. The ash blonde hue adds to its fashion-forward appeal. Whether you wear the shaggy bob smooth and straight or edgier, with a messy touch, you're guaranteed to turn heads for all the right reasons.
Instagram / @brookie_jax11
#23: Stacked Bob for Poker Straight Hair
Rocking a stacked bob poker straight gives it a jagged and intentionally unbalanced aesthetic. As the layers are incredibly short at the crown compared to their collarbone length in the front, there is a visible juxtaposition that is dramatic yet beautiful.
Instagram / @mint_salon
#24: Classy Bob with Angled Midshaft Layers
Layered bobs can be given dimension by implementing angled midshaft layers. Ask your hair colorist to lighten your ends for added interest. Then allow your tresses to fall naturally for a subtle and classy look.
Instagram / @hairbyedwin
#25: Disconnected Bob with Dynamic Waves
A short bob with long layers always makes an impact, whether it's disconnected or cohesive. You can put energy and life into your long bob by incorporating fresh and dynamic waves. To style pick out a few of the top sections and curl loosely with a curling iron.
Instagram / @chrisjones_hair
#26: Curly Jaw-Length Bob with Choppy Layers
Jaw-length bobs with choppy layers create thickness and liveliness necessary if you have thin or lackluster hair. To blend chin length layers into the rest of your cut, curl the top sections of your hair away from the face for a glossy and glamorous aesthetic.
Instagram / @rachel_lott_hair