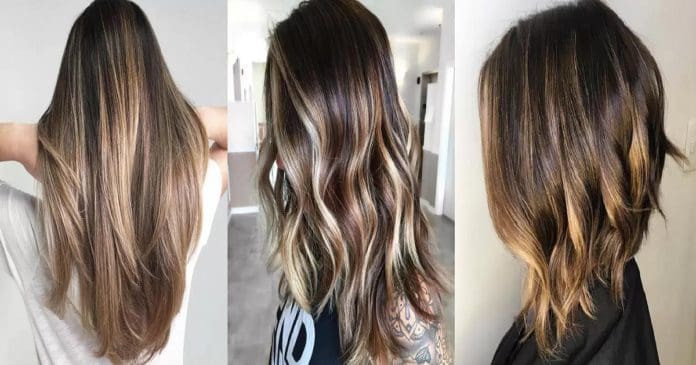 If you have ever considered brown hair to be boring or dull, think again. With the balayage technique dye is applied to hair without the use of foil, resulting in a more natural and more exquisite look that feels like any brunette's major hair goal. Mixing colors has never been this fun, so check out these brunette balayage styles and book an appointment with your colorist!
#1: Subtle Ashy Brown
Instagram / @chiyukihair
For something more subdued, try this ashy brunette to blonde balayage that looks like it has not been processed at all. A neutral color is perfect for anyone looking to take baby steps in hair color transformations.
#2: Light Brown Balayage
It doesn't take a drastic color change to liven up your style. In the name of "less is more", stay within the brown color palette and give neutral ashy highlights a go. This youthful combination is great for professionals who need to keep their look polished.
Instagram / @hairbystevie
#3: Brown to Caramel Balayage
For a classic balayage hair color, opt for a soft brown to caramel fade. The combination is a very natural one, and so is the transition of hues, that's why it's still going to look fresh as your hair grows out. To get the most out of your new color, style your locks in long beach waves with a straightener, making the lighter pieces appear even more vibrant.
Instagram / @chrisweberhair
#4: Honey Brown Highlights
If the ombre effect is not the one for you, try weaving a honey brown shade throughout your entire head of hair. Brunette balayage highlights instantly brighten up dark brown hair and add low-maintenance dimension.
Instagram / @gilsonbitencourt
#5: Multi-Dimensional Lob
It can be fun to include more than just two colors when doing a balayage. Instead of going straight from brown to light blonde, add in shades of golden or light brown to soften the color transition. A lob with long layers will perfectly showcase all of the different shades you are playing with.
Instagram / @jleighwebdoeshair
#6: Long Waves with Light Highlights
Another well-blended option, this style incorporates hints of golden blonde throughout the hair. The contrasting light and dark shades are sure to catch the light as you walk by.
Instagram / @rafaelbertolucci1