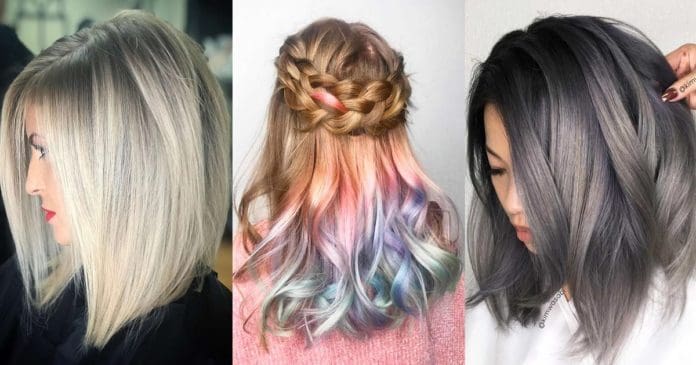 Wise girls know that medium hairstyles for women are the happy medium we want to find when choosing a new haircut. Sometimes we find it hard to decide, as there so many cute things to do with both short and long hair lengths. And here comes the so much needed hair compromise that will sort things out. We just want you to know that you shouldn't panic that there is nothing to do with your medium hair, as you can't even imagine how many styling ways it has.
Medium haircuts for women are ageless and failure-free. So whether you're a self-made woman with a busy lifestyle or a college star that wants to rock her days in a stylish way, there is a hairstyle for any femme. You may not believe it, but medium haircuts for women can actually express what kind of women you are. Since they have many variations, there's no way you won't find a perfect cut for you. In other words, today is the day to discover the latest medium length hairstyles! Trust us: they are really worth your attention.
Updo Hairstyles For Medium Hair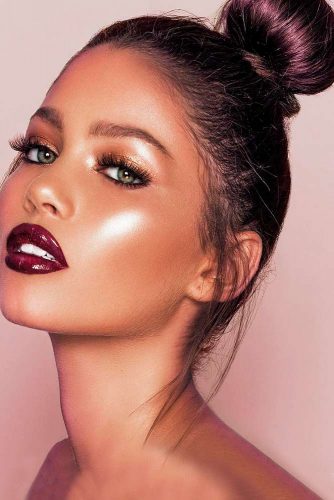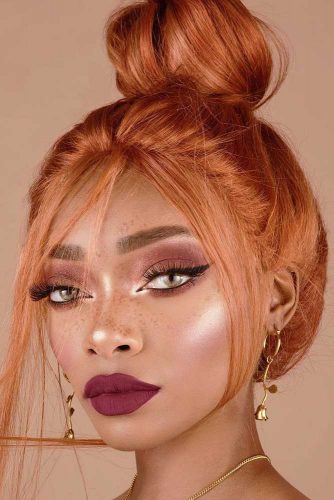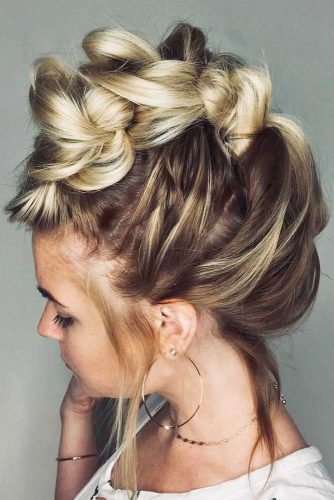 Modern hairstylists are so imaginative that it seems we will always have opportunities to experiment with our styles. And that's great, though! Nowadays it's not a problem to find a good medium hairstyle for women, and based on your hair type, hair length, and face shape you can get to know what the definition of a perfect hairstyle is. You can try out any ideas you want: from short to mid-length hairstyles 2022 prepared for you. Many trendy ideas embrace some classic hairdos, what would we do without classics? Now it's all about updos. Femininity, tenderness, grace, elegance. Only the most flattering words can describe the looks that updos can give us. Look at these amazing ideas: they are here to make you twist your hair into a lovely bun! A twisted low bun with wavy front locks, a messy high bun, or a classic high bun, which one is to your taste?
Braided Hairstyles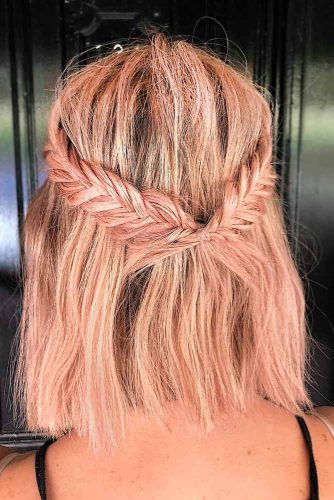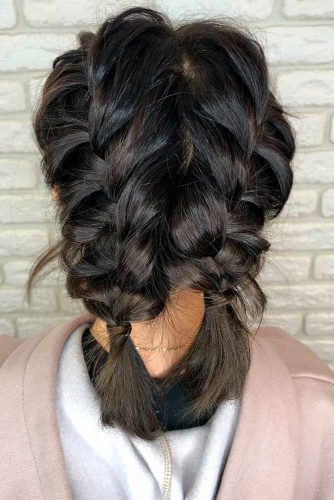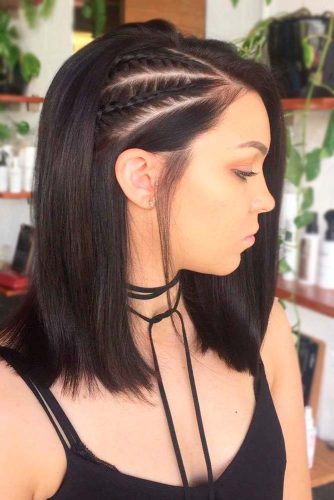 This time we won't tell you why we love braids so much. You can see with your own eyes that they're just gorgeous. Let's focus on something more important: whom they will suit best? If you think that they will suit everyone, you're absolutely right! But to be more exact: girls with very fine hair know how to sport braids perfectly. Don't believe us? Look at these medium hairstyles for thick hair, then: the fuller your hair is, the lovelier your braids are. The cutest thing about your hair length is that you can adorn your hair with some braided elements: it's not necessary to braid your hair completely. How do you like the halo braid? Girls that are into minimalist things will definitely love it. And if you are about to get a sassy look, braided sides are something you must try.
Boho Hairstyles For Medium Length Hair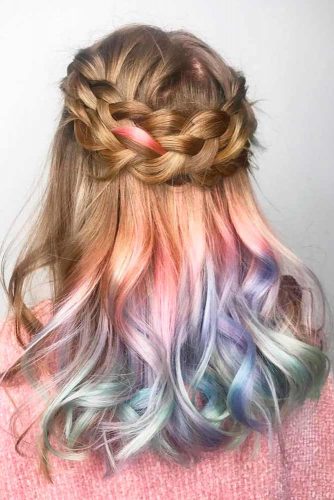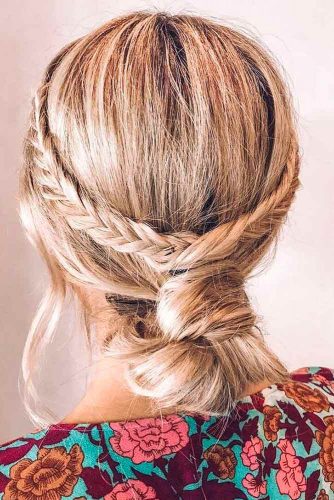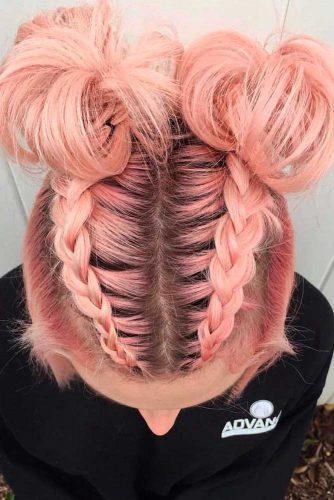 Bohemian hairstyles were made to turn heads. Impressive? Every girl wants to have the whole world's attention, so no wonder that you've set your sights on these adorable ideas. Now it's time to focus on common hair troubles: thin hair is something that lets us down from time to time. Fortunately, you can put an end to your despair, as boho is one of the best medium length hairstyles for thin hair. They are so creative and wild, and the point is that they can add the needed fullness to your hair. Remember: never be afraid of coloring your hair in pastel colors, some pleasant hues won't hurt! Plus, bohos get on well with colored hair. It can be a half-up half-down with braided crown, amazing messy buns with braided elements, or a hippie hairstyle. Choose the best and let experiments in your life!
Hairstyles With Bobby Pins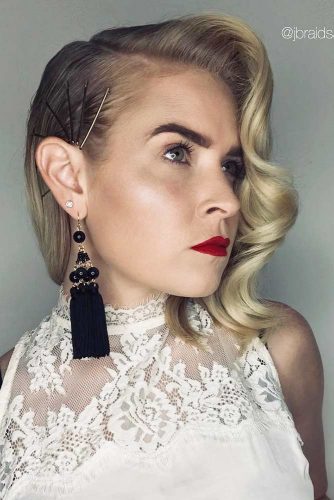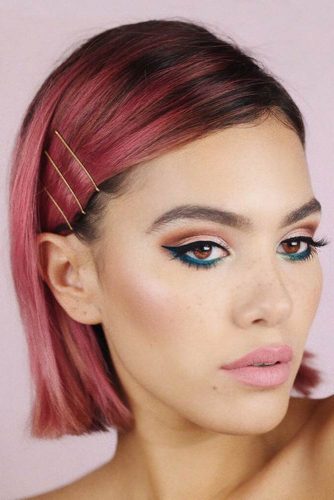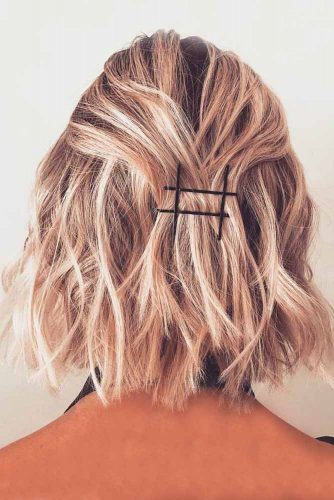 Why do we use bobby pins? You won't be wrong if your answer is "to secure our hairstyles". Okay, what else? Many girls still don't know that bobby pins can be an embellishing element for your hairstyle. Yes, several pins can accessorize your hair, so you don't need to spend money on hair accessories. As you might have understood, they can adorn everything: from short to medium hairstyles for women. In these pictures, you can see some life-changing ways of using bobby pins, and this time you don't need to hide them underneath your hair. You can cross them on your crown, securing a messy hairstyle, or secure your fishtail half updo in a cute way. How about you to adorn your high bun with crossed silver pins? It looks so stylish.
Medium Length Hairstyles With Headscarf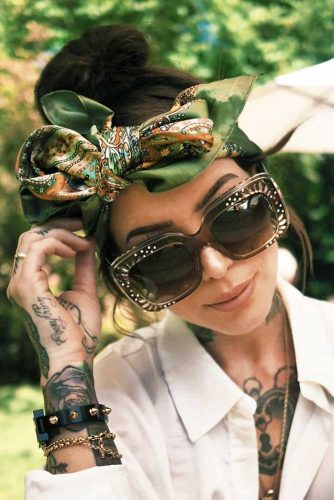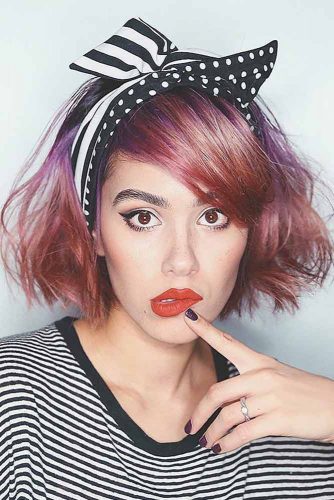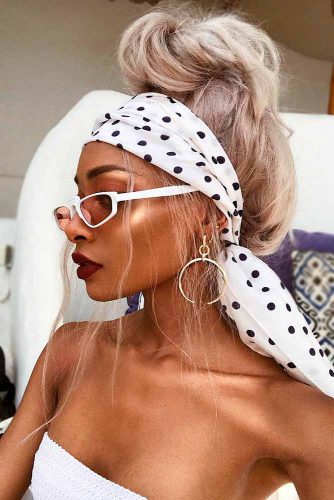 Now we can talk about real hair accessories. Bobby pins make you be as creative as possible, but headscarves are about to show how exquisite your taste is. Based on the color of your hair, clothes and other accessories, you can get yourself a wonderful complement to your look. Here is another reason to love your medium hair: you can do a messy bun or low knot and adorn each with a summer-inspired headscarf or stylish band. There is no better way to show that you're a woman of a good taste than creating a stylish composition on your head! These ideas will be in handy.