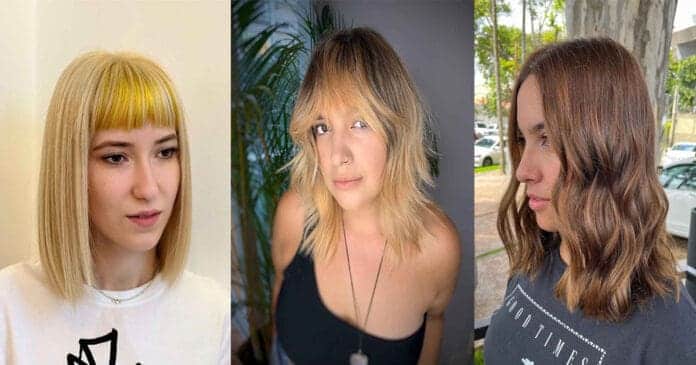 Collarbone-length hair is a versatile medium haircut that's easy to manage and style. It's not too short, so you can access more styling options like braids or a low ponytail. But it isn't too long either, giving your locks instant fullness. Julie Geraghty, a salon owner and stylist in Canada, explains that most collarbone-length cuts are extra long lobs or long bobs. "Lobs are flattering to most hair textures, face shapes, and all ages. These are ideal for ladies who want longer hair but still want a shorter hairstyle," says Geraghty. For such a length, it's advisable to cut the back an inch shorter than the front. Otherwise, the ends will flip out sitting on the shoulders. Geraghty prefers zero tension and elevation when creating the chop. She adds, "Dry cutting is also a good technique to get this length to sit just right." Consult your stylist to guarantee you're opting for an appropriate cut or style. Ask if it will compliment your hair color, hair type, and hair texture. Ensure that your preferred look is doable, considering the way your locks grow. Wearing mid-length hair requires a commitment to blow dry, curl or straighten it. Geraghty points out, "It takes extra effort to throw the hair up in a pony or bun without having pieces come undone." This is the length that promises you a refreshing and appealing look! Find images of the trendiest collarbone-length hair cuts and styles!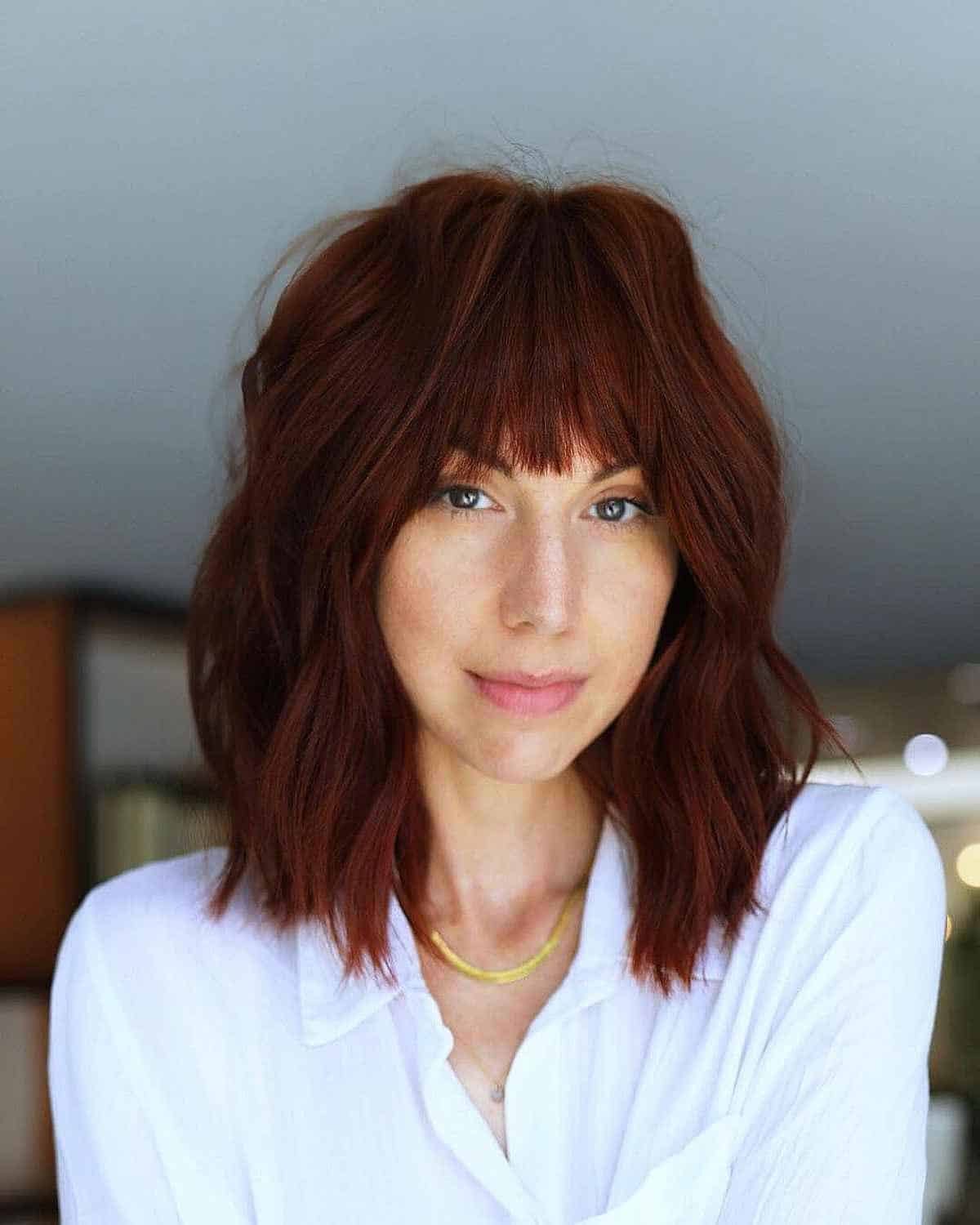 #1: Effortless Dark Red Hair with Choppy Fringe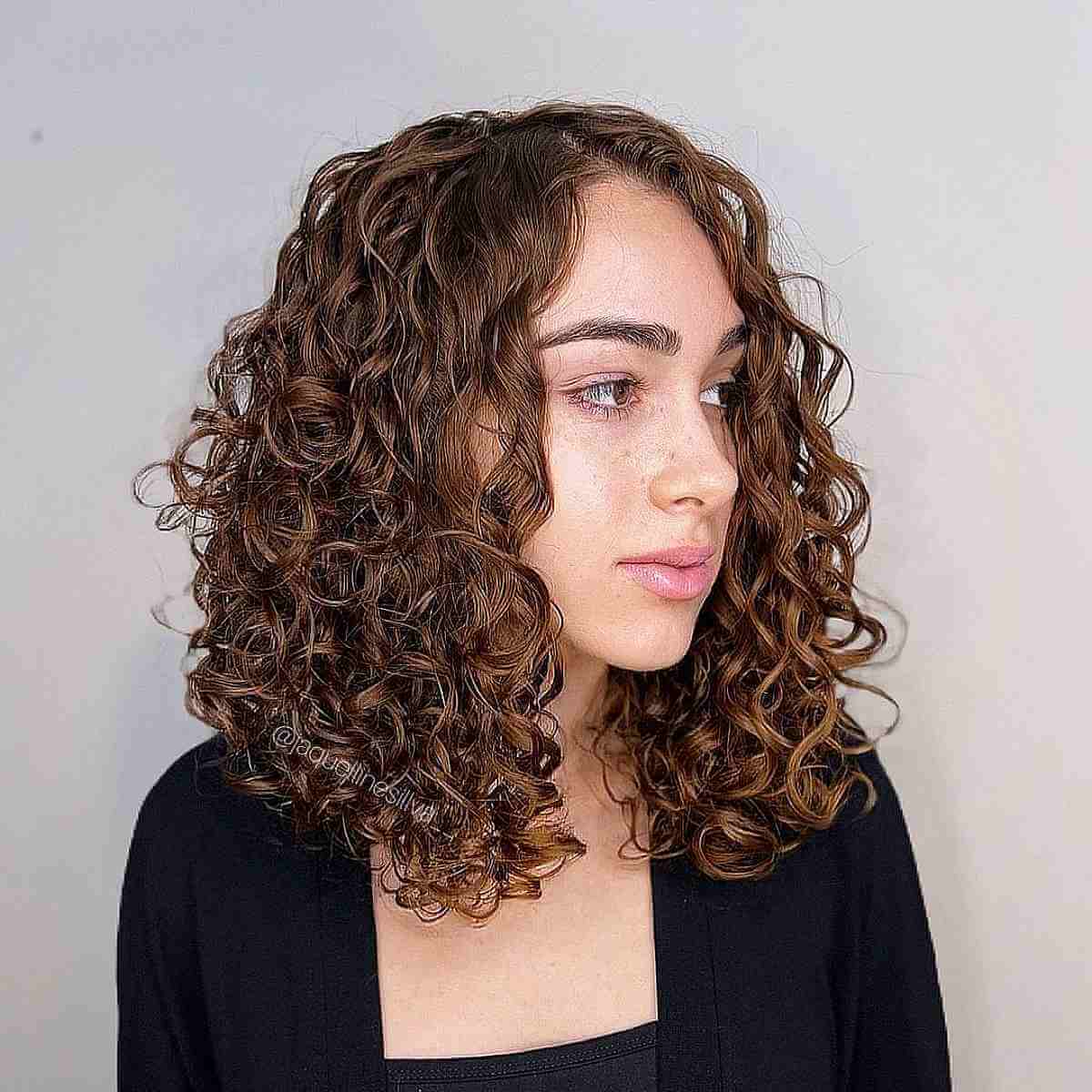 #2: Mid-Length Permed Hair
Permed hair is a perfect wash-and-go style. A mid-length haircut is a great length to really make your curls bounce up. Style your hair with curl-enhancing products to really show off your curls!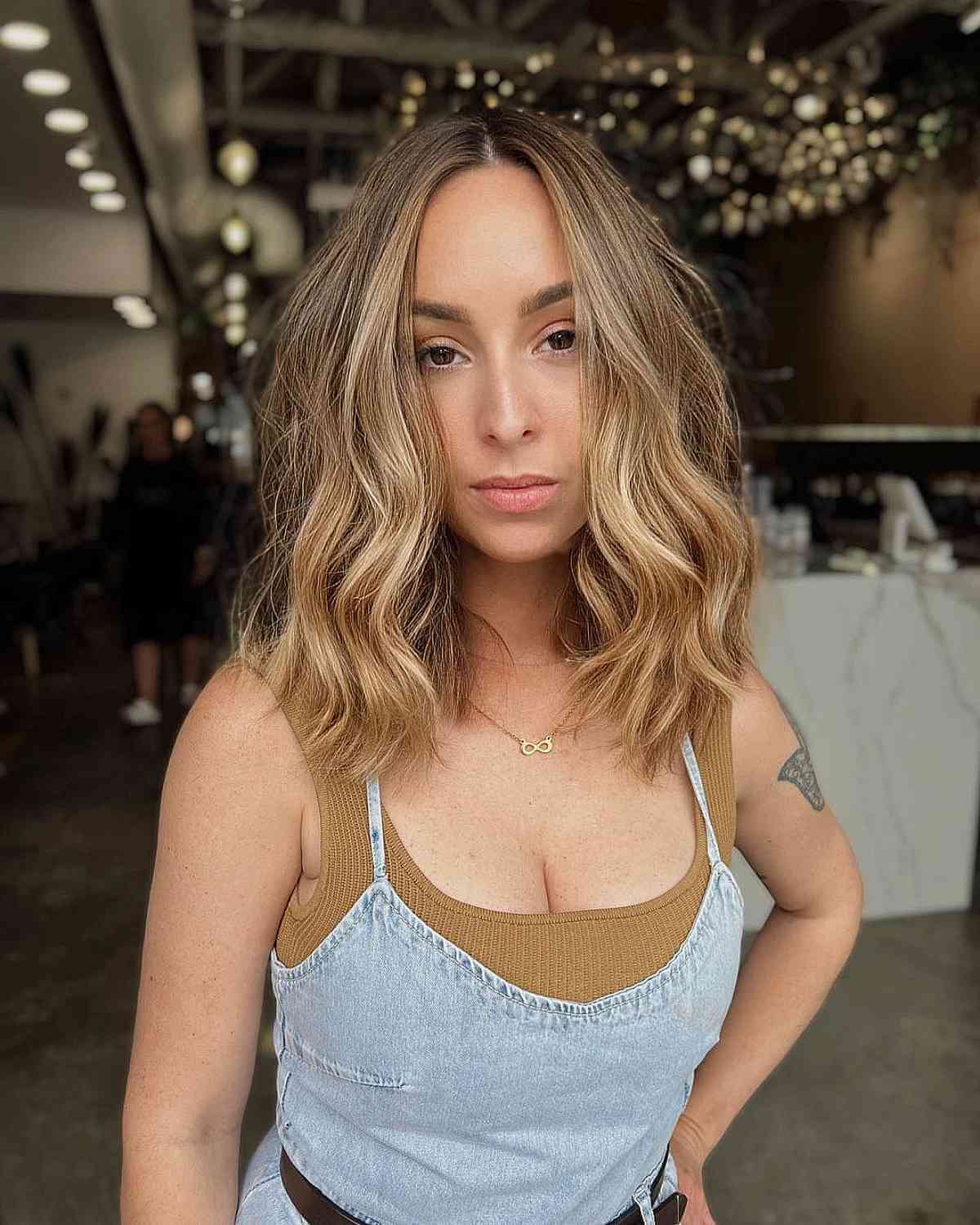 #3: Tousled Long Bob with a Middle Part
A lob paired with a middle part is a good choice for most face shapes. It's also one of the best ways to style your hair and have it last multiple days. The tousled curls stay curled with minimal touch-ups. Not styling every day helps to avoid over-styling with heat, your blow dryer, or hot tools. Remember to use heat protection anytime you use heat on your hair, it will keep your style longer and your hair healthier.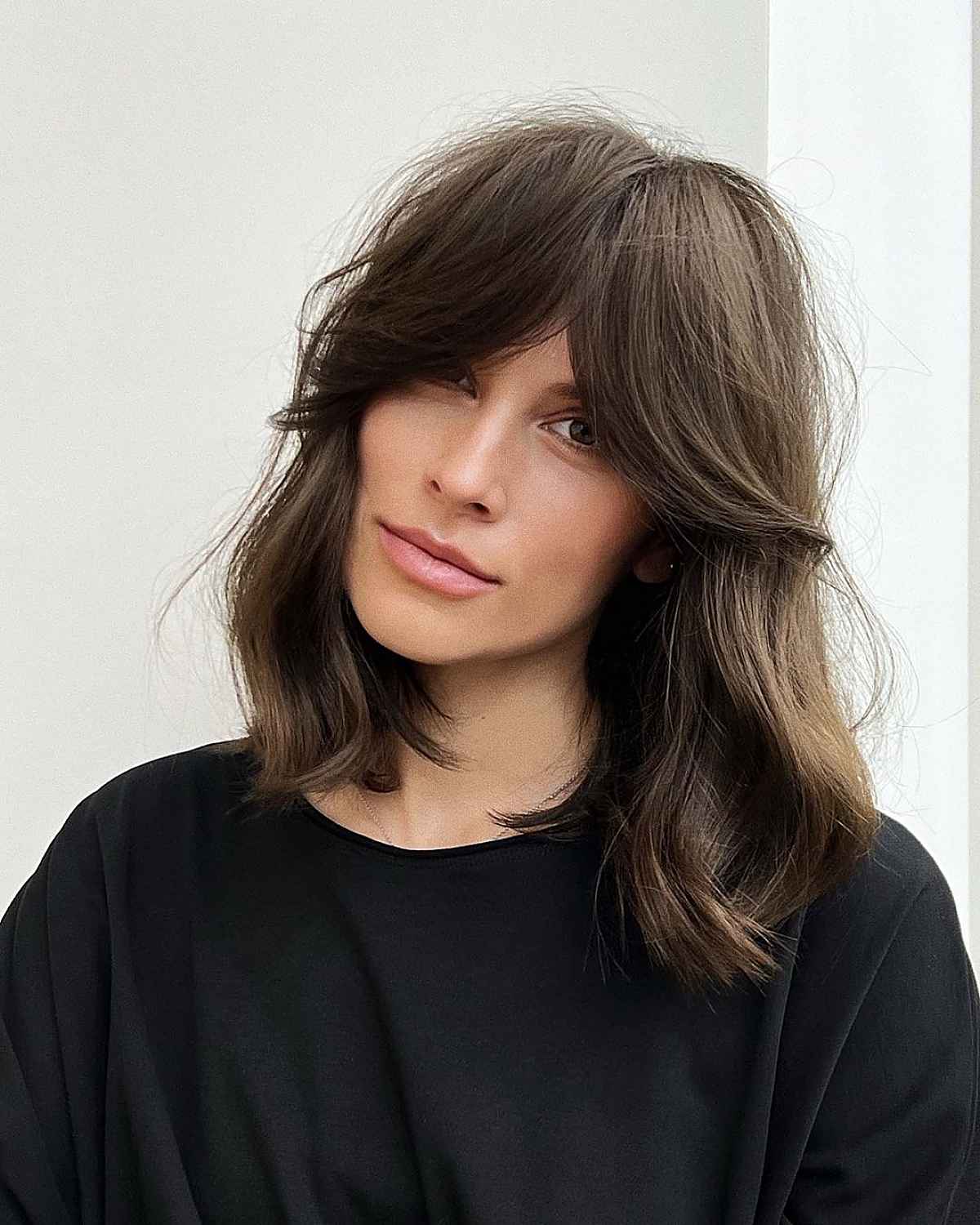 #4: Medium Cut with Heavy Bangs
A medium-length cut with heavy bangs is a universally flattering haircut for women with thick hair. Collarbone-length thick hair can look a little heavy, so texture and styling products are key. Try a volumizing mousse to give your thick hair some lift.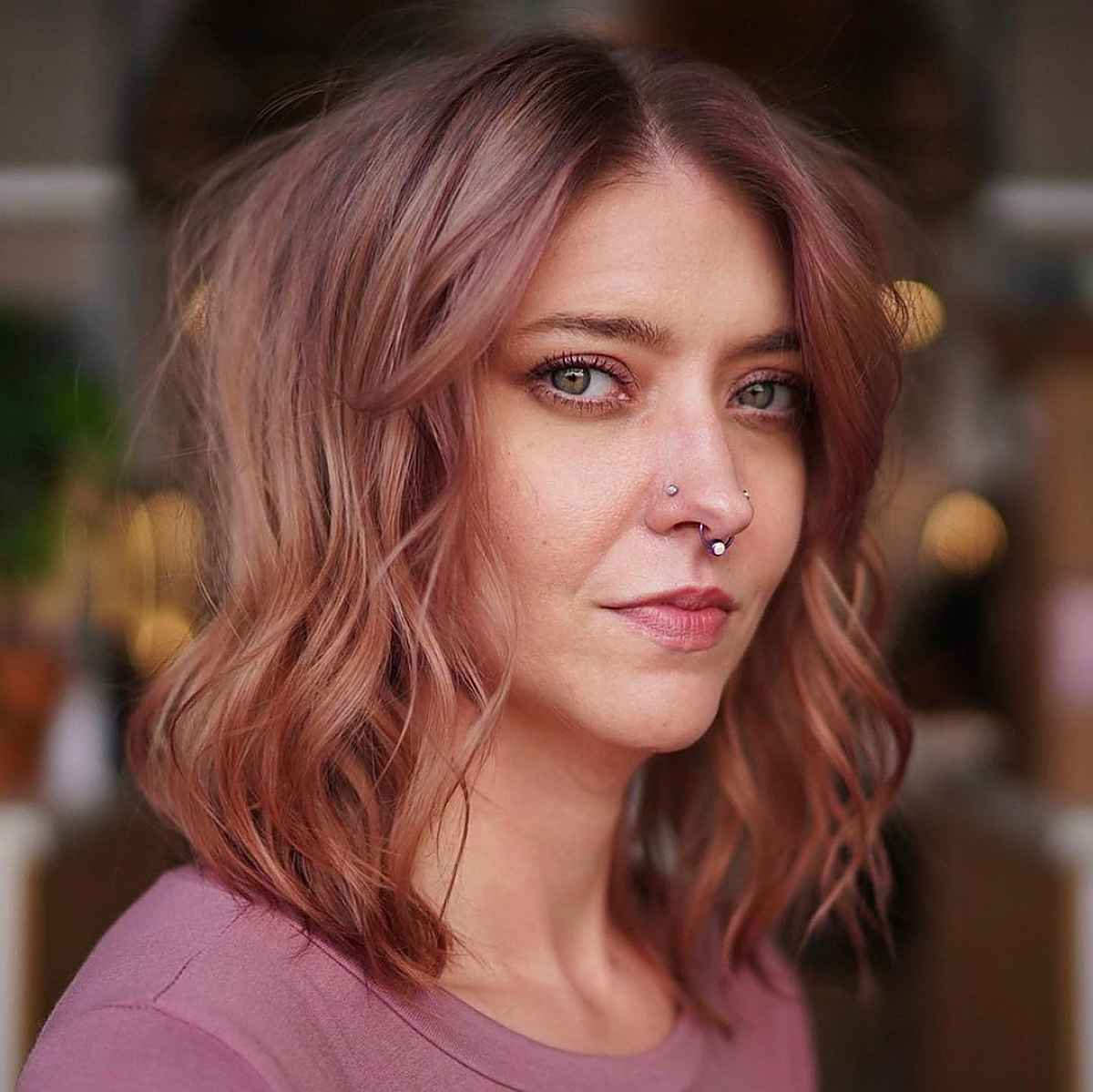 #5: Lob Cut with Messy Waves
A lob cut with messy waves pairs perfectly with collarbone-length wavy hair. Spray with your favorite sea salt spray to help create beachy waves.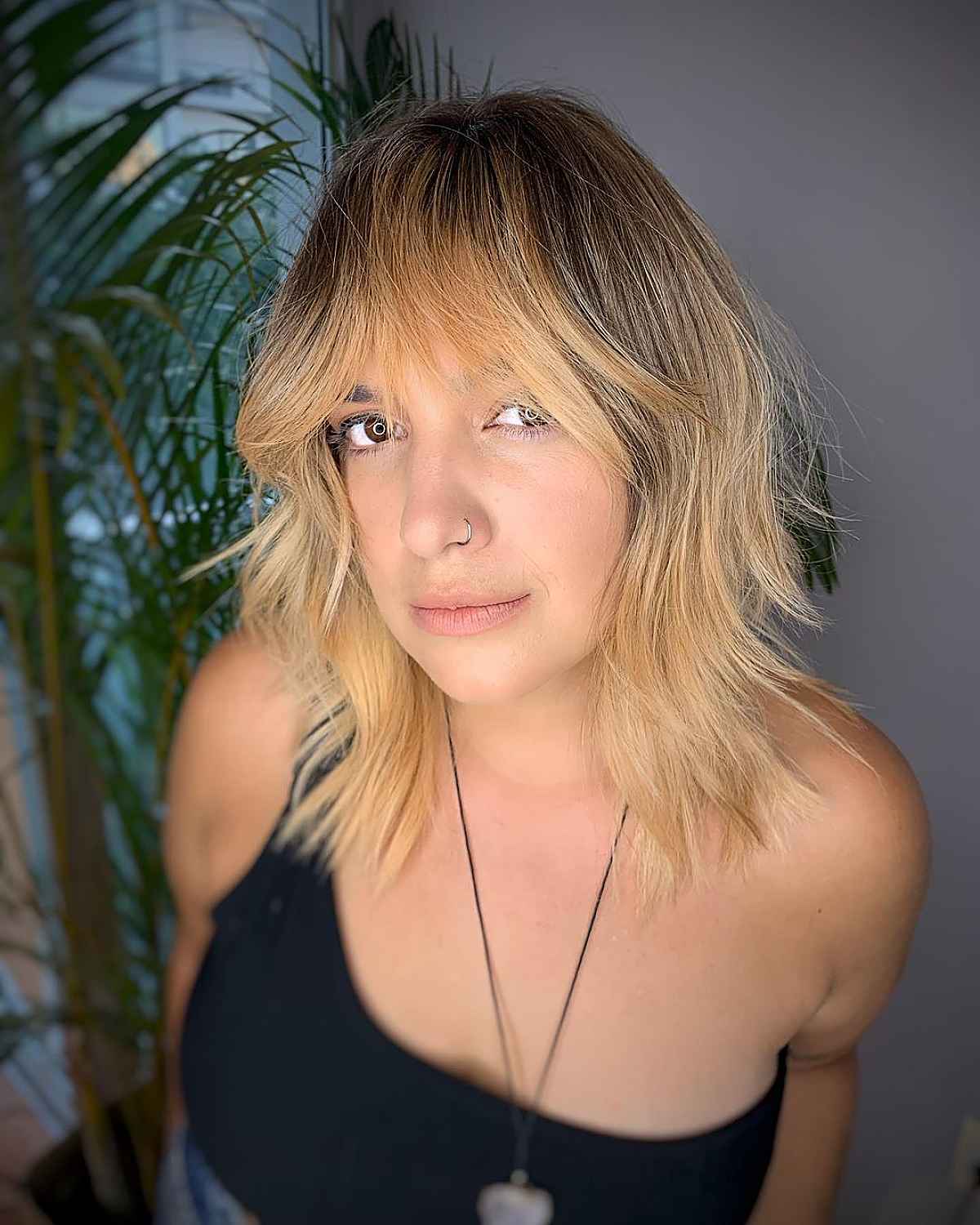 #6: Medium Shag with Choppy Layers and Bangs
A medium shag with choppy layers and bangs is a flirty yet edgy look. The face-framing layers are flattering for any face shape, too.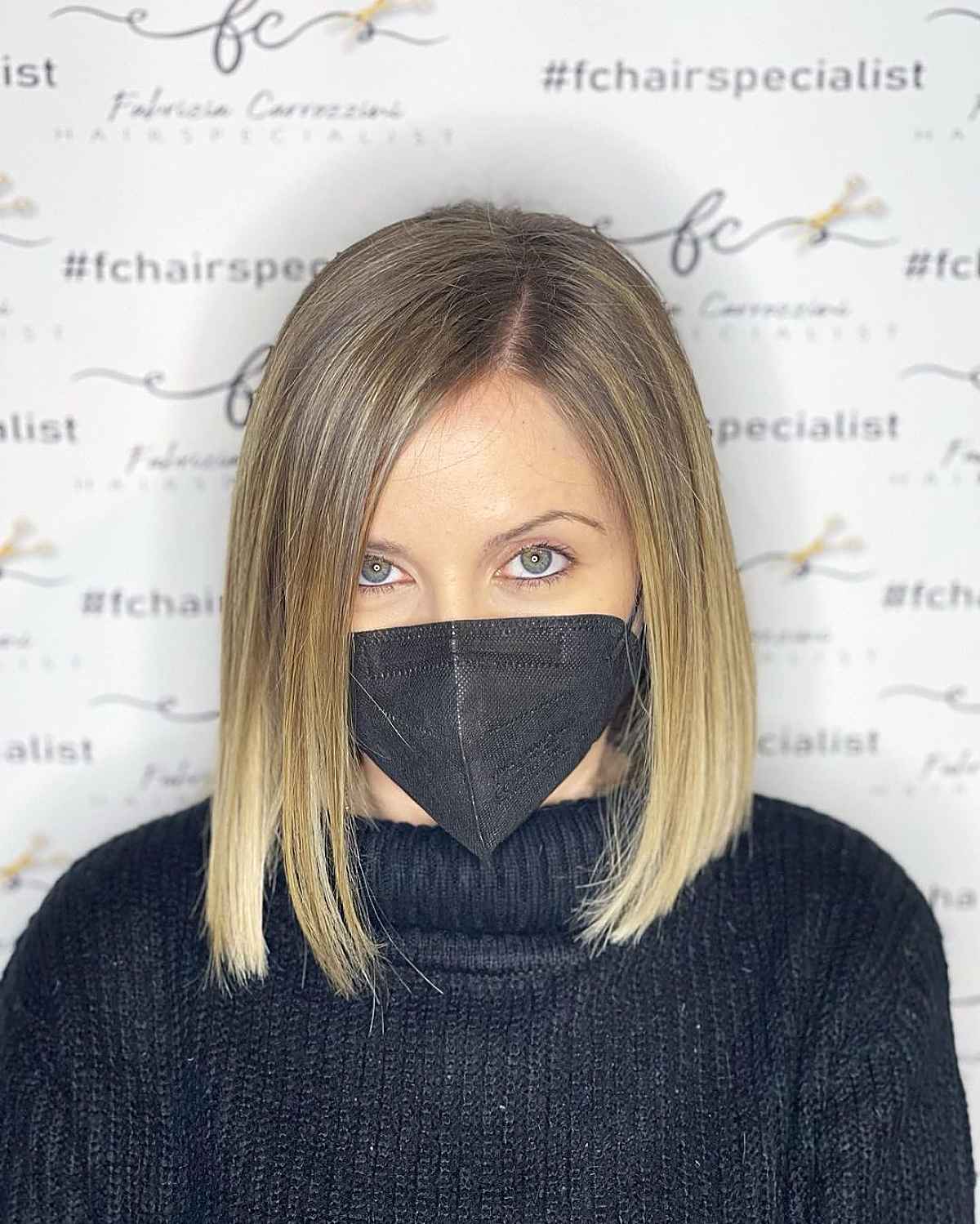 #7: Collarbone-Length Blunt Bob
Blunt collarbone-length bobs are a sassy take on a bob haircut. A blunt cut on collarbone-length hair is also a beautiful solution for women that want the illusion of thicker hair. The blunt ends will make your hair look fuller than a bob with layers.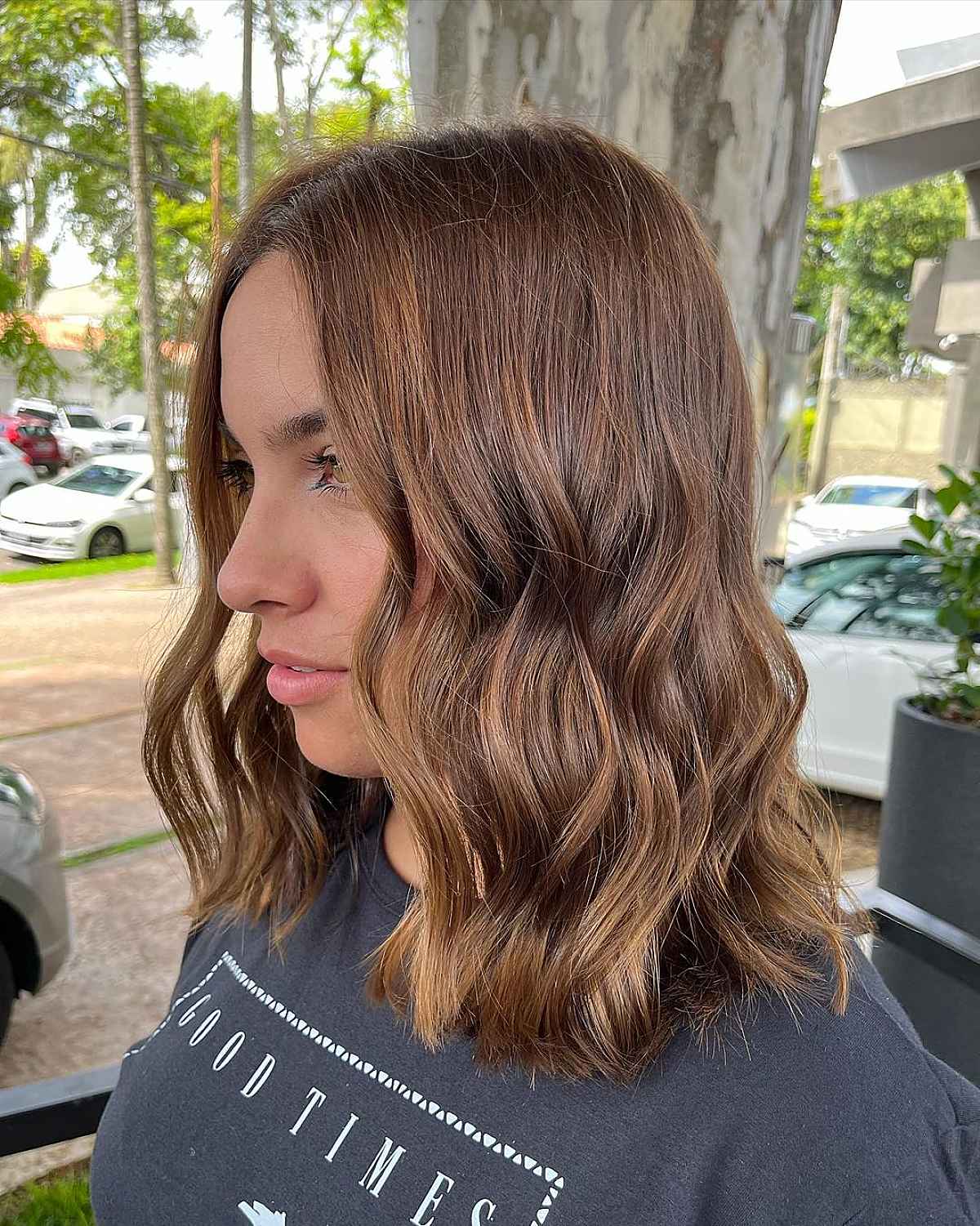 #8: Beachy Waves on a Mid-Length Haircut
Beachy waves on a mid-length haircut give a modern look to a classic cut. A quick way to get beach waves is to use a one-inch barrel curling iron on a medium heat setting. For extra texture, alternate the direction of each curl (one toward the face, one away from the face).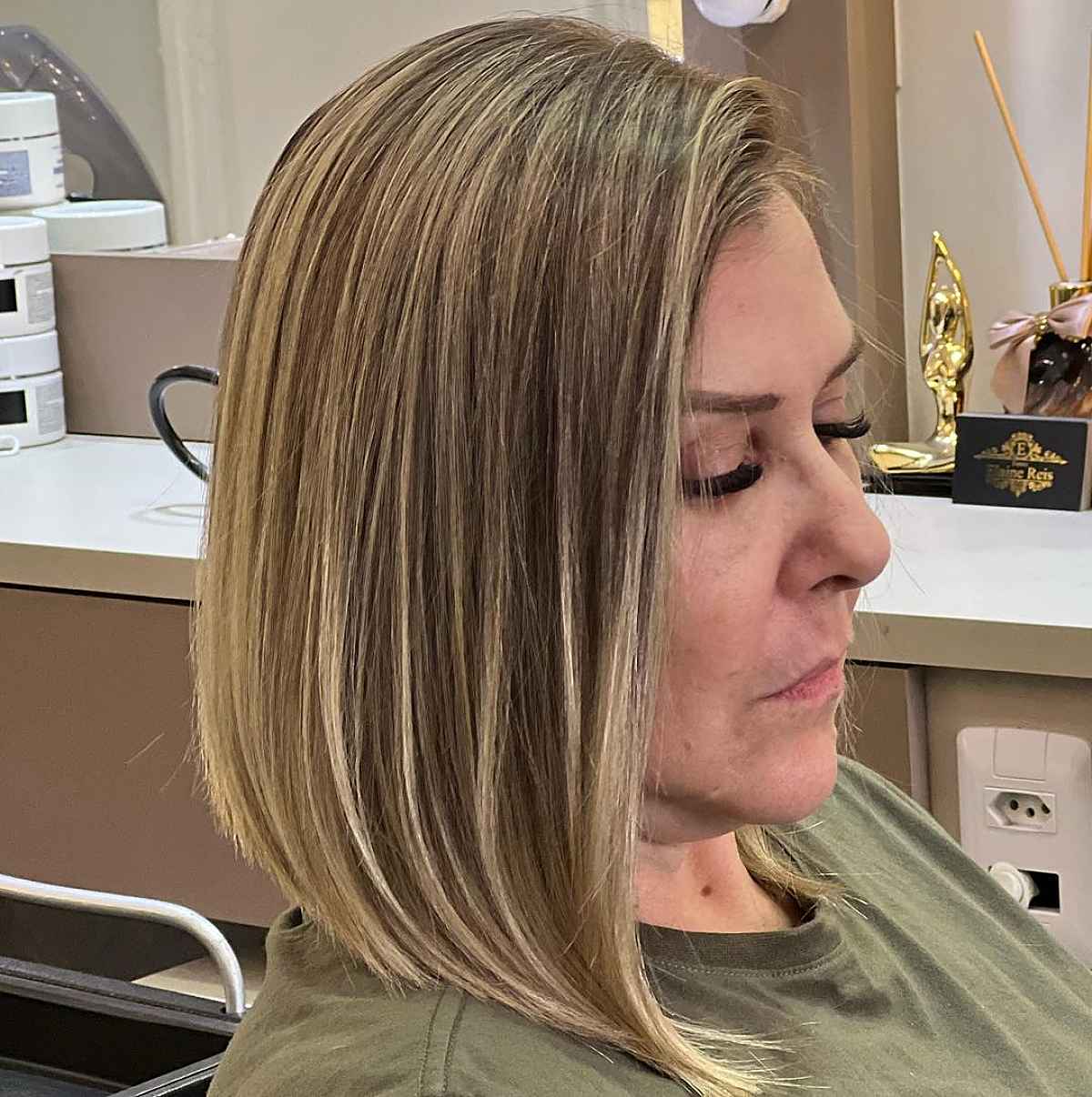 #9: Long A-line Bob Cut
Women wanting to try a new version of a mid-length haircut will love a long a-line bob cut. Collarbone-length straight hair is very low-maintenance when it comes to upkeep and styling. You'll want to get a fresh trim once every two to three months.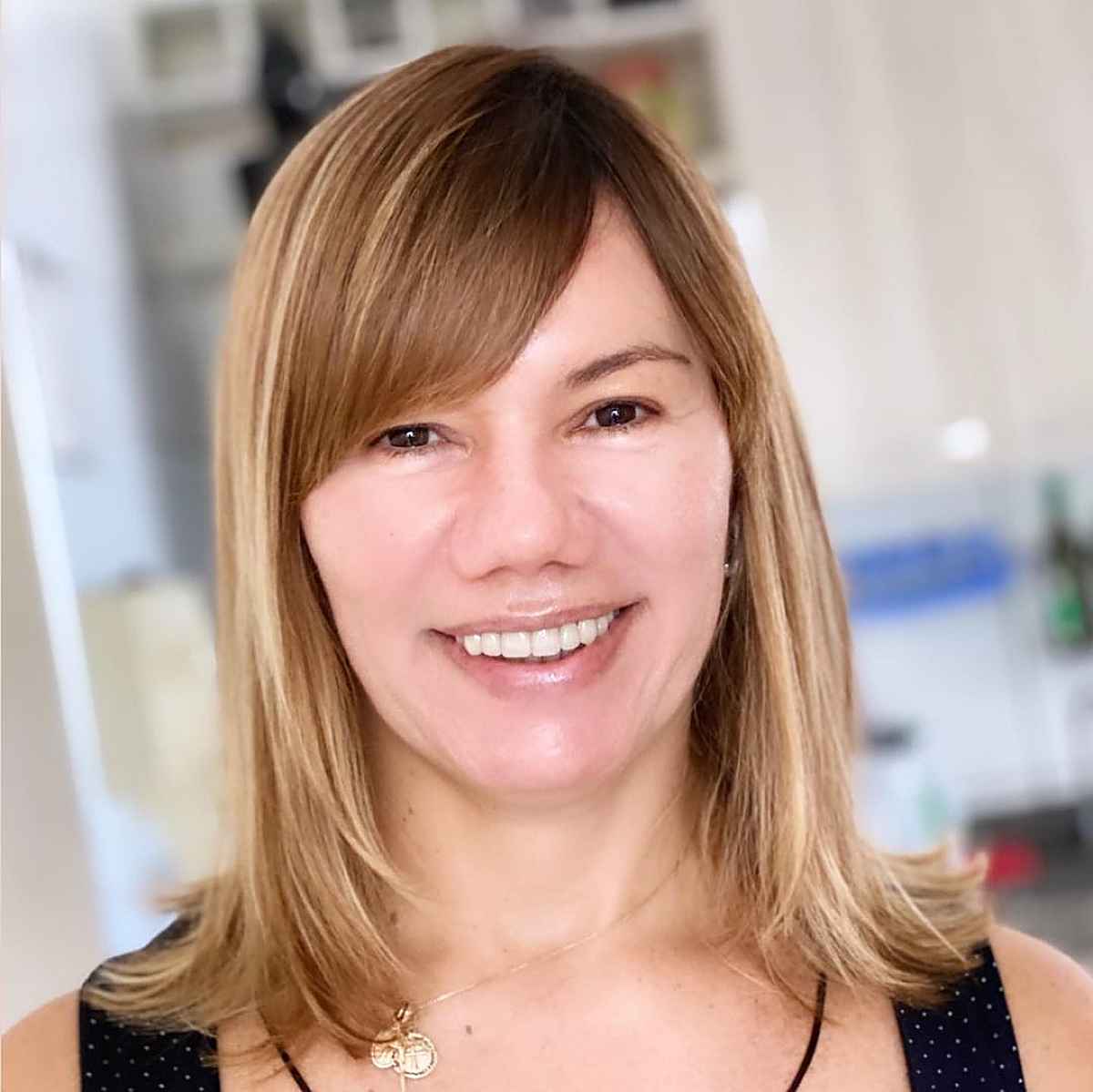 #10: Medium-Length Cut with Side-Swept Bangs
A medium-length cut with side-swept bangs is a common haircut for middle-aged women because it's flattering on many face shapes and gives style to the hair when worn straight. Medium-length cuts are easy hairstyles for medium hair. No matter how you like to style your hair, it will look good on this haircut.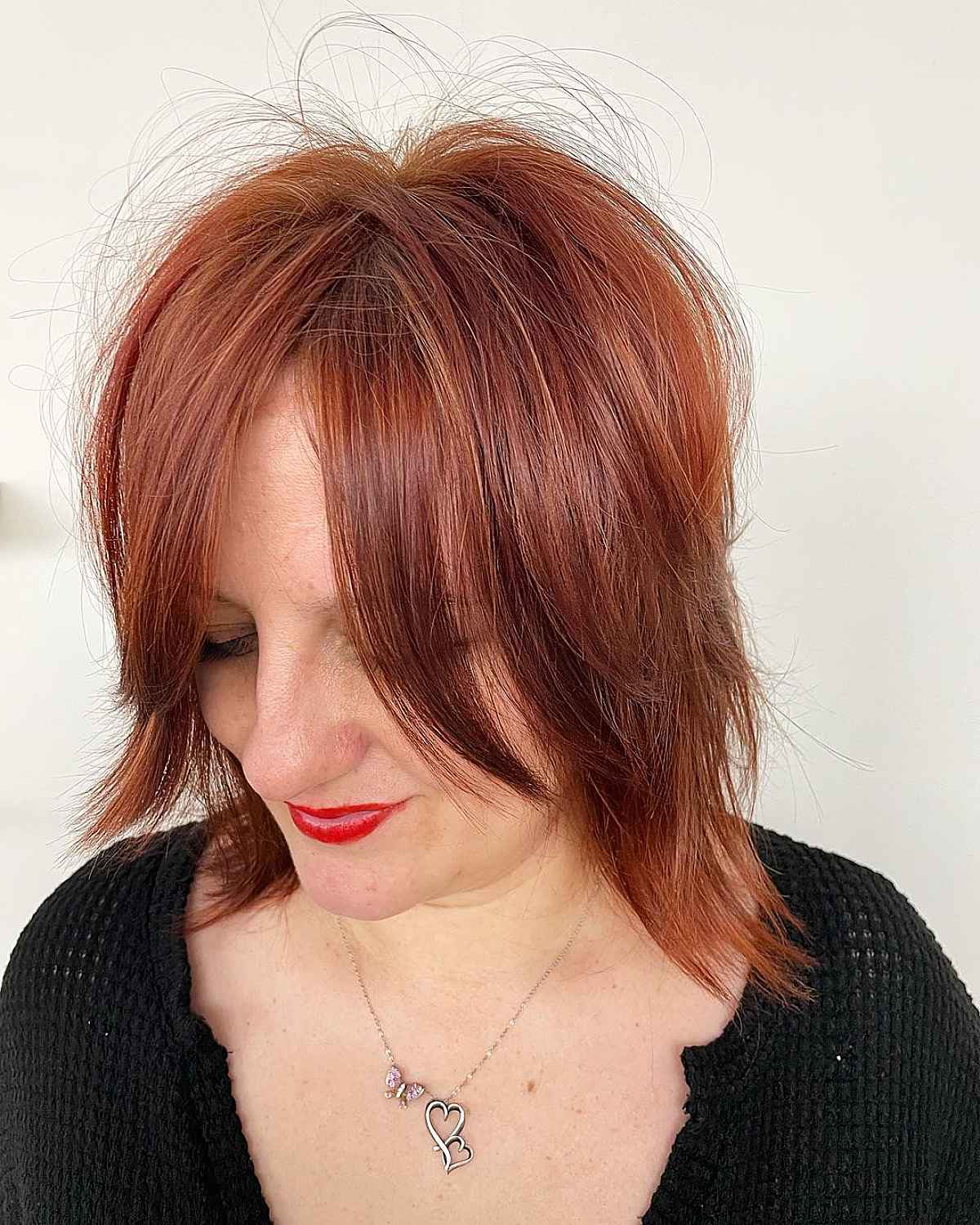 #11: Wispy Collarbone-Length Hair with Layers
Wispy collar-bone length hair with layers will give your hair a soft look while providing lift and texture. Collarbone-length haircuts for fine hair can lay flat without the addition of layers. Ask your stylist if wispy layers are a good option for your hair type.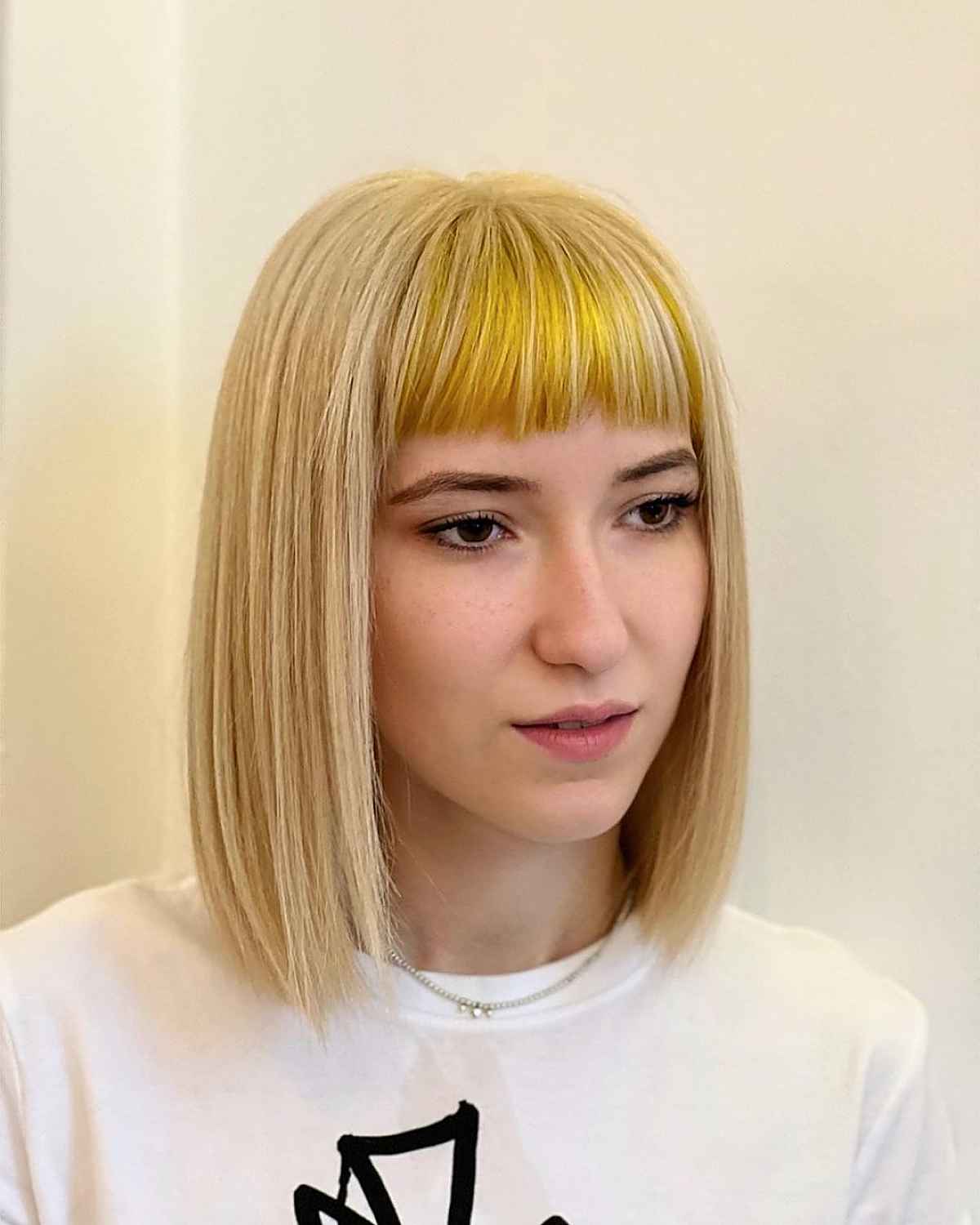 #12: Straight Long Bob with Short Bangs
Straight long bobs with short bangs are a great option for those who want to give their bob a bit of edge. Collarbone-length blonde hair can be high maintenance depending on the type of blonde you're wanting. Your stylist can help you find a blonde that suits your budget and hair goals.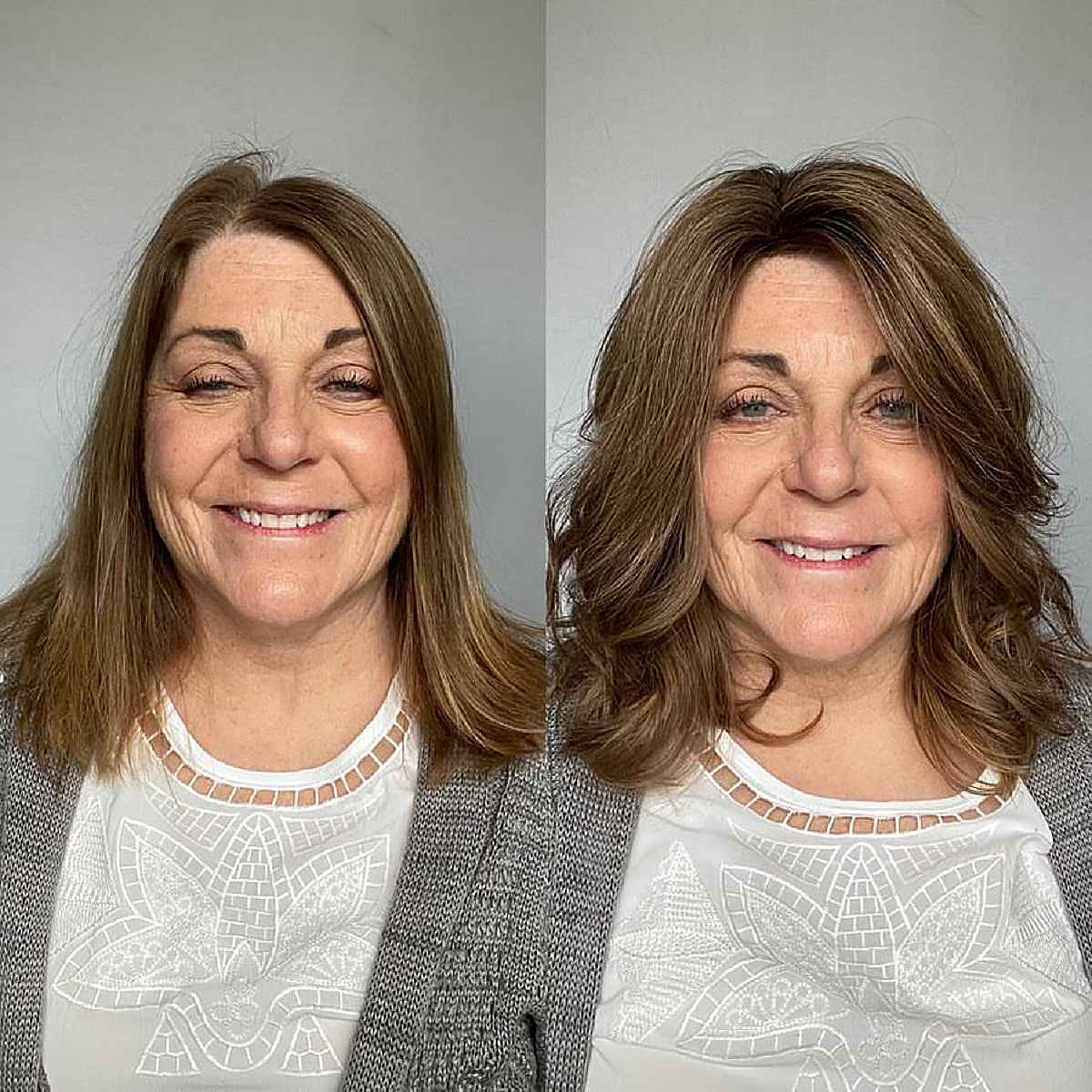 #13: Collarbone-Length Cut with a Side Part
A side part on a collarbone-length haircut can give your hair more volume than a middle part. If you have a medium-length haircut, try switching your part from side to side if you struggle with flat hair.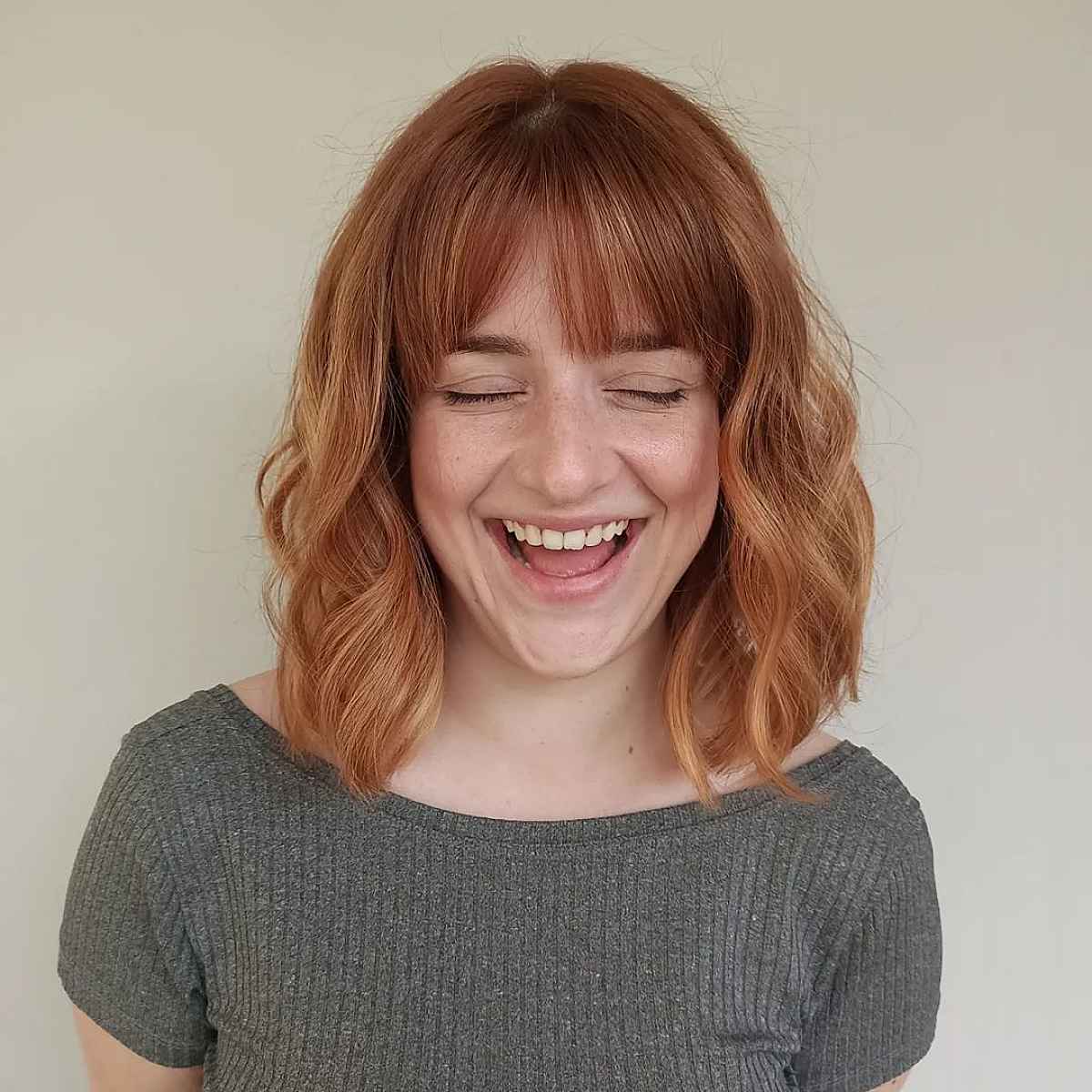 #14: Wavy Medium Hair with Straight Bangs
Wavy medium hair with straight bangs is a style that any woman can pull off. Medium hairstyles are easy to maintain and style. The bangs however will need trimming every few weeks, but many stylists can do this during a quick walk-in appointment.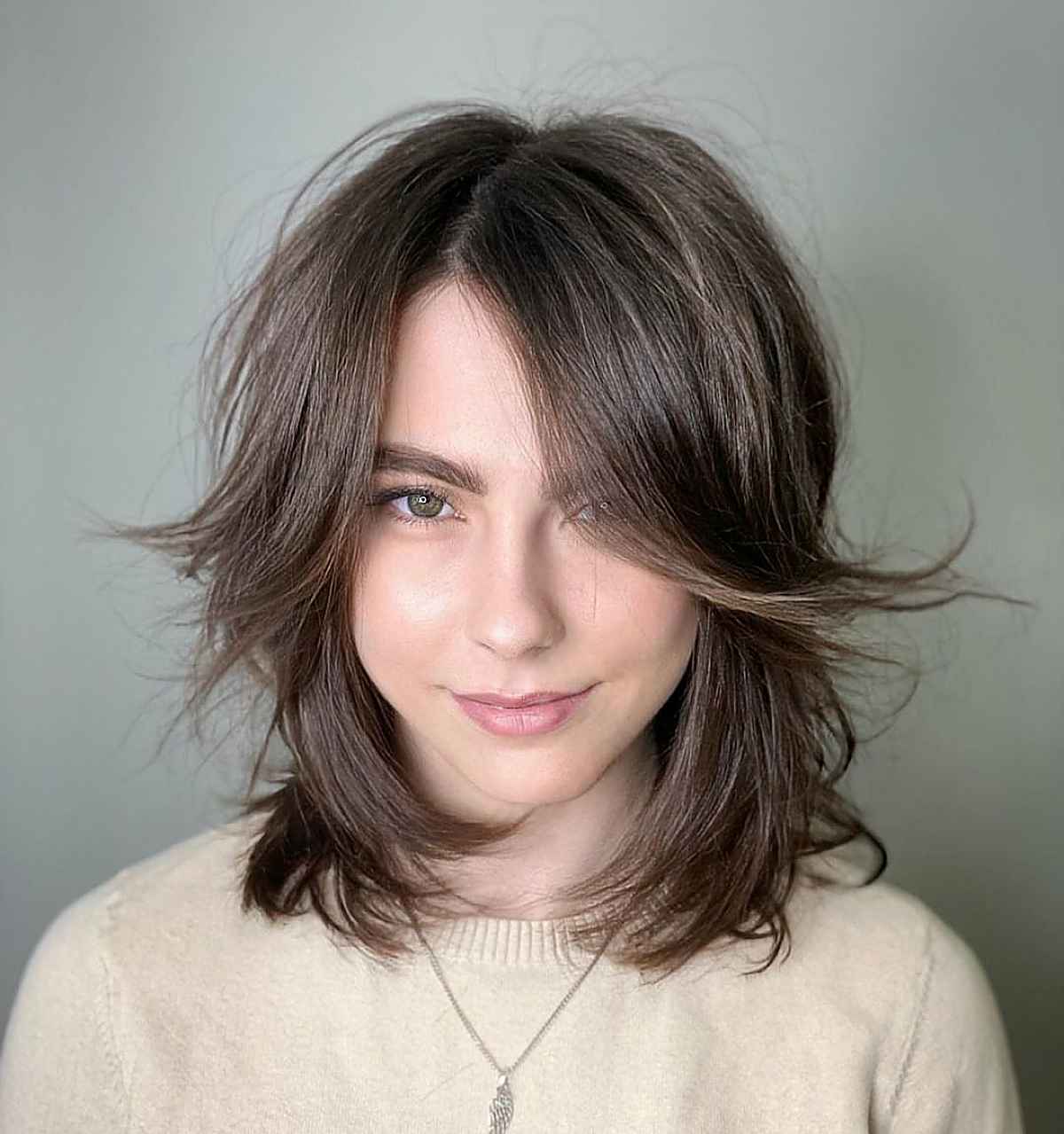 #15: Feathered Layers on Collarbone-Length Hair
Feathered layers on collarbone-length hair will give a soft, textured appearance to your medium-length hairstyle. For those with collarbone-length brown hair looking to give their mid-length haircut some more style, feathered layers are a fun and easy option.
#16: Textured Collarbone-Length Hair
If you're a woman looking for a new hairstyle, try a medium-length haircut with layers. The texture makes women's medium haircuts low maintenance. Plus, it wears well straight or curly.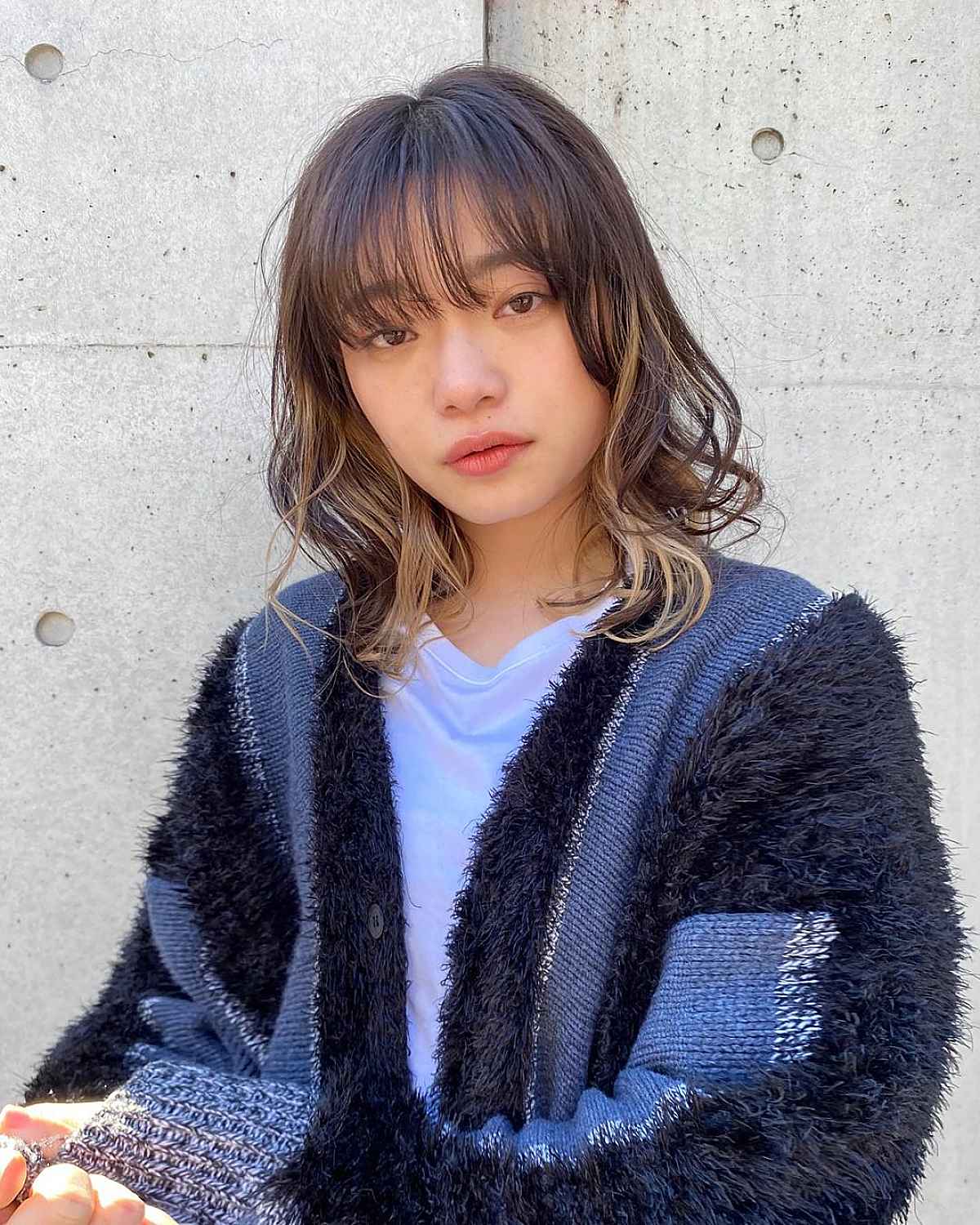 #17: Medium Hair with Wispy Bangs
If you have thin hair, try a shoulder-length hairstyle with wispy bangs. Wispy fringe look best on medium-length hair.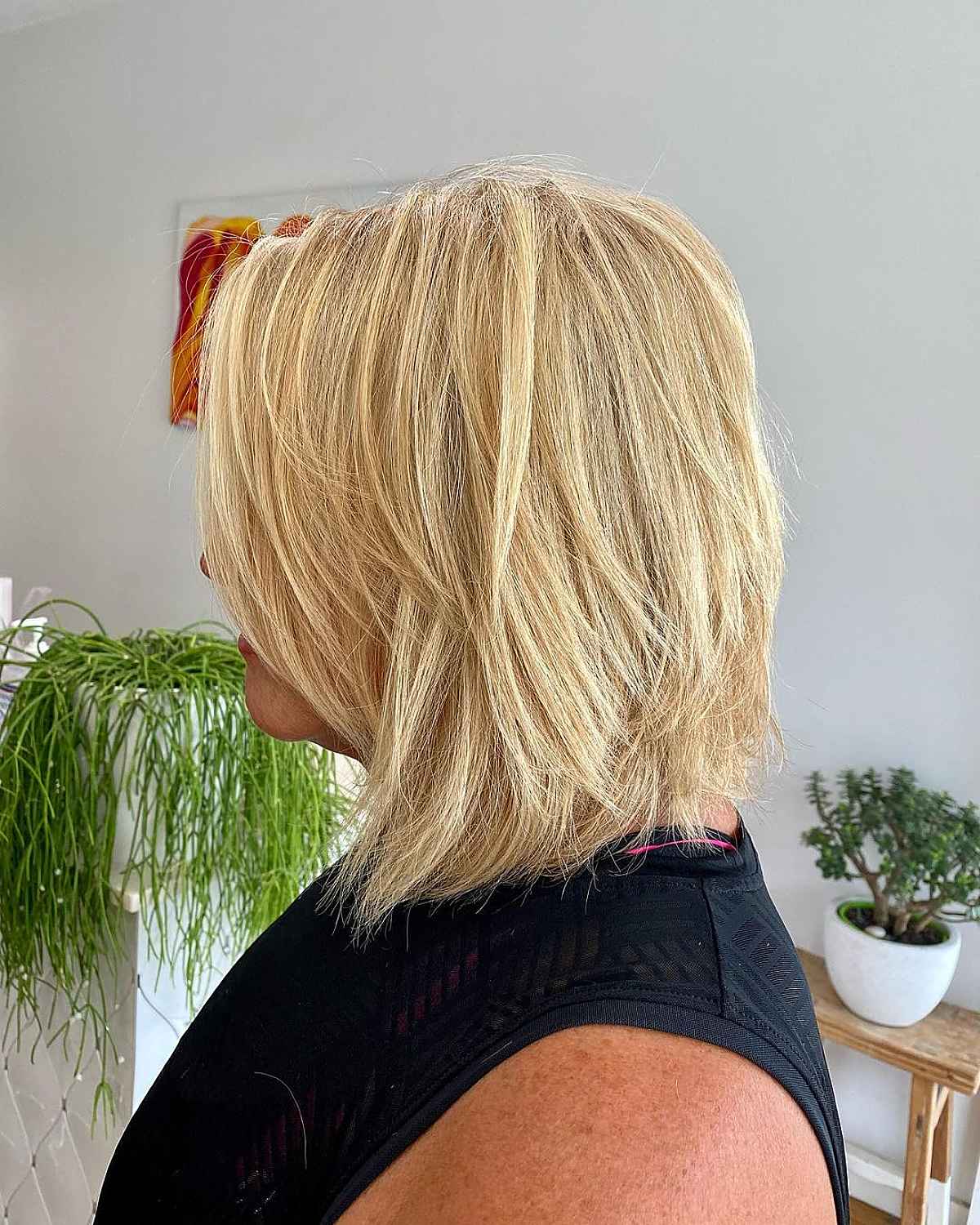 #18: Collarbone-Length Layered Hair
If you have thicker hair but you want to go shorter, try a collarbone-length hairstyle with layers. The layers add movement and help lighten the weight of the hair.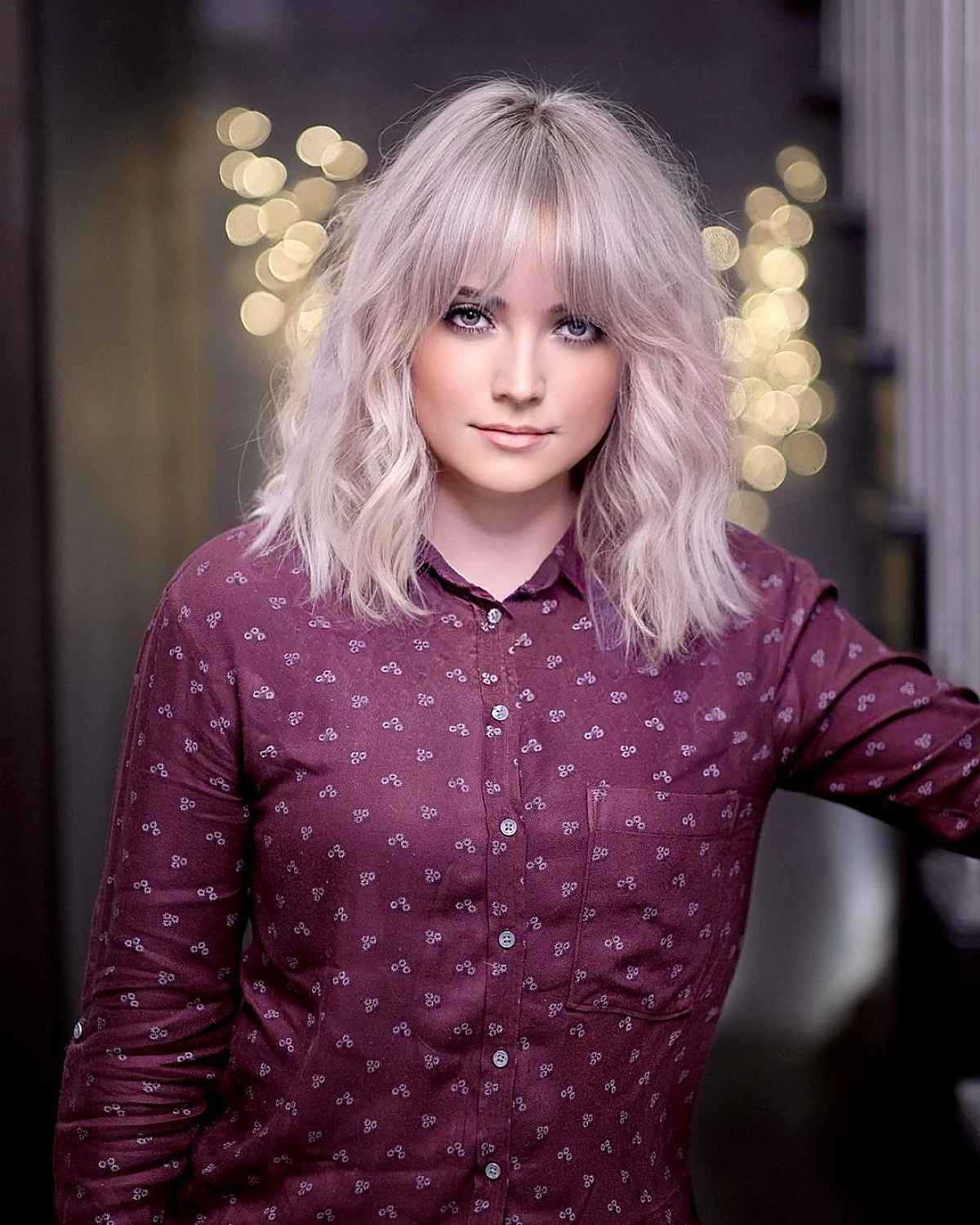 #19: Loose Waves and Bangs on Mid-Length Hair
A medium-length haircut looks best styled with bangs and loose waves. It's a beautiful and easy style.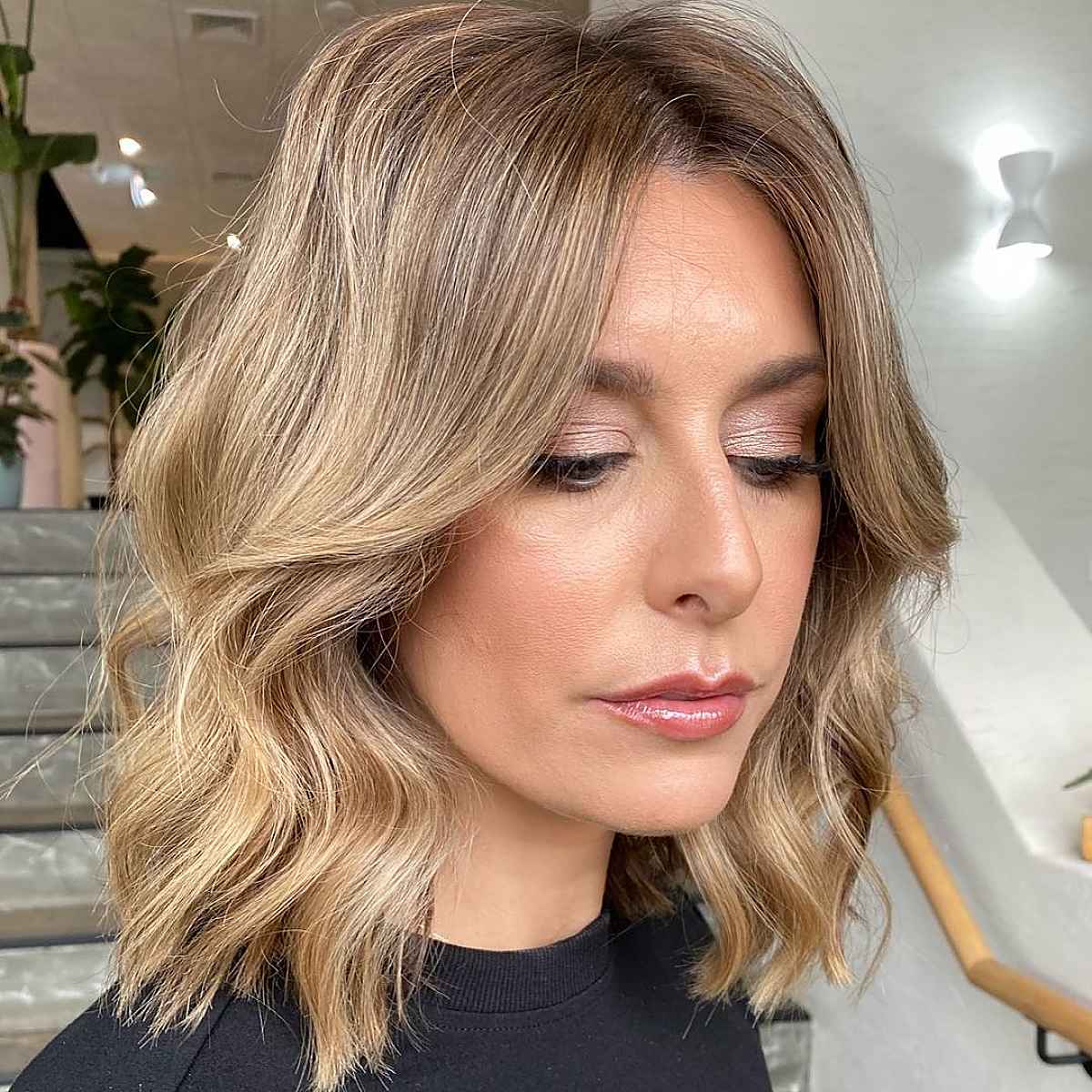 #20: Medium Haircut with Soft Waves
A medium-length haircut with soft waves is the ideal hairstyle for spring. Wavy collarbone-length hair is a light and youthful look, perfect for warmer weather.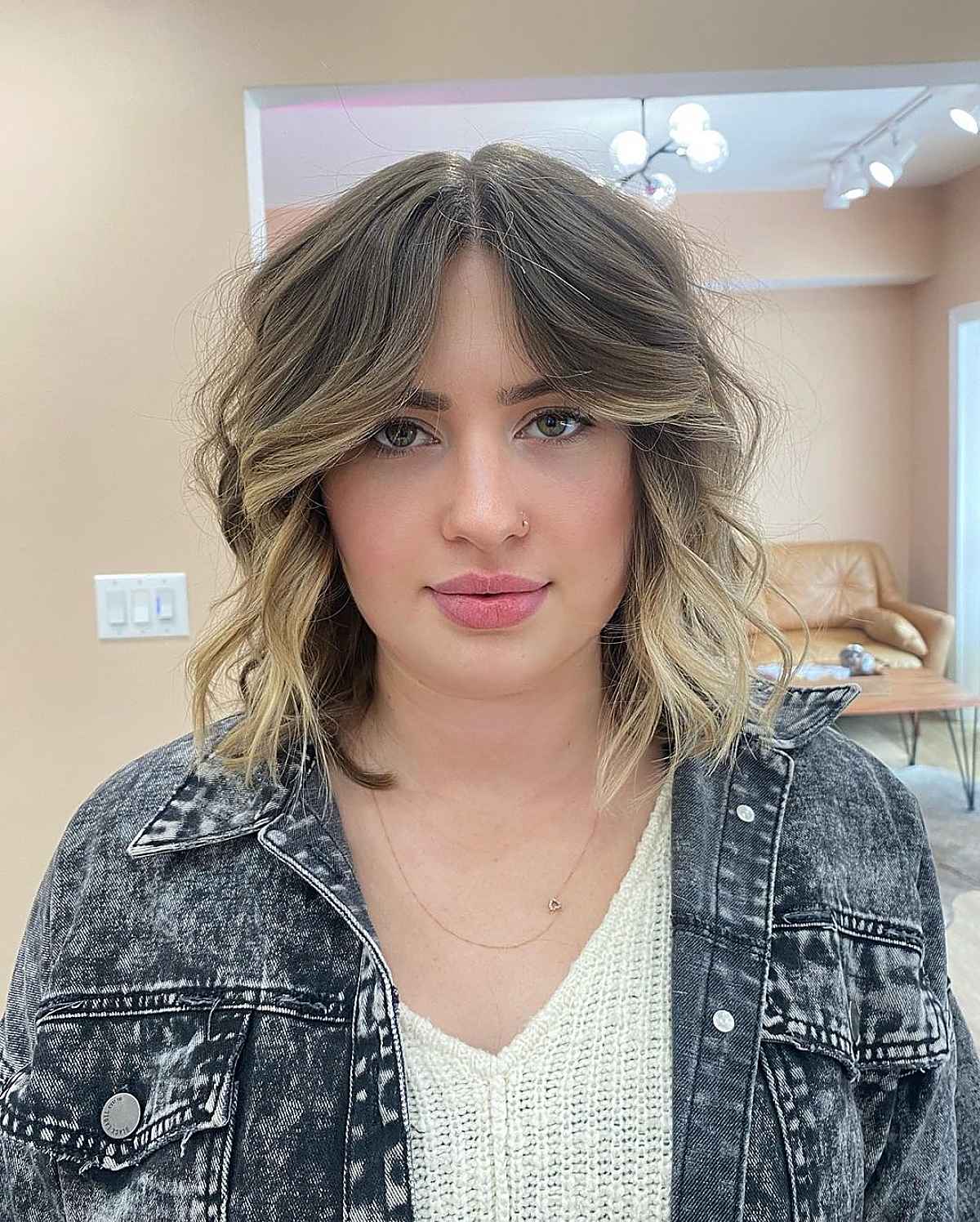 #21: Middle-Parted Lob with Loose Curls
A lobbed ombré with a middle part pairs perfectly with teased, loose curls. It's also flattering collarbone-length hair for a round face.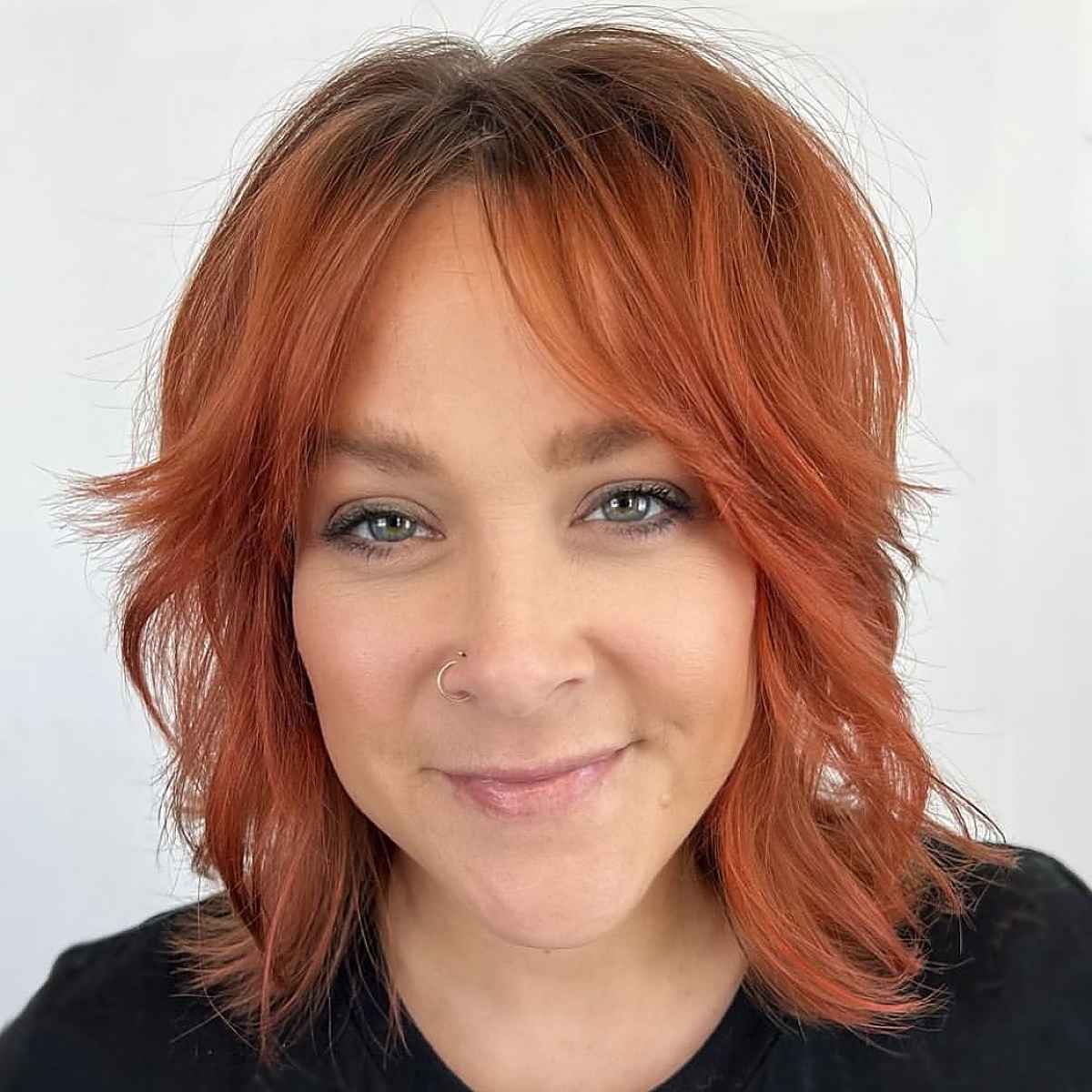 #22: Mid-Length Shag with a Curtain Fringe
If you're looking for a new way to style your mid-length haircut, try a shag with fringed curtain bangs. Shags work best on collarbone-length hair with curtain bangs.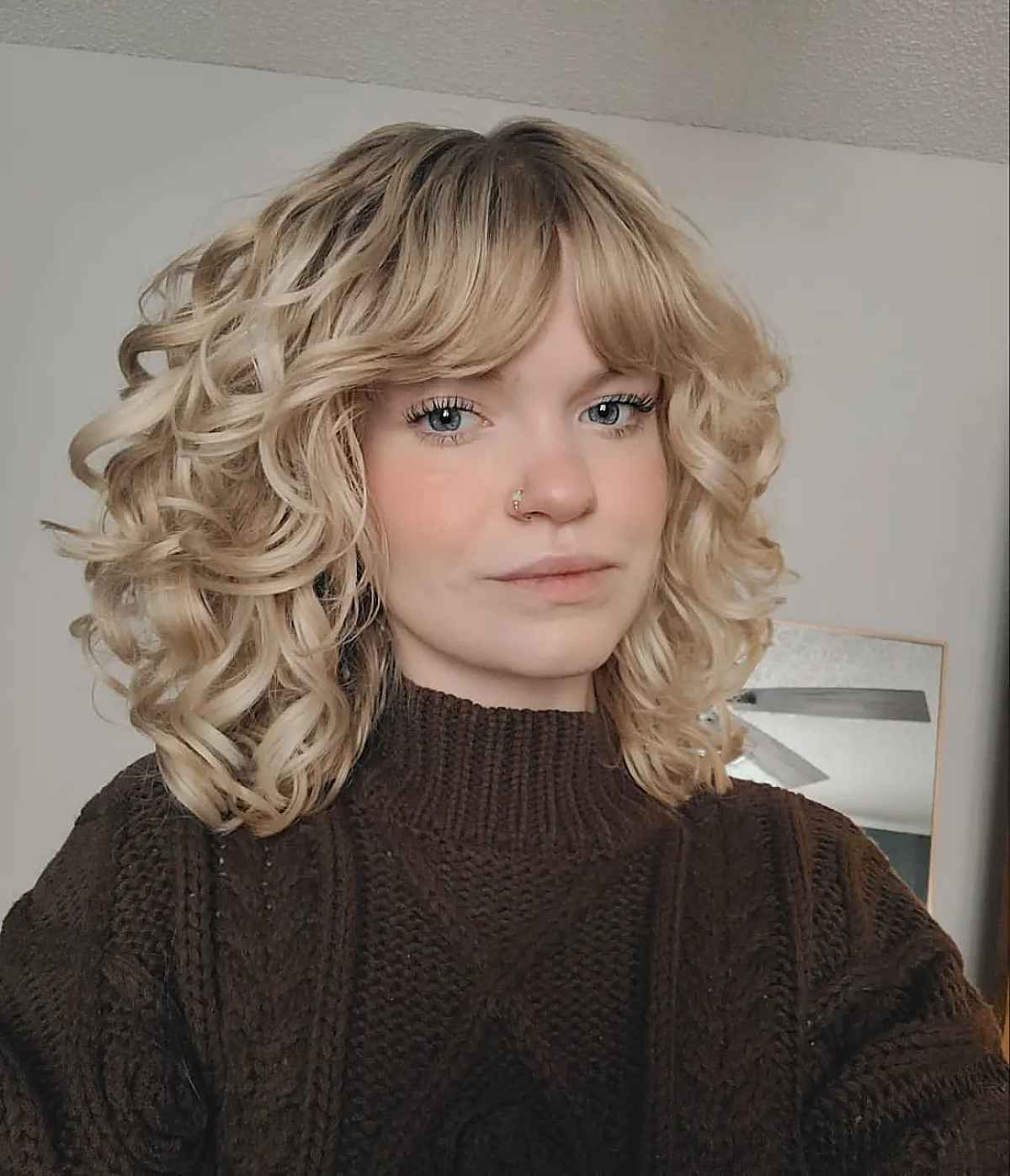 #23: Collarbone-Length Curly Hair with Bangs
A collarbone-length cut with bangs looks amazing on curly hair. The shorter length allows the hair to bounce and the bangs create shape and volume.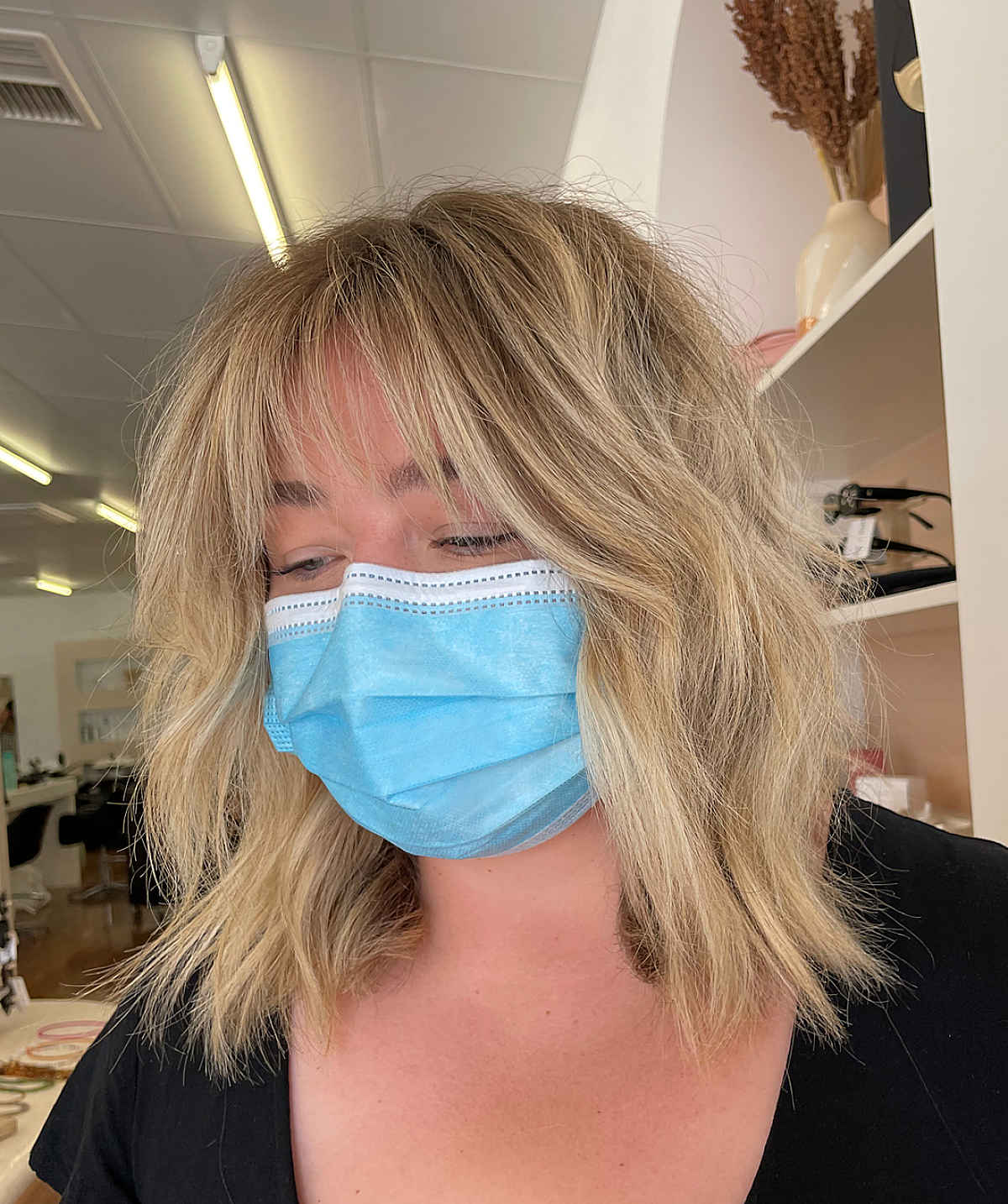 #24: Tousled Collarbone-Length Shag
The tousled collarbone-length shag is an edgy and youthful hairstyle. Pair with some shaggy layers and use the Wax Blast Texture Spray by Redken to add the perfect amount of body.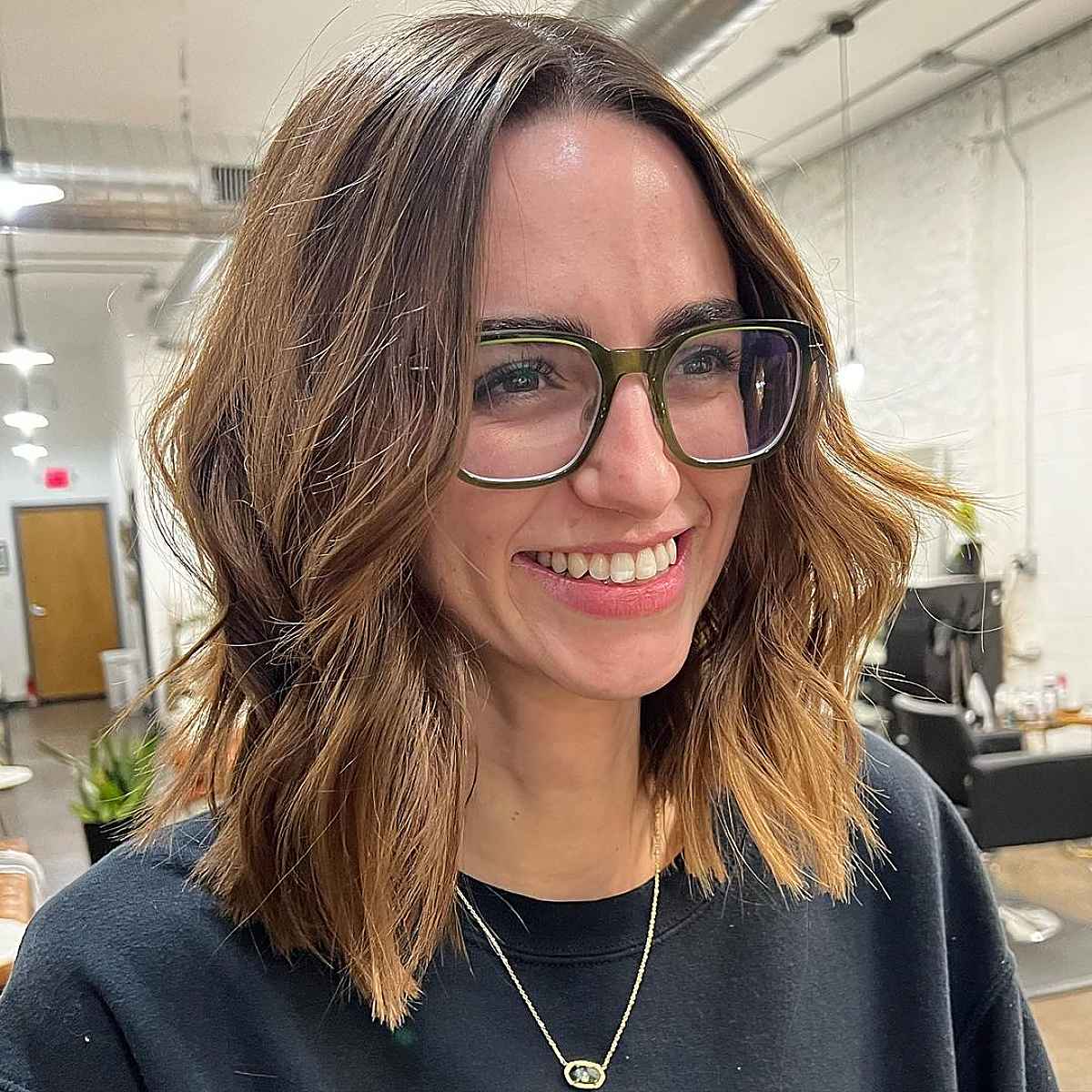 #25: Medium-Length Hair with Long Layers
If you're wanting to go shorter but not too short, try a collarbone-length haircut with layers. Hitting right at the collarbone, it's the perfect low-maintenance hairstyle for medium-length hair.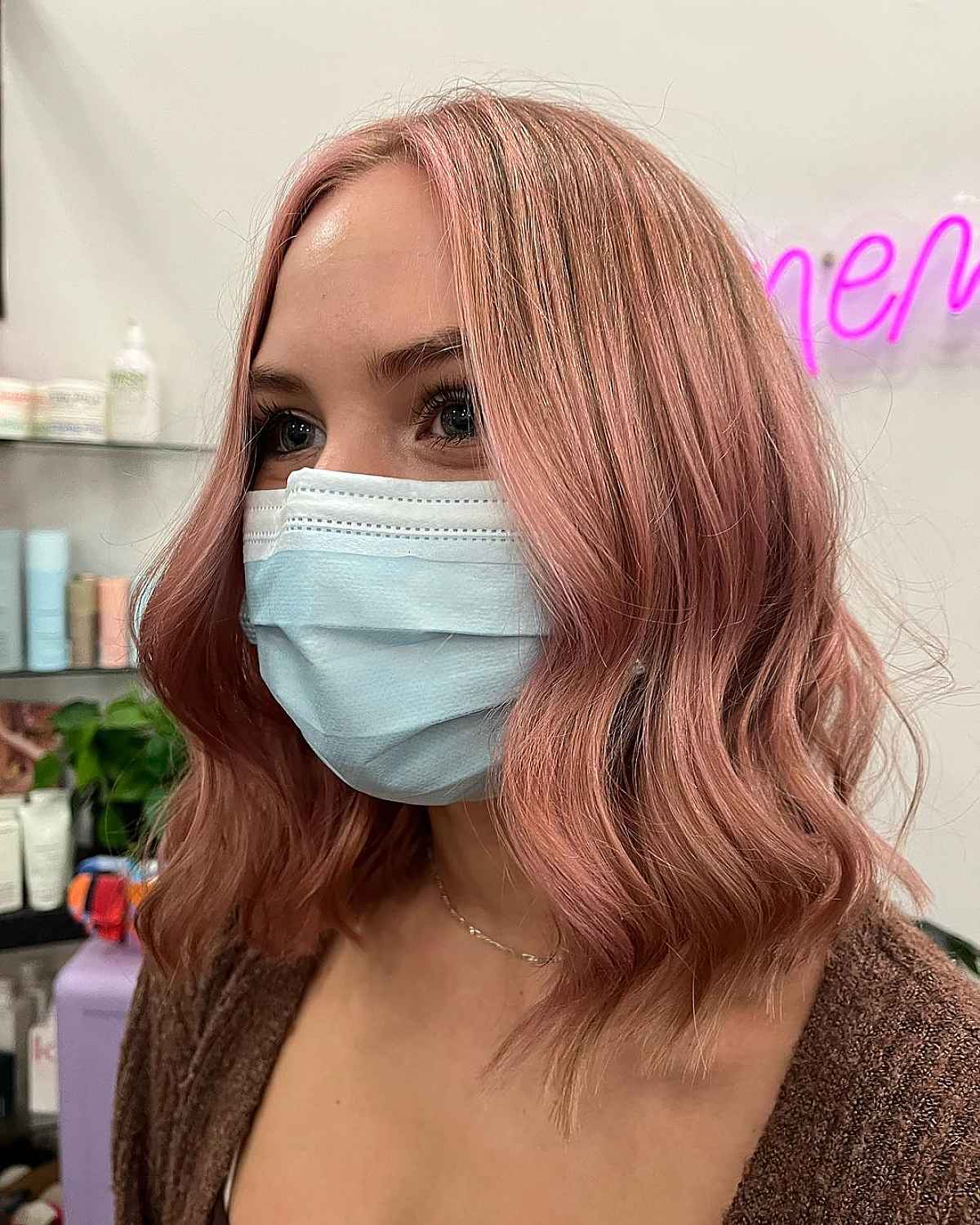 #26: Wavy Pink Long Bob
If you're thinking of changing up your look this summer, try a wavy pink long bob. This cute medium cut is paired perfectly with a mid-length style.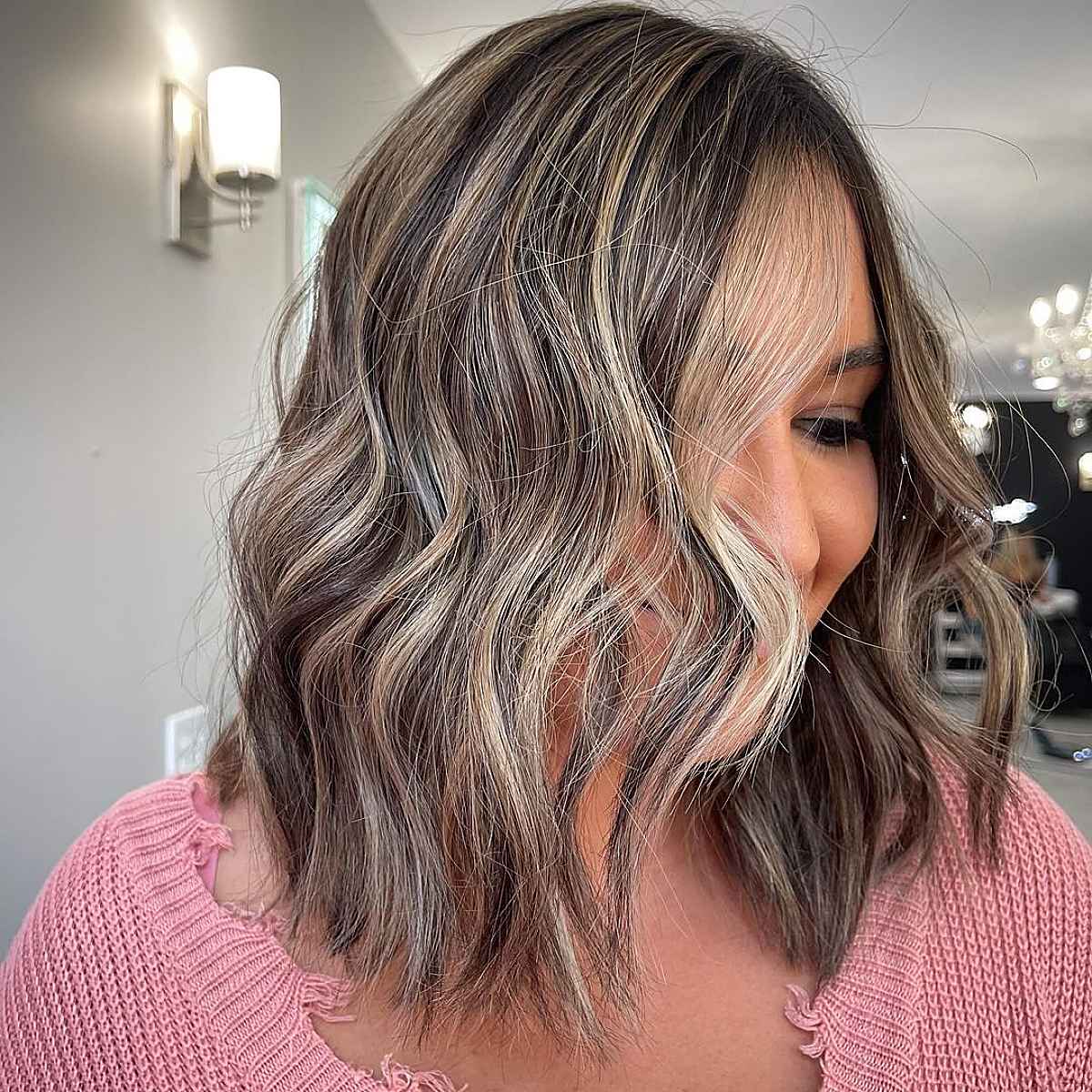 #27: Dimensional Mid-Length Hair with Money Pieces
A dimensional balayage with a money piece looks best with a mid-length haircut. This is a low-maintenance style that looks fresh for months.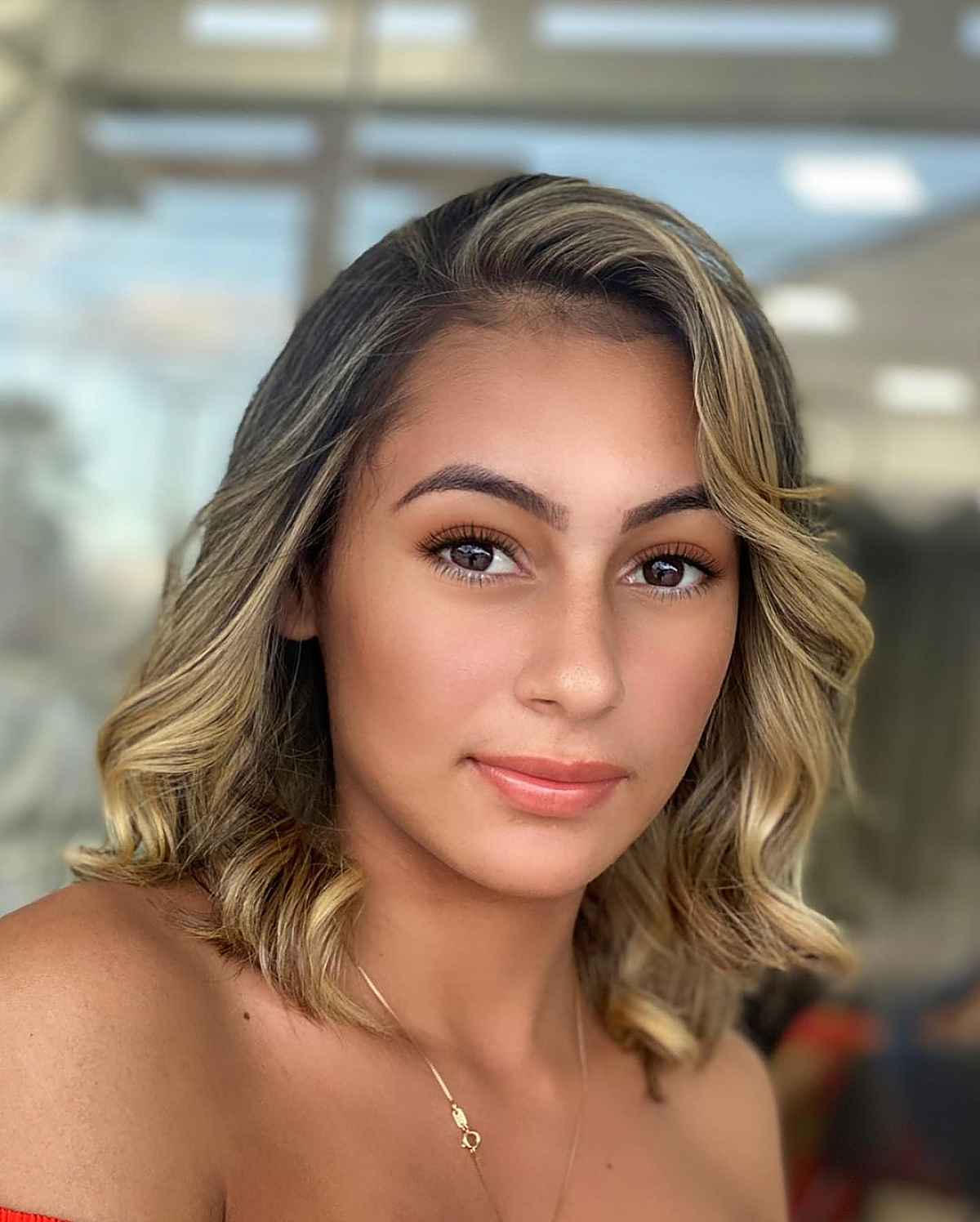 #28: Side-Swept Hair with Curls
A side-swept hairstyle with curls is the perfect way to swear medium-length hairstyles. Use the Masterpiece hairspray by Bedhead for some volume and hold.