8. MEDIUM CUT WITH WITH FACE FRAMING LAYERS
Going for a medium cut with layers, is a way to instantly change your style.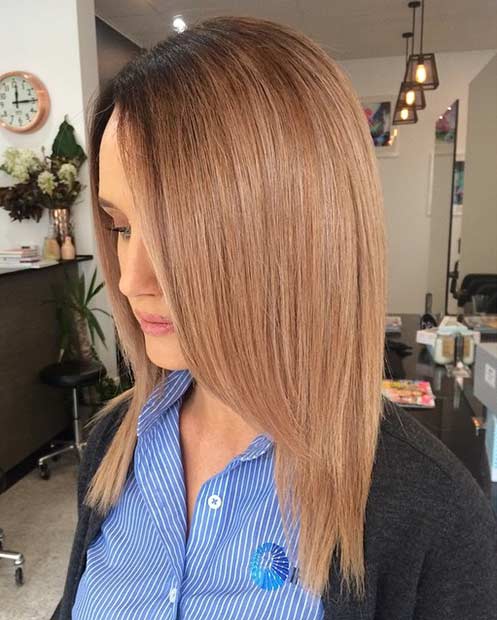 Source: @hairbykas
Face framing layers will boost your hair and it will feel very different to what you had before without having a radical change.
9. COPPER HAIR
Do you tend to go for blonde, brown or black hair tones?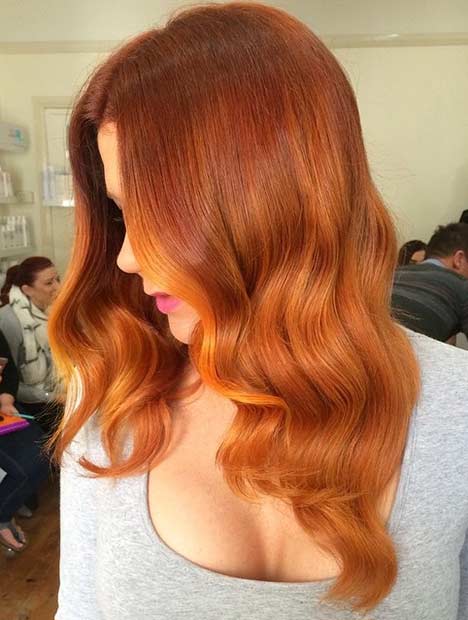 Source: @hairbytashalouisec
Do you fancy a change?  If you want a dramatic change then you can always opt for a copper colour.  This colour looks so vibrant and has a lovely summer vibe. Next time you are thinking about your next hair colour, think about copper.  The colour has a lovely tone that will warm your skin complexion. This is a fashion trend colour, that will release your inner Fashionista!
10. BLONDE BALAYAGE OMBRE
These blonde Balayage highlights look fab!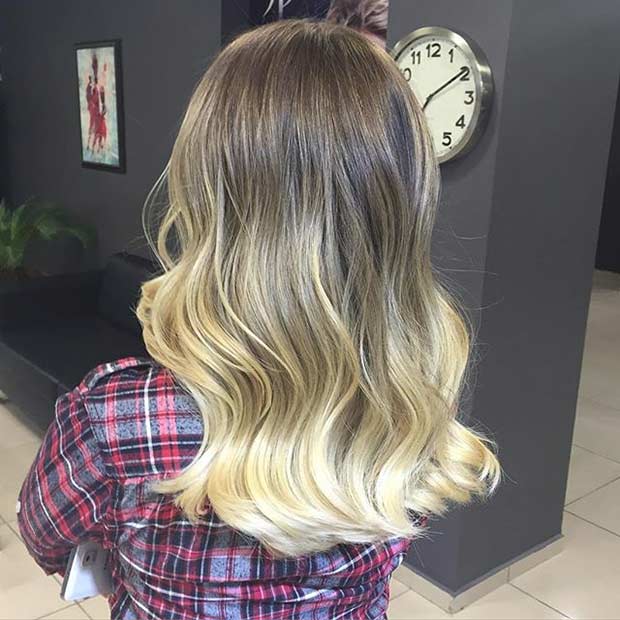 Source: @dilaveravsar
The colour adds a little touch of uniqueness and brightens your hair up.  This hairstyle is trending in all ways. You have the Balayage and the Ombre!  Everyone will be watching you for the next trends!
11. BLOWOUT LAYERED HAIR
Many people don't know what a blowout hair is.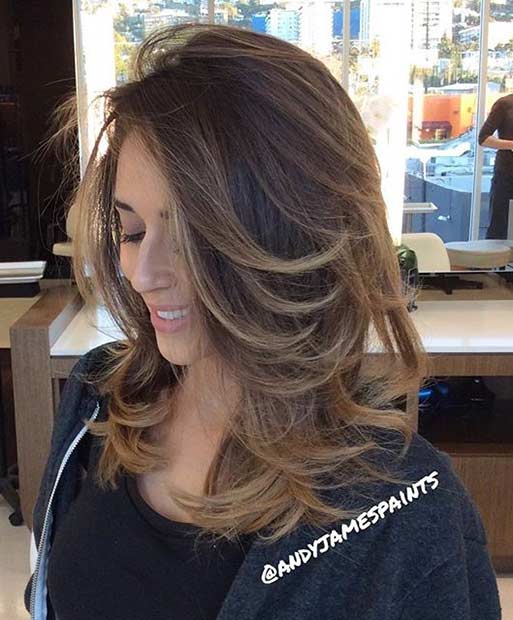 Source: @andyjamespaints
You probably have this treatment every time you visit your hairdressers but use a different terminology to describe it.  It is a technique used for drying your hair. The first step will be having your hair washed and this will be followed by a blow-dry method with powerful hairdryers and hairbrushes.  This style in the photo in particular, includes a layered cut too.
12. MEDIUM LENGTH HAIRCUT WITH SIDE BANGS
Medium length hair is such a versatile style.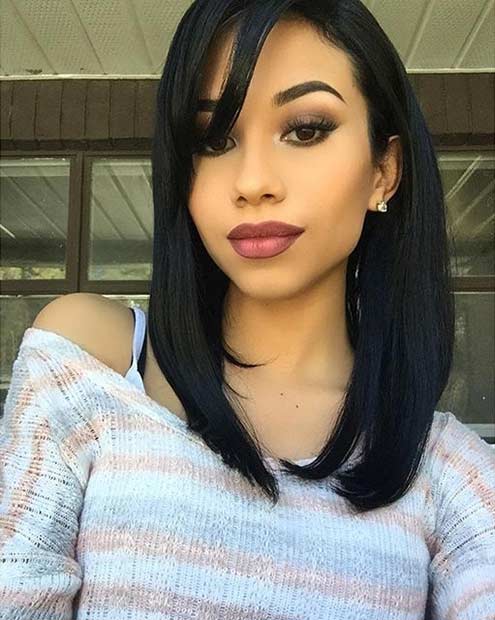 Source: @briciaemilyn
This is a sexy medium length style with side bangs.  It looks great, it's fun and you can style your hair with bangs in many ways.  If you are used to having no fringe, this will immediately change your look and style.
13. DARK ROOTS + CARAMEL BALAYAGE MEDIUM STYLE
The great thing about having Balayage highlights, is that there are no rules.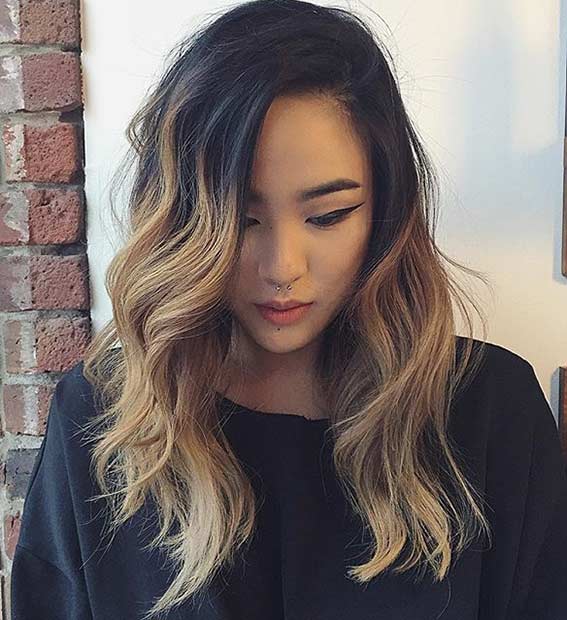 Source: @chrisweberhair
You can ask your hairdresser to add as many or as little highlights as you wish.  Take this dark roots with caramel Balayage highlights. The highlights can start wherever you decide.  It looks fabulous! You don't have to worry about going to the hairdressers often with this style, it is very low maintenance.
14. MESSY BRONDE MEDIUM HAIRCUT
Have you heard the new word… bronde.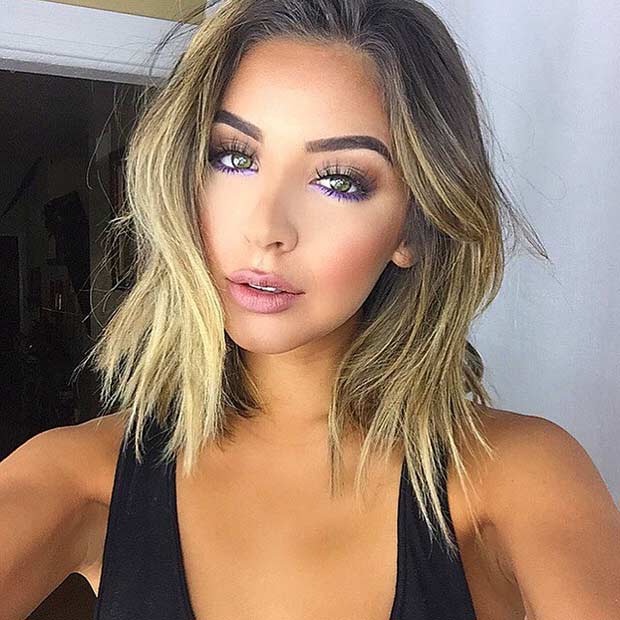 Source: @brittanybearmakeup
Bronde is quite a newish word that many people are using to describe a colour between blonde and brown.  It was only a matter of time until someone made up a new word for this colour! Having a bronde shade with a medium messy hairstyle, looks sexy and renewed.  Messy hair has been on-trend for such a long time now and we aren't complaining. It looks amazing and we love it! Go for a hairstyle like this one to show you know the trends and love messy hair.