15. BEIGE BLONDE OMBRE + SOFT WAVES
If you are thinking of having a mid length style haircut with Ombre colouring, think about having contrasting colours.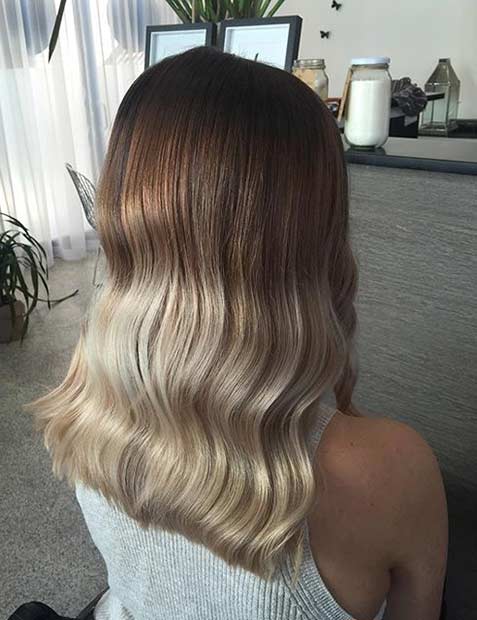 Source: @hairbykas
Contrasting colours are the whole point of having Ombre hair.  This look looks neat with beige and blonde tones. The soft waves create an elegant and sophisticated finish.  Choosing a dark colour for the roots and a lighter shade for the ends of your hair, look fantastic. This hair trends has been around for some time now and many people are still rocking it.
16. DARK RED HAIRSTYLE
Having a new haircut is one thing but adding a new colour is a totally different level!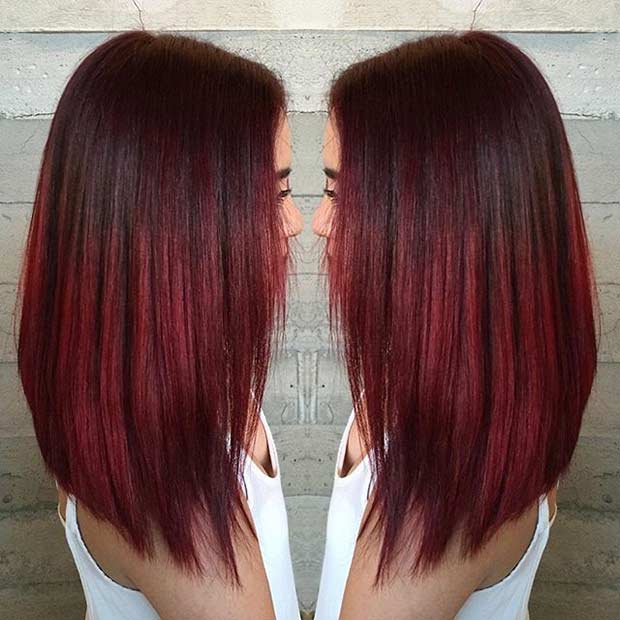 Source: @butterflyloftsalon
If you are feeling a very new makeover, go for both.  Having a gorgeous medium length haircut with a colour change, will make you feel a new vibe and different style.  Changing ones hair, makes us feel refreshed and can give people a confidence boost. Choosing a darker colour is quite a tough decision.  Many people tend to forget about the dark red shades. Look how good this colour can look! Has this got you thinking about choosing this shade?  We think so!
17. STRAIGHT, BRONDE MID STYLE
By having a natural looking hairstyle and colour, will show off your natural beauty.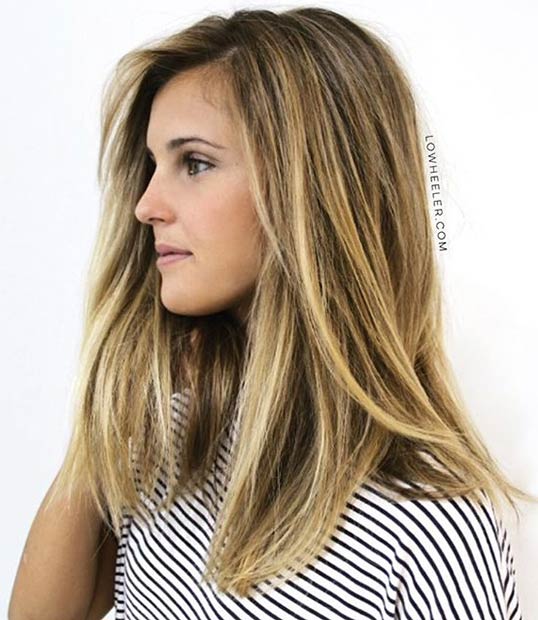 Source: @lo_wheelhouse
If you are looking for a radical change and want a low maintenance style, then this may be the style for you.  Maybe you are bored with the light blonde or darker tones. Opting for a bronde shade will give off a natural vibe.  No need for curls, having straight hair is underestimated these days.
18. MEDIUM CUT IDEA FOR THICK HAIR
Medium cuts are a favourite with all types of hair.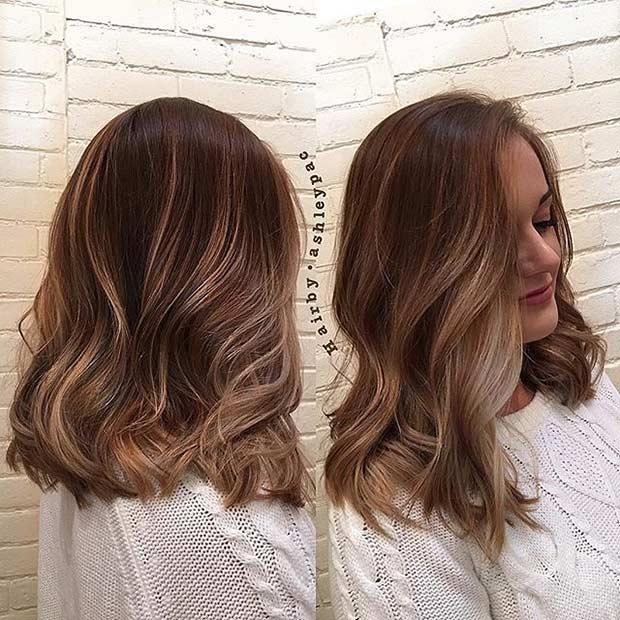 Source: @hairby.ashleypac
If you have thicker hair, having a medium cut will add that extra volume to the ends of your hair.  It looks healthy and alive. It will have a natural bounce as you hair will be just below your shoulders and the thickness will show.
19. CARAMEL BALAYAGE HIGHLIGHTS
If you are naturally dark haired, maybe think about caramel tones.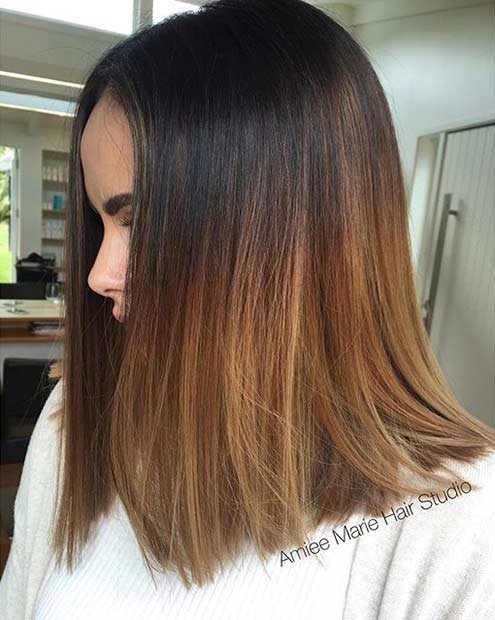 Source: @amieemariehairstudio
Caramel shades will warm up the darker roots.
Balayage is a colour technique term from France.  It's a term used for colouring your hair freehand.  The hairdressers or colourist will apply the hair dye by hand instead of using foil or a cap.
20. LAYERED, BLONDE CUT
Layers can often give thinner hair that extra volume.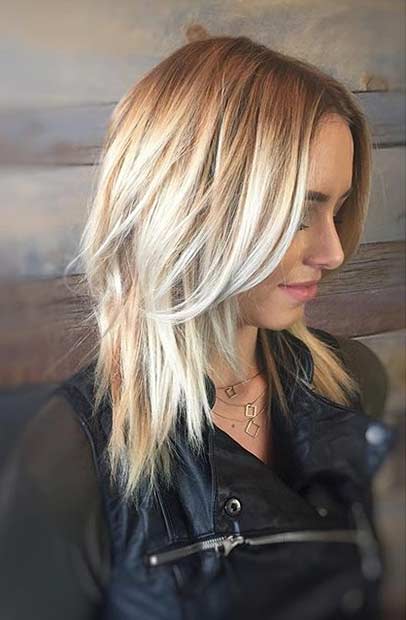 Source: @hairbyedwin
This is a gorgeous layered, blonde style that looks beautiful.  These are blonde highlights with a mid length haircut. By mixing a few different blonde tones, you will enhance the different colours shown in the layers.
21. HONEY BLONDE MEDIUM CUT WITH LONG SIDE BANGS
Rich honey blonde tones will compliment warmer skin tones.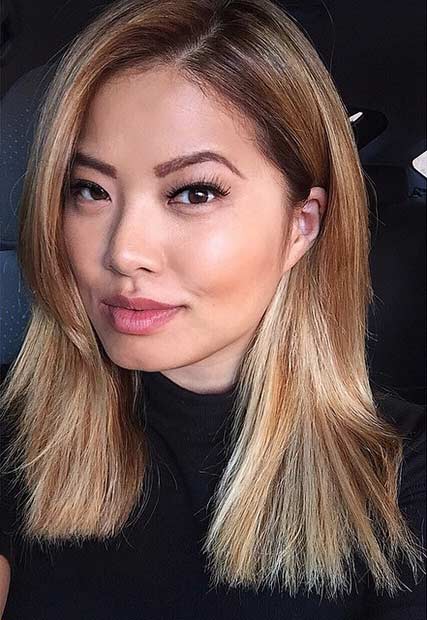 Source: @xixiyang
To make sure you are choosing the best blonde to suit your skin tone, look at the veins on the inside of the wrist in natural daylight.  If you can see a blue colour, you need to choose cool blonde shades. If you see a green tint on your wrist, you have a warmer skin tone and this golden blonde is perfect for you.  Adding the long side bangs will make you hairstyle look chic and modern, especially with shorter hair.