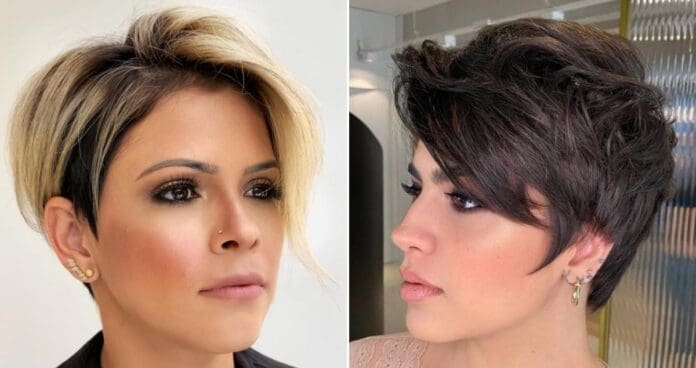 When you need to refresh your image, correcting it according to the current trends, you need to introduce some special modern twists into your usual haircut and styling methods. In this relation, sassy haircuts for short hair are a wonderful choice. An admixture of sassiness will save you from looking boring or older than your age because it's initially associated with young energetic spirit, playfulness, ease and optimism.
Sassy haircuts let women in their 40s, 50s and even older look modern and much younger than they are. So, regardless of your age, if the short length is your theme, you simply can't miss this priceless info we've prepared for you!
What Makes Your Haircut Sassy?
It can be your favorite basic pixie haircut or even a bob. The main thing is not to make it ordinary as always but light it up with something of the following:
Layering
Asymmetry
Bold hair hues
Color accents
Varied lengths
Cool feathered finish
You can use one or a few of the mentioned tricks. Although it seems unbelievable at the first sight, a short haircut can incorporate a few eye-catching elements, and it won't look like "too much".
#1: Short Sassy Haircut with Bangs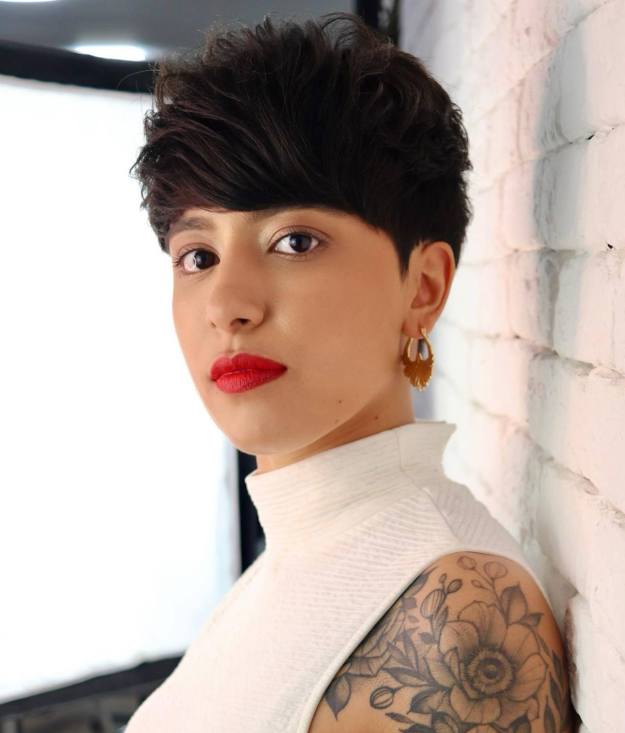 Instagram / @RUTEBOAZHAIR
If you have thick hair, consider getting this short sassy haircut to make your facial features glow. In addition, short hair is a good reason to give a go to brighter makeup and bold accessories.
#2: Posh Spice Look
This is a shorter version of the iconic Posh Spice bob, still extremely hot and sassy. Darker roots, side parting, and voluminous layers make this thin hair a smashing success. Although so sexy and attractive, it is quite suitable for the office.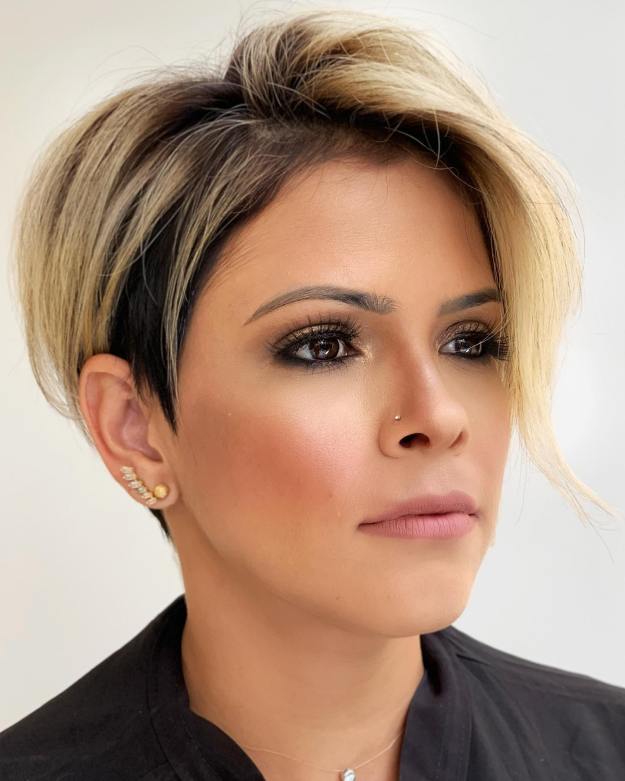 Instagram / @DIEGOMARCSANT
#3: Short Hair with Long Bangs
If you have thin hair and find yourself asking whether you should get a short cut, this playful pixie is your answer. Long bangs and a cool shade of pink add a special vibe of youthfulness to this look. This awesome pixie cut is all about cuteness!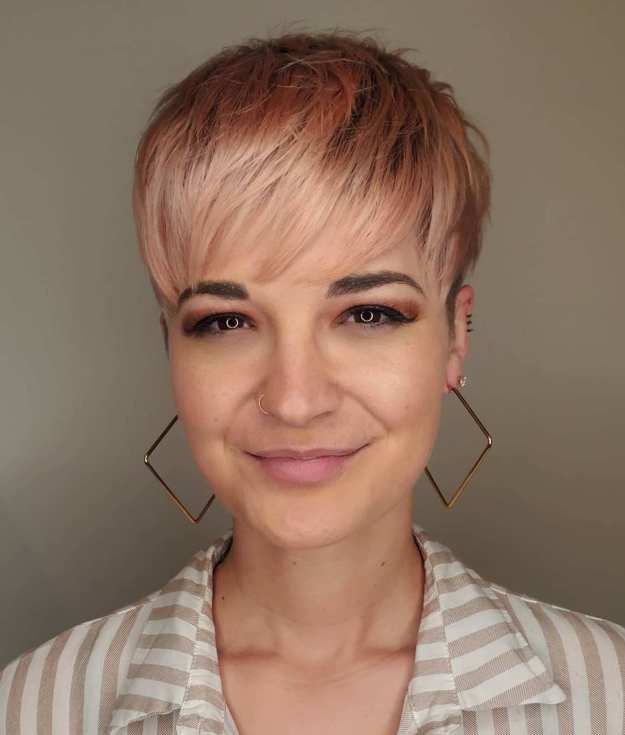 Instagram / @BAILEY_AESTHETICS
#4: Pixie Haircut with Long Bangs
Short sassy haircuts look even more amazing when paired with long side-swept bangs, allowing you to show off your best features and beautifully framing your forehead at the same time. If you're in search of a flattering short haircut for a round face, consider this option.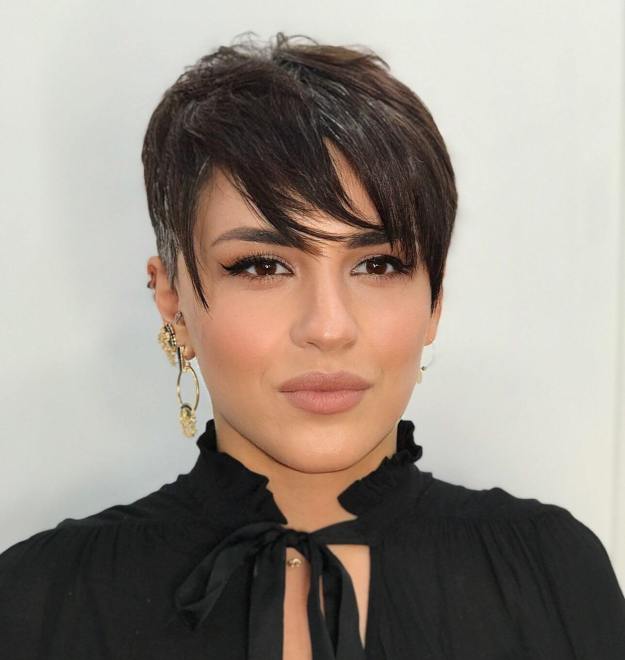 Instagram / @KADIRDONMEZOFFICIIAL
#5: Long White Blonde Pixie
If you feel like cutting your hair short but don't want to get too masculine, a long pixie haircut can be just what you're looking for. Deep side parting and gorgeous white blonde hue make this hair look absolutely amazing.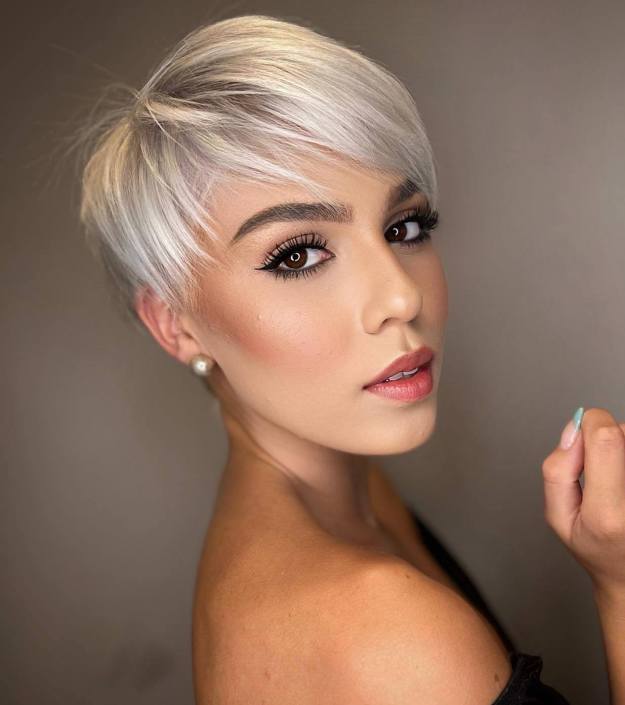 Instagram / @PAMELA_CABELOS
#6: Messy & Sassy
Looking for a haircut that is low-maintenance but still classy and elegant? Consider getting a layered pixie haircut for thick hair that allows you to create mind-blowing volume with little effort. All you need to get this cool look is some styling mousse and a couple of your precious minutes to lift it a bit up with a curling iron.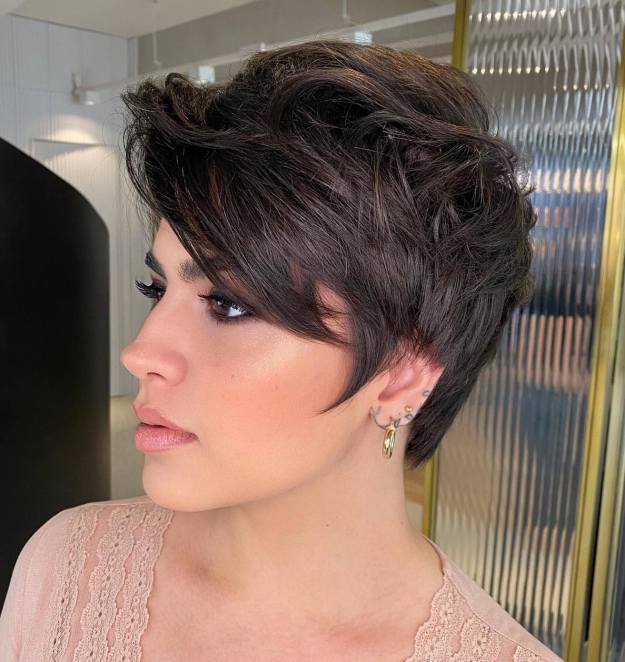 Instagram / @RODRIGOCINTRA
#7: Long Asymmetrical Pixie
Many women find volume the primary factor when choosing a new haircut. That's a sensible approach, we would say. The good news is that there are a lot of short sassy haircuts for women that can give you that so much wanted volume. For instance, asymmetrical pixie haircuts like this one, flattering even fine hair. Just tease your hair at the roots to achieve that height. Finally, why not get the best of both worlds and dye your hair to match your skin tone?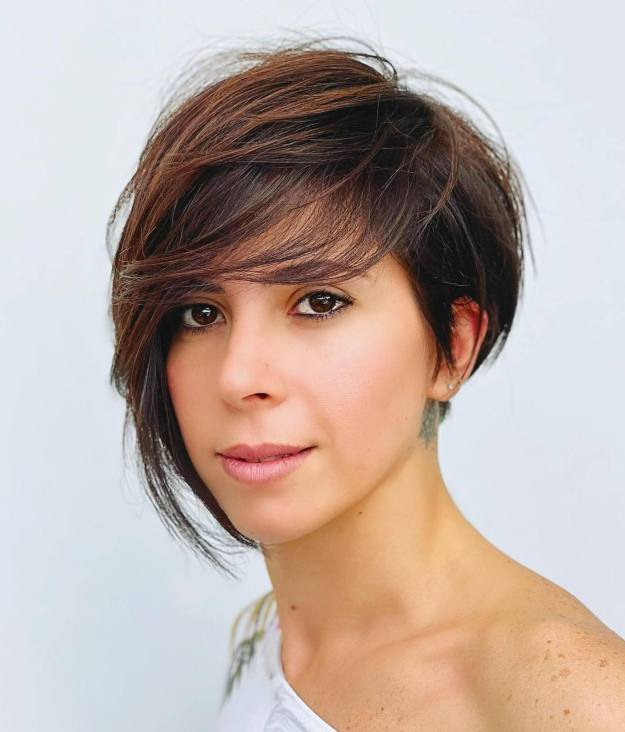 Instagram / @JEANCLAUDEELMOUGHAYAR
#8: Edgy Cut with Shaved Sides
Get this bold look by combining your sleek and shiny tresses with shaved sides. Whether you have a curly hair texture or flat iron your tresses to make them super shiny, that striking contrast with the shaved sides is sure to make a statement.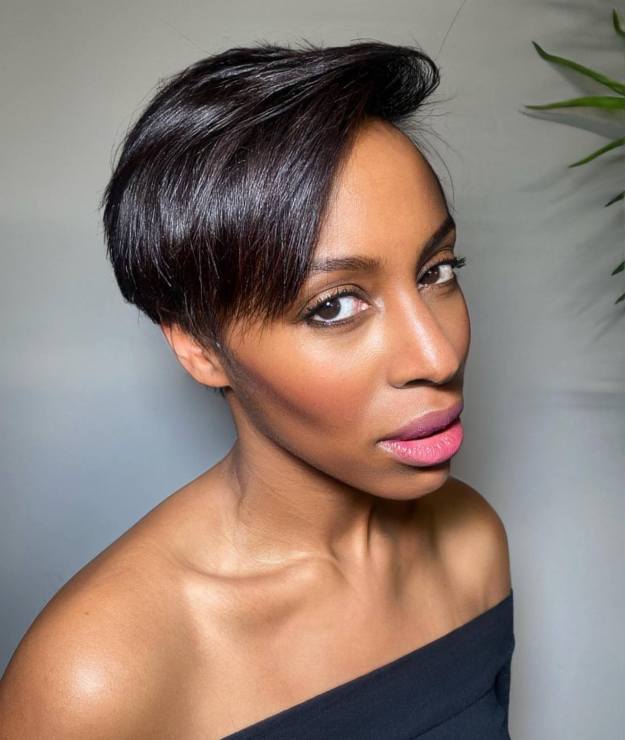 Instagram / @MICHELLETHOMPSONHAIR
#9: Young and Free
High school is a time to experiment and find your signature style, which is why this short sassy hairstyle could be a good starting point. This undercut pixie is cool and creative, plus, a popular short pixie cut is accepted in all conservative settings.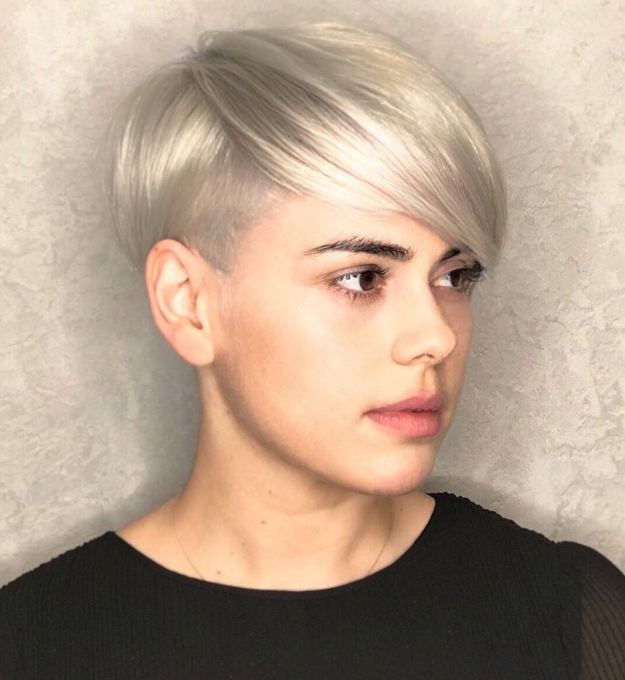 Instagram / @JEAN_PIERRE_HAIR_ART
#10: Cool Stacked Bob
Steal this sassy short hair idea if you have a round face shape, since long side-swept bangs do an excellent job in balancing this face type. What is more, this cut looks beautiful on women who wear their natural hair color. Get some feathered layers and keep your stacked bob messy at all times — it's a sure-fire way to create plenty of volume.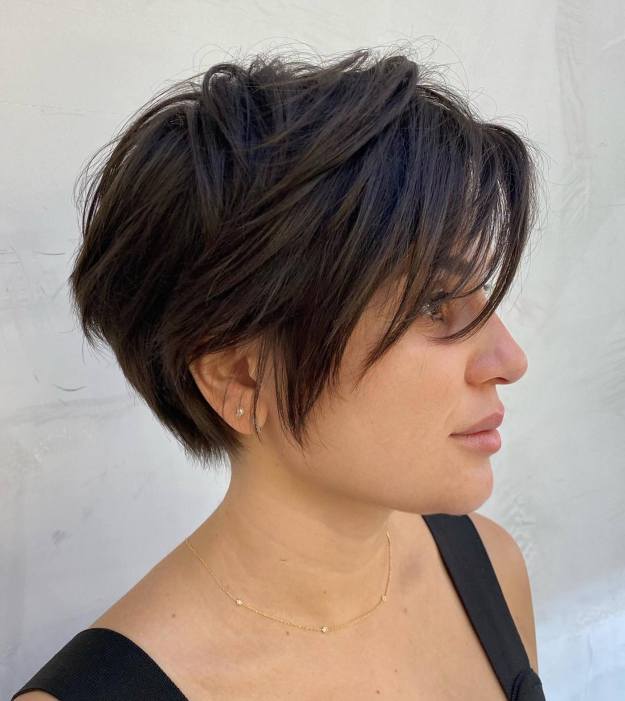 Instagram / @NIKCABRAL