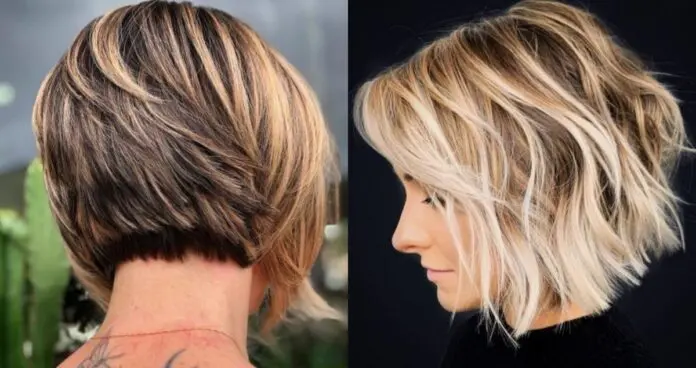 Short hair highlights on cropped hair are like creamy frosting on a cake. Even the subtlest touch of flattering highlights will make your pixie or bob irresistibly fabulous. Highlights make short hairstyles appear luminous and lustrous, with lots of tones and dimension. We bring you a super-cool collection of trendy highlights for short hair to light up any dull mane. Check out!
1. Short Brown Hair with Highlights. What an amazing way to spice up dull brunette hair! Her blonde highlights on short hair, textured and fluffed out for more volume, host a stunning display of honey-brown and ashy-blonde shades.
.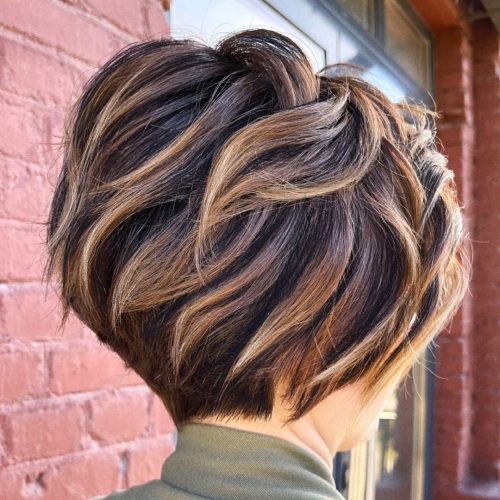 2. Contrasting Blonde Highlights for Short Hair. These chunky, champagne blonde highlights on a light brown base deliver a delicate touch and Barbie doll allure. The sprinkling of sandy blonde highlights adds luminosity and glamor to this short choppy hair.
.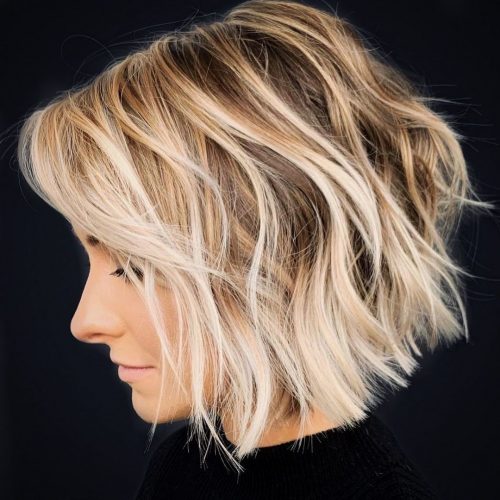 3. Short Hair Highlights and Lowlights. You can play with highlights and lowlights to achieve just about any effect on your hair. They can be tweaked to create an illusion of fullness or depth, just as in the photo below. The dark ash blonde lowlights and silver highlights make her hair appear a lot fuller.
.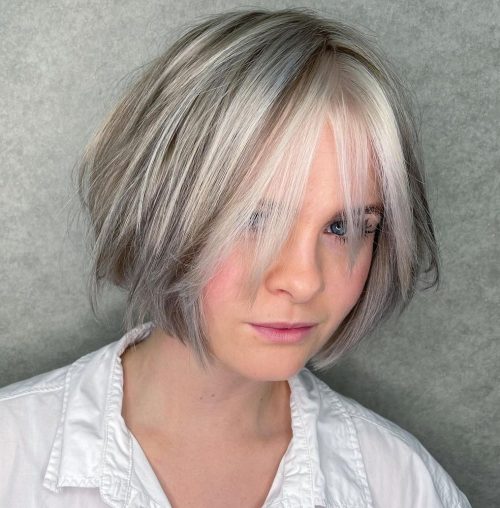 4. Short Wavy Bob with Highlights. Need a new glamorous hair highlights idea for short hair? Choose this wavy stacked bob. Concentrating the golden blonde highlights on the longer tresses framing her face is a super-fashionable idea.
.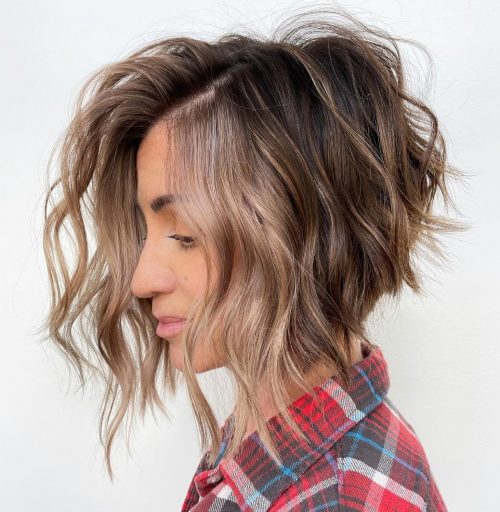 5. Short Dark Hair with Highlights. Try some radiant highlights to lighten up your hair and highlight your face. Her chic pixie dressed up with streaks of frosted highlights and blonde wisps in the front looks super-charming.
.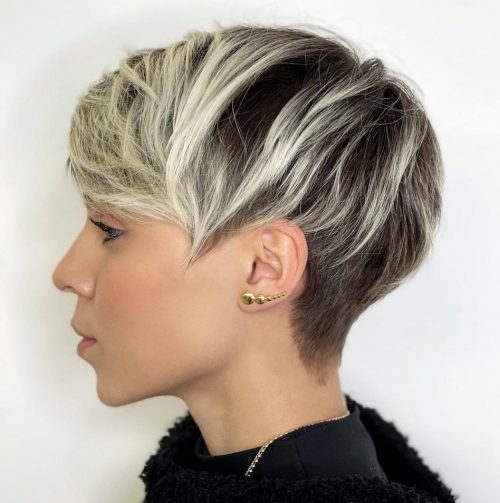 6. Short Black Hair with Bright Highlights. Do you know that highlighting the strands of hair framing your face can make your cheekbones appear more prominent? Check how those exquisite midnight blue ribbons accentuate her beautiful face.
.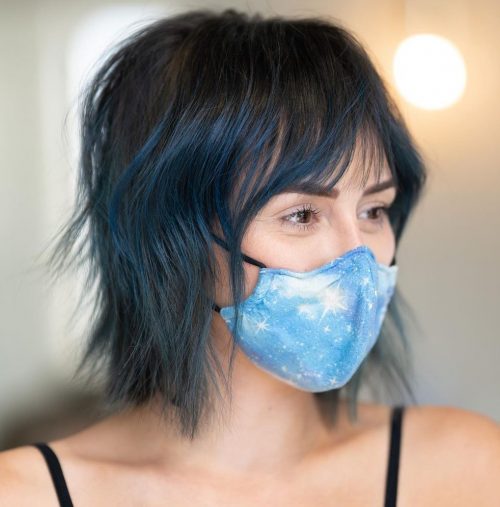 7. Gothic Short Hair with Plum Highlights. Indeed, beauty is in shades, and hers is in the shades of black and plum. Those iridescent plum highlights bring a fascinating twist to her gothic hairstyle and makeup.
.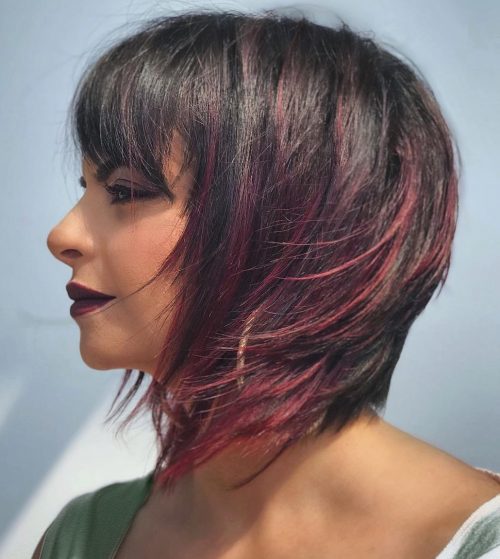 8. Pixie Cut with Highlights. If you don't like big changes, play with subtle highlights. Hair color for short hair definitely benefits from lighter or brighter pieces enhancing the texture and volume of your hair.
.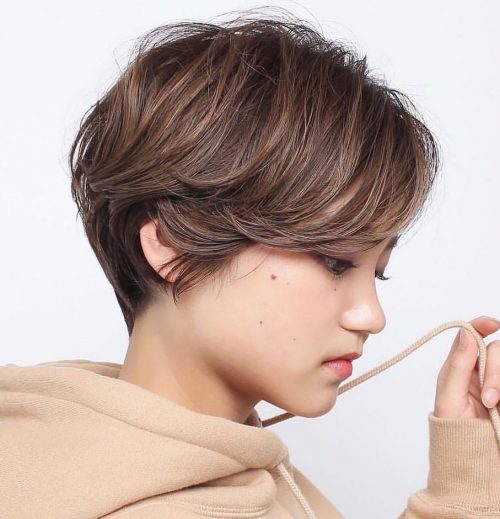 9. Hot 'n' Spicy Red Highlights. Make a bold and irresistible fashion statement with flashy and flamboyant red front highlights. These may be achieved with a foil technique called slicing that involves highlighting an entire section of your hair.
.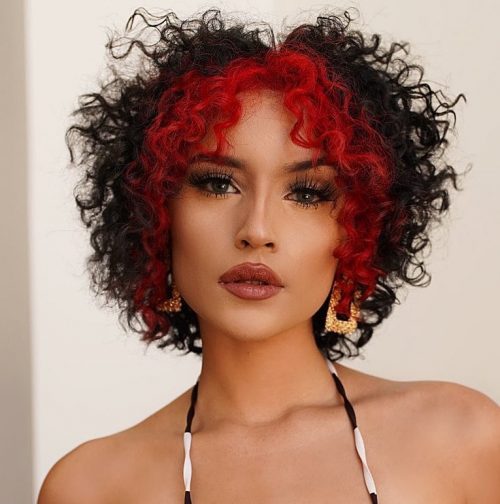 10. Short Brown Hair with Caramel Highlights. The vibrancy and dimension these caramel highlights lend to the chocolate base are superb. The trendiest highlights for short hair mix warm and cool shades seamlessly.
.