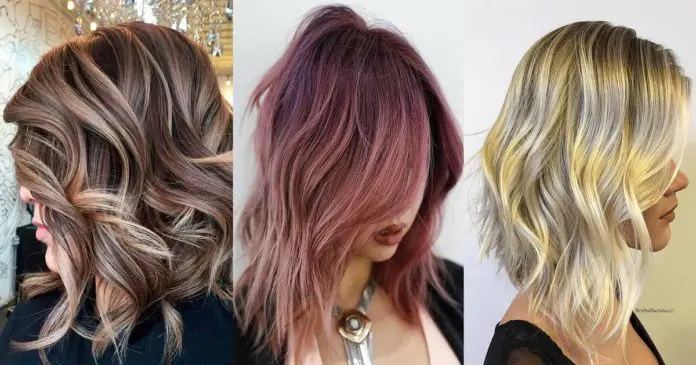 Layered haircuts? Are they really all they're cracked up to be? For years, women have debated the pros and cons of having layers. Some feel that layers add more volume and leave for options for styling, while others feel that layers are cumbersome and make styling more of a challenge. However, layered hair is quite stylish and very trendy at the moment.
First of all, one needs to understand exactly what we mean by the layered hair. To put it simply, it can be defined as having different lengths cut into your hair to add volume and texture. Most often lays are used to frame the face or add body to thinner hair. Layers can be of varying lengths depending on the style.
It is always recommended to have a stylish cut haircut layers as it is definitely an acquired skill. You want your layers to be even and properly proportioned, unless, of course, you are going for a certain look!
There are literally dozens of styles and options for cute layered haircuts!
Still, not convinced? Following are some reasons to get layered hair. Remember there are so many options for types of haircuts for layers that you will be able to find one to match your personality!
Short Layered Haircuts
Short layered haircuts are a great way to add volume to fine or thin hair. As well, a short haircut can make you look and feel years younger. And you can opt for bangs with your short layers! Side-swept bangs, wispy bangs, and even blunt bangs are very flattering with short layered hairstyles!
Still, not sure? Check out these sassy haircuts for short layered hair! We promise you that you will love your new short layers! Go for a bold new cut such as a super cute pixie and get ready to turn heads when you enter a room!
One of the main advantages of short haircuts with layers is that they are super easy to style! As such, they require less time to blow dry or air dry. And they will save you a ton of money on hair products as you will spend much less with short hairstyles!
In addition, short haircut layers are a great way to stay cool! In the summer, your hair can feel sweaty and can make you feel even hotter in the light of the sun. Short layered tresses will make you look and feel much cooler. As well, in the winter or under windy conditions, you will not have to worry about your longer hair blowing in your eyes. Again, short hair is easier to style and won't have that windblown look we often get with longer locks!
And you can still color your hair with short layers! Short layered haircuts are actually a lot of fun when it comes to color techniques such as highlights, lowlights and balayage tones. And they even look great with ombre fades.
Pixie Layered Haircut
Source: riawna via Instagram, francescabridge via Instagram, eliasvelloso via Instagram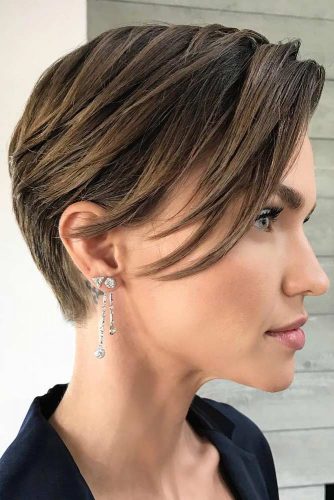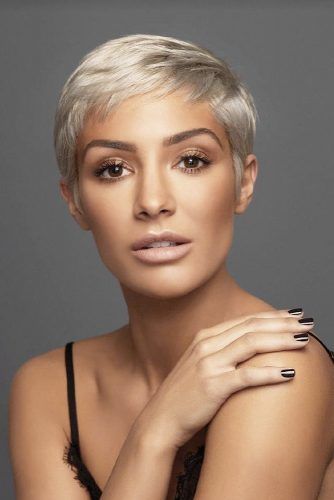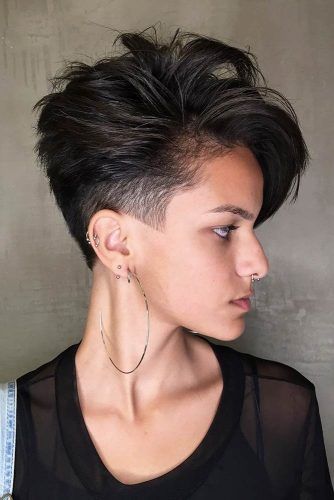 A pixie with layers looks quite sassy and daring with its shorter sides and longer top. The cut is pretty versatile when it comes to coloring options.
Bob Layered Haircut
Source: riawna via Instagram, buddywporter via Instagram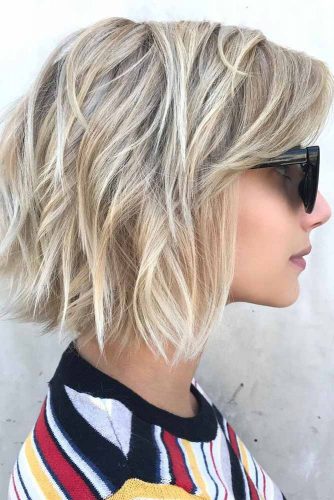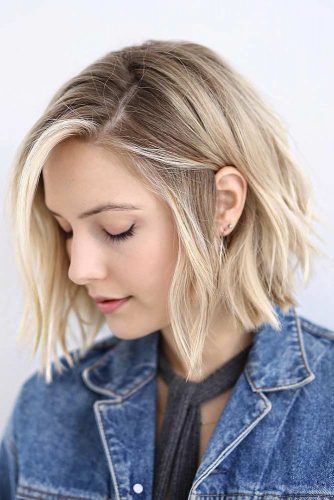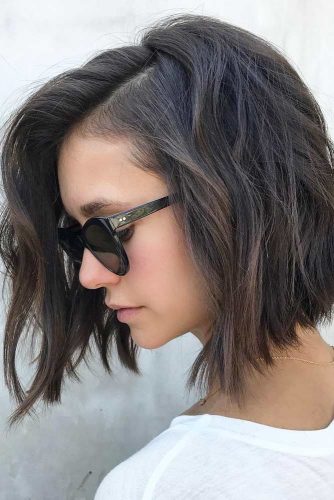 Bob haircuts are very much in demand these days as many celebs are opting for a sexy and stylish layered bob haircut. They are sleek, sophisticated, and definitely will add volume and movement to any texture of hair. You can opt for a longer bob (or lob) or a super short style such as an adorable long pixie! And as with any layered haircuts, bob hairstyles are an incredible idea how to express yourself with brilliant bursts of color!
Medium Length Haircut
Source: bescene via Instagram, riawna via Instagram, shannonrha via Instagram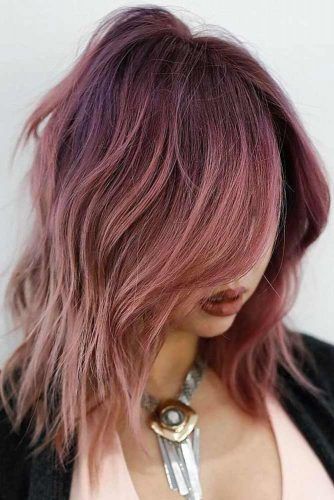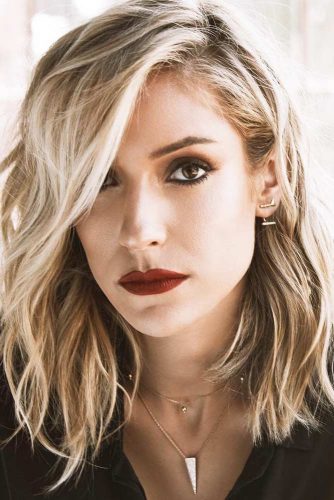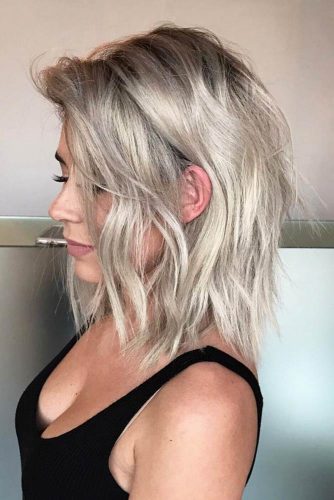 Medium layered haircuts will suit those of you who can't make up their mind whether short or long they wanna go. The thing is that the addition of layers of a different length will definitely solve the issue. Besides, if you opt for lilac highlights, then you will definitely kill two birds with one stone! Just look at that juicy haircut with layers.
Middle Parted Haircut
Source: salsalhair via Instagram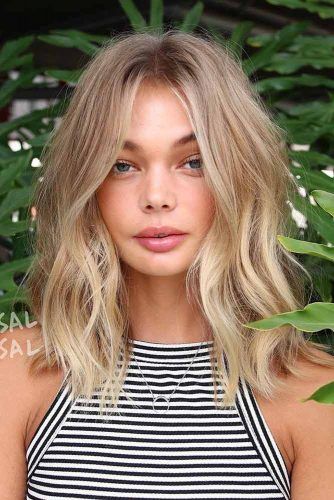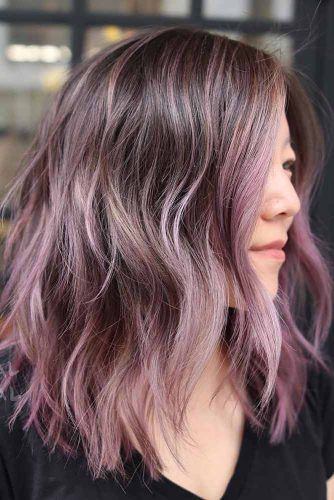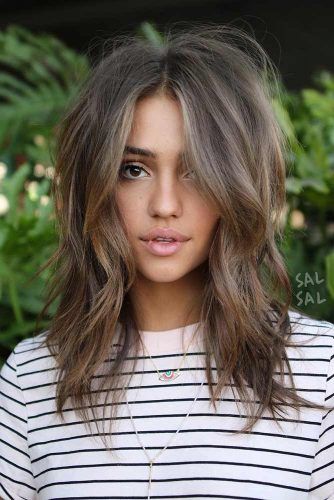 Side Parted Haircut
Source: jadeseba via Instagram, keziasimoes via Instagram, rossmichaelssalon via Instagram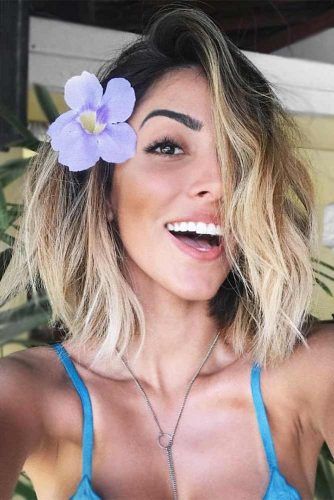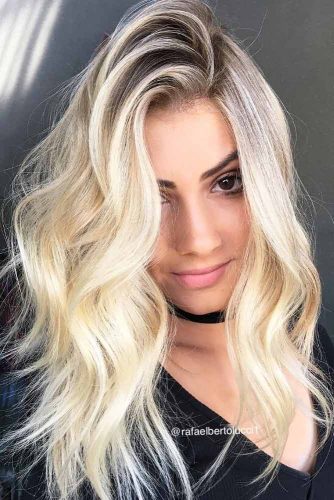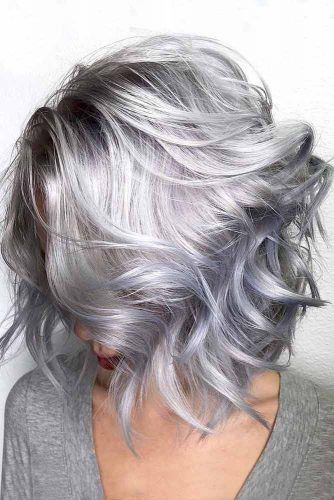 Sexy Stacked Layers
Source: rafaelbertolucci1 via Instagram, melanniemillan via Instagram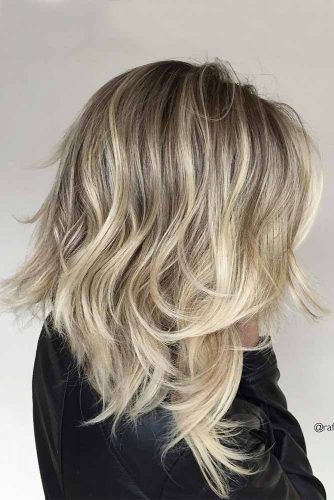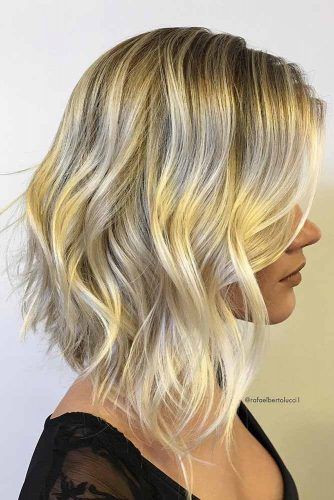 The options for layered haircuts are endless! This sultry long layered look compliments those with round, oval and heart-shaped faces and really adds volume to fine hair. To style, start with a curl-boosting product on your damp hair, and blow dry with a round brush for lighter volume. Then, using a large curling iron, make large vertical curls, alternating the direction every other curl. Shake loose and gently separate with your fingers for full volume and movement and finish with a light holding spray.
If you prefer a style is a bit retro chic which is inspired by 70's Boho Chic then for a modern touch add a burst of color or subtle balayage tones. Prep your damp hair with a smoothing cream and then blow dry using a round brush for soft volume. Next use a flat iron to straighten your hair and backcomb the crown area behind your fringe for added volume. This look is accentuated by the full fringe for a fun take on a classic Bohemian style.
A fun and bright color such as cherry red or copper blonde with side swept bangs will really make any style pop. A dramatic ombre or two-toned balayage will add depth and dimension to a more modern twist.
Long Layered Haircut
Source: belanovasalon via Instagram, muhamed_balasiev via Instagram, riawna via Instagram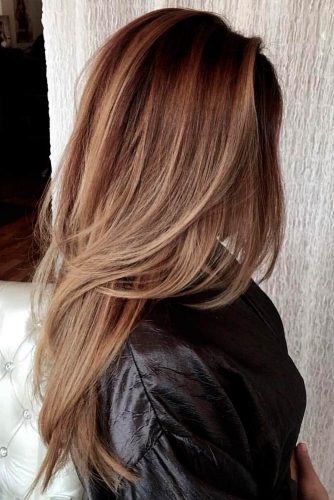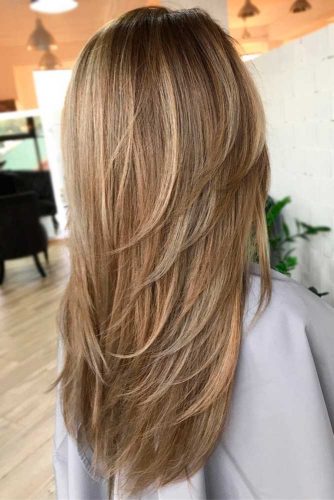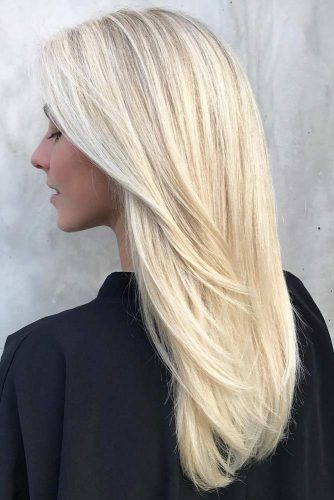 If you love your long hair and don't want to get rid of the length, but are looking for a new style, long layered haircuts are the way to go! Layers can add life to your longer hair and also help remove some of the weight for those with thicker hair. As well, if you have thin or fine hair, layers can add a ton of volume. Layered hair can make you look and feel years younger!
Check out our favorite looks for long layered haircuts if you are still unsure! We are convinced you will fall in love with one of these sexy new looks!
Long Disconnected Wavy Layers
Source: Saloncouture_ny via Instagram, saidhenriquegyn via Instagram, bevasconcelos via Instagram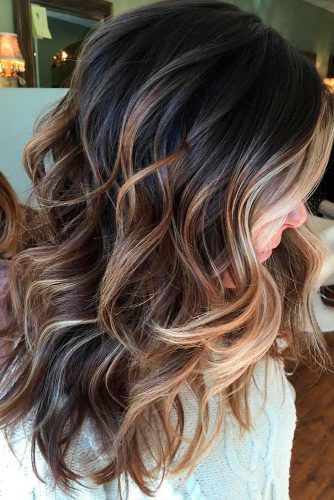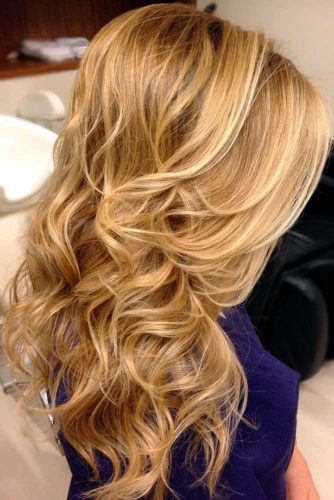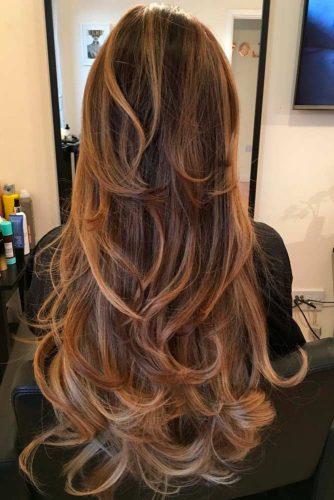 These funky, disconnected layers will add fullness and length to those with medium to long hair. You probably think that a layered haircut looks great only when you straighten it. Well, it is quite far from being true. In reality, a long layered haircut will appear super-glamorous when waved or curled. Those with rounder faces can totally rock this sassy look!
For styling, you will need a comb, a brush, a blow dryer, large hot rollers, and moulding cream to set the hairstyle. That's all you'll need to get an elegant 'do and resemble Kate Middleton as a result. To style, add volumizing mousse to damp hair, and blow dry with a round brush to boost volume. Then make vertical curls wrapping your hair away from your face with a large-barreled curling iron. When curls are cooled, disconnect them by gently running your fingers through them to loosen and separate. Finally, spray a light holding finishing spray for extra movement. Large waves can add much movement and bounce to your hairstyle and thus make you look very sophisticated. Also, the good news is that this hairstyle will flatter practically any face shape.
Racy Razored Layers
Source: Hairluvbytiffany via Instagram, Studio410artonhair via Instagram, Larisa Love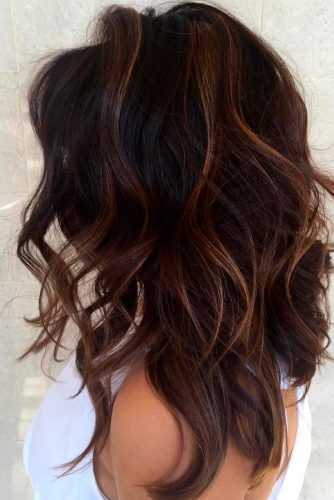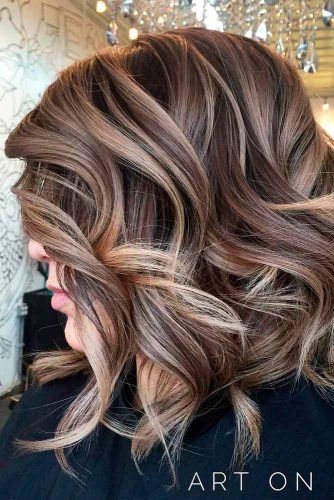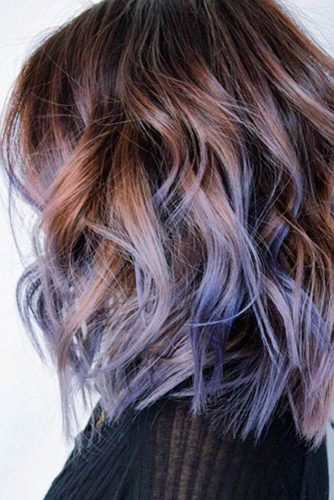 This funky layered cut with its sharply razored edges adds a great deal of texture to medium thick hair. With a longer side fringe cut in proportion with the shoulder length razored edges, this look is both natural and fun. Start off with a dramatic color such as mahogany or blue-black and add some colorful streaks to take this look to a bold new level. To style, towel dry your hair and apply a smoothing cream starting at the ends and then detangle your hair. Part to the one side and blow dry using your fingers or a paddle brush. As you are going for a funkier look, you don't have to focus on smoothing out your hair till it's sleek. When it's dry, add some pomade and a shine serum and then use a flat iron for added twists and turns if so desired.
Cutting your hair close to your chin can add extra volume. Medium-long layers will also boost your volume. This fun and flirty cut works great with a bold color such as a platinum blonde or fiery red, or with highlighted hair. Add a volumizer and thermal protectant to your hair. Then roll your hair with 2-inch hot rollers under and then back atop your head for maximum volume and texture. Remove and allow your curls to cool before using your fingers to gently break them up and spray with a strong hold finishing spray.
With shorter and mid-length layers, this soft and chic cut adds volume and dimension to natural waves and curls. Longer side swept bangs blend beautifully with this classic shoulder length layered haircut. Apply your favorite volumizer to damp hair and then blow dry using a paddle brush to get rid of any excess moisture. When almost dry, switch to a round brush to create flips in the layers and swoop the bangs to one side. Spritz with a light spray and then scrunch your curls for beachy waves and a tousled, carefree look.
Textured And Shaggy Layers
Source: Thechemicalqueen via Instagram, hair_by_zolotaya via Instagram, Riawna via Instagram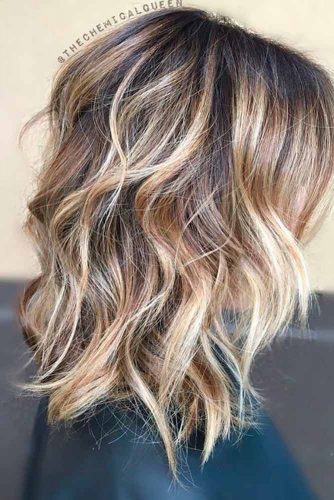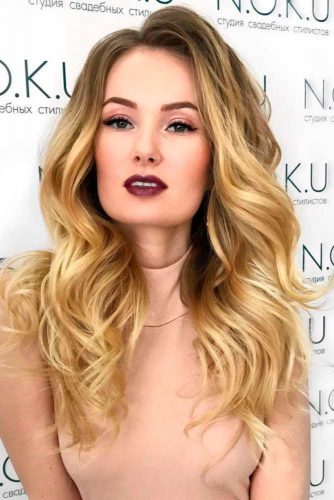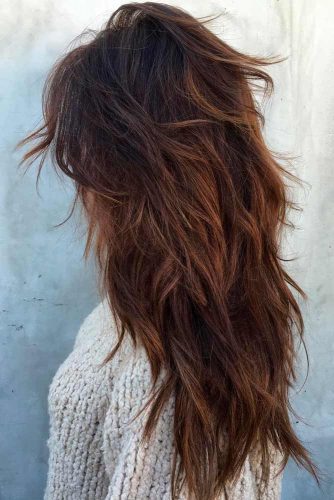 Loose waves can add bounce and some movement to a long textured bob. Consider picking this hairstyle if your face shape is triangular, oval, diamond, round, or heart. And it works great for medium hair texture. The styling process will take you about 20 minutes. Blow dry your hair and wait for several minutes till it cools completely. Next, create soft curls with the help of a large-barrel curling wand. Then tease the hair and apply wax to get the desired texture. Finish with hairspray.
Nowadays not so many ladies decide to get a one-length haircut. Shag layered haircuts appear more shapely, sharp, and modern. Plus, they are not so difficult to style comparing with one-length haircuts. Getting a long shag haircut will make your hair look gorgeous. It works great for ladies who have oblong faces as it adds the desired volume to the sides of the oblong face. Moreover, this pretty shag can offer you texture and make the everyday styling process easier. To enhance the texture even more, apply your favorite texturizing product before blow drying.
What to do if your hair is too thick and you wish to reduce its volume and prevent it from getting tangled? When feathery flicks are added to graduated, sliced layers, you get a very sophisticated hairstyle. Now let us discuss how to style this haircut that, by the way, works best for square, diamond, heart, oblong, and oval face shapes. When your hair is wet, apply some styling mousse to it and blow dry. Let it cool down and clip the ends of layers with a straightener, holding for 4-5 seconds. Finish with hairspray, and you are ready to go.