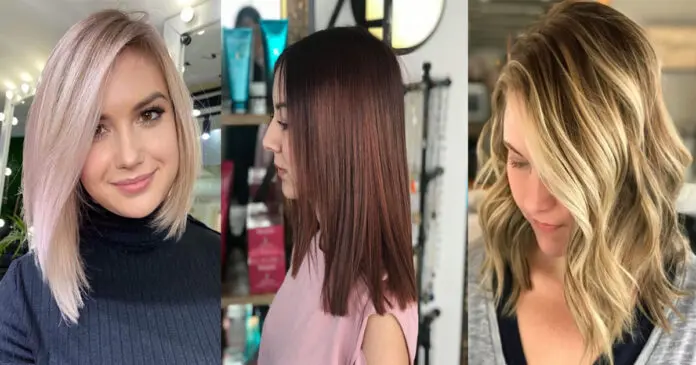 Here, you're going to see the most popular ideas for medium haircuts for round faces. When picking out a style for a round face, you want one that thins out the roundness of the face while accentuating the eyes, lips, and cheekbones. Medium is the best hair length for round faces. Face-framing can be achieved with bangs and layered tresses. These chubby face medium-length haircuts are versatile and fun and can be worn with almost any hair texture when styled properly. These hairstyles are designed to be more flattering to a round face by making it appear longer in length and framing key areas. Before your next hair appointment, check out these amazing photos of medium-length hairstyles for round faces: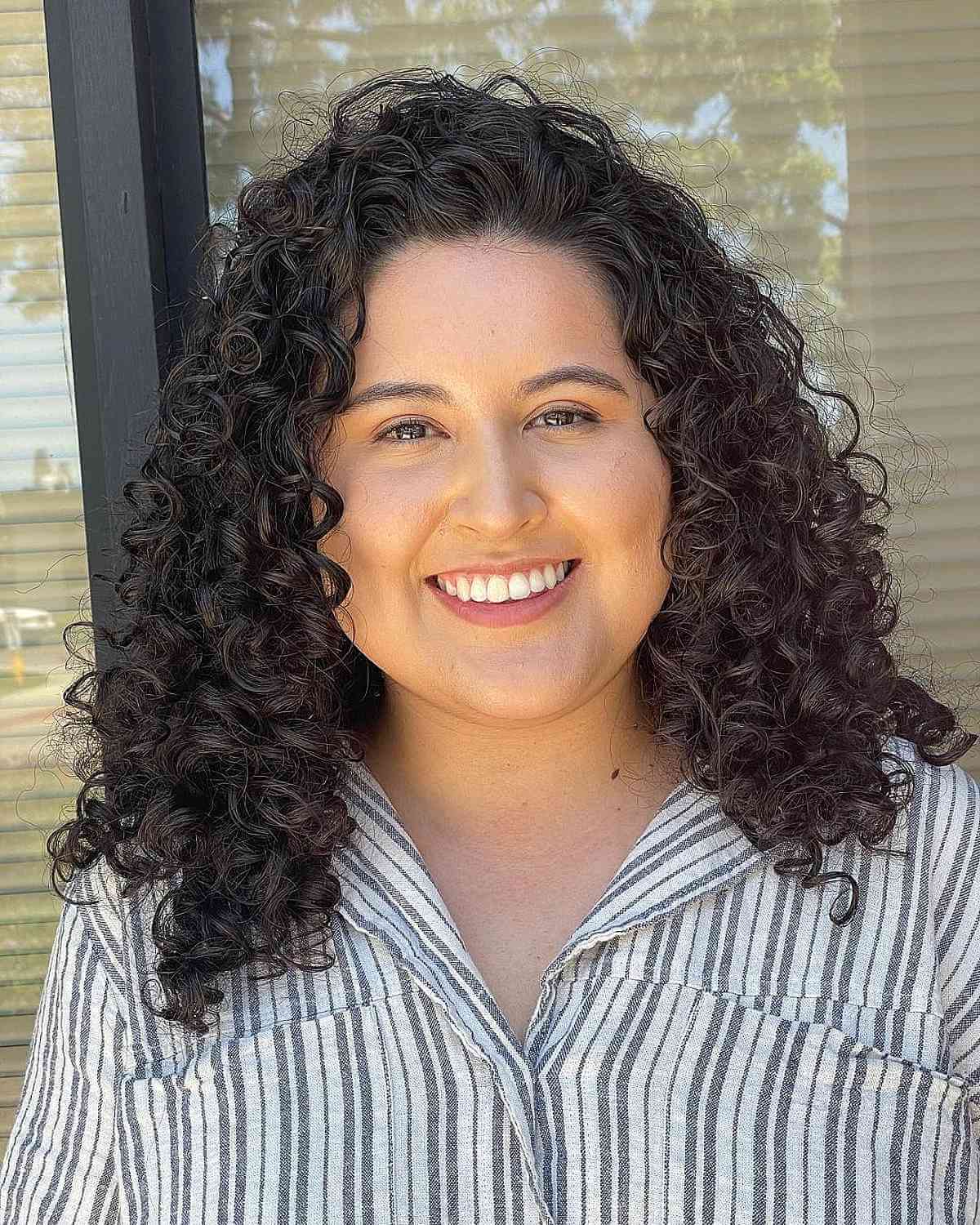 #1: Curly Shag
If you want a more balanced curly style to get away from the triangle shape, try to find a stylist who knows how to cut shaggy layers into curly hair. Round layering will give you a great balance to your layers so they shape your hair nicely.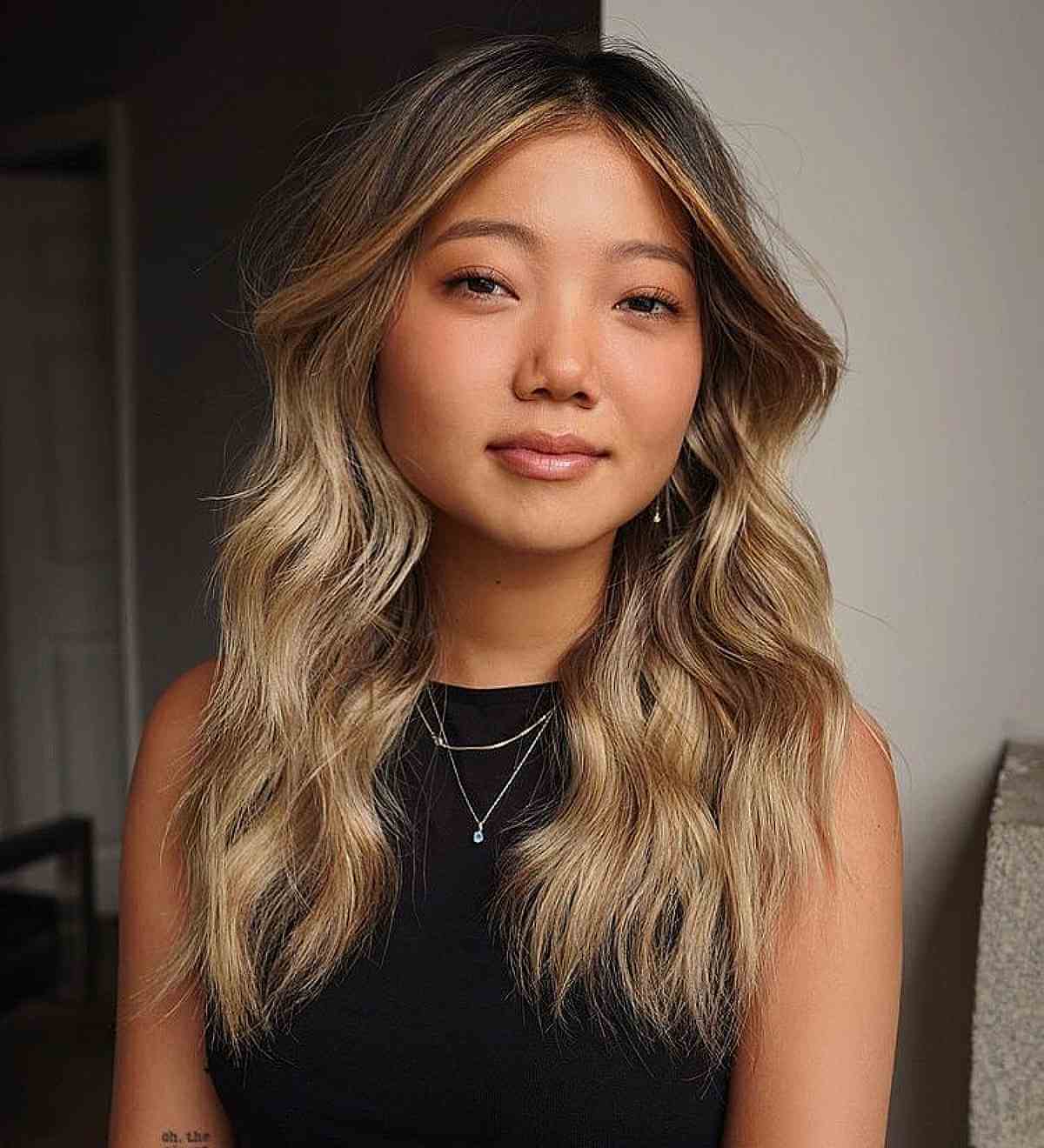 #2: Face-Framing Layers with Balayage
You should consider face-framing layers if you've been toying with the idea of getting bangs. Ask your stylist to slide cut or point cut your face-framing for better blending and flow of the rest of your hair. Paired with a bold money piece and balayage, these face-framing layers will have so much more dimension.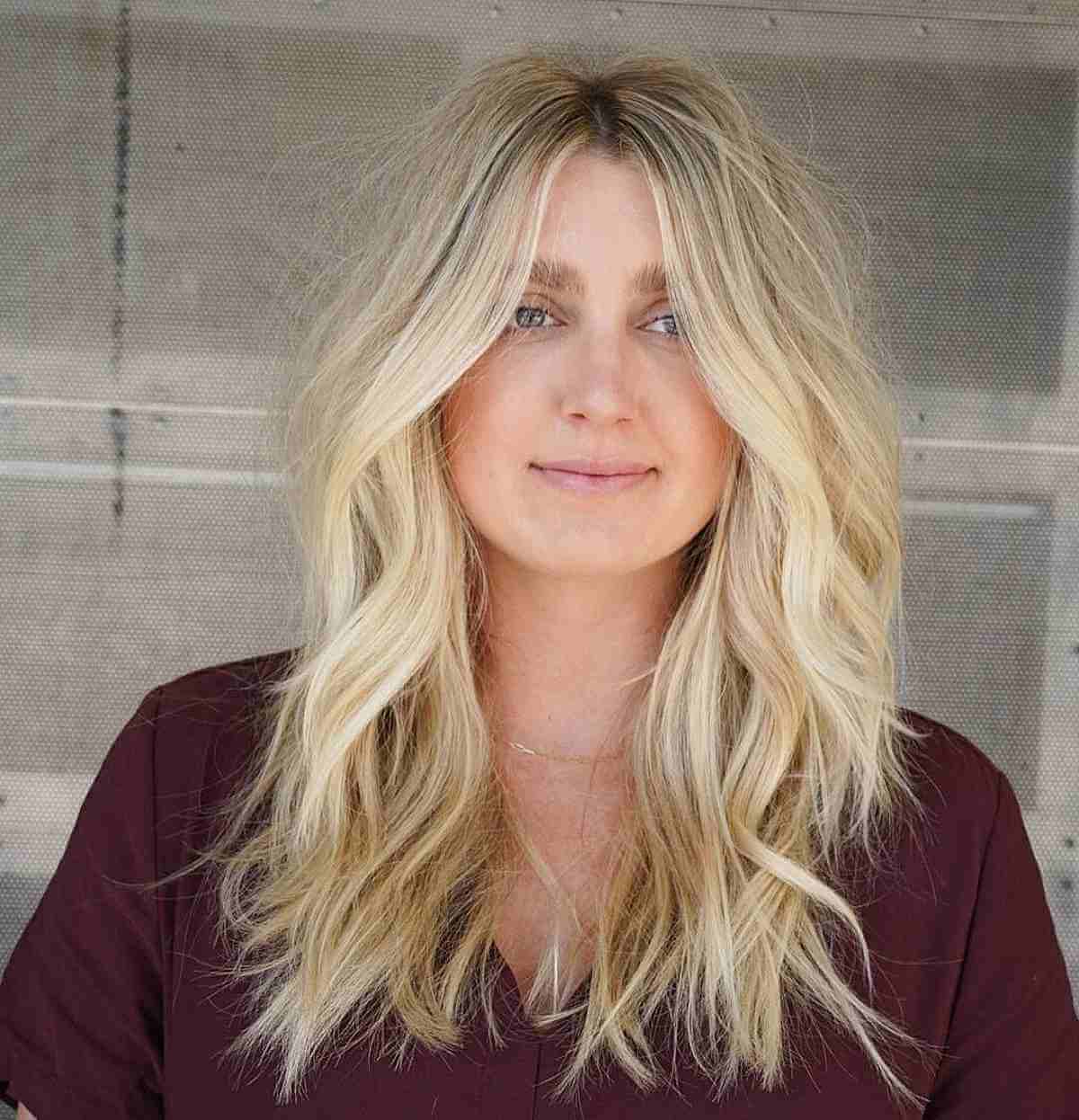 #3: Blonde Medium-Length Shaggy Cut for Round Faces
A medium-length shag is a flattering haircut for women with round faces because the layers elongate the face. It's a versatile mid-length cut that is highly recommended by professionals. Getting textured, shaggy layers and adding in tousled waves create a picture-perfect lived-in look. I recommend spraying a bit of AIIR Texture AIR texture spray to get the undone look.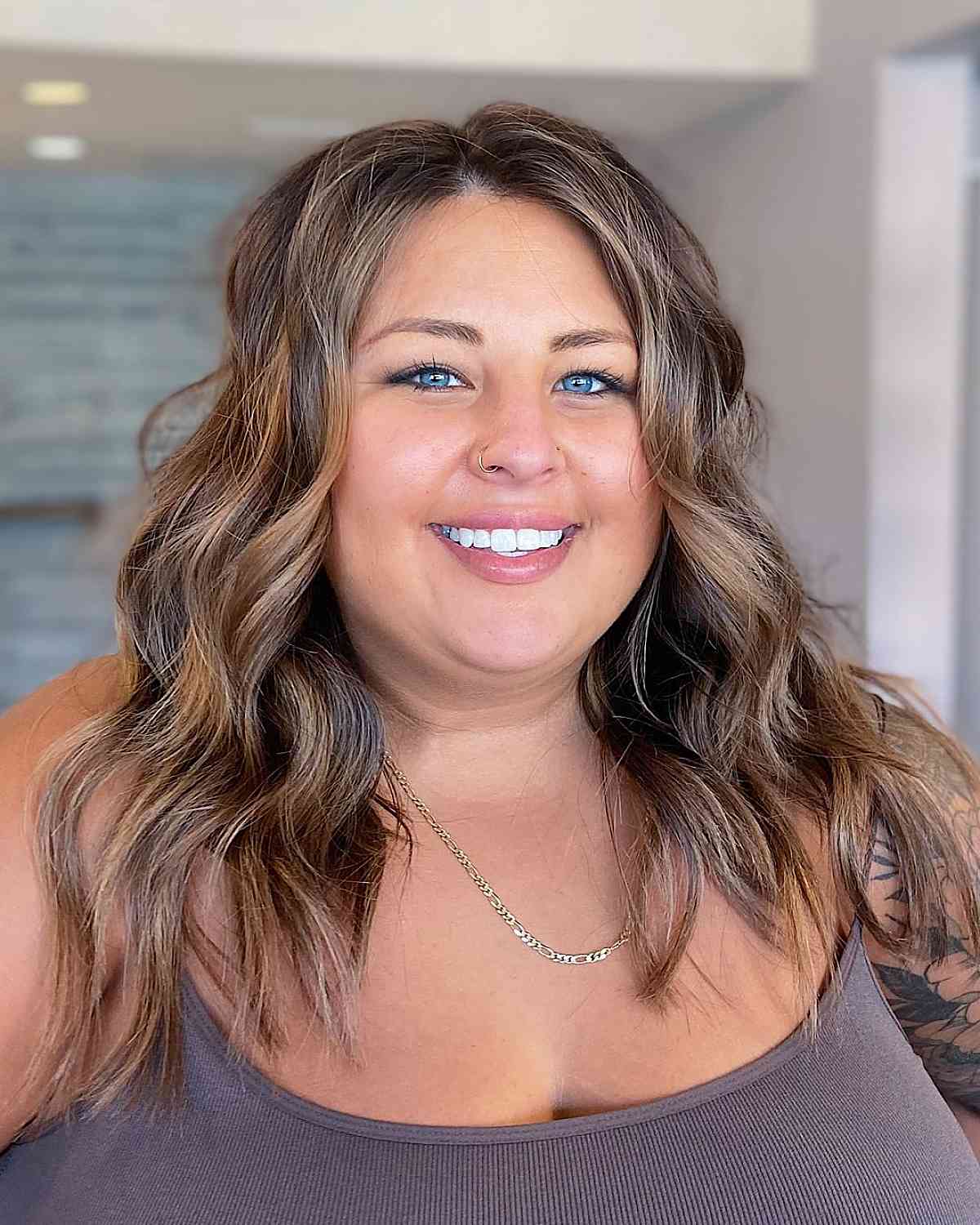 #4: Carefree Vibes Highlights with Medium-Length Wavy Style
Shoulder-length hair for round faces allows you to wear it smooth, wavy, tousled, or glam. It's easy to style and always looks great. The shape of the cut has a slight angle which always gives the hair a style, no matter how it is worn. All women can rock this style if they are wanting a low-maintenance cut.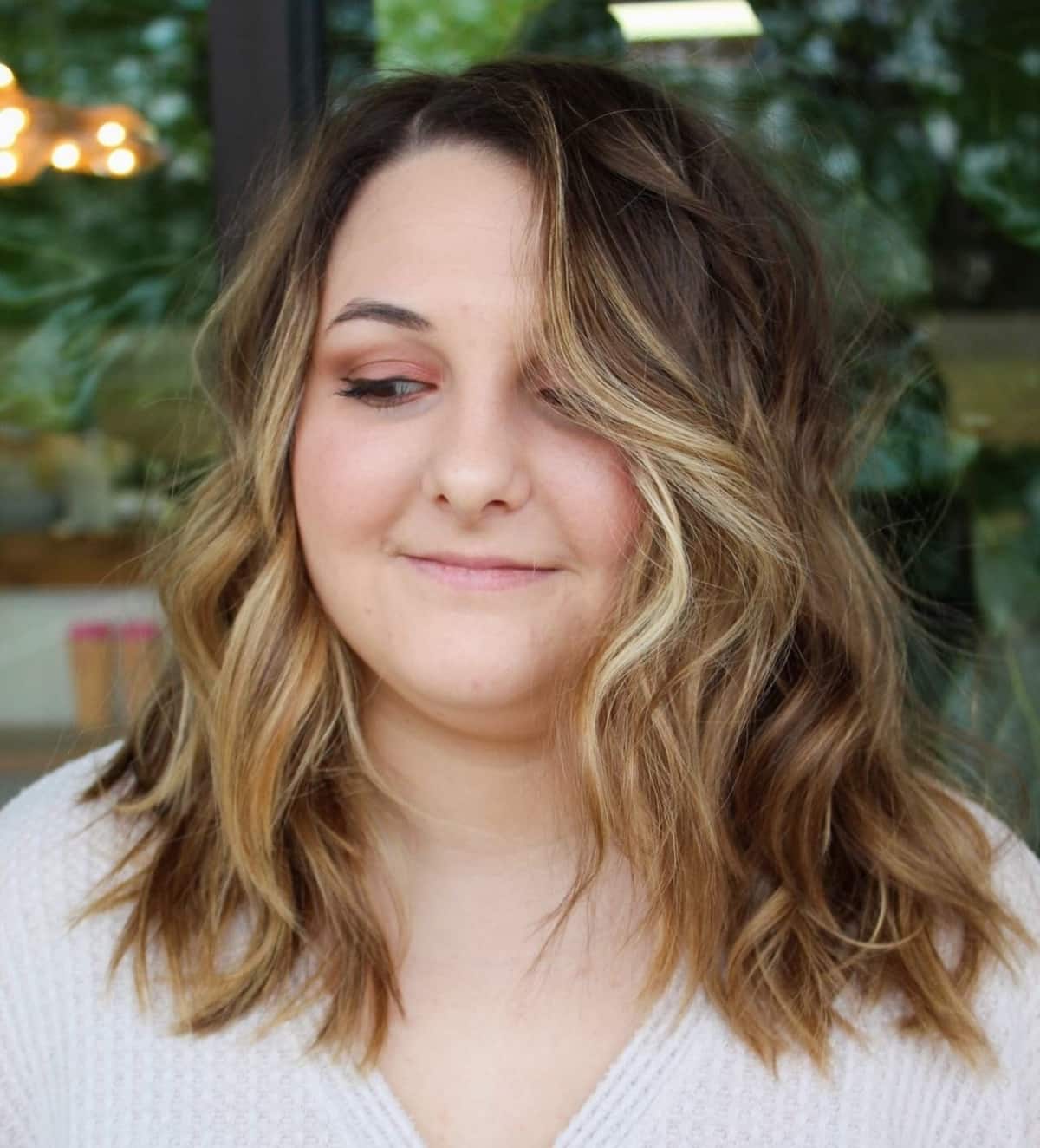 #5: Shoulder-Length Choppy Cut
What's great about a shoulder-length choppy cut is how suitable it is for any hair type and face shape. This haircut, by Georgia-based stylist Alexis Taminna Allen, offers lived-in vibes, for sure! Allen used a feather plier razor for this chop. "I used it in smooth downward strokes, removing weight in every section. I cut the perimeter and gave it a more shattered texture," says Allen.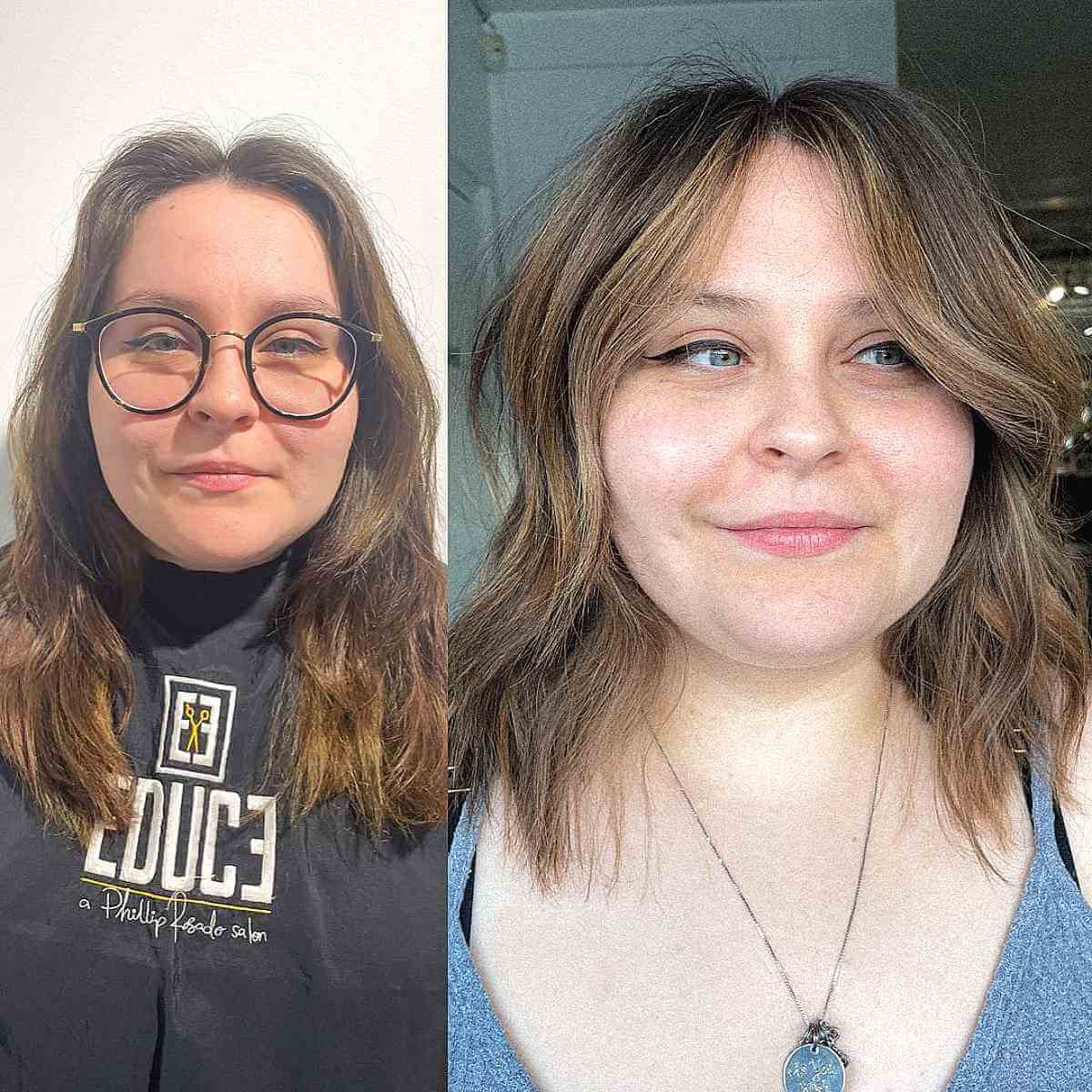 #6: Medium Face-Framing Hair with Soft Waves for Rounded Face
A medium face-framing haircut complements a round face shape. The middle part is the style that gives the face a perfect balance. The face frame on medium layered haircuts looks way better with waves, providing a more voluminous edge. It even makes a great transition from short to long hairstyles.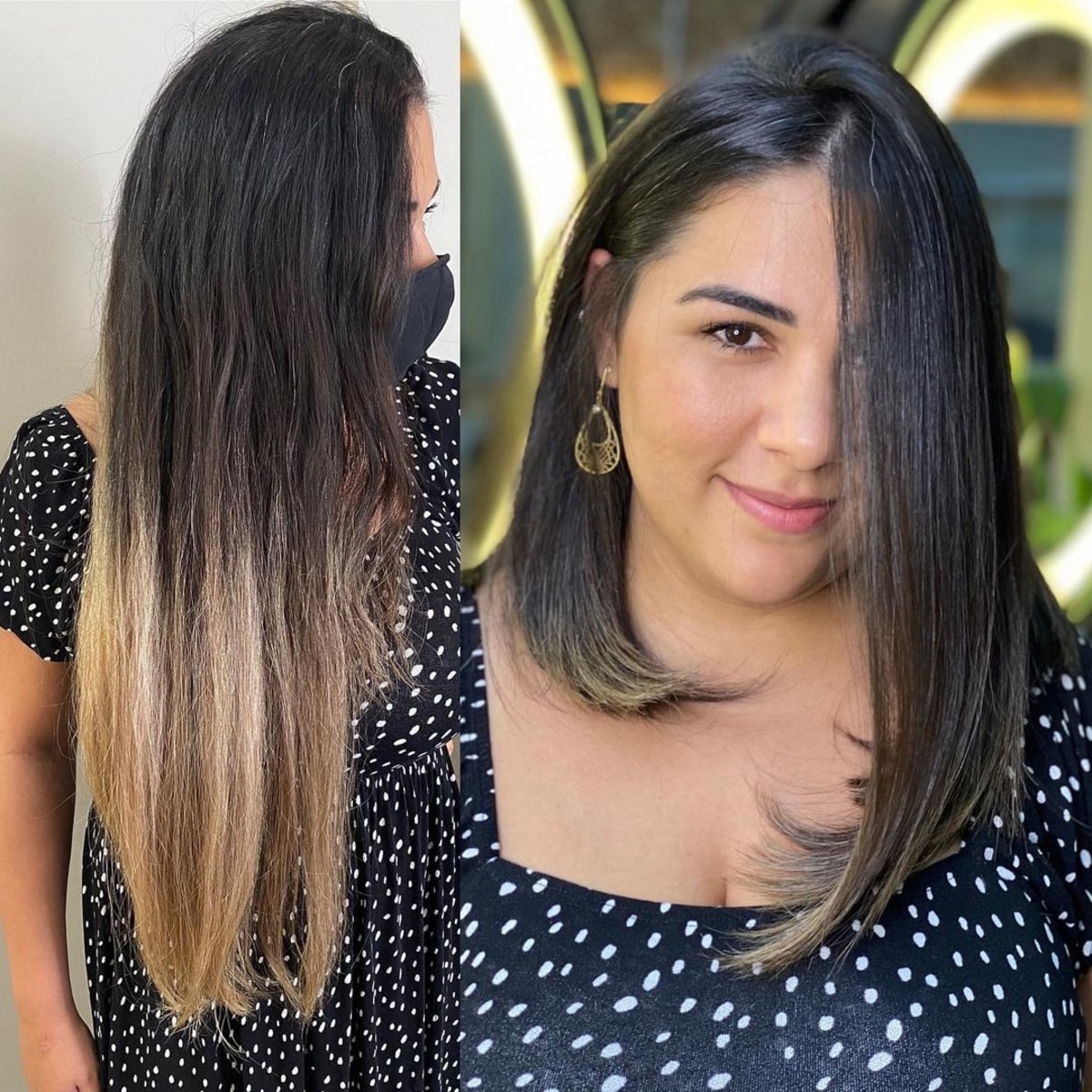 #7: Asymmetrical Bob Medium-Length Hairstyle
An asymmetrical bob medium-length hairstyle is perfect for women wanting to maintain length but also wanting to add some flair to the cut. Creating asymmetry in a cut is a great way for any woman to see what shorter hair would look like without fully committing to it.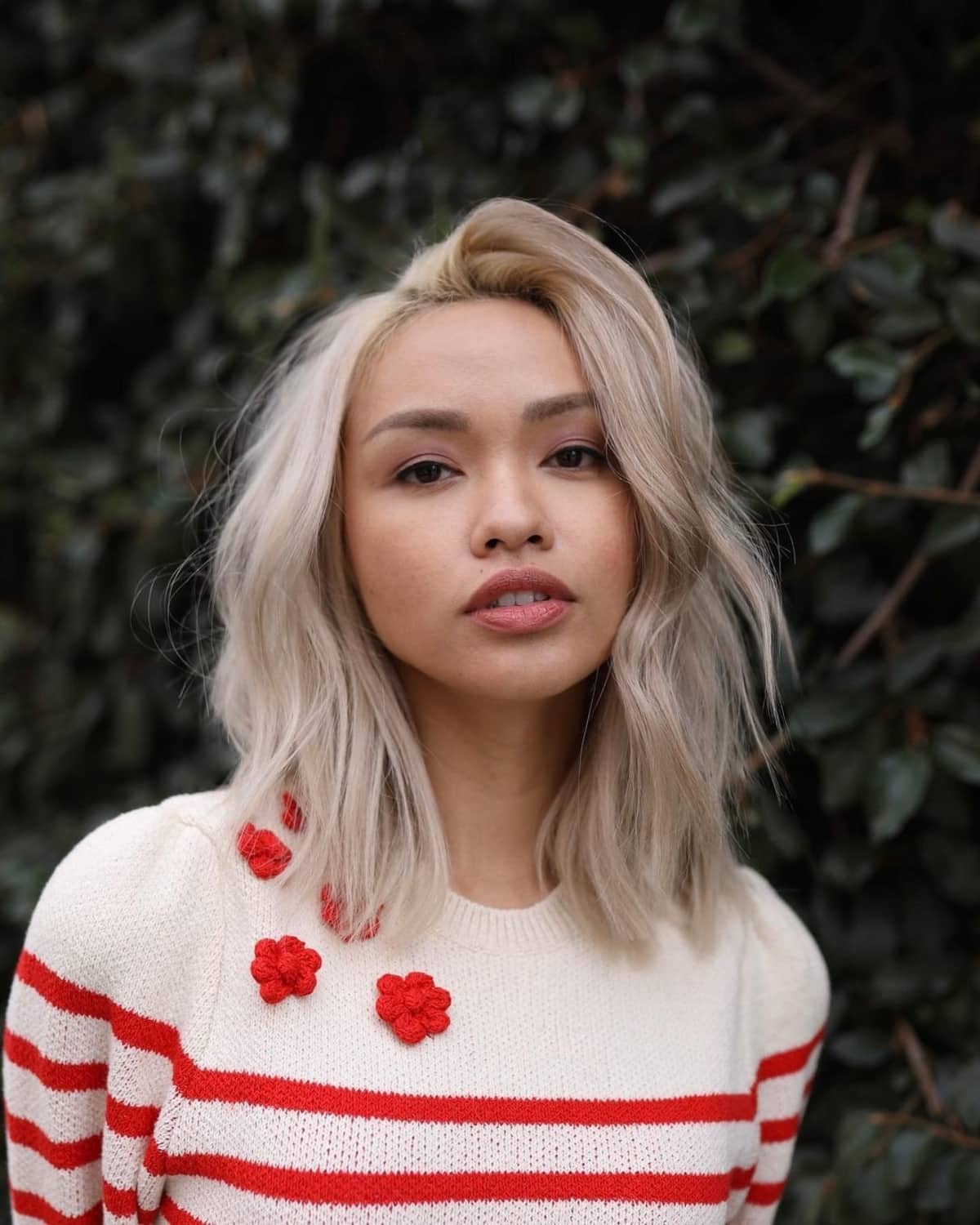 #8: Shaggy Lob for Round Faces
Shaggy lobs for round face shapes are the superior choice. Messy hair around the cheeks and chin creates a slimmer appearance. A side part also compliments this style. Wavy hair works the best with a shaggy lob, but for straight hair, you can create movement with an iron.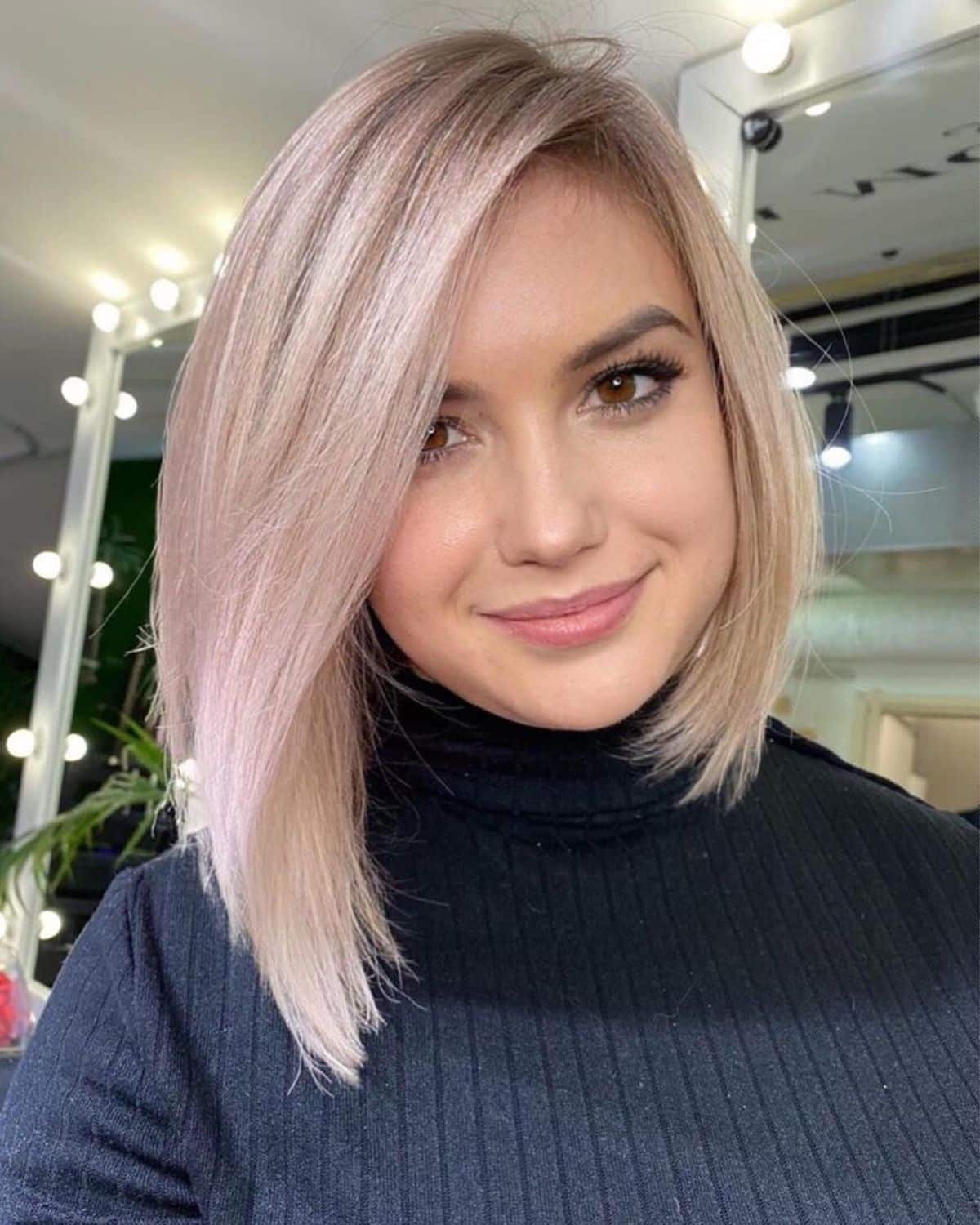 #9: Medium-Length Angled Bob Cut
A medium-length angled bob cut has a super straight and well-aligned base. The peak at the ends gives lightness to the medium cut for round faces.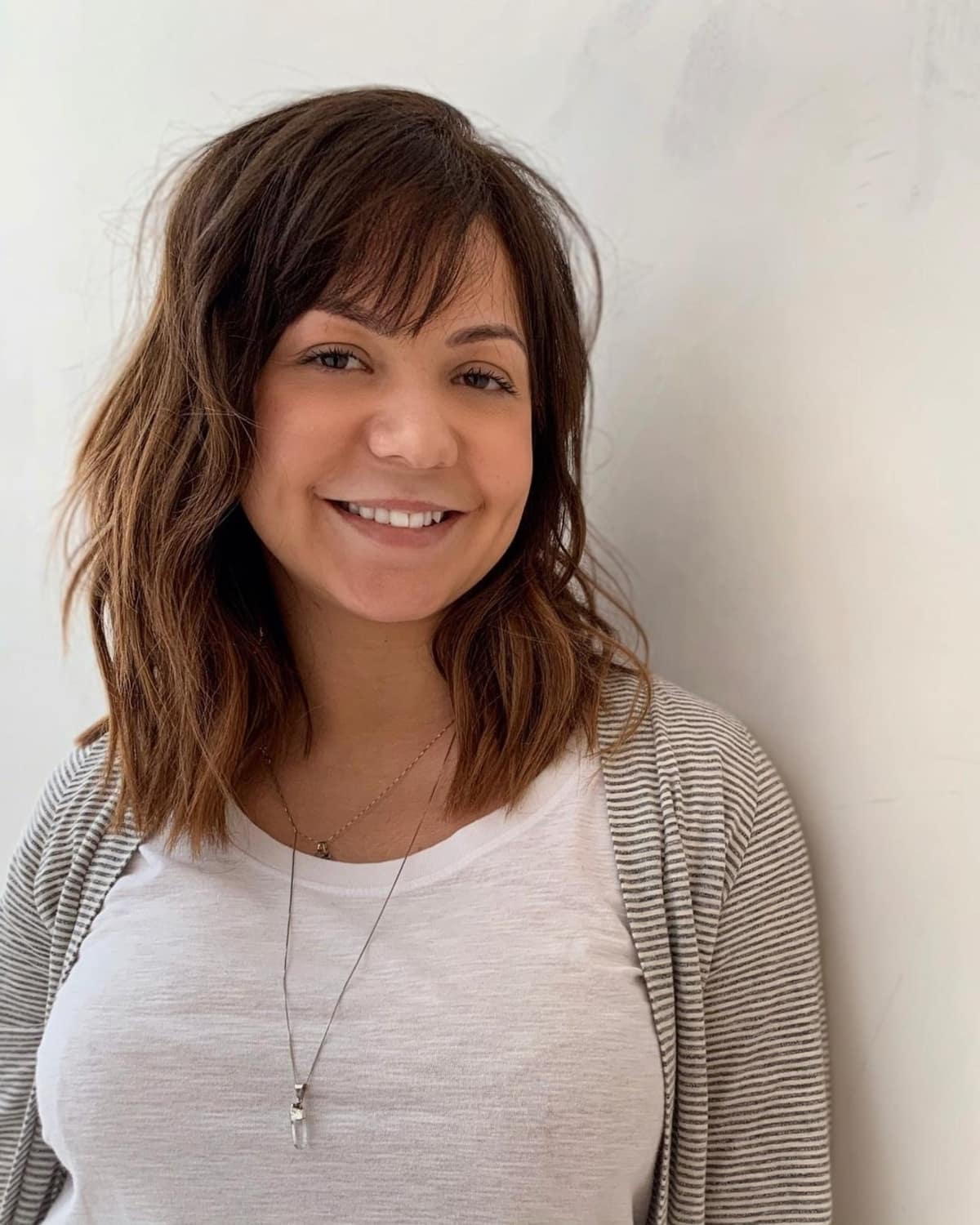 #10: Long Wavy Bob with Side Bangs
A long wavy bob with side bangs is a trendy cut for young women looking to update their style. Create a messy vibe by scrunching this mid-length style with some gel. A long bob is also convenient because you can still pull it up to get your workout in. The soft waves around the face and side bangs look great on round face shapes.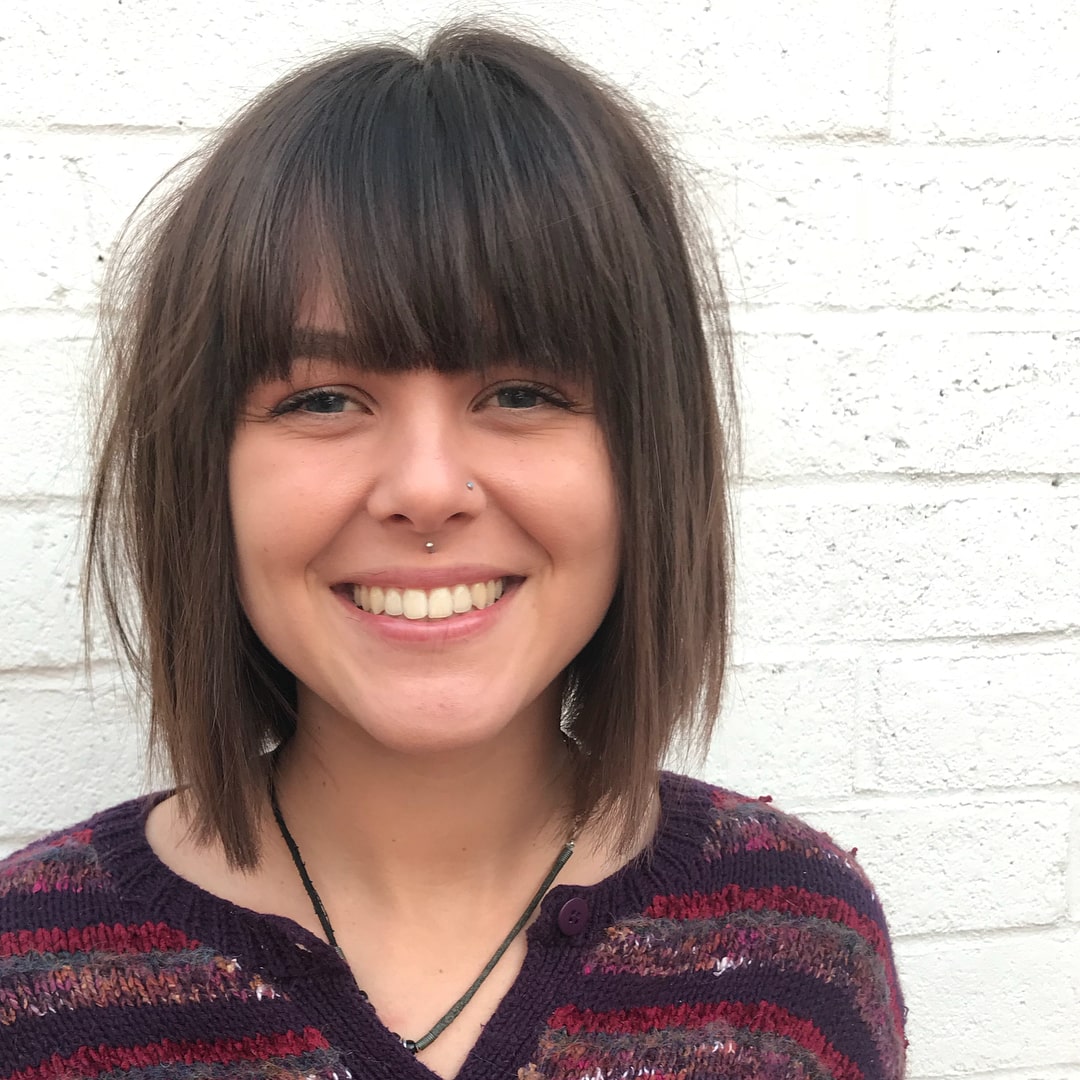 #11: Straight Bob with Bangs
Opt for a straight bob with bangs if you're down for a new hair transformation, and want to flaunt such medium-length wispy hair. This neck-length haircut looks flattering and really complements the roundness of your face, and the style can make a nice go-to cut for ladies with thin hair. It's perfect for women who are growing out short hairstyles, too. The bangs in this bob hairstyle are there to hide a more prominent forehead, balance out facial features and accentuate a unique eye color.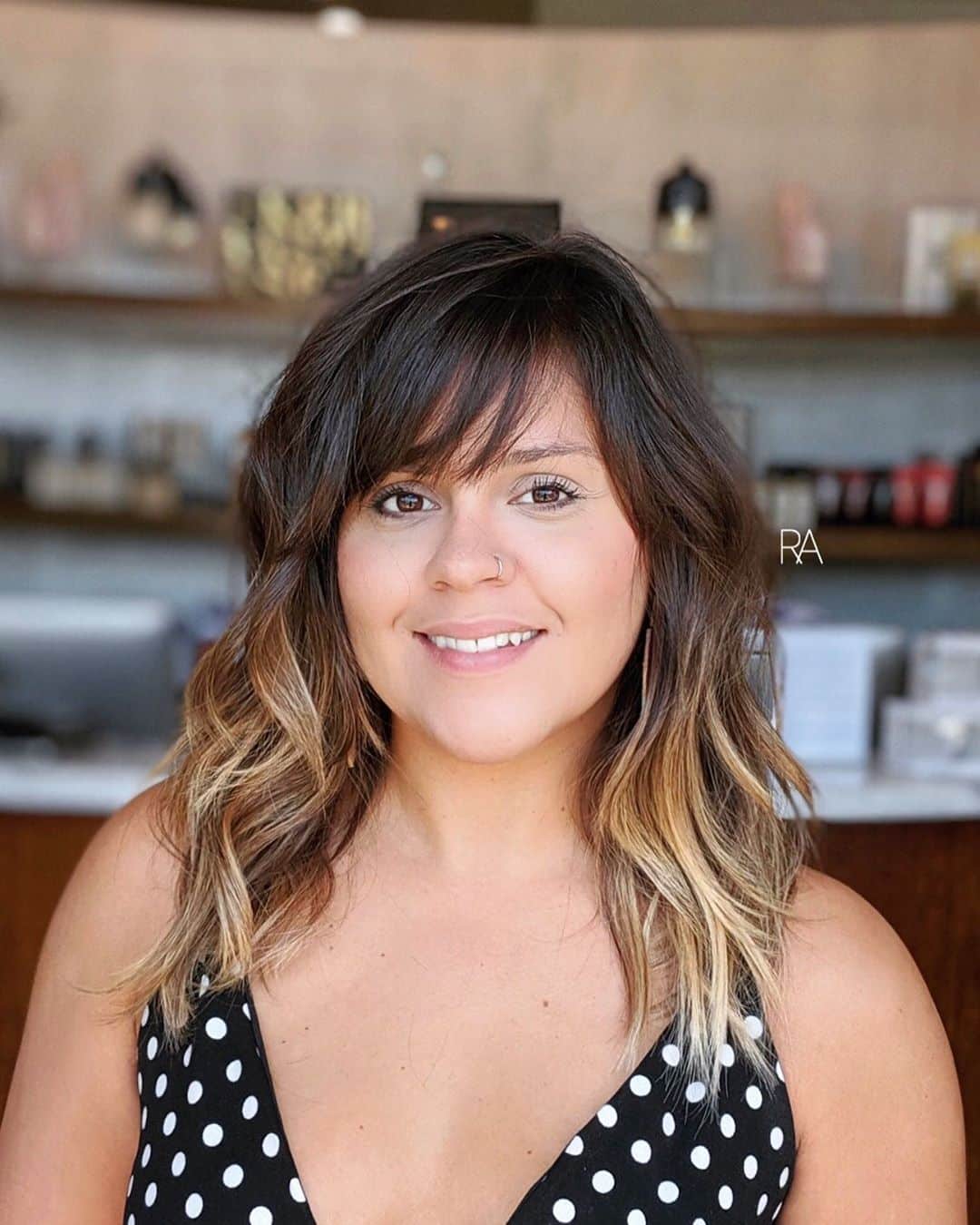 #12: Shag Haircut with Side Bangs and Choppy Ends
Lovin' a good medium shag haircut with side bangs? If so, give this shag a try! This wavy, mid-length hair is one of those stunning shag medium hairstyles for round faces and it's a modern version of the typical, classic shag. Thanks to the added streaks of the blonde shade, it looks more flattering.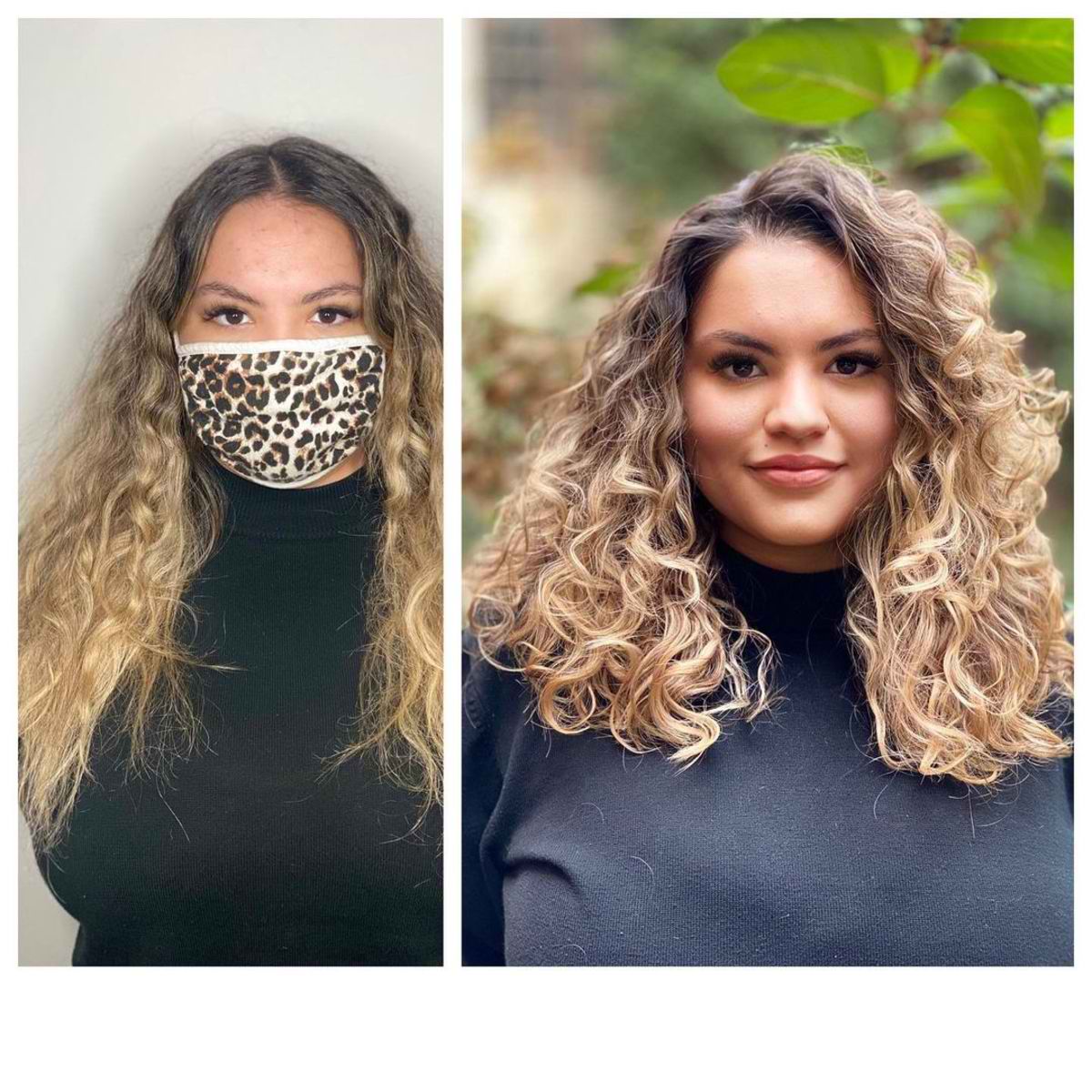 #13: Curly Hair For Round Faces
Graze the shoulders with curly hair for round faces to bring life back to the curvature of your curls and give you height. Curly medium-length haircuts for round faces require a variety of height and width in the right places. The length instantly brings width to under the face, balancing a rounder face, while the lift from the shape gives a feel of elongation, which this shape needs.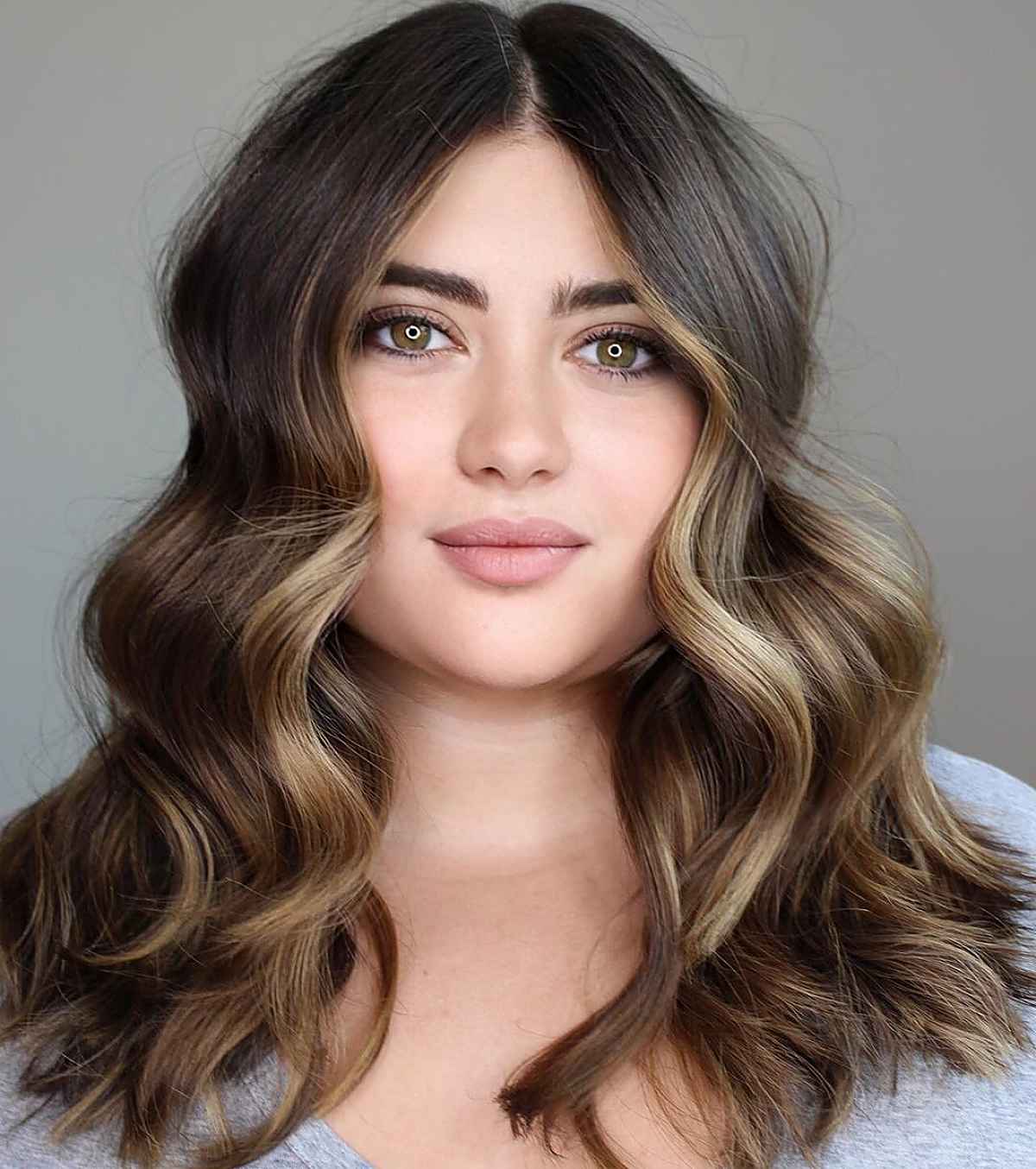 #14: Curtain Bangs and a Wavy Hairstyle for Round Faces
Packed with a fresher and classy vibe, curtain bangs for round faces on mid-length hair never fail to add extra flair to a chop. This fringe draws attention down to the cheeks area. It's also optimum for a shoulder-grazing shag, boosting the wavy hair texture. Feel free to paint subtle light brown highlights on dark tresses to shake things up.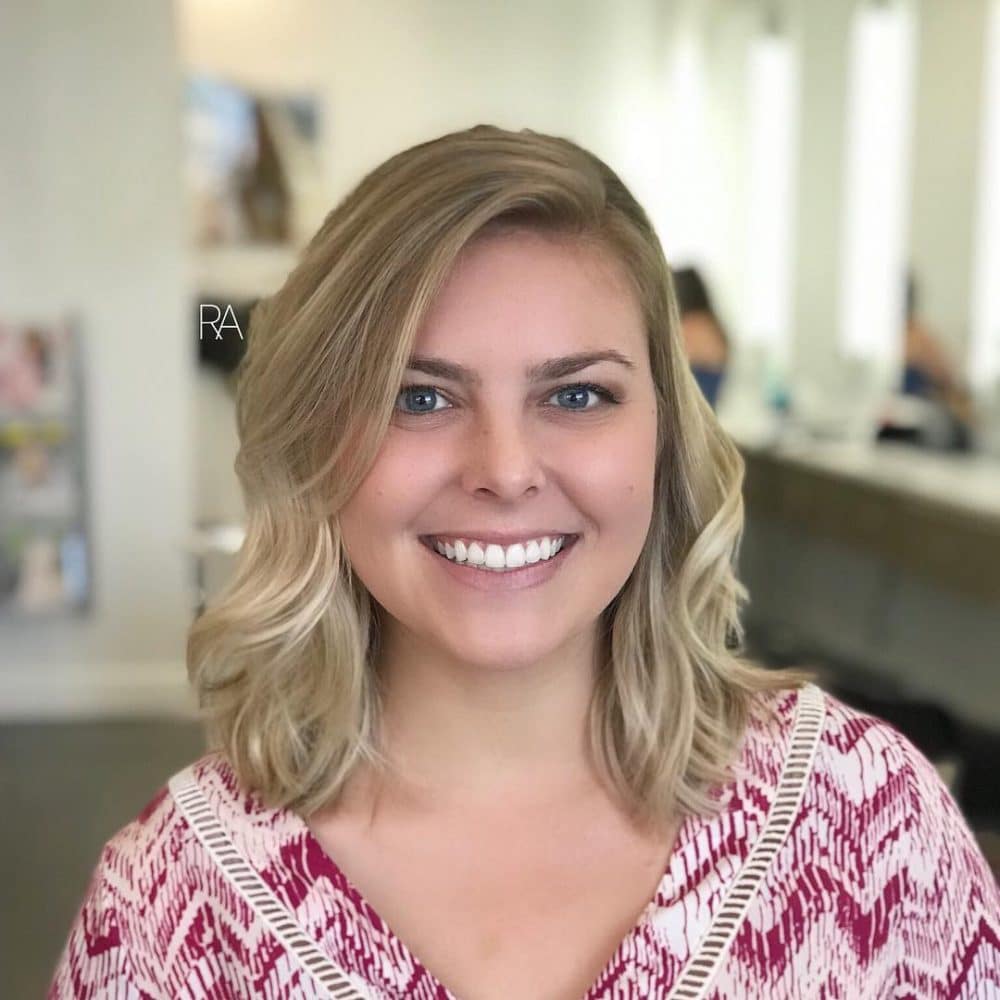 #15: Texturized and Medium Layered Lob for Round Faces
A texturized and medium layered bob with a side-part, when volumized with waves, becomes very elegant-looking. Parting a long bob to one side adds fullness to the hair, which flatters a round face shape. Copy the style by using a 1.25″ curling iron, alternating between loose curls and crimped waves.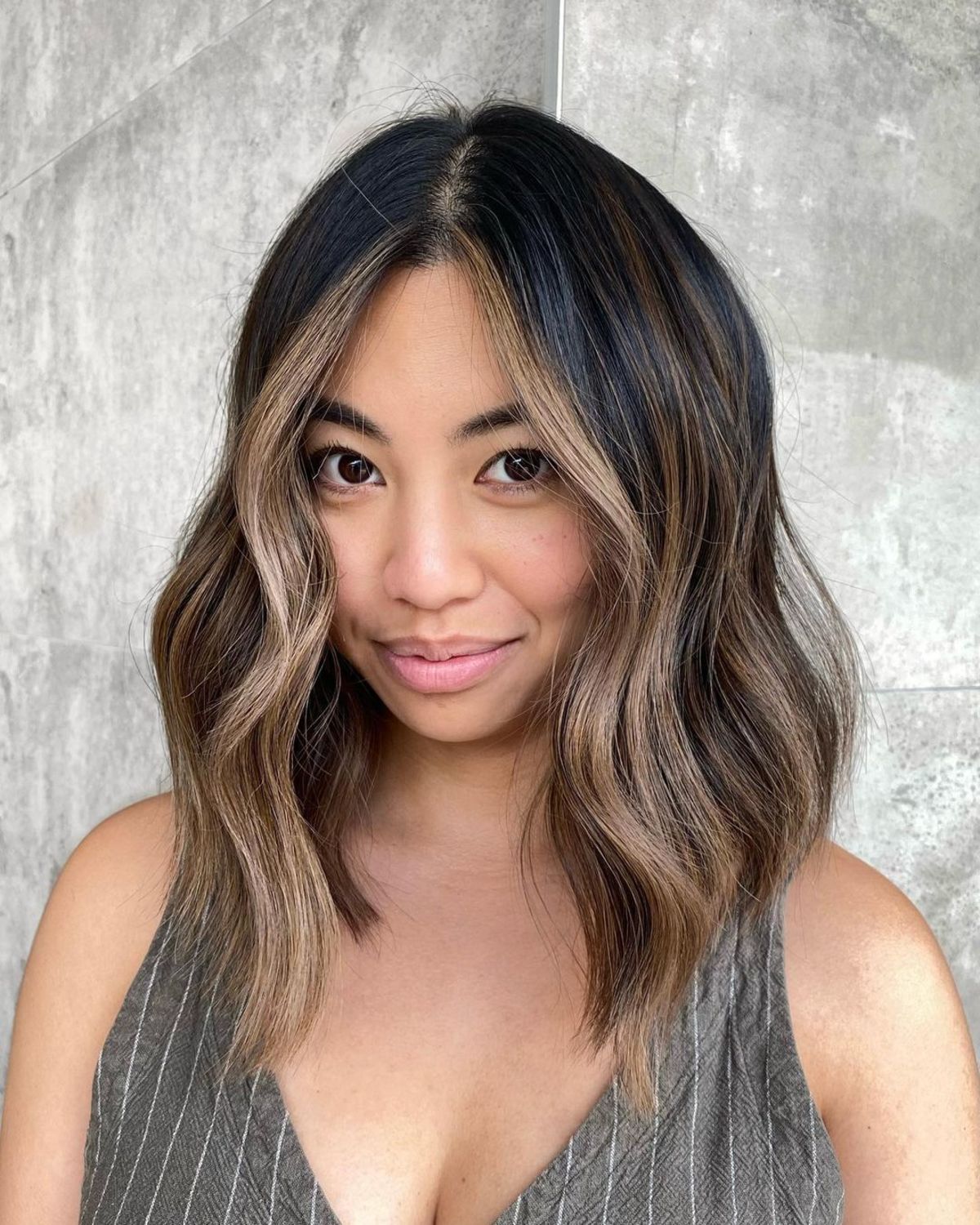 #16: Organic Middle Part Natural Waves for a Round Face Shape
Organic middle-part natural waves for a round face shape give balance to a wider face, while the one-length medium hairstyle creates a slimmer feel skimming the sides of the face. Medium haircuts for round faces look great with natural-looking loose waves that add an in-and-out effect to the hair.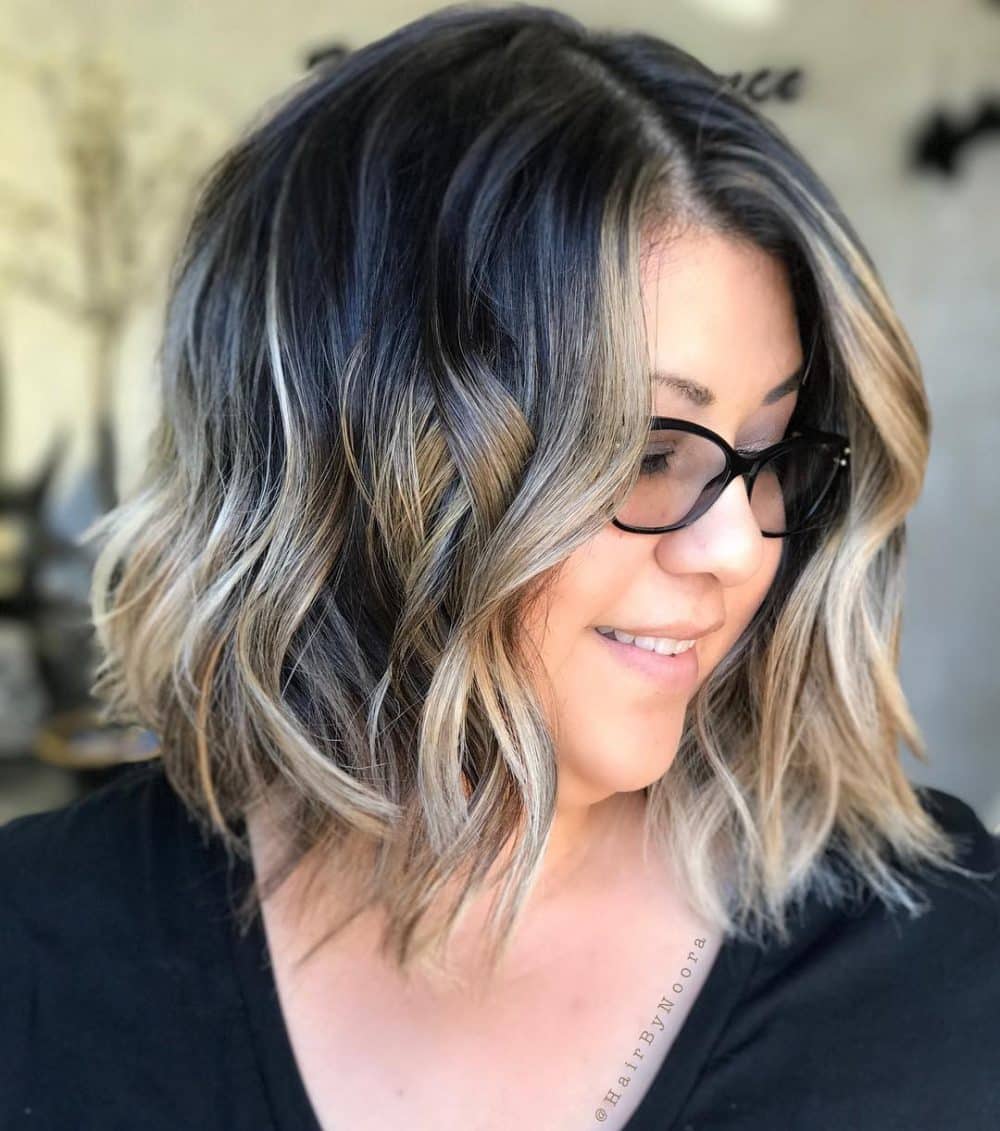 #17: Modern Simplicity Highlights with Medium Wavy Hair
Those modern simplicity highlights with medium wavy hair are a gem! The soft waves create movement, which accentuates the added bright blonde strands. Keep the length where it grazes the neck to complement the round face shape better.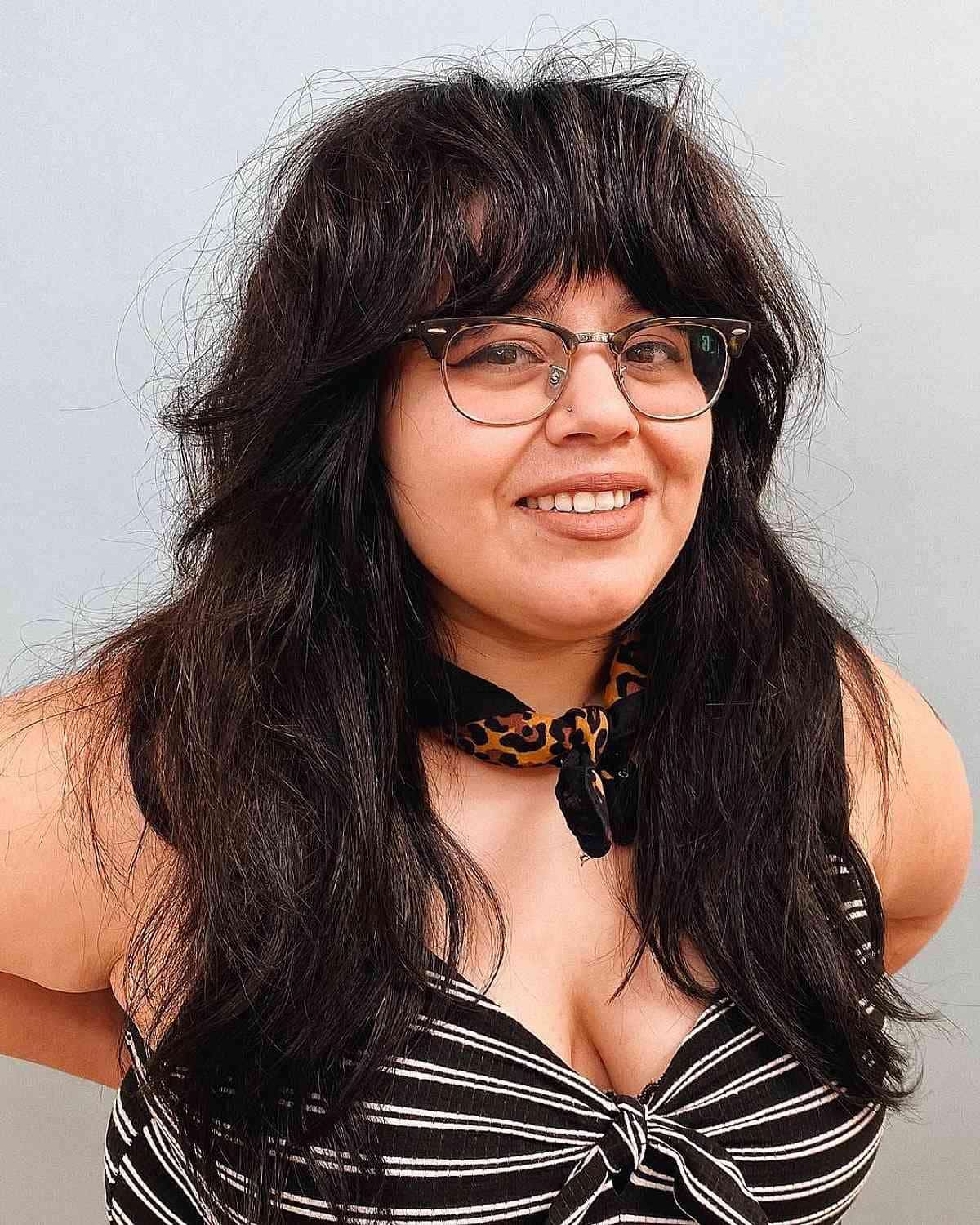 #18: Layered Loveliness with Wide Bangs for Round Faces
A layered loveliness with wide, long bangs makes a dazzling, cute-looking hair style. Choose a type of fringe that goes well with this medium hair with layers, and can be parted in the middle to frame the face. Ladies with fine hair will enjoy this layered hairstyle. It offers a voluminous and full-bodied edge.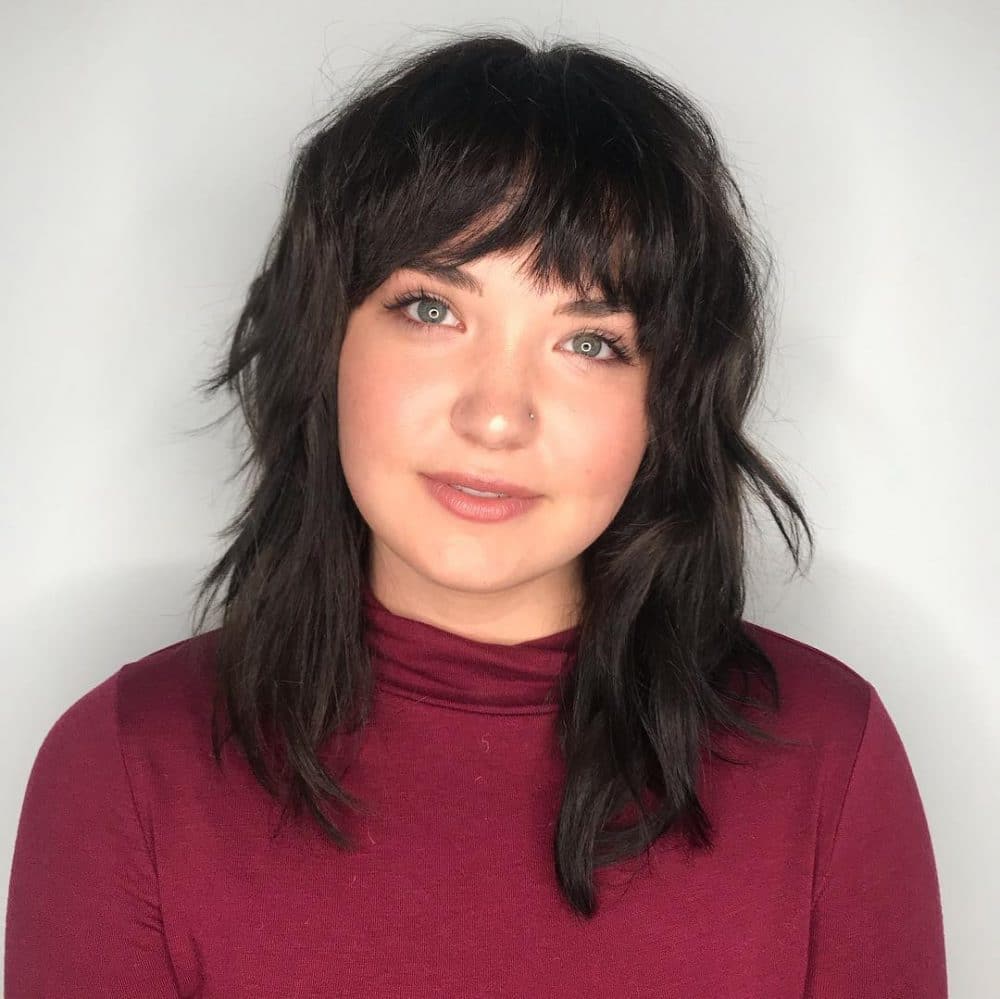 #19: Straight Shoulder-Length Shag With Bangs
A straight shoulder-length shag with bangs is an upgraded version of the classic '90s hair. A shag on shoulder-length hair for a round face is way better with texture as it adds spontaneous movement to the haircut. The style works great on natural straight locks and complements round faces the most!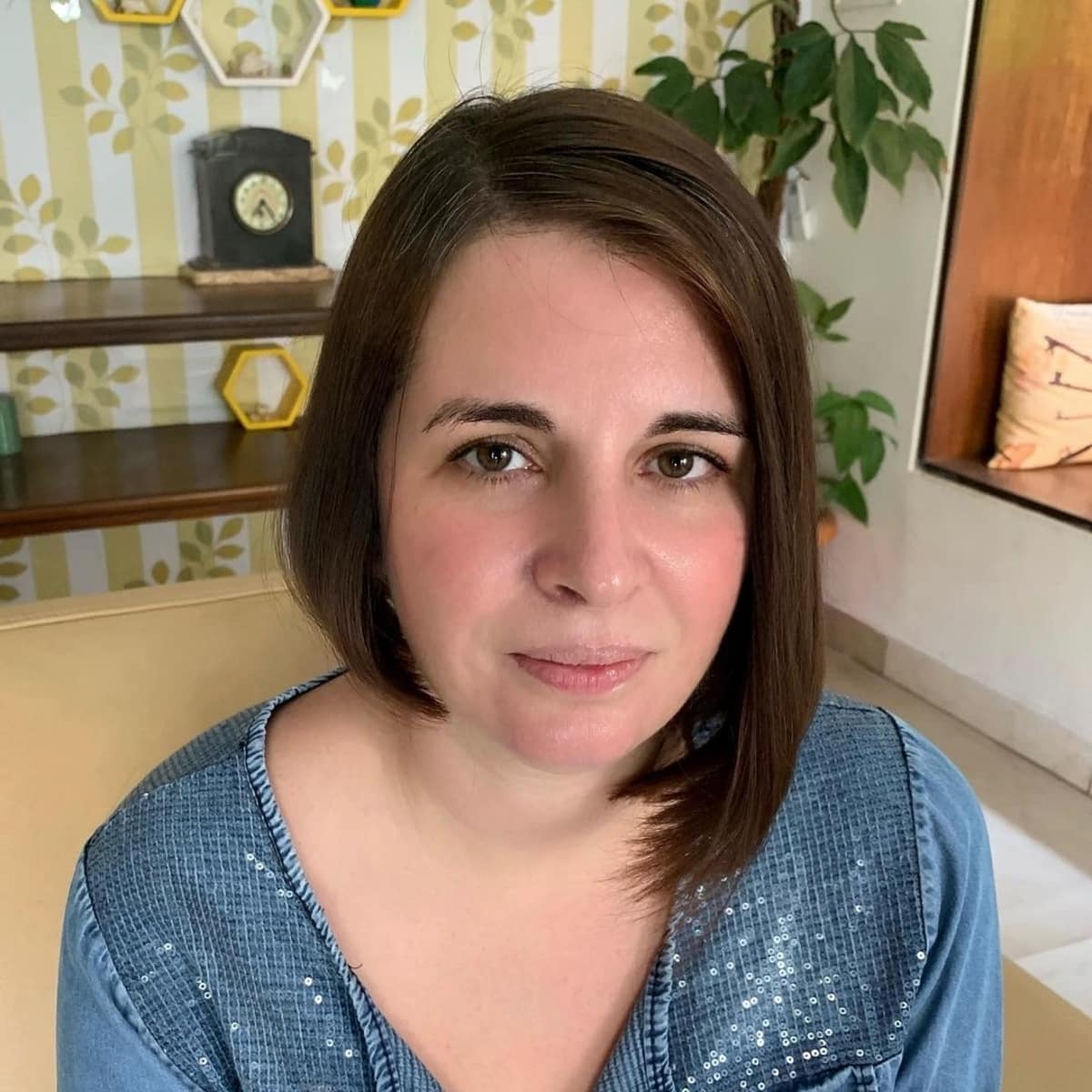 #20: Asymmetrical Bob Medium-Length Hairstyle
An asymmetrical bob is a medium-length hairstyle that creates a flattering frame for round faces. Stylist Rohit of Bangalore, KA creates hair ideas such as this one. "The first step is to cut the perimeter blunt. That way, it's easier to connect the asymmetry at the back," says Rohit. "Use vertical layers or texturize the ends to create a more rounded feel, avoiding an overly geometric look."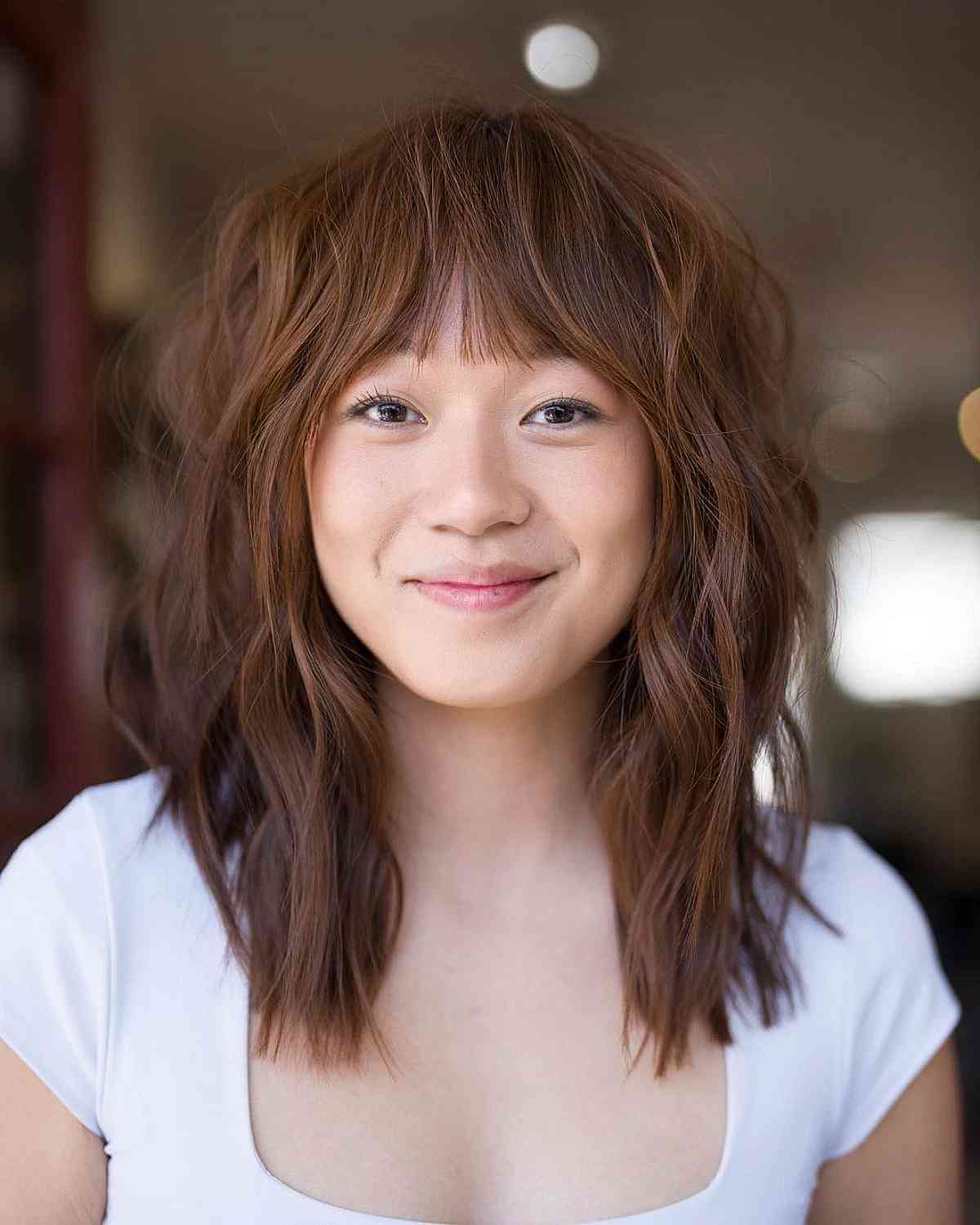 #21: Medium Shaggy Strands with Wispy Bangs
Medium shaggy strands with wispy bangs—these get along so well and make a perfect match. They make an optimum hairstyle for women with round faces and medium to fine density hair. A shag with bangs like this never fails to appear cute and super stylish. Medium shaggy hair with wispier bangs offer women with fuller face freedom. This shaggy cut is very versatile. Apply a sea salt spray or cream to define the texture. The shag texture and loose style is for women who don't want to straighten or style their hair daily. This shaggy cut compliments all face shapes, especially round faces. Just make sure you're comfortable with the length and texture of your bangs. If you prefer straight heavy hair, then this shag cut isn't for you. Shags work best on medium hair for round faces.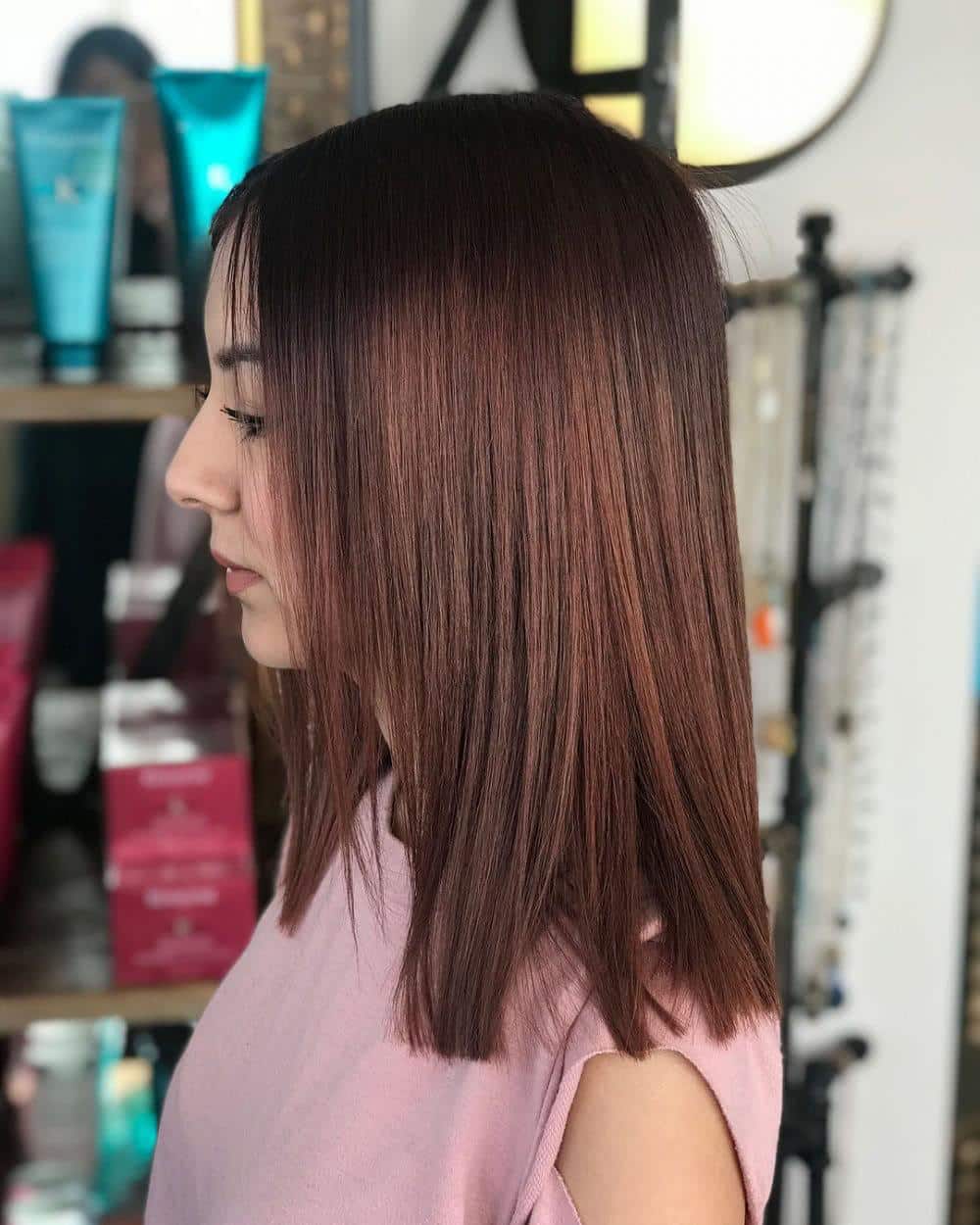 #22: One-Length Lob with Blunt Ends Medium Hairstyle
This medium-length haircut for a round face shape is a lob with no layers. It was created by stylist Jessica Millette of San Diego, CA. "The straight haircut falls just under the shoulders to hit the collarbone area. Avoiding layers with this mid-length cut is always better so you don't get that flipped out effect," she advises. If you are considering this chop, Millette suggests using Bumble and bumble's Hairdresser's Invisible Oil Primer. "This pre-styler will protect your hair from heat and UV rays," she adds. "Styling with this product makes it really easy to achieve that perfectly straightened look. You can also easily use a 1-inch wand to create gorgeous, tousled beach waves."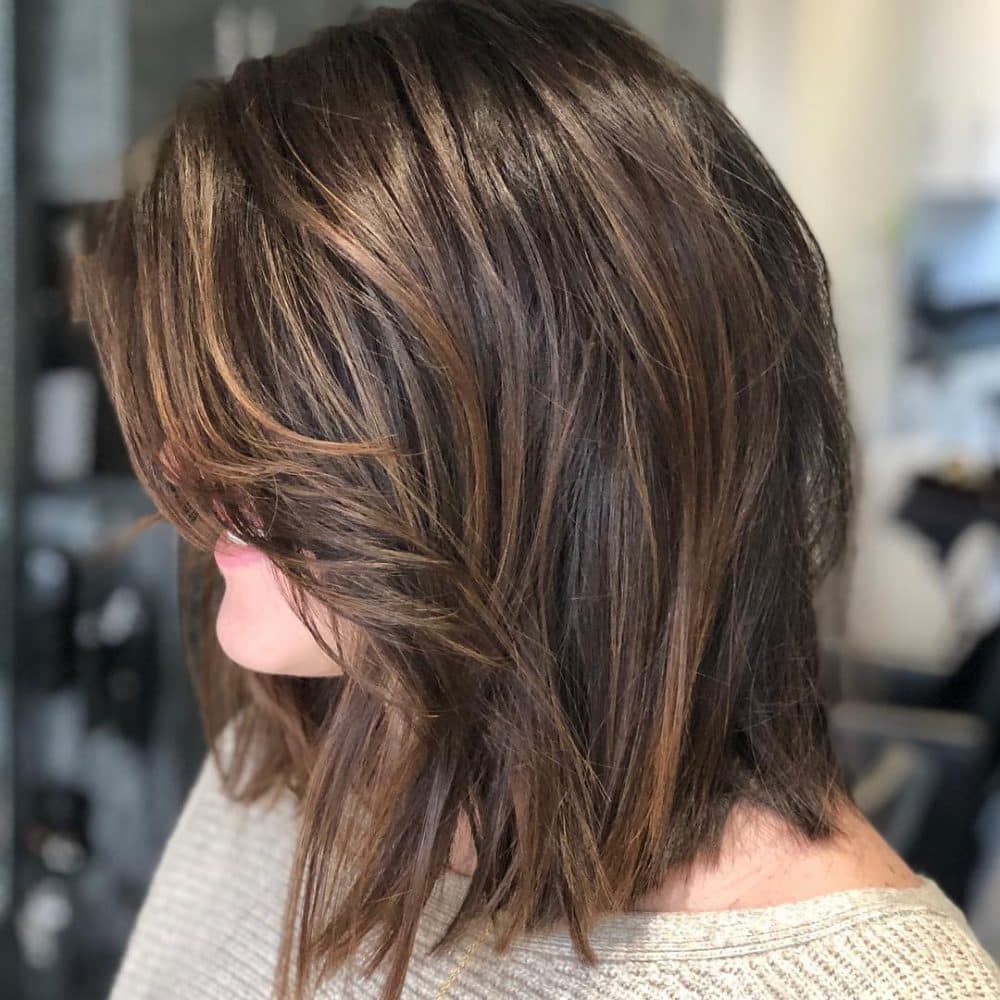 #23: Messy Textured Shoulder-Length Bob for Round Face Shape
"This mid-length cut is the hot length right now and everyone calls it the lob," says style creator Alissa Grossi of Newport Beach, CA. This medium-length bob works on many hair types and is customizable. The cut is chic and trendy, yet age-appropriate for all women. It looks adorable straight or with a curl and is truly universal. "Another huge bonus is that it grows out nicely," she adds. The look is such a modern update to a woman's everyday style. Since the bob has is slightly longer around the front, it's great for creating a slimmer face and softening the angles of round-shaped faces.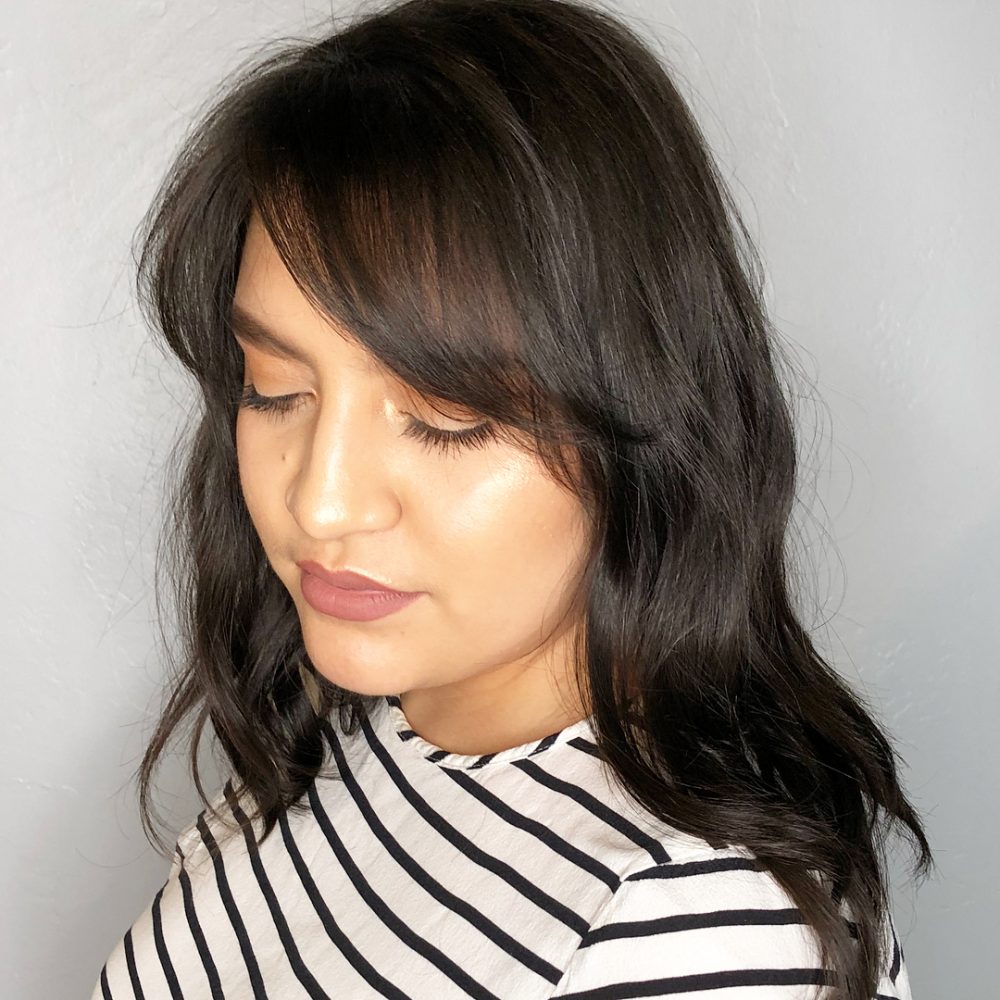 #24: Mid-Length Lob with Side-Swept Bangs
This haircut is an extra-long long bob with a side-swept fringe and was created by hairstylist Vantha Sao of San Diego, CA. "Square layers are kept mostly in the back. The length on the sides was kept with a blunt perimeter for a modern edge," she explains. This side parting haircut is a great introduction for women looking for a change from their regular long layered haircut. Long bobs can be as short as above the shoulders, collarbone-length, or somewhere in between the collarbone and chest. The longer length extends the face vertically, helping to balance the round face. "This wavy lob with bangs that are side-swept continues the elongating effect as opposed to straight across bangs," says Sao. "This length is still great for the active gal who likes to tie her hair back, as well as for the gal who likes to play with her natural wavy texture or wear it sleek and straight." As for products, Sao recommends Kevin Murphy's Smooth.Again for taming frizz, and the dry texture spray by Davines as a great finisher for tousled hairstyles for round faces.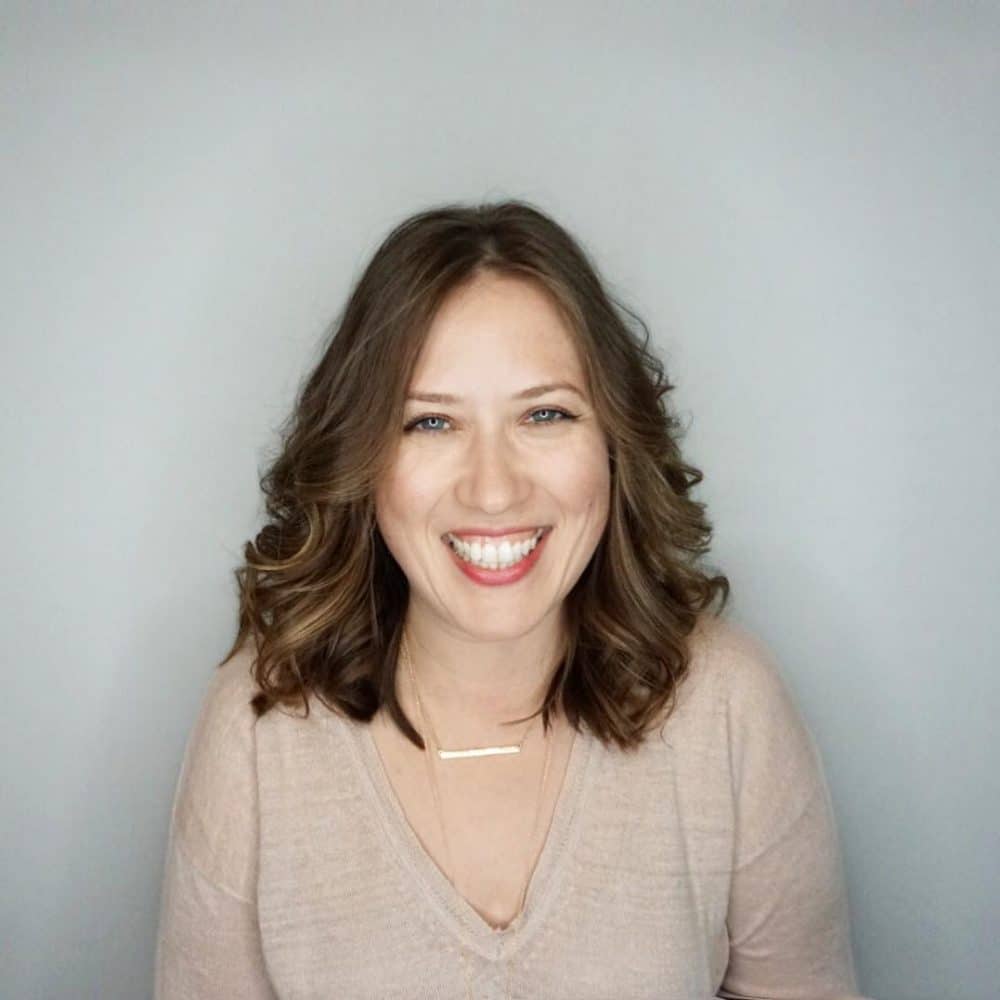 #25: Classy Collarbone-Length Lob For Round Faces
A collarbone-length hairstyle with a center part for a round face is absolutely timeless. The stylist behind the chair is Tiffany Edwards, salon manager and hairstylist of The London Hair Company in Studio City, CA. The haircut is adjustable and can range from edgy to conservative. It is easy to change from day to date night by adding tousled waves. The long bob is versatile and a never-ending trendy cut! "Consultation is key. Determining the perfect length for this look is important. Here, we wanted to conceal unwanted features," she adds, "so we discussed length and movement, which are key for round face shapes."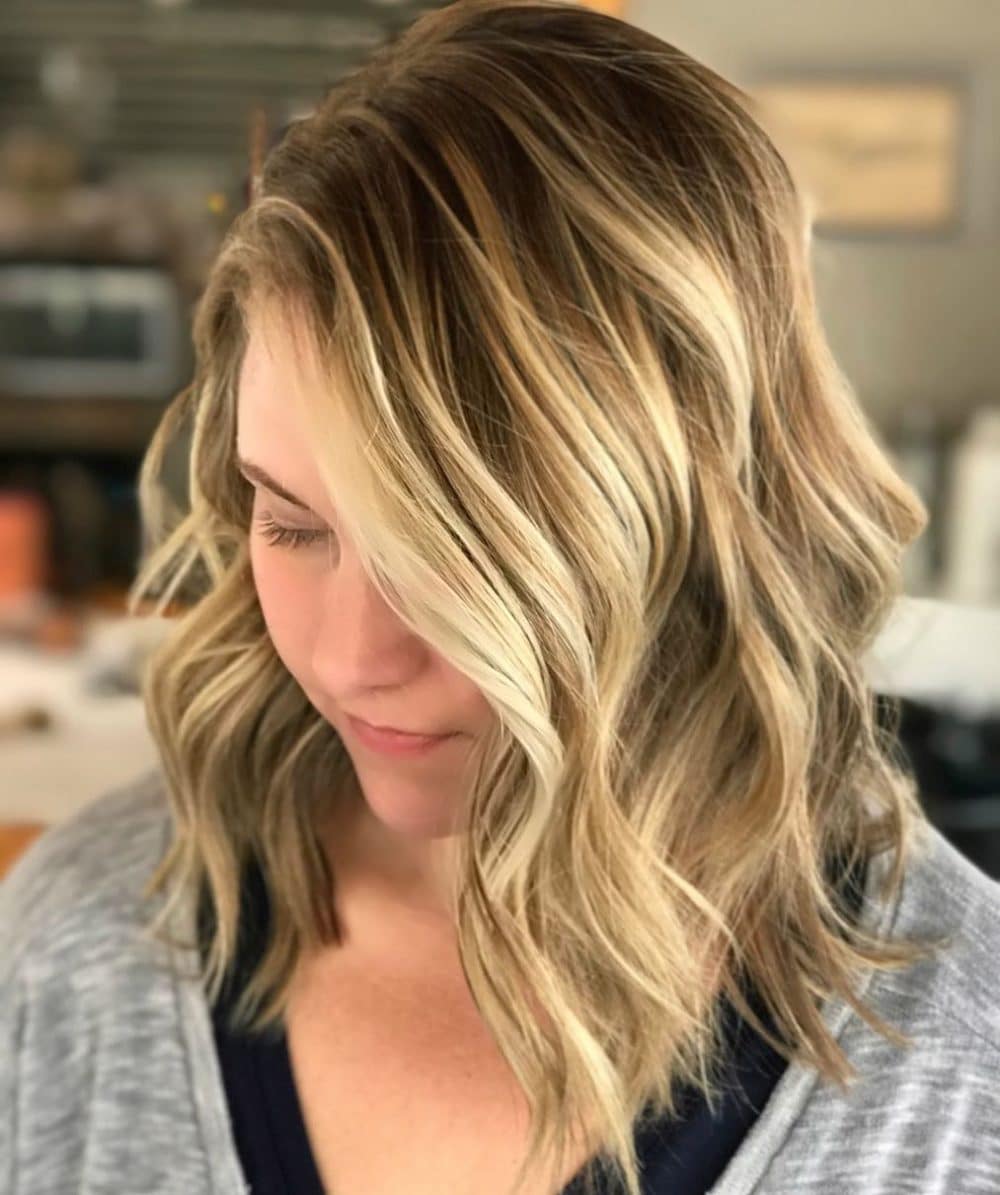 #26: Asymmetrical Wavy Layered Ombre Medium-Length Haircut
This medium layered hairstyle is a textured lob haircut with an ombre color, and it was created by hairstylist Melissa Girard of Hudson, MA. "Women with a round face can wear this lob. It can be sleek and classy or edgy and full of texture," she notes. This bob haircut is super easy to style and works well with most face shapes, especially rounder faces. It can also easily go from casual to professional. To style, Girard suggests, "simply add little light mousse to damp hair, rough dry it, then enhance the waves with a big barrel curling iron. Now add some texture spray and run your fingers through to finish the style!"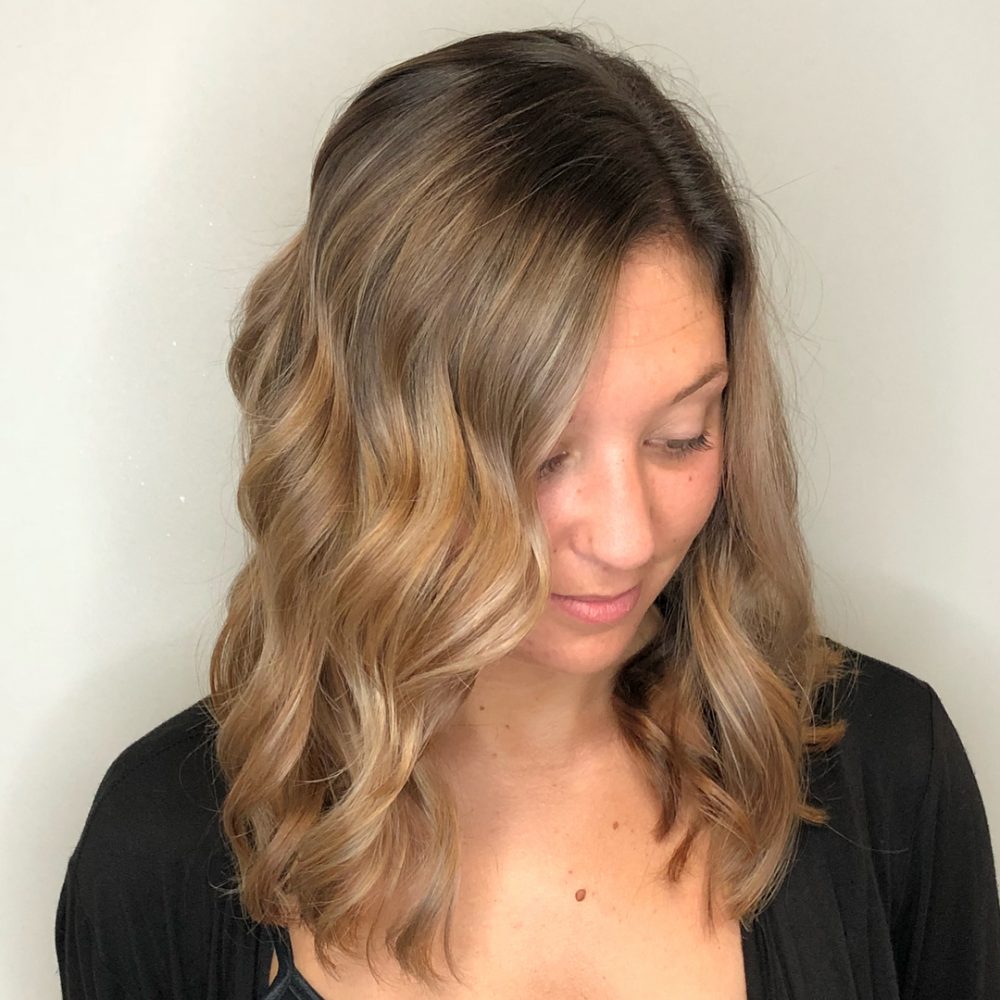 #27: Side-Parted Medium-Length Waves on Bronde Lob
This is a dimensional bronde, root-stretched hair color with a long, texturized lob haircut, and medium-length waves. The master behind this cut is Kristi Laychak, the co-owner of Classic Hair and Makeup in Pittsburgh, PA. "The haircut was done with a slightly blunt inversion toward the face," she explains. "The last three inches of the hair was textured with a razor. For mid-length styles like this, use a 1 1/4-inch barrel curling iron to create the "twist out" beach waves." For a woman with a round face considering this medium-length haircut, add a fringe around the brow. Bangs for a round face can help to elongate the face.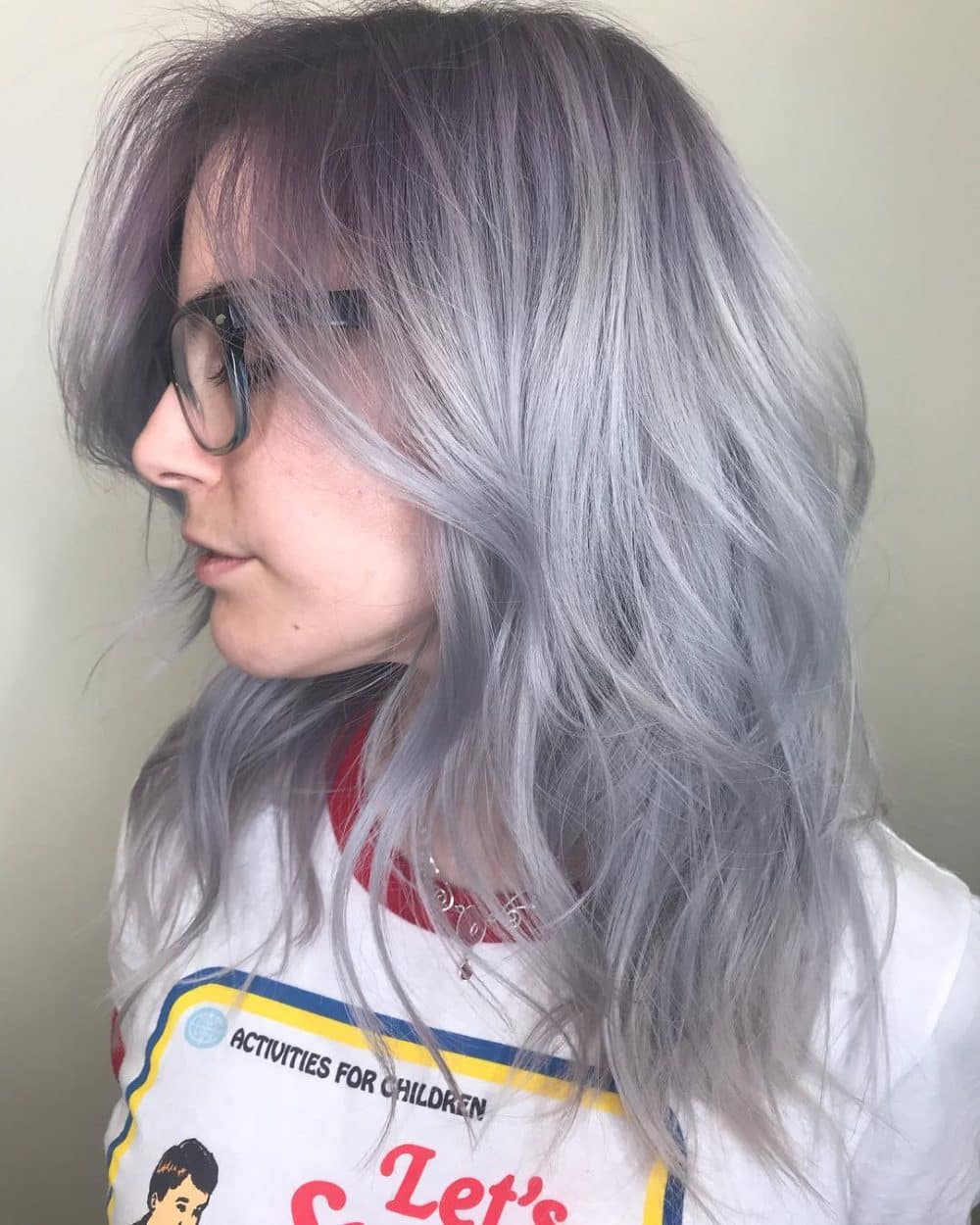 #28: Perfectly Undone Melted Lob for Round Faces
This melted, perfectly undone "lob" or mid-length cut was created by hairstylist Michael Angelo Markle of Houston, TX. "This bob is for any fashion-forward and artsy kind of woman. It's ideal for anyone who likes maintenance," he states. If you have medium-textured hair, and a lot of it, ask your stylist to texturize it to keep that whispy look.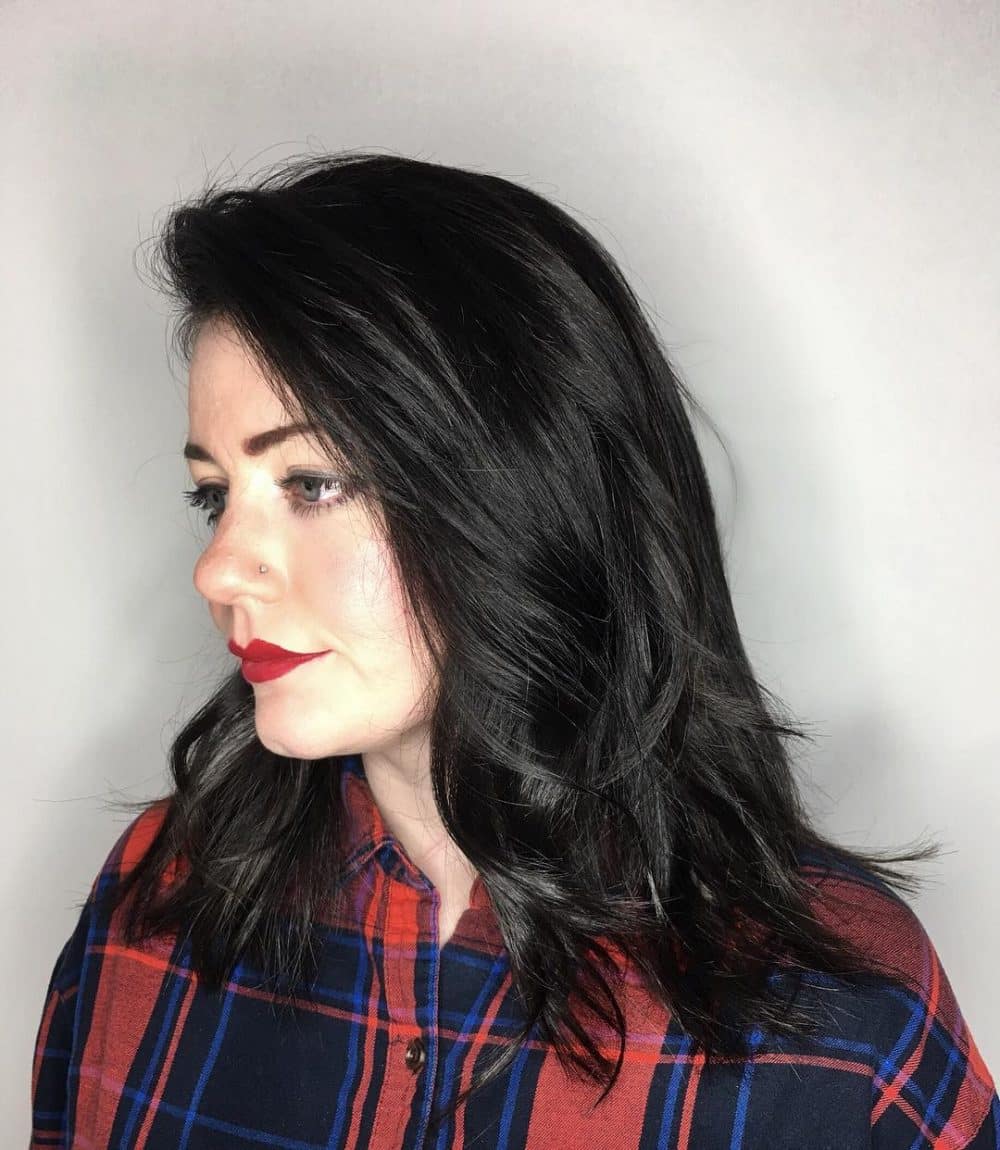 #29: Cute Long Textured Bob for Round Faces
Try a long textured bob with a deep side part. Stylist Shelby Loos of Kansas City, MO created this. "It offers styling versatility and the ease of creating a chic, undone look at home," she says. Depending on the hair type, Loos recommends you use a beach texturizer like Kevin Murphy Beach.Resort spray on wet hair, then something to piece out the layers once dry like Kevin Murphy Bedroom.Hair. This long bob is ideal for women with medium to thick hair and enough hair to have lots of layers. For a woman with a round face, styling can be really important in creating a flattering style.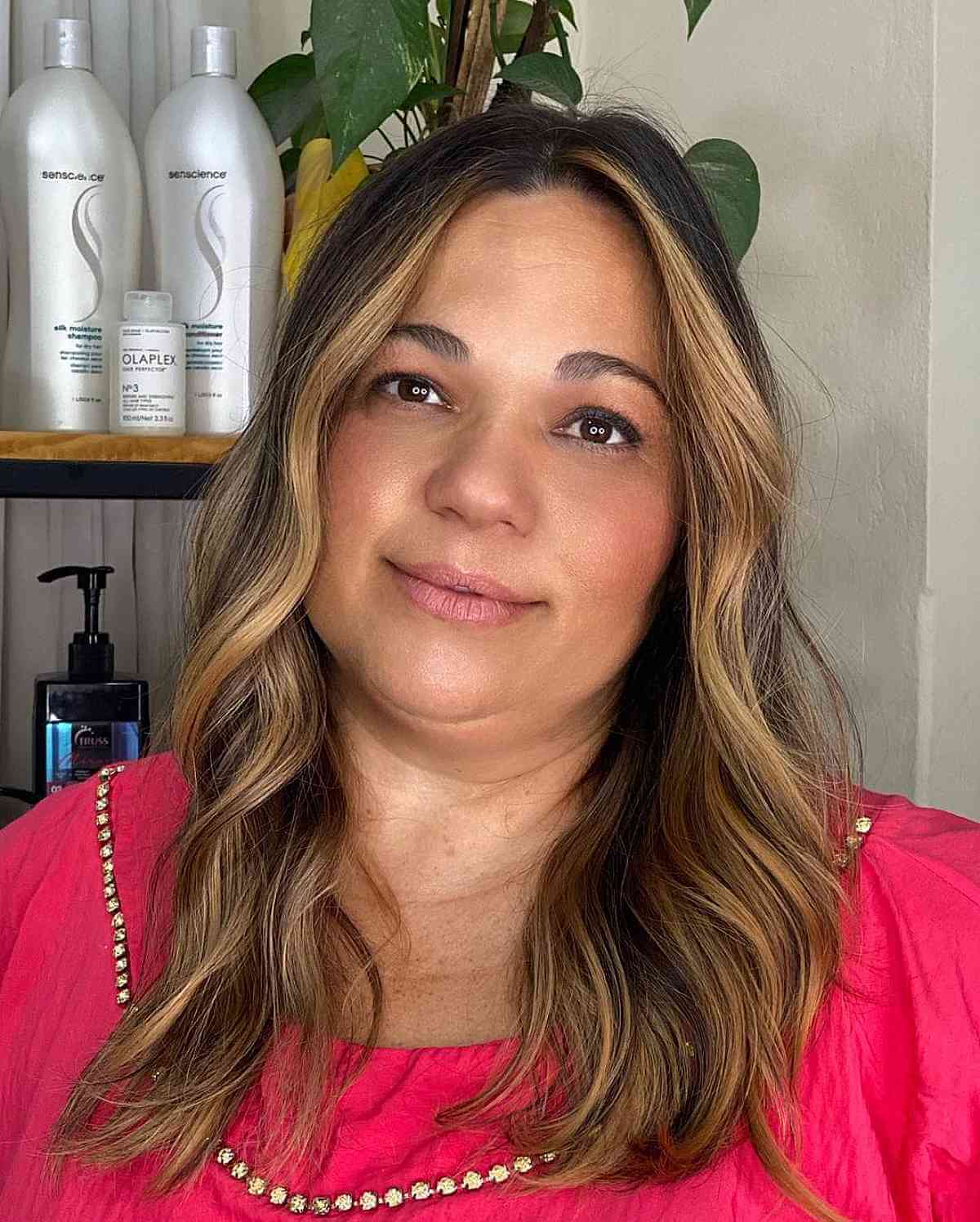 #30: Effortless Middle-Parted Chic Cut for a Rounder Face
Consider a middle-parted cut for a rounder face shape. Bedhead and messy waves are very trendy right now, and this type of haircut shows them off perfectly. For a round face for medium-length hair, styling is simple. Simply wave your hair with either a flat iron or larger barrel curling iron, break up the curls with your fingers, and then spray a texture spray all over for added grit and volume. Allowing the crown area to have a volume also gives the look a fuller edge. To preserve the style, spray dry shampoo at the roots on second and third-day hair.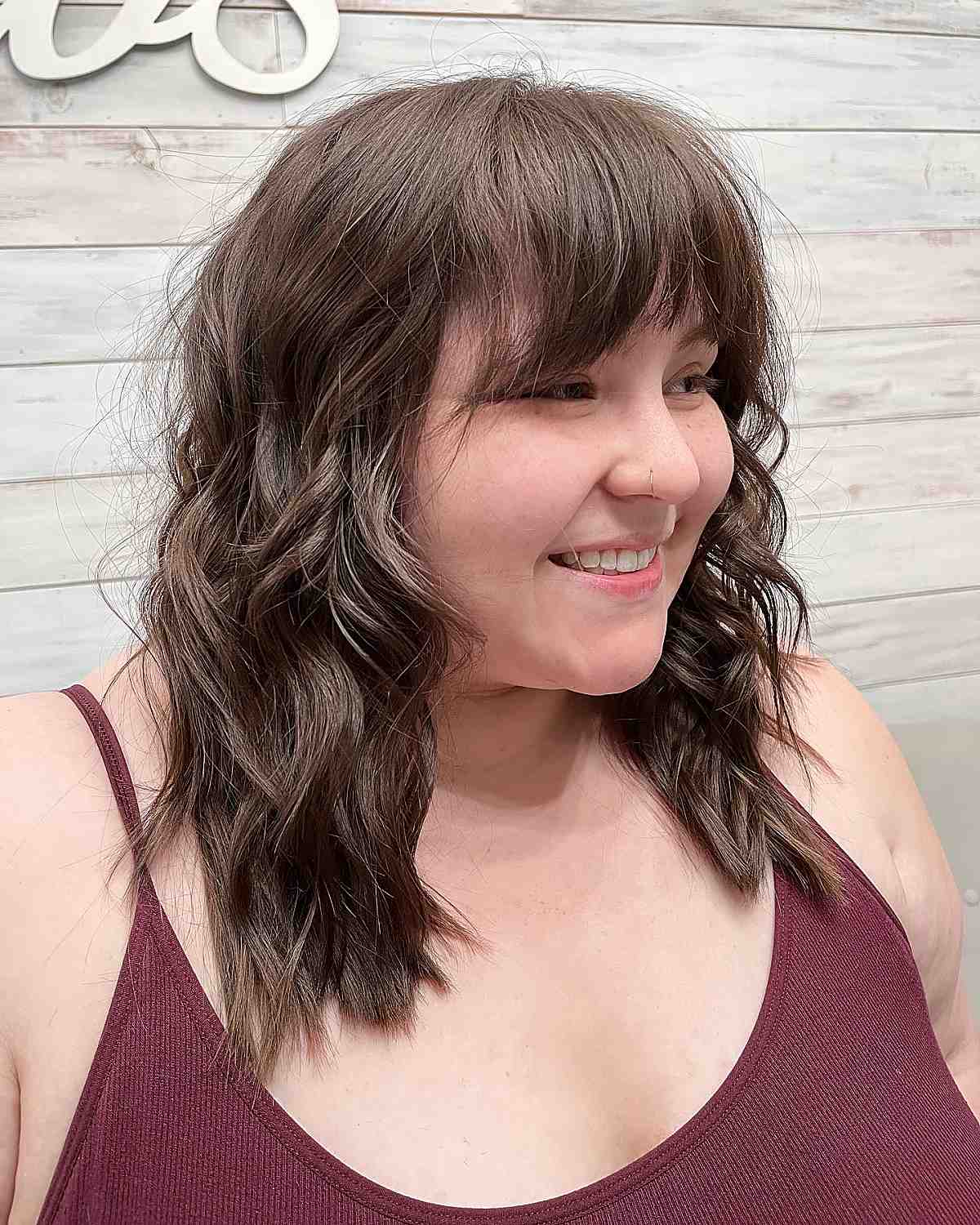 #31: Wavy Long Layers and Textured Fringe for Round Faces
Go for a beautiful mid-length haircut with long layers and a textured fringe. Bangs for round faces help to elongate the face. For finer hair, use something for volume like a mouse or texture spray like Shu Uemura Texture Wave. For coarser hair, use something for smoothing like Virtue Smoothing Cream. Haircuts like this, are for women willing to style their bangs every morning. Bangs are a commitment, so if you are up to styling them every day, this is for you. Blunt bangs cut right over the eyebrows help facial framing for round face shapes. This textured medium-length cut works best for hair types that are on the fine to medium side.