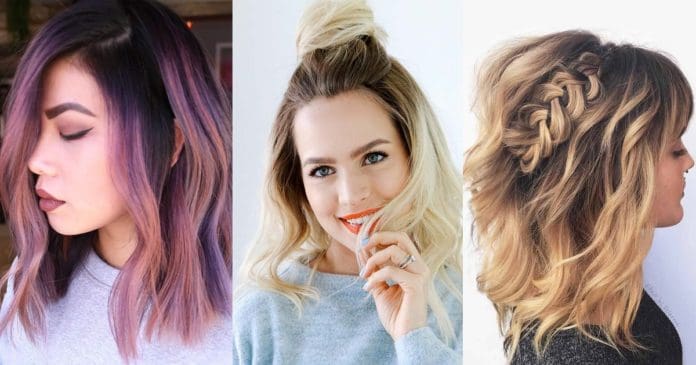 Medium length hairstyles are very versatile – every hairstylist will tell you that. And today we would like to discuss countless styling options for the mid-length hair. You probably think that the mid-length is a bit short to allow you to pull off gorgeous hairstyles. Well, it is not like that at all, you will see.
The potential of medium haircuts is huge. But you just need some ideas and, of course, the courage to experiment. So, get ready to discover the ideas that will help you transform your mid-length tresses into a new and fresh signature hairdo.
Medium Length Hairstyles For Thin Hair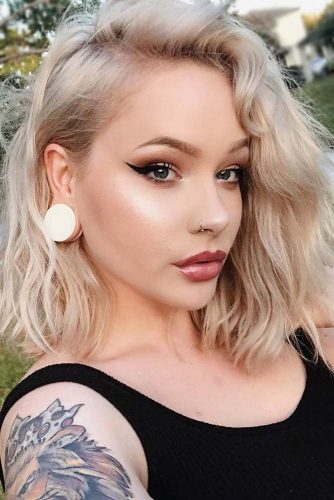 Medium length hairstyles for thin hair let women with fine hair actually believe they have thick hair. Bob cuts look terrific on naturally fine hair, even more so on a blonde bob, where the illuminating color accentuates layers. The shorter layers around this model's face add texture and the soft curls keep the style from looking flat. No worries should her hair be naturally straight. A curling iron or hot rollers will easily provide wavy hair. Sides swept styles also make thin hair appear even thicker. She can use a pin to make sure her hair stays tucked behind her ear and/or keep the deep one-sided part. While bobs compliment almost every woman, they look exceptionally great on those in their early twenties and deliver the chic appeal most young people crave.
Medium Length Hairstyles For Thick Hair
Source: riawna via Instagram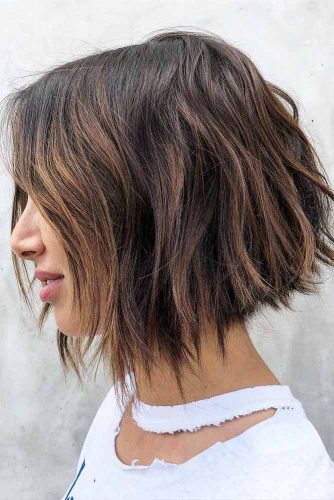 Women with thick hair are lucky. Dry ends are essentially their only problem, most styles and hairdos turn out well, and they can usually rely on all styling tools to work as expected. Their heavy hair, however, tends to lack movement and can look false, particularly if they use strong hold hair products and limit their cuts to one-length styles. Dimension, shape, and color techniques provide motion and medium length hairstyles for thick hair let hair sway. This bob haircut is a fantastic option. The forward angle and the subtle highlights add body and motility. Wavy hair adds even more bounce. If hair isn't naturally curly, curling irons, straighteners, and/or sea salt sprays easily attain the spectacular uneven effect.
Medium Length Hairstyles With Bangs
Source: hairtalkusa via Instagram
Medium length hairstyles with bangs let women try out a broad range of styles that are easy to maintain and look marvelous on nearly every hair color and texture and virtually every shape face. This long bob haircut combines long layers, wispy bangs, and relaxed scruffy curls. It's a winning combination that lets women of all ages enjoy themselves. It's contemporary and classy, yet fun and free. The blonde ombre hair requires minimal touch-ups, so it's just right for today's busy women. The thin wisps that drape over this model's forehead look terrific on her oval face. She can wear almost any style bangs – straight across her forehead or off to the side. Uneven or choppy bangs look good on round and square faces, though women with round faces should stay away from thick, blunt cut bangs. A round brush and blow dryer will add extra volume to bangs.
Trends Of 2022 In Medium Haircuts
One of the new medium length hairstyles 2022 is a variation of the short to medium hair trends. It's the lob. The lob is, in fact, a longer bob. The length falls between the chin and shoulders or just below the shoulders (a bob goes down to the tips of the ears to just above the shoulders). Lobs are ideal for those wishing to grow out their hair from a short cut or for those with long hair who wish to make a change, but don't know if they'll like a drastic one. Lobs look extraordinary on practically all hair types (thick, thin, straight, or curly), flatter mostly every woman (young, middle-aged, mature), and require little attention. This 90s blonde look represents one of the latest haircuts for the young crowd. Loose curls, which some product or a styling tool can easily provide, add extra motion and dimension.
Short To Mid Length Hairstyles
Source: lisasatornhair via Instagram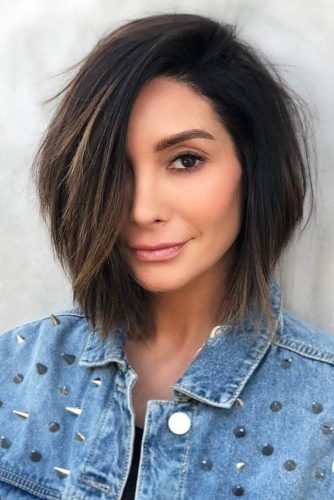 Bob cuts allow hairstylists to give every woman a unique and fabulous cut that's unmistakably her own. They can easily modify the angles to compliment each and every woman. The cut will preserve its shape for several months. So anyone, from a hard-working student to a busy working mother will appreciate its ease and style. The deep side part and long side bangs on this model give her a cutting-edge elegance that's all her own. The balayage, which the hairstylist creates by sweeping on some color, adds even more distinction with a stunning sun-kissed highlight. It also requires little maintenance and adds even more depth to this trendsetting style. As you can see, color and texture let short to mid length hairstyles share the modern-day pleasures their longer counterparts enjoy.
Shoulder Length Blonde Bob
Source: marissa.marino via Instagram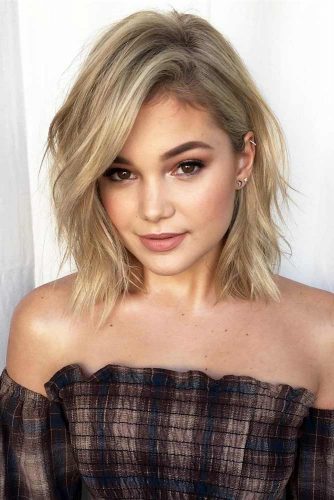 Shoulder length hair offers endless possibilities, mainly where the bob is concerned. For each choice, there's an opposite option. A woman could choose a sleek, symmetrical style with a middle part or a tousled, uneven cut, with a side part. She could opt for smooth, straight ends or light bouncy curls. With product and styling tools, she can oftentimes have it all. This shaggy, layered bob looks even younger and fresher in golden blonde. She can let the ends fall straight or loosely curl them with styling tools or sea salt spray into beach waves for extra bounce and body. The side part with a sweeping fringe gracefully frames her face and emphasizes her striking eyes and lips and the tuck behind her ear adds volume.
Purple Wavy Shoulder Length Bob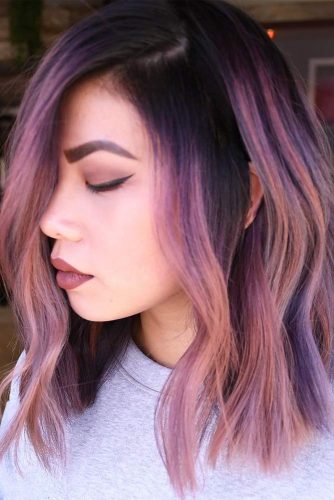 Shoulder length hairstyles offer women many choices. Fashion designers, celebrities, and every other kind of trendsetter these days are choosing such a length for their own hairstyles. Bobs and lobs, both of which can essentially reach down to the shoulder, become more popular everyday. But versatility, range, simplicity, and the ability to compliment almost anyone haven't satisfied the "pro" list for these cuts. They fulfill yet another style category. They look utterly amazing in unnatural colors, most notably purple. Check out the purple ombre on this wavy lob. It begins with dark roots, goes full purple, then lightens into lavender and pink at the bottom. It's simply stunning. She could add dimension by playing with the part or by adding more curls, but there's no need. She's just gorgeous.
Fun Medium Length Hairstyles With Bangs
Source: riawna via Instagram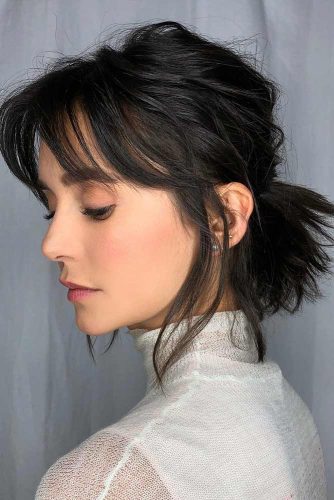 A ponytail with bangs is a classic look. It was a huge in the 50s. That was more than seventy years ago, so wearers need to modernize it and work it into current styles. Right now, there is a wide assortment of fun medium length hairstyles with bangs. Bangs are a great option for any woman, regardless of her age, hair type, or lifestyle. They let her try a new look without having to get a totally new cut. These layered bangs look great whether the model here decides she wants to look formal or casual. A pulled back, half up half down look, whether it's a low knot, low bun, or even a ponytail, looks elegant, and the soft curls around her face add charm. She can go anywhere, really.
Icy Blonde Inverted Bob
Source: salondiorllc via Instagram
Bobs come in all shapes, sizes, and lengths. An inverted bob has stacked layers at the back and then curves and tapers towards the front. The model here exemplifies how fabulous the inverted bob medium length hairstyle looks. All of her graduated or tapered layers frame and highlight her face and no doubt accentuate her best features. The icy blonde color, which is so cool (no pun intended) right now, adds a bit of edge to any cut, but particularly a bob. This shoulder length lob haircut would work especially well for mature women who want younger looking, yet still age appropriate styles. Out of all the similar length hairstyles, this is truly the easiest to keep.
Easy Medium Length Hairstyles For Thick Wavy Hair
Source: riawna via Instagram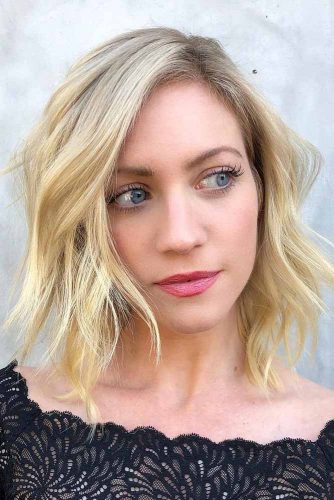 Women with thick curls often grumble that their hair is hard to work with and turn to blow dryers and flat irons to straighten their unruly locks. But why? If they had a proper haircut and used the appropriate products, they would see their natural hair as a gift. Easy medium length hairstyles for thick wavy hair, such as this dazzling bob, lessen bulk without loosing bounce. Thick wavy hair can handle practically all of the popular medium hairstyles and color techniques and actually requires less care. Just work in the right product, spray on some sea salt, scrunch, then use a diffuser or air dry. It's that simple. Once you go for it, you'll wonder how and why you ever did anything else.