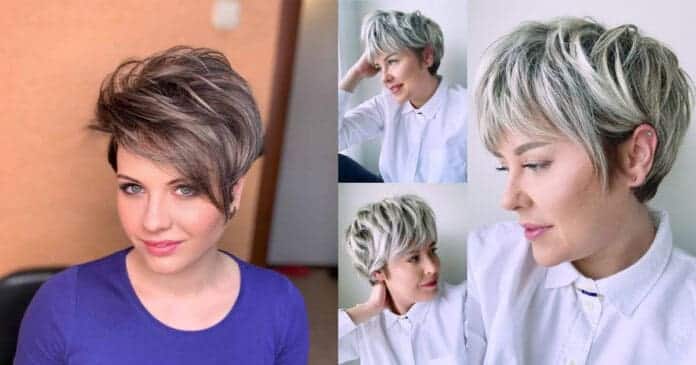 A pixie cut with bangs is a great haircut for women who have fine or thin hair or a long face shape. The shorter cut adds the appearance of more volume all throughout the hair and the bangs balance out long faces. Women of all ages get this cut because it's a bold look and pairing bangs make it more feminine. If you want to get bangs with a pixie haircut, then you'll want to add layers and texture. This will allow the hair to lie more uniformly as it crosses the crown of the head to the forehead. Of course, all of this will depend upon your head shape and face shape, so you'll want to consult with your hairstylist. Pixies are typically a wash-and-go hairstyle but bangs can require a little more styling time in the morning, depending upon how long the bangs are. Talk with your hairstylist about how you can best pull off bangs for your lifestyle and face shape. There are lots of great ways to pair a pixie with a fringe. So if you're looking for ideas and inspirations for the best pixie cuts with bangs, then check out these pictures!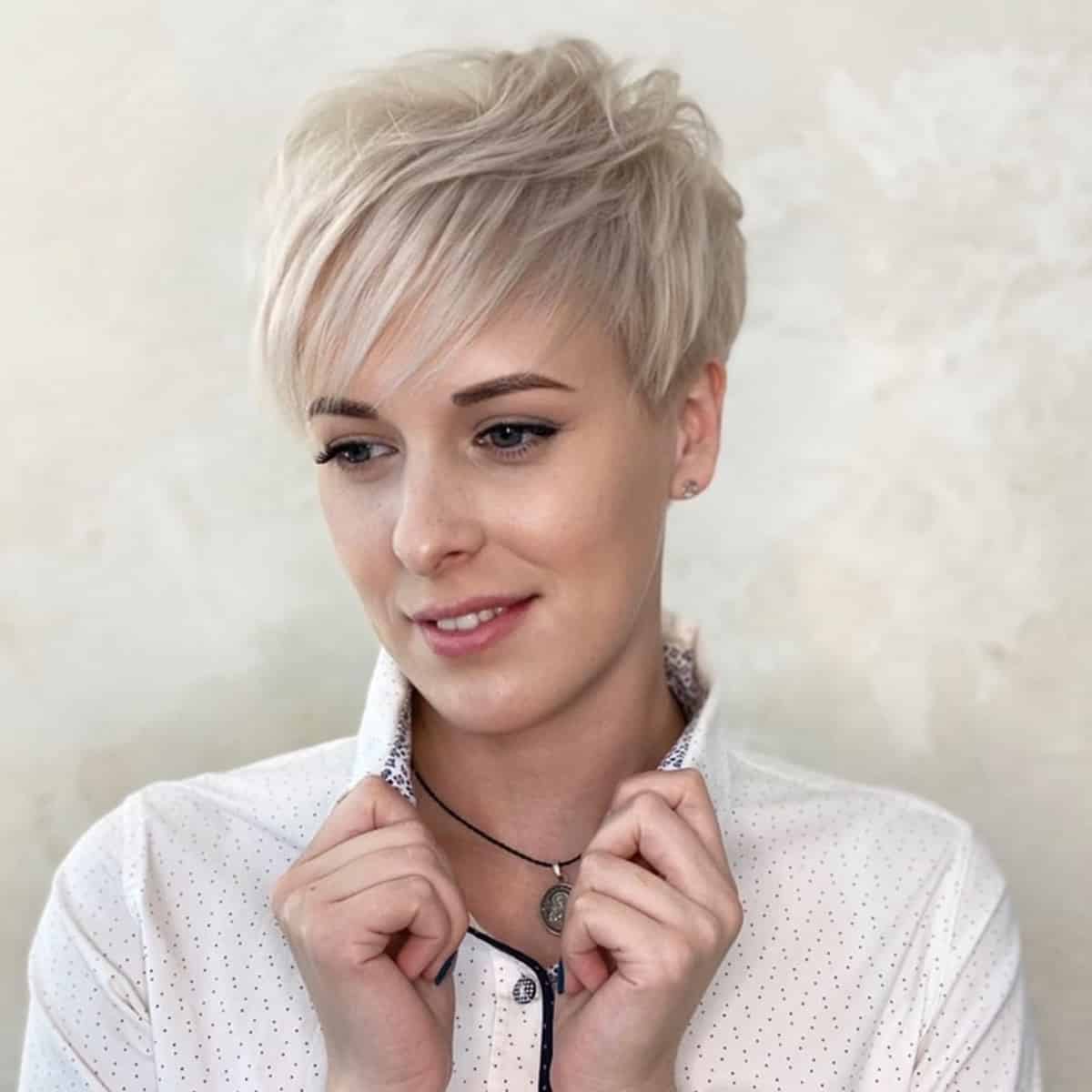 #1: Choppy Bangs on a Short Pixie
Choppy bangs on a short pixie works well for super straight hair that lacks movement. A woman's short pixie haircut with short bangs on very straight hair can feel a little lifeless. That's why adding choppy bangs allows it to sit with more shape and texture. The hidden shorter choppy lengths push the longer hair forward to enhance movement and curvature around the face.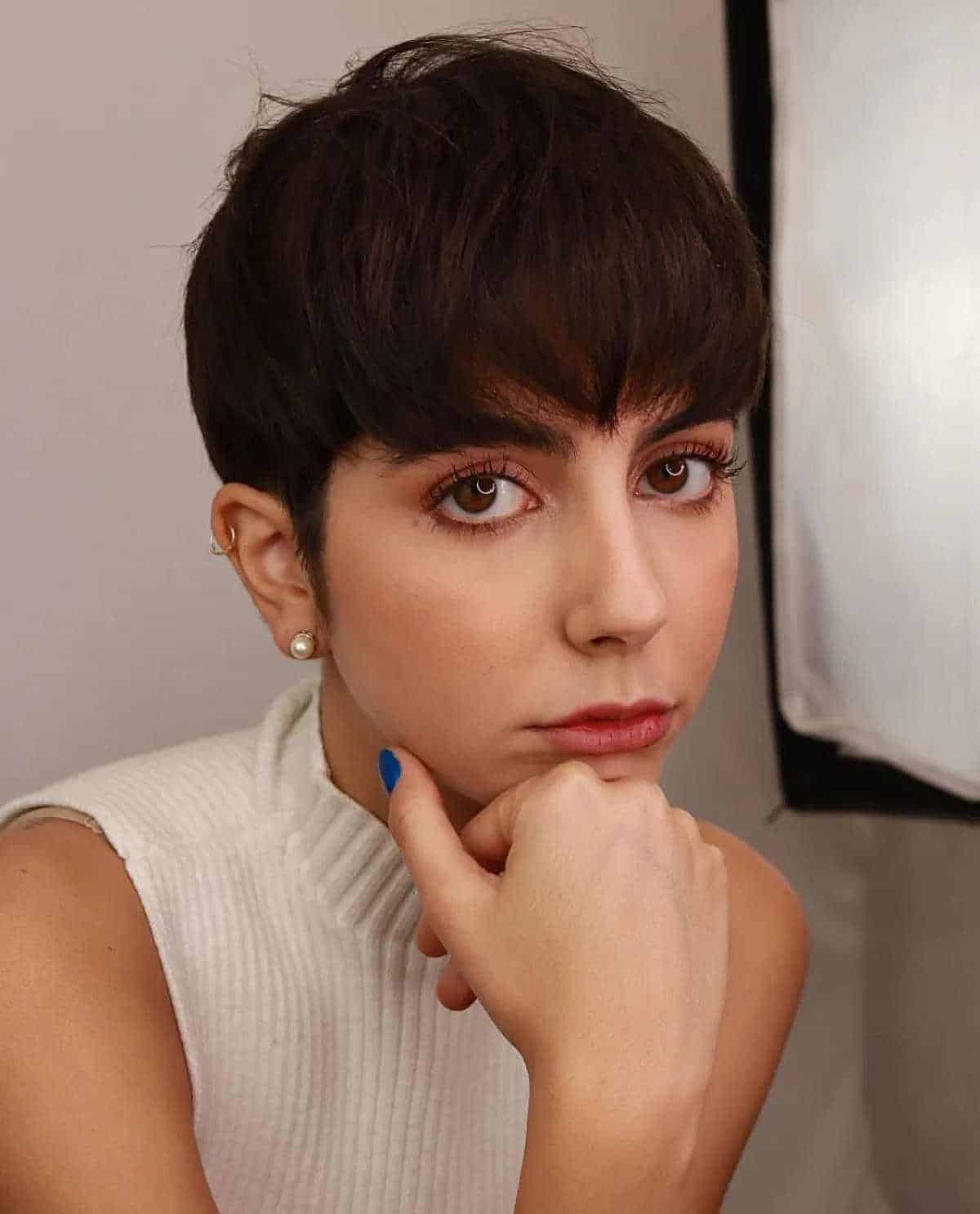 #2: Brunette Pixie with Full Wispy Bangs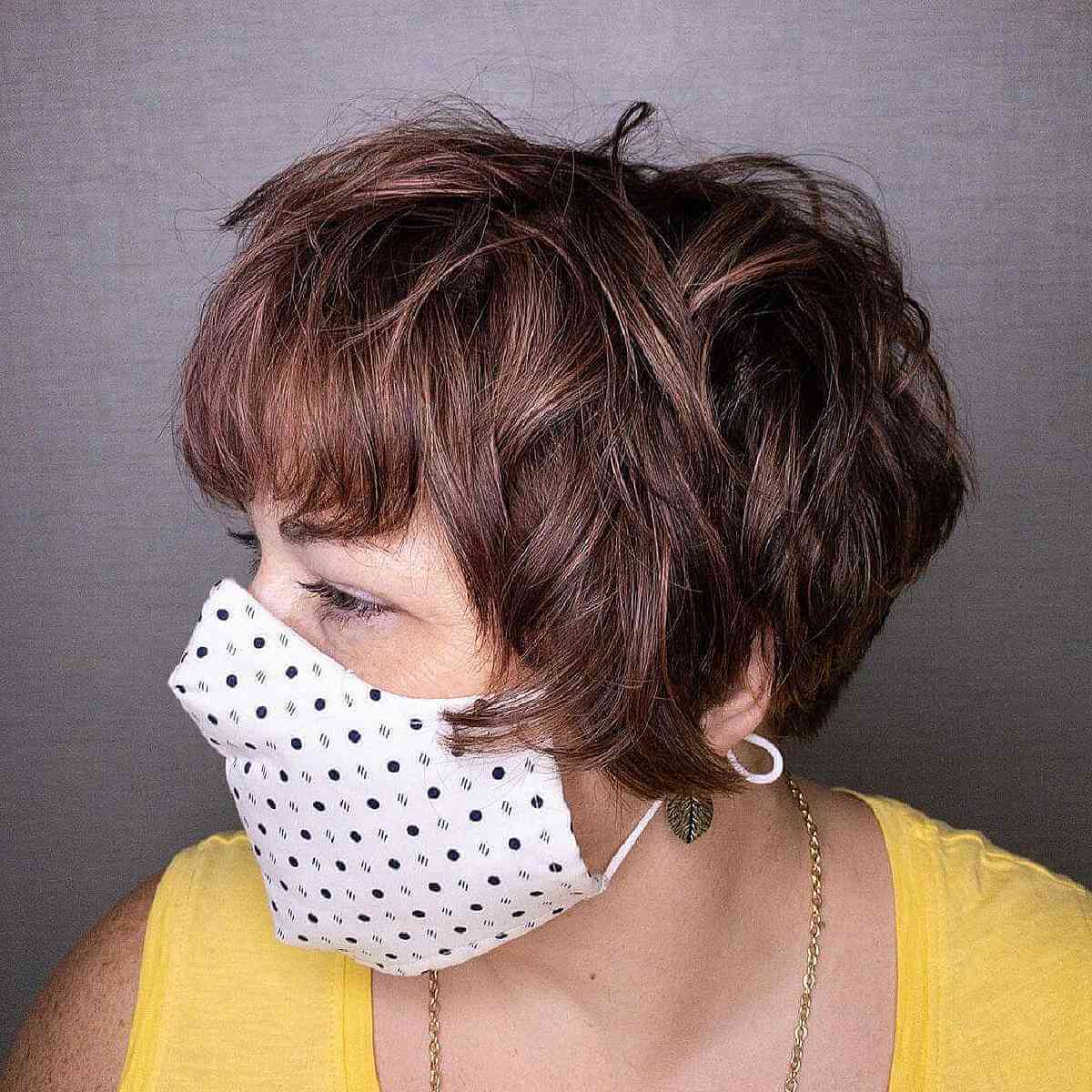 #3: Shaggy Pixie with Soft Highlights for Thick Hair
If you have thick hair, try a shaggy pixie cut with soft highlights. The beige tone highlights help break up the brown and give dense hair more dimension. Seek out a stylist that specializes in shaggy pixie hairstyles to get the best result. Use a style cream like Cult and King Style to combat frizz and puffiness.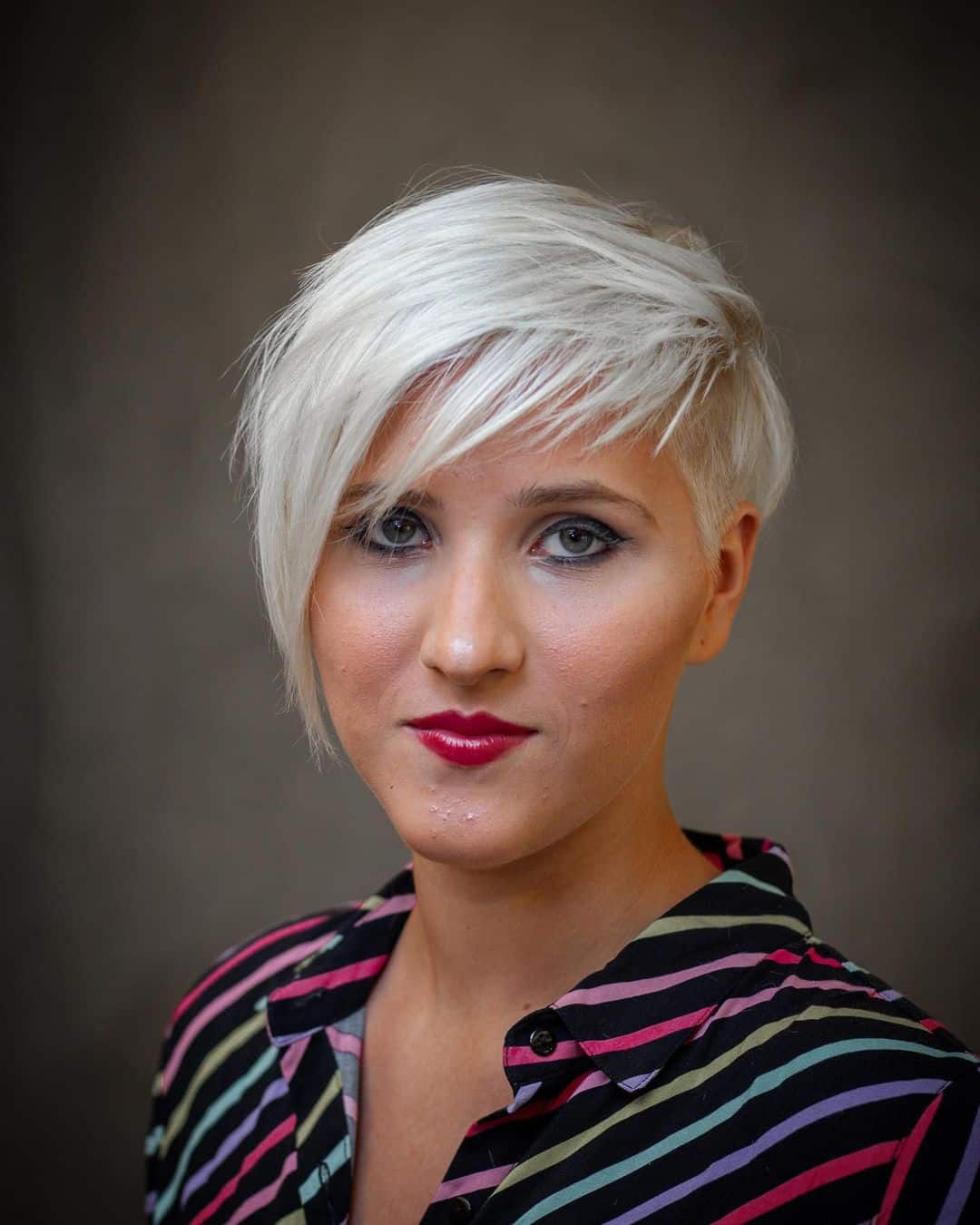 #4: Asymmetrical Pixie with Bangs
An asymmetrical pixie with bangs is an edgy short hair cut. Getting asymmetrical bangs on a pixie adds a little feminine touch to the entire short hairstyle.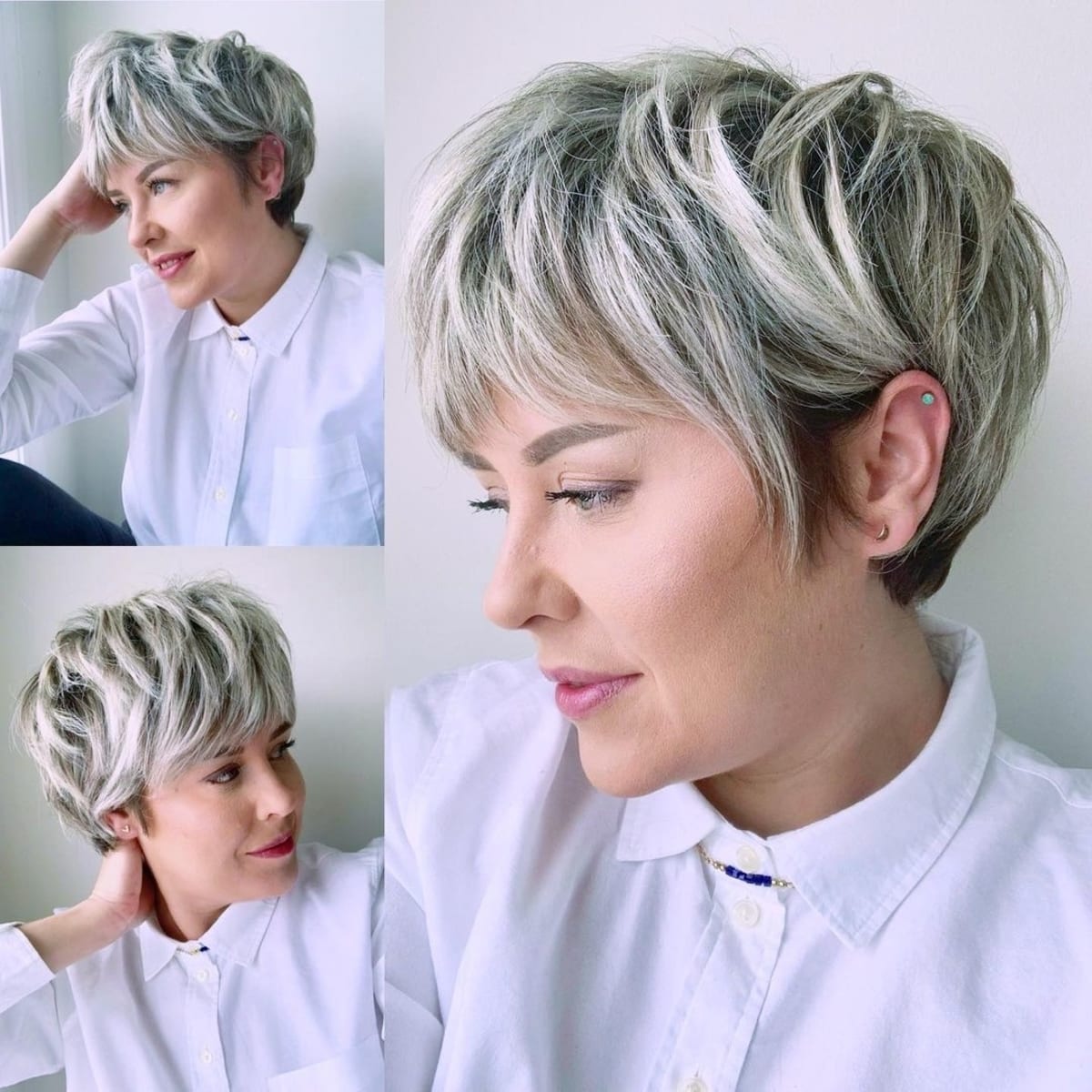 #5: Short Choppy Pixie with Wispy Bangs and Highlights
Thicker hair can benefit from a short choppy pixie with wispy bangs and highlights due to the overall feeling of lightness to the hair. The highlighted blonde lightens the color and gives heavy hair softness. It also enhances the choppy layers, which removes weight from heavier hair types. A pixie haircut with wispy bangs is for women who want their hair full of feathery texture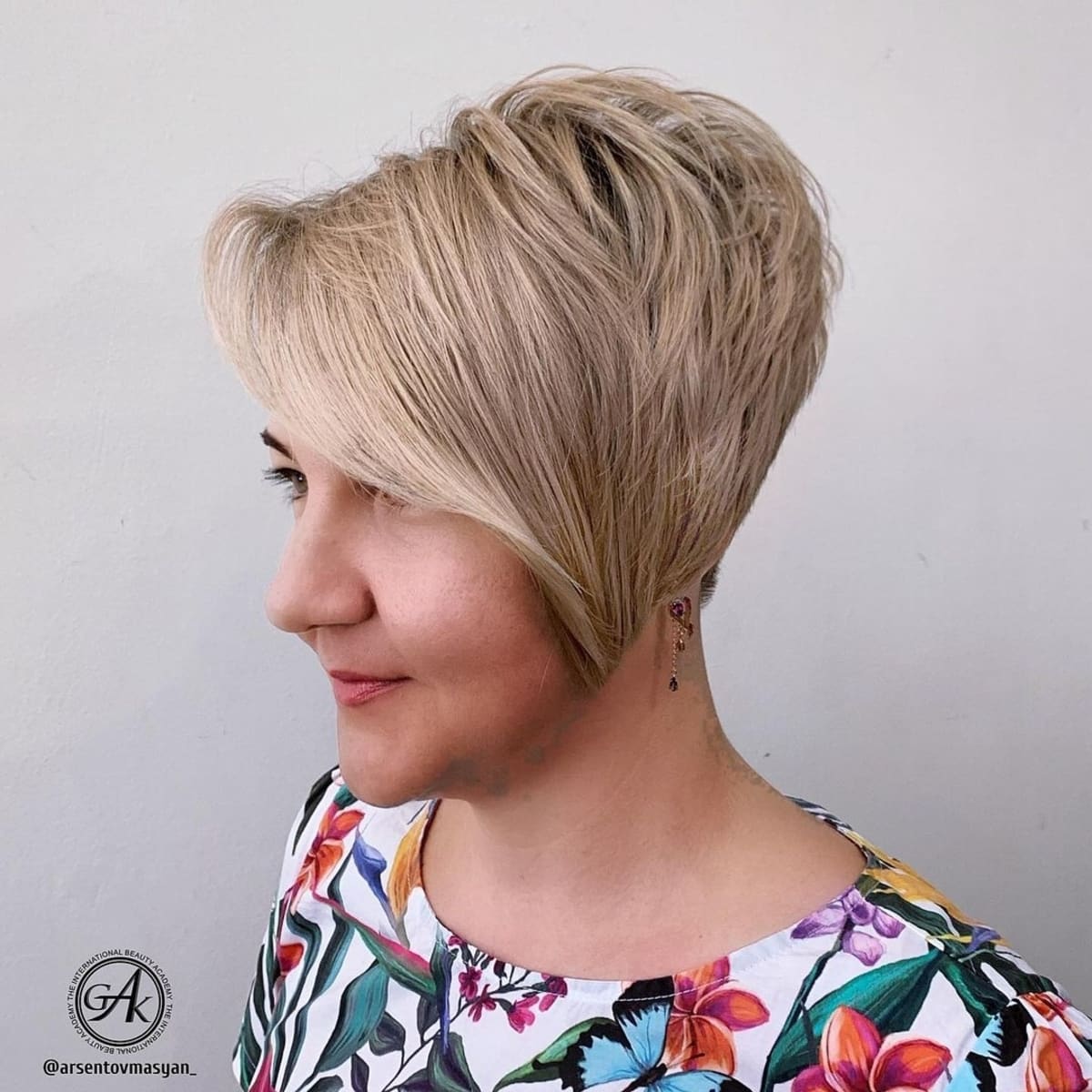 #6: Stacked Pixie with Long Side Bangs
A well-crafted stacked pixie with long side bangs works wonderfully for finer hair types. With the stacked effect, it shapes the hair for fullness. The long side bangs are less layered to keep their structure on the perimeter.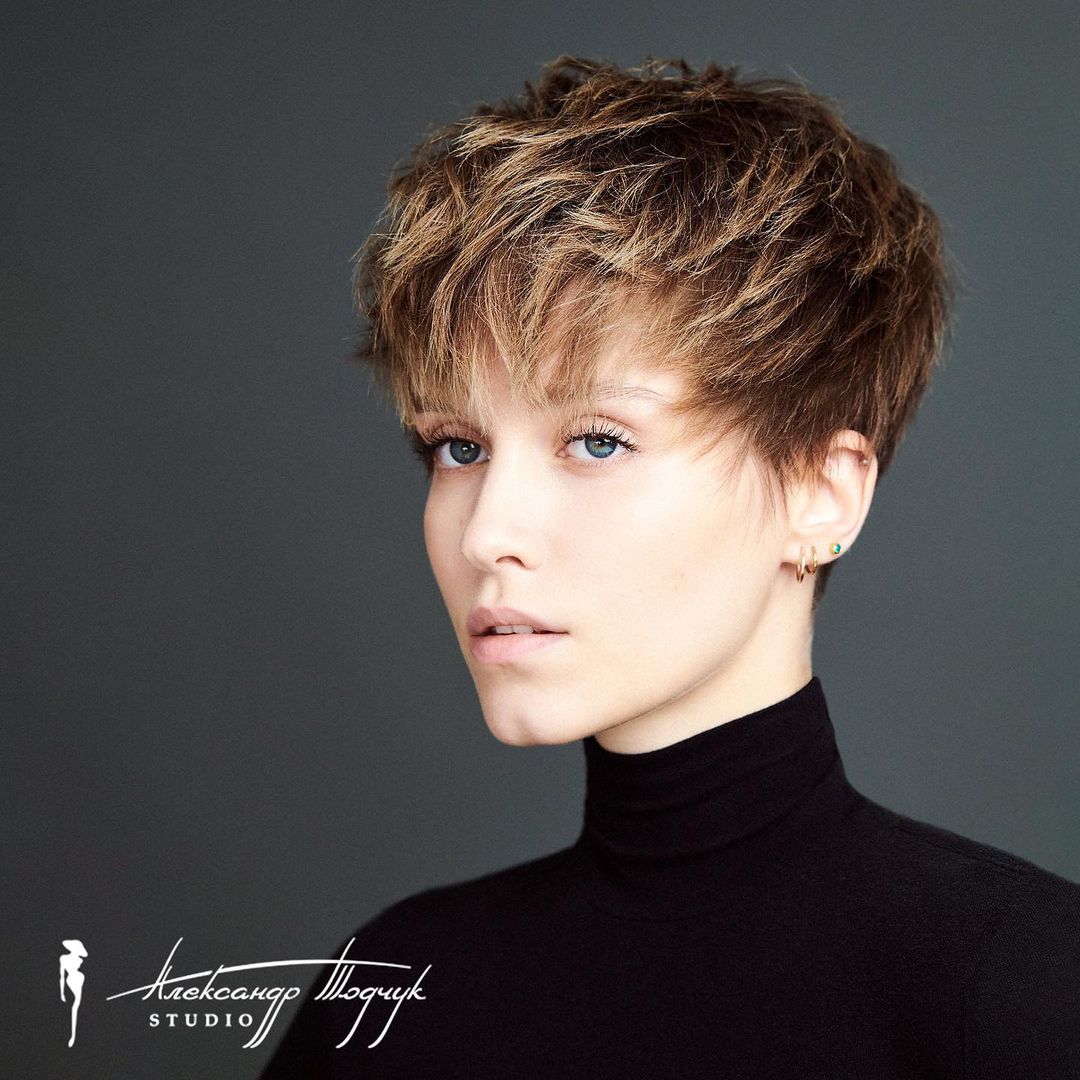 #7: Layered Pixie for Thick Hair with Bangs
Try a layered pixie for thick hair with bangs. Shorter layers help in removing bulk from tresses that have a lot of density. A pixie cut with bangs for thick hair is best if amped up with texture. So achieve the spiky, piece-y, and textured definition by styling hair with a fiber paste.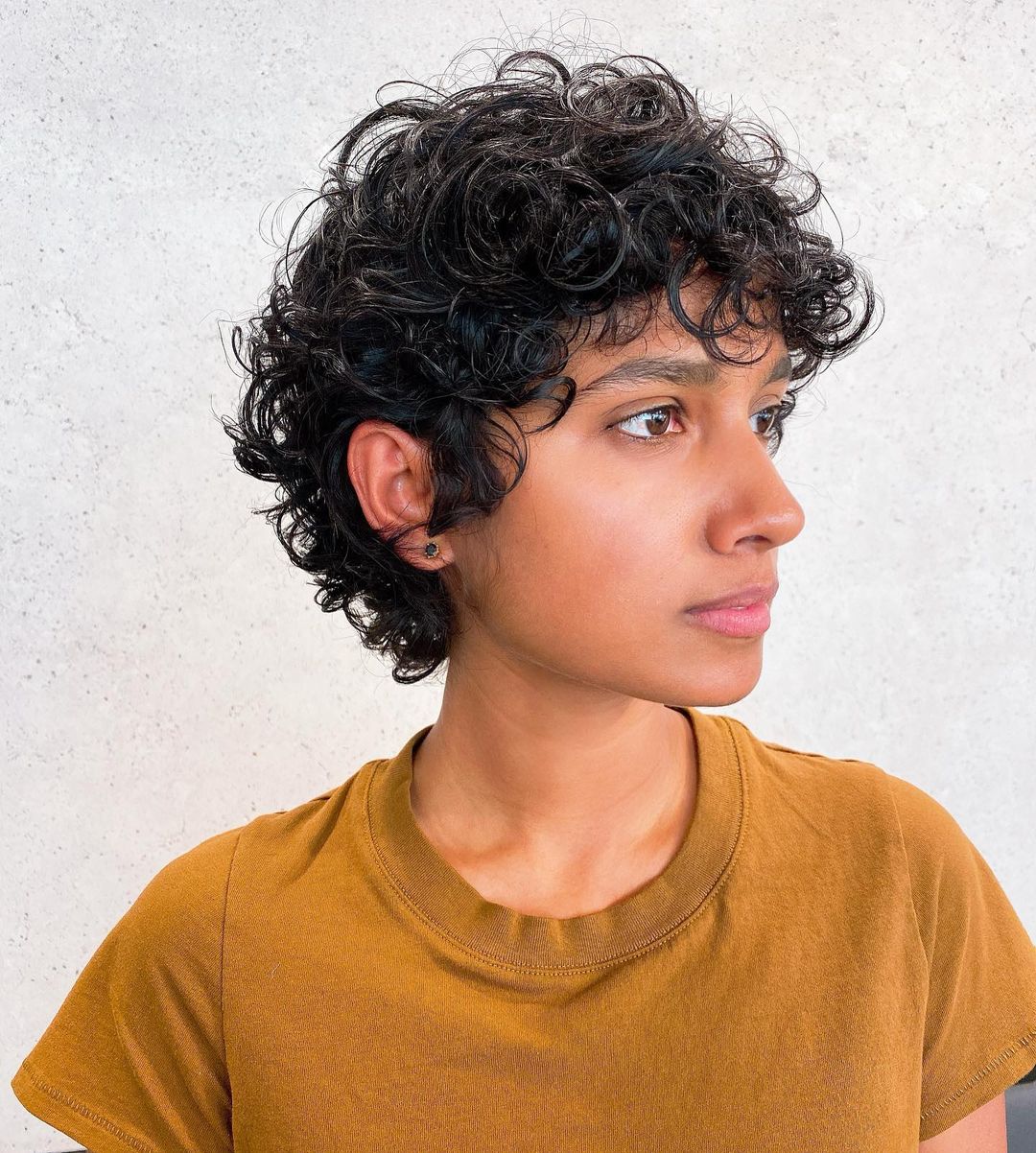 #8: Curly Pixie Haircut with Bangs
Wearing a curly pixie haircut with bangs is one of the best ways to embrace natural texture. It's short, sweet, and breathtaking! To enhance the texture of such a short curly pixie cut with bangs, mist it with a sea salt spray. That's good enough to give the curls a piece-y definition.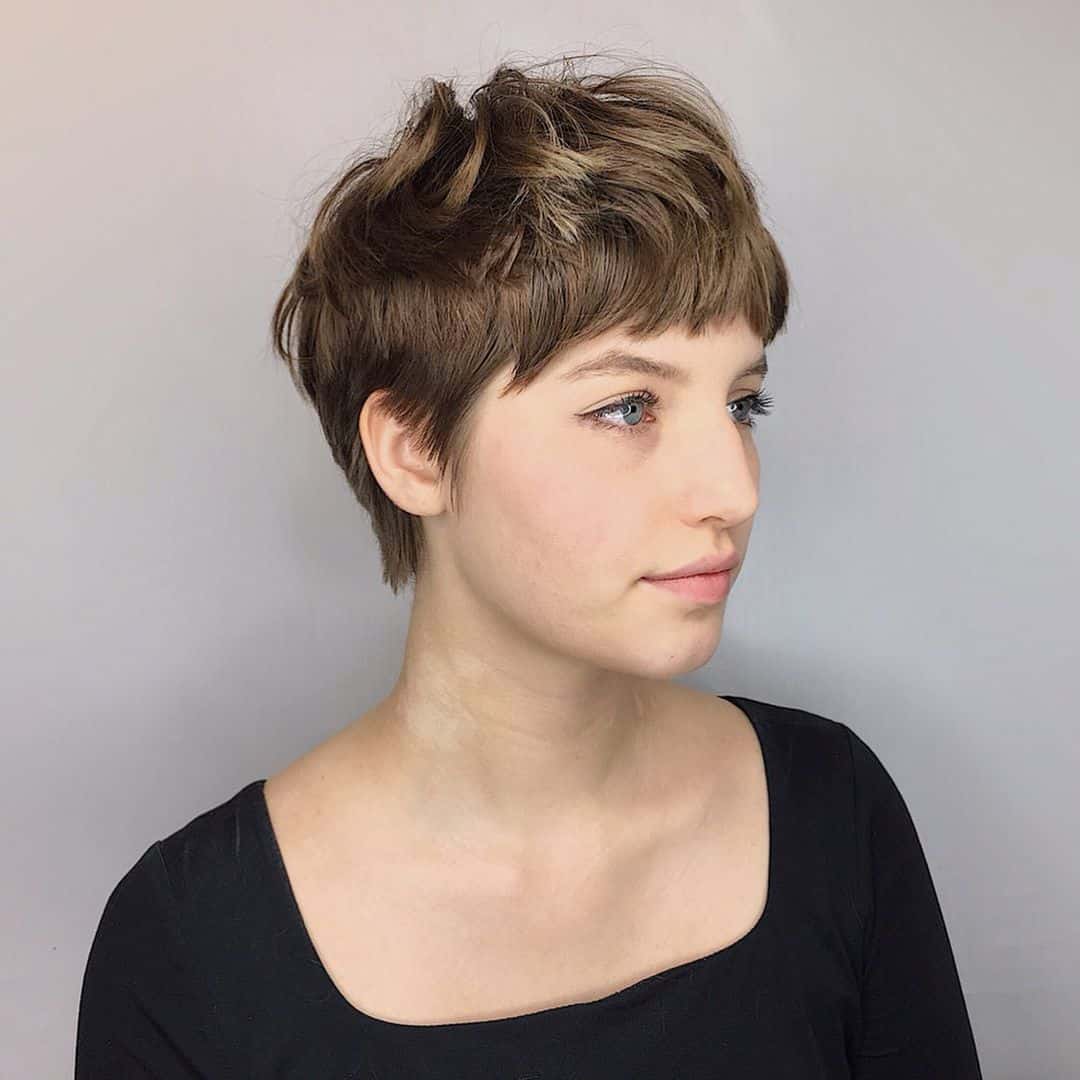 #9: Messy Pixie and Bangs with Long Layers
A messy pixie and bangs help create a style with greater density and volume. If tresses need extra zest, a pixie hairstyle makes a superb option. Style the layers at the top with soft waves to form a movement and a tousled effect. Chic, edgy, and low-maintenance—what else can you ask for?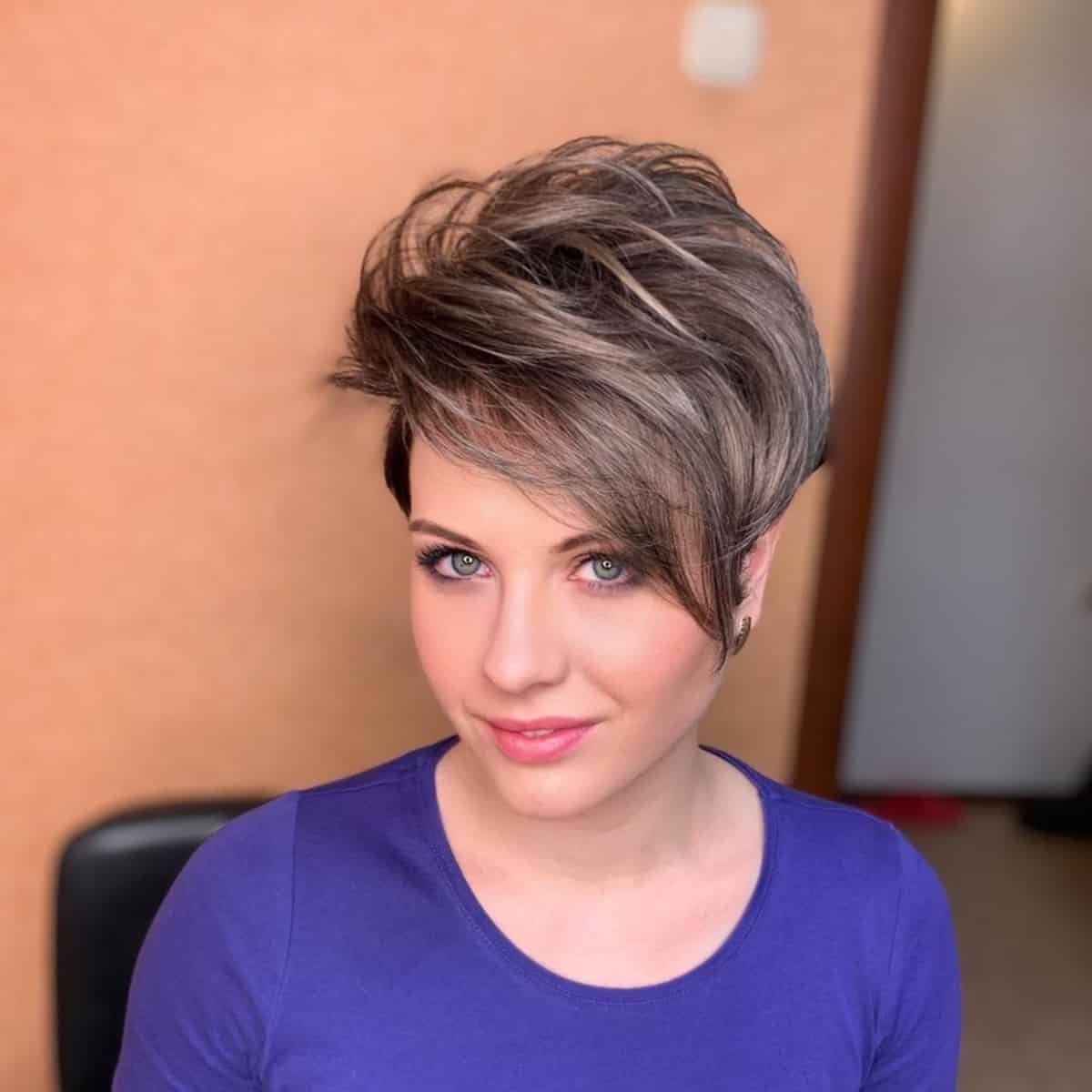 #10: Wavy Long Pixie with Bangs
Try a wavy long pixie with bangs to add extra height to your hair and lengthen smaller face shapes. Whether your hair is naturally wavy or you style it this way, allowing this texture to unfold through the top of the head adds height and volume from the stacked effect waves produce. When it comes to your long wavy pixie hair, keep the bangs layered to get the full effect of the sweeping motion.
#11: Cute Pixie Cut with Short Bangs
A classic pixie cut with short bangs is flattering for square and oval face shapes. Its neat cut displays a strong, classy impression. Since pixies are easy to maintain and style, it's a perfect option for ladies who are busy most of the time.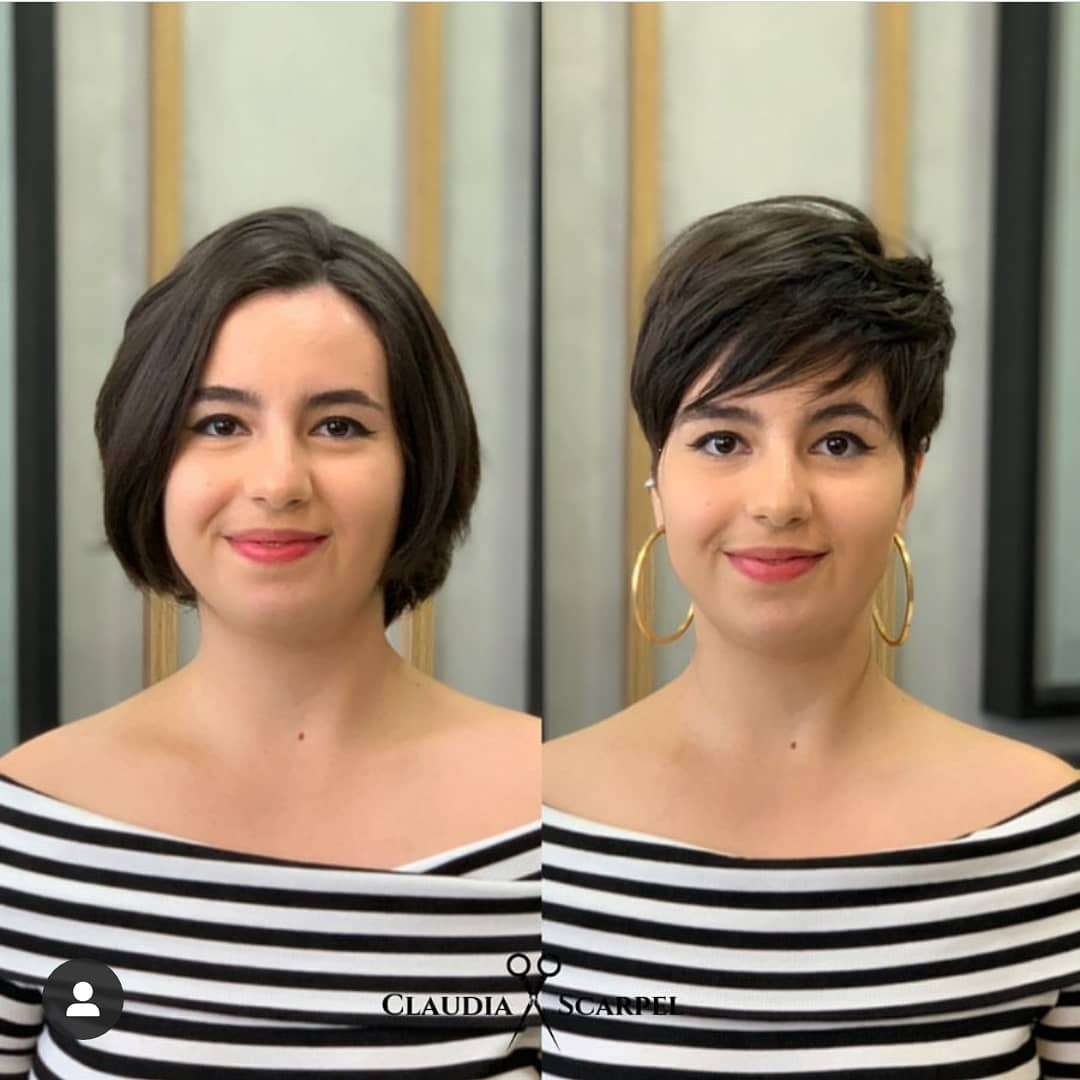 #12: Black Pixie Cut with Side Bangs Style
A pixie cut with side bangs complements a rounder-shaped face. Achieve this hairstyle by picking the best side to create your part. It's important to give hair more movement and volume. Then, cut long layers starting from the front of the face. Easy to wear and maintain—who else is in love with this long pixie cut?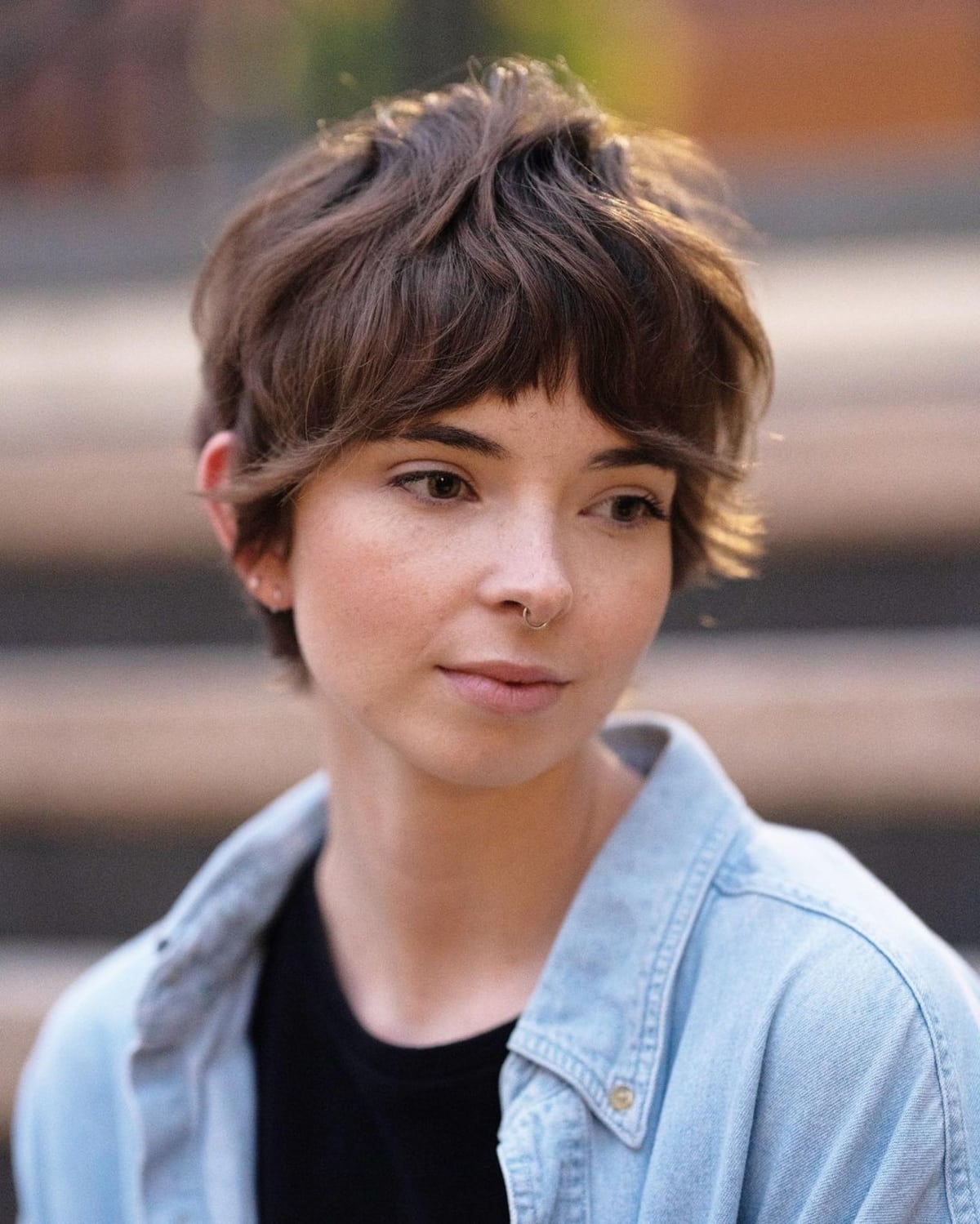 #13: Shaggy Pixie Hairstyle with Bangs
A shaggy pixie hairstyle with bangs makes short hair possible for fuller hair types. The purposely messy texture is created from layering the shaggy pixie cut with fringe, helping remove weight from thicker hair types, reducing some volume, but enhancing movement. Discuss with your stylist the best length of bangs suitable for your facial structure.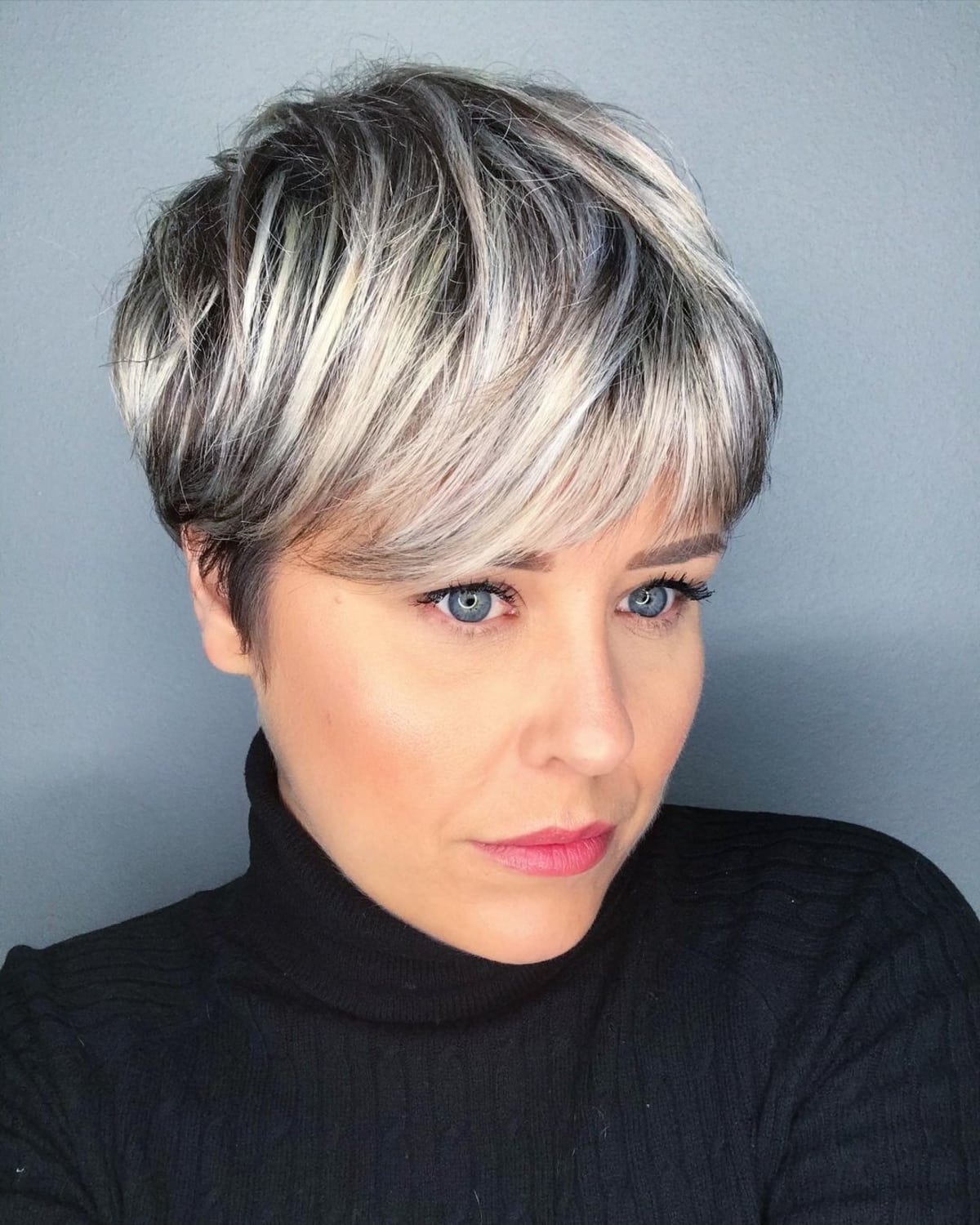 #14: Pixie Cut with Long Bangs
A bold pixie cut with long bangs is done by sculpting and carving the crown area for texture and airiness. Leave a little length around the ears to keep the hair looking soft and feminine. This short hair with long bangs on a pixie cut is quick and easy to style without sacrificing shape and style.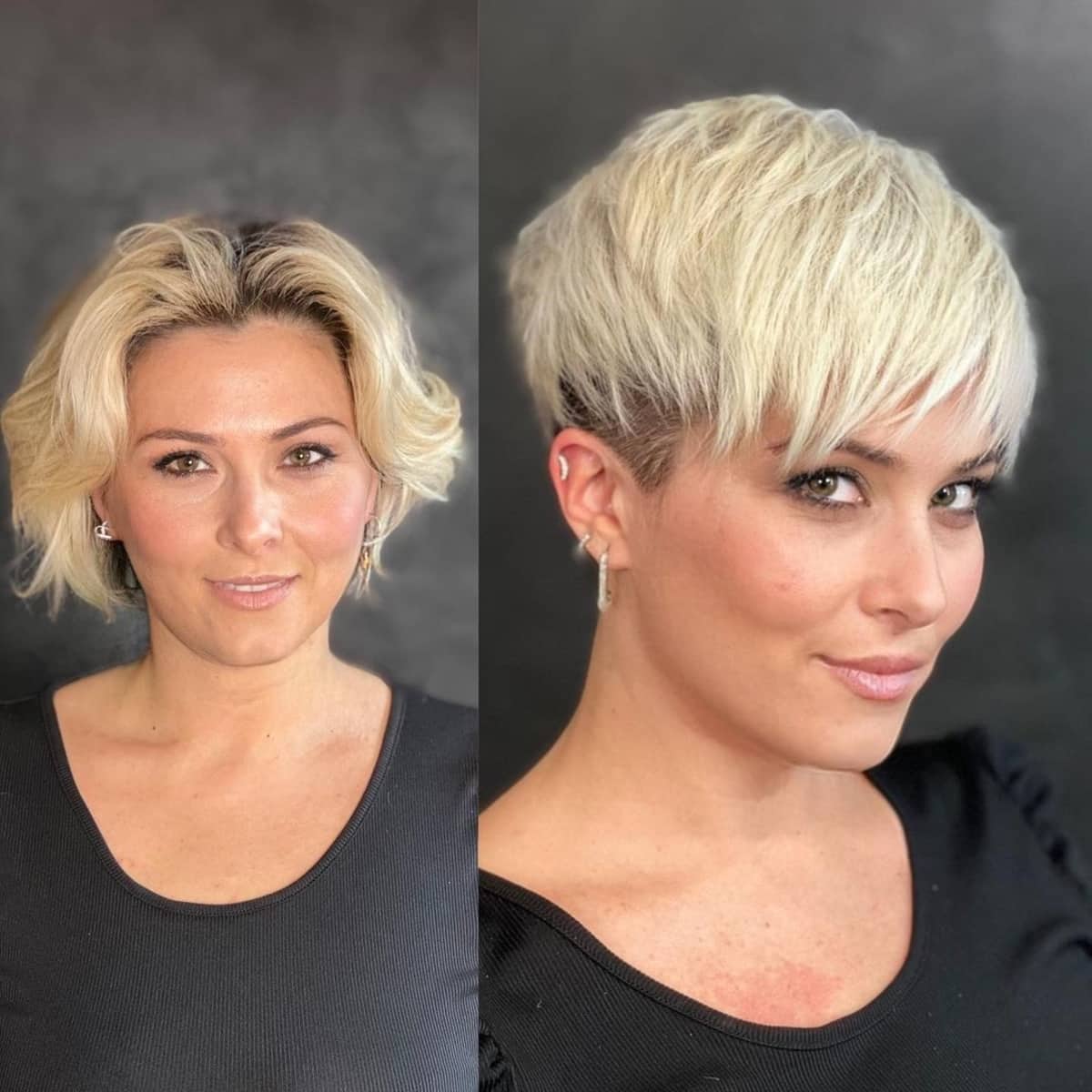 #15: Super Short Pixie Haircut with Bangs
A super short pixie haircut with bangs suits diamond faces, enhancing the cheekbones. Short haircuts with bangs work well on diamond face shapes because they tend to lose width below and above the cheeks. Longer bangs add width to the temples and emphasize cute cheekbones.
#16: Side-Swept Bangs on a Pixie Cut
Side-swept bangs on a pixie cut keep femininity to your look and keep longer face shapes in balance. Adding side-swept bangs will shorten the length of the face as the bangs fall across the forehead. This not only helps the face appear shorter but also softens a structured hairstyle.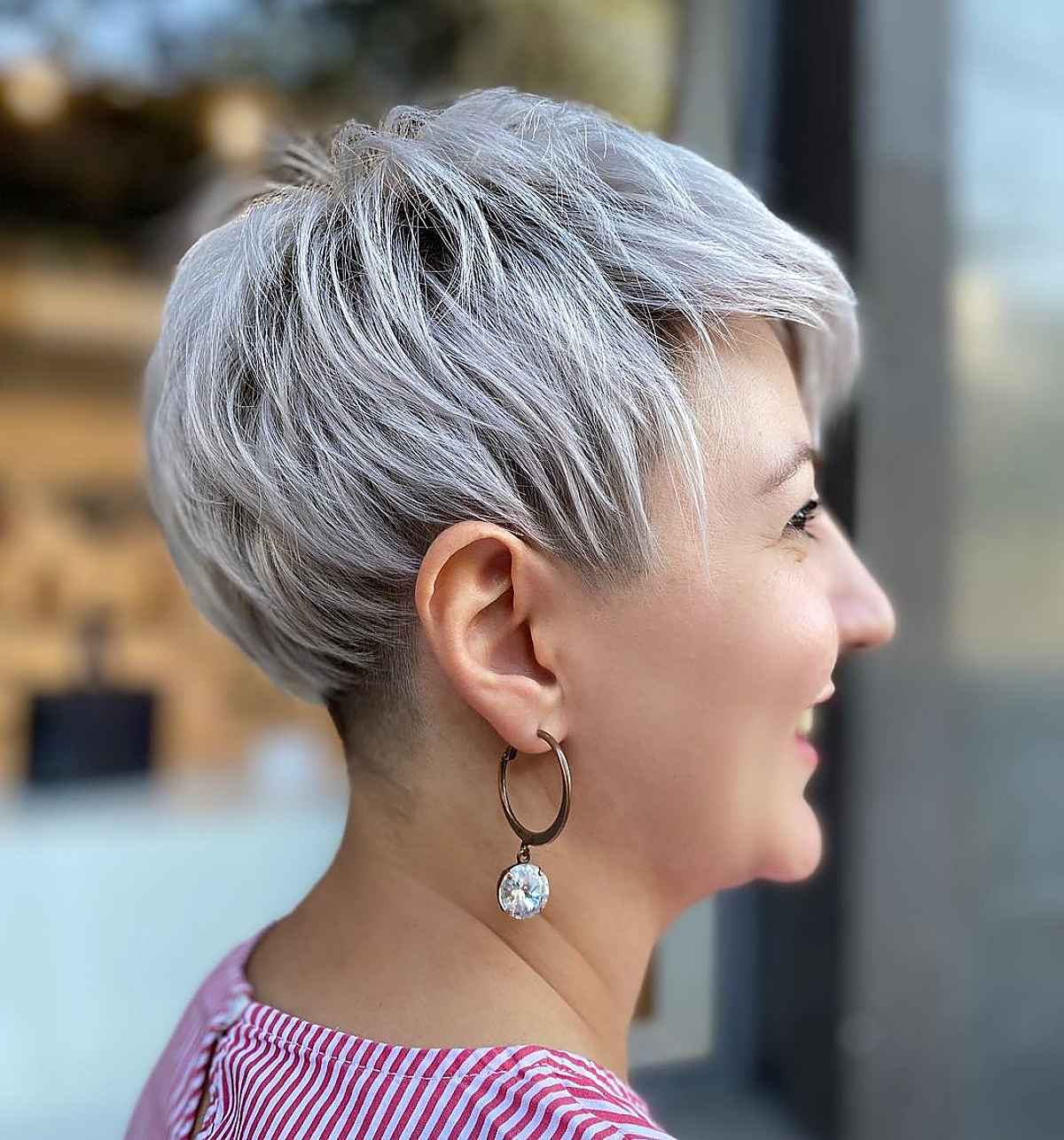 #17: Platinum Blonde Undercut Pixie with Bangs
An undercut pixie paired with a fringe is an excellent choice for women with platinum short thin hair. Undercut pixie cuts will make your hair look fuller and may help a healthier regrowth of hair.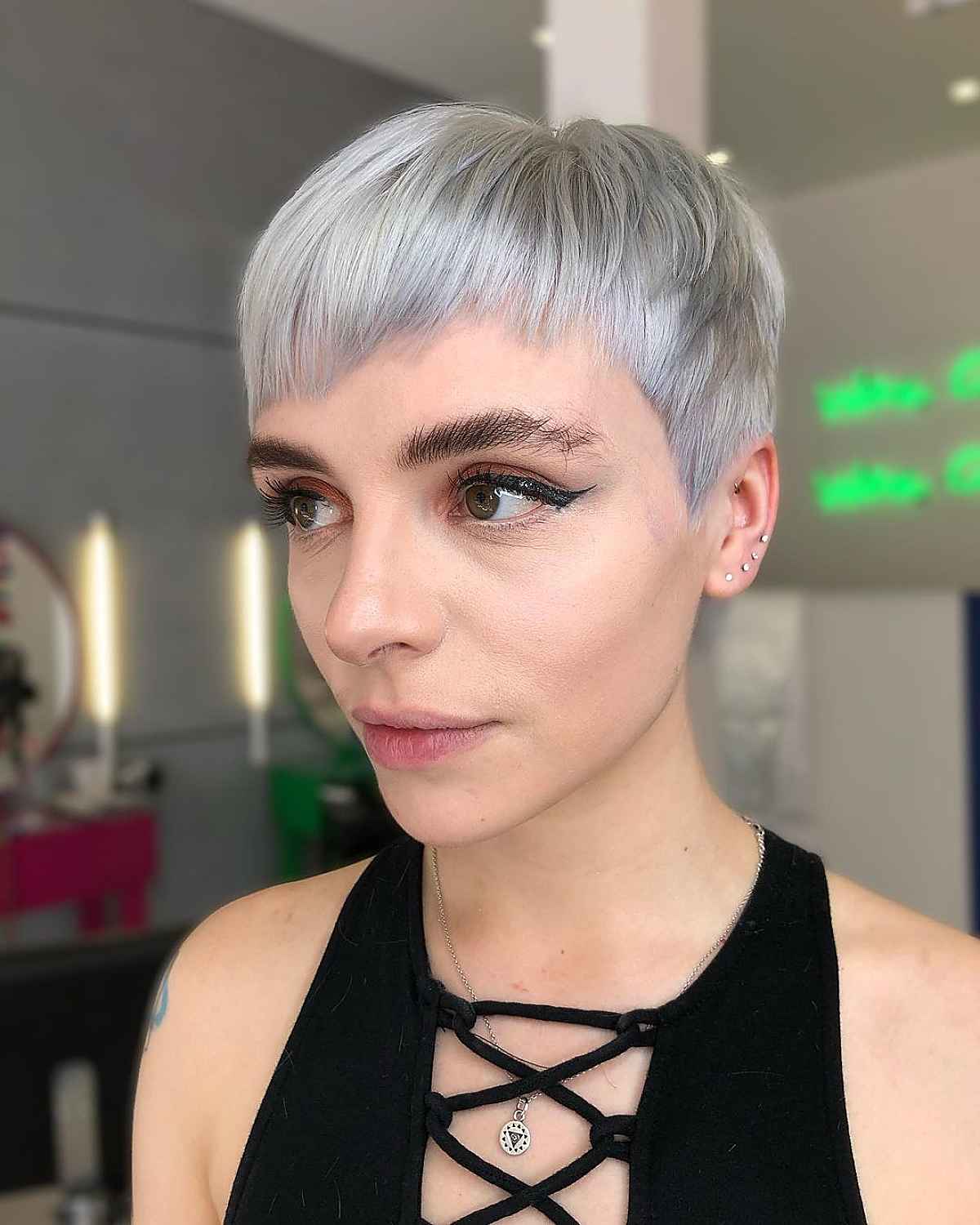 #18: Pixie Cut With Straight Bangs
Opt for a pixie cut with straight bangs and texturized for movement, so the crown looks piecey and edgy. The most important part of a short haircut for a woman is the balance between the shape of the cut and the bangs. Your stylist should determine the length of your undercut pixie with bangs based on your face shape.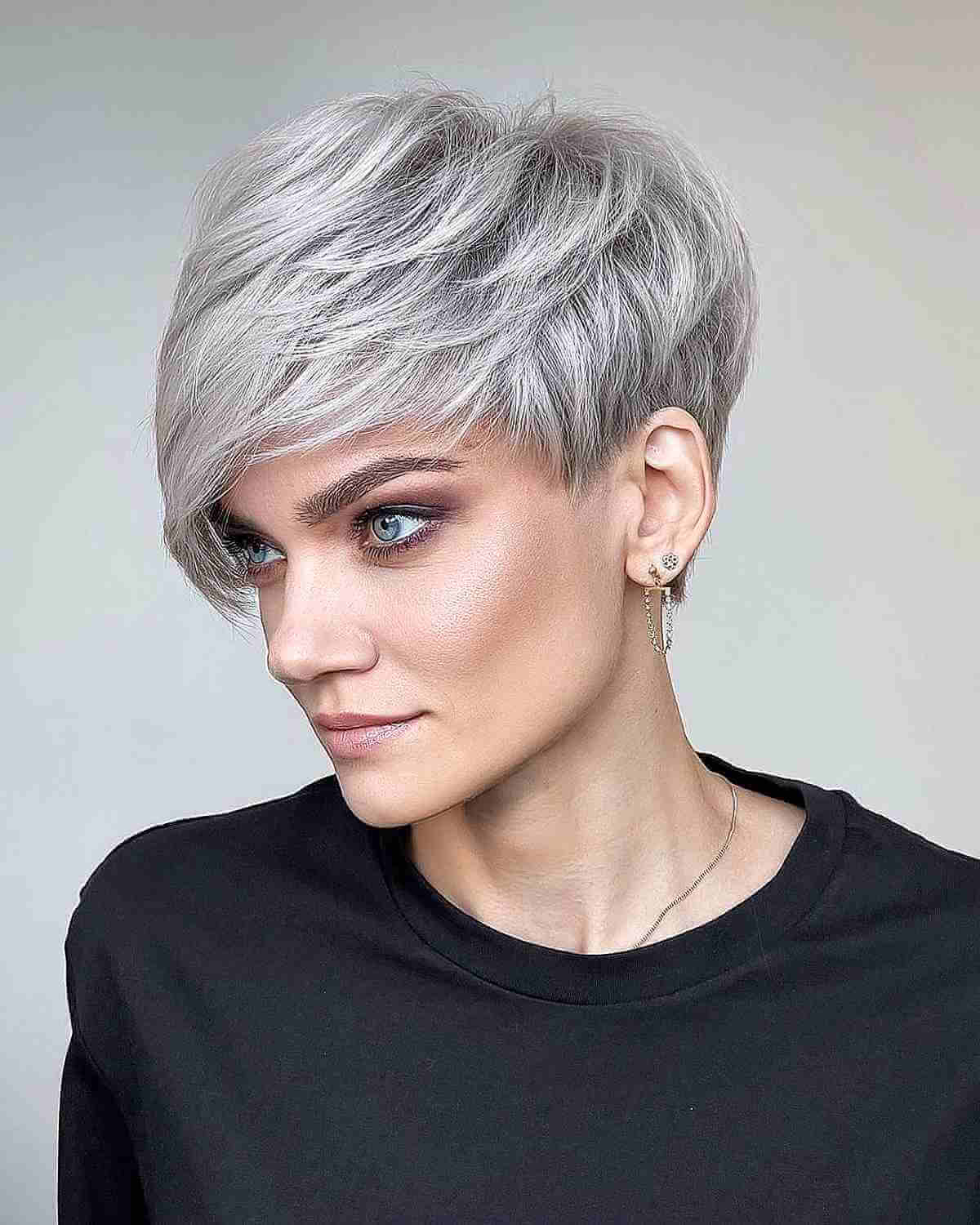 #19: Feathered & Messy Blonde Pixie Cut with Wispy Bangs
A feathered pixie cut with a wispy bang offers a soft look. Short pixie haircuts with bangs can stay fresh for a very long time. Get regular trims to maintain their shape. When styling, spritz a salt spray to boost its texture.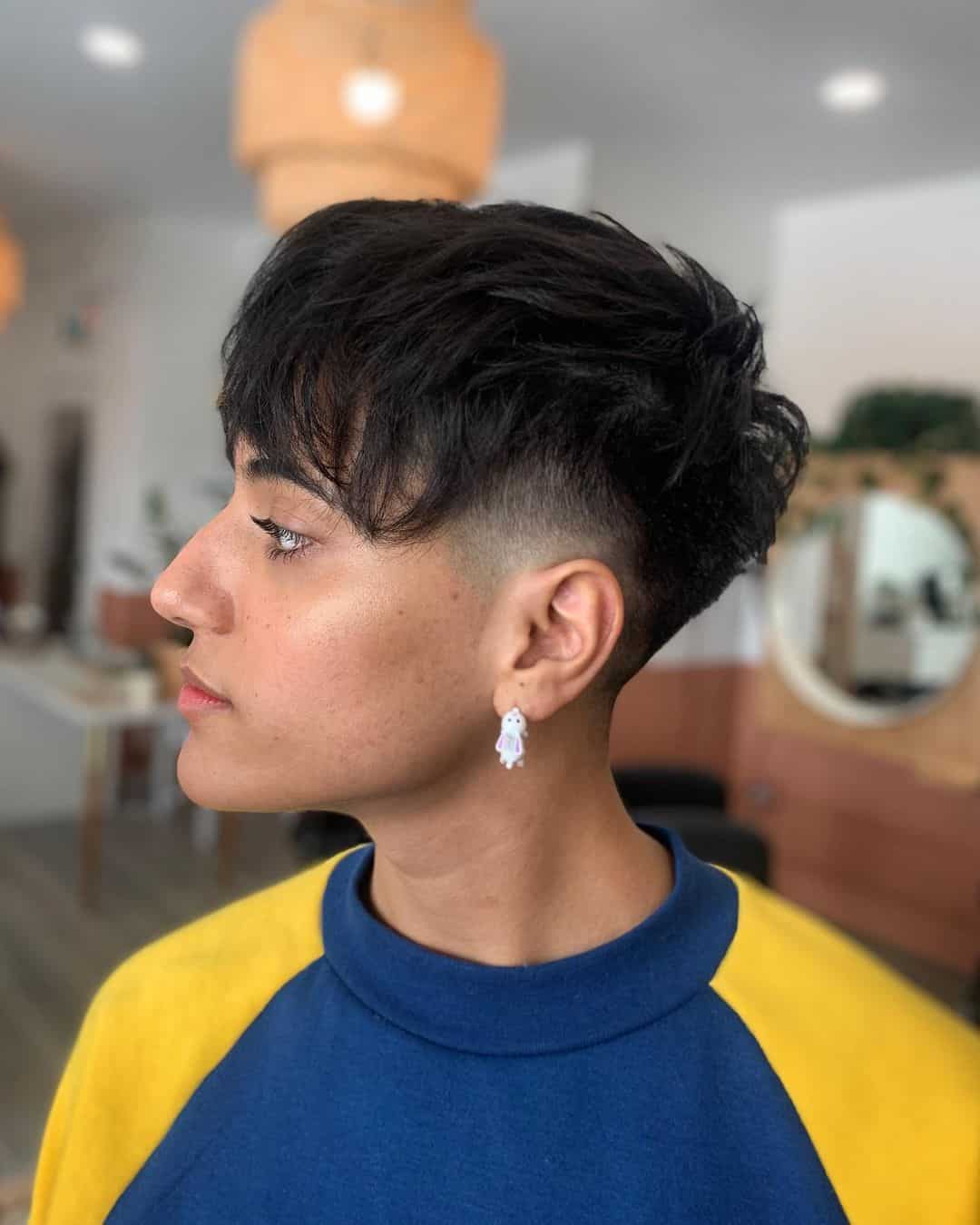 #20: Textured Pixie For Fine Hair with Bangs
A textured pixie and bangs is for ladies with fine hair. For the girl with thin tresses, this short pixie cut with bangs can offer an illusion of a bulkier result. When styling, finish it off with a balm to create separation and texture.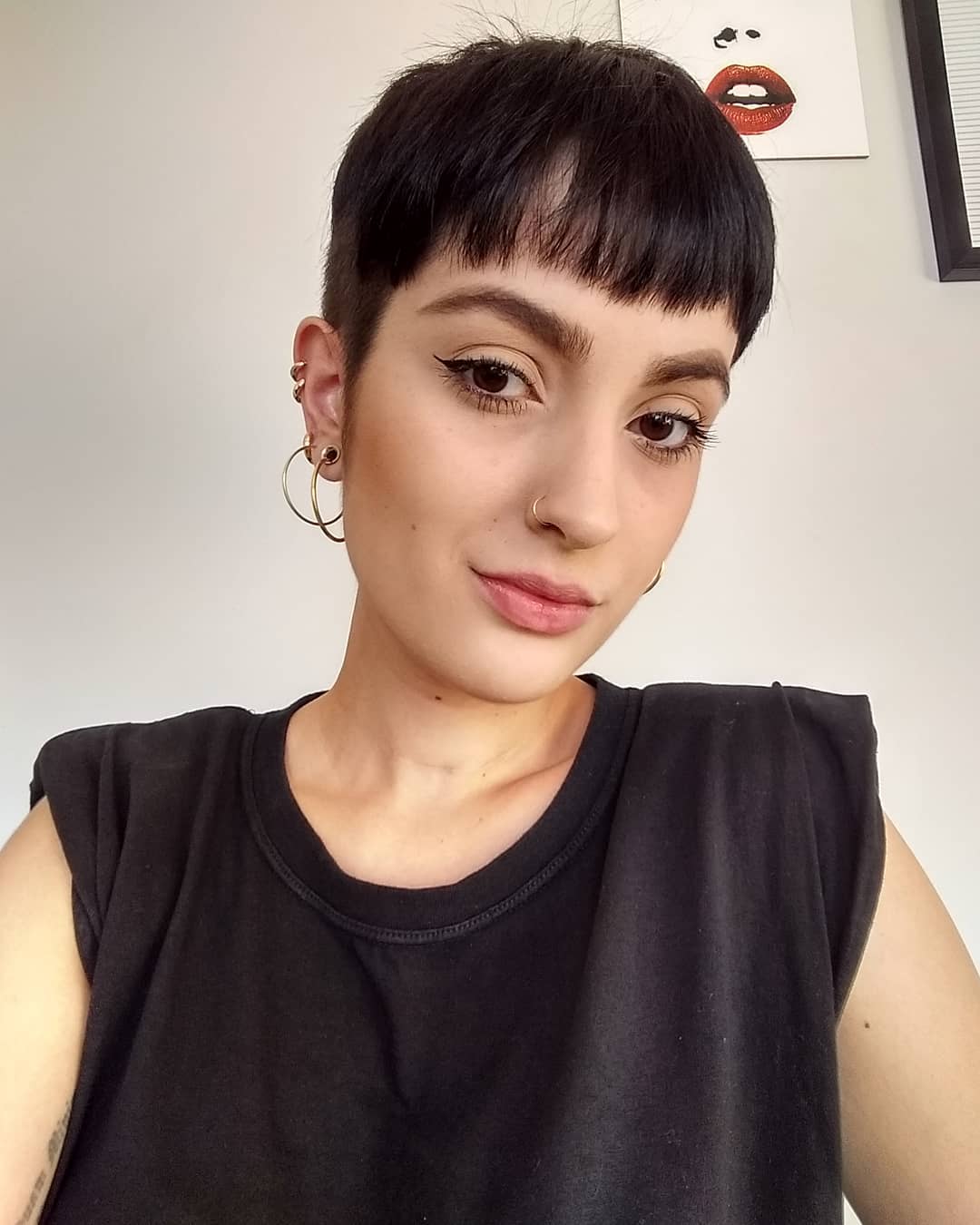 #21: Brown Pixie Haircut with Full Bangs
Short pixie hairstyles with bangs that are full suit women with an oval face shape. Bangs slightly break up the form of a bigger forehead. Opt for this one if you have an active lifestyle and don't have much time for styling.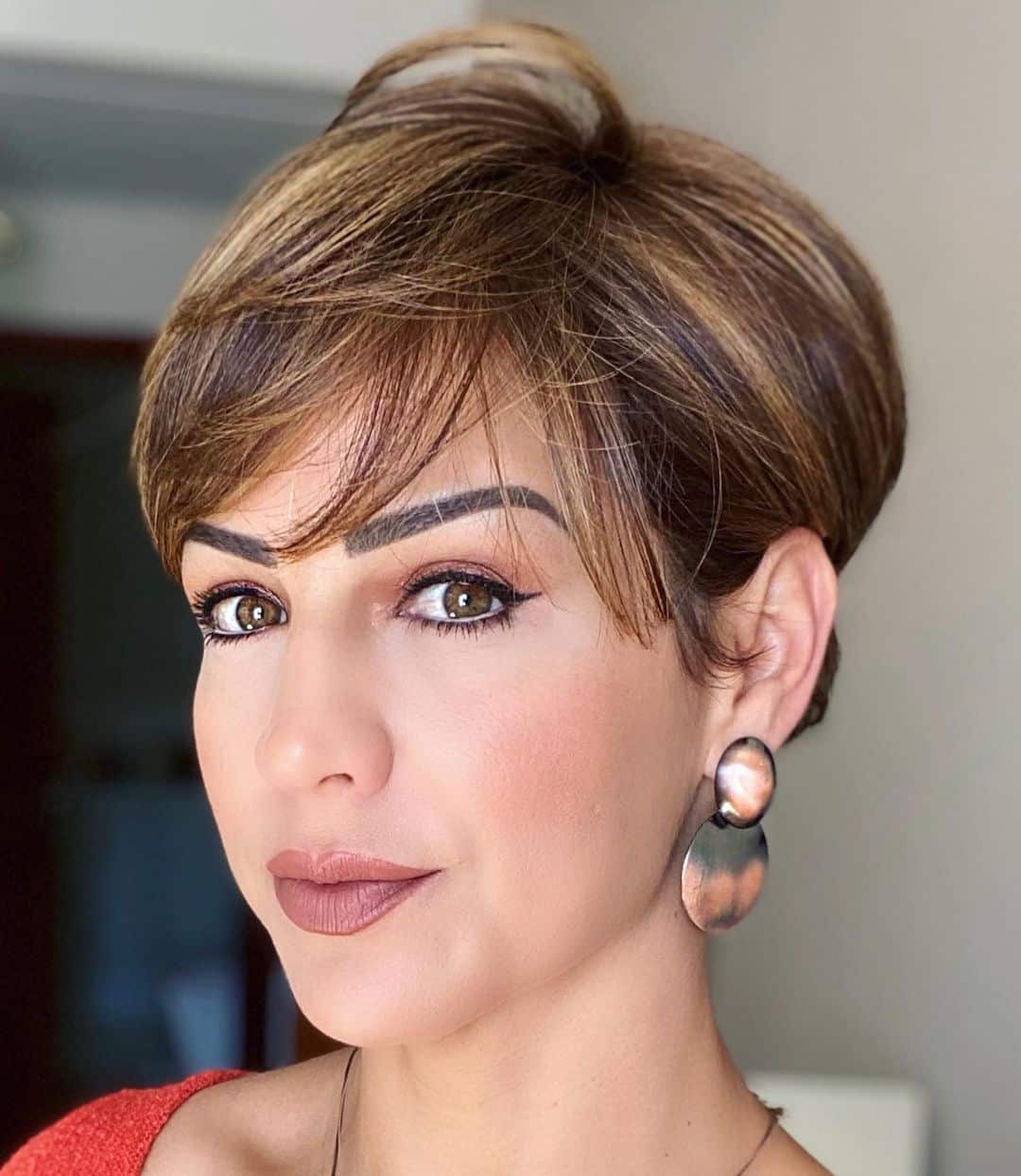 #22: Edgy Pixie Bob with Fringe and Volume on Top
Perk up a pixie bob with a fringe to complete a soft, younger-looking finish. A pixie haircut with bangs works well on thick hair, making it easy to manipulate into any texture. On a related note, check out these pixie bob cuts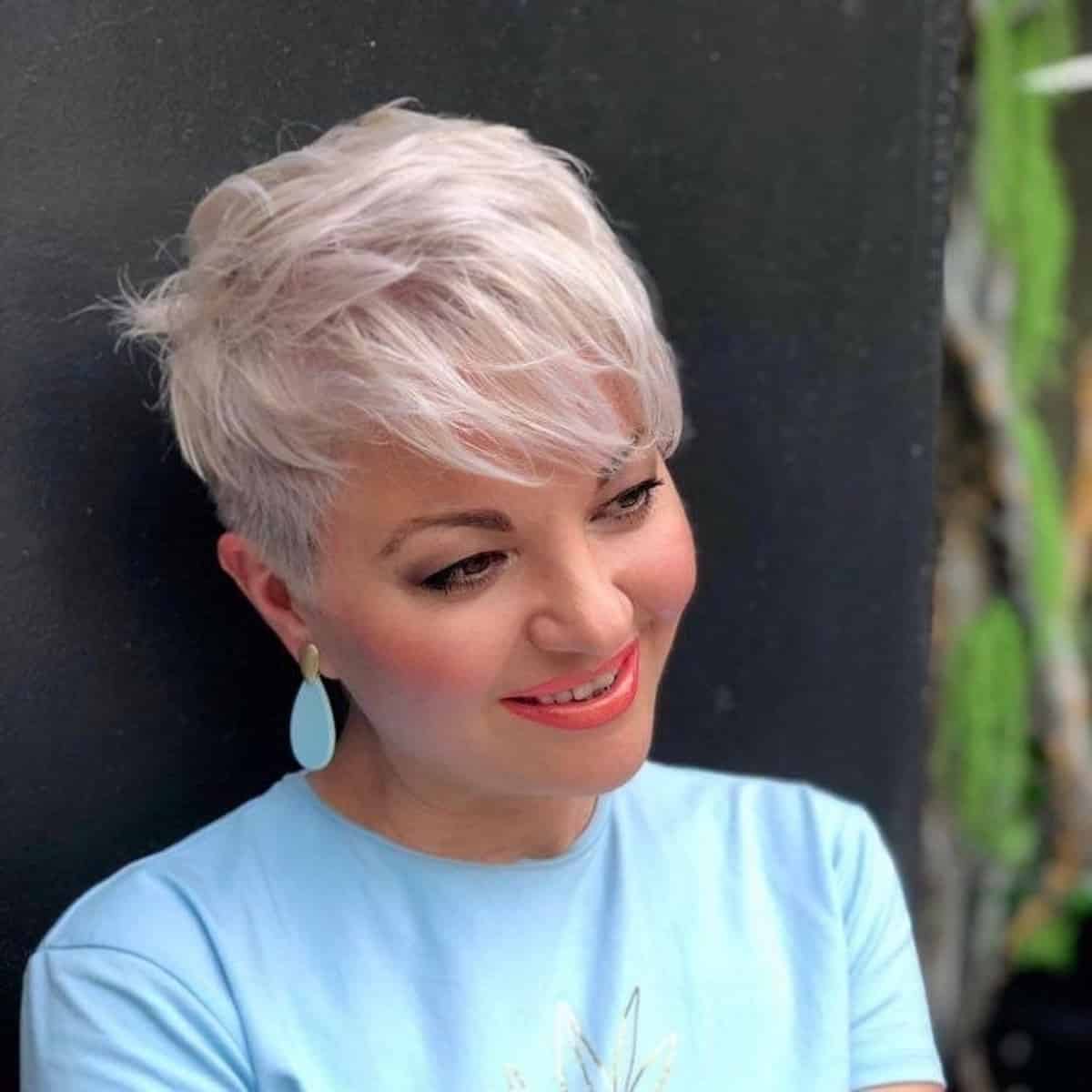 #23: Pixie Undercut for Silver-Haired Women
A pixie undercut looks great with a textured style on top with clean nape and sides. Getting a short pixie cut with bangs with an undercut, combined with a strict square at the top emphasizes the cheekbones and eyes. This makes the face look much younger.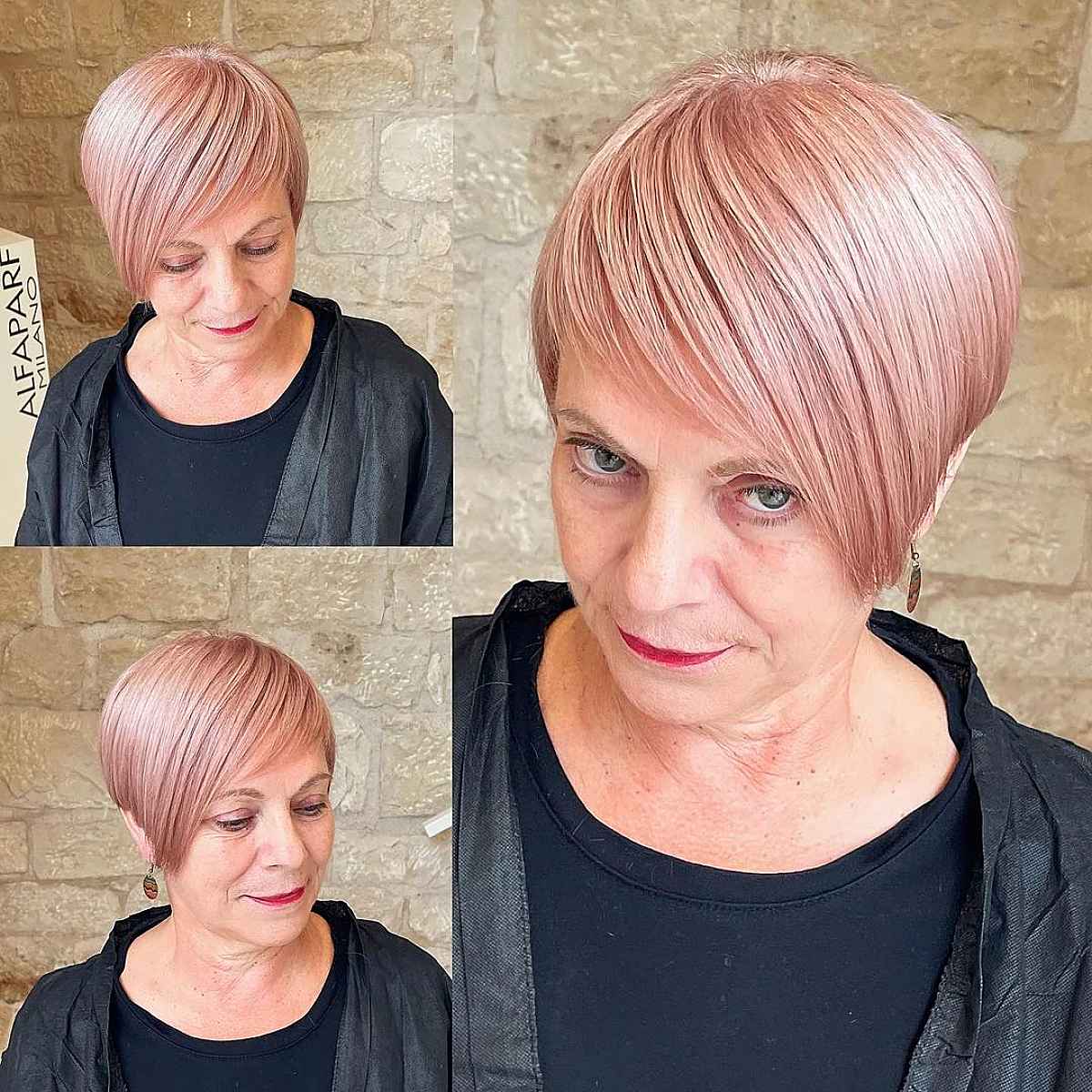 #24: Light Pink Pixie for Older Women
Donning a light pink pixie while being an older woman is the ultimate role model for an authentic self. If all the natural pigment has gone to the wayside and the only thing left is silvery-white hair – make the most of it and go pink! Depending on your skin tone, try a pink pixie with a lovely shade of red, purple, or of course – pink.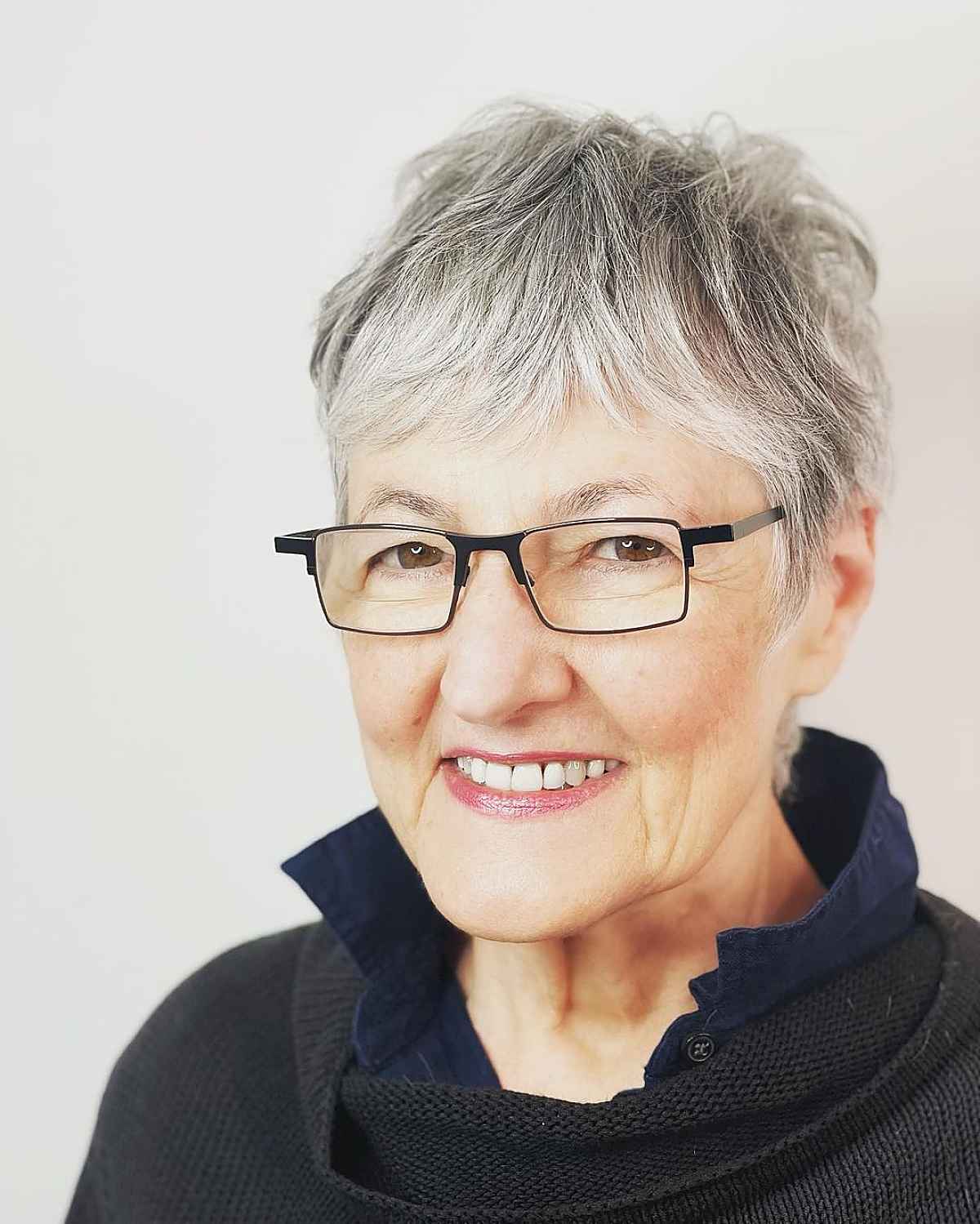 #25: Grey Pixie for Women Over 60 with Glasses
A grey pixie with a fringe looks flattering for women over 60 with glasses. The soft texture around the face gives separation and style while keeping hair away from glasses. Consider a razor cut to really enhance texture and movement. No need to style just wash and go.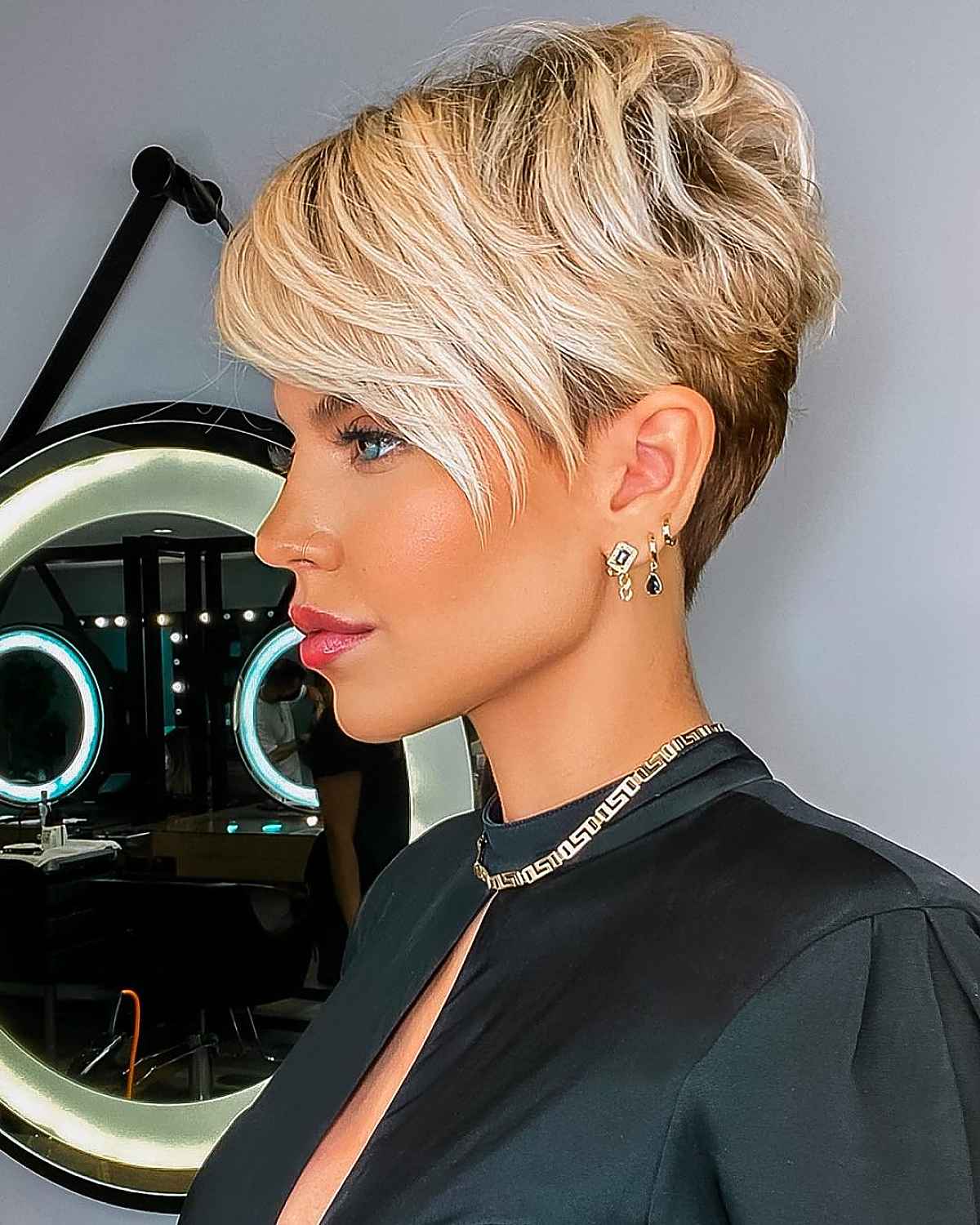 #26: Messy Blonde Pixie with Side Bangs
A messy blonde pixie with side bangs is perfect for women who want a short cut but also want facial framing. Cheekbone grazing side bangs help balance heart and diamond face shapes. You'll definitely want to grab a texture spray to help bring out the texture and add shininess.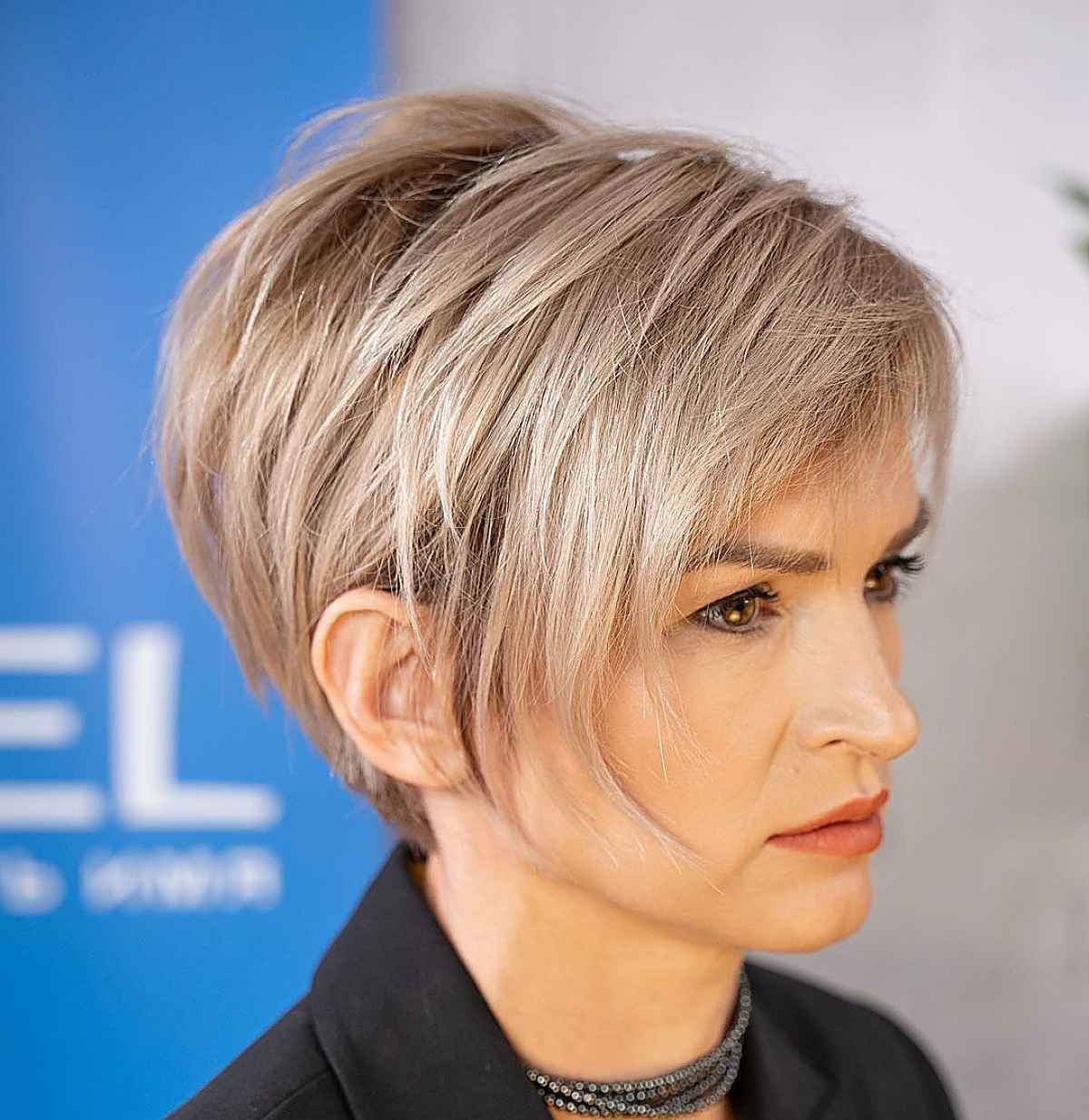 #27: Chic Pixie with Side Fringe and Side Burns
A chic pixie utilizes side fringe and sideburns to modernize a classic cut. Soft, but noticeable texture helps blend out the fringe, allowing for extra length around the face. This crop balances the best of both worlds: a short cut with the security of face-framing.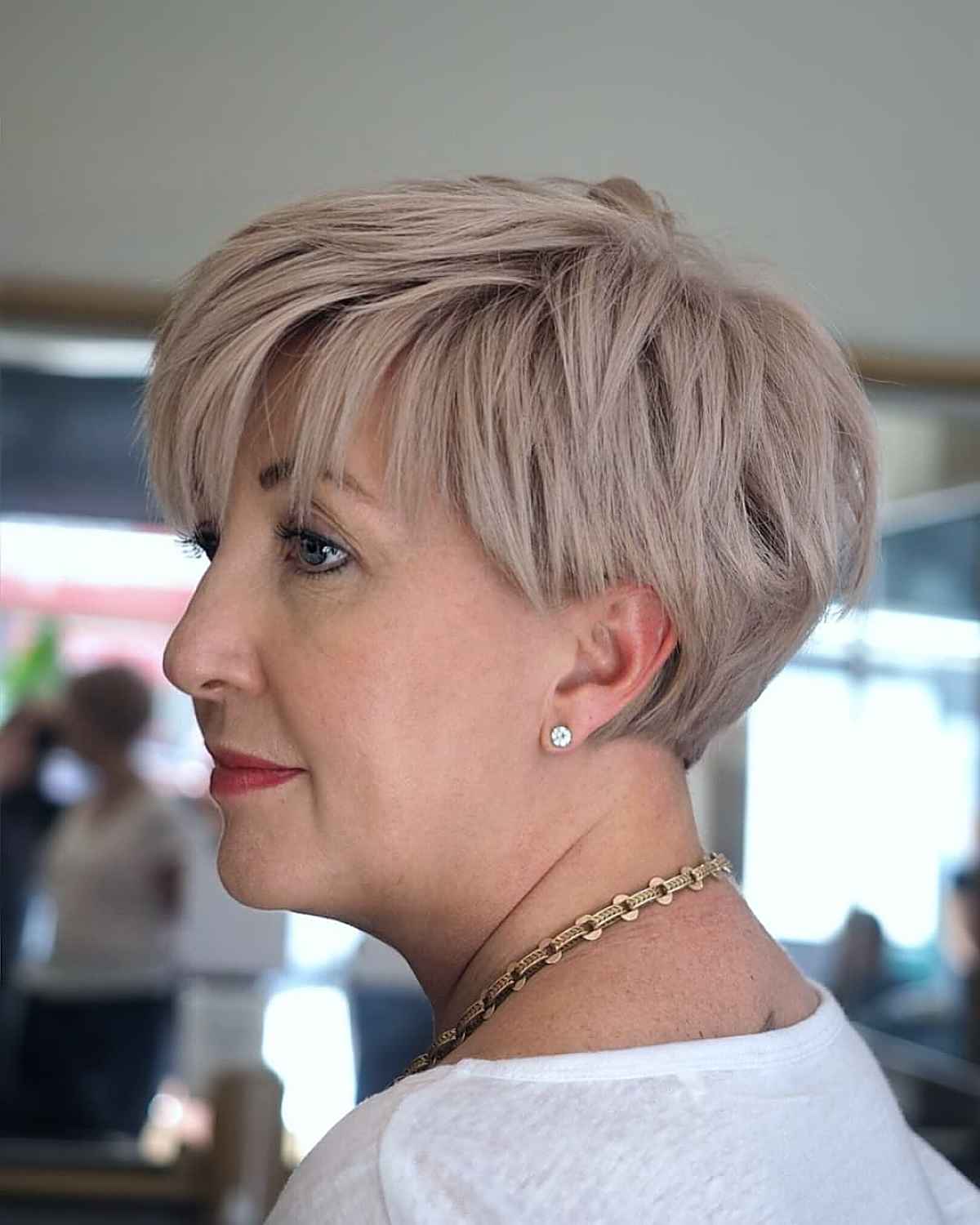 #28: Tapered Blonde Pixie with Long Bangs
A tapered pixie with long bangs is an elegant and classic style. Perfect for a professional environment, this cut is chic and powerful. It will work on a variety of hair textures as well. Blow-dry with a round brush for volume or style with a flat iron for something sleek.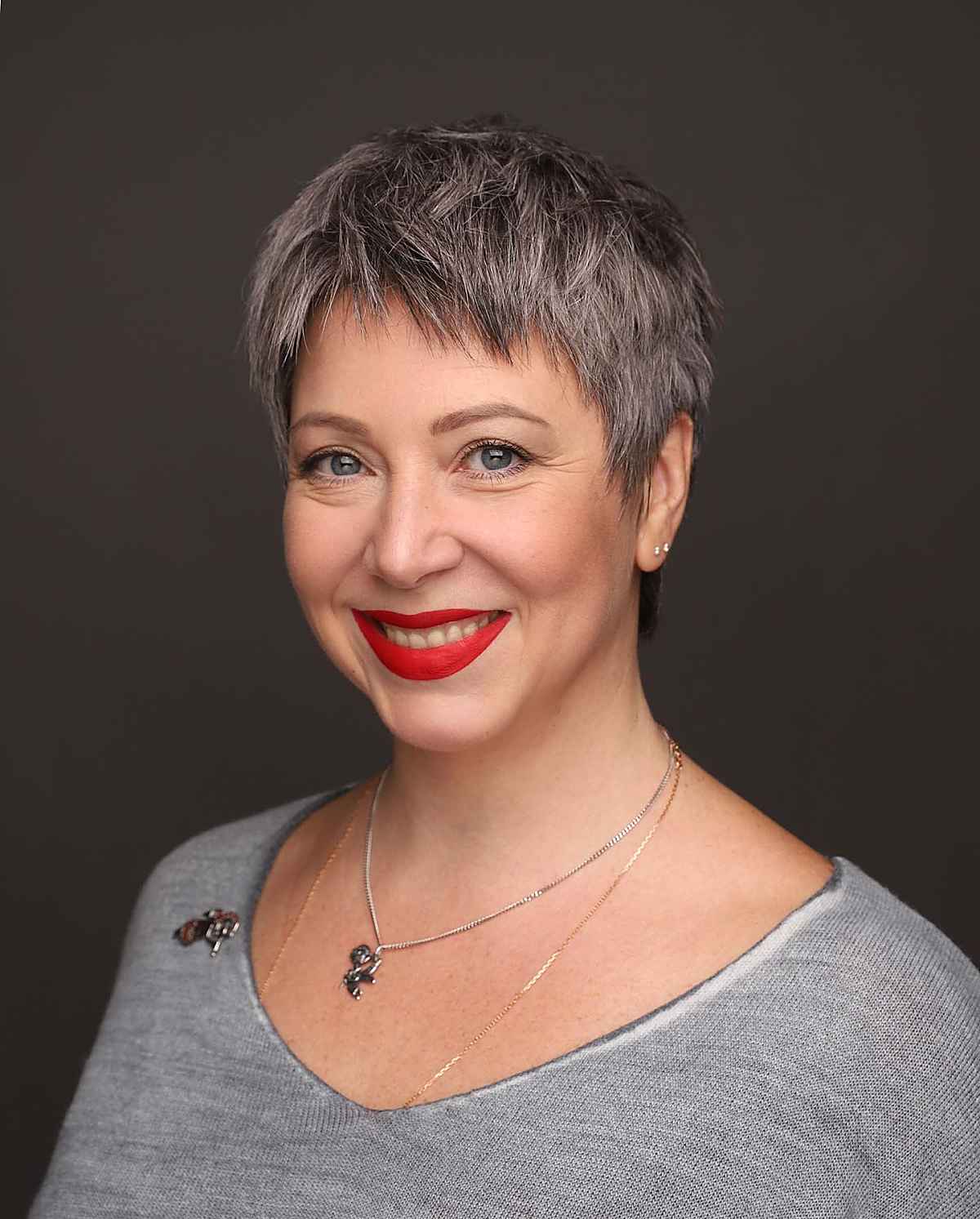 #29: Soft Pixie for Older Women with Grey Hair
A soft pixie cut works well on older women with fine grey hair. Ask your stylist for lots of texture and layers. Style with a texturizing style cream such as Cult and King Jelly to enhance the texture and add shine.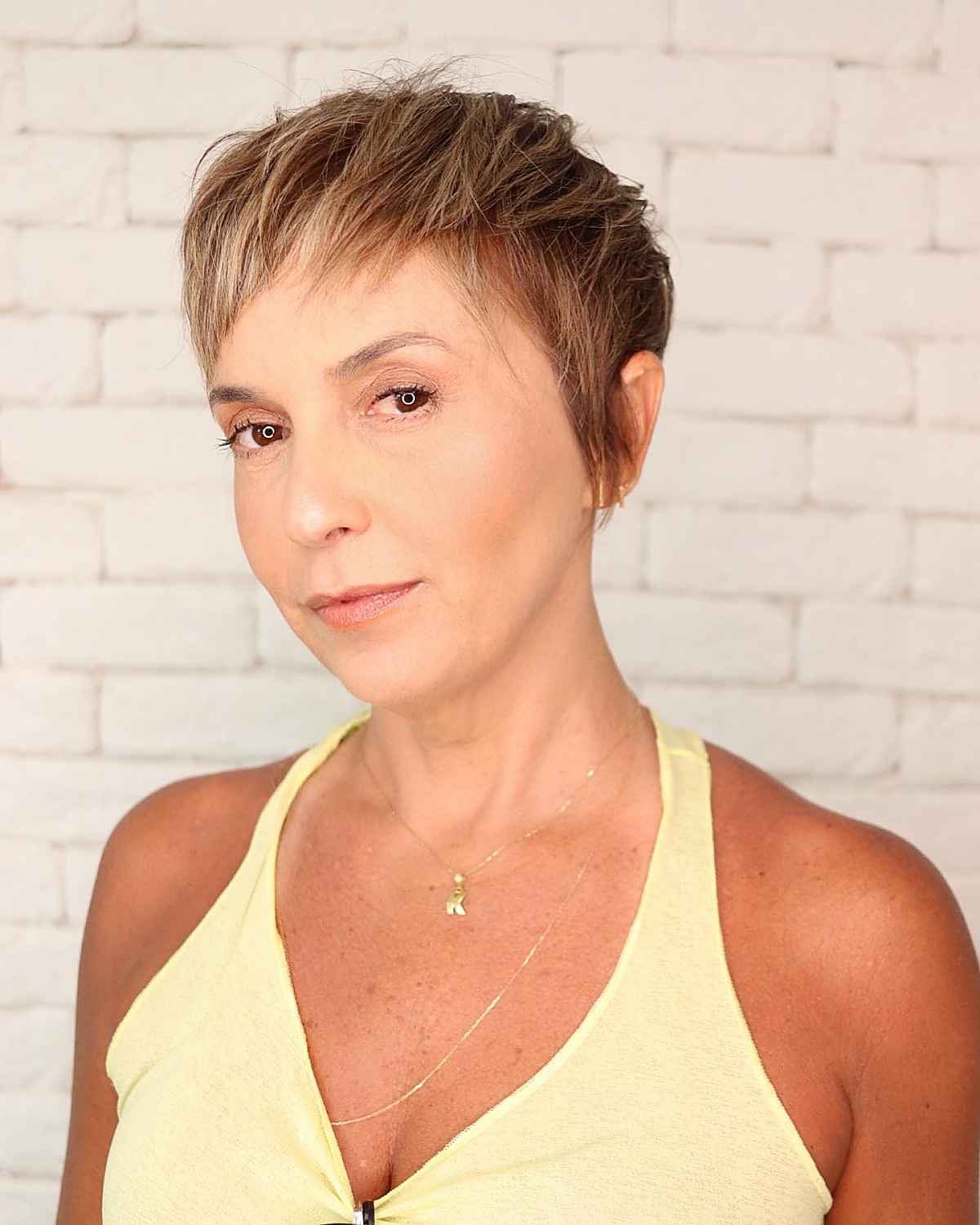 #30: Short Pixie Hairstyle with Bangs for Women Over 40
Try a short pixie hairstyle with bangs if you're a woman over 40. Short haircuts tend to exude high confidence in women, not having to hide their face. Because the cut is cropped close to the head and face, this is easily one of the lowest maintenance styles. A styling pomade distributed evenly throughout and some quick finger styling will have you on your way.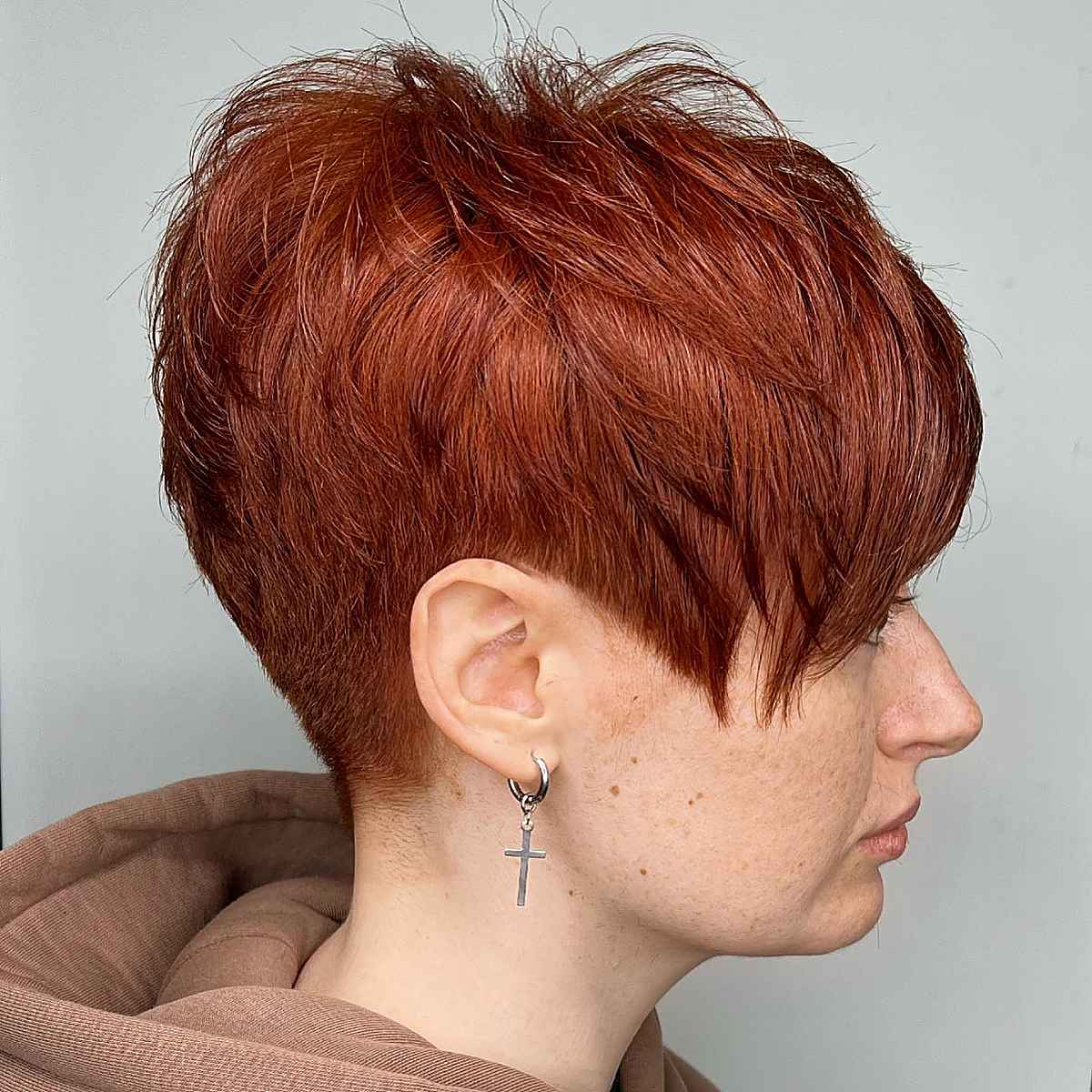 #31: Copper Tapered Pixie Cut
Consider getting a warm copper tapered pixie cut if you're wanting a new haircut that you can style both reserved and playfully. Very low on the sides and back, the top layers are typically cut with razors and different shear types to create dimension and plenty of texture. The bangs can be swept to the side for a soft daytime style. In the evening, turn it up with hairspray, a flat iron, and some piecing of the ends to give this haircut a more edgy style.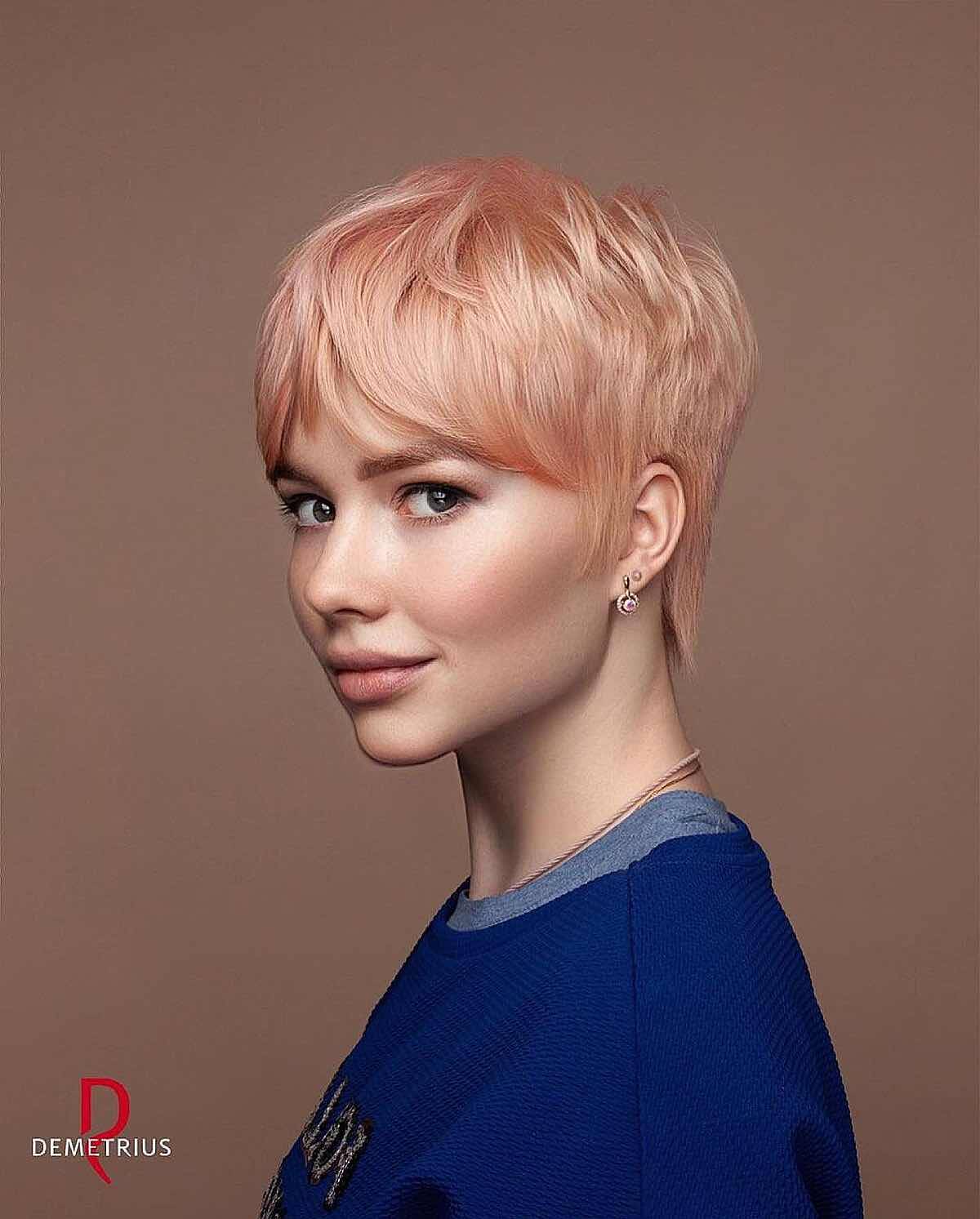 #32: Pink Pixie with Curtain Bangs
A pink pixie with curtain bangs is an edgy yet youthful approach to the classic pixie cut haircut. Curtain bangs can be customized to frame features of the face and even be styled with wax to give it a piecey look, or blown out with a bend to give it flair at the ends.