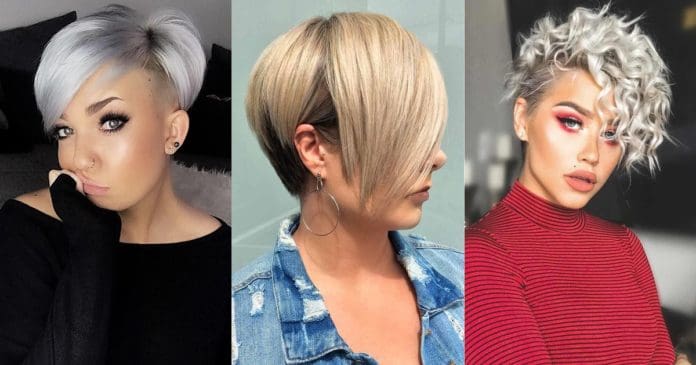 A long pixie cut is not only trendy but also pretty advantageous. It is a nice way to cut your hair short and, at the same time, to preserve some length. During the summer heat, it is the perfect way to save yourself from heavy sweating. And when it gets colder outside, it will keep you longer in bed due to the easy styling ways.
How To Style A Long Pixie Cut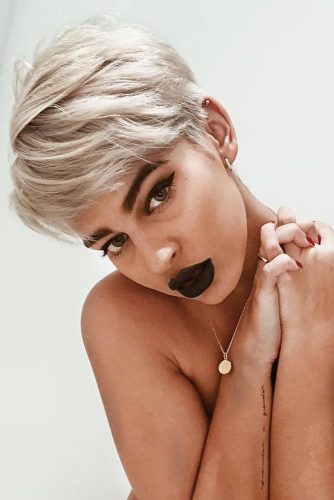 Figuring out how to style a long pixie cut can be a painful learning experience. Especially if you've been used to styling your long hair, you will certainly be in for a shock. You will transform from styling the long clean hair to learning how to style short dirty hair that is moldable. Clean short hair will do nothing but fall flat. You will also use totally different types of hair products. This model's white blonde hair is styled in a beautiful side swept fashion. The color contrast of her hair with her darker complexion creates an interesting combination.
Source: lauraescanes via Instagram
Long Pixie Cut For Fine Hair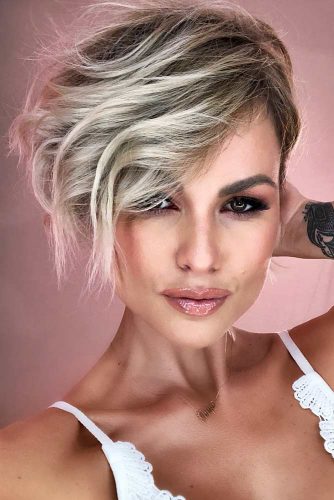 This is an excellent long pixie cut for fine hair. This model's messy waves add volume to her fine hair type. Although this is an exceptionally cute cut, it may not work as well for you, if you don't have the proper face shape. The model's long top length is accentuated by the side part that also plays a role in volumizing fine hair. This side parted style allows the tousled waves to cascade, giving an illusion of thicker hair.
Source: anyastar via Instagram
Long Pixie Cut For Thick Hair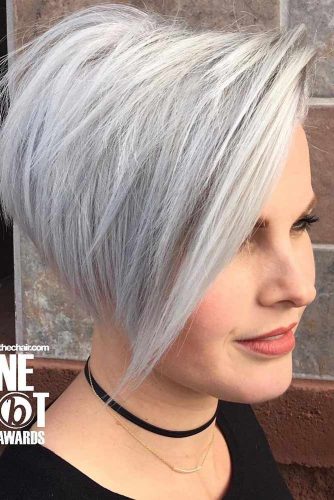 I think this is the ideal long pixie cut for thick hair. While it would work for a thin hair type, it works exceptionally well for thick hair. The short length and stacked effect in the back are beautiful aspects for this cut. It can also work well for various hair colors but really stands out with lighter shades like silver and platinum blondes. This is due to the lighter colors catching the light. With that being said, even highlights look great with this cut.
Source: emilyandersonstyling via Instagram
Long Pixie Cut For Thin Hair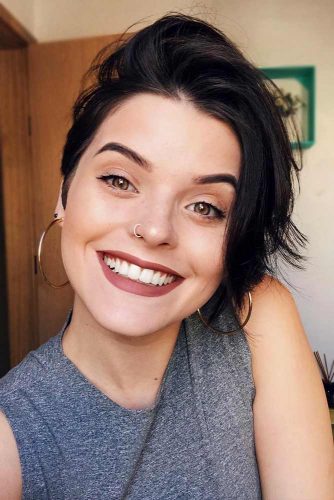 When choosing a long pixie cut for thin hair, picking the right cut is essential. If you choose the wrong cut for your face shape, then you will be chasing an unattainable look. With thin hair, a key element to achieving the right style is layers. With darker hair and brown hair tones, achieving texture is very important for obtaining the right look. A textured haircut is a very popular choice for brunettes. The choppy layers give definition to what can sometimes be a boring hairstyle. Oftentimes women are afraid to leap into the edgy side of hairstyles preferring a safer, softer look. And in reality the edgy look would be much more flattering for them.
Silver Pixie Cut With Long Bangs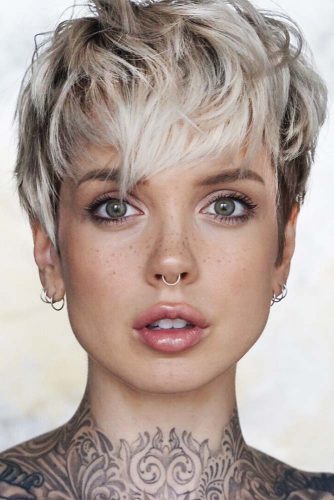 This long pixie cut with bangs has layers and edges to frame the face. The bangs draw attention to the eyes. This cut tapers up to a desirable top length, and the various edges of the cut provide volume and depth to this model's hair. The beautiful silver color on her hair continues the contrast theme adding additional depth to this cut. If you choose to get a silver hair color, it is suggested that you use purple shampoo to extend the life of your color.
Long Pixie Cut – Fresh Look For 2019
Source: yokii.san via Instagram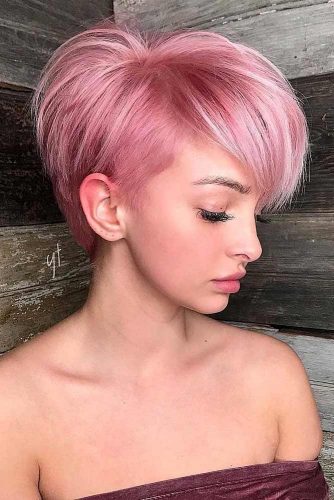 If you're looking to spice things up this year, you should try out this long pixie cut 2018 style. This cut and color combination should be nicknamed Northern Lights with its pale rose hair blended with whitish ends. This colored pixie is a piece of art with perfectly blended colors. The volume and lift provided by the length on top compared to the short sides is astounding. This side and back length can be altered as can the top length, but this hairstyle is heart-stopping.
Long Pixie Cut For Round Face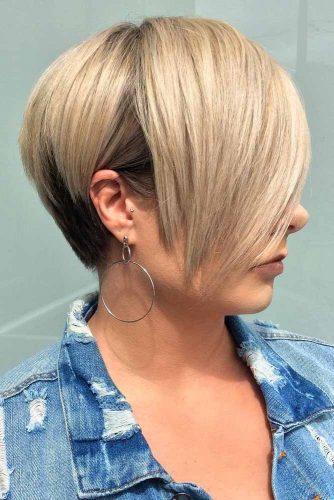 Next, we will discuss the long pixie cut for round face shapes. Women with a round face shape can often get by with a much shorter pixie cut than women with other face shapes. However, the pixie on the model above is accentuated beautifully with the soft wheat blonde color with slightly darker roots. Let's not forget to mention the depth of this voluminous hairstyle. This style gives the appearance of very thick hair while allowing the wearer to remain cool and comfortable.
Ways To Style A Long Pixie Haircut
Source: autumnhartt via Instagram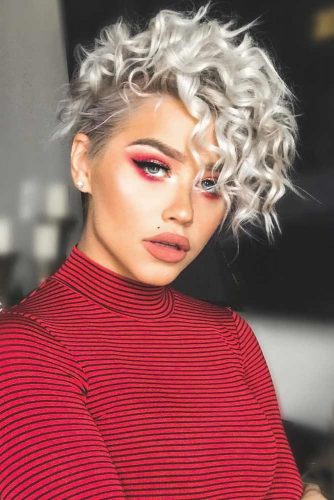 While there are several ways to style a long pixie cut, it seems that everyone has their favorite style that suits their personal taste. The wavy look on the blonde hair of the model in our photo is stunning. When styling a pixie cut, it is important to begin with towel dried hair and not use too much heat when applying hair products. Having the right hair products as well as hair brushes for your hair type is essential. If you have naturally curly hair then lucky you. If your hair isn't naturally curly, you can use a curling iron or straightening iron to provide the wavy look.
Silver Long Pixie Hairstyle
Source: mademoisellehenriette via Instagram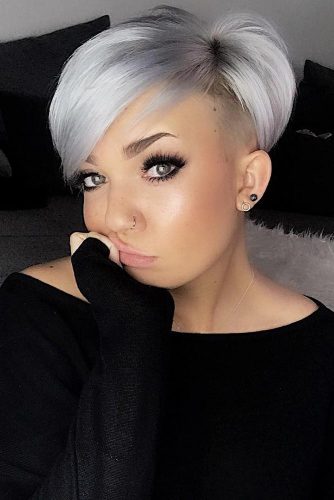 This is one of my favorite long pixie hairstyles that I have come across recently. It may be a bit drastic for some, but the silver hair color absolutely pops! The top is blow dried out straight, and it lays neatly in place. The side shaved effect compliments the cut so well it is hard to overlook it. The versatility of this hairstyle makes it a highly preferred cut.
Pushed Up Pixie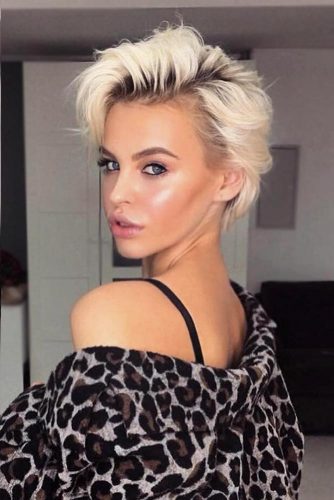 The secrets to beautiful pixie haircuts for women are layers, layers and more layers. Some women fight the battle of taming their hair while others fight the battle of building up their hair. Having the proper hair care products is a must when styling your pixie cut. This is especially relevant if you are trying to go for a pushed-up hairstyle. The whole point of a pushed-up hairstyle is to add volume and height to your hair. If you fail to use the proper hair care products, all your work will be in vain, and your style will flop before you've made it halfway through your day. Play with your style and decide which products work best for you and your hair type.
Long Layered Pixie Cut
Source: sarah_louwho via Instagram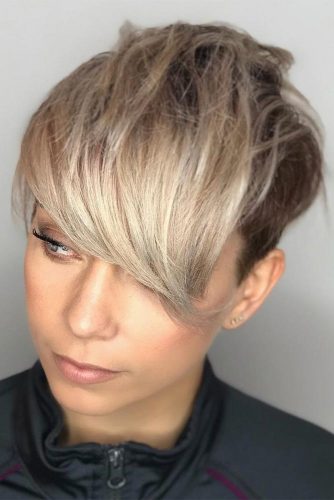 This long-layered pixie cut is one that is preferred by women who don't have a lot of time to style their hair. They are looking for something low maintenance that they can simply run their fingers through and go. The layers add just enough volume to keep the hair from falling flat, and the long bang effect leads to a stylish flair without seeming too plain. This hairstyle also has a choppy look, adding to the edgy style that is so "en vogue" now. With the hairstyle in this photo, you do not need a great deal of time and hardly any hair products whatsoever to achieve this style. It is one of the simpler pixie cuts.
Pixie Cut For Thick Hair
Source: emilyandersonstyling via Instagram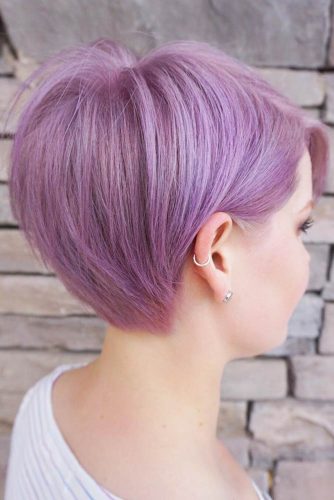 There are various styles of pixie cuts for thick hair, from stylish, chic cuts to choppy boy cuts that still have a feminine flair to them. Depending on how much styling you wish to do, you can choose to either blow it out straight or allow the hair natural texture to shine through in a style. The same goes for adding a splash of color as this model did with her purple hair. Purple hair has become extremely popular recently and is all the rage along with silver and gray tones. This pixie cut actually borders on the edge of being a short bob, but the tight stacking in the back allows it to remain classified as a pixie cut.
Pixie Cut In The Front And Back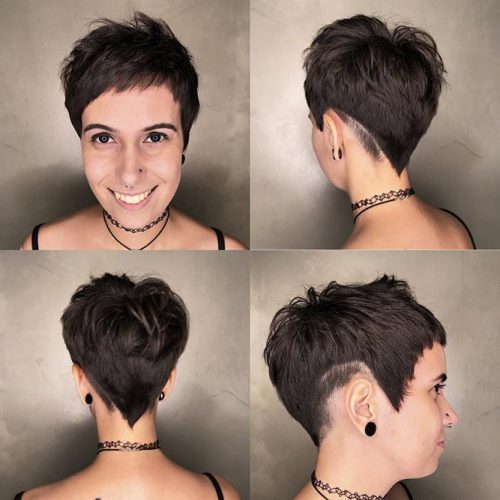 Before walking into a salon and telling your stylist, 'I want this!' it is important that you look through pictures of pixie cuts front and back. You may think you like something until you realize your stylist has the clippers in her hand about to trim your hair with a #1 guard. Women who have dark hair can sometimes pull off a closer cut than lighter haired women can, but specific cuts work better for certain hair styles, types, and colors. It is vitally important that you discuss in depth with your stylist concerning the degree of the undercut you want to achieve.
Texture + Layers + Side Bangs
Source: salaoevva via Instagram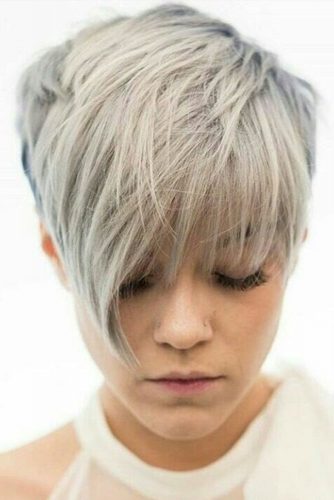 When getting ready for a cut, it is always a good idea to search the Internet for various pixie haircut galleries to know your options. You may think you want something sleek and sassy, but actualy, a textured cut may flatter your facial features in a much better manner. In most pixie cuts, the side bang hairstyle is almost always present and is a feature that draws women to this hairstyle.
Messy Pixie Cut
Source: amburgerofhair via Instagram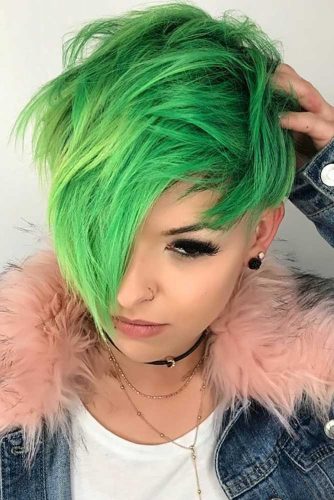 The messy pixie cut like the one pictured above has become excessively popular. Add the green hair color, and you are really rockin' your style. Such dramatic colors that were reserved for a more reckless personality a few years ago have become almost commonplace today. The layers and a long fringe plays well with the messy look and gives an almost carefree attitude. Stepping out of your comfort zone may be just what you needed to open up a whole new, fun you!