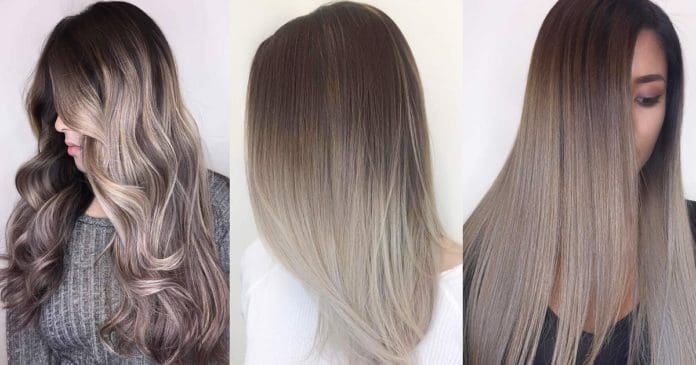 Ash brown hair colors, with their smoky and cool green, blue, and grey undertones, let you upgrade your brown locks in a subtle, stylish way.
The ash hair color will work for any season. Plus, almost every woman can pull it off.
Many people believe that the ashy shade is better for ladies who have a cooler skin tone. Even though this is true, it does not mean that ladies who have a warmer skin tone cannot go ash brown. Actually, they can, especially if their skin has some peachy undertones.
If you are tempted to go ash brown, the great news is that ash brown hair comes in a variety of hues: dark grayish ash brown, ash brown sombre, natural ash brown, chestnut ash brown, ash brown ombre, ash brown balayage, ash brown with highlights, and many others. So, the choice is really wide. Let's see these rich and beautiful hues and learn how to take care of them to save their richness for a long time.
Ash Brown Sombre With Mushroom Shades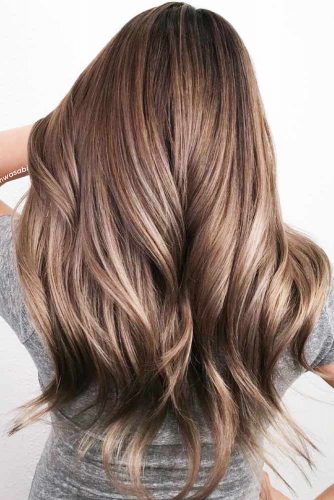 Mushroom brown hair is one of the trendiest looks for ash brown hair in 2019. The color is inspired by portabella mushrooms and is a stunning blend of brown, ashy gray and purple hues to form a cool shade that is ethereal and sophisticated.
If you have ash brunette hair, you can't go wrong with this stylish blend of colors. It works for all shades of brown hair but is especially pretty on ash brown tresses. This sombre ash brown blend with mushroom hues is so soft and feminine. It starts off darker and slowly fades to very light brown sombre at the ends. The blend of mushroom tones throughout adds a ton of depth and dimension for a color that is sexy and one of a kind.
Medium Ash Brown Hair With Blonde Highlights
Source: mr_colorist_2017 via Instagram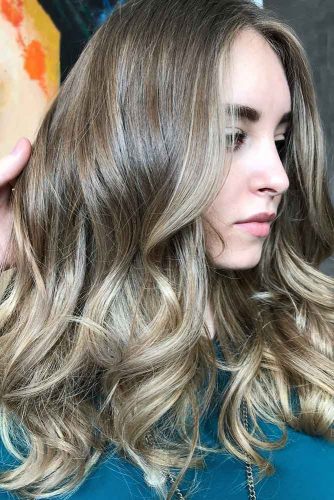 How about ash brown hair with blonde highlights? If you love blonde but don't want to commit to full-on platinum blonde, you can ask for platinum blonde highlights on medium ash brown hair. Start with a pale ash brown base and blend in golden blonde highlights for a look that will glisten like copper in the sunlight.
This ash brown blonde hair color is very chic and sexy, if you want a softer look that adds texture to your tresses. This color blend looks gorgeous on wavy tresses. Use a large barrel curling iron and curl your hair halfway from the bottom to form loose bouncy waves to add movement to your hair.
Warm Toned Layered Lob Hairstyle
Source: natalieannehair via Instagram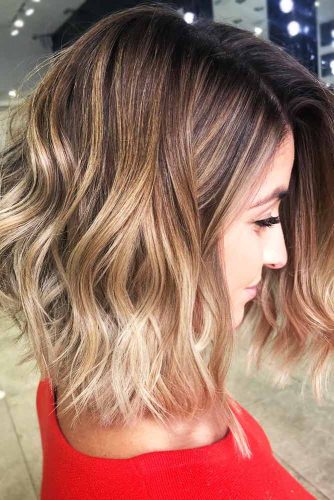 If you really want to lighten up your darker tresses with warm ash brown, try ash brown hair with caramel highlights. It's a great way to get light ash brown hair but with a subtle blend of light ash brown hues with warm golden blonde tones. Form a cool look for golden brown hair that is full of color and depth.
This blend of ashy brown hues is very flattering when styled in a light ash brown hair bob. Ask for an inverted bob with shaggy layers to add volume and texture. If you have naturally wavy hair, this style will add so much movement to it that you will wish you had cut it this way earlier!
Ash Shades For Long Dark Brown Hair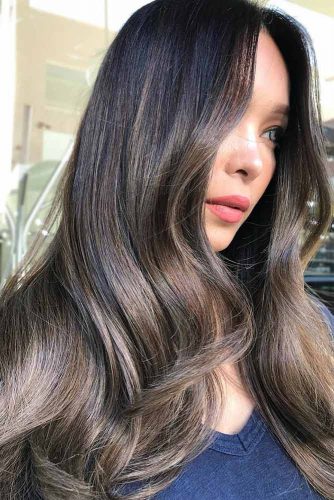 If you were blessed with naturally dark hair, you can consider yourself one of the few who can totally rock this pretty ash brown hair color for black hair. Start off with your natural color and then let it fade from black to ash brown hair. Ask for warm ash brown highlights and go heavy on the highlights in the front to frame your face. This color combo will compliment both warm and cool complexions.
Long ash brown hair is so sexy and chic. Make loose curls at the bottom to add some bounce to this sassy style that will stop men dead in the track when you walk by.
Bold Long Hair With Smokey Highlights
Source: ayahair04 via Instagram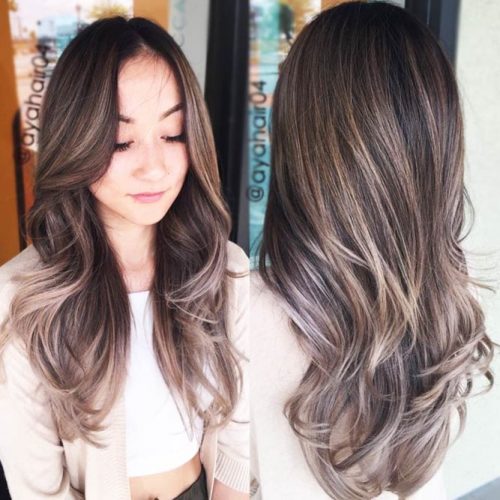 If you are searching for a look that's sultry yet sophisticated, one of smokey ash brown hair colors is the perfect fit. Of all the styles for ash brown with highlights hair, this one stands out the most for those with longer locks who want a smokey brown color. Ask for a cool ash brown hair color and then blend in some soft smokey gray tones in a balayage style. This look is so demure for the modern woman who wants a soft and refined style.
Dark Ash Brown And Cool Dirty Blonde Hair
Source: lisalovesbalayage via Instagram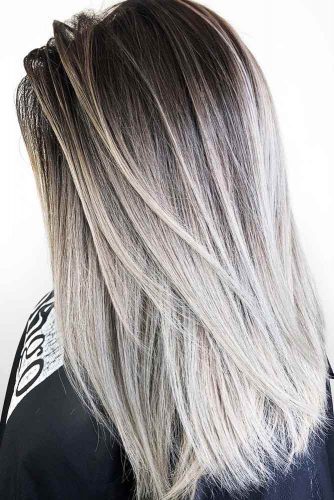 Do you prefer a lighter brown hair color? How about this ash brown hair ombre to cool dirty blonde? Start off with darker roots that artfully fade from brown to ash grey hair. The colors melt perfectly into pale dirty blonde at the ends.
You can sport this trendy ombre fade with any hair texture, but it looks especially pretty on long straight hair as it is so full of depth and dimension. Blow-dry your hair straight with a round brush and finish it off with a flat iron to smooth it out.
Sleek Ash Brown And Lavender Hair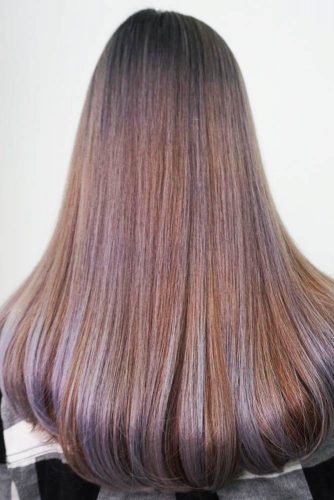 If you want to shy away from ash brown hair natural but still want pretty ash brown hair colour with highlights, try this edgy look with milky ash brown tones blended with purple highlights. The warm ash brown blends nicely with the lilac highlights. This combo will give you a multi-tonal look that is just a bit more daring without being over the top.
Girls with straight hair can totally rock this look. Blow dry your hair straight and turn the ends under with a round brush to add some volume and movement. This look is so soft and pretty, you'll wish you had thought of it earlier!
Medium Ash Brown Hair With Lowlights
Source: romeufelipe via Instagram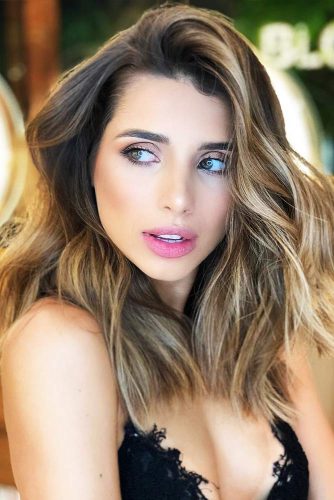 Looking for that sassy, sun-kissed style? Try some ash blonde highlights on brown hair. These ash blonde golden highlights are a great way to add some life to your medium ash brown hair. You will look like you either spent hours in a salon or the day on the beach with these golden blonde hues.
Ask your stylist for ash brown hair with lowlights and highlights to add even more dimension to this already superb combo. And what makes this look even more striking and sexy are the pretty beachy waves. Just use sea salt spray and let your hair dry naturally to get these sassy waves that will make you the envy of all your friends.
Face Framing Highlights For Long Dark Ash Hair
Source: lisalovesbalayage via Instagram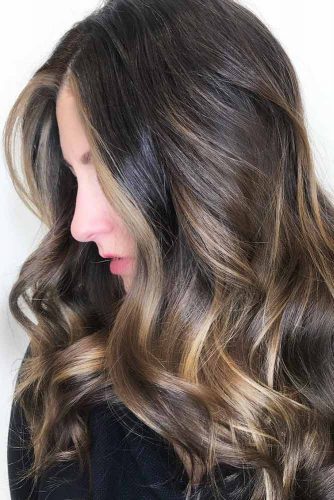 Want to spice up your ashy brown hair? Ask for caramel face framing highlights on your dark brown hair to add a pretty blend of color. The face framing highlights will add depth and fullness and nicely compliment any skin tone.
An ash brown balayage on dark hair is a very classy and sophisticated look, if you are searching for a more refined style that is still sexy and playful. If you want to make this look even more fun and flirt, use large hot rollers or a large curling wand to make large bouncy curls to add fullness to this sexy ash brown hair with highlights.
Blonde Balayage On Bold Ash Brown Hair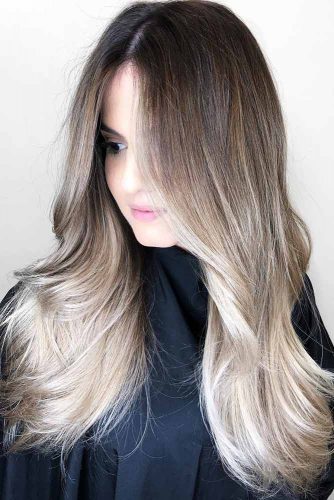 Balayage hair is very much in style and is also drop dead gorgeous. For those who prefer cool ash brown hair shades, opt for a pretty ash brown blonde hair color balayage blend like the one shown here. Start off with a dark base and then go from a dark to light dusty ash brown fade that ends with a breathtaking balayage blend of platinum blonde and light ash blonde hues.
Women with long, wavy hair can totally rock this stunning balayage blend. It is the perfect combo of dark warm brown and cool ash brown tones to strike up a color combo that is out of this world gorgeous!
Take Care of Your Ash Brown Hair
It may seem silly to lay out optimal hair care before you've actually done the coloring, but it's important to have all the supplies and skills you need to keep your hair healthy and the color rich before you begin. These are essential after dying hair tips that every gal must use as after hair color care.
Source: lisalovesbalayage via Instagram, che.r.mariano via Instagram, _hairbygabrielle via Instagram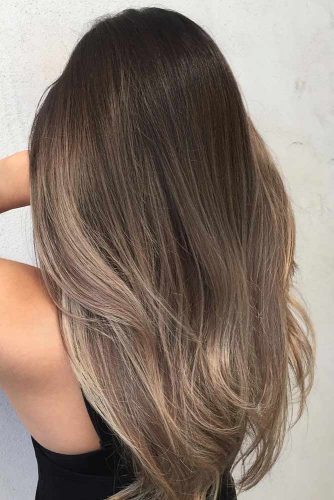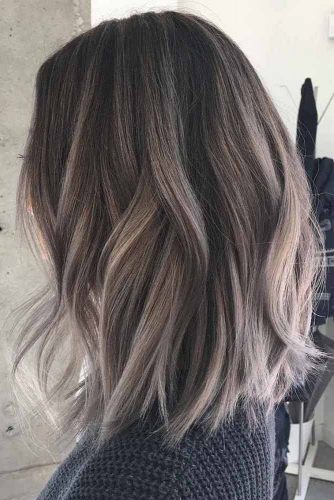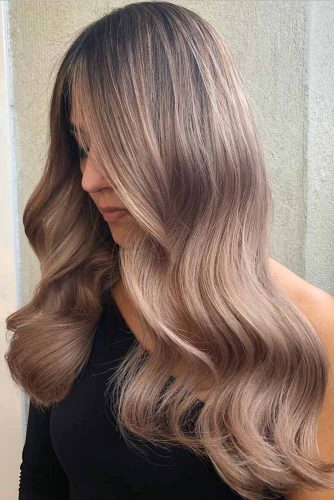 Go heatless if you can – or as often as possible!
Lengthen time between washes – it'll keep harsh shampoos from stripping color. Rock a pony tail on 'dirty' days.
Get a colored shampoo and use it like a treatment – toners will help the color last.
Use an oil as a pre-poo and a post-shower treatment.
Get a trim every 2 months – chop off split ends before they have the chance to damage your hair.
Protect your hair from the sun – wear a hat in harsh sunlight.
Protect that ash brown hair from saltwater – rinse with freshwater before ocean swimming, salt dulls hair's brilliance.
To protect your hair shaft, keep styling to a minimum and hit it just a few larger sections of hair with a curler for a styled yet still natural look.
Try coating hair with coconut oil 30 minutes before you shower for a pre-poo boost. Post shower, coat damp strands in a lighter oil to maintain that shine.
Ash Brown Ombre
When it comes to growing out highlights and ash brown color, ombre may be the very best light ash brown hair color to choose from. Lighter or darker color on the roots that fades to the opposite hue gets more life out of your hair color and fades beautifully as time goes on. You will save money on top of it all by lengthening time in between salon appointments.
The beauty of ombre lies in its ability to fade from you natural color, but don't be afraid of blurring the ombre lines and wear both tones with confidence!
Source: che.r.mariano via Instagram, lisalovesbalayage via Instagram, mangorabbitrabbit via Instagram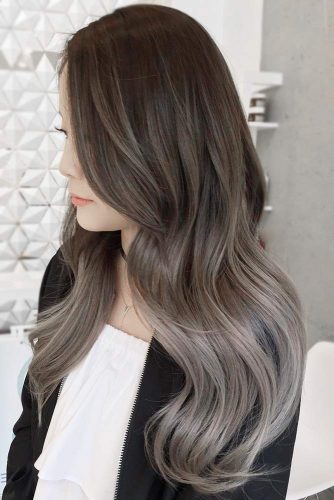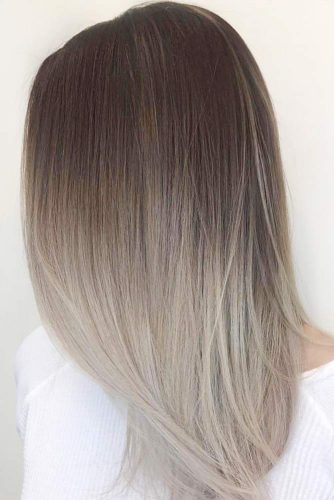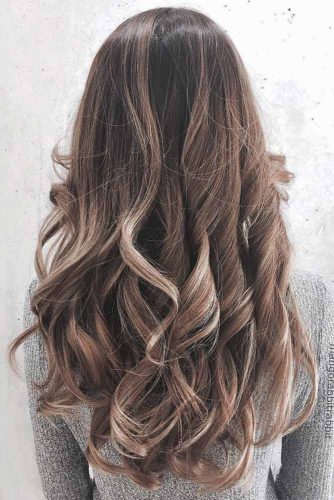 The best part about ash brown ombre is it's half-hearted commitment to the style. You don't have to do an entire beauty overhaul, just simply dust the lower-half of hair with that fresh ash brown color and let it grow out beautifully.
Before ombre, roots were a bad thing. If you stay within the same tone as your natural color but lighten the ends by a shade or two, your grown out roots won't look old, they'll be up to the latest trend!
Ombre is obviously great regardless of your hair type, but a luscious blow-out displays the style in a polished way.
Ash Brown Balayage
Ash brown balayage is easy to wear like ash ombre because it can suit any hair type, color, and length and grows out very well. Balayage is all about frosting hair with highlights in a way that's unique to you, such as where the light hits your hair best. Ash balayage on dark hair lets you keep your hair's natural colors while applying ash only to certain parts of the hair.
Source: che.r.mariano via Instagram, che.r.mariano via Instagram, _hairbygabrielle via Instagram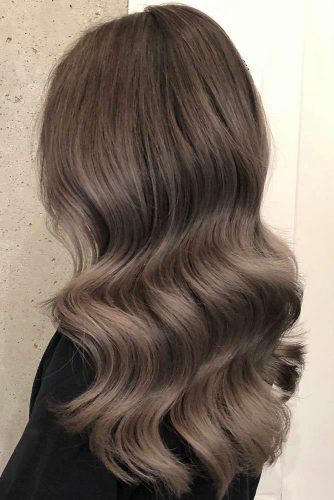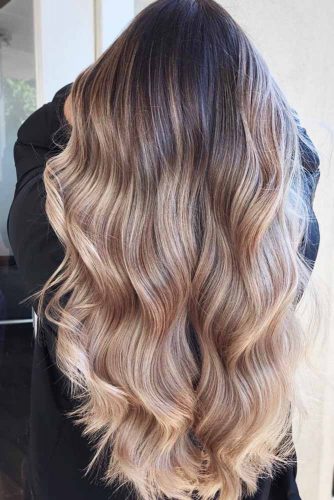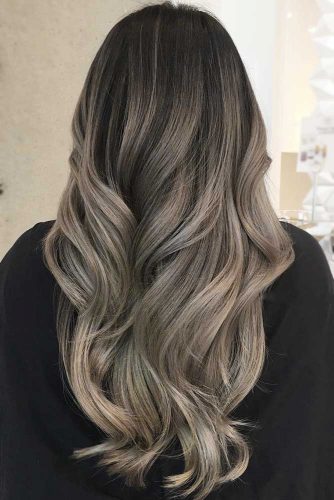 Rosy and peach tones are hot these days, so dusting ash brown hair with these colors makes perfect sense.
Give your complexion an overall brightening by applying ash brown highlights to the hair framing your face.
If you're hair is rather long or all the same length, dust the ends of locks with ash brown balayage on brown hair to instantly liven up a monotonous color scheme.
Dark Ash Brown Hair
Just because ashy tones are usually lighter doesn't mean you can't have dark locks and ash brown hair. Usually, cool skin tones should go for lighter ash brown colors, but if you're hair is much darker and richer, try adding smoky gray hair color and see the same effect. Cool and gray colors look great on paler skin tones and pair well with light or dark blue eyes and brown/black eyes.
Don't be afraid to embrace this almost purple-y hue!
Source: che.r.mariano via Instagram, che.r.mariano via Instagram, che.r.mariano via Instagram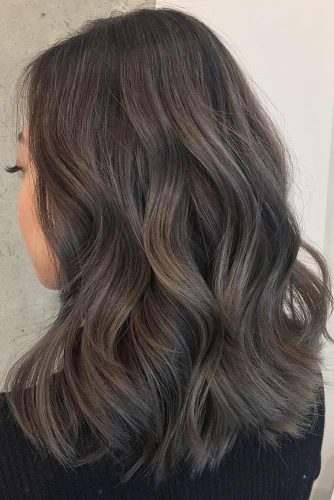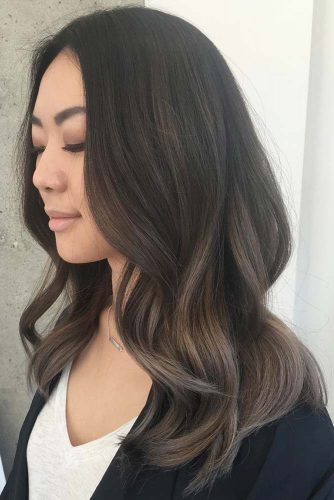 If your natural hair color is richer, cocoa or chocolate tones works best. On olive skin tones with an ash brown ombre style, focus the ash color on the tips rather than the roots. This way, your natural hair growing out of your roots will still surround your face and match your complexion.
This style proves the subtley of balayage can work wonders. Try an ash hue that just a shade or two off of your original color so your dark brown hair stays natural looking.
If you have any doubt as to whether a shade you prefer will suit your skin tone, save some of our dark ash brown hair color pictures and let our stylist help you decide how you'll look best!
Light Ash Brown Hair Color
The lighter your skin tone, the better you can carry lighter colors. Luckily, light ash brown hair color can offer the illusion of lighter hair without actually having to super light or blonde.
Even if your natural color is much darker than ash blonde, a pretty balayage will let you rock your original hair color as well as light ash brown. Your stylist should be able to achieve this look.
Source: lisalovesbalayage via Instagram, lisalovesbalayage via Instagram, lisalovesbalayage via Instagram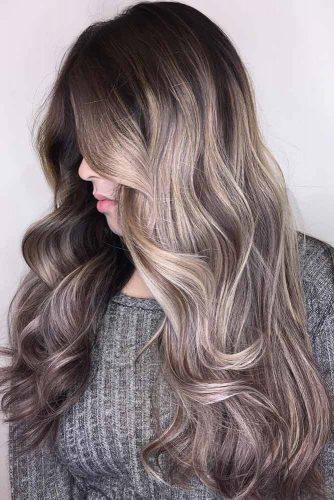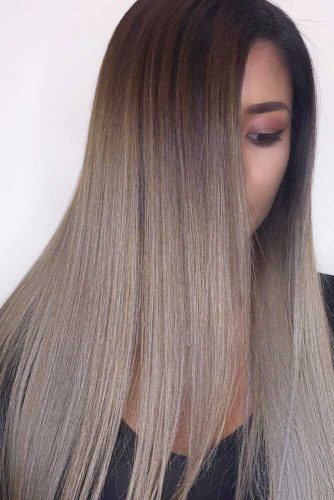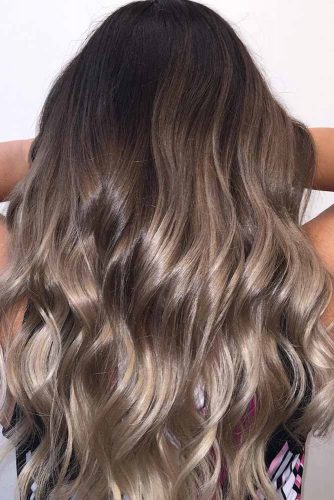 Peachy skin tones can absolutely rock the ash trend, (if you don't believe us, check out our light brown hair color pictures). Look for a white blonde or creamy hue and add it to your hair using an ombre or balayage method.
Take hair super light and ultra gray if you've got paler skin and light eyes, or dark eyes with flecks of lighter brown. Regardless of your personal style and skin tone, the right ash brown hairstyle is out there for you.
Still wondering if ash brown hair is for you? Don't be afraid to just take the plunge this season and to rock the hottest hue of 2019: ash brown. Once you've taken the plunge, you won't be mad you did! Whether you go dark, light, ombre or balayage, you can absolutely incorporate some ash brown in your life, don't let the blondes have all the fun!
Ash Brown Ideas for Medium Hair Length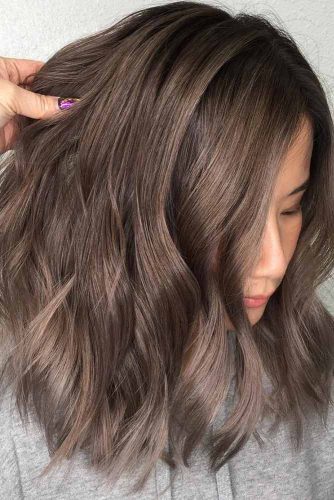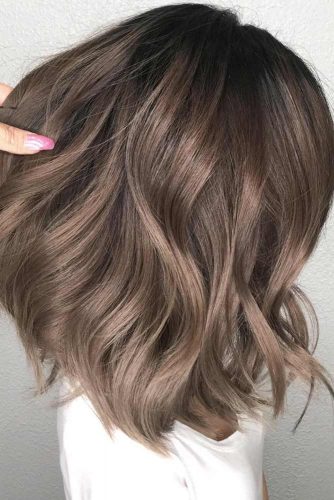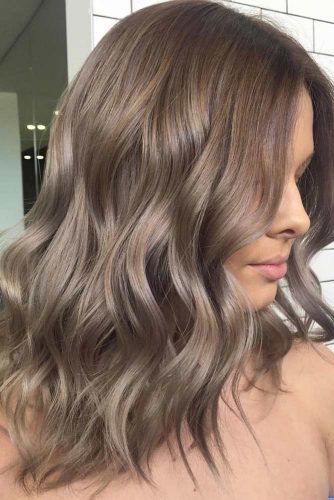 You can try ash brown color with literally every hair length, but if your hair is messy or unruly, it's preferred to have the medium haircut. If you want your look to play in a new way, try one of our ideas.
Beautiful Ash Brown Hair Ideas for Long Hair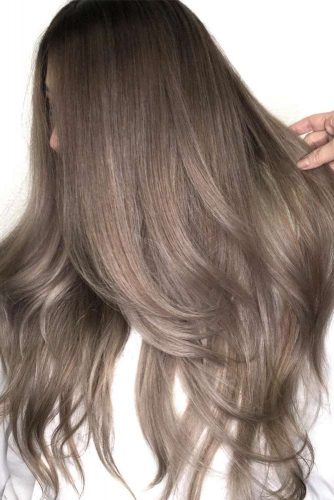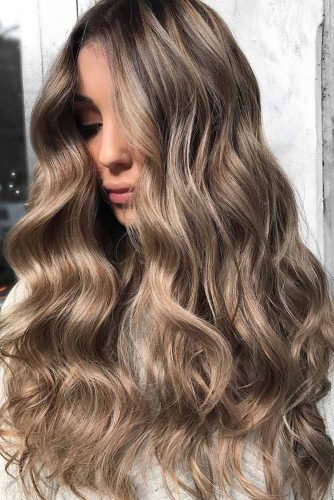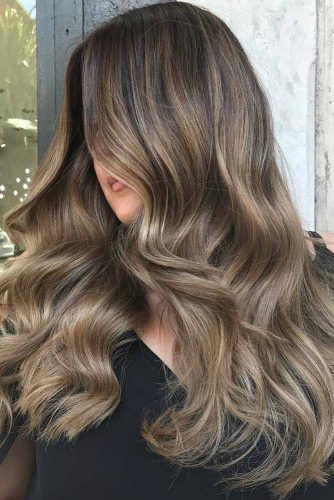 As you know, with long hair any color will look fabulous. If you like soft hair tones and have long hair, you should definitely try ash brown.
Ash Brown With Babylights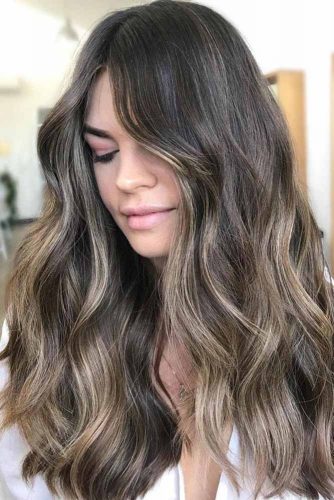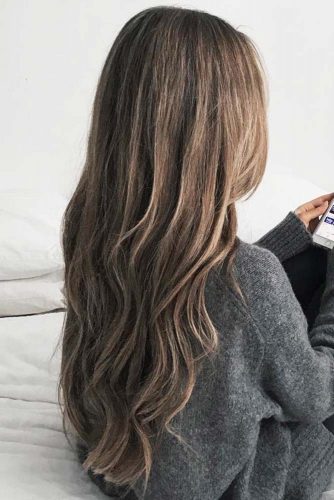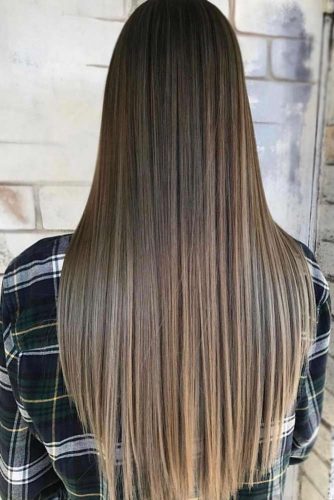 If you want your hair color to look more natural than with lowlights or highlights, you should definitely try babylights. These fine ash brown streaks will give your hair light sun-kissed effect.