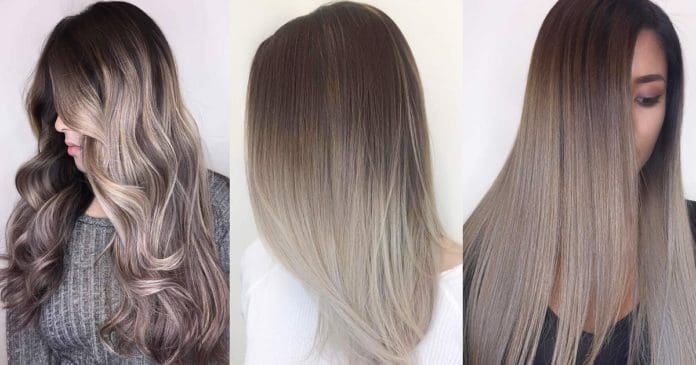 Ash brown hair colors, with their smoky and cool green, blue, and grey undertones, let you upgrade your brown locks in a subtle, stylish way. The ash hair color will work for any season. Plus, almost every woman can pull it off. Many people believe that the ashy shade is better for ladies who have a cooler skin tone. Even though this is true, it does not mean that ladies who have a warmer skin tone cannot go ash brown. Actually, they can, especially if their skin has some peachy undertones. If you are tempted to go ash brown, the great news is that ash brown hair comes in a variety of hues: dark grayish ash brown, ash brown sombre, natural ash brown, chestnut ash brown, ash brown ombre, ash brown balayage, ash brown with highlights, and many others. So, the choice is really wide. Let's see these rich and beautiful hues and learn how to take care of them to save their richness for a long time.
Ash Brown Sombre With Mushroom Shades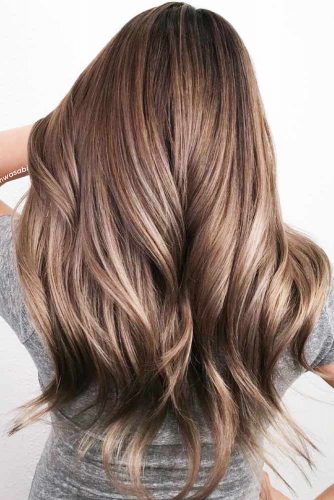 Mushroom brown hair is one of the trendiest looks for ash brown hair in 2020. The color is inspired by portabella mushrooms and is a stunning blend of brown, ashy gray and purple hues to form a cool shade that is ethereal and sophisticated. If you have ash brunette hair, you can't go wrong with this stylish blend of colors. It works for all shades of brown hair but is especially pretty on ash brown tresses. This sombre ash brown blend with mushroom hues is so soft and feminine. It starts off darker and slowly fades to very light brown sombre at the ends. The blend of mushroom tones throughout adds a ton of depth and dimension for a color that is sexy and one of a kind.
Medium Ash Brown Hair With Blonde Highlights
Source: mr_colorist_2017 via Instagram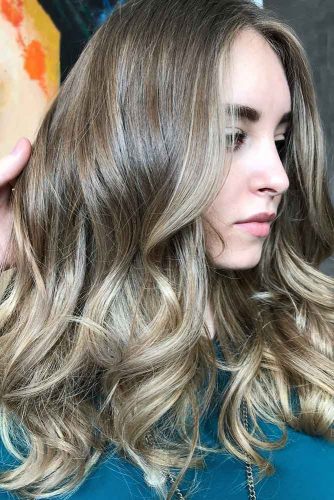 How about ash brown hair with blonde highlights? If you love blonde but don't want to commit to full-on platinum blonde, you can ask for platinum blonde highlights on medium ash brown hair. Start with a pale ash brown base and blend in golden blonde highlights for a look that will glisten like copper in the sunlight. This ash brown blonde hair color is very chic and sexy, if you want a softer look that adds texture to your tresses. This color blend looks gorgeous on wavy tresses. Use a large barrel curling iron and curl your hair halfway from the bottom to form loose bouncy waves to add movement to your hair.
Warm Toned Layered Lob Hairstyle
Source: natalieannehair via Instagram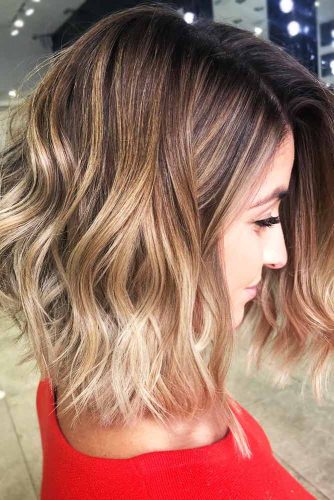 If you really want to lighten up your darker tresses with warm ash brown, try ash brown hair with caramel highlights. It's a great way to get light ash brown hair but with a subtle blend of light ash brown hues with warm golden blonde tones. Form a cool look for golden brown hair that is full of color and depth. This blend of ashy brown hues is very flattering when styled in a light ash brown hair bob. Ask for an inverted bob with shaggy layers to add volume and texture. If you have naturally wavy hair, this style will add so much movement to it that you will wish you had cut it this way earlier!
Ash Shades For Long Dark Brown Hair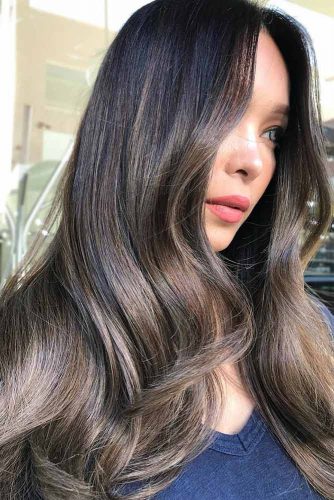 If you were blessed with naturally dark hair, you can consider yourself one of the few who can totally rock this pretty ash brown hair color for black hair. Start off with your natural color and then let it fade from black to ash brown hair. Ask for warm ash brown highlights and go heavy on the highlights in the front to frame your face. This color combo will compliment both warm and cool complexions. Long ash brown hair is so sexy and chic. Make loose curls at the bottom to add some bounce to this sassy style that will stop men dead in the track when you walk by.
Bold Long Hair With Smokey Highlights
Source: ayahair04 via Instagram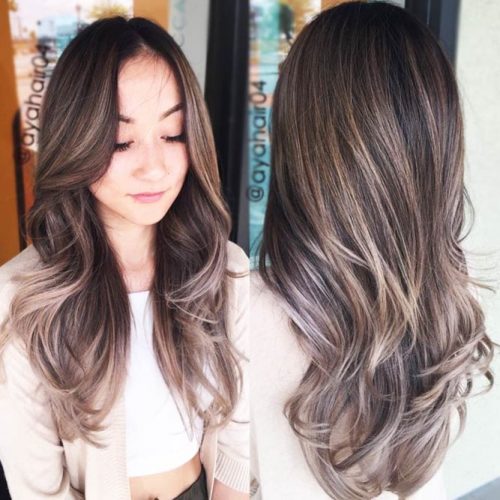 If you are searching for a look that's sultry yet sophisticated, one of smokey ash brown hair colors is the perfect fit. Of all the styles for ash brown with highlights hair, this one stands out the most for those with longer locks who want a smokey brown color. Ask for a cool ash brown hair color and then blend in some soft smokey gray tones in a balayage style. This look is so demure for the modern woman who wants a soft and refined style.
Dark Ash Brown And Cool Dirty Blonde Hair
Source: lisalovesbalayage via Instagram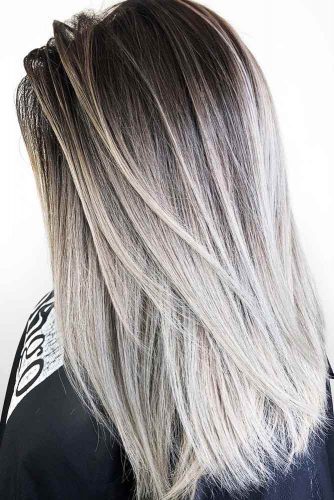 Do you prefer a lighter brown hair color? How about this ash brown hair ombre to cool dirty blonde? Start off with darker roots that artfully fade from brown to ash grey hair. The colors melt perfectly into pale dirty blonde at the ends. You can sport this trendy ombre fade with any hair texture, but it looks especially pretty on long straight hair as it is so full of depth and dimension. Blow-dry your hair straight with a round brush and finish it off with a flat iron to smooth it out.
Sleek Ash Brown And Lavender Hair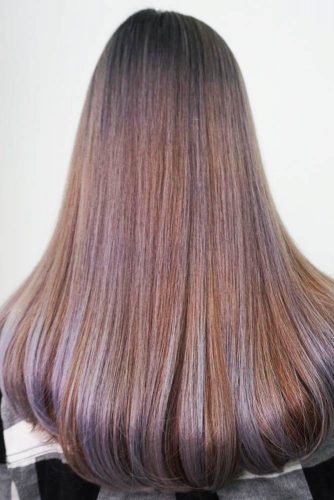 If you want to shy away from ash brown hair natural but still want pretty ash brown hair colour with highlights, try this edgy look with milky ash brown tones blended with purple highlights. The warm ash brown blends nicely with the lilac highlights. This combo will give you a multi-tonal look that is just a bit more daring without being over the top. Girls with straight hair can totally rock this look. Blow dry your hair straight and turn the ends under with a round brush to add some volume and movement. This look is so soft and pretty, you'll wish you had thought of it earlier!
Medium Ash Brown Hair With Lowlights
Source: romeufelipe via Instagram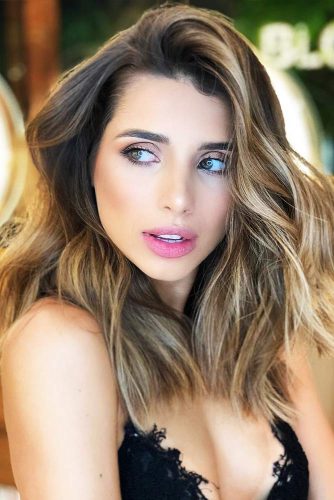 Looking for that sassy, sun-kissed style? Try some ash blonde highlights on brown hair. These ash blonde golden highlights are a great way to add some life to your medium ash brown hair. You will look like you either spent hours in a salon or the day on the beach with these golden blonde hues. Ask your stylist for ash brown hair with lowlights and highlights to add even more dimension to this already superb combo. And what makes this look even more striking and sexy are the pretty beachy waves. Just use sea salt spray and let your hair dry naturally to get these sassy waves that will make you the envy of all your friends.