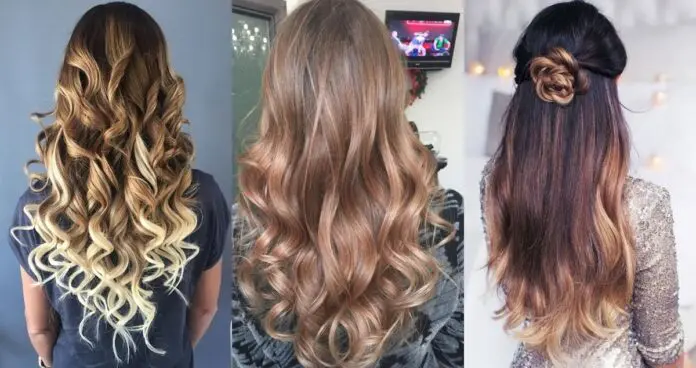 There is something to be said for a winning haircut, and not only how great it looks, but also how it makes you feel. There are literally dozens of ways to cut hair in varying lengths, however, there are two ways that seem to flatter the majority of hair types. The V-Haircut and the U-Cut are pretty self-explanatory terms based on their names and the shape they create to your hair. The "V" is heavily layered to create a V-shaped point at the ends, while the "U" is largely rounded on the sides to the ends. The great thing about these particular haircuts is that they both flatter long, medium and short hair equally, by creating depth, dimension and movement within your strands.
V-Cut or U-Cut Hairstyle?
Deciding on which cut works best for you and your hair largely depends on the look you are trying to achieve. For instance, if you are looking for a heavily layered style with tons of movement, then the "V" is best, but if you want something decidedly more subtle with more of an equal length, then you should opt for the "U". If you still need a little help in your decision-making process, take a look at some of the hottest "V" and "U" cuts from around the Web for inspiration. Ready, set, CUT!
#1: Long Wavy V-Cut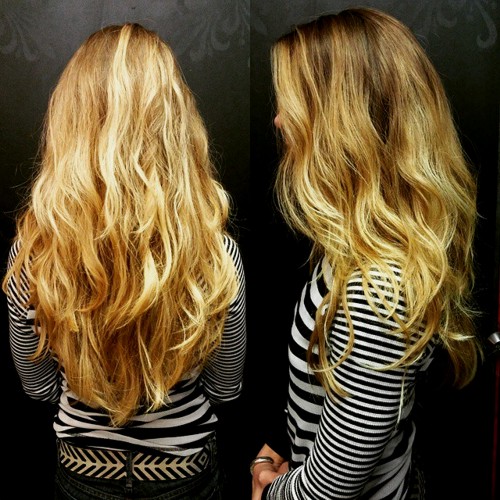 SOURCE
If your natural hair is very thick, it may be difficult to create the desired shape because of the bulk of your locks. However, the best way to combat extreme thickness is to try V-shaped layers, seen here on this long style.
#2: Blonde Wavy Centre-Parted V-Cut
Long, blonde and wavy are always the characteristics that promise a beautiful hairstyle, especially when they are derived from a V-shaped haircut like this one. These long blonde strands are given life and movement thanks to the soft waves, middle part and expert V cutting technique.
SOURCE
#3: Short Red U-Cut with Side Bang
Short hair is something that commands attention, especially if the haircut is shaped so professionally that you have to do a double take. That is the case with this edgy yet sexy U-shaped cut that features a deep chestnut hair color with caramel highlights, a sleek side part, subtle layers and a soft bang.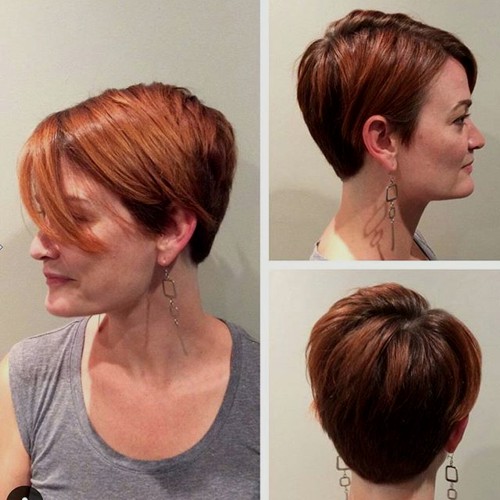 SOURCE
#4: Blonde Ombré U-Cut
Combining several elements that make for a head-turning style, this hair affair features an edgy blonde ombré color (from dark blonde to platinum), soft and subtle curls and a flattering U- haircut to add movement and depth to the look.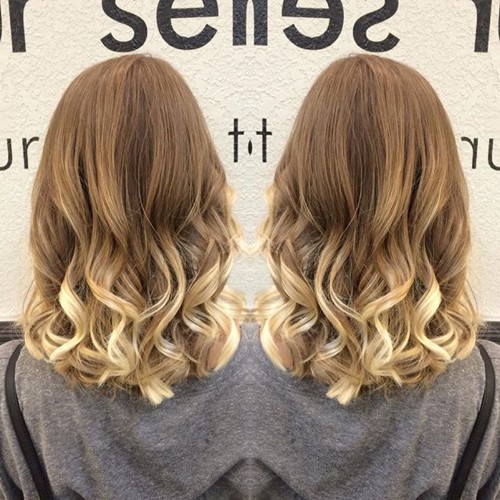 SOURCE
#5: Long, Red V-Cut
Super long hair doesn't have to be dated or boring, all it takes is a little magic with the scissors to create a cool and flattering shape. This long, red hair is given an update courtesy of the V-shape to keep it from being all one length.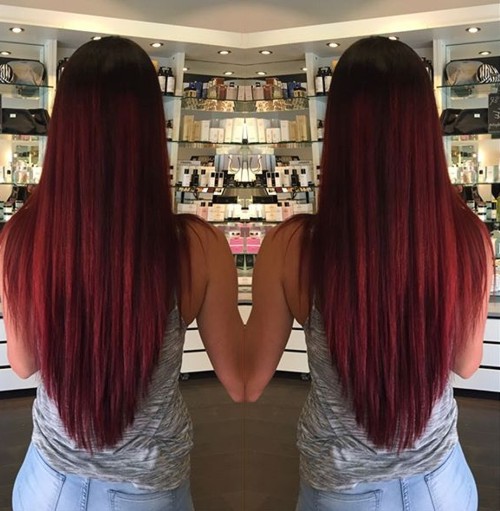 SOURCE
#6: Short Black V-Cut with Shaved Sides
If you were ever unsure of what exactly a perfect short V-shape haircut looks like, this is it. This V cut with its short length and jet black hair color is fierce and edgy, perfect for girls who are daring with their hair choices. The finishing touch of the shaved sides brings this style together flawlessly.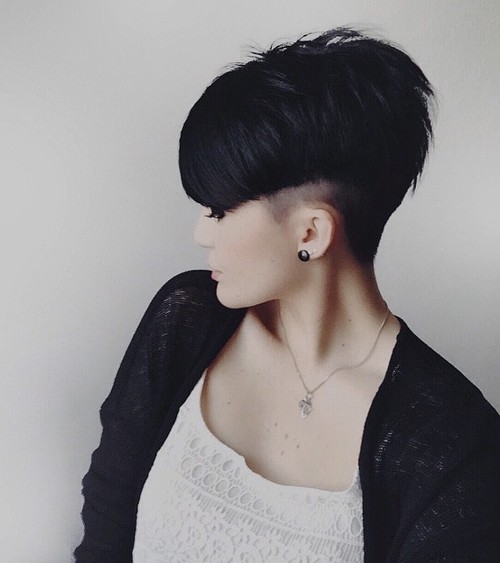 SOURCE
#7: Sleek Dark Blonde V-Cut
One of the most important things for long hair is to give your locks life with a feel of movement. Incorporating movement is easy once you decide on a cut with layers and the right silhouette, like the V-line version seen here.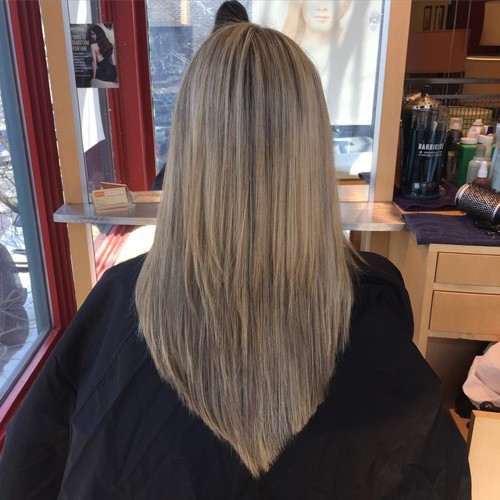 SOURCE
#8: Layered Red V-Cut with Side Bang
V-cut hair has never looked better than it does in this photo. Here, you have bright red hair color, a deep side part with a swoop bang and long hair that is layered to perfection. The V-shape is so prominent in this cut that you can see the details from both the front and the back.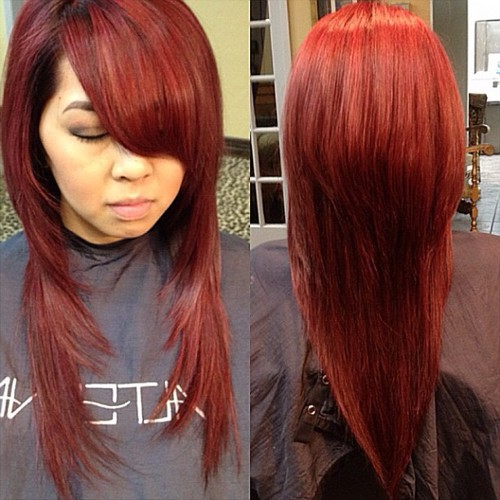 SOURCE
#9: Long, Beach Blonde V-Cut
You might not notice that this blonde hairstyle is a product of the V cutting technique until you get a look at the back view. From the front you see some subtle layers, but the back is where the "V" really shines.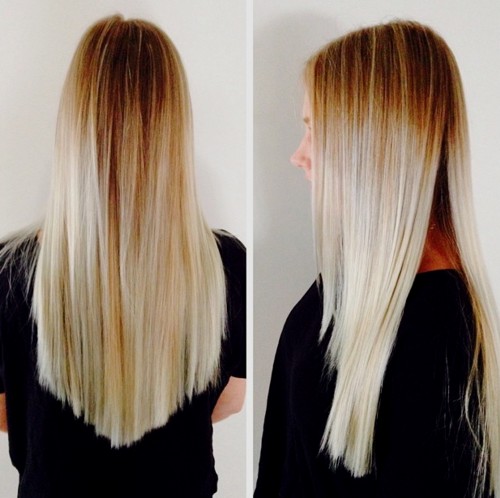 SOURCE
#10: Black & Curly V-Cut
Although the curls are the focus, this V-cut hair still benefits from the V cutting technique that gives it depth and dimension. Unlike most V-cuts, this one features most of its layering in the front, while the back retains the most length.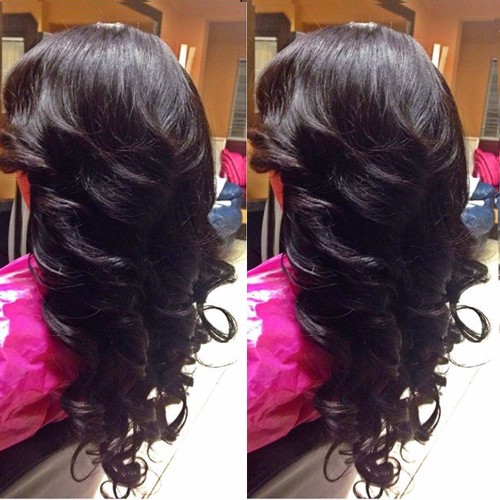 SOURCE