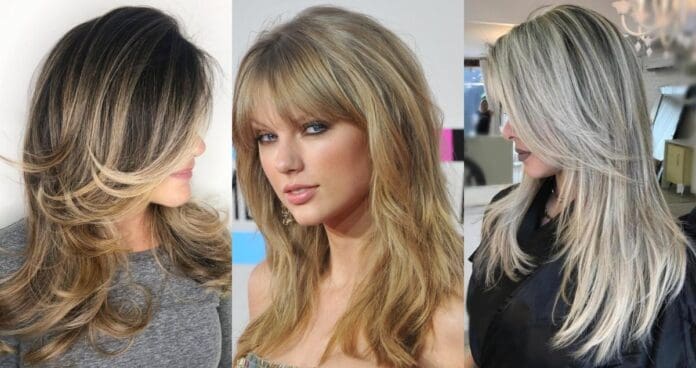 Long layered hairstyles with bangs are now in great demand. Why? Everyone wants a flattering hairstyle, that's also trendy, effortless-looking and convenient. When you wish to show off your beautiful long locks, try a layered haircut. Layers make long hair more manageable and eliminate the irritating factor of longer strands getting in the way or falling into your face every now and then. If you also want to rock your long hair without a single pin, get some straight-cut or layered bangs.
Variety of Long Hairstyles
Layered hairstyles for long hair are not all alike, and you should try different textures and types of bangs for some variety and also in order to find your most flattering options. Here are trendy ideas for wavy and straight, shaggy and sleek, balayage and ombre long hairstyles with layers and bangs.
#1: Long Tousled Style with V-cut Layers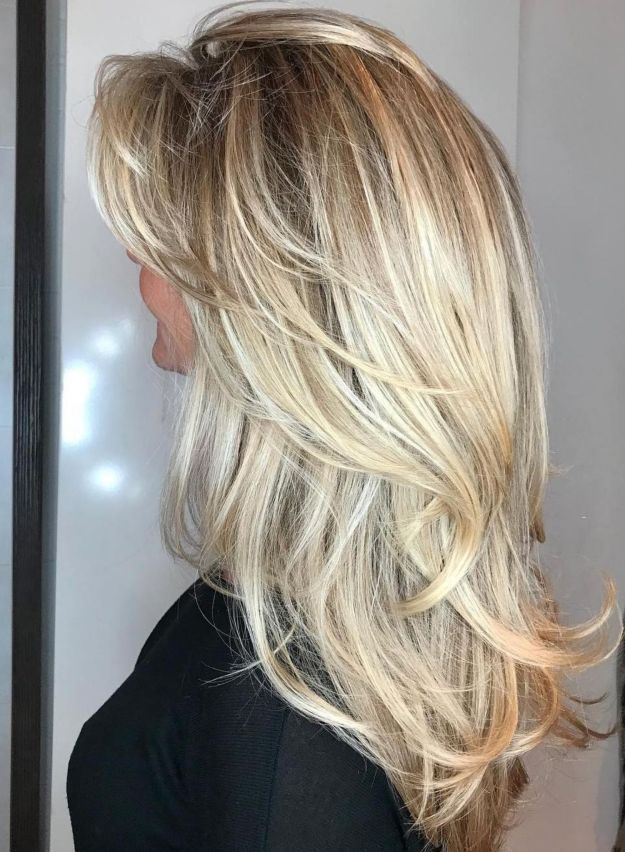 Instagram / @CHAIRS_HAIRDESIGN
V-cut layers are for the bombshell in all of us! If you frequently blow out your hair, a v-cut is perfect for adding movement to your already gorgeously tousled locks. For this look, bangs with long hair should be a bit longer to appropriately blend in with the length of your locks.
#2: Long Layers with Eye-Brow Grazing Bangs
Shoulder length hair can also benefit from layers, as is exemplified by the photo below. If your hair is thinner, then layers can add texture and style. Long bangs that graze past the eyebrows soften the entire look of Taylor Swift.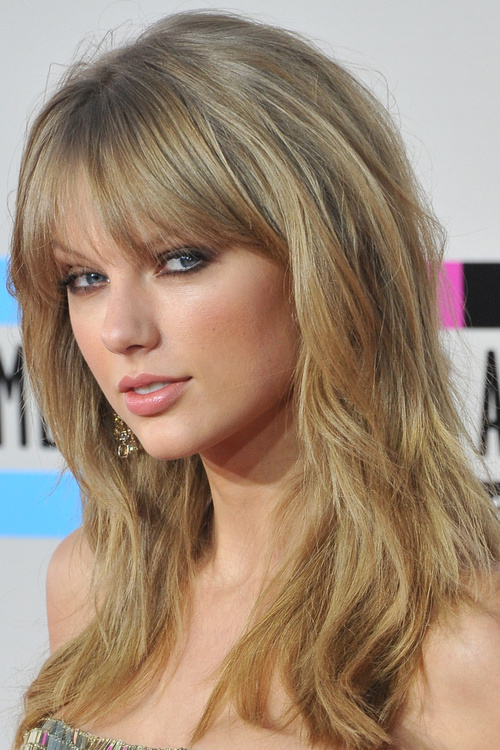 Jaguar PS / Shutterstock.com
#3: Long Choppy Shag with Bangs
This choppy shag with fringe is oozing major flirty vibes. Midshaft waves add to the dimension created by the balayage and give plenty of beauty for admirers to ogle at.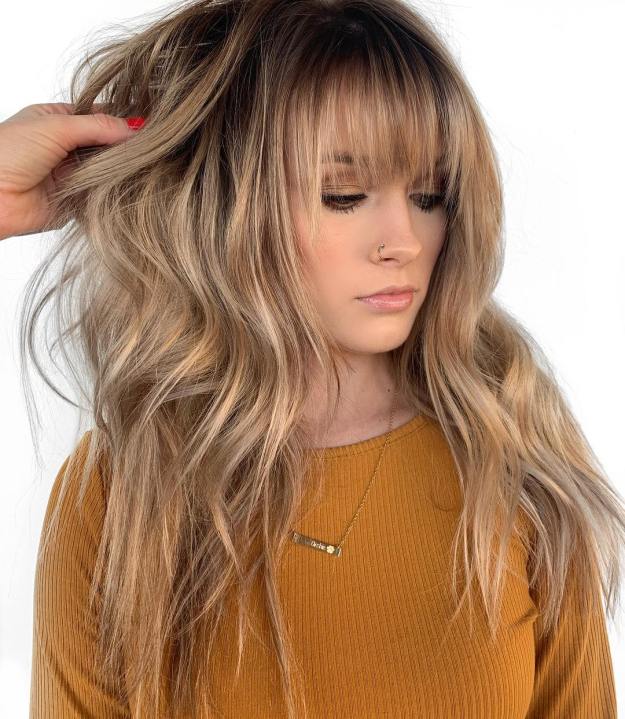 Instagram / @BRIT_BELLASALONANDBOUTIQUE
#4: Long Side-Parted Feathered Cut
Bangs don't have to dust your eyebrows, especially if you're nervous to try them out for the first time. Layered bangs at the chin length are great for hairstyles in transition. Long hair with side bangs is perfectly proportional for a feathery cut.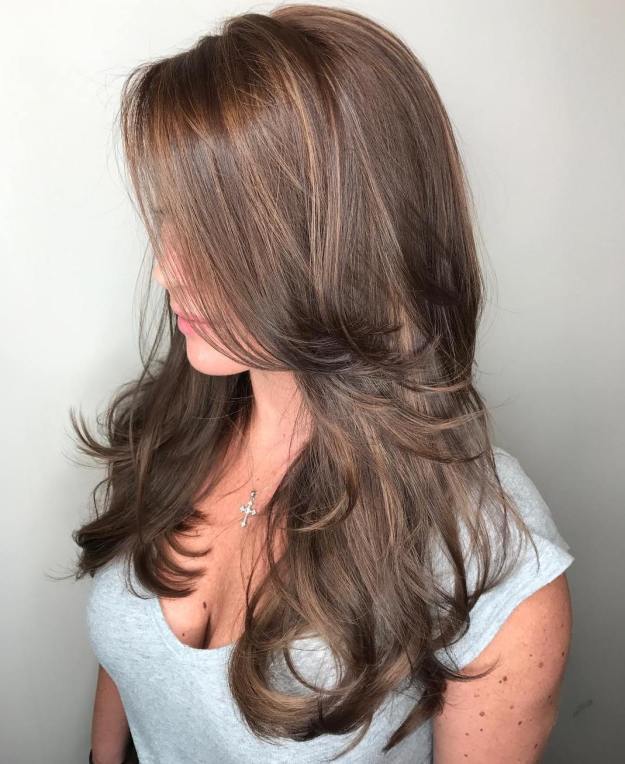 Instagram / @NORTHERNLIGHTSTHESALON
#5: Long Feathered Cut with Razored Bangs
Long layered hair is beautiful on its own, but long layers with bangs? Even better. There're several options. Popular now baby bangs, wispy choppy bangs, and blunt asymmetrical or straight across the eyes bangs to complete this beautiful long cut.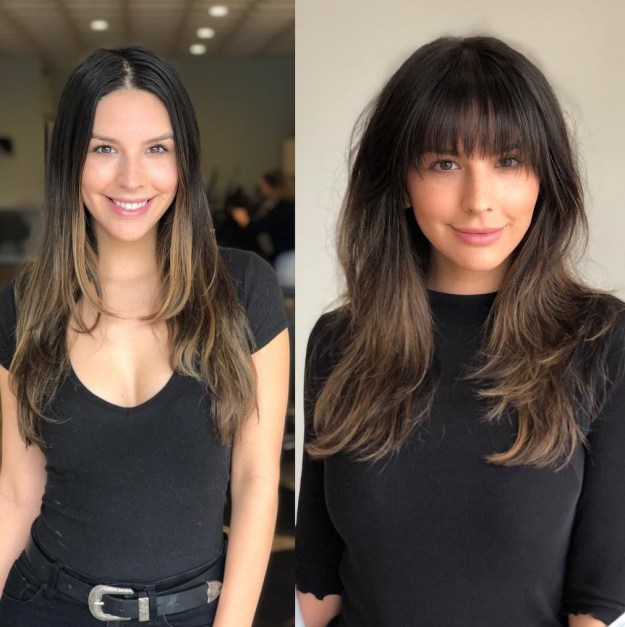 Instagram / @STYLEDBY_STACY
#6: Long Hair with Long Feathered Layers
A feathered look on long layered hair is always classy. With heavy body on top and thinned out ends, this mane has plenty of dimension. If ash blonde isn't your color, go for caramel or champagne to complement your skin tone. You're sure to stun.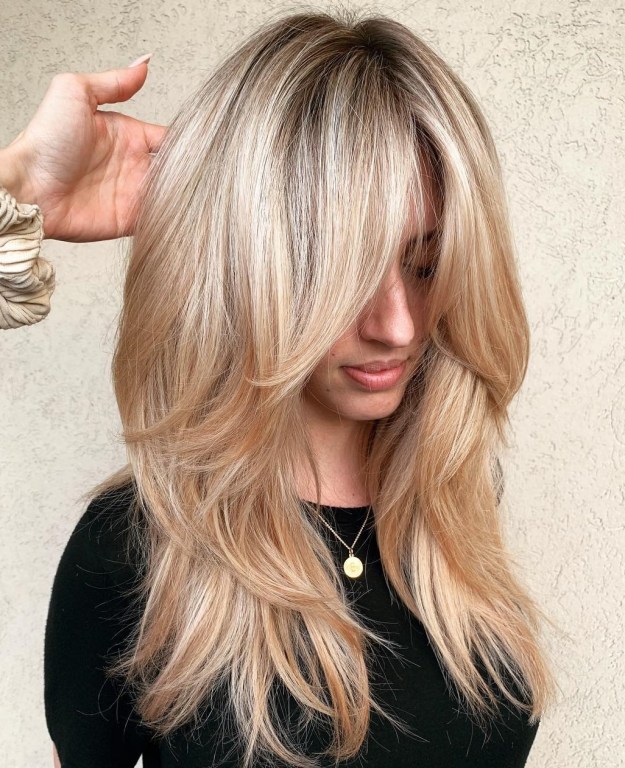 Instagram / @JAYBURDD_BEAUTY
#7: Long Thick Cut with Face-Framing Layers
Face framing bangs are everyone's best friend. If you have thick hair, go for a style with side bangs, and they will work with your cut to give you a flattering look no one can resist. Bonus: highlights make sure your hair packs a punch.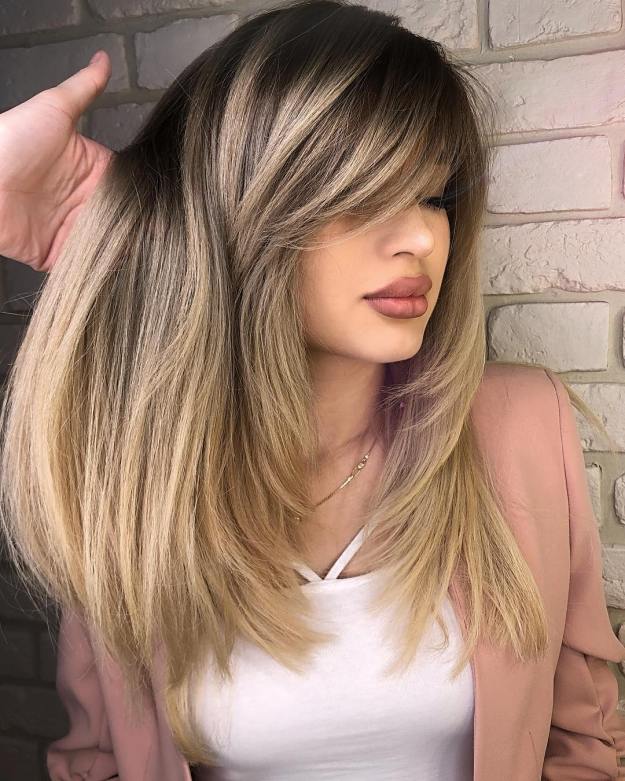 Instagram / @STYLISTMADISHKA
#8: Brunette Shag with Swoopy Bangs
The different levels of length within this long hair with bangs help to make it versatile and fit your personality. Out running errands? Pull hair into a pony and let bangs be a little messy!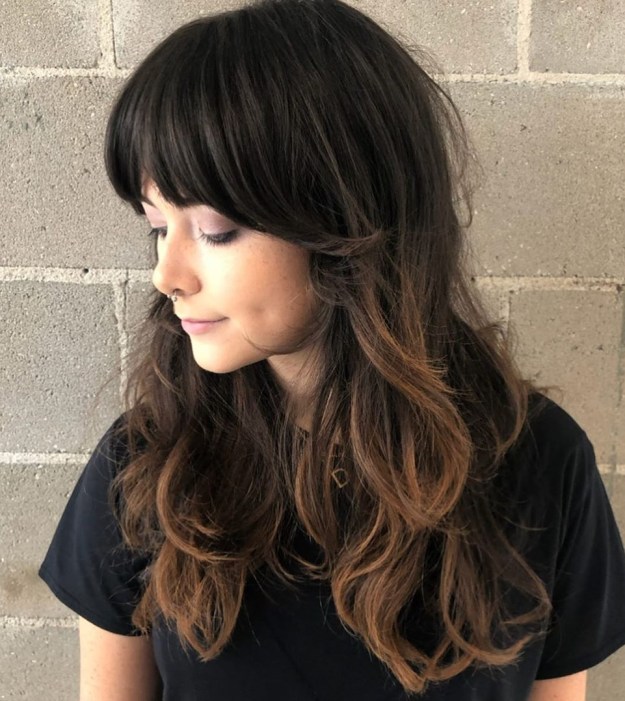 Instagram / @ALCHEMYORLANDO
#9: Long Golden Brown Shag with a Fringe
A thick beautiful shag like this deserves to be worn by you! With fringe topping off long layered hair and luscious waves for days, you'll look like you've just stepped off a runway! Don't be afraid to add some subtle highlights.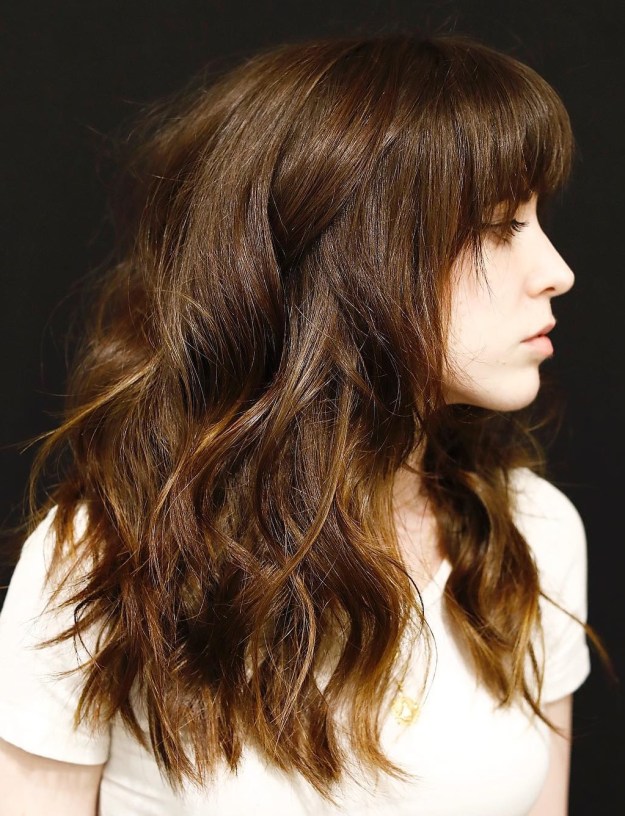 Instagram / @ANHCOTRAN
#10: Long Layered A-Silhouette Cut
Who says that bangs and layers have to be blunt? Rock a flattering A-silhouette to give hair movement and break up a longer face shape.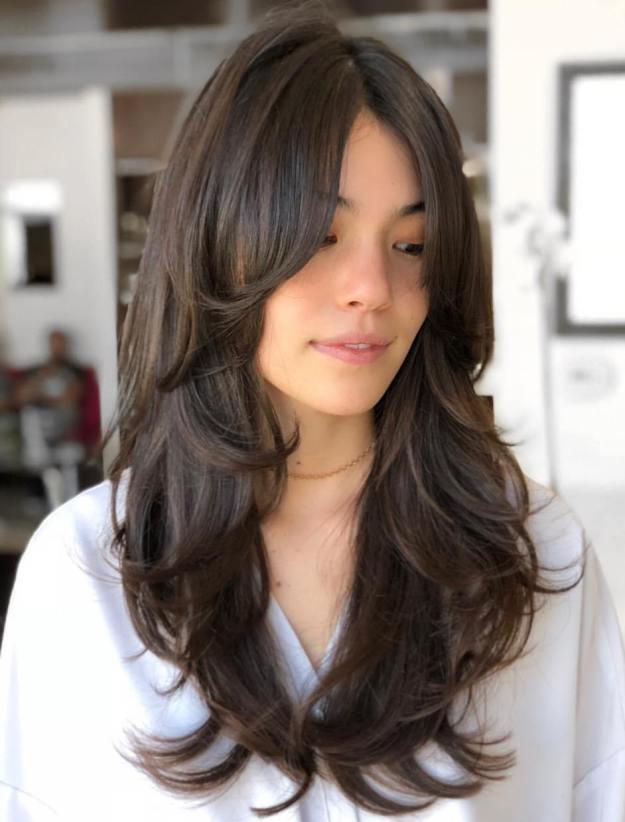 Instagram / @NICOLASFLORESHAIR