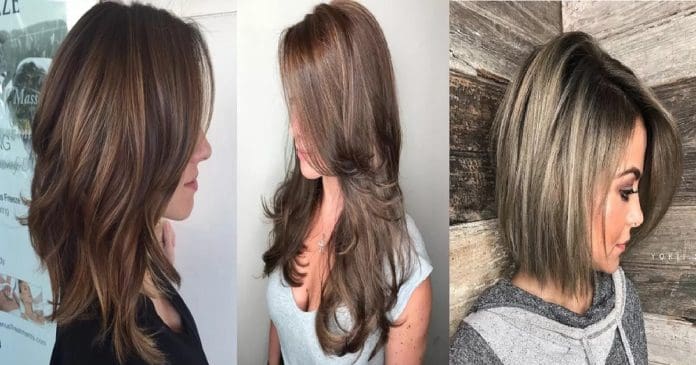 Haircuts for Thick Hair
One drawback of thick locks is their monolithic character. We mean, with the wrong haircut your hairstyle for thick hair is going to look artificial and motionless. That's why haircuts which reveal the ends and endow them with the feel of movement are extremely flattering for thick tresses. One-length haircuts should be avoided, while graded and progressive cuts with a shorter length around the crown and longer locks at the nape are going to make your medium and long thick hair more dynamic.
Coloristic Solutions
The main goal you should pursue when dyeing your thick hair is the feel of movement. Balayage and ombre techniques help to achieve the desired effect. Smooth transitions of similar hues add dimension, motion, and lightness to your thick locks.
Sensational Medium Haircuts
Traditional bobs, pixies and shag haircuts are great for thick hair, whether it's straight or curly. Here are the most gorgeous haircuts for thick hair of medium length. These ideas showcase glamorous shapes, geometric lines, versatile textures, and a rainbow of sophisticated colors suitable for thick hair.
#1: Layered Haircut with Medium Layers
Source
Medium layers around the crown will offer you a lovely fullness of the top section. Something many women try to achieve with teasing, you are going to have naturally thanks to the thickness of your hair and the right cut. Accent the layers with subtle balayage highlights to make the texture more pronounced.
#2: Lob with V-Cut Choppy Layers
A straight-across long bob is ideal for thick hair since it really shows off the density of your locks, but without layers you risk to end up with a blocky look. Choppy layers give this 'do a slightly shaggy yet feminine flair, especially when styled tousled. This classic cut suits every face shape and a wide range of hair textures.
Instagram / @alexkhoeunhair
#3: Layered Dark Brown Lob
A layered lob is a good go-to cut for anyone with thick hair as it flatters all face shapes and lets heavy locks feel lighter. The layers add enough interest, so you can keep your color monochromatic without looking flat or dull. Finish with a messy wave to really show off the different lengths.
Instagram / @hairby_chrissy
#4: Lob with Swoopy Face-Framing Layers
Medium length hairstyles for thick hair are universally flattering and easy to style. An effortlessly classy example is a lob that has swoopy face-framing layers. Chic and sophisticated, you will always look put together with this cut.
Instagram / @timothyjohnssalon
#5: Brown Lob with Caramel Balayage
A little bit of color can go a long way with thicker hair. If you want to add some pizzazz to your shoulder length style, incorporate subtle highlights that are a shade or two lighter than your base tone. The balayage technique is ideal for a natural finish.
Instagram / @jazmineschair
#6: Medium Shag for Thick Hair
Shag cuts have become very popular and it's easy to see why. The messy layered waves instantly add sexy movement to your do and work great with all hair textures. Thick haired beauties can get away with longer layers without sacrificing the desired volume.
Instagram / @brookebent
#7: Shoulder-Length Lob with Layered Front
This lob features sharply angled side sections and straight cut back. As it has been mentioned, an important thing in hair cuts for women with medium thick hair is to get textured ends. These will help in styling and create the finished look.
Source
#8: Textured Cut for Thick Hair
The best way to show off the texture in medium length hairstyles for thick hair is to add some highlights. Varying shades will give life to the layers and add dimension to your locks. Ask your stylist to help you select flattering subtle shades to gain that precious natural sun-kissed glow.
Instagram / @penniepannavalee
#9: Medium Layers and Flipped Ends
A more traditional way to style hair with layers is to flip out the ends. If you prefer wearing your hair straight, this helps to soften the shape of your cut and introduce some movement into your style while keeping the sleekness. Blow dry the hair in sections with a round brush to get a polished look.
Instagram / @wesleynobrega
#10: Feathered Layers for Straight Hair
A benefit of thick hair is an ability to pull off heavily layered haircuts without having to worry about lack of volume. Feathered and straight, this style is edgy while bearing a subtly retro feel to it.
Instagram / @cosmoxwinters
#11: Bouncy Layers
Medium length hairstyles often get a bad rap for looking flat and too "in transition." With this style, layers are flicked gently with a straightener to add some body and dimension.
Source
#12: A Cut Solution for Thick Hair
If you have thick hair, you know that it's not always so much of a blessing. To counteract too much fullness, go for some cropped layers and add in some subtle highlights a couple of shades lighter than your base color to lighten things up.
Source
#13: Brunette Shag with Side Bangs
Here's one for the girly girls blessed with thick manes. Best styled tousled, it's an easy, pretty look you'll love to wear on days when you don't feel like styling much. Side bangs soften up the whole shag, so it's better to make sure they fall nicely.
Instagram / @soraverly
#14: Mid Length Shaggy Cut
Haircuts for thick hair are often sought out for a single purpose – to thin things out. With this shagged haircut, you'll enjoy modern layers combined with a workable length that still allows for ponytail days. If you request a shag, be sure to go to a stylist you trust – too much of a good thing can turn dangerously retro quickly.
Source
#15: Medium Brown Hair with Angled Cut
A long, angled cut might turn into the best bob you've ever had. Instead of making things short and severe, flow free this season with a bob cut that accentuates your natural hair wave. Boost it with a brand new hue – a medium brown color is perfect for fall and winter wear.
Source
#16: Multicolored Sideswept Cut
Celebrate the forever summer inside of you with this breezy, lightened hairstyle. Hair is brushed to the side and chopped on the ends to make thick strands appear less heavy. The blonde accents frame and brighten the face.
Source
#17: Side Parted Lob with Finely Chopped Ends
Haircuts for thick hair simply beg for textured ends as they finish off the shape of the cut and give hair the much needed dynamics. A deep side part is a bold bonus that brings added movement to the 'do.
Instagram / @yokii.san
#18: Adding Shape for a New Look
Angled hairstyles have been popular for a while, but when it comes to solutions for thick hair, they are timeless. Angled cuts with layers are incredibly helpful for stubborn, heavy locks.
Source
Long layered hairstyles with bangs
Long layered hairstyles with bangs are now in great demand. Why? Everyone wants a flattering hairstyle, that's also trendy, effortless-looking and convenient. When you wish to show off your beautiful long locks, try a layered haircut. Layers make long hair more manageable and eliminate the irritating factor of longer strands getting in the way or falling into your face every now and then.

#1: Brunette Balayage for Thick Hair
Source
In this gorgeous hairstyle the full bangs are balanced with light brown balayage highlights that are getting fuller towards the ends. That's a pretty idea of how to make your hair fairly bright but not too in your face.
#2: Long Layers with Eye-Brow Grazing Bangs
Shoulder length hair can also benefit from layers, as is exemplified by the photo below. If your hair is thinner, then layers can add texture and style. Long bangs that graze past the eyebrows soften the entire look of Taylor Swift.
Jaguar PS / Shutterstock.com
#3: Layered Haircut with Arched Bangs for Long Hair
This adorable style is ideal for gals with square or oval-shaped faces. Arched bangs work to instantly soften the sharper features of a square face. Gradual layers seamlessly incorporate a fringe into a longer hairstyle.
Instagram / @salsalhair
#4: Long Side-Parted Feathered Cut
Bangs don't have to dust your eyebrows, especially if you're nervous to try them out for the first time. Layered bangs at the chin length are great for hairstyles in transition. Long hair with side bangs is perfectly proportional for a feathery cut.
Instagram / @northernlightsthesalon
#5: Ginger Brown Shaggy Layers
Long, shaggy layers and heavy side bangs are the key components to this adorably cute hairstyle. The layers here begin at the cheekbones and go all the way through to the ends. The expertly smoothed bangs have been whisked to the side for a decidedly flirty appearance. The light brown hair color is quite flattering to blue eyes and fair complexions.
Source
#6: Wispy Haircut with High Crown
One of the main goals of long, layered haircuts is to have as much movement as possible, and this cut definitely fits the bill. The focal point of the hairstyle is actually the crown section, enhanced with long bangs. The top of the hair is lightly teased to give the hair some welcomed height that looks heavenly in this pearly shade of blonde.
Source
#7: Long Layered Wavy Haircut with Blunt Bangs
If you've got a heart-shaped face, play up your natural cute factor and cut bangs straight across. A more precise cut at the fringe will contrast long and wavy layers in a refreshing manner.
Instagram / @scixxorhands
#8: Long Thoroughly Layered Cut for Thick Hair
Layers are the best friend of thick hair and messy, layered bangs are the perfect fringe for full and gorgeous layered locks. Long bangs work great with the weight and length of thicker, layered hair.
Instagram / @richardatkuthaus
#9: Long Haircut with Rounded Feather-Like Layers
Add instant dimension to a longer face shape with rounded layers that sweep away from your face. This style is ideal if you're craving to try one of today's trendy layered haircuts with bangs without having to cover your forehead.
Instagram / @anthonyholguin
#10: Long Layered A-Silhouette Cut
Who says that bangs and layers have to be blunt? Rock a flattering A-silhouette to give hair movement and break up a longer face shape.
Instagram / @ruthtedmorihair
#11: Mermaid Ombre'ed Hair
For women who don't like to spend a lot of time or money on their locks, one of the best cut and color combos is long ombre layers. While you may need to trim your bangs monthly, you'll be able to let the rest of your hair grow out for as long as you please while still looking trendy.
Instagram / @anhcotran
#12: Long Brown Shag with Bangs
Shaggy layers are ideal if your hair isn't pin straight and you prefer to wear your locks in a more 'natural' look. This is a great, casual way to rock beautiful and effortless bangs without much fuss.
Instagram / @cleencuts
#13: Long Voluminous Shag with Point Cut Fringe
Babes like Zooey Deschanel know the appeal of a voluptuous shag with a thick, point cut fringe. Long hair with bangs in a shag style is a fresh way to frame your face and add interest to a rounder face shape.
Instagram / @marlogomer
#14: Long Cut with Delicate Face-Framing
Spice up your long layers with a fringe. Bangs don't have to be dramatic and can be subtly cut to frame your face, starting at the cheekbones.
Instagram / @robynwalldoesitall
#15: Contemporary Long Shag with Bangs
Looking to add some interest to your longer-layered shag hair style? Cut a cute fringe and part it as you will – longer bangs can be swept to the side or parted down the middle, lending an air of nostalgia to a more modern style.
Instagram / @jeanpierresosa
#16: Sexy Layered Cut with Long Peekaboo Bangs
If you've got long and thick hair, then peek-a-boo bangs were made for you! Long layers with bangs gain instant sex appeal when swept to the side. Make sure your stylist keeps the length of the bangs long, preferably starting your fringe at the chin.
Instagram / @mandies86
#17: Sweet Ginger Shag for Fine Thick Hair
Play up the thickness of your hair with a full fringe to match if you have a delicate color like this sweet strawberry blonde. The slight curl at the ends of your bangs and layers will give life to naturally fine hair as well. Swipe on a layer of mascara and give off that Brigitte Bardot vibe!
Instagram / @melainelerette
#18: Messy Ash Blonde Shag for Long Hair
Ooze the appeal of a surfer babe without the brassiness from the sun! Lengthy layers topped with a rocker fringe look great in a shag, especially if you're sporting fresh color like an ash blonde. This look is all about effortlessness, not perfection, and a longer, wispy fringe emulates that style.
Instagram / @tomsmithhd