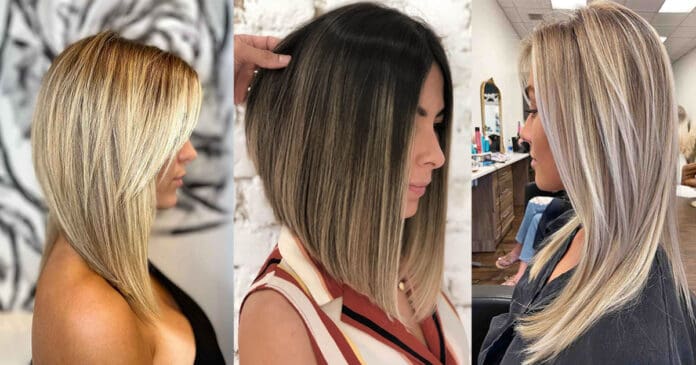 Medium layered haircuts are shoulder-length haircuts that have the top layers cut shorter than the bottom and give the illusion of volume and length. So, if you're looking for pictures of trendy medium-length layered haircuts, a fabulous way to spice up your shoulder-length hair is with some layers. By adding layers, you help add shape, volume, and hair texture to your look. Thick hair is made light and bouncy with fun wispy pieces cut throughout the frame of your hair. Adding layers around your face is a great way to soften angular face shapes and add interest. If you're looking for things to do with medium-length hair, then scroll through the following images of medium layered haircuts to find your next haircut inspiration from one of these popular looks.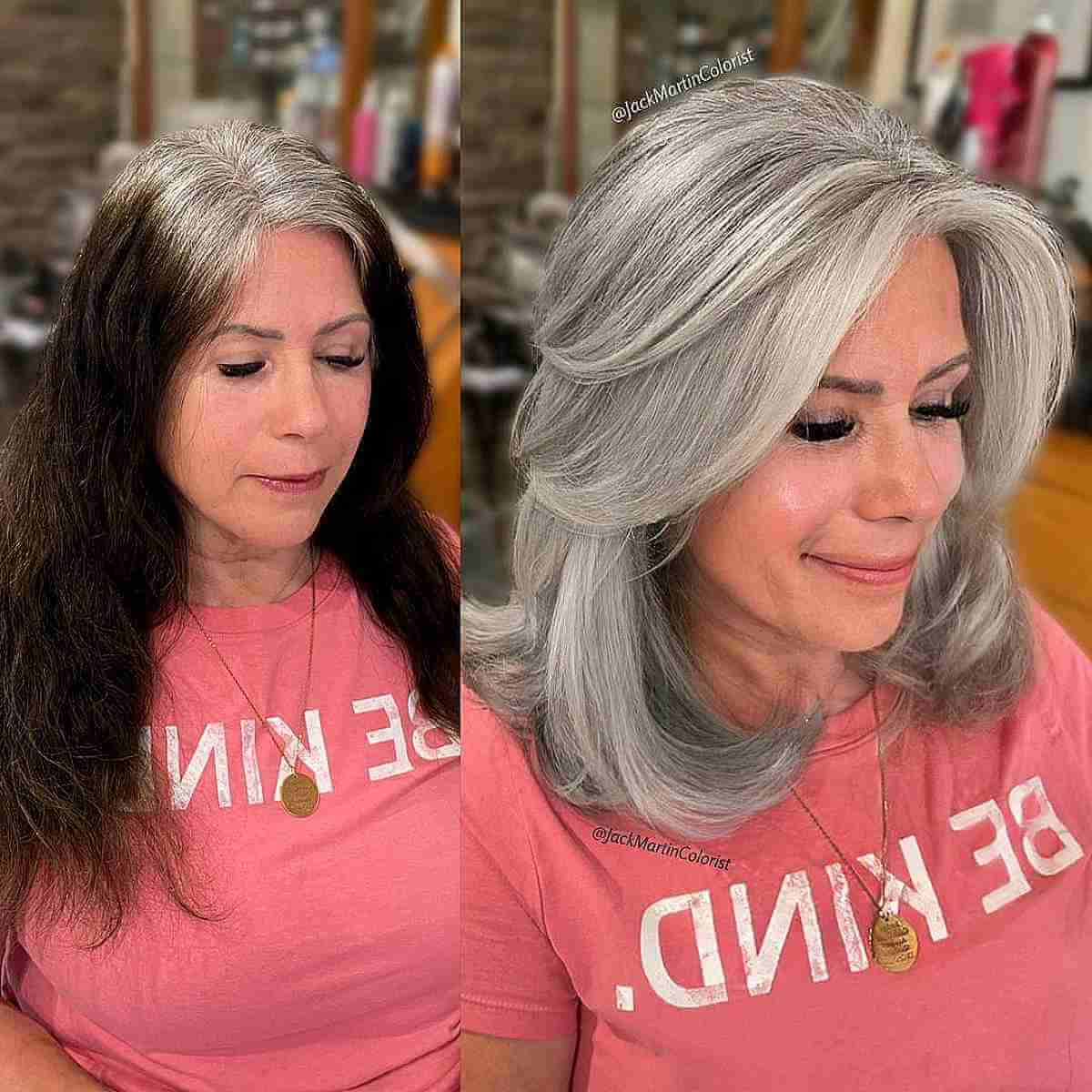 #1: Stunning Natural Grey Hair
Stunning natural grey tresses are now something to embrace, not be embarrassed about. If you can find a hairstylist that specializes in hair color corrections and feels confident about color-matching your grey hair pattern, this is definitely a transformation that will blow you away. Try to be patient with the process because even once you find a hairstylist you can trust, you can expect this transformation to take all day and cost quite a bit of money.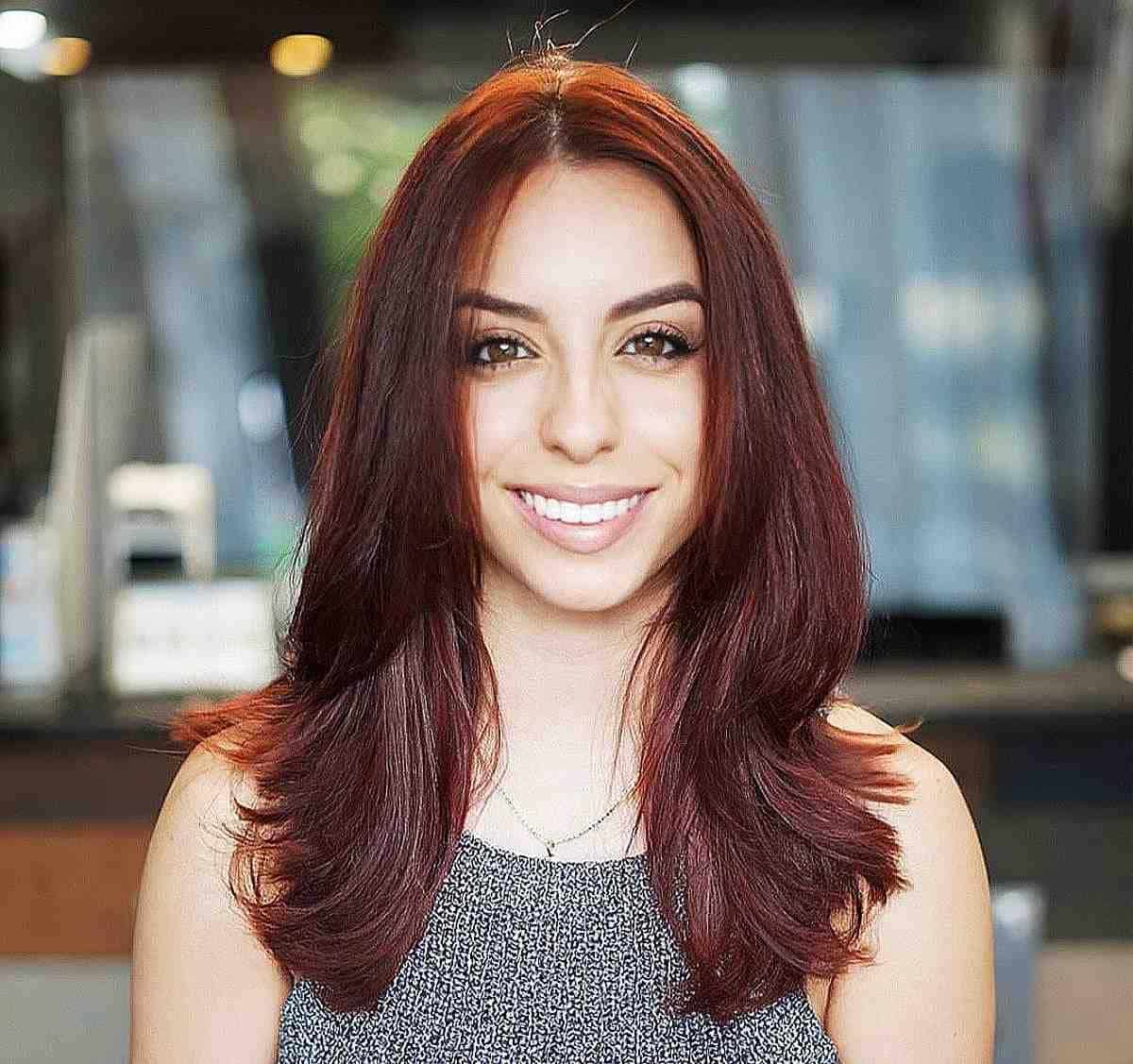 #2: Dark Maroon Mid-Length Hair
Try a dark maroon mid-length hairstyle if you're wanting a rich-looking hair color. The combination of red and brown hues really stands out. Using a shine serum can make your new color shine!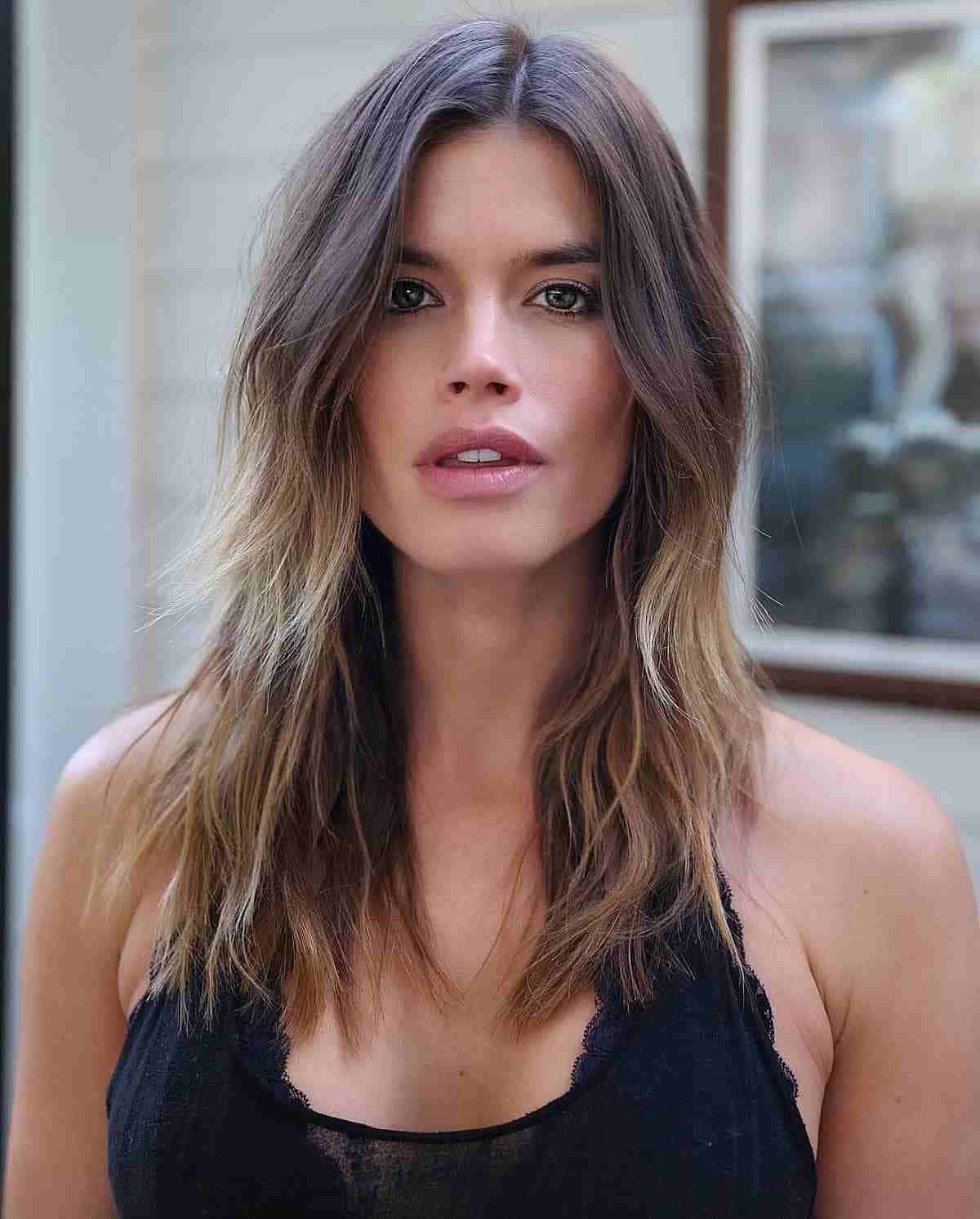 #3: Messy Medium-Length Layered Shag with Ombre
For fine hair, consider a medium-length layered shag with ombré color. Shaggy layers will give fine strands a boost for maximum volume. Ombré color gives the perfect cool girl color without maintenance. Mess up curls with texture spray and your fingers to get the perfect undone finish.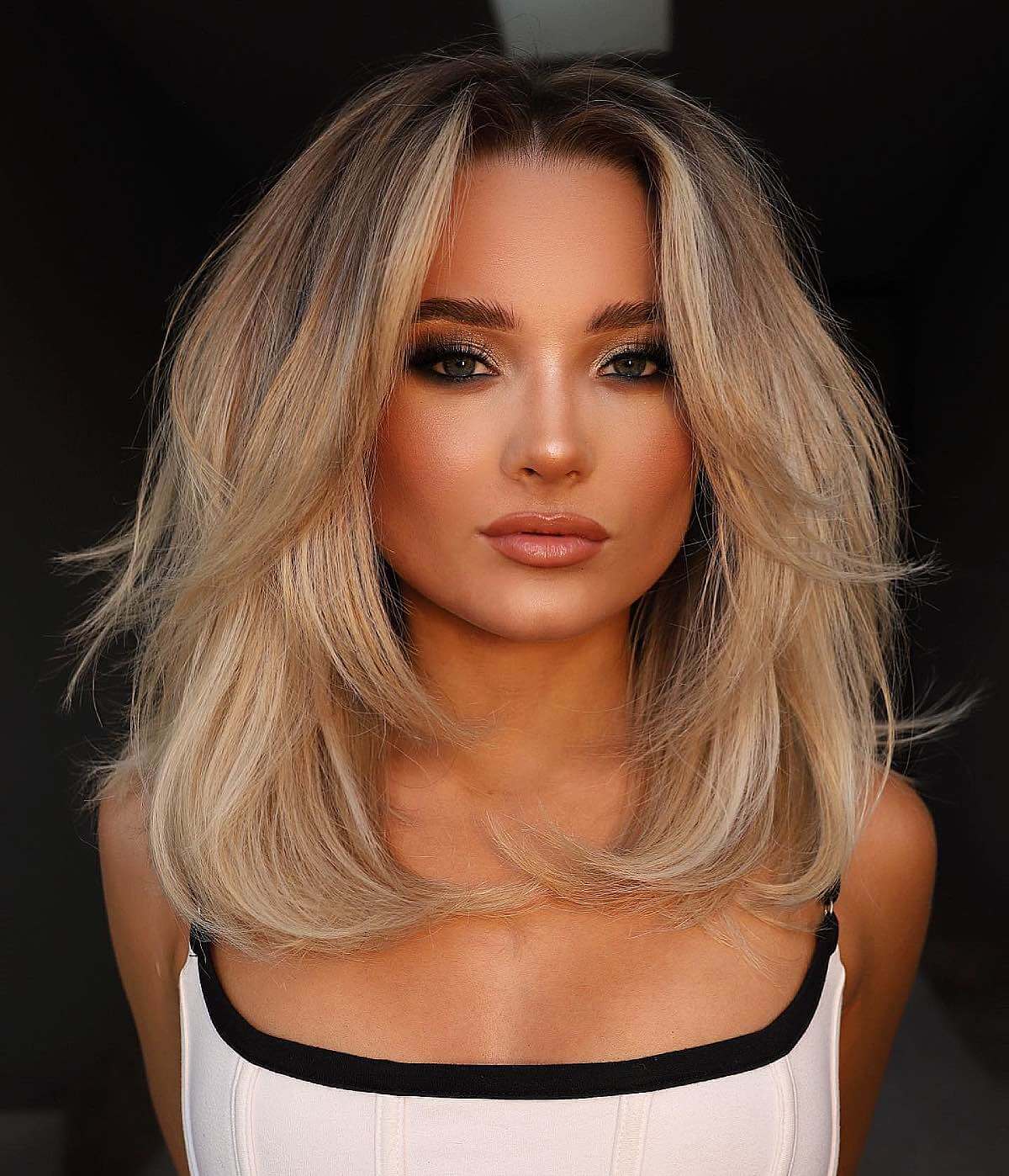 #4: Blonde Mid-Length Layered Cut
Try a blonde mid-length layered cut if you love a voluminous bombshell blowout. A layered hairstyle gives fine hair the illusion of volume and thickness when blow-dried with a large round brush and a thickening product like Rodeo by R+Co. Extra internal weight removal will help create additional movement and piecey ends.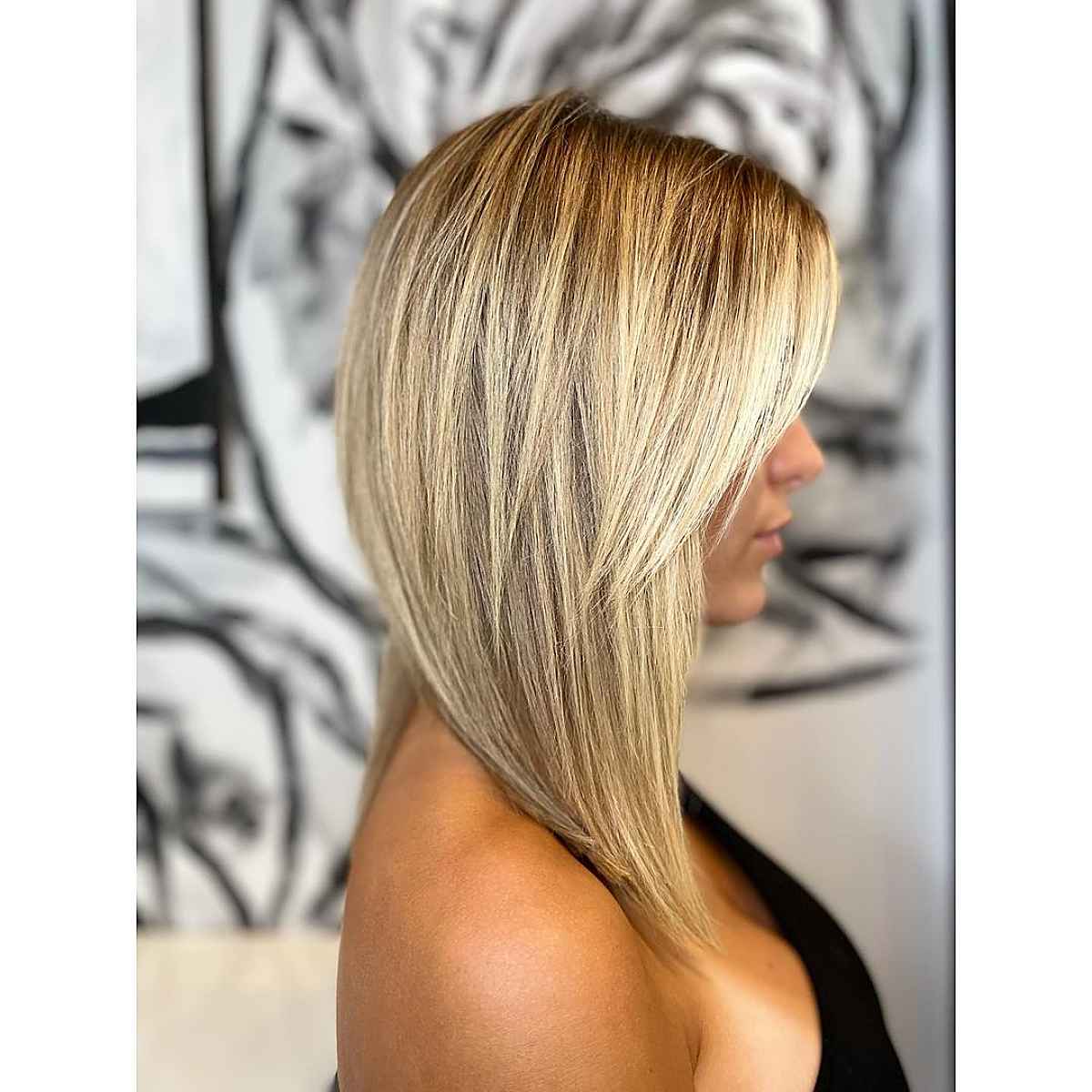 #5: Perfect Layers for Thin Hair
Mid-length bob hairstyles like this offer the perfect layers for thin hair. Such a blessing when your chosen look can make fine or thin hair look thicker. Jazz up your medium-length layered hairstyle with soft curls to accentuate your blonde, or wear it straight like the model in the picture above for a sleek look.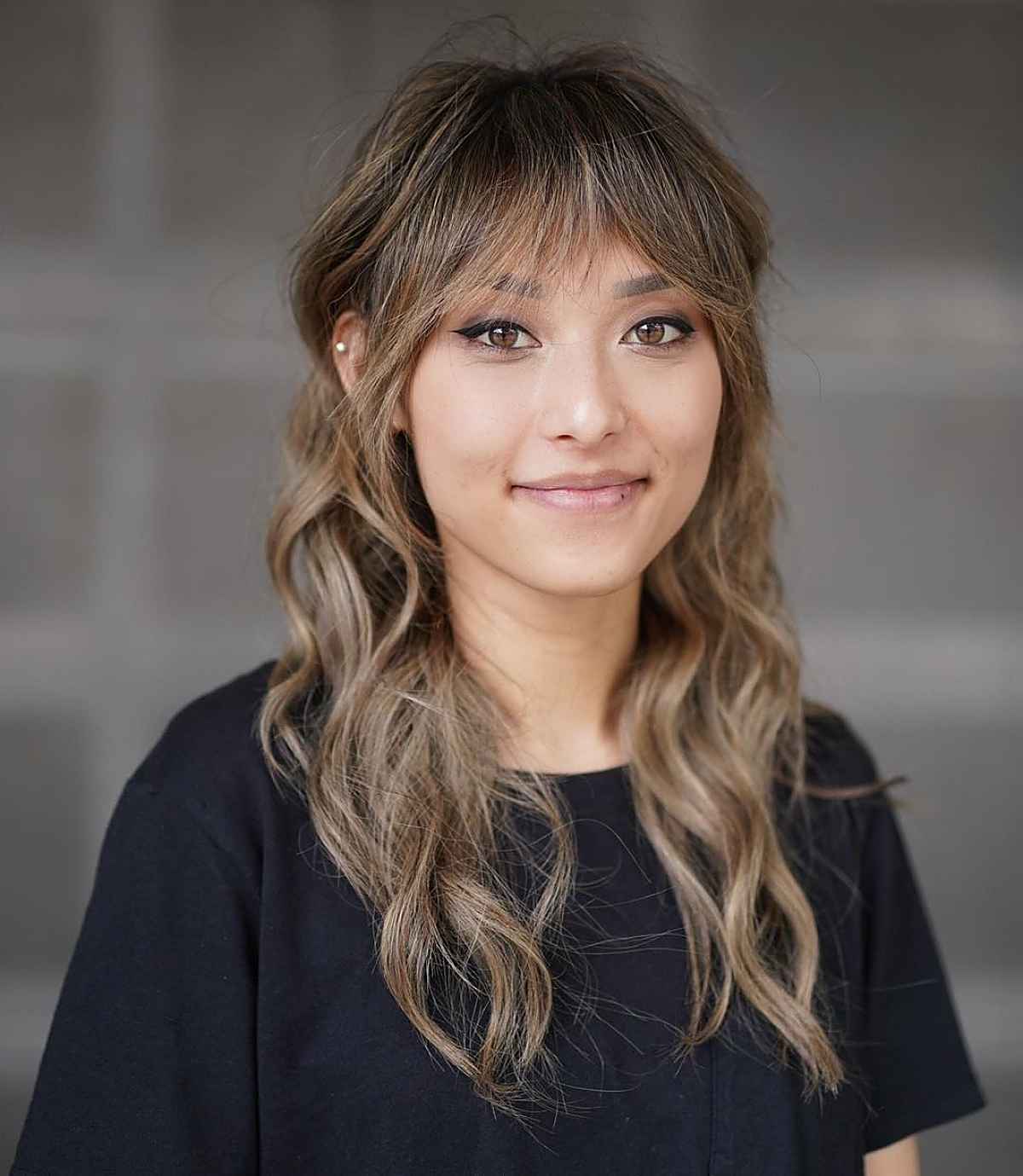 #6: Medium Shaggy Layers
The shag is back, ladies! Medium-length layered haircuts with shaggy layers are easy to wear and oh-so-flattering.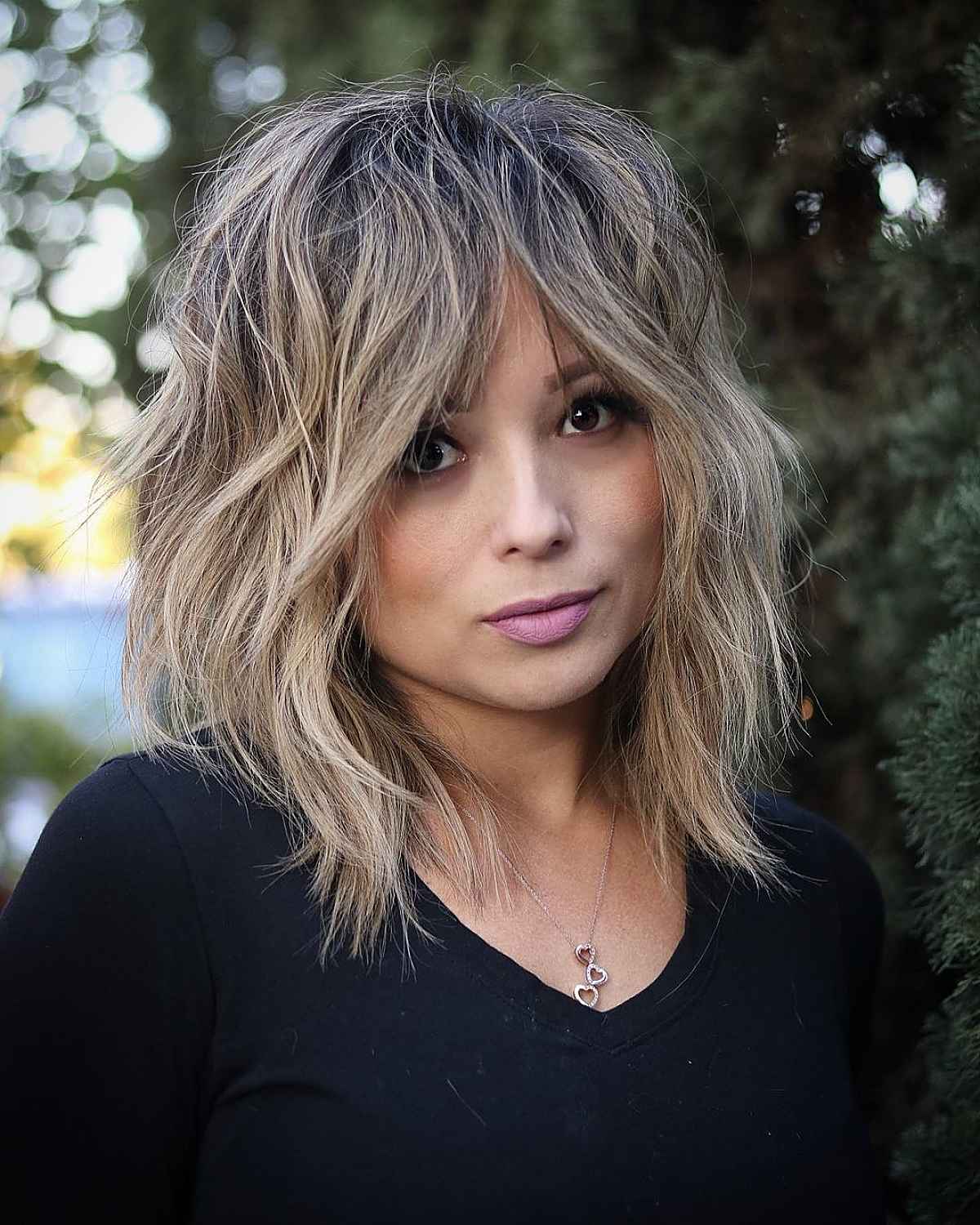 #7: Medium Choppy Layers
Medium choppy layered hair on a long bob is fun, sexy, and easy to style. The more lived-in, the better! Your hair color on this medium to short haircut will look radiant all year long.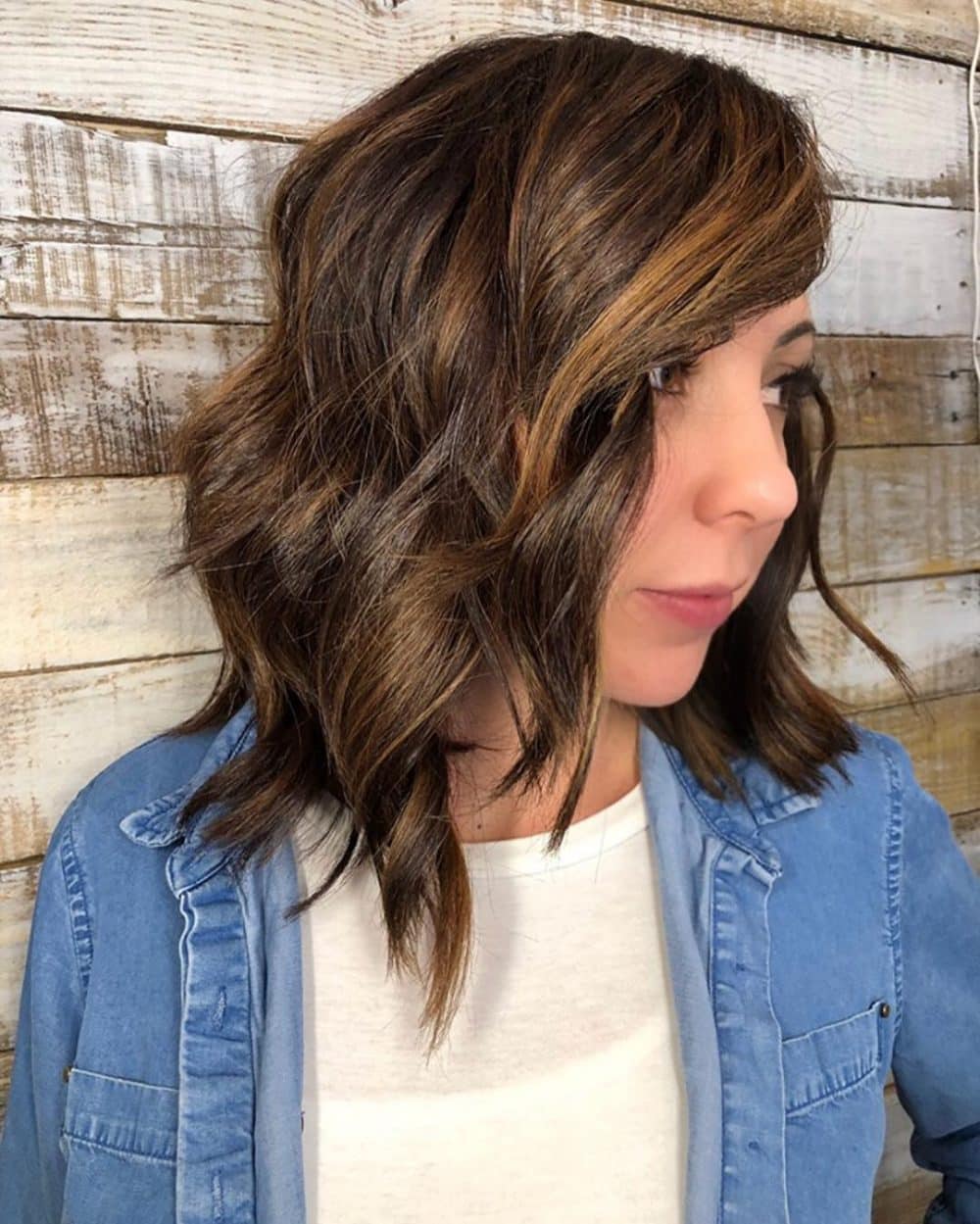 #8: Asymmetrical Bob with Side Bangs
Side-swept bangs on asymmetrical medium wavy bob hairstyles offer all the dimension and interest you want in a medium layered haircut. It's a pretty top-notch bob that suits round faces.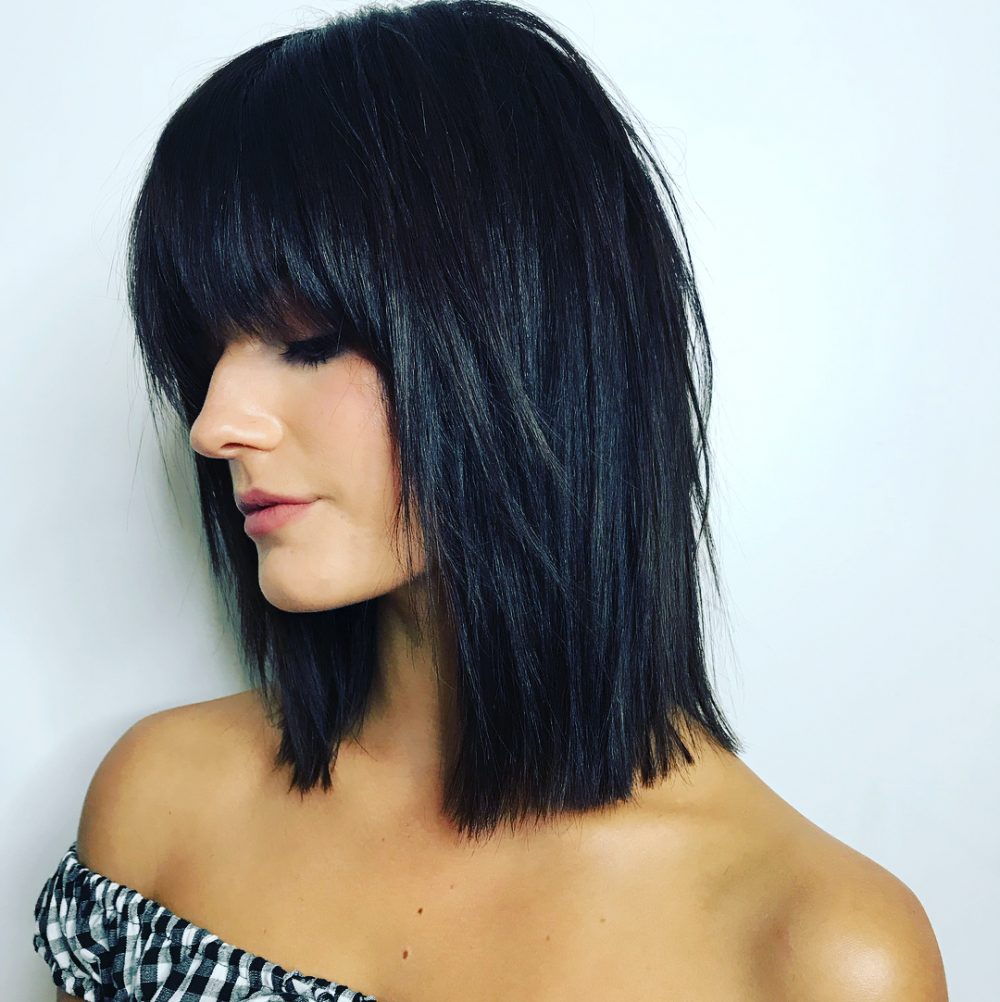 #9: Bob with Bangs for Thick Hair
A thick, blunt textured lob makes every sharp feature you have stand out without effort. If you're proud of your brilliant bone structure and sexy collar bones, medium-length layered hair styles like this one are just for you.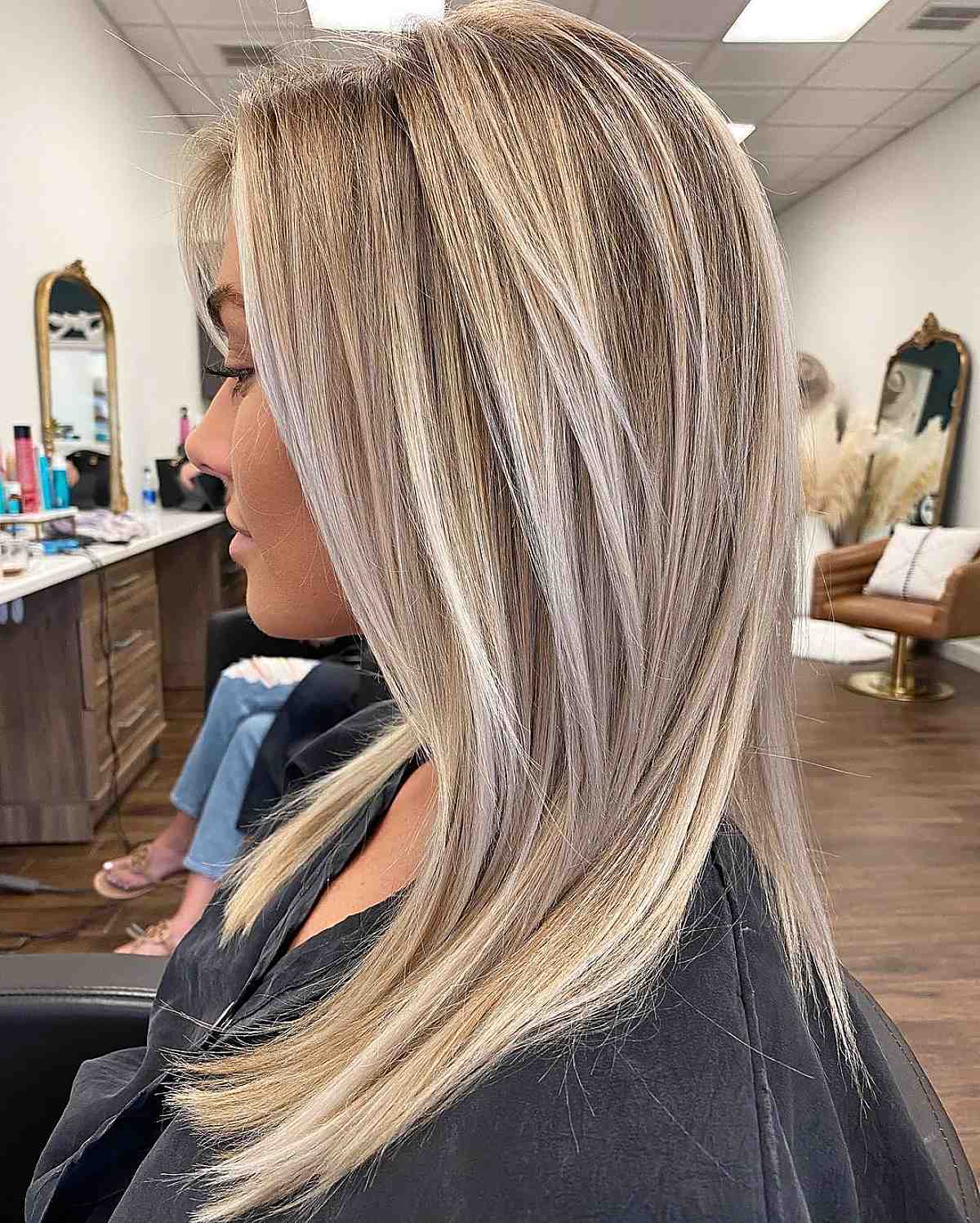 #10: Blonde Layers
Opt for a trendsetting look if you are considering medium-length layered hairstyles. It looks even better with the natural-looking dark roots to a blonde ombre.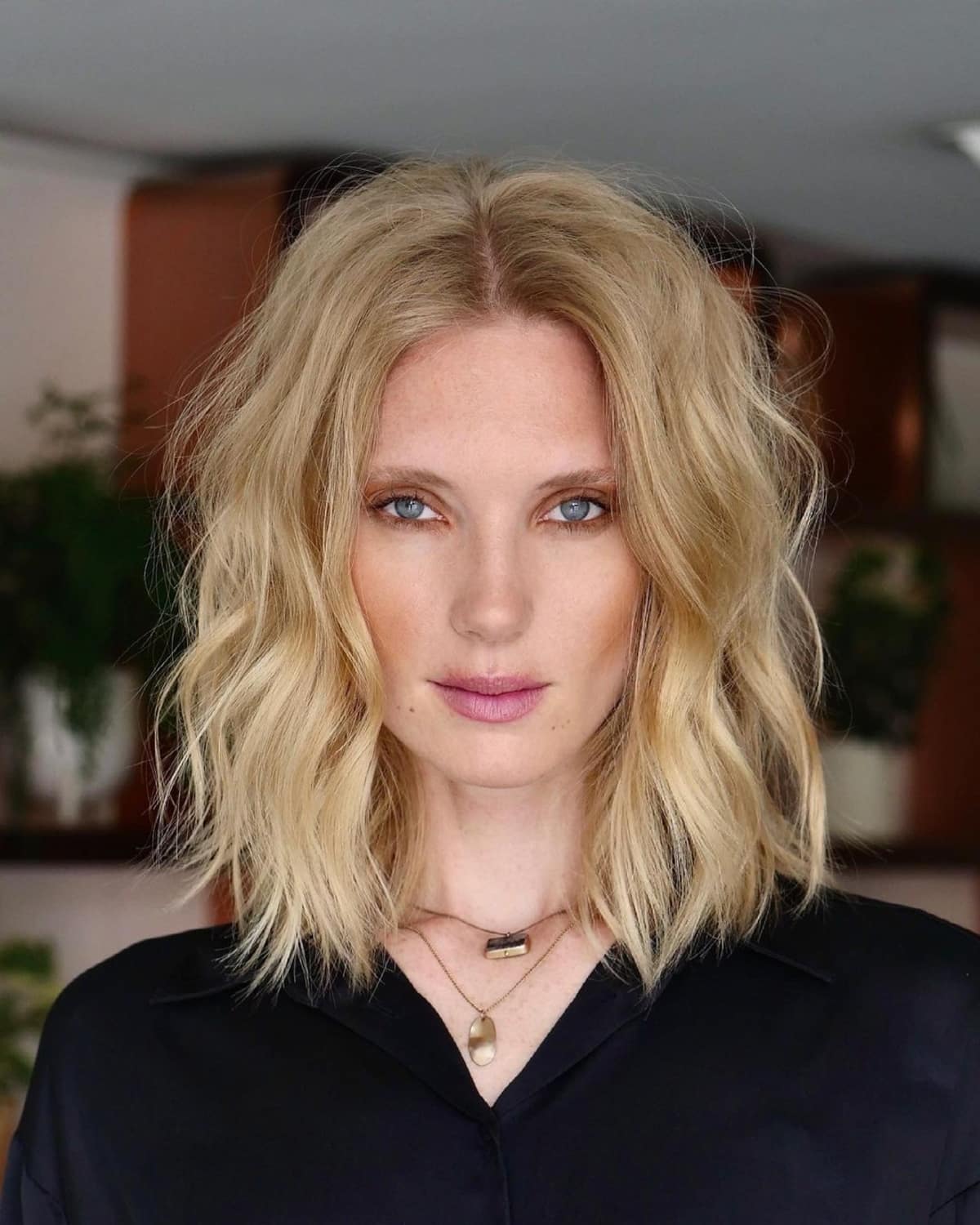 #11: Perfect Mid-Length Haircut for Women Over 40
These shoulder-length hair layers are very trendy and popular. It can be worn by any type of lifestyle. From businesswomen to busy moms. A lob is great for any face structure including a round face shape. It has the perfect amount of hair length around your face to create a slimmer silhouette. This medium hairstyle can be styled down but is also long enough to be styled in a low ponytail. What I love the most about a LOB (long bob) is that it can be edgy and playful but can also be worn sleek and classy. A lob can be customized for any hair type. It can be subtle or dramatic. You don't need to always use heat tools to style. It looks great naturally straight or with natural kinky curls or natural layered waves. I really love using a texturizing sea salt spray to create a messier and second-day look! This haircut can be blunt or whispy.
#12: Shoulder-Length V-Cut
A beautiful shoulder-length V-cut that suits shiny, black tresses! Achieve a fuller-looking edge by wearing a mid-length layered cut. Beach waves plus a v-cut are ideal hairstyles for medium layered hair like this, adding movement and life.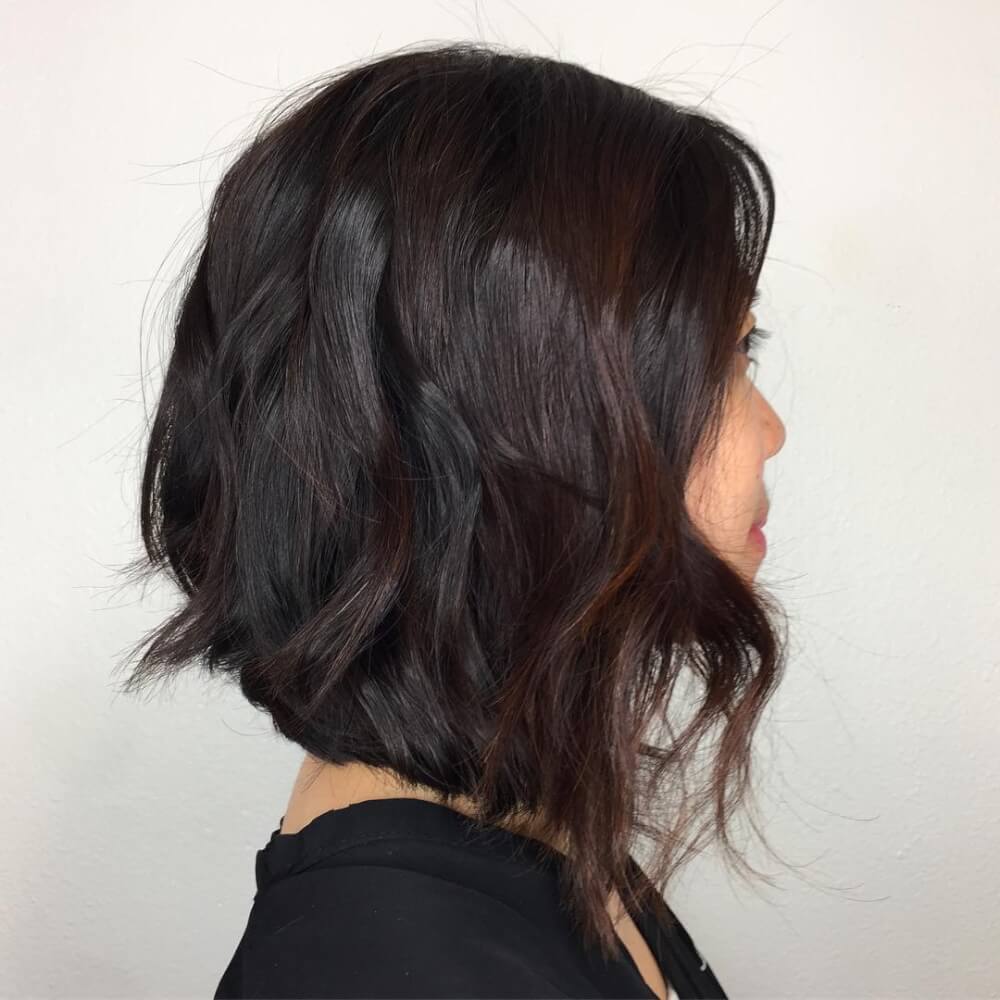 #13: Razor Cut LOB
Go for a razored and angled LOB. It's perfectly texturized with internal layers to bring out your hair's natural wave. I love medium-length layered haircuts like this because you can have fun with styling! Apply a frizz-fighting thermal protectant to your damp hair. I used Shu Uemura Ultimate Remedy Duo-Serum. Not only does it protect against heat and natural aggressors, but it leaves your hair silky as well. Take sections throughout your hair and twist them going in different directions to bring out your natural wave, then diffuse or air dry. Touch up your waves with a medium-sized wand or curling iron, leaving the ends of your hair out. Mainly focus on the front and crown area. Finish by misting your hair with a beach spray to add definition and separation for a lived-in look. I used Tecni Art Beach Waves Spray. I LOVE THIS STUFF! It gives you the perfect amount of texture without feeling too gritty or sticky, plus it smells fantastic. This haircut is ideal for the girl that already has a bend or wave to her hair. The length can be tailored to every face shape, making it flattering for any lady. Styling is a breeze!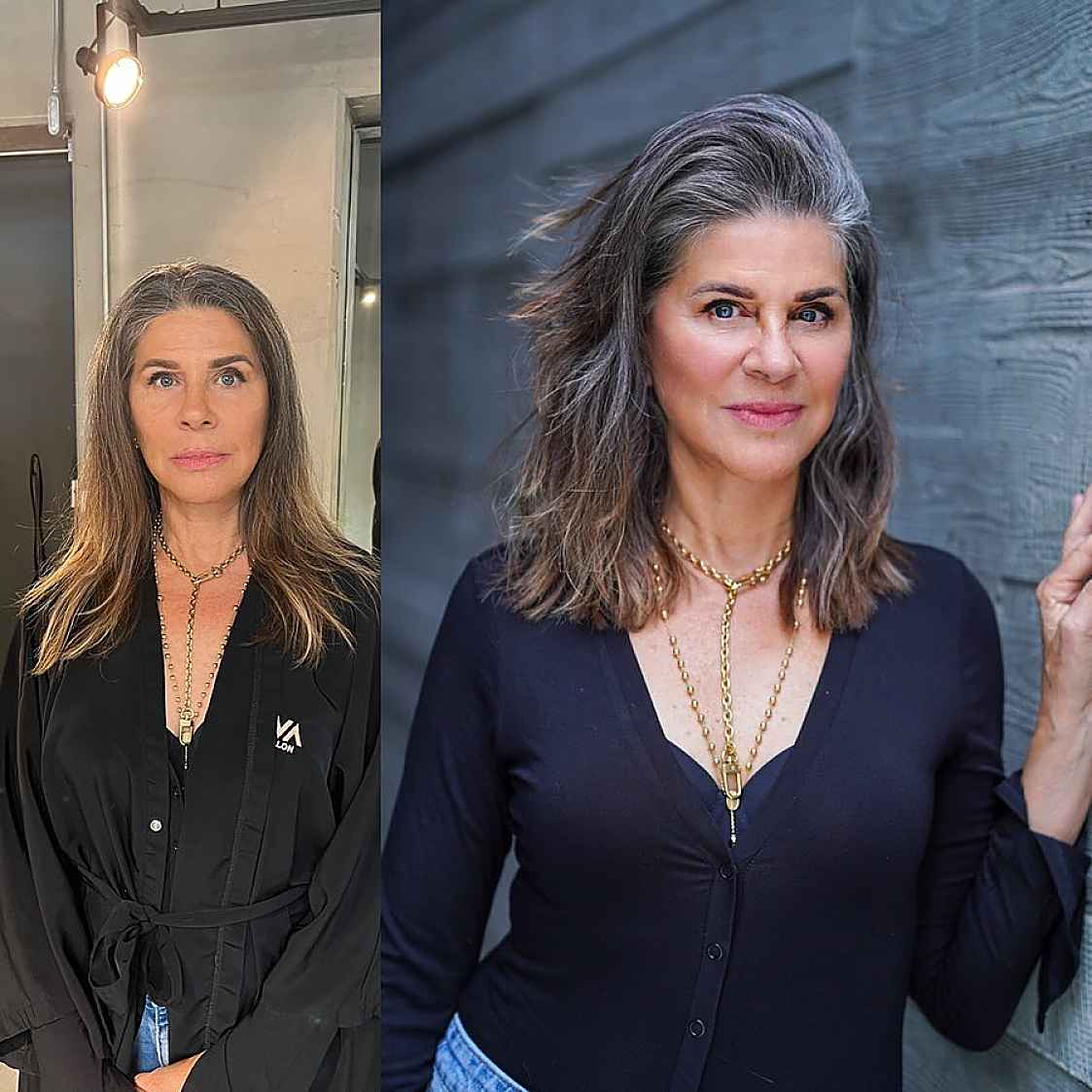 #14: Classic Shoulder-Length Layered Shag
A modern and more glamorous take on the 70s shag is one of the best layered hairstyles for medium hair. This classic shoulder-length layered shag will add movement and volume to your locks. Wanna make it look more youthful? Upgrade your shoulder-length hair and layered shag hairstyle with voluminous bangs up and to the side.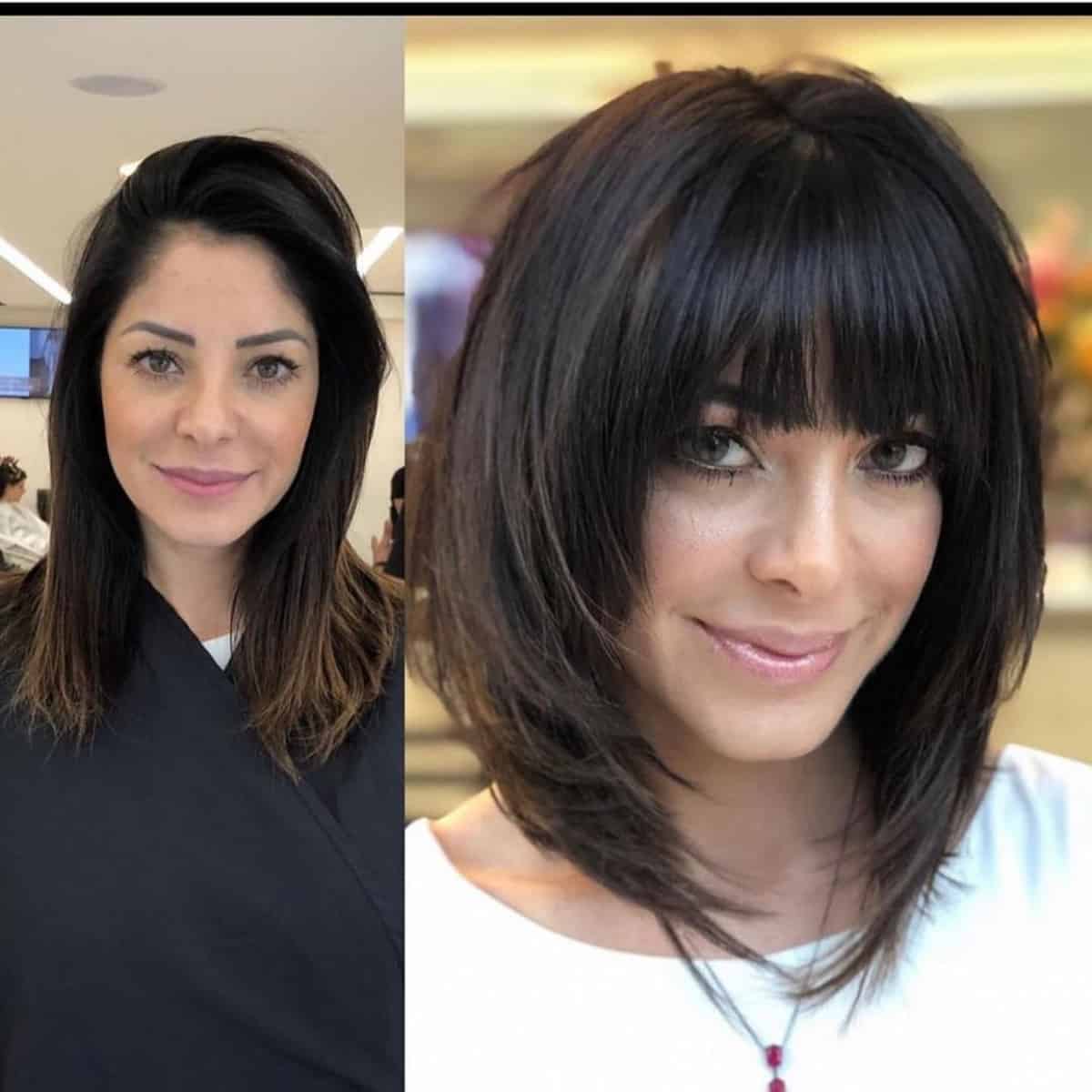 #15: Straight Hair with Bangs
One of the best medium layered hairstyles that are rich and stylish, indeed! Suitable for any age, this straight shoulder-length hair with bangs can be your best asset. If you have natural dark tresses, add hints of brown hue to bring out subtle glossiness.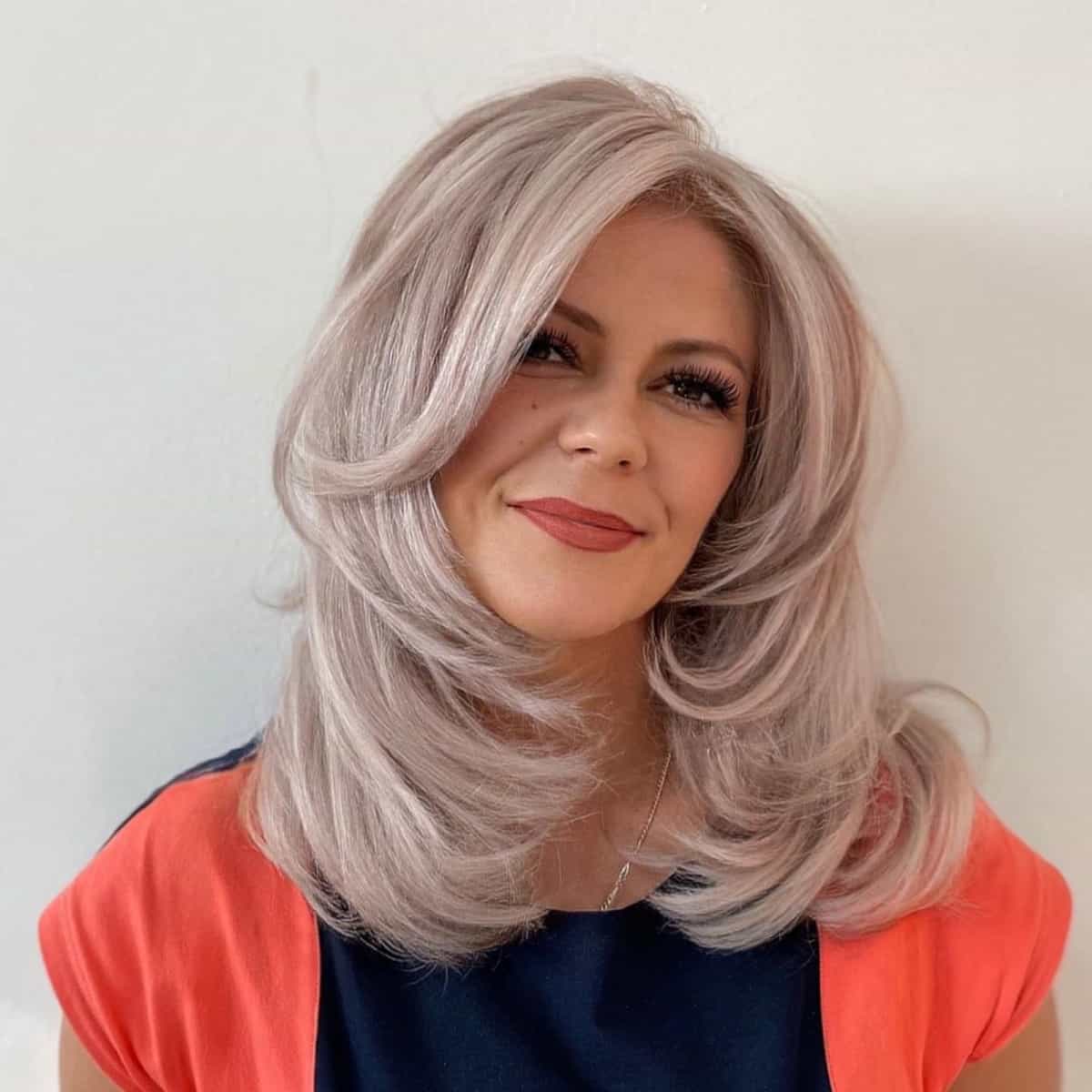 #16: Lovely Long Layers for Medium Hair
The kind of medium layered cut like this plus blow-dry? What an astonishing result! These lovely long layers for medium hair don't only offer volume but also take away weight and bulk. Try to pair it with a dark golden blonde hue to complement your fair skin tone.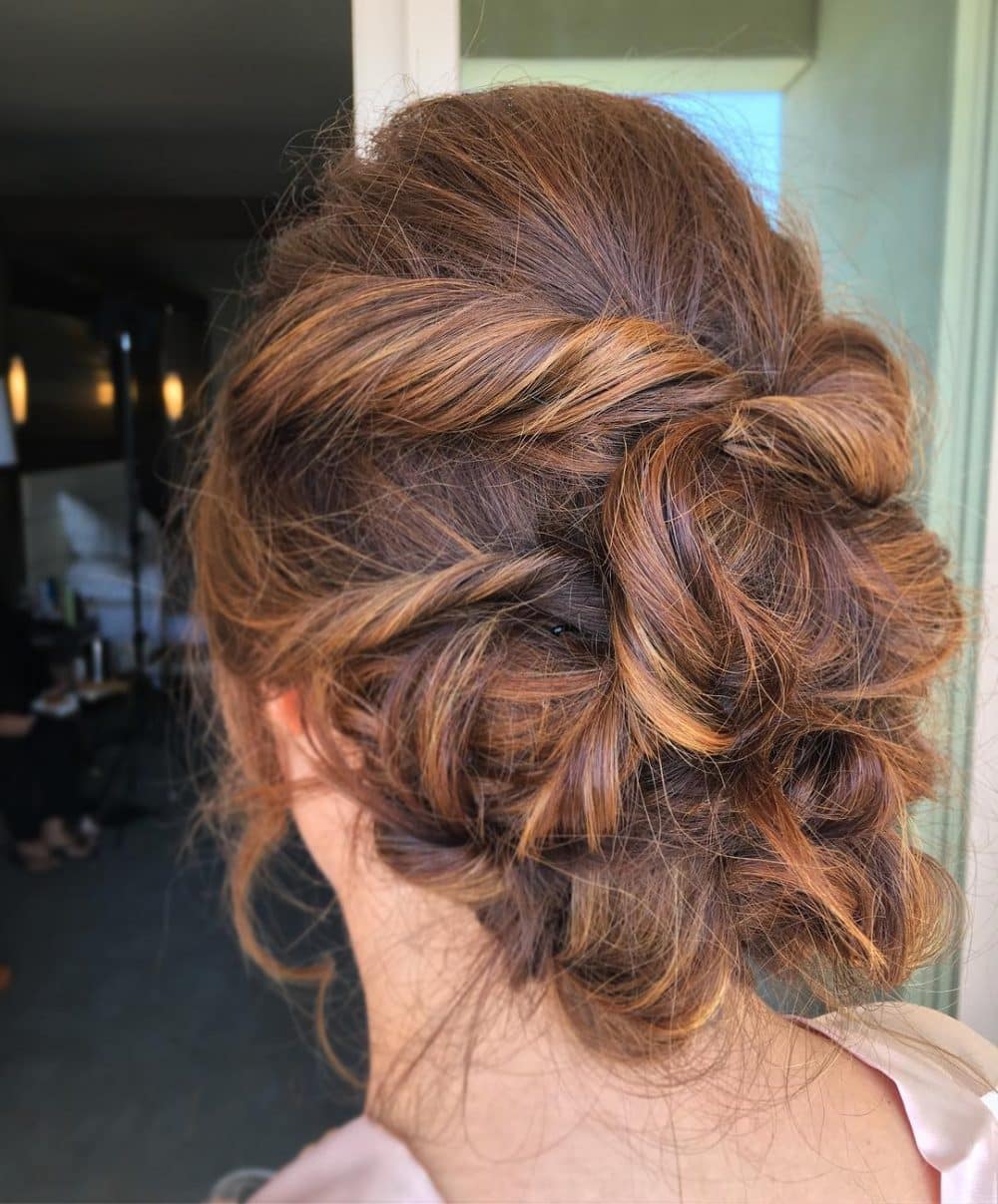 #17: Perfect Wedding Updo
Medium-length layered hairstyles can totally be turned into a simple updo for formal events. All you need are simple twists and a lot of hairpins to achieve a splendid updo that's perfect for a wedding or prom! Really quick and easy to do for you to try!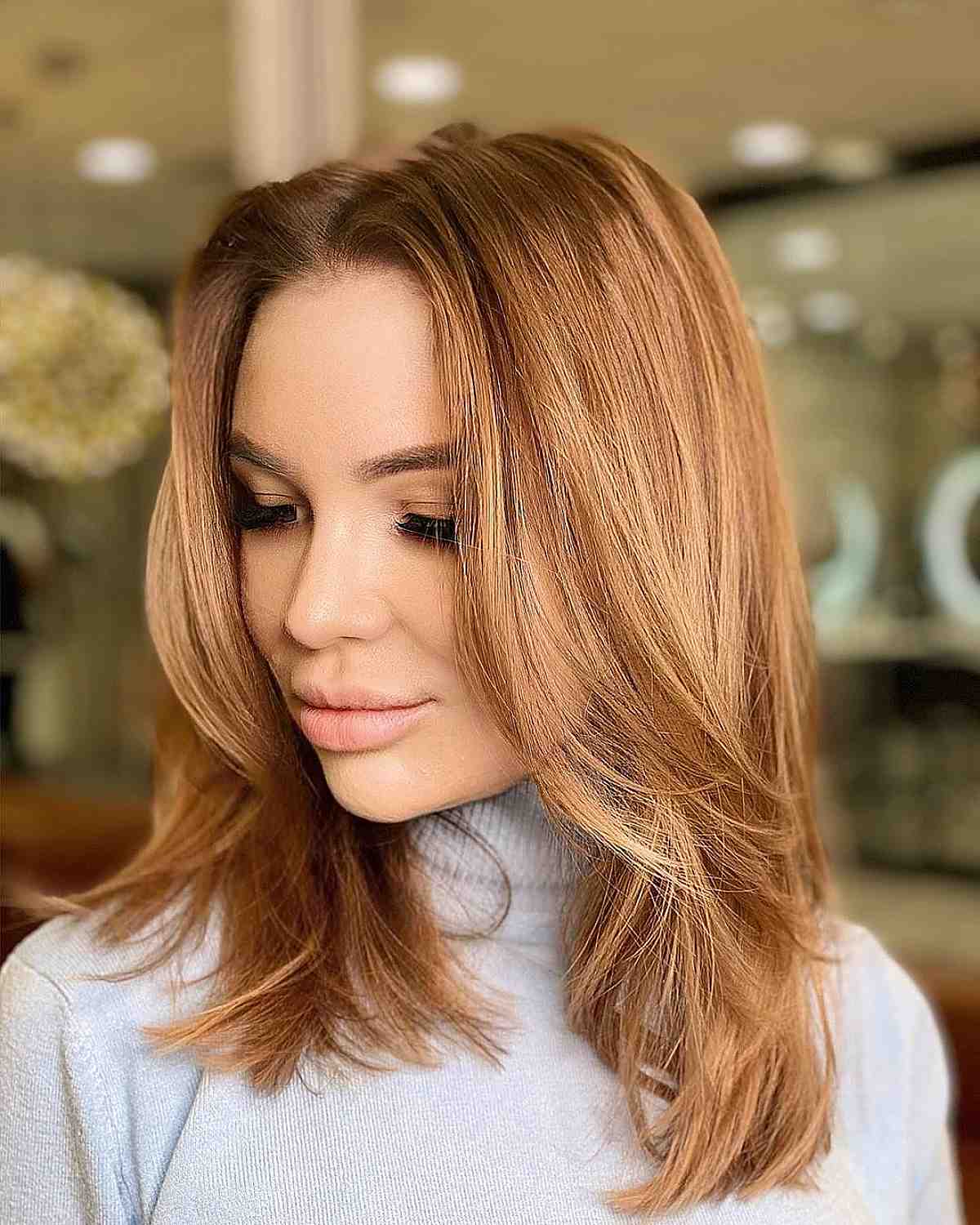 #18: Blow Out Medium-Length Layers
A voluminous blowout shows off these gorgeous layers just right. It's a popular choice for women considering medium-length layered haircuts.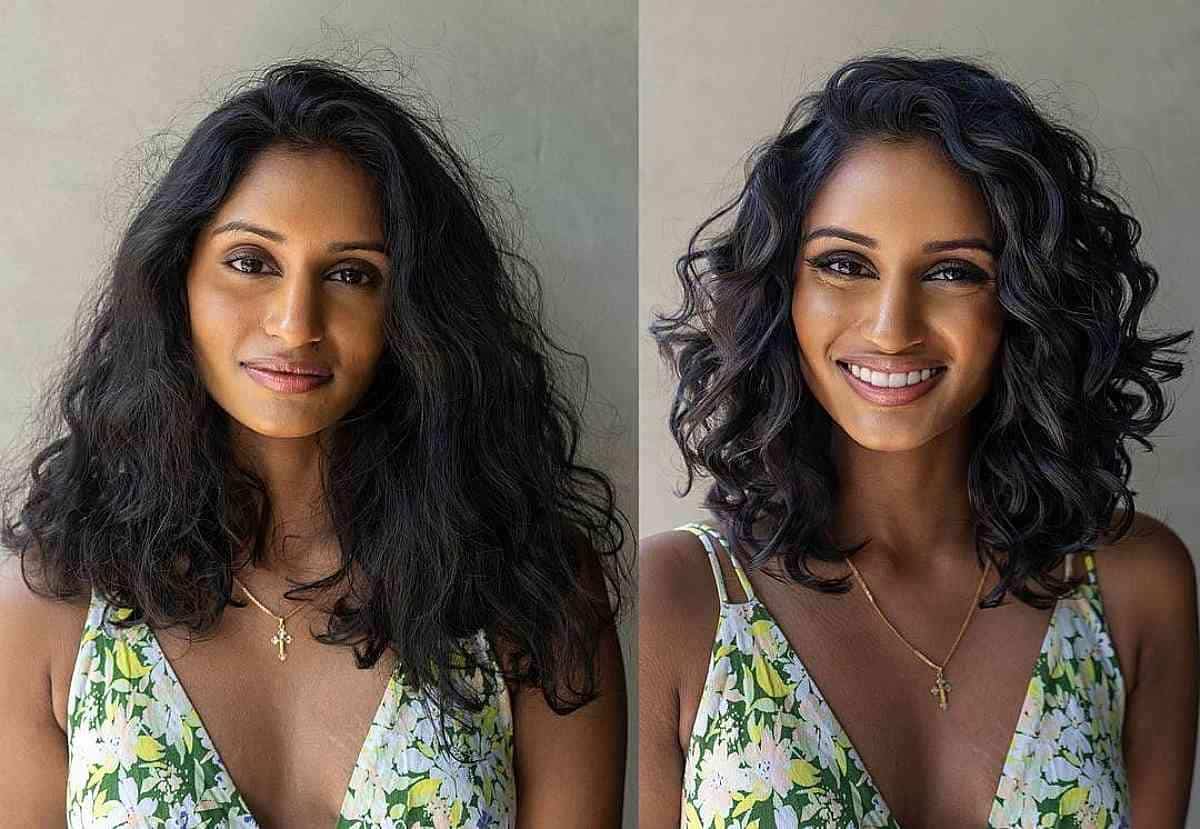 #19: Curly Bob
This takes curly medium-length layered cuts to the highest levels by going all out with dark brown curls! Finish with a layered back and impressively painted side bangs in the front for your perfect look.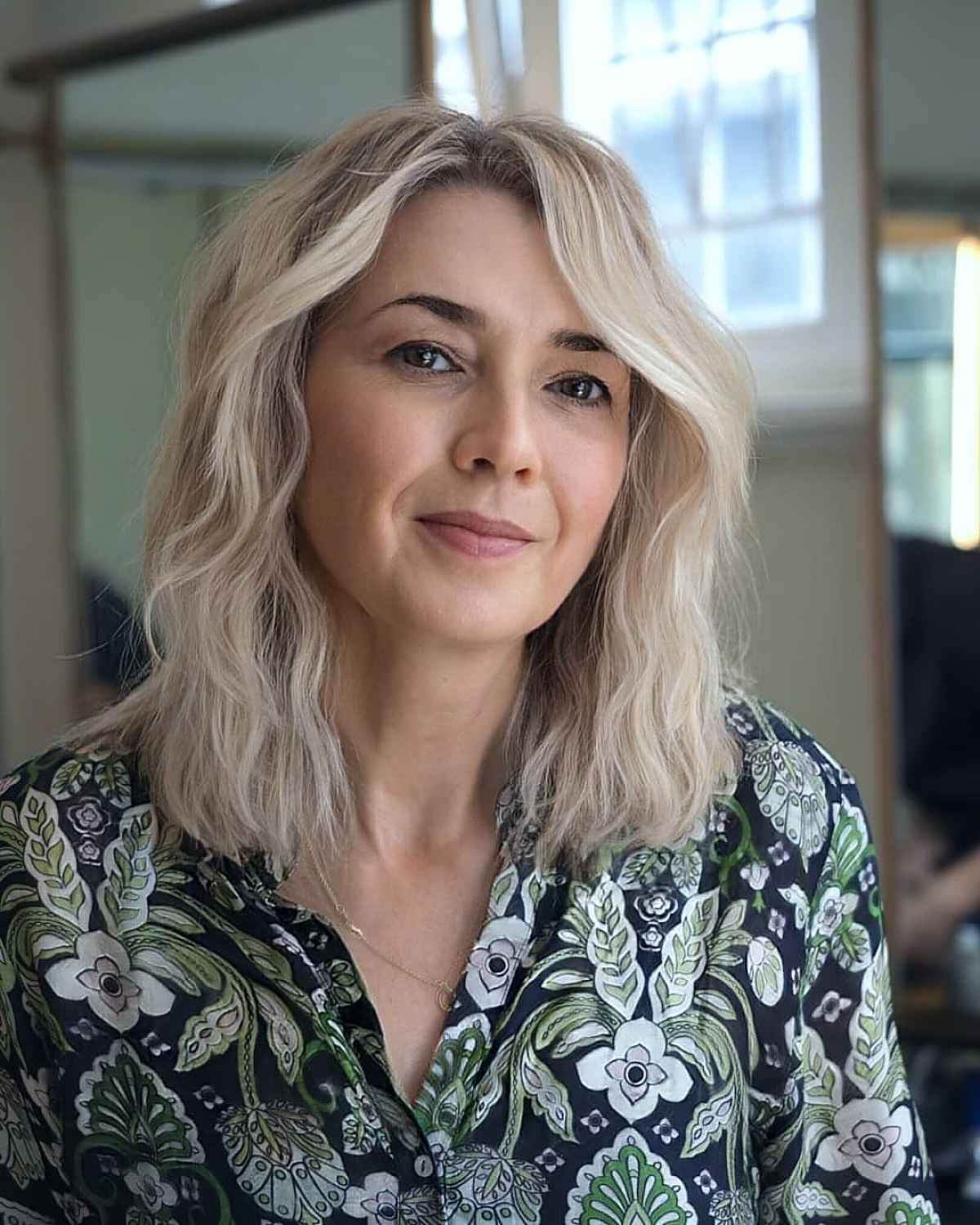 #20: Face-Framing Layers for Medium-Length Hair
Gorgeous face-framing layers for medium-length hair are in! This trend is a dashing way to turn your locks to look very light. It's a medium-layered hairstyle that offers more volume and texture. To amp up your medium hair with long layers, by exploring a dark-rooted blonde balayage.
#21: Inverted Bob
As one of those typical mid-length layered haircuts, this inverted bob is exquisite. Styling with soft boho waves can create a dimensional effect in your platinum blonde hair. If you plan on flaunting this look, a regular trim every 6-10 weeks is vital to keep your hair healthy without the split ends.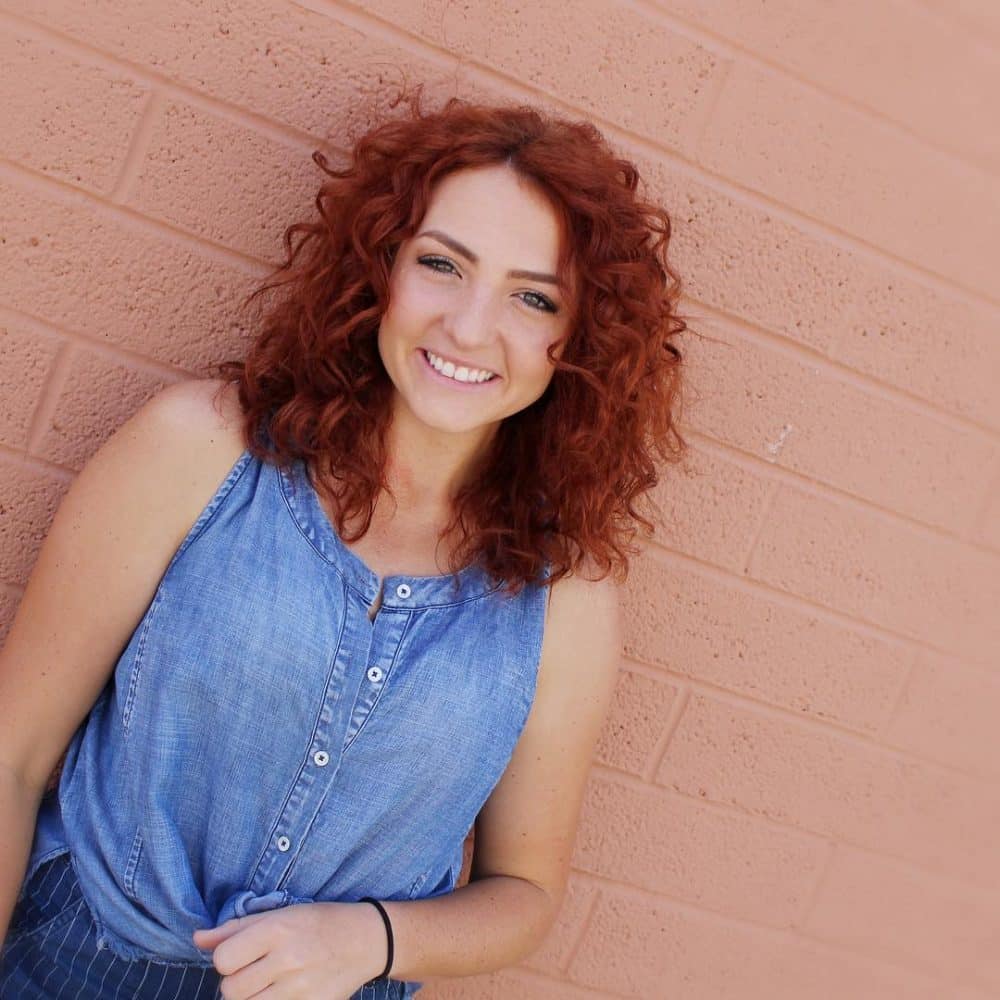 #22: Permed Layers for Mid-Length Hair
This bouncy layered medium-length hair was permed and wrapped in an effortless ringlet style. Her short to long layers and coarse texture made the perfect curly canvas. Say hello to this easy bouncy fun where curls and layers go hand in hand. With perms making a comeback, it's important to know that you won't wake up with perfect ringlets or a smooth wave. Curly hair still needs styling and products, whether your curl is natural or permed. Layers will take the weight off and allow your curl to be bouncier and form ringlets. You'll need products! For a dry soft look, a lightweight curl cream will help smooth the curl and reduce frizz. For a wet look, mousse can be used throughout your hair. For a little extra shine, use a small amount of shine mist or spray through the mid-section to your ends. Scrunch, scrunch, scrunch! The biggest thing when styling curly layers is to scrunch your hair while it dries. Water weighs your hair down. If you let gravity do its thing, it will cause your hair to dry flat. Continuously scrunch as it dries so that the curl can form. Short curly hair is perfect for women who would like to complement their round face shape. Curls will also produce a round look for ladies with an oval or oblong-shaped face. Overall, ask your stylist what hair types of curls and layers will produce the best outcome for your shape and lifestyle.
#23: Feathered Layers for Over 50
Who loves layered haircuts for medium hair? The key to this stunning shoulder-grazing chop lies in its blended layers. They result in a natural-looking movement, giving your mane a bouncier finish. These are the feathered layers for women over 50 that are sure to make you fall in love with your grey locks.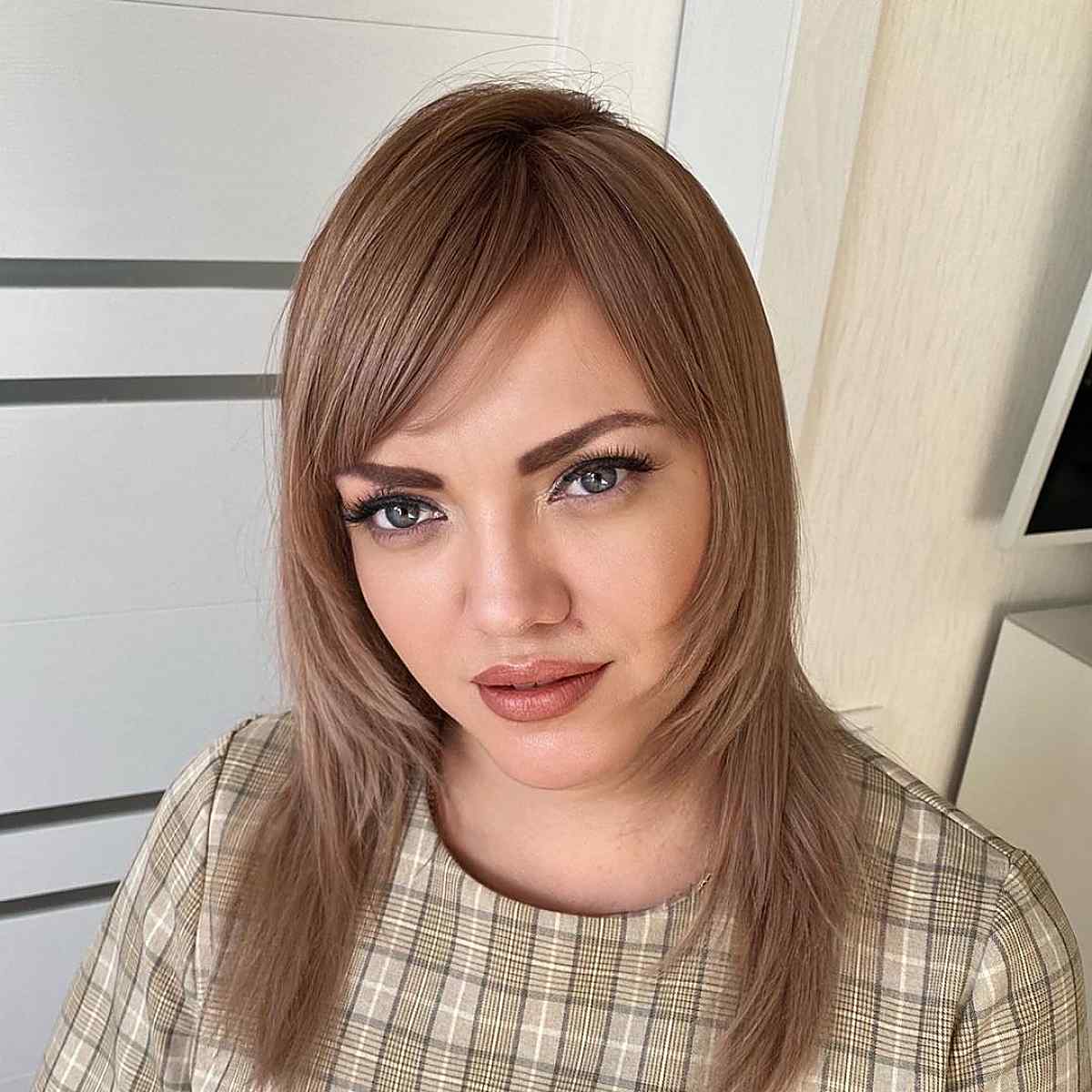 #24: Layered Cut with Side Bangs
Look smart and confident with a layered cut with side bangs! The length where it stops a few inches below the shoulders will keep the fullness of your straight hair. A deep, dimensional rose gold hue in this long layered bob haircut will give your look a touch of youthfulness.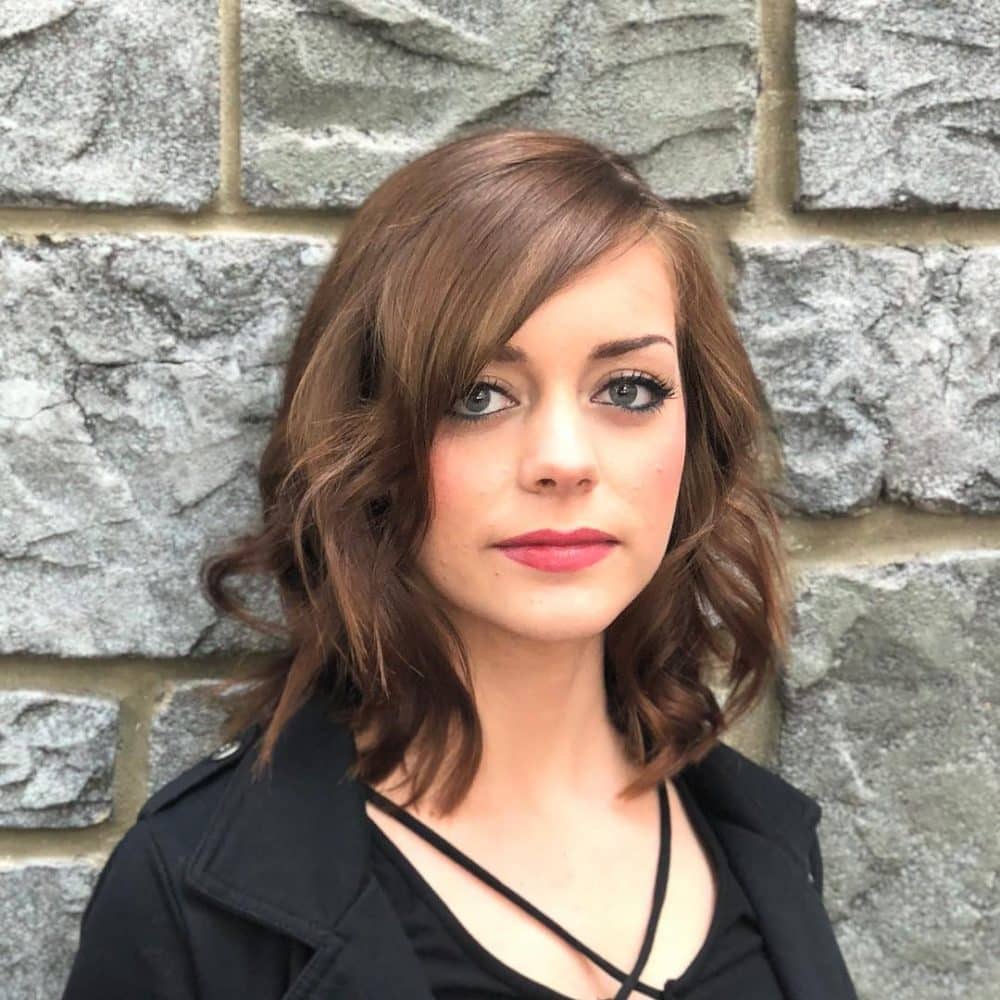 #25: Side Fringe
This is a long bob, or "LOB" as some would say. It's versatile in the fact that this could still "feel" long, but also can be easily managed. It's great for fine to medium hair. I cut this into a triangular shape to leave length around the front. I used Donald Scott Carving Comb to give the layers softness, and Donald Scott Chop Stick to detail the layers around the face and sketch the perfect face-framing look I styled using Paul Michell invisible wear foam giving a soft texture to the hair when applied to wet hair. I blew dry with a large round brush and finished with a beach curl using my Paul Mitch smoothing iron. Spray with Worked Up to give a light hold. It's very easy to manage, best with a light styling product, and ideal for medium to fine hair. It's also great for women who still love a ponytail but want a more stylish look. It's recommended for an oval, round, or square face shape, as it can show off your look!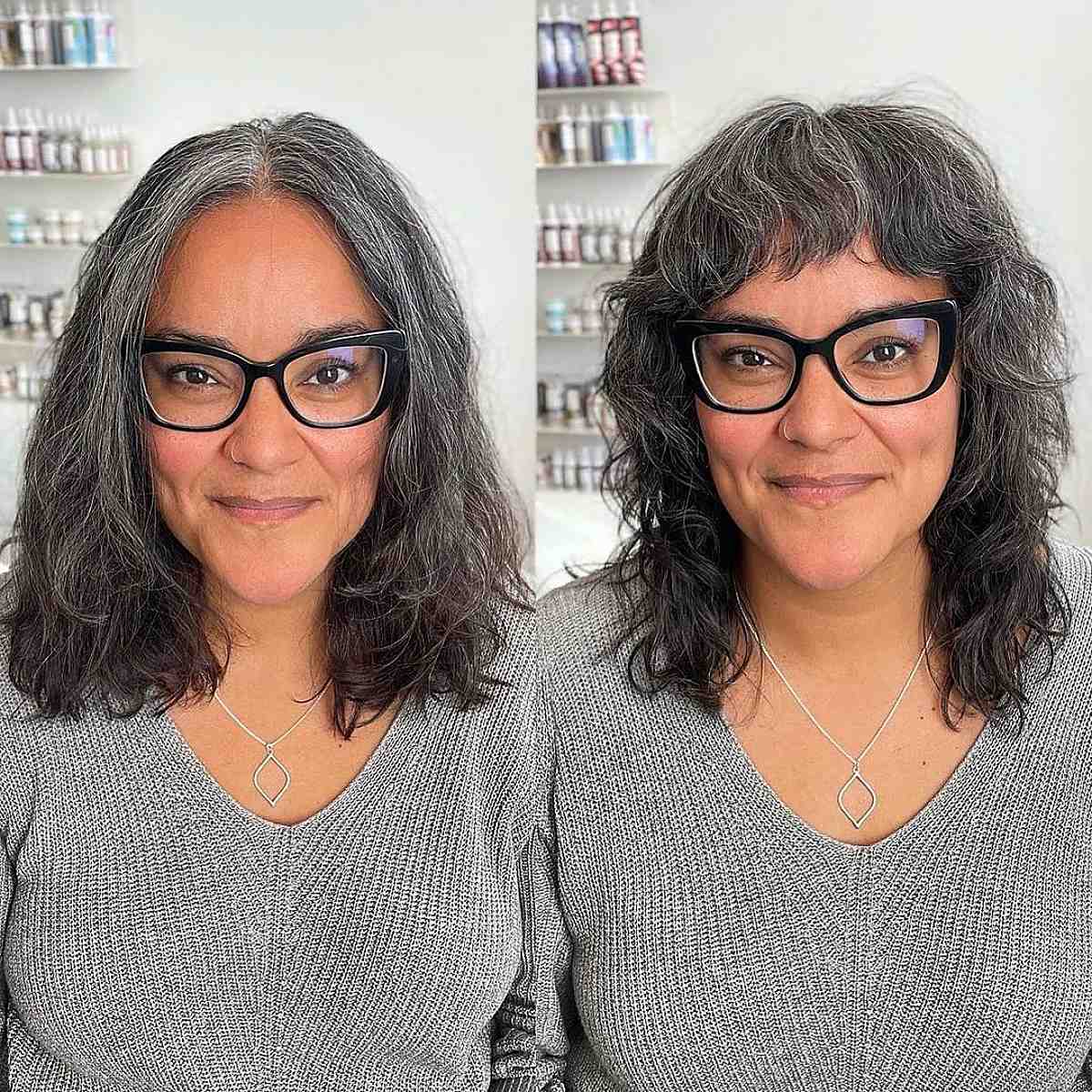 #26: Shag With Bangs
Layered haircuts for medium-length hair look even more stylish with bangs, don't you think? This is a more conservative shag that was cut with a feather plier razor. It has movement and piecey-ness and looks perfectly disheveled! This look was inspired by Amanda Wall, the creative director of R+Co. This look is for the normal to the fine-haired woman that has a lot of hair and craves movement and texture. It works great with a fringe and looks best when product is used to define the ends. This look isn't for hair that has a rough cuticle layer or expands with humidity! This haircut air-dried on slightly wavy hair gives a great beachy, lived-in look. Any face shape can pull this haircut off! The stylist will just need to determine where to start the shortest face-framing layer dependent on your face shape, and whether or not bangs are an option based on style and commitment to upkeep!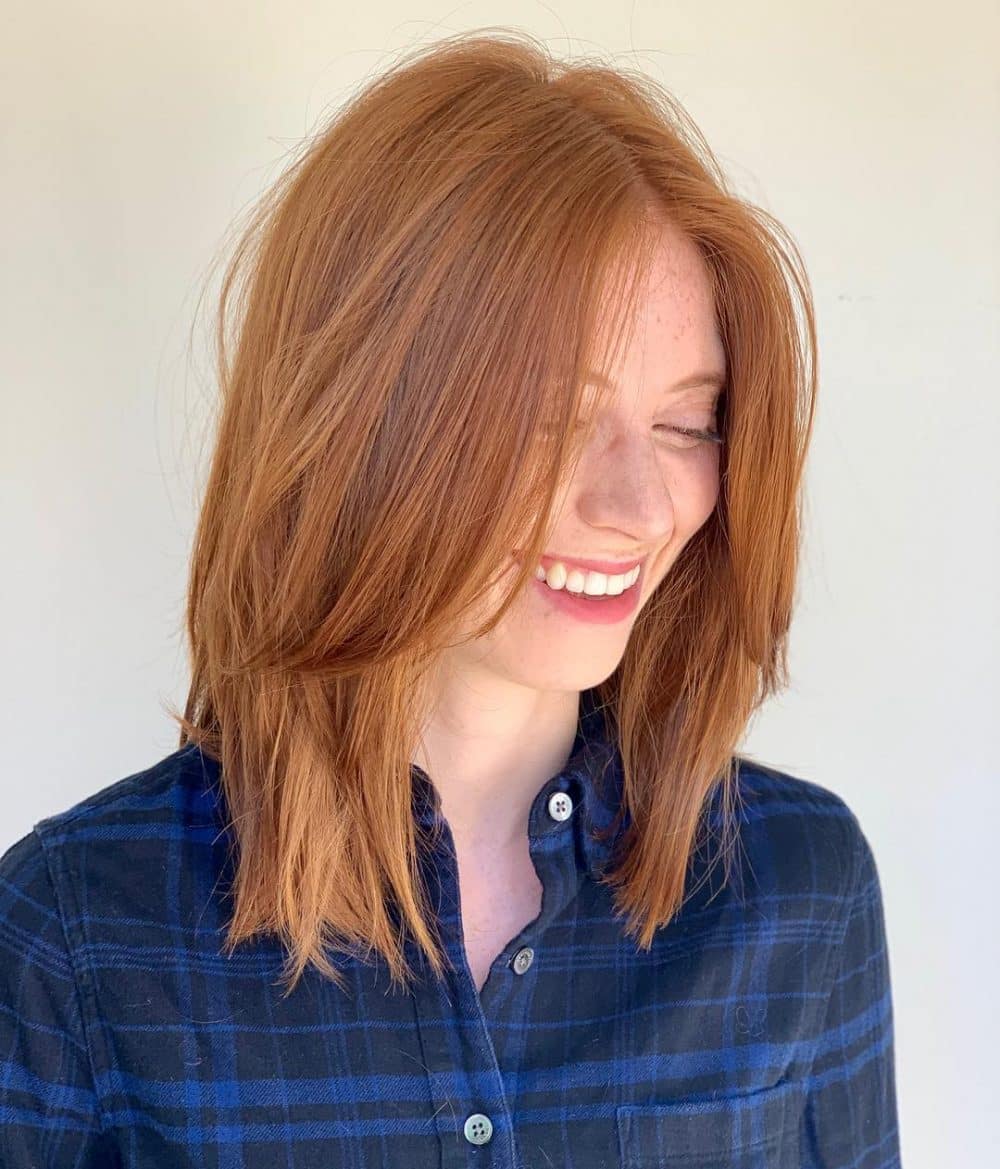 #27: Layered Bob
Here's a medium-length layered bob haircut, allowing you to rock a textured style. If you always part your ginger mane in the middle, you won't go wrong with a few face-framing pieces for a softer look. Plus, another reason to love this mid-length hair is its ability to wear all up or half down.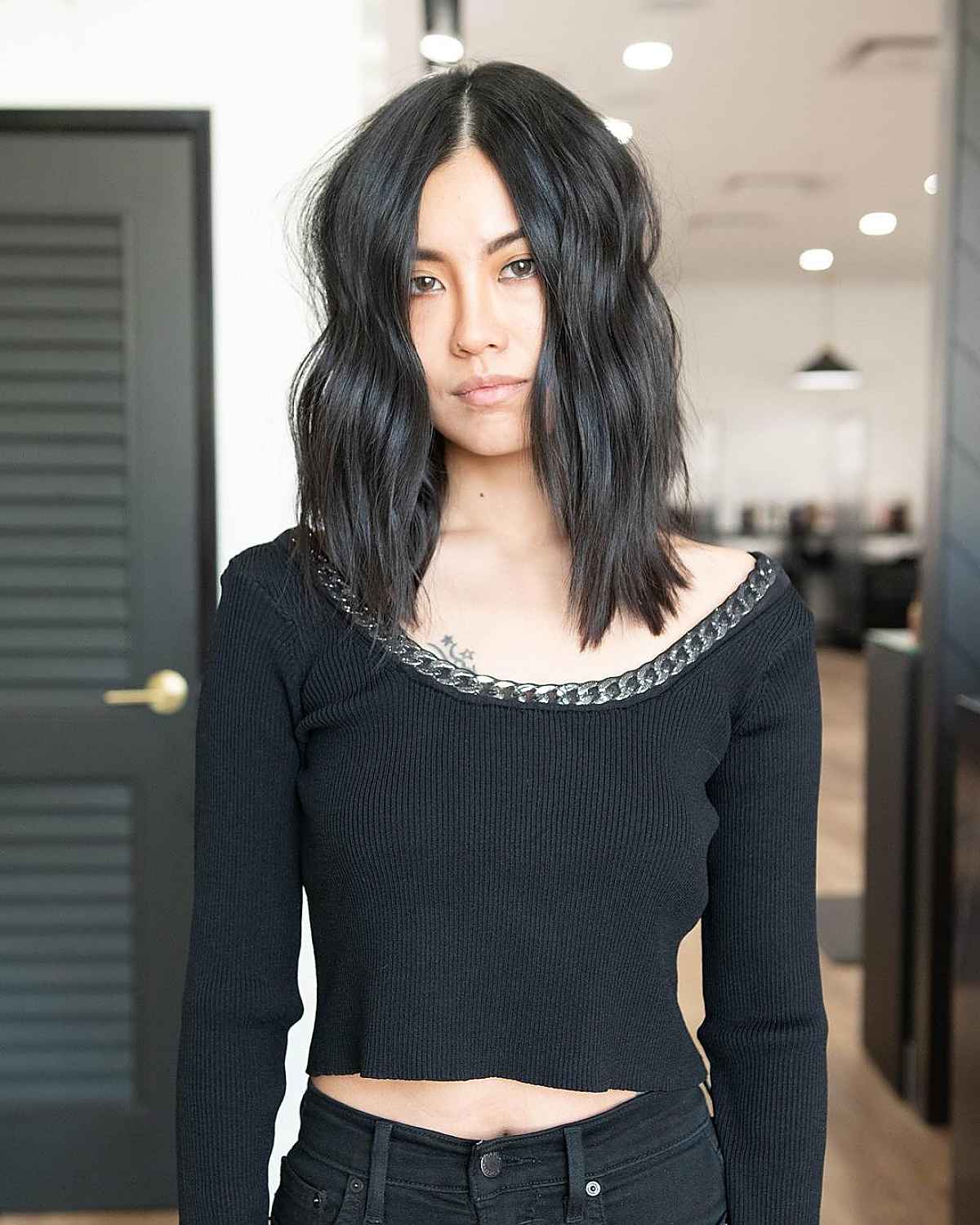 #28: Feminine Mid-Length Layered Hair
The perfect and very versatile mid-length layered haircut for women in their 30s, 40s, and 50s is here! Enjoy an alluring image as you pull off feminine, mid-length layered hair. With the combo of a middle part and soft waves, the outcome looks voluminous and fuller. Complete the elegance of your locks by painting them with a deep dark hue.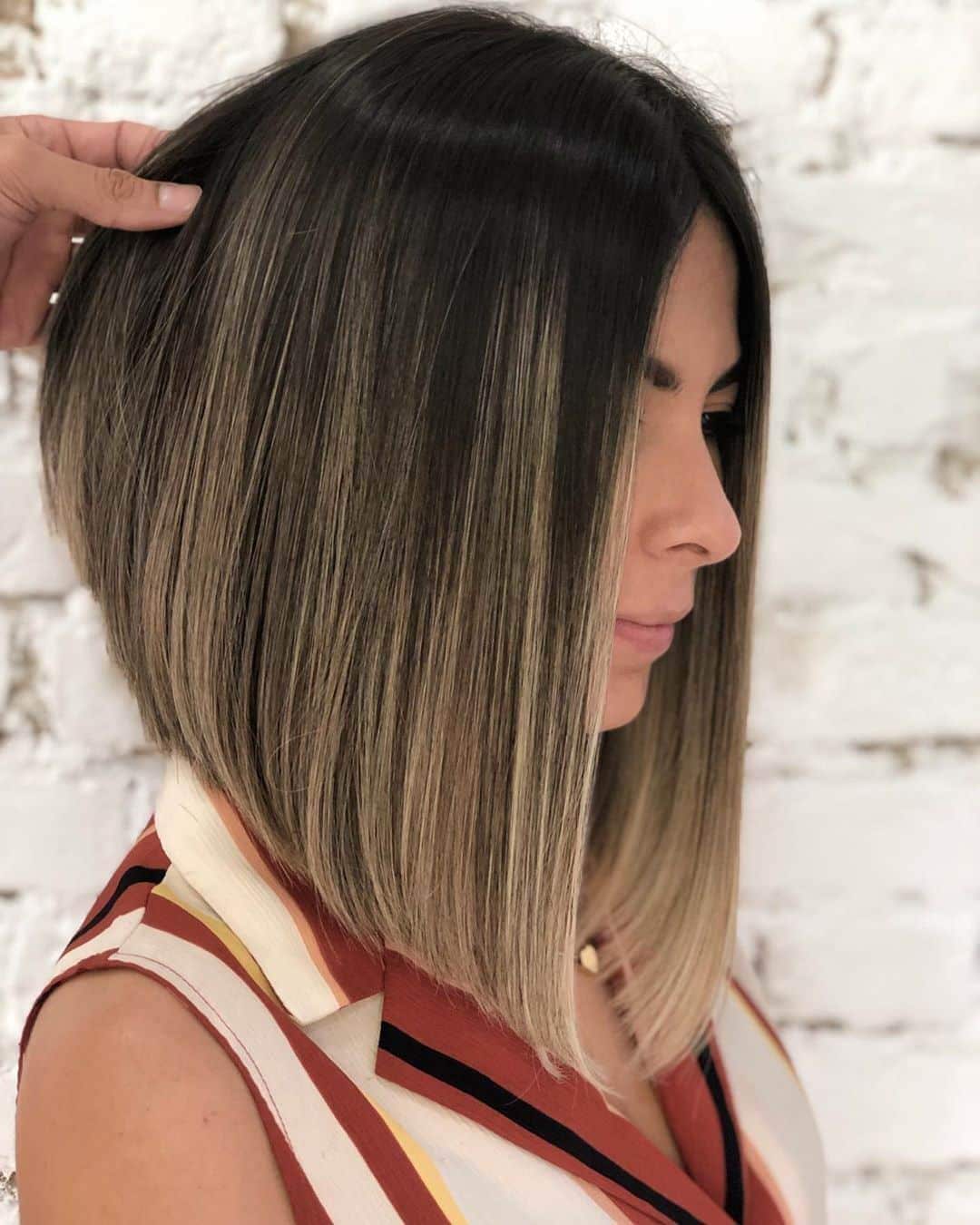 #29: Short to Medium Bob with Layers
A gorgeous short to medium bob with layers to show off your blonde ombre! What makes this layered bob cut seem perfect is the strong and sharp perimeter around the neck. The short to medium length gives a fuller finish while looking slightly longer.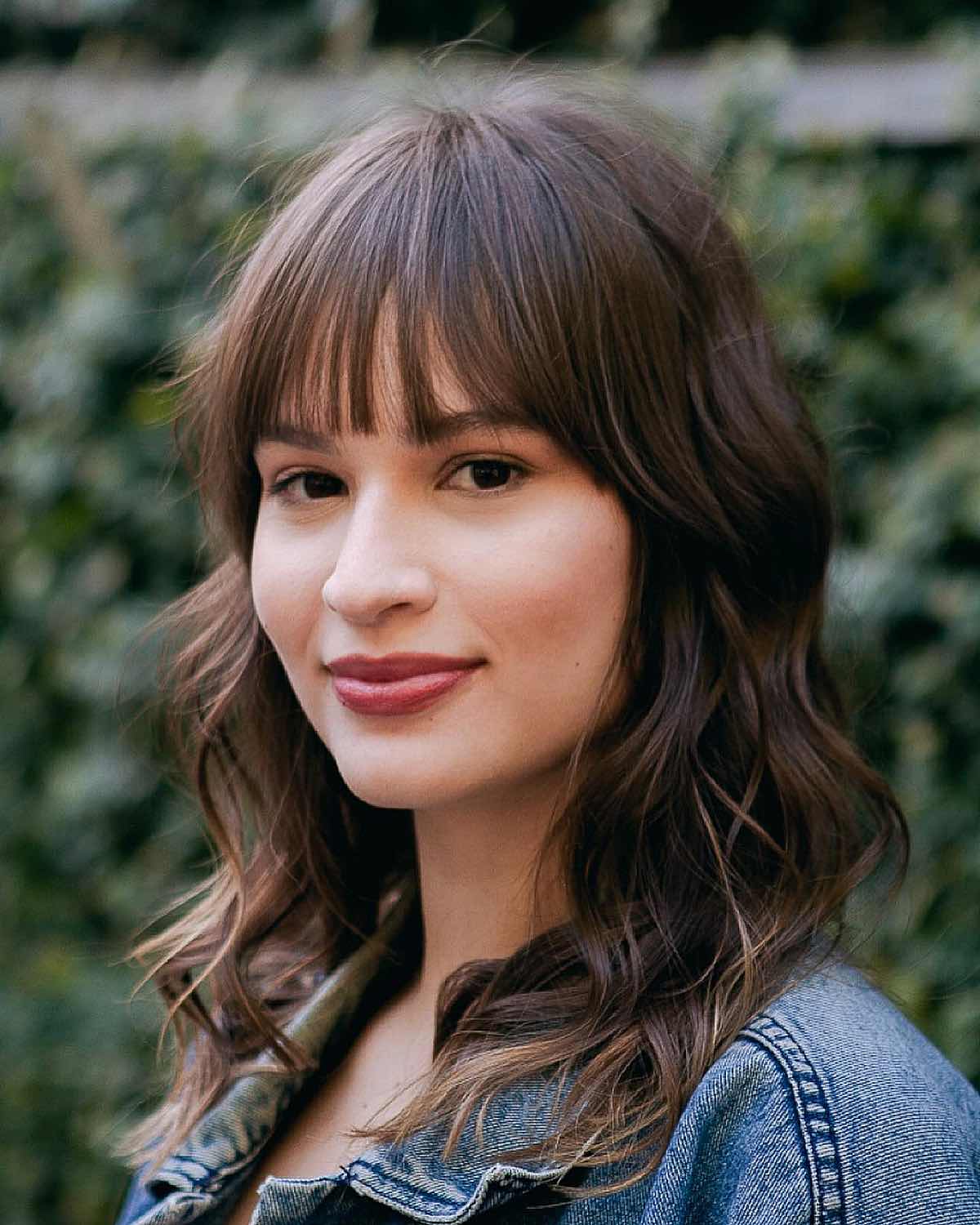 #30: Beachy Waves with Layers
Consider a medium-length cut with long layers and lots of texture around the bottom. The texture adds volume and keeps the cut from getting too heavy around the perimeter. I love that you can get that great beachy wave when you style it! I always use Aveda products. The best products for this look are Volumizing Tonic at the roots, Thickening Tonic for your mids and ends, and a lightweight smoothing product like Aveda's Smooth Infusion styling creme. I like to finish with a lightweight hairspray like Aveda's Air Control to add weightless texture and hold. The beauty of this layered medium hair cut is that it works on all types of hair! It also looks amazing on almost every face shape as it's extremely customizable.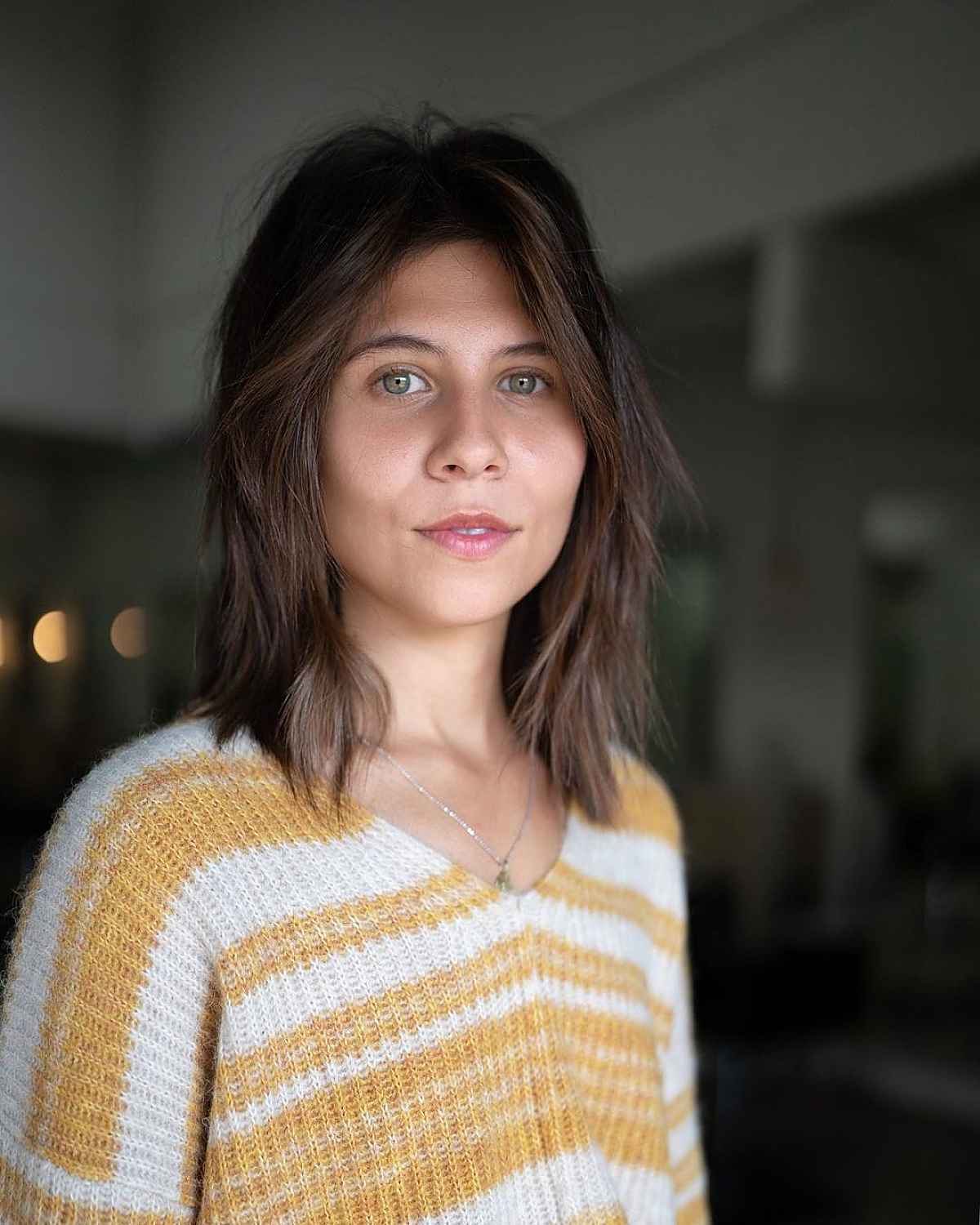 #31: Soft Shoulder-Length Cut for Straight Hair
Imagine wearing a shoulder-length cut with layers—you'll love it, for sure! It's such an ideal soft shoulder-length cut for straight hair like yours. Looking great in a brown hair shade, this medium-long hair will suit your fair or pale skin. The Bardot or curtain fringe doesn't only add style but also frames your best facial features.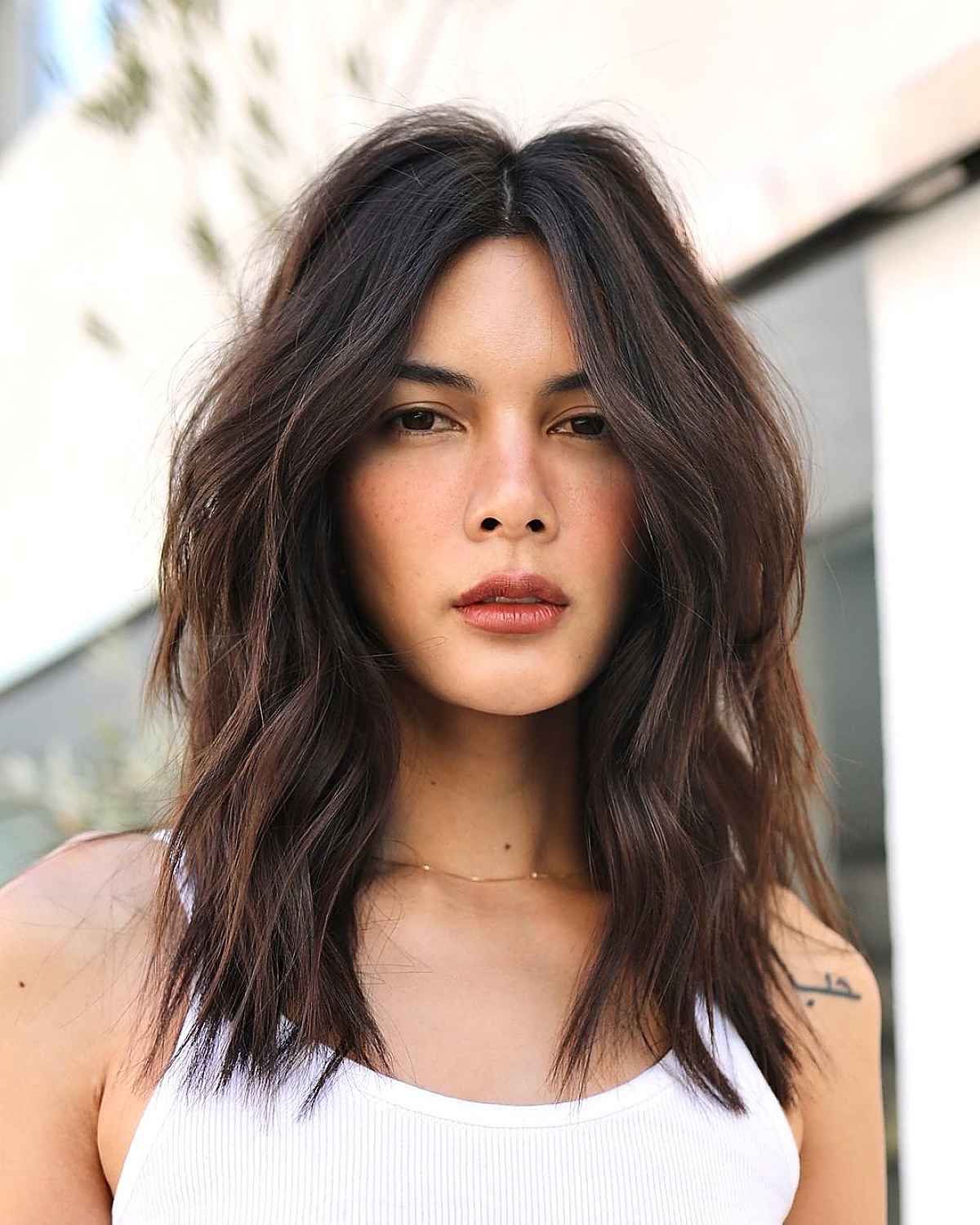 #32: Middle Parted Textured Lob
Consider a shoulder-length hairstyle. It's the new, "grown-up" version of the long-textured bob that has been popular for the past few years. It has soft, minimal layers and a shaggy texture throughout, but with a beautiful and blunt silhouette. For fine to medium hair, use a volume mist at the roots and a bit of a blow dry cream from the mid-shaft to the end. This adds that little bit of shine we all love and controls frizz. My go-to's are the Volumist from Davines and Hair Cream from TO112. For medium-length thick hair, use a combination of the TO112 Hair Cream and TO112 Serum, starting at the ends and working your way up. With textured medium layered hairstyles, always finish your look with the Davines Texture Spray to give it a bit of definition and hold.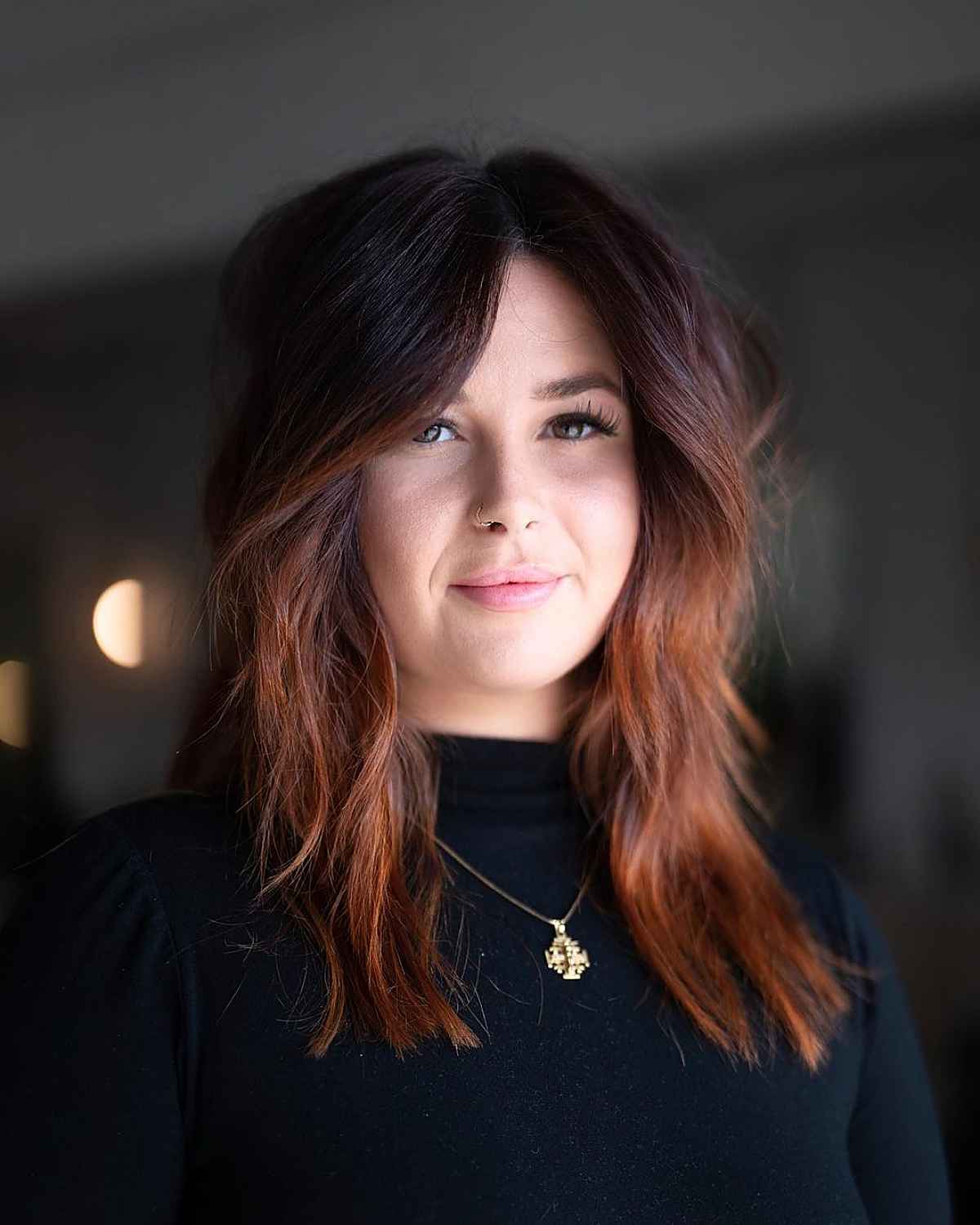 #33: Textured Mid-Length Layers
Whether you're a teen or a lady, these textured mid-length layers will look fantastic on you. Make it more dramatic by incorporating waves that can provide you with volume and movement. Never let this collarbone-length layered hair grow out while causing distress.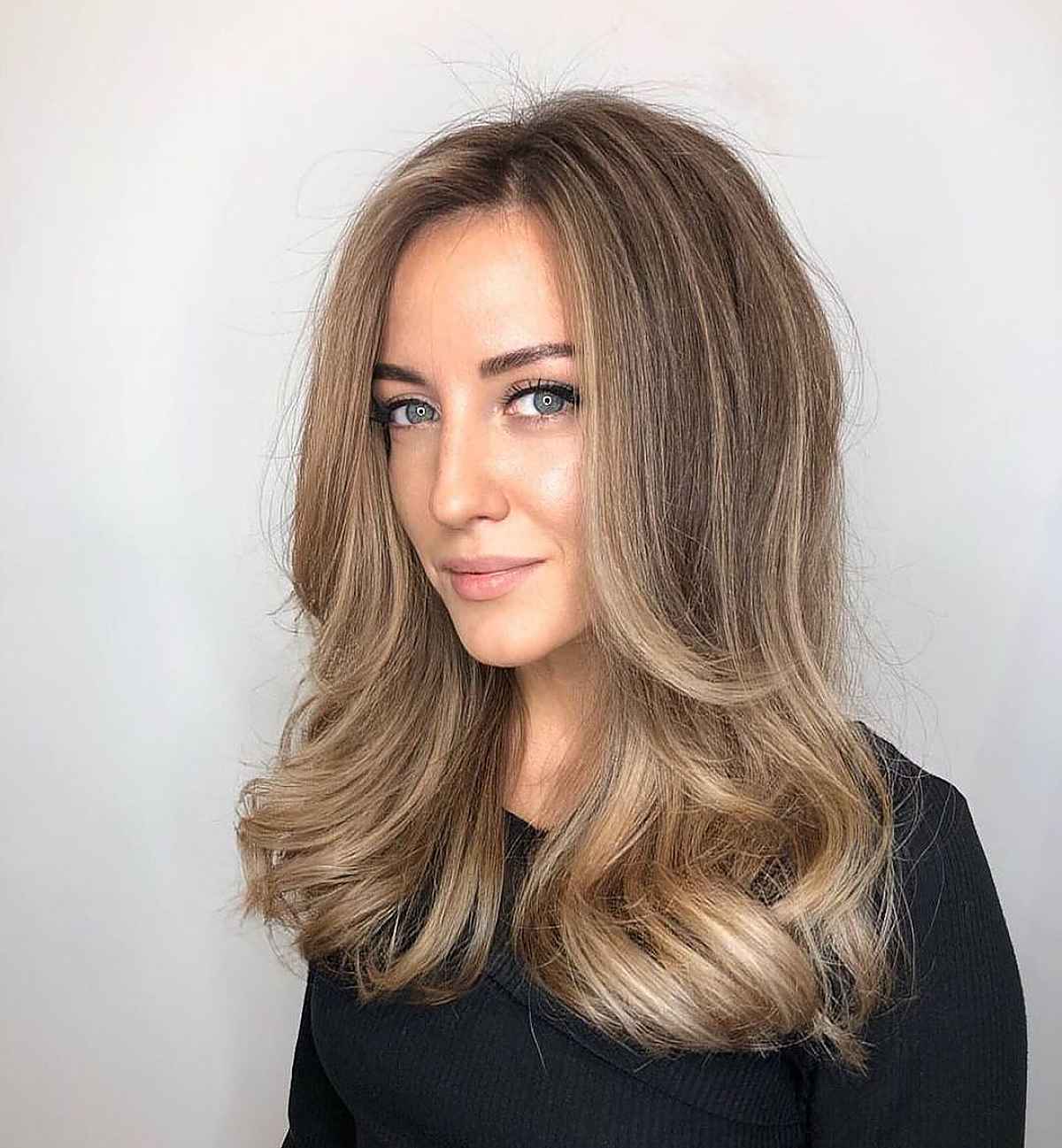 #34: Gorgeous Mid-Length Curled Layers
Try some mid-length layers and curl them with an iron to add some life to your long locks. Adding some layers takes the weight off your long hair and gives you a fuller and sexier hairstyle. Ask your stylist to start your face-framing layers around the chin. Round brush and curl the front pieces away from your face for a modern and beautiful shape.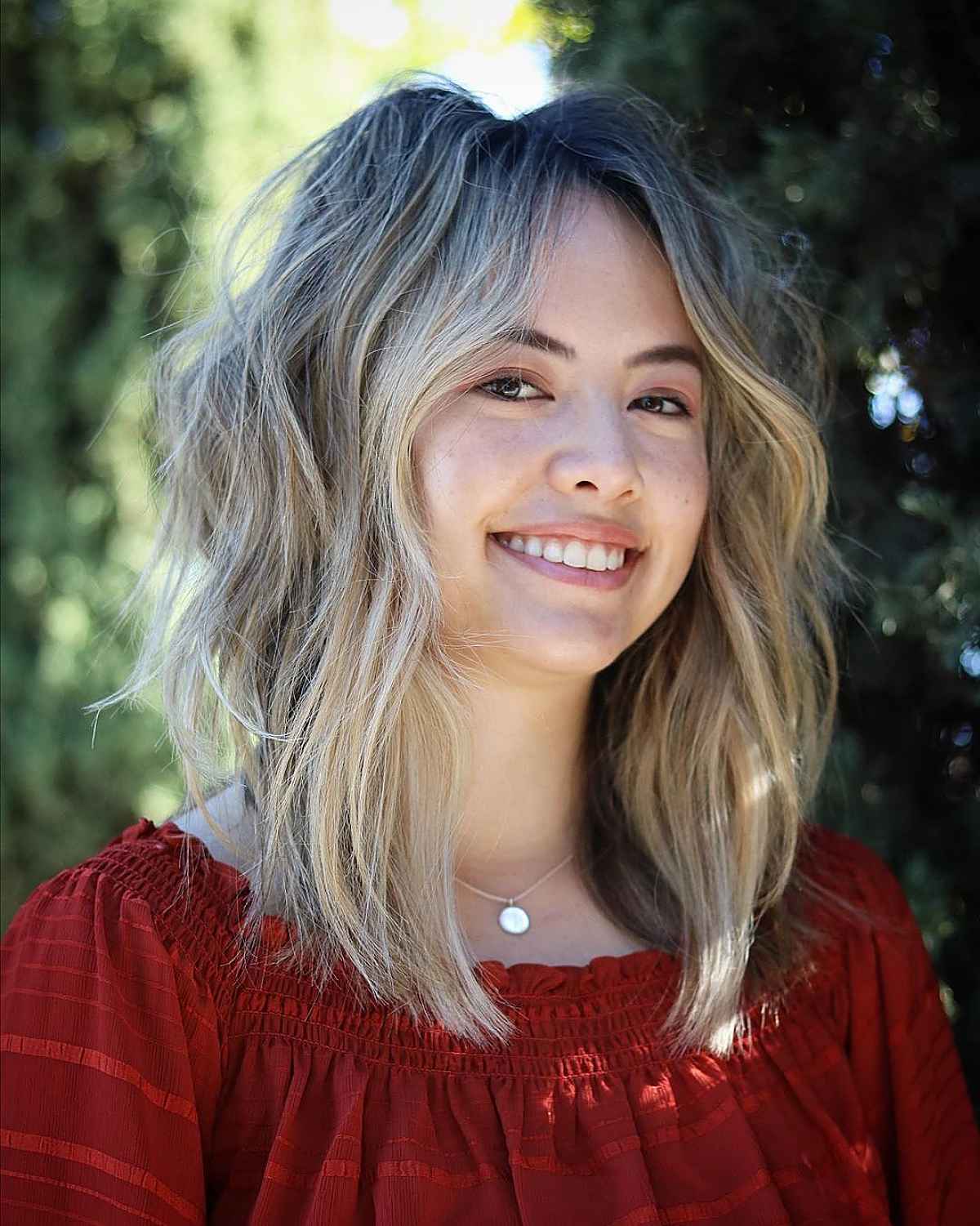 #35: Medium Shag with No Bangs
A medium-length shag without bangs is a perfect choice for round face shapes and will glam up your long tresses. If you are tired of your long hair laying flat, why not add some layering and shag it out? Fuller hair is definitely trending and this style will take you there. As an added bonus, mid-length shags can still be pulled up for that workout. Ask your stylist for chin-length layers and you will be happy you did.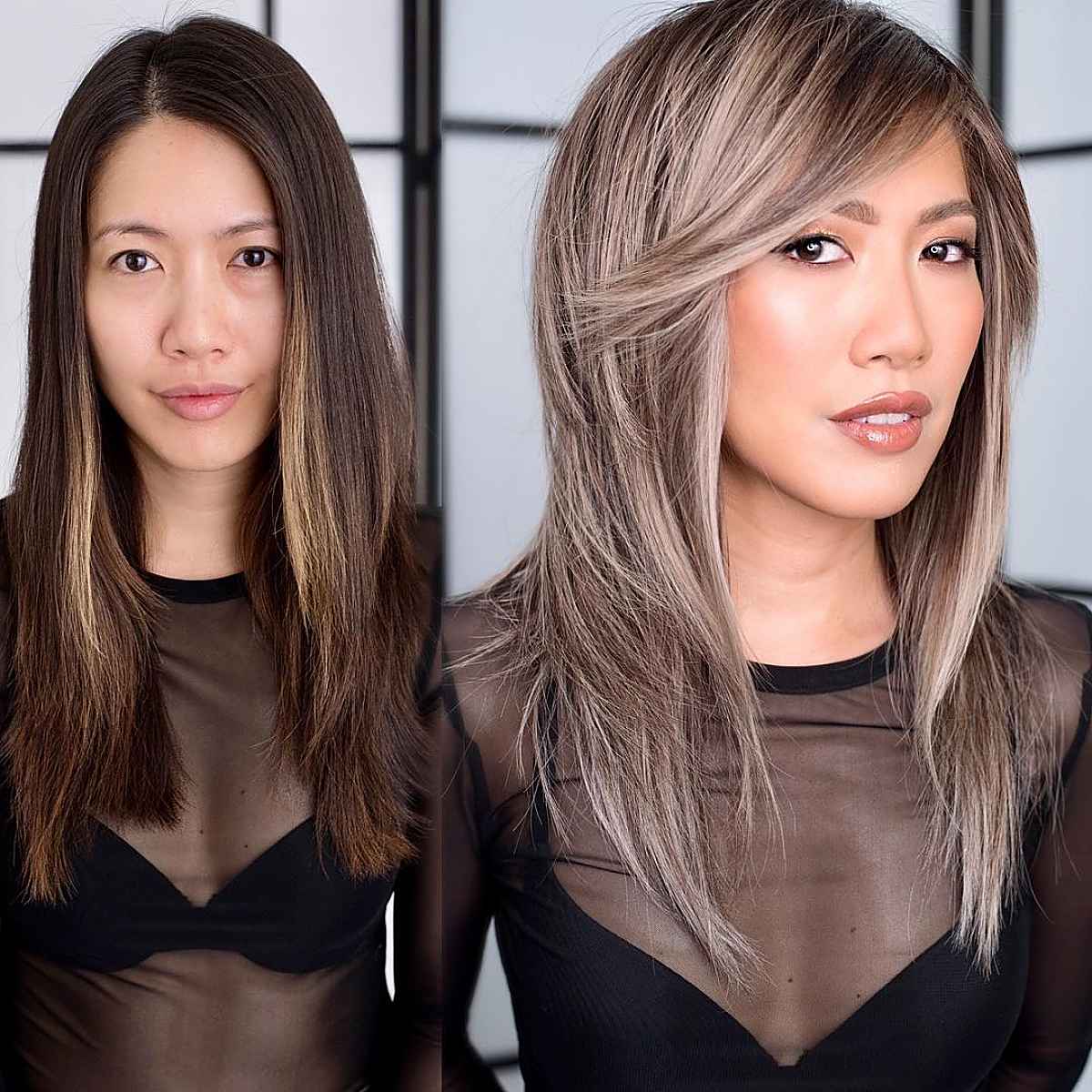 #36: Medium Straight Hair with Long Side Bangs and Layers
If you have a round face, try a haircut featuring medium straight hair with long side bangs and layers. The long side-swept bangs draw attention to your eyes and help elongate your round face. Layers are ideal if you have a lot of hair because they remove weight and create movement in your haircut – just talk to your stylist before they start cutting about how short you'd like the layers. Blow-dry layered haircuts for medium hair with an extra-large round brush for a modern, straighter take on a 90's classic layered style.