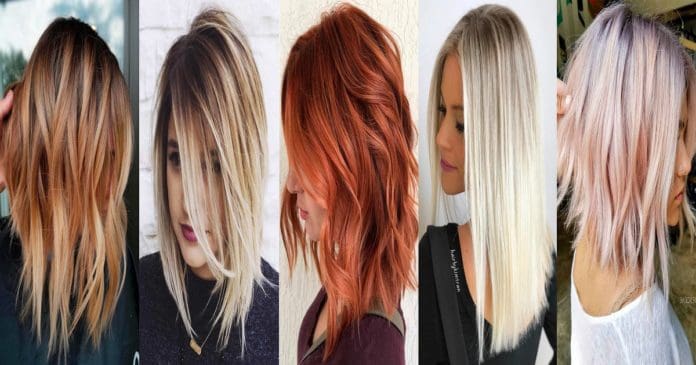 Shoulder length haircuts are both stylish and practical. If you have really long hair and you're ready for a change but not yet ready to commit to chopping off all of your hair, a shoulder length cut is a great place to start.
Medium length haircuts are really versatile as they are still long enough to wear your hair in an updo or ponytail, but they aren't so long to weigh down your hair. A mid-length hairdo can add a lot of body and movement to your longer tresses. You can add longer layers for even more body and movement. Or, how about a funky ombre or sexy balayage effect to add depth and dimension to your hair? With shoulder length cuts, the possibilities are endless for sexy new styles!
Whether you are looking for bob haircuts or a fun choppy haircut, you can easily find a great way to rock a shoulder length cut.
We have put together a list of our favorite trendy shoulder length haircuts for Summer 2019.
Voluminous Long Silver Bob With Bangs
Source: buddywporter via Instagram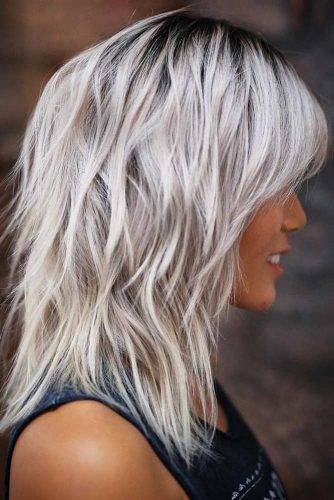 Shoulder length hair is considered a happy medium between short and long hair, not for nothing. The truth is, with the right cut, your hair can embrace the edginess and volume of short locks and the lushness and richness of longer locks. And layered haircuts are the first thing to consider when you want your look to involve all these features.
Such cuts fascinate with their super-dimensional looks, giving a lot of natural movement, texture, and lift to any hair type. For thick hair, they will texture up the ends, thus making your hair more airy and manageable, while creating very full silhouettes for thin locks. Want to rock this summer in a modern way? Go for a long layered bob with bangs that will captivate everyone with your silver hair!
Long Bob Haircut With Textured, Choppy Ends
Source: yokii.san via Instagram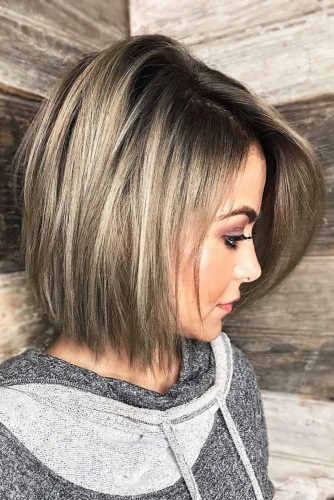 How often do you ask your hairstylist to improve your haircut? Some ladies can flaunt with the same cuts all year around. Yet, when something bothers them, they simply ask for something new, instead of working at the details.
We're trying to tell you that you don't need to sacrifice your comfy medium hair length and go for experiments when there's a lack of volume or dynamics: ends chopping
or texturizing will be enough to sort things out. That will provide your long bob, or lob haircut, with very lightweight body, giving a fresh take on your daily cut and style. Also, a side part can give even more volume and movement that we can never have too much.
Side Bang For A Trendy Shaggy Bob
Source: salsalhair via Instagram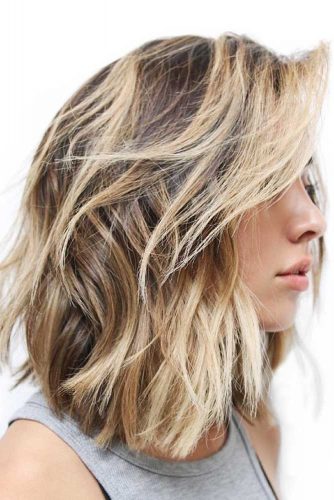 Believe it or not, if you opt for a shaggy bob haircut, you'll never be mistaken in choice, especially if your shag is a bit asymmetrical or angled. Nowadays, the more tousled your look is, the more fashionable and flexible it is.
By flexibility, we mean the countless styling options that edgy layers of shags can give you: you can shape up the cut by waving your dimensional locks and create many new silhouettes by simply changing the parting.
The best thing about the cuts is that they also work well for any hair type, taming fine hair and lifting up thin locks. Want to add some more character and color dimension? Let balayage hair do the talking.
Soft Wavy Bob Haircut With Accentuating Highlights
Source: anhcotran via Instagram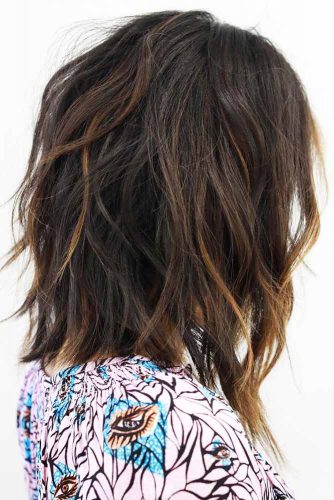 Ladies who wear bob shoulder length haircuts know that nothing works better than wavy hairstyles. Most bobs have different lengths on the front and back, which looks ravishing once it's waved. So, even slight waves can show your cut in a new light.
Now, let's talk about your hair color. Even though it's very important to appreciate your natural shade, we all want to add something new and fresh from time to time. Sometimes the point is not to change the color totally; it's about highlighting or accentuating your base. The modern trendsetters advise ladies with brown hair to try out softly highlighted hair, where their primary shade is emphasized with a matching, yet a bit lighter shade.
Messy Blonde Shoulder Length Bob Hairstyle
Source: anhcotran via Instagram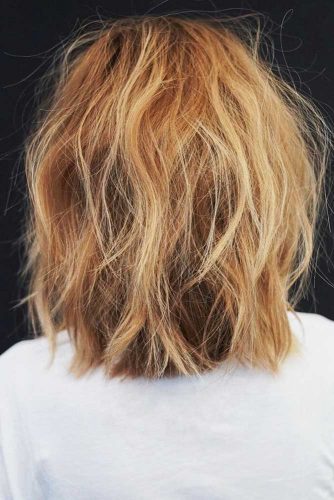 As we've mentioned before, messy hairstyles are a thing these days. Yes, sometimes adding a bit of messiness is the best finishing touch for reaching perfection. Mainly because it's an effortless way to give weak or very unruly locks more voluminous and soft appearance.
Besides lots of wonderful styling choices, shoulder length haircuts are also a huge canvas for color creativity. Have you ever seen how nicely a blonde bob with tousled waves enlivens the look? Well, you should see it in the mirror, then.
Face-Framing Long Bob With Subtle Balayage
Source: salsalhair via Instagram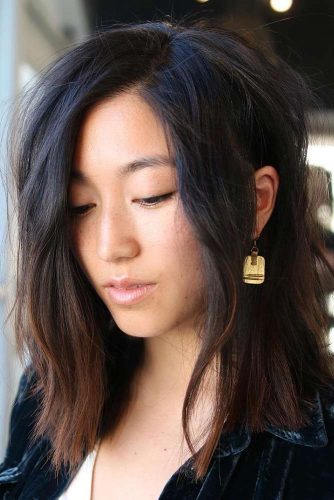 When asking your stylist for a long bob haircut, make sure that he or she will customize the cut based on your facial features. Our haircuts should not only be stylish but also flatter our faces. Find a hairdresser who knows how to cut the front so that it frames your face shape perfectly.
Do you know what else can make your face look more attractive? A new balayage hair color combination is the answer. For example, soft balayage that softly covers your ends, lighting up the base, is a nice way to frame your face.
Straight & Blonde Long Bob Haircut
Source: hairbyjessica_ via Instagram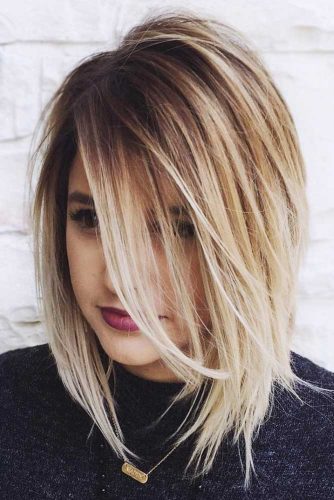 We all know that dealing with straight hair means that you should do your best to keep the look sleek yet voluminous. One of the main problems of straight locks is that they tend to fall flat, regardless of one's hair type and length. And you know what? The right cut is the solution, as always.
Once you give a long bob a try, you'll see the difference: the top will be easier to lift up during styling, and the front will become rounder. And that is awesome for those who'd like to frame their faces. And if it's a blonde bob, achieved with balayage over the brunette roots, you'll forget about flat looks once and for all.
Inverted Shoulder Length Bob With Disheveled Waves
Source: styled_by_carolynn via Instagram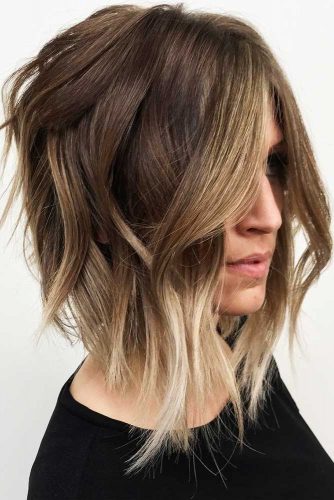 You already know about the magical power of the inverted bob haircut. Due to the shorter hair at the back, it adds more volume to the crown, giving you a possibility to conceal some face shape flaws with the longer front locks.
Such cuts usually come as layered haircuts, which means that you can easily create an attention-grabbing disheveled look that will take your hair texture to the next level.
Shaggy Bob Cut With Saturated Balayage
Source: buddywporter via Instagram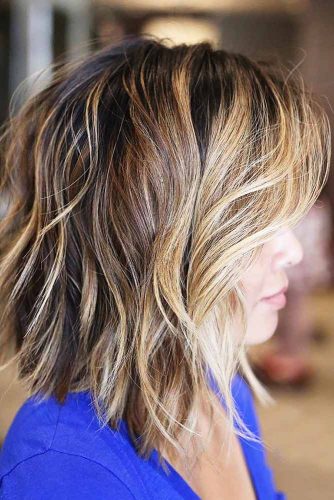 Now that you are familiar with the breathtaking shaggy bob, we'd like to tell you how you can make it even more outstanding. Since it provides your locks with volume and movement revealing layers, why don't you emphasize it? A wavy balayage hairstyle with very saturated highlighting color is a nice way to enhance all the beautifying effects.
Bouncy Shoulder Length Cut With A Fringe For Curly Hair
Source: salsalhair via Instagram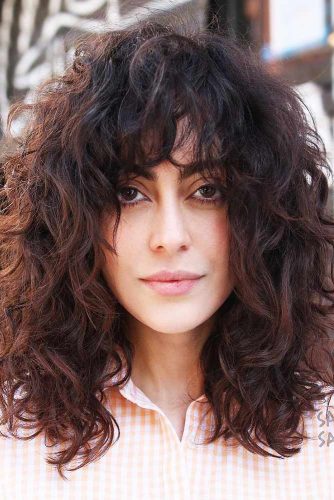 Girls with curly hair who want to give a perfect shape for their texture should keep in mind that nothing can compare to shoulder length haircuts with bangs. If you're a lucky lady with bouncy curls, ask your stylist for a long bob that features a soft above-brows fringe and texturized ends. The ends will give a lift to the silhouette, while bangs haircut will work nicely for your face shape.
Layered Cut with Ombre Highlights
Source: Jmalonehair via Instagram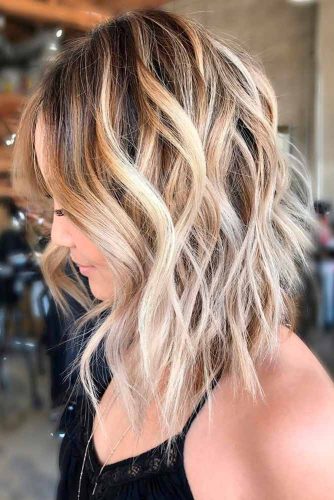 This shoulder length style is quite playful with dark roots and blonde ombre highlights at the tips. The layers will give you plenty of extra volume on this subtle lob for a fun an edgy look.
Bob with Brown Balayage Tones
Source: Ebielynnftw via Instagram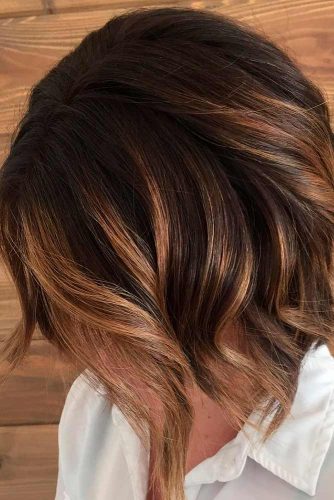 If you want plenty of bounce, this "just above the shoulder" bob with caramel tones on a dark brown base is chic and stylish.
Half Up Half Down
Source: Heidimariegarrett via Instagram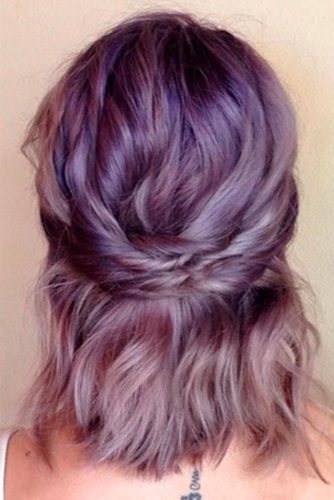 This shoulder length style is the best of both worlds with its half up/half down twisted style. The reddish color is gorgeous and is set apart by the cascading shoulder length curls. Use your favorite barrette, clip, or pin to really play up this fun look.
Wavy Copper Streaks
Source: Lnven via Instagram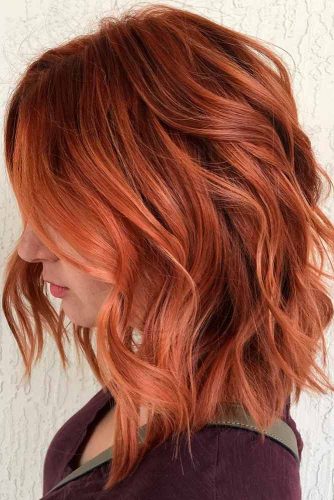 If you have thick hair, you'll love this wavy cut with its chunky copper balayage tones. If you have straight hair, you can easily duplicate these sexy waves with a large barreled curling iron.
Wavy Chocolate Lob
Source: Heyclaire via Instagram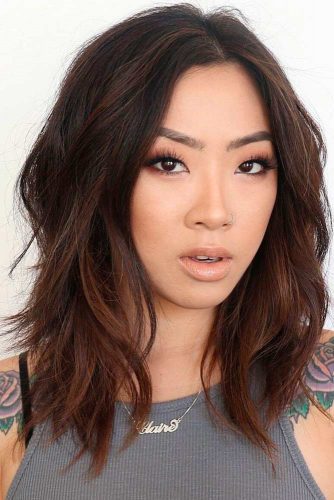 This wavy lob with dark chocolate roots and caramel tones looks like spun chocolate. This look is fun and flirty if you are looking for a sultry look.
Soft Blonde Ombre
Source: Hairbykimtran via Instagram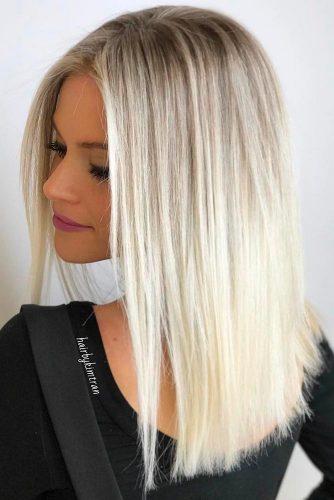 Balayage is a great option for those who want a subtle but stylish change in their hair color. This medium length blend from bright to natural blonde is soft and sexy. The big loose curls add a ton of volume to this playful style.
Neon Ombre Curls
Source: Presleypoe via Instagram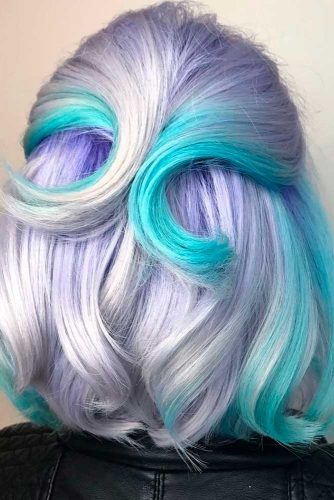 If you are ready to make a drastic change, this curly shoulder length cut with brilliant ombre tones is bold and edgy. The soft, romantic curls are given new life with neon tones.
Brown Curls with Lilac Highlights
Source: Hairbyraquell via Instagram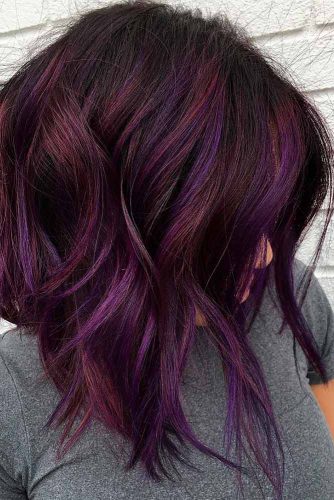 Speaking of romantic waves, this wavy cut with a light brown base takes on new life with soft lilac highlights throughout for a totally girly vibe.
Pink and Platinum Blonde Ombre
Source: Opal Hair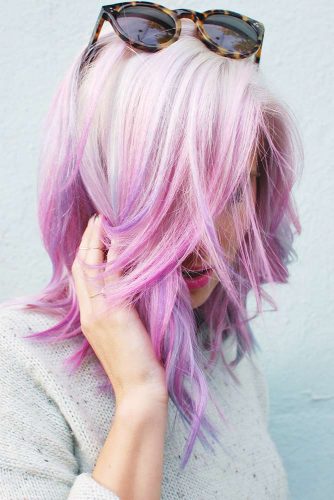 This reverse ombre with pink roots that fade into white blond tips is totally striking if you're looking for a bold new look. Loose ringlets make this edgy cut a bit more feminine and demure.
Lilac and Silver Streaks
Source: Stephygnarstagram via Instagram
Silver hair is all the rage at the moment. And what looks better with soft silver streaks than lovely light purple tones? This lob with its short layers in the back and longer front is a bit more edgy but the lilac strands with silver streaks give it a totally sexy vibe.
Blunt Lob with Soft Highlights
Source: Beauty.yais via Instagram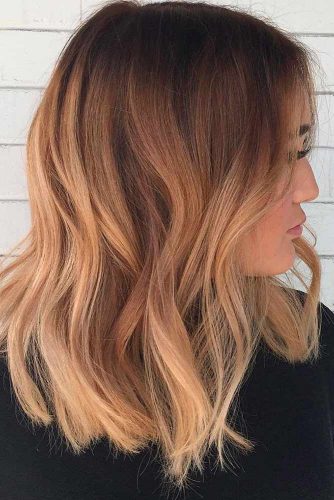 This look is stunning for those with thin or fine hair. The blunt bob adds volume, and the soft highlights on the dark base will add a ton of depth and texture.
Red Balayage Tones
Source: Arielpulver via Pinterest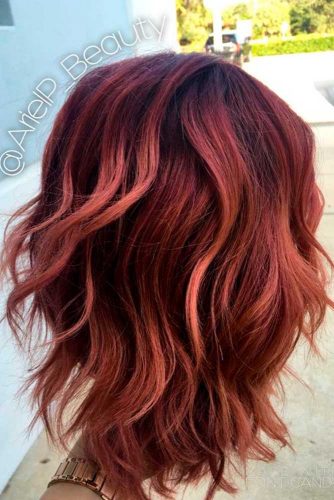 Red hair is always a crowd pleaser. But this dark red with rose gold balayage on a wavy lob is totally sultry and sophisticated.
Shaggy Blonde Curls
Source: Buddywporter via Instagram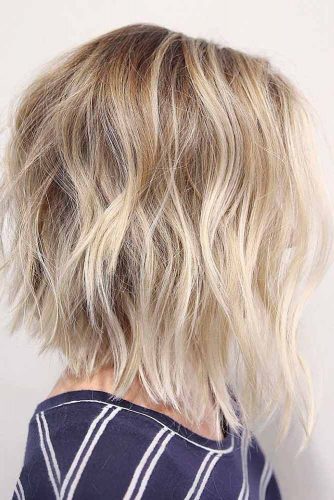 If you want to lighten up your thick tresses, this fun style with layers and caramel tones on darker blonde hair is fun and youthful. Your natural curls will feel weightless with this shaggy do!
Bright Blonde Balayage
Source: Hairbykimtran via Instagram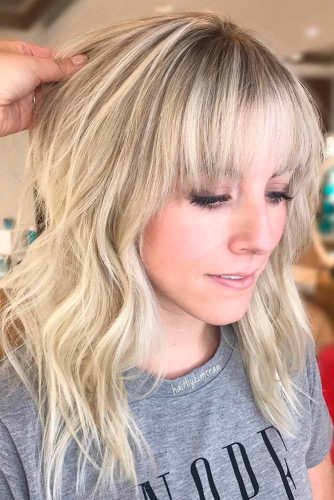 This shaggy bob with soft blonde babylights is fun and flirty if you are going for a totally chic and feminine look!
Chestnut Curly Lob
Source: Salsalhair via Instagram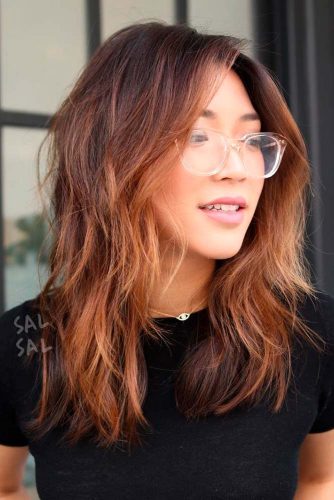 This curly lob with deep dark roots and copper highlights will add life to your shoulder length curls.
Multicolored Long A-line Bob
Source: Guy_tang via Instagram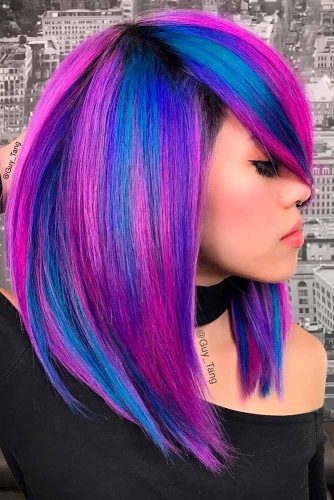 Asymmetrical haircuts will never go out. If you want to have a trendy look, dye your hair in bright colors. Opt for a blue base with neon pink highlights. You'll be incredible!
Stylish Layered Tips
Source: Hairbysaiphetkhosa via Instagram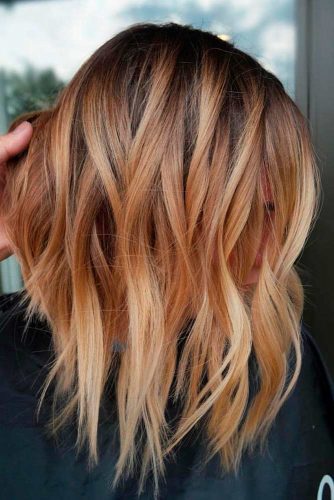 Ask your stylist to create a smooth transition from dark brown to bright blonde. Layered ends will complete your look.
Straight A-line Bob without Bangs
Source: Emilyandersonstyling via Instagram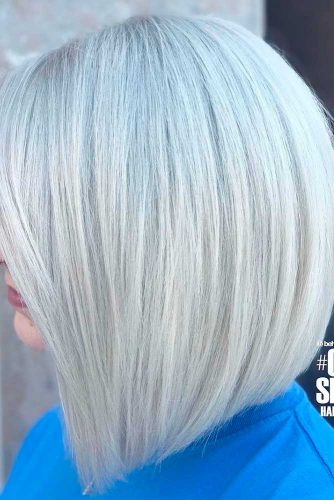 A classic A-line bob without a bang is suitable for women of all ages with straight hair.
Straight Line Haircut
Source: Gracezip via Instagram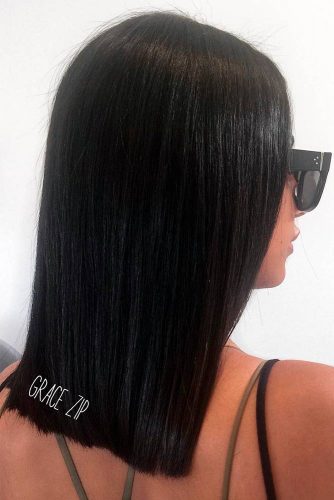 Hair trimmed straight is very popular this season. This haircut will flatter blondes and brunettes with straight, thin hair.
Layered Lob with Side Bangs
Source: Glamiris via Instagram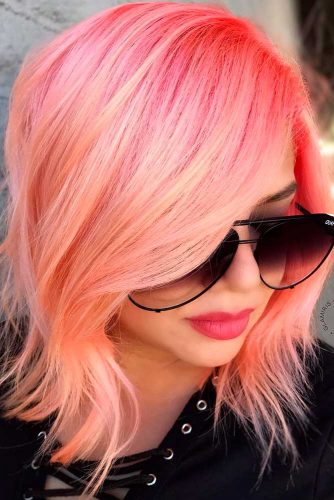 If you have thin hair, ask the stylist to make you a carefree layered bob with a long side bang. Bright colors will make you charming.
Amazing Peach Hair
Source: Glamiris via Instagram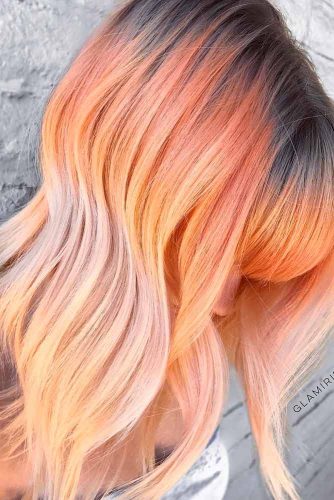 Do you like to experiment? Why not dye your hair in an unfamiliar peach tone? We are sure you will have a stunning image!
Amazing Shaggy Medium Length Haircut
Source: Bescene via Instagram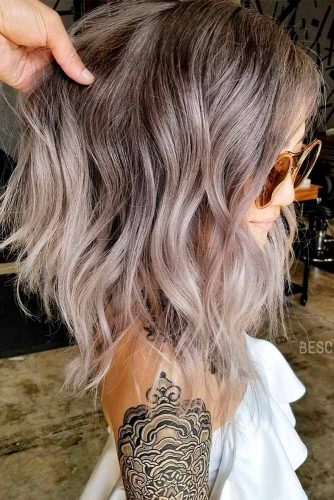 This shaggy lob, when styled with sea salt spray, oozes the unique carefree vibe.
Rainbow Hair for Your Inspiration
Source: Rebeccataylorhair via Instagram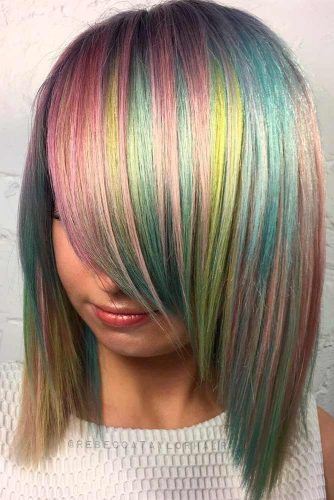 Who said that it's impossible to sport rainbow on shorter hair? This straight cut is ideal for that.
Texturized Bob to Be Stylish
Source: Bescene via Instagram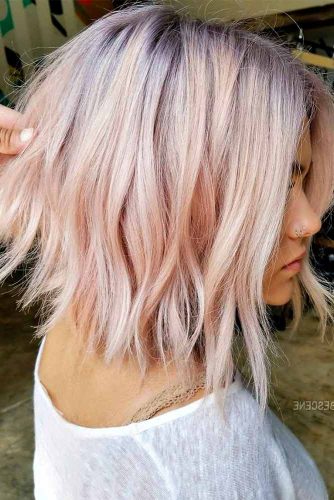 Hair wax will be your best friend when styling this bob. Thus, it will become more texturized.
Messy Waves
Source: Kristin_ess via Instagram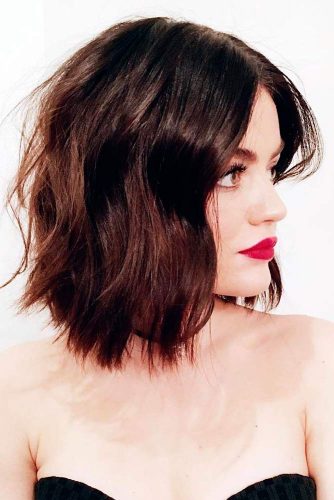 Do you wish to look as if you just woke up? This simple look has been in for a while now, so don't be afraid to go for it!
Two Tones Angel Bob
Source: Hairbyedwin via Instagram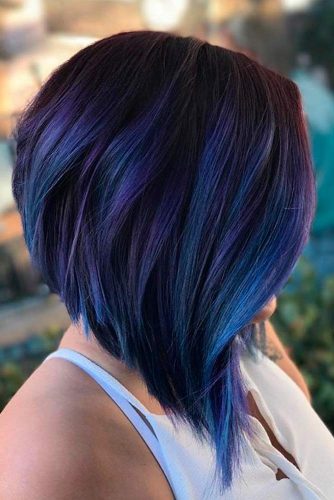 The combination of two bright hues, blue and violet, is definitely mesmerizing. Wear your hair straight to let each shade play.
Trendy Ombre Hair
Source: Styled_by_carolynn via Instagram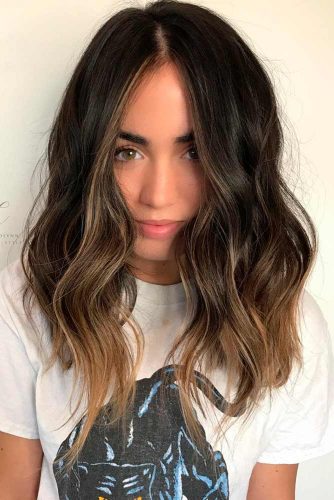 In case you don't want to go completely blonde but wish to fresh up your natural color, why not ask your stylist for balayage, ombre, or highlights?
So, are you ready for a brave new look for summer? These sexy shoulder length haircuts will really lighten up your locks. Ombre and balayage tones can really add a lot of depth and dimension to your tresses. If you are feeling bold, you can opt for bright neon colors for summer. Or, if you want something more subtle, a simple soft balayage is still quite trendy and chic. Find the look that works for you and get ready for a sassy summer do!