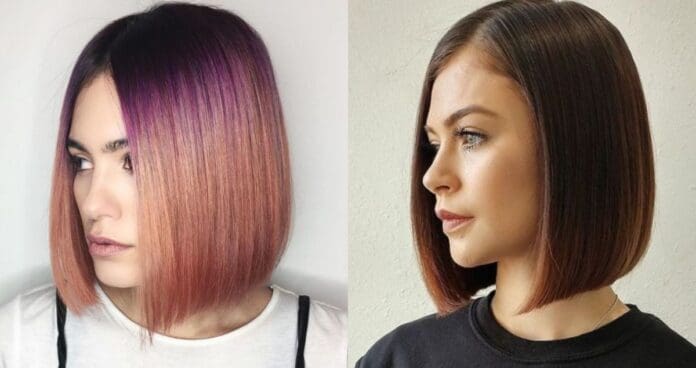 Blunt bob haircut claimed its right to fame several decades ago, when it first emerged from the skilled scissors of stylist extraordinaire Vidal Sassoon. Haute couture and regular fashionistas haven't looked back since then. This dramatic, angular style, is suited for a wide array of face shapes and hair textures – but this only partly explains its appeal and staying power. For more proof, check out the forty picture-perfect hairstyles lined up below.
Blunt Bob Haircuts and Hairstyles
Blunt cut makes your hair look healthier, stronger and thicker. Most blunt cuts are worn in straight hairstyles to show off the accuracy of lines and sleekness of texture. But that doesn't mean you can't style waves for a blunt cut when you are in the mood.
#1: Chic Gray Blunt Haircut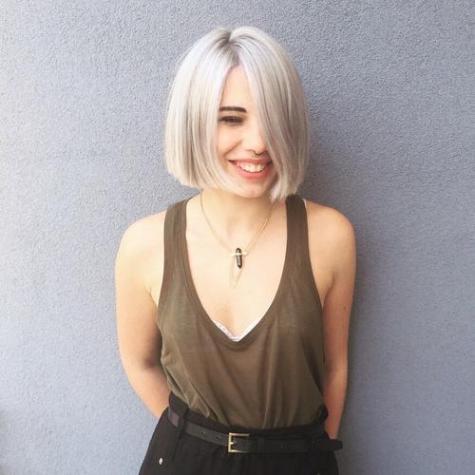 If your hair is thicker, but still straight, you might want to try out this cut. Its chin length makes it suitable for square and round shaped faces, since it will help you to conceal some of those features you'd rather not draw attention to.
#2: Straight Bob with Ombre Highlights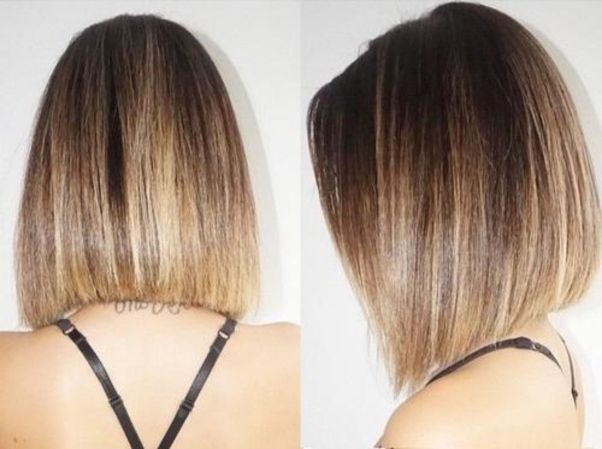 Here's one style that will work just as well with highlights as it will with ombre hair. That's because its classic cut will act like a blank canvas framing your face elegantly – it's ready to be creatively enhanced.
#3: Chocolate Brown A-Line Lob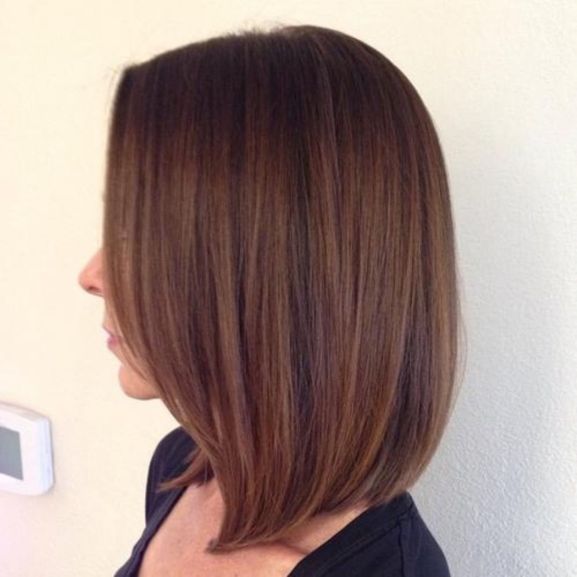 This last style just goes to show that blunt bobs don't require too much in terms of maintenance. Being a perfect base for various hairstyles, they are also quite easy to style.
#4: Blunt Cut with Bangs for Thick Hair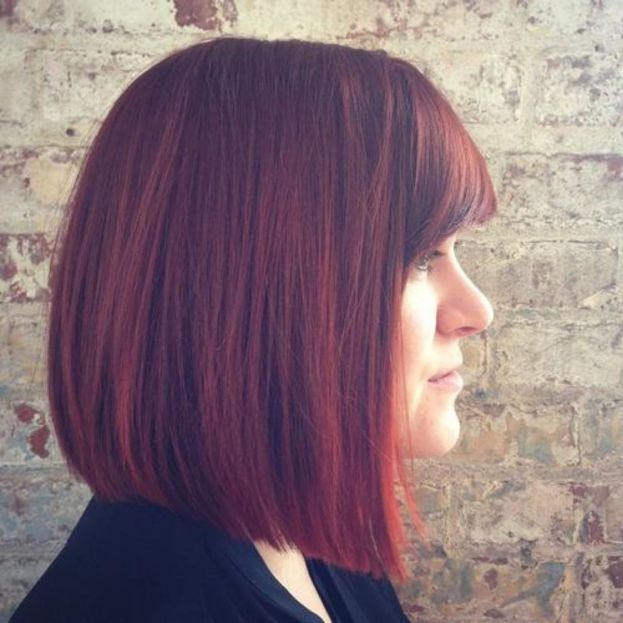 This style is actually an updated version of a cut that was very popular in the 1970s. The heavy mass of hair is allowed to follow natural sweeping lines, creating the smooth geometry and perfection of the silhouette.
#5: Asymmetrical Side-Parted Bob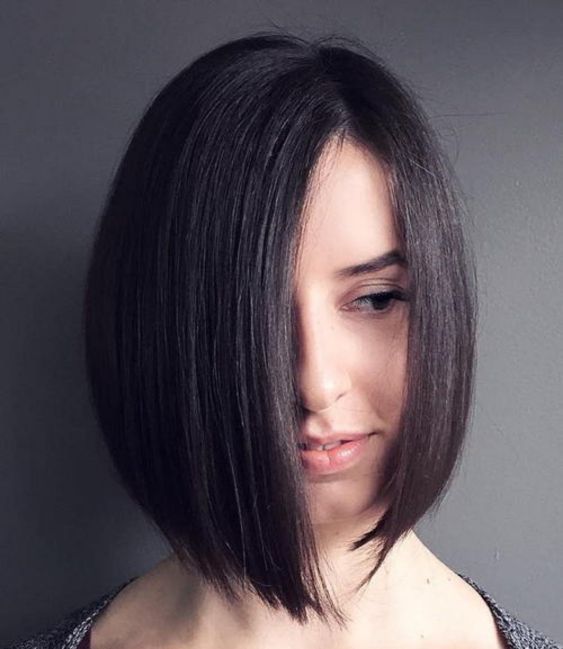 Here, you have a chic bob, cut with asymmetry, angled to perfection and finished off with a side part that allows the hair to fall mysteriously over one eye. The best thing about this haircut is just how incredibly polished it looks, with not a hair out of place.
#6: Sleek Pointed Bob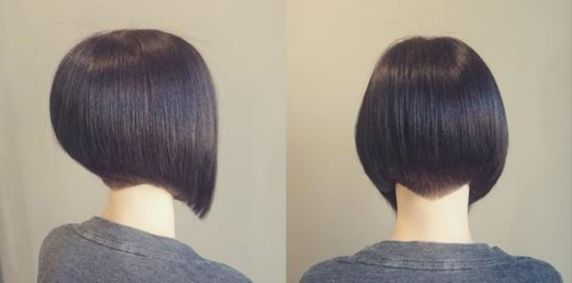 Remember the French film hit Amèlie? This blunt cut is very similar to the one showcased by Audrey Tautou as Amèlie. The pointed tips frame the face beautifully, especially if its shape is square or inverted triangle.
#7: Textured Bob with Chunky Bangs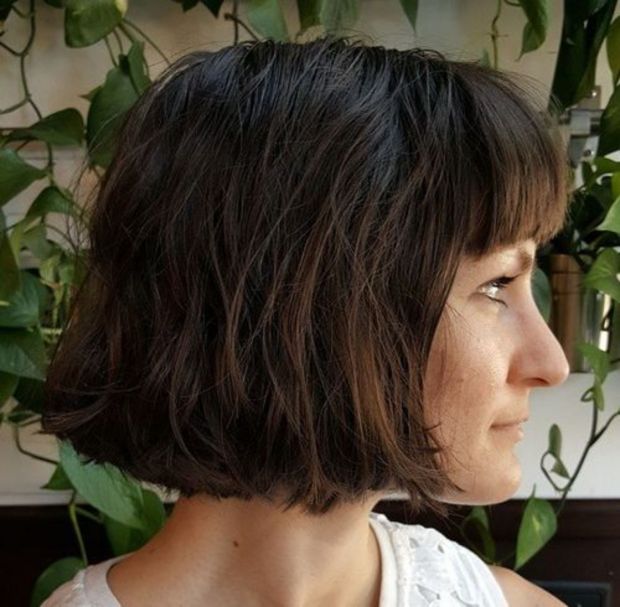 With bangs that are chunky and impossible to miss and subtle waves throughout the length, this chin-length bob has a bit messy appearance, but it still looks chic. There is also an overall texture applied to the hair which adds depth, volume and showcases the beautiful silhouette of the cut.
#8: Wavy Gray Ombré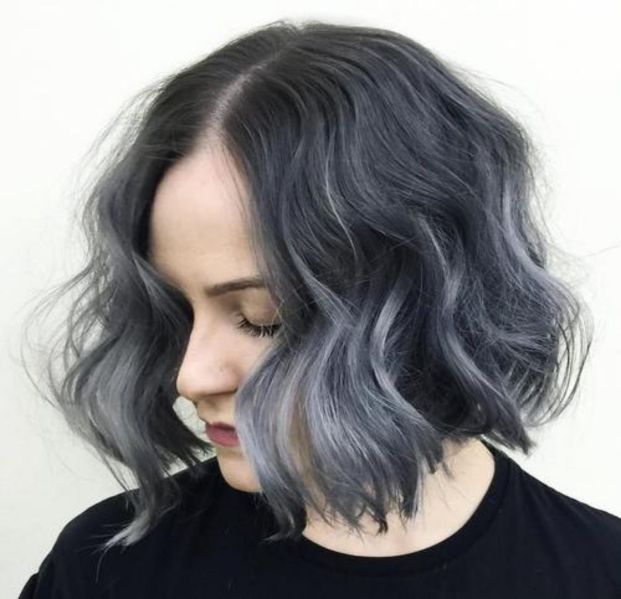 Yes, the blunt bob can be worn wavy as well. Now this might not show the precision of the cut as much as if it was worn straight, but you can still see the dense ends which are naturally disconnected. With a medium length and a slightly off center part, this wavy, gray ombré bob is ideal for all edgy girls out there.
#9: Shaggy Blonde Bob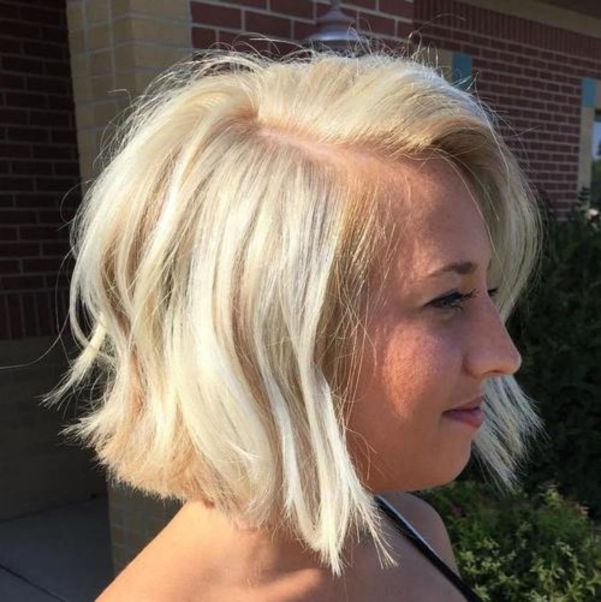 There is just something about blonde hair color that allows it to flatter practically any type of haircut, bob included. Here, you have a blonde, medium length bob that is worn with a side part and wavy texture. The blunt cut at the ends gives the hairstyle a precise and finished appearance.
#10: Black and Burgundy Style with Side Part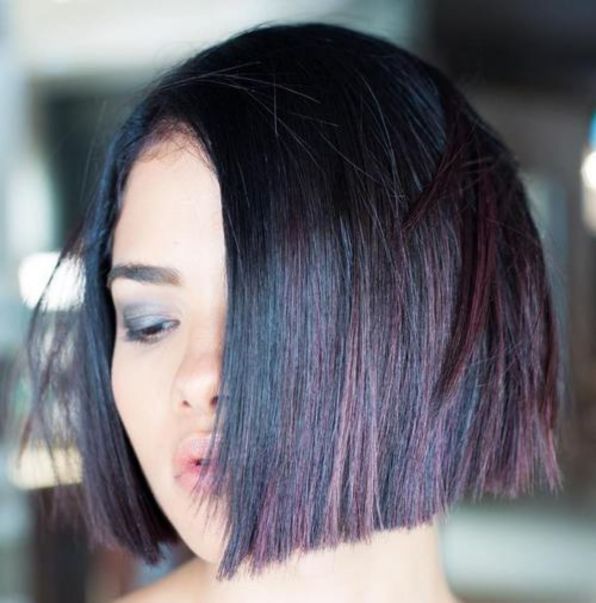 Slightly angled, accurately chopped and styled with a side part, this cute short blunt bob looks polished, while communicating a hint of mystery as it falls softly over one eye. The black hair color with dark burgundy highlights adds depth and dimension to this absolutely chic hairstyle.