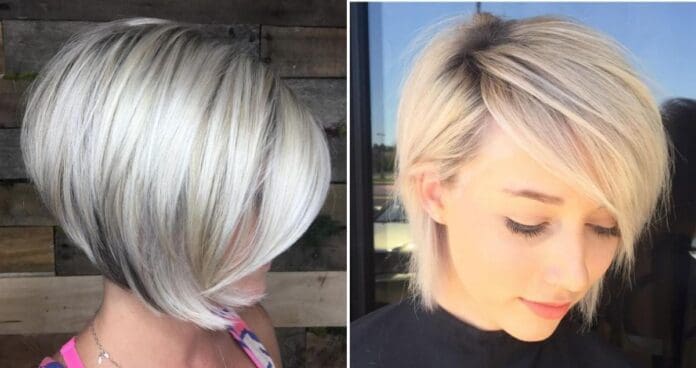 Short blonde haircuts and hairstyles have always been popular among active and stylish women. Today we'd like to acquaint you with the brightest variations and modifications of chic haircuts and hairstyles for short blonde hair, from extra short chops and sassy pixies to classy bobs which flatter all women, regardless of their age, hair color, skin tone or preferred style.
Short Blonde Hairstyles and Haircuts
We have prepared a review of the most interesting fashionable haircuts and hairstyles. Elegant, romantic, strict and sexy beauties are ready to participate into our rating of top 50 short blonde hairstyles and haircuts.
#1: Lovely Layers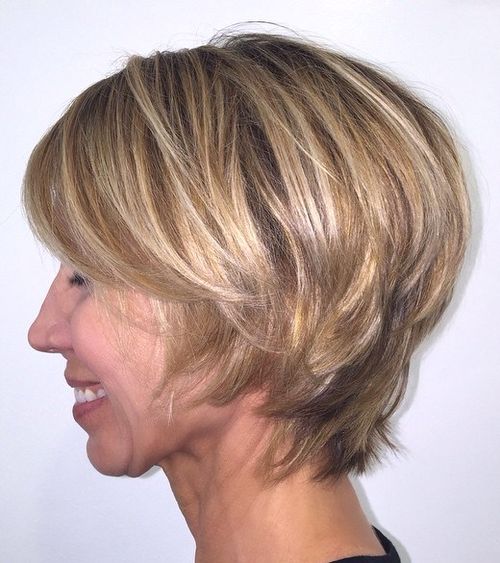 Blonde short hair is quick and convenient – it's also a new experience for many women. If you're looking to get an updated cut for blonde hair, check out the various layered styles available. Blonde hair tends to look very monochrome without a lot of texturizing, so be sure to combine layers and highlights for a perfect final look.
#2: Blonde Bob with Flirty Bangs
Nothing says sassy quite like a blonde bob. This cute style in a platinum hue will remind you of Tinkerbell's spunk and your own personal go-getter personality.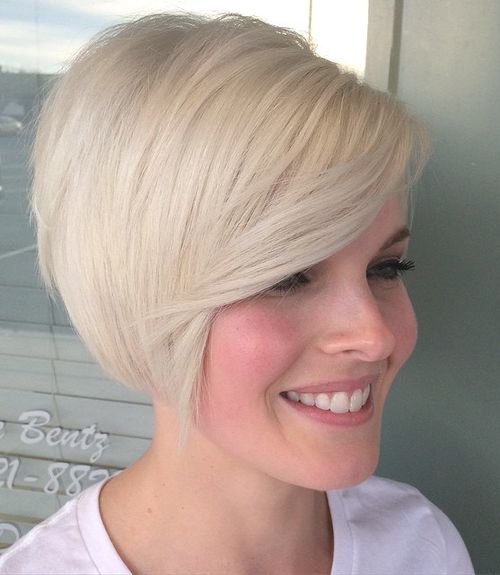 #3: Thin Hair Reborn
Straight, thin hair can be so difficult to maintain. Go with a short, graduated cut to keep things under control. If you aren't into trying new bold colors with highlights or testing edgy color trends, choose a deep dark blonde to get a natural glow.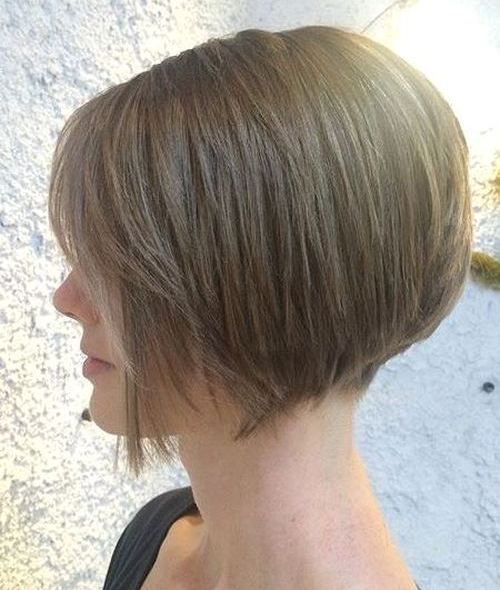 #4: Illuminating Color
Want to illuminate some upcoming photos? Go blonde with undertones of gold. A shorter, rounded haircut will really show off your new shade. This is an ideal cut for a woman 40+, but younger ladies will sometimes wear it, too. Whether you're a college professor or a student, this style will be memorable and fun to wear.
#5: Mysterious Fringe
Bangs can make or break a look, and with this short style, they really do enhance the beauty of its wearer. Thinner, straighter hair will benefit from long bangs that can soften your face and bring more volume to the style.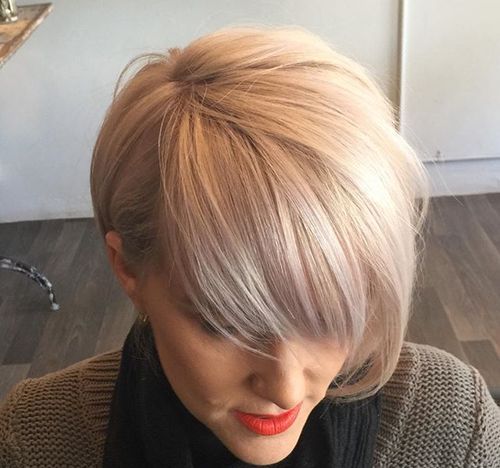 #6: Short Silver Blonde Bob
The best today's hairstyles have a feel of movement to make your locks look lively. Play up the texture of your bob by adding in some layers. Further enhance them with a sea salt spray.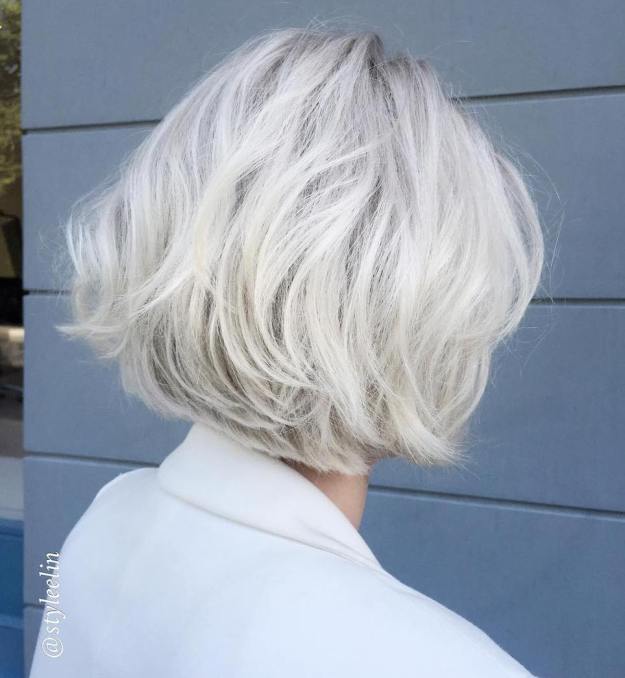 #7: Retro Bob in a Modern Hue
Short blonde hair can flatter many women. It is just a matter of finding the right cut and shade of blonde to complement your appearance. If you are hesitant to go really short, opt for a style that falls below your ears and has some stacked layers in the back for that special rounded bob silhouette.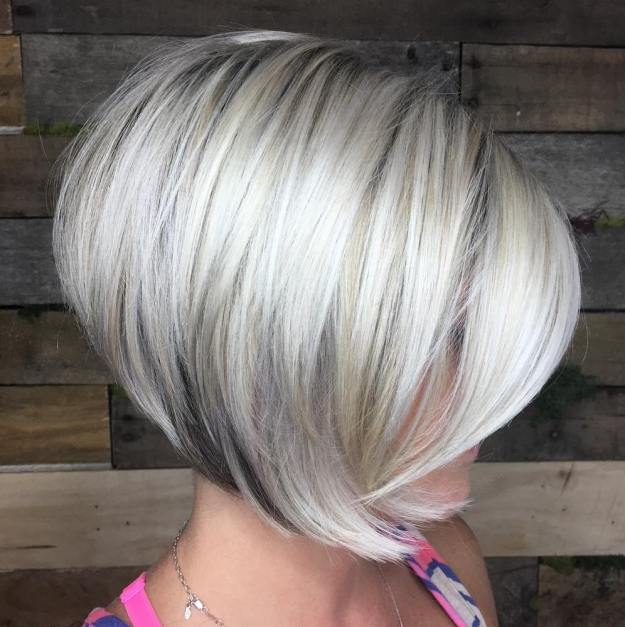 #8: Short Blonde Bob with Soft Layering
It's a common misconception that if you cut your thin hair short, it will appear even thinner. In fact, cropping your hair can actually make it seem thicker. Texture from layering is a brilliant thing when it comes to enhancing your tresses. Same goes for a vibrant blonde color.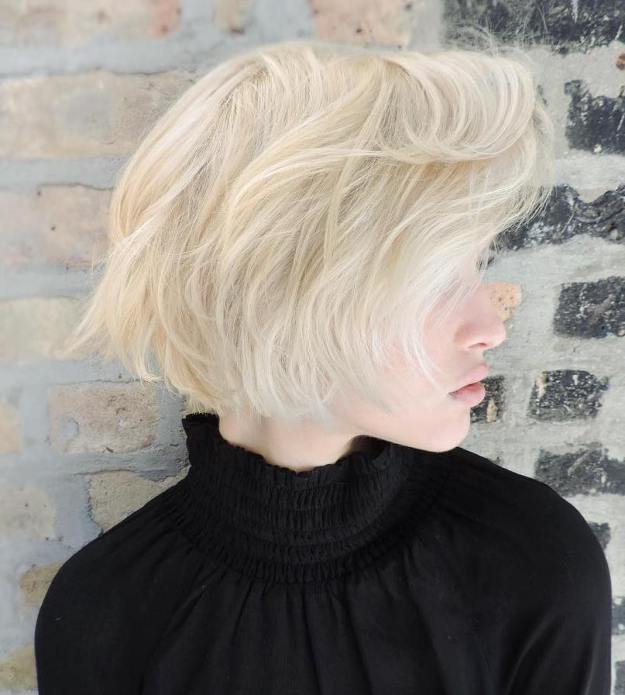 #9: Side-Parted Pixie Bob with Dark Roots
Don't make your part an afterthought. It is an essential thing when it comes to how you style your hair. A style that swoops from one side over the head is very effective for cropped cuts. A bit of exposed roots won't hurt either.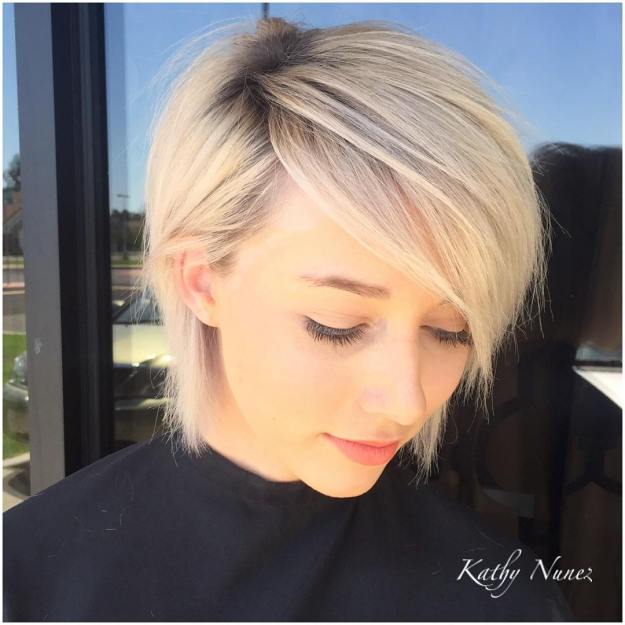 #10: Blonde and Black Flicked Bob
All you need to do is look through a couple of Instagram pictures to realize that today there are many non-trivial cute blonde hairstyles you'll want to try. You don't need to stick with a one-color 'do. Contrast your platinum tresses with a dark underside. It adds something intriguing to the style and makes your hair appear thicker. Ask your stylist for a layered crop to show off the two-tone finish.