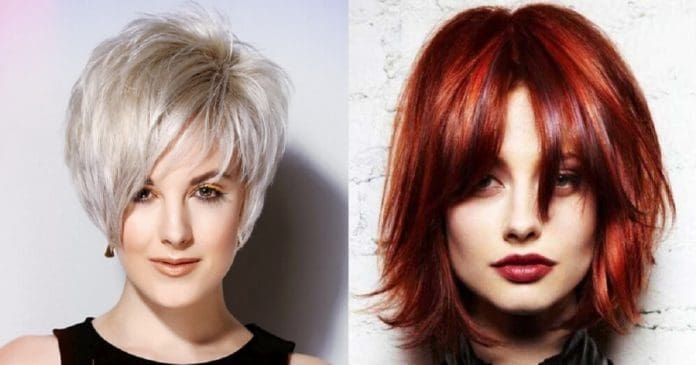 Forget long locks, short layered haircuts are some of the hottest trends this year! Whether you choose a sexy bob, a flirty pixie cut or anything in between, short hairstyles are back and booming more than ever. It doesn't matter if you're a teen or mature woman, there are plenty of flattering haircuts with layers you can choose from. If you're not quite sure where to start with yours, enjoy the broad selection of ideas we have handpicked for you below!
1. Short Layered Bob Haircuts
We can't think of any better way to start our list than with a dazzling hairstyle. Not only is the bob downright spectacular, but so is the choice of coloring. This is the ideal hairstyle for the unconventional woman who can hardly wait to show her true colors.
2. Flirty Short Layers
A short hairstyle that any woman can rock is this voluminous cut. It is particularly recommended for women over the age of 30 or 40, but it looks adorable on younger ladies as well. Flirt in the classiest way possible!
3. Mature Layered Short Haircuts
As far as mature women are concerned, this is one of the short layered haircuts that should never be underestimated. Raquel Welch, a style icon for this category of women, proves that it can provide a fresh and youthful look regardless of age.
4. Layered Haircut for Straight Hair
If your hair is naturally straight, you should definitely take advantage of a haircut like this one. You won't have to spend hours on end getting ready to go out, as your straight locks will fall perfectly into place on their own.
5. Short to Medium Layered Haircuts
What if you want to get a haircut, but you're not willing to go that short? Well then, a short to medium cut with layers is in order. The layers go from short to long in the front, ending in a chic, shoulder-length hairstyle.
6. Short Layered Haircuts for Thin Hair
Battling the lifelong struggle of having fine hair? We feel you, and we also got your back. This type of hairstyle is just what you need for bringing your thin locks back to life. We also recommend highlights for creating the illusion of thickness.
7. Playful Short Haircuts
An actress and singer that's quite close to our hearts, Mandy Moore never ceases to brighten up our day with a cute look. A few years back, she rocked this short hairstyle flawlessly. Get inspired by the look to maintain summer vibes all year round.
8. Fiery Layered Haircuts
Not afraid to go full out glamorous with short layered haircuts? Bring on the color! After you get the edgy cut of your dreams, you can experiment with red highlights for some extra sass. For more fiery hair inspo, check out our complete list of red hair color ideas.
9. Short Layered Haircuts for Round Faces
A significant factor you need to take into consideration when choosing your new hairstyle is the shape of your face. If you have a round face, we recommend a long inverted bob. It will frame your face and complement your features accordingly.
10. Professional Short Haircuts
If you have a job in a corporation or another workplace with a strict dress code, you already know that hairstyles should always be clean cut and on point. One of the best short layered haircuts in these environments is the slicked down pixie.
11. Short Layered Haircuts with Bangs
We love so many parts about this look that it's hard to pick one to start with. The choppy bangs and equally dicey haircut are jaw-dropping. After that, the blonde balayage is the icing on the cake and the cherry on top.
12. Cute Short Haircuts for Teens
High school life definitely has its ups and downs, but one of the coolest perks is showing off your new look with your girlfriends. Impress all your friends with an adorable short haircut with layers and a graceful side part.
13. Feathered Short Haircuts
What if you want to feel like the wind is constantly raking through your hair? What you need, dear, is a feathered haircut. Like the name suggests, it's a layering technique that creates a feathery effect. It's just what a gal with fine hair needs.
14. Effortless Short Haircuts with Layers
If your hair is naturally thick and you usually have to get ready for work or school in record time, this is the haircut that should be on your mind. The layers are perfectly trimmed so they will fall in place effortlessly on a daily basis.
15. Oval Face Layered Haircuts for Short Hair
If your face is in the shape of an oval, you should keep these kinds of short layered haircuts in mind. Essentially, it's a classic bob, cut inwards as to frame the structure of your face. The swept back bangs are also a nice touch.
16. Bold Super Short Haircuts
It takes heaps of courage to rock this haircut, but we totally encourage you to try it out if you're the fearless kind. Not only is the overall design extremely eye-catching, but so is the black and platinum white color contrast.
17. Short Layered Haircuts for Thick Hair
We simply adore the masterful shaping of this short haircut! It's actually a pixie haircut, but with longer bangs in front. The layers are strategically trimmed to create even more volume from back to front and all around.
18. Boho Layered Haircuts
If you're more of the indie or boho type, this is a dreamy pixie cut to keep in mind. It has a sweet sense of innocence that complements women with small faces. The blunt bangs are a cute detail that makes the look even more memorable.
19. Medium Short Layered Haircuts
This is yet another excellent option for women seeking a haircut between medium and short. It's shoulder-length, with long layers and, might we say, a fantastic coloring job. The layering is subtle and adds shape to the hairstyle.
20. Layered Ombre Bobs
On this note, let's talk more about coloring ideas for your short layered haircuts. This angled long bob is gorgeously brought to life by a dark brown to blonde ombre. It includes a lovely caramel transition with a summery vibe all around.
21. Pixie Balayage Hairstyles
For a discrete color gradient, you should look into balayage options. This outgoing pixie haircut, for instance, looks even more remarkable owing to the coloring. The roots are deep charcoal, and they blend out to silvery layered tips.
22. Short Layered Haircuts for Wavy Hair
Wavy hair is more than generous when it comes to short layered haircuts. Thanks to the layered cutting and the versatile length, your maintenance time will be kept to the bare minimum. As long as the shape is well-defined from the beginning, you won't have any styling problems.
23. Layered Haircuts Short and Stacked
Another way to cut down on maintenance is with a stacked cutting technique. This is a popular method in the bob haircuts category, with layers that start from long and end in short near the nape. Enjoy that natural volume boost!
24. Spiky Color Blends
For an even bolder take on short layered haircuts, consider blending more than two colors. In this pixie cut example, you can see how various tones from blonde and red palettes are stunningly melted for a dynamic look.
25. Layers and Undercuts
Born to be wild? Show it off in your haircut! We've talked all about undercut designs before, but this example hits the nail right on the head. Not only is the top part full of lively layers, but the sleek undercut follows up beautifully.
26. Short Choppy Layered Haircuts
Here is yet another option for ladies who want a shoulder-length approach to short layered haircuts. What truly makes this beauty stand out is the choppy layering and styling. You will enjoy plenty of edge while keeping it classy.
27. Short Haircuts with Bangs and Layers
Regardless of your face shape, this style of short layered haircuts will look wonderful on anybody. The bangs make a huge difference, as well as the messy styling with the layered locks. It's definitely a look to keep your eye on if you have wavy hair.
28. Layered Afro Ringlets
Women with afro-textured hair can slay with short layered haircuts any time, any day. The fact that their natural hair texture is full of volume makes maintenance a breeze. We recommend progressive length, from short at the bottom to longer at the top.
29. Braided Hairstyles for Short Layered Hair
Once you have your hair cut and ready, you can start thinking about how to style it. Although shorter locks are a bit more limited for styling, you can still play around with cute ideas. For example, this small side braid is adorable.
30. Short Layered Haircuts for Curly Hair
Show off those curls with pride! Layers are everything when it comes to adding even more volume to your ringlets. One of the best short layered haircuts for emphasizing your curls is a stacked bob, with layers all around.
31. Easygoing Layered Haircuts
Back to our ladies with straight hair for this one. Just like the example from #4 on our list, this is an effortless hairstyle for women with naturally straight locks. Make sure you get the layers right and rake your fingers through your hair for more volume.
32. Haircuts with Short Layers on Top
If a killer shape is what you're searching for, look no further. This is a picture-perfect pixie haircut with impeccable layering. Although the bangs are long, the layers are kept short and flow amazingly into one another for this splendid look.
33. Brown and Blonde Short Hair
This is another look that genuinely impressed us for more than one reason. We'll start with the coloring- the brown and blonde balayage looks ravishing! After that, the layers in the haircut extend to the choppy bangs, another detail that caught our eye.
34. Short Layered Haircuts African American Women
The feathered bob strikes again with this charming version. While it is showcased on superb raven locks, it can be adapted for any hair color or texture. Don't be afraid to add some hairspray to maintain that feathered aspect throughout the day.
35. Long Hair with Short Layers
We wanted to touch on the idea of long hair with short layers as well. Your hair can be even waist-length and still come to life alluringly with super short layers. This idea is terrific for women who want to experiment with creative updo hairstyles too.
36. Voluminous Pixie Haircuts
Even though they're some of the shortest haircuts among current trends, pixie cuts are more versatile than you think. For example, this shot proves that you can enjoy an abundance of volume, provided your pixie is styled accordingly.
37. Short Layered Haircuts for Kids
Want to make your daughter look and feel adorable with her new hairstyle? You can count on short layered haircuts. They're visibly easier to maintain from any point of view, and they look outstanding on your little angel.
38. Short Layered Inverted Bob Haircuts
When getting a layered bob, inverted cutting is an essential option to keep in mind. The two methods combined will result in a voluminous, flirty and chic hairstyle with almost no effort. Talk to your stylist about this aspect when making your appointment.
39. Classy Shaved Hairstyles
Whoever said that shaved hairstyles were too far out? In fact, plenty of these kinds of short layered haircuts can be classier than tons of other long hairstyles. Here, you can appreciate elegant, side-swept layered locks with a shaved side.
40. Very Short Layered Haircuts
If you're willing to go above and beyond with the shortness of your haircut, choose a blunt or choppy look. Women with small or oval-shaped faces will be radiant with this outgoing hairstyle, with the layers strands tousled without a care.
41. Pastel Blend Hairstyles
Let's take a moment for our heartbeat to get back to normal after seeing this jaw-dropping coloring job. All jokes aside, the pastel melting is out of this world in this hairstyle, just what you need to get inspired for spicing up your new haircut.
42. Short Layered Spiky Haircuts
Bring out your inner rebel with this sassy haircut. Even though it requires some quality hair product for styling, the haircut is daring and delicate at the same time. We also dig the hair color matched with blue eyes.
43. Asymmetrical Short Haircuts
Why not step outside your comfort zone with an asymmetrical haircut? We love how this particular cut has just enough asymmetry to make it wearable on a daily basis while still standing out. The full side bangs should be noted, as well.
44. Short Blunt Layered Haircuts
Blunt bangs look phenomenal when paired with layered locks, especially when they're shorter. This is a dreamy hairstyle for the unconventional woman who is not afraid to experiment with her look. Tousle away, darling!
45. Flippy Layered Hairstyles
Want your hair to look brilliant at any angle, regardless of how you flip or part it? This is yourhaircut, hands down. It's slightly longer than other ideas on our list, but the perfect layers provide all the versatility in the world.
46. Super Curly Short Hair
Curly hair is, by far, the most generous texture when talking about short layered haircuts. The corkscrew curls easily fall into place, no matter how short the overall length is. Make sure that the layers are well-executed for the results you desire.
47. Short Blonde Layered Haircuts
We showcased plenty of blonde hairstyles in this list, but we wanted to offer this color the spotlight. Short layered haircuts are often associated with summer, and we all know that blonde is one of the best and timeless summer colors there is.
48. V Shaped Layered Short Haircuts
You can get even more creative with your haircut by thinking of specific designs. A V shape, for instance, is ideal if you're planning on cutting your hair super short. The top part will benefit from lots of volume, owing to the well-thought out shape.