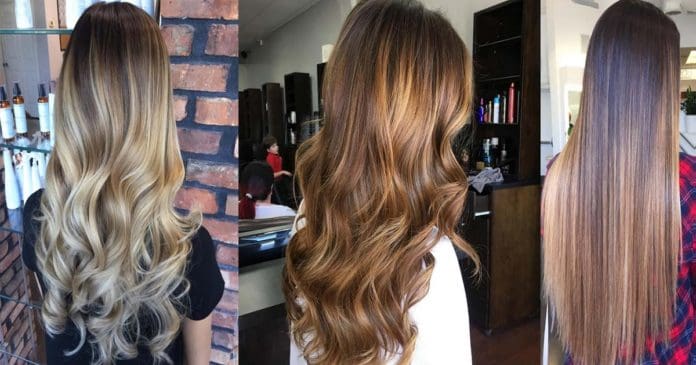 Traditional highlighting techniques, which we all were crazy about a few months ago, have suffered their defeat from a new hot method that will make your hair look naturally sun kissed. Balayage hair highlights represent a far more artistic way of getting that sun-kissed Victoria's Secret Angel look.
In comparison with the regular cap trick, balayage does really border art and, unfortunately, not every salon expert is an artist. It includes literally painting highlights into the hair, an entirely freehanded technique that allows more flexibility and customization. Interested? Here are 50 beautiful balayage hair color ideas you will want to share with your hair stylist.
What Is Balayage?
Balayage is a special hair dyeing technique that leads to the perfectly natural, sun-kissed look, one most of us are born with as children. Balayage stands for sweeping/ painting in French and it implies using the hair dye across the hair surface without totally saturating the section until the hair tips.
1. Balayage from Roots
One of the best things about balayage highlights is that this technique allows you to create your own look. You don't have to go blonde from mid-section, if highlighting from the roots feels more like you, go for it! We bet you wouldn't need another color correction session in the next 3 months.
2. Smoked & Gray
Yes, you can see that balayage works pretty well with all hair lengths. So, if you have short hair and want a smoky look with grayish undertones, here's the result you need! The only catch is that balayage will work best if you already have a light hair color for the gray tones to come out perfectly, without any unpleasant orange trapped in between. Otherwise, we hope your stylist is a beauty god!
@thekliniksalon
3. The Ultimate BB – Blonde Balayage
If you ever wanted to make your blonde hair look naturally highlighted, the foil or cap would still leave hard lines. Instead, you can opt for balayage blonde hair with blonde highlights! In fact, the highlights don't have to be systematic and patterned, ask your hairstylist to add a lighter color around your face area, because that's where the sun would naturally hit first. Wink wink!
@beauty_hair_2013
4. The Balayage Curly Bob
The best way of assessing subtle balayage highlights is by trying out a curly hairstyle. If they still look natural, it means your stylist did a good job. But if your curls start at the exact point where your highlights start, it's a big no-no. With balayage, color blends softer as it falls down towards the ends, where it turns into the lightest shade on the composition.
@merytresjolies
5. Optical Illusions or More Highlights?
As we mentioned before, with balayage, you have more possibilities of adding unique features to your hair color. If you decided to get the purple highlights, go ahead and add some magenta or pink in between. It will play fantastically with lights and shadows, giving more depth and texture to your hair.
6. Chocolate and Caramel Balayage
What does a delicious spread of Nutella look like on a fresh morning toast? It surely doesn't look monotone. Not at all! It's spiked with curvy waves asking for your attention. If you were a chocolate surfer, that would be the top 1 wave to catch. But you're not a chocolate surfer, so this beautifully done caramel and chocolate balayage will do the job. Note the many layers and intensity of shades.
7. Purple-Based Honey
This is yet another icy gray shade of blonde that was achieved thanks to balayage. The highlights don't have to vary vertically; it's a great idea to achieve a horizontal ombre look using balayage methods. Remember to use purple tones and a purple shampoo to preserve the original shade.
@leequinnhair
8. All for Browns!
A natural light chestnut color topped with different brown shades is another great idea. This is a more classic look that would never go out of style, even if the balayage era came to an end. One more super-helpful advantage is that you will do a lot less maintenance with brown highlights than any other color.
@daribhair
9. Low Maintenance Ombre
There's one thing you have to understand. Badass balayage hairstyles require true commitment, a much stronger commitment than the one you promise to your boyfriend. If you feel you can't afford the hours a certain style requires, go with this low maintenance, soft and blended brown ombre look. The transition is very smooth and goes well with updos and curly styles. Even if it's a messy bun day, this hair color will add a stylish charm, and all that in less than 2 minutes.
10. The Dark Side
If you've set your mind on ombre, you will have to go light at the ends of your hair. So, a great way of keeping it dark overall is picking a darker second color. Try this combo of black and gold. Mix ashy and cold shades to get this flexible look.
@salonlindsay
11. Hidden Balayage
Did you think this is an all-natural look? Don't be fooled. There are no contrasting colors, but there is an obvious change of color as the hair grows down. This hand painted style is one of the most natural-looking balayage hairstyles. In fact, you don't even have to tell your friends about the balayage. Keep it a secret and you'll see that no one will doubt the color.
@leah_trios_hair
12. Top Layer Balayage
Not interested in adding too many layers of highlights? Sure, keep it simple with only the top layer. Here's a tip, pick a light shade than the one in layers underneath. As the sun hits your head, the top layers will be subjected to color change first. Balayaging the lower layers won't look naturally sun kissed.
@leah_trios_hair
13. Balayage the Tips
Although one of the benefits of adding balayage highlights to your hair is that you can start the color transition from the top of your head, you don't have to use that benefit. Long hairstyles and certain face shapes look great with the shade transition starting mid-length. Caitlin Alicia's ashy brown & blonde balayage looks great this way. Pay a close attention to the hair framing her face! See some balayage highlights there? Add this to the tricks you learned today.
@thebeautyproductdirectory
14. Regular Ombre Framing the Face
Here's a clear presentation of what a regular ombre looks with balayage hair around the face. These cleverly positioned hair strips make your face features look softer while keeping a dark hair color.
15. Thin Strips of Balayage
This look works extremely well on both brown and blonde hair. Balayaged stripes add depth to the hair and remove the monotone effect a single color hair usually has. So, even if your hair is straight, there will be movement and light in it. This is also a great choice for those who don't want to make drastic changes but are craving a beauty change. You will still notice the change in the mirror; maybe this is the freshness your daily life needs.
@negin_mirsalehi
16. Angels on the Beach
Have you noticed how the hairstyles at Victoria's Secret fashion shows are almost the same every year? Same highlights, same waves, and same messy, beachy style! It's been hitting the target for years, and that should be your main proof that balayage beachy waves never go out of trend. If your hair is naturally brown, balayage it with a few shades lighter, but don't go blonde. Final trick: don't forget to run a wide comb or your fingers through your hair. This way, the darker shades at the roots will show.
17. Curly Caramel
Golden brown balayage hair with creamy caramel is an awesome choice for those who keep their hair curly at the bottom. The lighter lines will stand out with your curls, making your hair look silky, even if it's actually very dry (where's your conditioner?).
18. From Dark to Light Balayage
There is something mysterious about dark ombre that makes it so popular. If you add blonde balayage to dark brown hair, you get a hairstyle that is hard to forget. Now, don't make major decisions like stripping your hair tips of any color. Keep the limits. Make sure to use purple shampoo to maintain the ashy shade of your brown and blonde shades. The smoky color is what adds so much charisma into your daily hairstyle.
19. Less Mystique, More Practicality
Here's a very similar brown ombre that is, however, more practical and low-maintenance. The reason for this is the lack of contrast (which was very obvious in the previous hairstyle) that makes it perfect for any styles and hair length.
20. Let the Volcano Balayage Erupt!
Thankfully, there are no limits to your hair color possibilities in the 21st century. By mixing and matching many colors into a customized bowl of what exactly you've been dreaming of, you can actually achieve any shade you want. So, why not go bloody red? Start with dark maroon and let the red become more intense and vibrant as it grows down. A challenge with a cap or foil, this hairstyle is very easy to achieve with "hand-made" balayage.
21. Brown Meets Strawberry Pink
As summer kicks in, you will want to make your investments on lighter and more fun colors. Some of the colors are not that easy to wear, and if you were unlucky enough to be born with dark hair (unlucky only if you're planning a highlighting session), you might want to start a few months prior to your much-expected summer vacation. The brown and strawberry pink match is a delight that is hard to resist. Dark roots and a mild, almost pastel shade of the pink make you look delicious and playful, without adding a hentai theme to your balayage hairstyle. Ask your stylist to make the blending area very subtle, complemented with ashy brown and a just a little maroon or purple.
22. Little Miss Raspberry
Are you not afraid of colors? Then go a shade brighter and make the most out of your balayage pink hair. A mix of raspberry and Chinese cherry blossom… whichever one you choose, this is a very juicy color that makes the young days not so distant. Take a look at the roots, which are dark, but not entirely brown. They are hand painted with a darker shade of purple that completes the look, turning you more into a nature-girl, than a stylish sophisticated fashionista.
23. A Blue Head-Turner
Our title is not accidental. And this balayage hairstyle is not for quitters. If you have made a decision to turn your long magical locks into a blue storm, you'd better be prepared for a lot of attention. Don't worry, they will be shocked today, and tomorrow you will be the latest hot trend!
Start with a pastel, bluish violet at the top, spice it up with aggressive blue and finish with the first color at the tips. We hope you acknowledge that this style looks anything but natural, and although you can't convince anyone that it's the color you got while tanning at the beach for hours (which you could do with brown and blonde balayage hair colors), it's still a piece of art achieved by balayage.
Need more reasons to commit to blue? How about Pantone's latest report that announced blue as one of the trendiest colors of 2016?
24. Hunger Games Continues
Yes, we have entered the Hunger Games hairstyles top list and, yes, we know you've noticed it. But while we're exploring this unique and original area, let's take a look at a very sweet balayage color combination. This style looks great on blonde hair, because then the only detail you need to add is pastel pink highlights around your face. The look is very blended, in fact, sometimes it's really hard to understand why we're getting a warm fuzzy feeling by just looking at your hair the first time, but whatever magic it's doing on us, we like it.
Take the opportunity of the world going balayage-crazy, and add some strawberry on your blonde cocktail.
@shelleygregoryhair
25. Mermaid Hair Balayage
Still have the dream of getting mermaid hair? Well, this silver green shade is perfect for realizing the fantasy, at least on the fashion level. What's the catch (as if the mermaid hair was not a catch)? Instead of the traditional dark root and light tips, you will get the exact opposite. Your roots will be watery green and your tips will be light silver.
@shelleygregoryhair
26. Roses are Gray and Violets are Pastel
One of our favorite balayage hair colors, this look includes a few different shades incorporated into one balayage. Created with the help of gray, pastel violet and brighter violet shades, it displays a soft smoky effect that can be matched with a gothic outfit… and you're ready for the runway. One last attribute before you head out – complete the character with a dark matte lipstick and the world is ready for you!
@shelleygregoryhair
27. Going Blonde? Here is How You Should Start
The dark hair challenge again… we feel you, girl. Why is it so hard for dark-haired ladies to go blonde in a day? Why all the torture of numerous color sessions? Well, here's a great alternative. If you're going blonde, this means you can experiment with a few highlighting combinations every time. This look is the perfect start. The light brown strips will later become blonde, as your entire hair is painted light brown. Remember, every great work of art consists of many layers and they were not painted in a day.
@colorbyashley
28. Cold and Icy… Ash Blonde
As you might have noticed, orange undertones are not really a thing now. Today, we try really hard to maintain a purple base, because it is turning into the hair color trend of the decade. So, start with a purple-based ash brown and slowly develop into icy blonde, purple-based again. It's a refreshing icy look that will be like a chilly sea breeze in the heat of the summer. Lots and lots of purple shampoo needed, for sure!
@colorbyashley
29. More Platinum, Please
This is another beachy hairstyle in blonde balayage. It's also a good choice for shoulder-length hair, as the color transition starts high on the roots. What makes this unique from the regular highlights? Have a look at the mid-length? It's not just light, it's lighter color on the highlights that reacts to the lighting, adding extra shine to the hairstyle.
@colorbyashley
30. Visible Highlights
Every client has a special request, and every fashionista is unique. So, you can actually try balayage on rough highlights. If you don't want a soft and gradual blend, let your hair stylist paint the highlights roughly on your roots and turn them all-blonde at the bottom. While this is not the first thing you see in the fashion magazines, it's still a beautiful choice.
@colorbyashley
31. A Little Bit of Everything
Have you ever stared at someone's hair and couldn't figure out what color it was? Well, that's what's hot in the fashion crossroad today. Want to test it for yourself? No problem, add some blonde, purple gray, ash brown, and a tiny bit of pink. Mix that on your dark roots, and your hairstyle is ready to serve you.
@colorbyashley
32. Cascading Fountains
As your stylist paints your hair like a canvas, you can actually tell him or her how big you want your balayage highlights at the highest point. It's easier to take big chunks of hair and make them a shade lighter, but you can also ask for miniature work. This look introduced extremely thin, reminding us of the largest water fountain show in Dubai… very thin lines, but many of them. Be prepared to spend at least a few hours in the chair…
@colorbyashley
33. Granny Hair + Balayage
Although this is one of the hottest hair colors at the moment, it's really hard to rock granny hair, because… well, many of us do look like grannies with gray hair. If you can't sport a full gray color, go with balayage. Your roots that frame your face are still dark and natural, while your gray tips provide the effect you're so craving. Add some glamorous curls and get the classic Hollywood chic spiced up with modern edginess.
34. Party Surprise
Are those pink ribbons in your hair? Nope, it's your pink balayage. At least, you will look like loads of fun wherever you go. What's best about this look is that even if you already have a classic dark and light brown ombre, you can spice it up with another pastel color, pink in this case. Now, it's time to bring in the cake!
35. Spice Girls Just Came Back
Ombre is not usually the first advice your stylist gives for your short bob, but tell him that you want balayage highlights and watch his eyes sparking with excitement! Now, tell him you really want some cotton candy pink on the tips, and let him wear the artist hat in less than a minute. Ask for a peachy pink shade in the middle, and a more vibrant fuchsia pink on the tips. Also, free up some time in your daily routine, because you will need to take care of this masterpiece daily.
36. Side Balayage
Remember, we said you could customize your entire hairstyle? And not only the color! How about you highlight the sides of your hair intensively, and leave the back with light touches of color? This option is great for cascading hairstyles, as well as an A-line bob.
@fredlimo
37. Balayage Braids
If you've taken our advice and highlighted the hair around your face, go ahead and try this hairstyle. As the balayage highlights start much higher in the front, you can put them in a braid for a nice mosaic effect. As a rule, braids work well with any kind of balayage, including the extravagant pastel colors.
@hairby_courtneyv
38. Punk Classic: Red & Black
Red on dark hair was once a popular punk trend, and today, punk can be glam! These fierce red balayage highlights thrive with messy hairstyles, badass outfits and a personality that can kill.
@hairby_courtneyv
39. Lilies for Today!
We've been insisting that balayage is a kind of art, just like painting. So, if you could associate this hairstyle with any famous painting, what would you say? We went with Monet's Lilies. The less violet you use in terms of the size of the highlight, the more intriguing it looks. We always want to throw a second glance at the color you're rocking so stunningly.
@hairby_courtneyv
40. Elven King Mashup
Want to look edgy and stylish, but noble and feminine at the same time? Try out this last look with pink and silver balayage highlights over dark hair. These highlights are so airy and beautiful that they will make any natural hair color look royal-like.
41. Root to Tip Gold and Espresso Balayage
Few things are as wonderful as the touch of the sun's ray reflected in a pretty girl's hair. However, the sun isn't always shining, which is why balayage hair colors like this can simply create the same effect in any lighting or season. An abundance of thin golden streaks runs from top to the bottom, helping to soften the rich and dark natural hair color.
@baileyage
42. Warm Autumn Balayage
Because balayage highlights are all about something that looks a little softer and more natural, it is not surprising that they often bring to mind various natural phenomena. In this case, dark brown hair with auburn balayage highlights reminds us of autumn, and of leaves falling from the trees.
43. Molten Gold Balayage
Balayage hair color ideas that are a little heavier on the bleach are perfectly okay as well! This gradual balayage has some ombre elements, with the roots being mostly quite dark with just a few golden streaks. However, as we reach the ends of the hair, it seems as though everything simply melted into a gorgeous pile of golden curls at the bottom.
@off7thsalon
44. Caramel and Cotton Candy Balayage Twists
This is an overall fun and playful hairstyle that is very wearable and manageable despite the fact that it includes an unnatural pink shade. Curls created with a thin curling iron look tight yet volumized, and with the bright caramel and pink shades they look like a real party!
45. Dark Mermaid Fishtail Balayage
Is it just me, or does anyone else's mind immediately jump to mermaid when they see a fishtail braid? Dark black and purple are a classic combination that works really well as balayage hair colors. When paired with the crown fishtail braid, it reminds us of a beautiful sea witch.
@michellehair
46. Dark and Light Balayage
Dark roots have permanently cemented themselves in the balayage movement and it is never more beautifully featured than with pale colors. The differences are what makes the look, and the multifaceted aspect of the lighter ends is played up for a complex look. Here the dark roots work against waves of taupe and silver balayage for a look that shows off different shades of soft color that vary greatly.
@hairbylily408
47. Beachy Blond Balayage
One of the best things about balayage hair treatments is the ombre effect it has on hair, and here, the effect gives her hair a lot of body. The shades of blonde give off the impression of sun-drenched hair – properly protected, of course. It is light in all the right areas, dark in all the right areas, perfectly composed to appear full and bright and lively. Though the balayage hairstyle is blown out, the color really elevates the look.
@positivity_hairstudio
48. Rosè Balayage on Dark Hair
The Rosè colored trend has not passed quite yet and here it is stunningly balayaged into darker hair, allowing the difference to really shine between the roots and tips. The balayage hair treatment was so well done that the transition is not jarring, but as smooth as you would want a glass of Rosè to be. The clear difference in shades that make up the Rosè color on the bottom is well placed to allow the light to bounce naturally between the sections of her hair for a fuller color that will never be flat.
@positivity_hairstudio
49. Purple Grey Finessing
The perfect balayage on dark hair can be reminiscent of a dark storm on the horizon – in this case, one full of silver and purple lightning. It's not overdone, but just enough to frame her face and define her layers. It's a stunning job that is prismatically interesting on a darker scale and certain to remembered. The color difference on darker hair can cause damage if not properly done and maintained thanks to the stripping process, but it is well worth it if you care for the style.
@jinniejinniedc
50. Sun-Kissed Balayage
Here the copper balayage highlights are so beautifully placed and naturally toned that every turn of her head will catch the light, allowing it to shimmer in her hair. This is how a multidimensional copper hair color can look natural yet eye-catching and bright. The tones used complement each other so well that a long summer in the sun is a completely feasible explanation, though no one would blame them for keeping their stylists name a secret with this kind of talent.
@thehaircolorexpert
Photos courtesy of Instagram