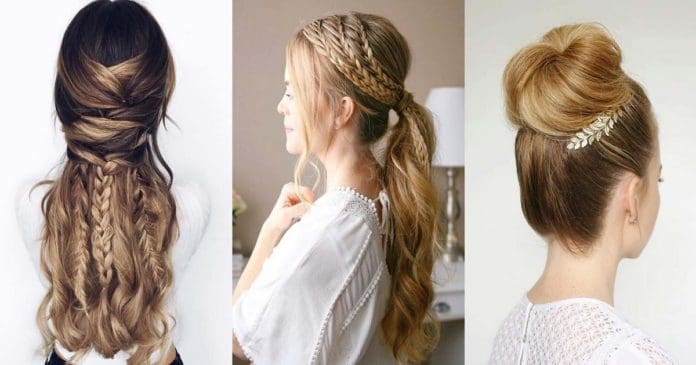 Long hairstyles give you a whole lot of versatility. There are so many great hairstyles you can try out that will make your overall look pretty, edgy, bohemian, rocker chic, or whatever else you're going for. It's hard to create a list that fully encompasses all of the different styles you can achieve from having long hair, but here we have our best attempt. This is a list of 50 great long hairstyles – ideas for how to style long hair.
1. Half Back with Braids
This is a cute long hairstyle that emulates a messy bun, with chic braids leading to the back. This style celebrates your long, wavy hair, and also gives you the cute visuals of a messy bun and braids. Plus, this style features the trending dark to light highlights.
@kayleymelissa
2. Wavy Half-Up Fishtail Braid
This hairstyle features long, wavy hair with a fishtail braid using some of the hair in the back. This is definitely a style for women with thick hair, since it takes quite a bit of hair to pull off the braid and the full, wavy hair around it.
@ashleyymari3
3. Braided Ponytail
With this long hairstyle, you can keep your locks out of your face while still keeping everything cute and chic. The blonde hair here comes in layers, with some platinum being mixed in with deeper shades of blonde. The braids on the side pull back into the ponytail, which helps take away from your volume as well.
@hairromance
4. Smooth Bun with Flat Braids
This low-hanging bun is characterized by the large, flat braids on either side, leading down into and across the top of the bun. This is such a summery hairstyle for long hair, and is perfect for anything from a formal occasion to a day out at a fair.
@missysueblog
5. Sleek Asymmetrical Ponytail
The stack of brown and blonde in this long hairstyle is chic when broken up by a cute hair accessory, separating the simple ponytail from the asymmetrical top. The way the top is folded with a bobby pin, which adds a bit more character to an easy everyday hairstyle.
@yetanotherbeautysite
6. Classy High Bun
If you're looking forward to an elegant event this summer, but don't know how to style your long hair, this may be a great option. It is a classic, sophisticated bun that you can easily style with a lovely pin or clip, and it will stay out of your face for your event.
@missysueblog
7. Large Mohawk Braid
This is a messy style for a long braid, with all of the hair being used to keep it right in the center for a funky mohawk appeal. This hairstyle showcases your voluminous hair in a new, front-and-center way, so you'll be able to make any passerby jealous of your beautiful tresses.
@missysueblog
8. Classic Wavy Long Hairstyle
There are no bells and whistles to this cute and elegant hairstyle. It is worn down and curled, showing off the beautiful blonde highlights. With a simple headband being the only adornment here, this is a versatile, everyday hairstyle for long hair for any occasion.
@kayleymelissa
9. Frosty Half-Up Hairstyle
In an icy blonde and brown color, this long hairstyle is pulled half up in the back with lovely twists. A great holiday style, this hairdo would also look beautiful any other time of year. It is an easygoing style that will look nice all day, whether it's messy or sleeker.
@twistmepretty
10. Playful Knotted Ponytail
This is a hairstyle you can have fun with. The knotting done to complete this ponytail is rather simple and straightforward, and there's a bit of leeway to put your own twist on this style. It's a great riff on an everyday ponytail.
@missysueblog
11. Loose, Messy Braid
This cute long hairstyle uses all of your luscious locks in a messy braid, pulled into the back. It is a lovely, feminine braid made even cuter with a flower on a headband being woven into the braid as well. It is a messy way to keep your hair up during the summer.
@lo.reeeann
12. Dreamy Partial Braid
For extra-long hair, this 'do features many different sections. You have a section of shiny, straight hair encased by a braid on either side, which all braids together to become one at the base. This has three great styles for long hair all in one!
@chitabeseau
13. Lovely Crown Braid
This is a straightforward braided crown, here seen accompanied by a crown of flowers. Keeping the bangs loose around the face adds another texture to the style, and takes away from the primness while still keeping it sophisticated. This is a long hairstyle perfect for a bride, or for anyone else!
@lalasupdos
14. Pastel Rainbow Triple Braid
These quirky braids are made trendier and quirkier because of the rainbow hair colors that we see everywhere today. The intricate braiding achieves a sporty look, since they are so tight to the head, and can help hold back some of your length, if you want to make for a shorter style.
@chitabeseau
15. Simple Wrapped Long Hairstyle
At the heart of this long hairstyle are long, flowing, wavy tresses. The simple wrapped twist with strands from the front of your hair adds a simple yet elegant touch to your style. It is an easy way to add an extra dimension to your everyday long hair, with a lovely result.
@missysueblog
16. Easy Twisted Low Bun
This is an elegantly pulled back bun that has a lot of versatility as a long hairstyle. It is elegant enough to be fit for a bride with its twists from the sides to the bun itself, yet still simple and easygoing enough to be worn for a day out; it's all about how you choose to pull it off!
@yetanotherbeautysite
17. Loose and Messy Twists
This hairstyle is essentially one long faux braid; at a glance, it seems to be a large and messy braid, yet you can see all of the large twists and loops that actually take its place. It finally does fall into a loose braid at the bottom, so you're still given that beautiful look, plus the hair color in this style is gorgeous.
@kirstenzellers
18. Braid-Trailed Bun
This hairstyle takes a classic, messy low bun and adds in a new dynamic with a braid going down the scalp and leading into the loose yet structured bun. It will add a fun new element to one of the ultimate go-to hairstyles for your long hair.
@ashleyymari3
19. Thick and Messy Side Braid
This 'do flips all of your hair to one side, so you can braid all of it at once into a thick braid. Leaving the bangs loose here gives it an extra edge of casual appeal, and the color makes the whole style right on trend with hair fads of the moment.
@kirstenzellers
20. Flipped Low Bun
This sophisticated low bun is another elegant and easy twist on a classic bun. The picture shows how well it can showcase trending highlights, and also how easy it is to add in a touch more of elegance with a simple headband. This is another option for long hair that can either be formal or casual.
@ashleyymari3
21. Large Side Braids
These fishtail braids are a modern spin on the often childish side braids. That adds an element of fun to the look, while still staying modern and rather mature through the color, the feathery texture, and the looseness at the top.
@kirstenzellers
22. Loose Hanging Braids
Here you have another set of modern side braids. They hang loosely at the side, so you're getting the rather trendy look of double side ponytails, as well as the beauty of braids. Here they are shown as a mix of edge and sophistication.
@kirstenzellers
23. Braided Updo
The gorgeous blonde hair in this long hairstyle is kept perfectly in place, yet still hangs loose. It balances elegance and casualness, so the bohemian style can go from day to night in the blink of an eye. All it takes is a headband to accessorize the look, as well.
@ellepearls
24. Multiple Boho Braids
With these cute boho braids, there is a lot of benefit. You don't have to worry about your long hair getting in your face and you can still show off its length. And as the poster so aptly alluded to in her post with this hairstyle, it dose have a bit of resemblance to everyone's favorite pirate, Captain Jack Sparrow!
@ashleyymari3
25. Old Fashioned Braid
This is a hairstyle that would seem right at home at a schoolhouse over a century ago, but of course that type of style is continually coming back into trend today. This look is made even more modern with its purple, reverse ombre color.
@lo.reeeann
26. Glamorous Bunched Long Hairstyle
This look seems to have been pulled straight out of an old love story. Like it was the style of a western heroine, or a southern belle, this style is a classic beauty and doesn't need to be made modern. The loose braid is timeless and elegant, while still exuding some carefree spirit with the loose strands.
@ulyana.aster
27. Timeless Light Curls
This long hairstyle has curls that fall right on the fine line between waves and curls. Regardless of what you want to call them, the overall hairstyle is timeless and elegant, perfect for that old Hollywood glamour, or for a classic bridal look, especially with a touch of a lovely accessory.
@ulyana.aster
28. Full Blonde Ponytail
Volume can be such an exciting element for long hairstyles when they're done right. Too much and you have a bit of a hair disaster, but just enough like in this style is truly stunning. You can have the body in your hair and the lightness of the bangs falling loosely in front.
@ellepearls
29. Loose Ballerina Bun
Classically worn tight all around, ballerina buns are a timeless trend, but when they are worn looser, it becomes a lot more versatile. It simultaneously becomes more casual and more elegant, so you can really wear it wherever you need to go and feel right in place; almost as if a ballerina bun and a messy bun were merged together.
@ashleyymari3
30. Side Fishtail Braid
This adorable side braid is as long and well-managed as a mermaid's hair, especially with the lovely tinted grey color in this photo. With the continual braid coming from one side of the head to the other, the hair can be structured and given movement at the same time. It's perfect for any time of year.
@kirstenzellers
31. Half-Up Top Knot
A lazy-chic woman's dream hairstyle, this hairdo came around as a trend that also promised to hide oily hair if one didn't have time to shower, say. Just toss part up in a messy bun and let the rest of your hair speak for itself with beautiful curls for a look you can rock all day.
@negin_mirsalehi
32. Voluminous Side Braid
Generally speaking, the larger the braid (with the long hair to support it), the more elegant the overall style. Here, that mentality is definitely true. The style is sort of a half fishtail braid, as it's been loosened up a great deal to achieve this luscious, voluminous effect.
@ulyana.aster
33. Wrapped Braid Crown
What better way to keep your long hair up and away than to wrap it around like a crown? This is an elegant hairstyle for long hair, with twists and loops working around the head in a beautiful updo, with well-placed strands falling around the face for a loose effect; it is great for a formal event!
@ulyana.aster
34. Updo with Timeless Elegance
Another old fashioned, almost haunting long hairstyle, this look could be from any era. It is rather voluminous, due to the long hair within the style, and the loose strands help it to be worn for a long time for any occasion, since you won't quite notice when hairs fall loose apart from what was intentional.
@ulyana.aster
35. Tight Side Fishtail Braid
Tight braids often have a sportier look, which is true for this style, but the overall styling of the image shows that it can be more sophisticated too. It is made modern in a lovely way, from the deep brown hair as it moves into a lovely blonde at the tip of the hair, spiraling down the braid for an ombre effect.
@ulyana.aster
36. Wave with a Twist
This curly/wavy hairstyle has a lovely way of shifting the hair, with twists and tucks around to keep things interesting. The long hairstyle is beautiful in a simple way, so it doesn't necessarily require a formal event to wear. A cute headband can really bring some character to the look as well!
@lalasupdos
37. Curly Pink Glamour
The long hairstyle here is a rather basic wavy hairstyle, aside from its modern pink color and classic glamour twists in the back. This works well with the red flowers in this shot to bring together modern trends and classic, old Hollywood glamour in a beautiful way. You can't get much better than that!
@amylara_squaresalon
38. Low Side Bun and Braid
When you have long hair it can get difficult to gather it all into a nice neat bun, so you have to get a bit more creative. By using this braid, you can use up some of your length, while adding this nice touch to a standard low bun. In this lovely blonde color, this look is primed and ready for summer.
@hairromance
39. Half-Up Braided Knot
Going along with the half-up hairstyle trend, this look features a braid where a bun is generally found. In a spring/summer theme, the knot is a similar shape to that of a flower, so you're all set to go out and enjoy the sun with this fun twist on a modern trend.
@missysueblog
40. Elegant Length with Pinned Bangs
Sometimes just pinning back your bangs (or the front sections of your hair in general) is all you need for an elegant hairstyle. You took the time to grow out your long hair, and a simple curl is always beautiful, so this simple and elegant twist for your bangs will have you simple and sweet for any occasion, formal or otherwise.
@missysueblog
41. Half Dutch Fishtail Braid
This cute version of a Dutch fishtail braid actually stops halfway through the hair, before turning into a simple ponytail. The finished style is adorable and can be dressed up or down, and you can't deny that it's easier, since you don't have to worry about going through all of your hair or finishing it off nice and neat at the end!
@yetanotherbeautysite
42. Three Strand Mermaid Braid
This braid is created by twisting and tucking in the outside strands. It is a lovely, loose version of a trending mermaid braid, especially with the help of the lovely color in use. Adding in a cute hair chain just adds in an additional spark of bohemian flair, to add your own personal style to the long hairstyle.
@kirstenzellers
43. Knot-Braided Bangs
Pulling back your bangs can actually add a lot of character and texture to your long hair, especially when it is braided in such a way as this. Adding in the knots brings a new dimension to the long hairstyle, and makes for an overall more unique look that has a great structure to it.
@kirstenzellers
44. Boho Braided Ponytail
Ponytails are always great go-to hairstyles for women with long hair, but this style adds in a little twist. Adding in small braids from the strands at the top of your head adds texture to your ponytail and an interesting visual appeal, so it will spice up a gold standard long hairstyle.
@missysueblog
45. Knotted Braid Mohawk
A trending cool girl hairstyle, this is a look exclusively for women with enough length and volume in their hair to pull off such a style. You need quite a bit of hair to get the proper lift to your braid, especially since in this version the knots are so large. Rather than braiding, this adds a more natural feeling to the look as well.
@missysueblog
46. Bridal Fishtail Braid
Looking elegant and ready for the aisle, this is a side fishtail braid for long hair that has a glamorous execution. The hair seems to be beautifully folding into itself, and the loose version of this classically tight and structured braid adds in an unrivaled sense of beauty and luxury.
@ulyana.aster
47. Purple Rapunzel Braid
With the lovely vine accessory in this braid, as well as the general style, the likeness to that of Rapunzel is stunning. The purple hair of this long hairstyle is a lovely and modern shade, and the flat, twisting braids are a simple yet elegant way to show it off for summer.
@amylara_squaresalon
48. Medium Bun
This is a staple hairstyle for long hair, as it is simply a bun pulled back at a mid-level, loosely enough to not seem uptight and tightly enough to keep strays at bay. The addition of pearls here only enhances its sophistication, moving the classically luxurious accessory from the neck and ears to the hair.
@kayleymelissa
49. Elegantly Wrapped Headband
This long hairstyle requires a simple, lovely headband to keep its folds and wraps in place. The loose updo is elegant in its simplicity, and with its nearly symmetrical tucks in the back, there's nothing too abstract that stands out, yet the hairstyle calls for attention due to its lovely appeal.
@missysueblog
50. Wide French Fishtail Braid
Combining these two braid types makes for a bohemian long hairstyle. The French braiding along the top leads into the wide fishtail for the rest of the hair, and is worn in a loose, casual fashion. The result of the style is easygoing and straightforward, despite the complex work put into the style process.
@missysueblog