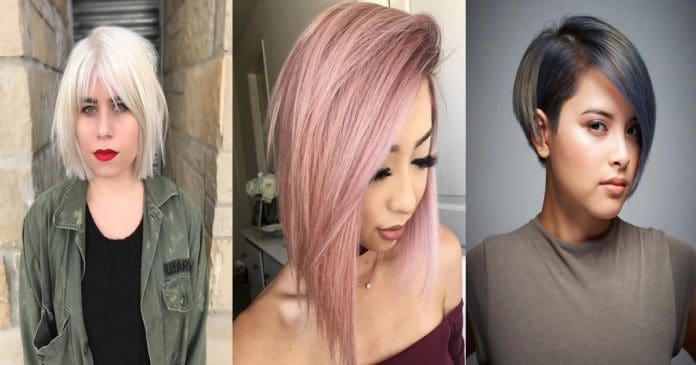 When thinking of hairstyles for round faces, the amount of options is both a blessing and a curse. It is so nice to be able to wear your hair in different styles and have it look good. But at the same time, it can be hard to find that one that perfectly fits you. That is why this list exists.
To help you sort through all of your options in one place, this list represents an astonishing variety of haircut options for round-faced women. You can't change the shape of your face, but that doesn't mean you should feel constrained to the same easy hairstyle your whole life long. From curvy bobs to long angular cuts, these exceptional looks will make you feel amazed at what a versatile canvas your beautiful face can be.
Some great haircuts for round faces take advantage of the face's natural curve. A straight style doesn't help frame your face, but with a round face, you have a great foundation for hair that curves to the contours of your face. For this same reason, gentle waves are a great option when considering hairstyles for round faces, since the slight curl plays well off of rounded features. Whatever look you choose, these styles are sure to inspire.
1) Short and Simple for Everyday Wear
This pretty hairstyle is greataroundund faces with larger features. The shortness and simplicity of the cut perfectly compliment plump lips and big eyes. Although sometimes people are nervous about feeling boyish with a shortcut, a round womanly face can actually make this hair idea quite delicate and feminine.
2) Medium Length Boho Chic Hairstyle
A great hairstyle for girls, the slightly shaggy relaxed look is low maintenance while still being interesting. If you happen to have fine straight hair, a style like this is one of your best options, since the added layers create much-needed texture. The length helps keep the hair from feeling too heavy, and the bangs add a perfect frame to your lovely round face.
3) Relaxed and Reliable Hairstyle for Women
With a soft wave that perfectly molds to the curves of your face, this cute easy hairstyle looks effortless. A simple wave is a great decision when you don't have forever to do your hair but still want to give it some shape. The subtle ombré coloring adds to this look with a gradual color change down the gentle waves.
4) Wavy and Pretty Hairstyle that is Cute and Easy
When you are looking for a great hairstyle that easily translates from day to night, this fun and easy hairstyle is a great choice. With a sweeping side part and a gorgeous light blonde to platinum ombré, this look is flirty and fun while still working appropriately. Have fun dressing this look up or down.
5) Perfectly Framing Hairstyle for Round Faces
This sleek look highlights the beauty and shape of your face by keeping your forehead bare of bangs and by using an easy single-length frame. A few highlights and waves are all you need with this clean and polished hairstyle. This look truly lets your own lovely face take center stage.
6) Chic and Natural Hairstyle
Naturally colored and minimally styled, this haircut looks totally organic. The chunky layering provides depth and interest, and the length falling just above the shoulders is great for a low-maintenance style. This is one of the great hairstyles for round faces because it is long enough to play with but short enough not to be a bother.
7) Relaxed and Beautiful Natural Waves
These dark, rich, and luscious curls are a great choice for women with long hair and round faces who are looking for a sophisticated style. The large gorgeous curls play perfectly off the contours of a round face, creating lines and curves that complement soft features. Be sure to invest in a good curling iron to get the look you want.
8) Gray and Gorgeous Modern Hairstyle
Who says gray hair is for old ladies? One hot new trend is to go gray early and embrace this silvery, sagacious coloring. Gorgeous gray hair looks stunning at any age and creates an interesting depth of color and tone when styled. This easy breezy look is a fun way to show off your cool coloring and happens to be one of the best haircuts for round faces.
9) All-Natural and Practical Day to Day Look
With a classic center part and cascading super subtle waves, this is a great example of a simple and clean, no-frills hairstyle. All that said, this is by no means a boring or dull look. No, this cut works with your personality to come off however you present it. Fun and flirty or subtle and sophisticated, this look does it all.
10) Cute and Playful Multi-Toned Style
When going for a bold color choice, silvery-blonde is a fun option, especially when you are ready to let a naturally dark color peek through. Great for round faces, this segmented, mid-length cut can be styled to lie softly over your face so your round cheeks just peek through, or it can be pushed back with only delicate strands left apart to frame your face.