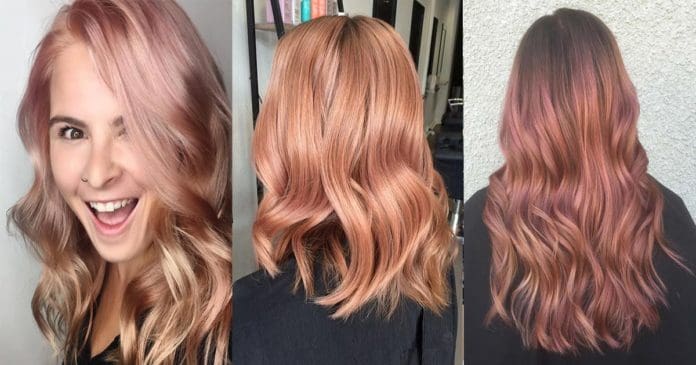 Rose gold hair is a rather subtle style, as opposed to other more vibrant dyes, so perhaps you'll find it is something you want to try out this season. Regardless of whether you want to try it out for yourself or if you're just an admirer, here are 65 rose gold hair color ideas you might get inspiration from.
1. Curly Peach-Blonde Hair
Sometimes the best dye jobs are those that have different colors seamlessly blending into one another, so this style is a more elegant execution of the rose gold hair color trend. The light pink used alongside the rather natural blonde mixes to create a peachy tone, that just seems to be sun-kissed and lovely.
@shelleygregoryhair
2. Layered Style and Rose Gold Hair Color
For this overall look, it all starts with the cut of a layered bob style, before being dyed and curled. Styled to perfection, the colors come in layers as well as the cut itself, with a warm brown bottom layer, with the blonde and rose gold styling planted on top.
@shelleygregoryhair
3. Vibrant Rose Gold Hair
This is one of the more lively rose gold hairstyles in this list, falling more on the rose side of the style than gold. The long, natural hair in this overall look is stunning, and would make an impression on anyone you meet in your time out on the town. The color is a saturated purple rose, without any leftover splotches of natural color or other highlights, so you'll be going bold with such a look, but looking gorgeous in the process!
@leysahairandmakeup
4. Whimsical Rainbow of Rose Gold Hair
You might have to err on the side of caution with this look; taking a step too far with the color sections might take you from fashion forward to Halloween costume. Nonetheless, with an outcome like this, you're adding in all of the best shades that come with the rose gold hair trend, so if you're stuck on choosing colors and blends, this would be a great option to look into.
@shelleygregoryhair
5. Classic Redhead
A deep, yet bright red is the perfect shade to dye your hair, especially when you love a specific hair color but don't want to worry about people thinking you're trying to fake a natural color. The hue will be stunning and vivacious, while still exuding that sensuality that comes with a deep red. In the photo, the styling done scales it down some, adding in some fun to a look that might otherwise be a serious stunner. So enjoy it as you will!
@beautystylealessia
6. Rosey Nearly-Mermaid Hair
Minus the wet finish, this rose gold hairstyle has all of the merits of the throwback mermaid hair trend. Regardless of that, this style incorporates the rose gold hair trend by giving reign to a lovely pink hue, with highlights of blonde peeking from among the strands. As an overall look with the curly waves, you can't go wrong, but a similar dye-job might look just as spectacular on straighter hair as well.
@ms.foxyroxy
7. Disheveled Stacked Bob in Rose Gold
A little bit on the messy side, this purple- and pink-infused blonde style brings a whole new level of glamour to a popular summer hair cut. With the sun and humidity, this is a style that will keep your hair from feeling the brunt of it; and you don't need to worry about missing out on the rose gold hair trend, either!
@deathbycouture
8. Rose Gold Waves
This look takes the rose gold hair color trend to its most literal place, as the color here is a gorgeous shade of rose gold itself. The shimmering shade is matched here with long, classic waves; the look just screams summer, and makes the warm weather even more exciting, especially with it being so close upon us. There is not much that needs to be said about this look; all that is necessary can be seen in the picture!
@jordanoakleyhair
9. Emma Roberts' Sleek Locks
Here is an example of a desert rose gold hairstyle, with the darkness of the shade creating a more natural appearance, while the shine of the glossy dye brings in aspects of gold. Showing the look on Roberts to top things off just shows how much of a sultry appeal can be achieved through this sleek shade.
@ninezeroone
10. Wavy Pink Bob
This style is cute, to say the least. The wavy bob can often be viewed as such, but with the addition of the rose gold hair color, the pink just makes it that much more fun and, well, cute! By darkening the color at the roots, you will also ensure longevity with your look, but will also add fluidity by giving it motion. The color, as seen here, can be worn with black quite well, but playing around pairing it with other hair colors could prove to be a fabulous decision.
@mermaidcloseth
11. Classic Curly Bob
This is another rose gold hair idea, and the classic style just makes it that much more elegant. The style and color is easy to transition between an everyday outfit and an eveningwear ensemble, so you don't need to worry about sacrificing versatility to keep up with the rose gold hair trend. In fact, you might just find that it enhances that.
@gabriellearmanini
12. Black Mixed with Rose Gold
For the lovely ladies with darker skin tones, this style will look particularly stunning. As is frequent for those with darker complexions, your hair is likely on the darker side as well, and nothing is more of a pain than trying to get all of that to a blonde hue. With this style, you can just embrace your dark locks while adding in areas of pink and blonde for that lovely rose gold effect.
@helloxchristie
13. Ombre to Dark Rose Gold Hair
Much as the previous item in this list, this style embraces dark roots. You will be able to play off of them by adding in a perfectly blended rose gold with an ombre effect as you move down your hair. Styled here with beachy waves, the rose gold hair color spirals and intertwines with the black near the top, showing how things can be blended for maximum rose gold efficiency.
@bbjam
14. Voluminous Blonde and Pink
This strays a bit from the "gold" aspect of the rose gold hairstyles by instead incorporating a bright blonde; the same effect is, however, still achieved. The bubblegum pink is also a unique incorporation. Bright pink has been used in other rose gold hairstyles, but this look truly embraces a sweet pink hue, by its bold placement and by adding volume to the hair, making the color pop even further!
@samihairmagic
15. Soft and Sweet Rose Gold Hair
Softness is a rather difficult thing to obtain in the summer heat and humidity, so pulling off this look will be a breath of fresh air anywhere you go. Here you have waves of a partially blended rose and gold mixture, still showing the separation between the two shades, but being mixed well enough that at first glance it may appear as only one color.
@kellymassiashair
16. Dark Red Waves
Here is another dark-based hairstyle, using rose gold to adding highlights of a honey blonde and a dim red, which edges onto pink at times. This look doesn't call for as much attention as others on this list do, making this especially ideal for those who can't be too boisterous with their looks, for work or other commitments.
@kellymassiashair
17. Platinum and Pink Curls
This whole style reminds me of a young girl's Barbie dream look. You have the perfect, platinum curls, and the pink just sitting atop before seeping down onto the rest. The reference does not suggest the look is childish, or anything else of the sort, but it does suggest that if you choose to sport this feminine, simply gorgeous rose gold look, you can expect a lot of compliments – I'd bet mostly from children, no less!
@makaelazylstrahair
18. Contrasting Dark and Light
Many rose gold hairstyles incorporating dark hair and light hair tend to go for an ombre effect, or an otherwise light approach to melding the two together. This, however, just goes for the full contrast, and the result is striking. The popup strands of blonde in the area of the dark relieve the tension while still adding to the stark difference between the two shades. Proper shading of each color is particularly important here, so careful consideration should be made here.
@hairbyyuri
19. Shimmering Rose Gold Waves
Falling around shoulder length, this will be a very breezy look, especially with the addition of it being in rose gold. This particular shade and style is just begging to be added with some floral patterns and sundresses, but is also tame enough to only need a pair of denims and your go-to summer top.
@nicolegallagherthesalon
20. Voluptuous Rosy Gold Curls
Sometimes, especially with proper volume and uniformity, curls are downright sexy. Here, with the lovely pink added in around honey hues, that is battling against sensuality with sweetness, and it seems the two are at a standstill. An equilibrium, if you will, is created here; you can enjoy more attitude in your look, but always kept in check by the color.
@rainafofficial
21. Dipped in Purple
For this look, it appears to start with a base of blonde, and then purple was poured on top, allowing it to seep throughout the color and go where it wished. While that would have been far too messy of a process, it certainly achieves a visual appeal in that regard. This is one of those rose gold hairstyles, however, where you should practice caution, as too much of such a vibrant purple will end up looking costumey, so you'll need to keep that balance in check!
@mawooster
22. Easy Pink and Blonde
This look incorporates the rose gold hair color, as well as the newly beloved style of putting half of your hair back into a bun, which proved particularly useful in times where you don't have time to shower. With the way this hair was dyed, it seems it could have been the purpose, to look especially fabulous when worn up like that. Needless the say, the look is likely stunning from any vantage point.
@shanleighhair
23. Simple Lightly Rosed Waves
Here you will find one of the more subtle approaches to rose gold hairstyles, in that you won't need to worry about standing out too much, while still receiving the benefits of having rose gold hair. This look utilizes more shades of natural colors, opting to add in the medium pink as a supplement, rather than making it the focal point.
@shampoojc
24. Even Pink and Blonde
Here the more natural blonde and rather unnatural pink play against one another. The pink is a striking shade, yet in a way that will make an onlooker look twice, as opposed to be so vibrant that it caused anyone who walks by to stare. If anyone stares, it will be due to jealousy!
@olivemealways
25. Peach Pink Center Part Hairstyle
Another straightforward hair color, this time in a creamy, peachy pink, this rose gold hairstyle falls on the sweeter side. This is especially so due to the center part added into the hair, and the happiness that seems to exude from the sleek shimmer of the finished dye.
@chloeamberpatsides_x
26. Iridescent Platinum Rose Gold Hair
With a base of a striking platinum blonde, highlights of a faded-looking pink/purple come through in a nearly luminous way. By flipping the edges and allowing the bangs to fall in such a way, styling your entire hairdo like this will add some serious attitude to your appearance.
@guy_tang
27. Rosy Pink to Near-White
This is a fast-paced ombre rose gold hairstyle that begins at the top of the head with a pale, faded rose, and moves down to fad into a natural blonde before continuing to become more and more white, until you are left with the totally striking silver at the bottom. Adding in the curls adds volume and even a few levels of fantasy, so this is one look you'll need to be ready for.
@guy_tang
28. Easygoing Pink Blend
This is a rather unique blend of darks and lights, and the result, mixed with the "lazy" styling of the hair, really evokes such a laid back vibe. As such, you won't feel the need to dress a certain way or omit certain colors from your wardrobe. Rather, you can embrace the best aspects of everything and keep doing what you want.
@matt_waldron
29. Sunset-Touched Rose Gold Hair
This shade of rose gold adds in a splash of orange, which resulted in a perfect sunset blend. You can't help but look at this look and not smile, thinking about the soft sun setting in the distance, or of the way it paints pictures across the water. The color is just sober enough to remain subtle, making it another ideal rose gold hairstyle for just about anyone wishing to try it.
@mikey_woo
30. Classic Contrast
Here is a basic, rose gold-techniqued hairstyle. The white-blonde and the pink are able to contrast one another, this time in a more blocky pattern; the pink chosen for the look was a lovely blend, but the placement was made for that contrast between the crisply blonde base and the bright pink highlights.
@jacquie_beauty
31. Smooth Bombshell
This is a more toned-down version of the classic bombshell waves, given its lowered amount of volume and the soft execution of the curls. The color on the other hand, is a darker shade of rose gold, one that perfectly suits the woman with a lighter complexion, but of attitude to back it up.
@coppergetsfit
32. Sunkissed Beauty
This look doesn't really delve into the rose gold hair colors, but leans on adding in a blend of brunette and blonde shades. Yet, there does appear to be a hint of a rose tucked away inside these shades, in the softness and the way the sun is able to pick up extra tidbits of light throughout the locks. You'll be all set to walk down the streets wearing your favorite spring/summer ensembles.
@jamesalansalon
33. Rose Gold Dreamsicle
This shade reminds me of an orange dreamsicle; those luscious, summer treats filled with ice milk are reflected in the color as well as in the smooth volume throughout the style. This formula is a shade between peach and orange, falling at a perfect point so as not to be too serious or too laughable. Rather, you are able to look at the hairstyle and be happy with summer memories, without being too literal.
@hannashairandbarber
34. Perfectly Streamlined Curls
The hair is styled impeccably, which acts as the perfect canvas for the light ombre effect taking place here. It begins with a deep shade at the top, and by the time you reach the tips, there are golden hues peeking through. The pinks and purples meld together here, and are a great addition to any inspirational photos on the rose gold hair trend.
@toni_salonamp
35. Cute and Classic Curled Bob
This is a Western country classic, one that would look right at home with a pair of cowboy boots accompanying it. But setting that aside, the honey golden hair color plays well with the light brown, with no set rhyme or reason as far as the pattern was concerned. This is a great summer style, as it will look so cute bouncing as you walk down the street.
@hairandharlow
36. Honeyed Brunette
Long waves allow for a languid ombre effect, without the outcome being too noticeable. These waves are laid back, and allow for the smooth transition between brown and gold; with tighter waves or with straight hair, this effect would have otherwise been disrupted. Rocking these long waves is perfect for a day at the beach, or anywhere else.
@hairandharlow
37. Brown to Rose
This rose gold hairstyle allows for an appealing visual. The rosy pink tips are seen in strands up near the brown roots, with varying golden shades in between. This is the most fluid integration of brown, blonde, and pink in this list, and will prove to be a striking statement, despite being more subdued. Plus, the soft waves make the whole look appear more sophisticated, so no matter what walk of life you are in, this will work for you; who wouldn't want to be a part of the rose gold hairstyle trend?
@estherdenkers
38. Cascading Layers
When pinned partially up, this look appears straightforward, in that the top layer is a darker blonde and the bottom is a brown and rose blend. However, when the bun is released, the blonde hair seems to cascade as waves over the other shades, with various lengths cut into new layers within themselves. This look is truly stunning, and its layers will allow for much versatility with styling options.
@techniquesbycarl
39. Fiery Sunset Rose Gold Hairstyle
Again, the colors of the sunset arise, but this time taking on a more fierce form, resembling more closely a fire than the sun itself. Yet, either way this is a bold statement for rose gold hair color, and could easily be a striking statement for any daring enough woman to try out. The different layers of browns, pinks, and orange will make for a unique outcome for anyone who tries this one out.
@avbsalon
40. Simple and Versatile
Simple rose gold hairstyles can be worn in so many ways. Such may not have been noticeable, due to the focus on curly and wavy styles, but here is one instance showing the different ways a rose gold dye job can be worn. No matter what hairstyle you wish to achieve, you will be able to find a way to accomplish it while best showcasing your rose gold hair color. This photo encompasses a few possibilities, and as long as you're open and willing to get a bit creative, you can find ways to achieve your favorite styles, too.
@allurehairbar
41. Nectarine Melt Bob
Channel your fruity side with this super cute rose gold hair look. The way the mauve roots fade towards gold tips is reminiscent of a delicious nectarine, and the overall effect is fun flirty, thanks to the cute wavy bob and adorable double buns on the top of the head.
@nealmhair
42. Midnight, Rose Gold, and Pink Balayage
Inject a touch of mysteriousness into an otherwise fruity and fun balayage, through dark midnight blue roots. The texture pink and rose gold hair colors are all about the summery fun, especially with the two little crown buns.
@nealmhair
43. Rose Gold & Platinum Magic
Who is better to take rose gold hair color ideas from than Kylie Jenner, who's showing here how beautiful these shades can be even when the hair isn't perfectly styled. A touch of peachy-pink was blended into platinum in this gorgeous picture.
@kyliejenner
44. Golden Peony Layered Lob
Rose gold hairstyles look incredible on all haircuts, including this lovely layered long bob, where shades of peach, pink, and lavender come together in a mesmerizing effect.
@larisadoll
45. Peachy Slanted Bob
Slanted bobs are guaranteed to be stylish, especially when they are curled to feminine perfection. This is a brighter take on rose gold hair colors, with bright shades of blonde, peach, and just a hint of pink.
@larisadoll
46. Golden Bubble Gum Ombre
This is the perfect ombre take on rose gold hair colors, because it's pretty, edgy, and summery, and yet it will also grow out painlessly thanks to natural roots. The shades are bright, leaning more towards pink, and the long texture curls are very romantic.
@evalam_
47. Rose Gold Satin Balayage
The most beautiful hair is the healthiest hair, no matter which of these rose gold hair ideas you're into! These locks positively shine with moisture and vigor. Dark brown roots, and layers of peach and blonde look mesmerizing in this long bob style.
@bescene
48. Autumn Rose and Lavender Balayage
Go colder for autumn with beautiful brown, lavender, and rose gold hair. Auburn roots work incredibly well with the lavender, to create a lovely warm effect that is totally season appropriate.
@jeffreyrobert_
49. Lavender & Rose Gold Bob
Feathery locks looks best with flowery shades, especially rose gold hair colors. In this lovely bob we see shades of warm copper blend beautifully with lavender hair, to create a gorgeous flowery yet metallic effect.
@jeffreyrobert_
50. Glowing Slanted Rose Gold Bob
The way the golden shades run through this rose gold balayage style is impossibly bright and glowy. It's the kind of skilled vertical balayage that only a true expert can create, and it pairs really nicely with the slanted, curly bob hairstyle.
@jeffreyrobert_
51. Rose Quartz Ombre
The combination of warm purple and rose gold hair is a winning one, because the two colors complement each other without clashing. This ombre starts off a purple quartz at the roots that fade into rose gold, and thanks to the curls the effect is feminine and rich.
@glamiris
52. Princess Peach Curls
The touchably soft curls with the side part make for a lovely fairytale princess style. Add the peach and rose gold hair colors, and this makes for one of the freshest and prettiest rose gold hair ideas possible.
@shelleygregoryhair
53. Pink Grapefruit Curls
This example of rose gold hairstyles really drives home the fact that blonde hair allows for a ton of variety! Shades of grapefruit pink were balayaged over golden locks for a non-traditional level of femininity.
@sableloveshair
54. Semi Fishtail Rose Gold Ombre
This is a peachier take on the usual rose gold hair, which means it's fruitier in multiple senses of the word. The darker roots offset the peach in a dramatic way, and a half fishtail braid gives everything a mermaidy vibe.
@scissorfingers12
55. Icy Rose Curls
So far, most of the rose gold hair color ideas have been on the warmer side of things, so here's a cooler take! There's just a touch of gold at the roots of this natural blonde, but the ends have been dyed a soft, cool pink for a lovely semi-permanent style.
@kellymassiashair
56. Sparkle & Shimmer with a Front Row Braid
This style shows how rose gold hairstyles can go beautifully with so many different styling choices. This lovely rose and blonde balayage is complemented by the front row braid, and the gold glitter along the hair part makes everything party ready!
@guy_tang
57. Orange & Grapefruit Sorbet Hair
This balayage shows how sunny rose gold hair can be! Hints of orange and peach at the tips give this style a ton of warmth, while the dark roots ensure fewer salon visits.
@garrettkenroach
58. Copper and Gold Balayage Waves
These curls are a vision of metallic beauty, with shades of copper and rose gold hair melting together into a lovely balayage. As always, a darker root makes things a little more complex, and easier to care for.
@garrettkenroach
59. Fire on Gold Curls
A great styling job can make rose gold hair colors look almost like they are moving, as this fiery balayage shows. Pink and gold never looked so luxe.
@hairbykristinamarie
60. Rosy Golden Princess Curls
There is something about curls that brings out the best in a hair color. These soft curls make this rich rose gold hair color shine, urging even the devoted fans of natural hair colors to consider trying this feminine shade!
@mtremy
61. Loose Dutch Braid Pull-Back
Two parts of this look really stand out: the astounding loose Dutch braid, which gently pulls the hair back while still looking soft and feminine. The other part of this wonderful take on rose gold hairstyles is the gorgeous combination of natural auburn tones and baby pink tips.
@michellehair
62. Lush Pink Mermaid Hair
This is a lush two-part braid. The top part is a thick Dutch braid, which is overlaid at the nape of the neck by a lush fishtail braid. When paired with a peachy pink shade of rose gold hair colors, in a subtle ombre, that overall effect is mermaid perfection.
@mirellamanelli
63. Subtle Mauve Gold Shag
This is one of those darker, understated takes on rose gold hair colors that will work for any occasion. A mauvey-pink balayage runs through rich bronze hair, for an effect that has a lot of dimension, but with a casual touch thanks to the tousled styling.
@soraverly
64. Springtime Rose Gold Waves
This take on rose gold hair colors is just fresh and sunny enough to force winter away and bring back spring! Golden locks with a touch of metallic pink shine bright, while deep roots keep this hairstyle manageable. Add a fun flower crown for an extra feminine feel.
@chemically_electric
65. Soft and Lovely Rose Gold Locks
This sweet rose gold hair is oh so lovely and wearable, thanks to shiny and healthy locks, and soft waves. The colorist decided to break with tradition, and created a reverse balayage, where the warm peach shades begin at the top, and only show up here and there on the ends. Definitely one of the coolest rose gold hair color ideas!
@presleypoe
Photos courtesy of Instagram