Jet Black and Red Ombre on Mid-Length Hair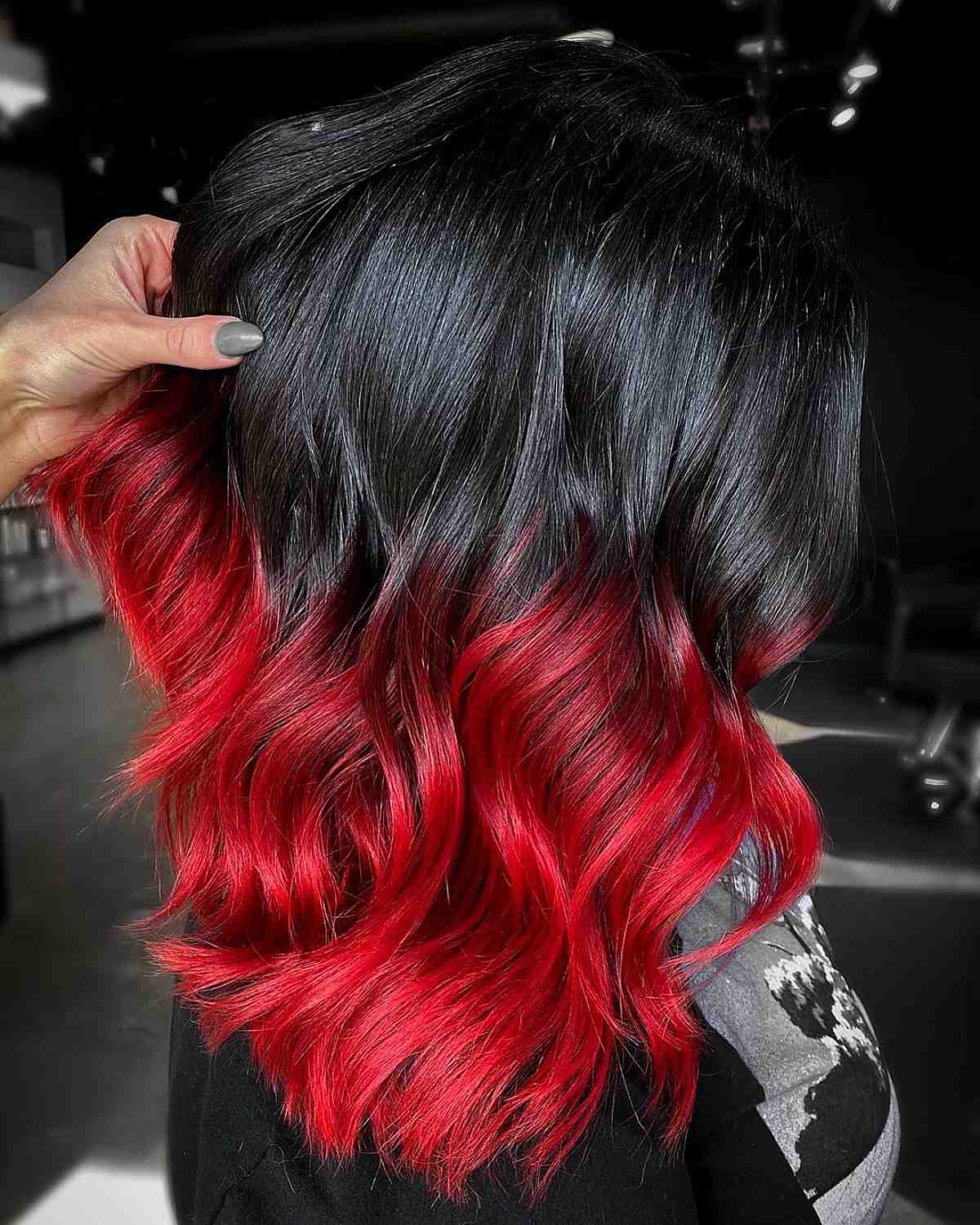 Instagram @aaashleee
If you already have naturally dark hair and want to incorporate fire into your look, this red and black hair melt is for you! It's also very easy to maintain when you keep the color low and close to the ends.
Maroon-Red Highlights on Black Hair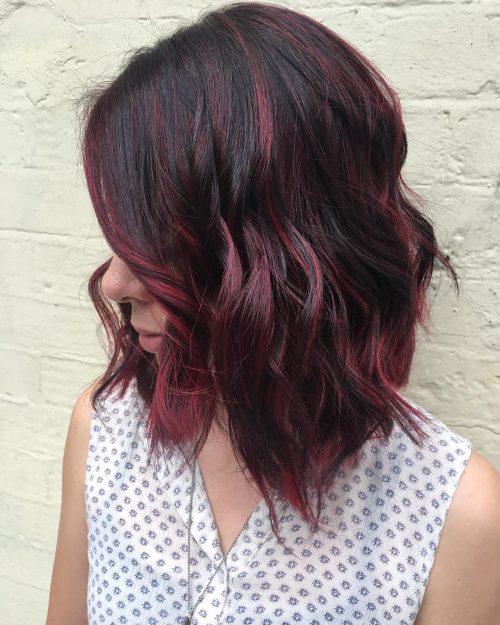 Instagram @elissawolfe
This deep red color inked on a soft and shiny jet black hair works awesomely on a freshly chopped lob, or any haircut or length. As long as you're willing to give your black and red hair the upkeep it needs, you'll definitely rock this one out!
Two-Tone Black and Red Hair in Balayage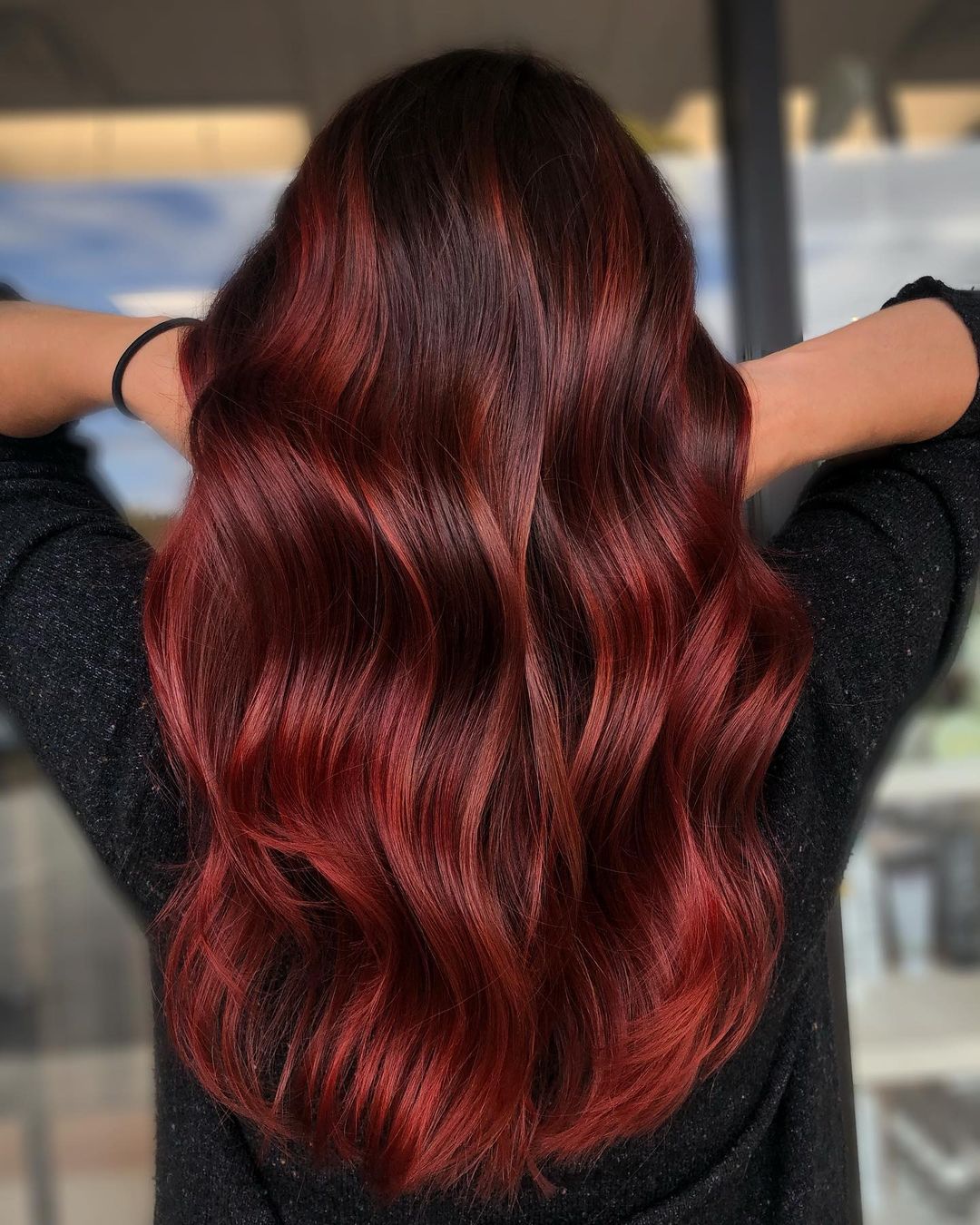 Two-toned black and red hair has a vibrant shade, especially with a spritz of shine spray. So, to all brunettes out there, no need to go for a full blonde just to achieve a bright hair color. This will do.
This two-toned hair is a rich red wine balayage on a black base with dreamy loose waves, which is a hair gem made by stylist Kaeleigh Burke of New Jersey.
"Ladies, if you want some red in your long hair, first and foremost, red is a high-maintenance color! You are going to want to come in every 6 weeks for a glaze to refresh the color! You're also going to want to wash your hair with cool water to keep your cuticle sealed and help that red not to run out," Burke emphasizes.
Only wash your hair 1-2 times a week to preserve the color and use sulfate-free and silicone-free products. Use a dark pillowcase or sleep with a towel on your pillow, so the red hair color won't bleed. Burke adds, "Ask your stylist to make you a custom conditioner to use at home in-between visits!"
Black to Wild Cherry Ombre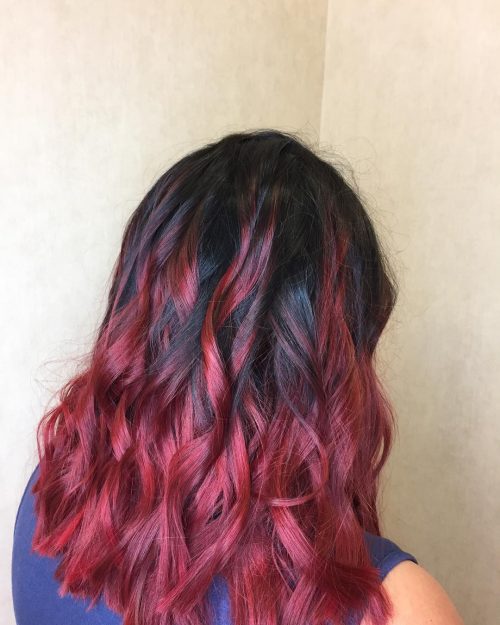 This is a red to black ombre but with some balayage tendencies in the way that it was blended out up top. The big chops feature a contrast of red and black and flat iron curls.
According to Idaho-based stylist Danielle Dyer, ladies need to keep in mind that this will be fairly high-maintenance. Black contrasts highly with any regrowth that's not also black. So, get the roots retouched periodically, as well as the red if it fades.
"A color-safe shampoo is a must for black cherry hair like this. Listen to your stylist's recommendations. Professional shampoos do cost more but will help maintain that very vibrant color that you've just spent so much time and money on," Dyer suggests.
Also, take your stylist's recommendation on where the red starts. Some face shapes look best with it starting more at temples, some at cheeks, others at the chin. Understand that what is going to make you look good might not look exactly the same on someone else. Dyer emphasizes, "Listen to your stylist and actually discuss with them what is going to be the best placement and shade of your black and red dyed hair."
Bright Red Highlights on Ash Black Hair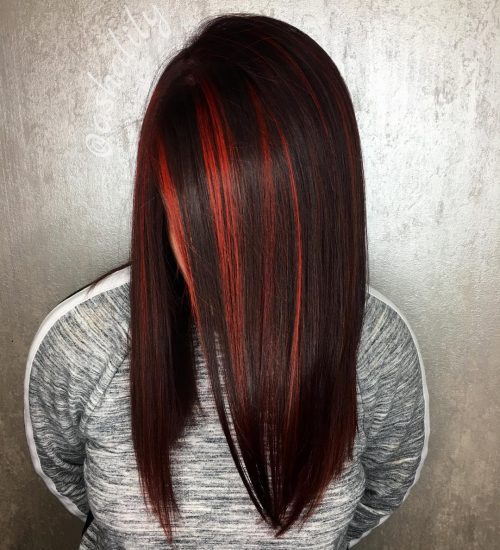 This is a cool ash black base color and pops of vibrant bright red highlights. "There's a lot of contrast between the colors in this style," says style creator Ashlyn Warren from Texas.
This red and black hair color can be worn on all types of hair. Warren states, "Generally, it works best on women who like loud and bright colors! Vibrant tones such as these black hair highlights last longer on women who don't wash their hair every day. As with any red hair color, use color-safe products when washing and styling!"
Reddish Purple Plum Babylights on French Roast Black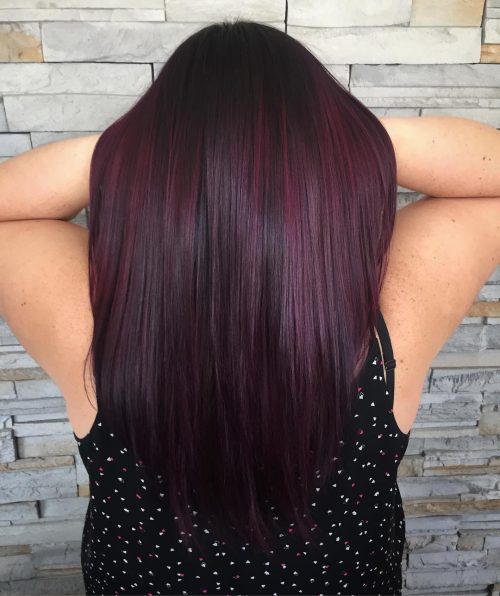 This black and red balayage hair is so much fun. "It's full of dimensions with hints of red and violet, giving the perfect purple plum color that's ideal for the fall," says hairstylist Mariah Danic of Canada.
Although red and black hair styles look amazing and will definitely make you stand out in a crowd, there usually is a lot of maintenance. Danic explains, "These colors do tend to fade more quickly than natural colors, so be prepared to visit the salon every 4-6 weeks to keep it looking fresh."
Ginger Highlights on Black Hair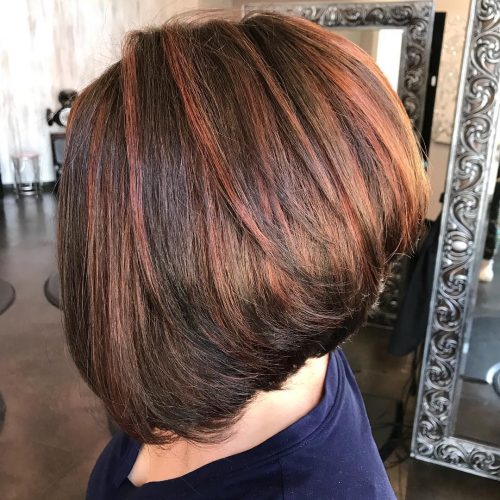 This black with red highlights is paired with a stacked A-line bob. The color is chocolate brown with auburn highlights. "This is great for brunettes wanting to add some depth and dimension to their color, especially for the fall season," states Brooke Abbate, a stylist from Tulsa, OK.
Abbate suggests, "Find an excellent stylist who will consult with you and find out what styles and colors will bring out your best features."
Brownish Red Highlights on Natural Black Hair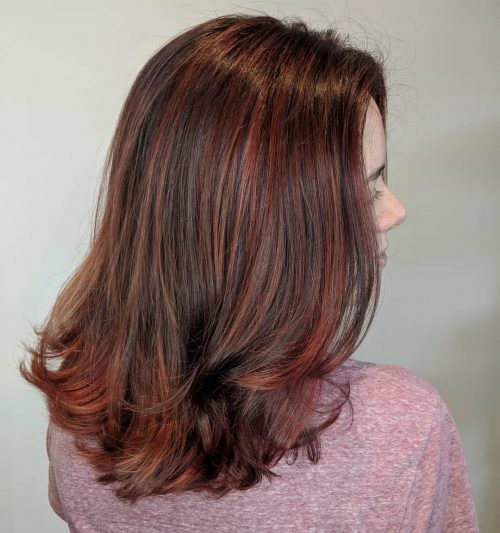 This red balayage on black locks was created by stylist Susana Haro of California. The base color is the natural hair color. Highlights were added with a balayage technique, so it looks natural and the growing out stages are not severe.
The color is flattering on many skin types, and because it's a balayage, it will look good as it grows in.
When asked for a piece of advice, Haro says that women who are considering this color need to realize that red is one of the hardest colors to keep fresh-looking in the hair. "It fades the fastest, so if you are considering it, you have to be willing to go in and get it refreshed every 6 to 8 weeks. This re-toning service is about an hour long. Also, if you tend to have red undertones in your skin, going red may not be for you," she states.
Burgundy Highlights on Short Dark Hair with Side Bangs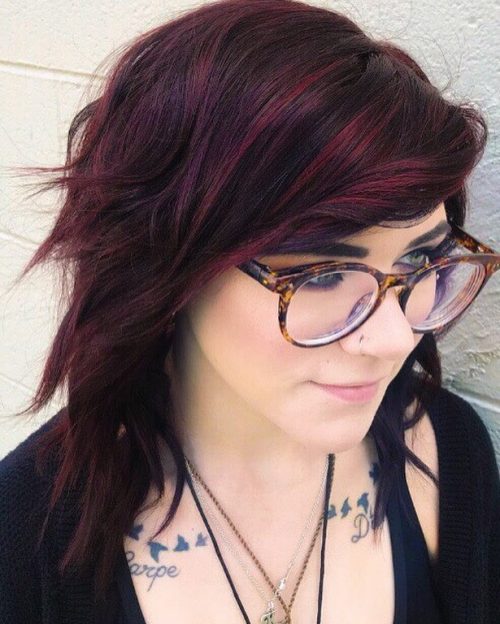 This dark hair with dark burgundy highlights has an edgy dimensional vibe, designed by hair artist Brandi Marie of Denver. The color is paired with a layered short hair cut for extra spice.
"The best part about it is the density of the red highlights on black hair. It features a high-density foil to make sure the overall look was 50% red," she points out.
Black Bob with Crimson Highlights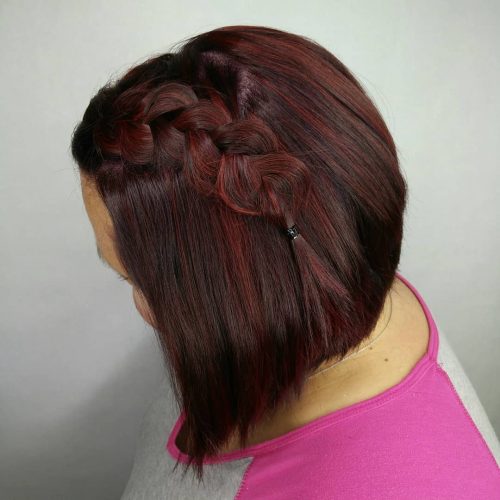 This light black hair with crimson highlights is a multi-tonal angled bob with a Dutch braid. Style creator Helen Panteli of Canada says it's the perfect way to show off the colors in the hair.
For ladies wanting this hair color, you need to be willing to invest in the right home care products to keep it bright and vibrant. Panteli warns that red and violet tones are not low-maintenance. They are prone to fading faster than other colors.
"Use a color-safe shampoo with a color depositing conditioner. Also, wash every second day at most and using cool water. It really does make a difference. Hot water is very hard on the black and red hair color," Panteli states.
Black and Burgundy Hair Ombre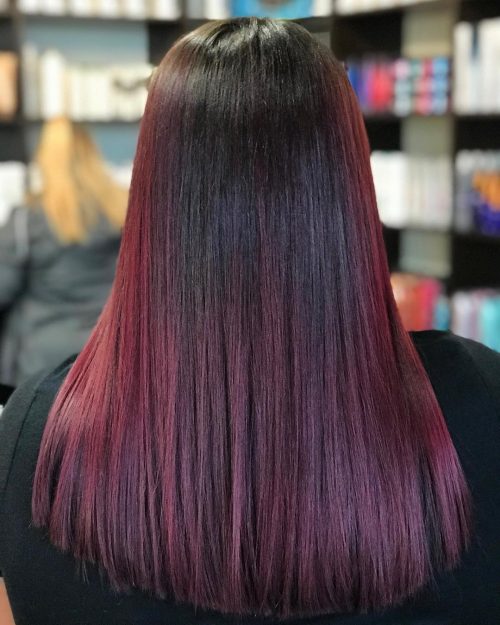 This black and burgundy hair is an ombré alternative. Plus, it wasn't bleached prior to the hair coloring. It wasn't the pretty blonde hair nor was it blended. "The best part about it is the seamless lines that were created, especially when it comes to natural vs fashion colors," says Chicago-based colorist Kasia Pawluk.
If your hair isn't already bleached, Pawluk advises that you'll have to be lifted pretty light for the colors to hold on to. Also, maintenance is a priority.
Pawluk explains, "Hair colors don't discriminate. This black and red ombre can be done on women who want to have a little more pop color. But, if you're one to wash your hair every day and not care and just want it so bad because it looks cool, then this may not be the color for you."
Copper Highlights on Black Hair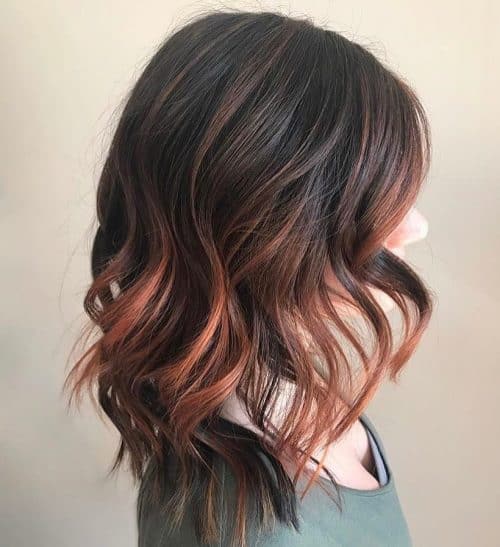 These are warm, dimensional copper highlights on black hair! The natural base was kept for low maintenance, so stylist Britny Bassett of Virginia created a balayage.
"This tone isn't good for all skin tones, so that's a factor that should be discussed during a consultation," Bassett points out.
Red and copper tones tend to fade faster, so usually, you will need to return for toner appointments to keep it fresh. You'll need to invest in products that are safe for colored hair. Red and black hair color needs a good balance of treatment.