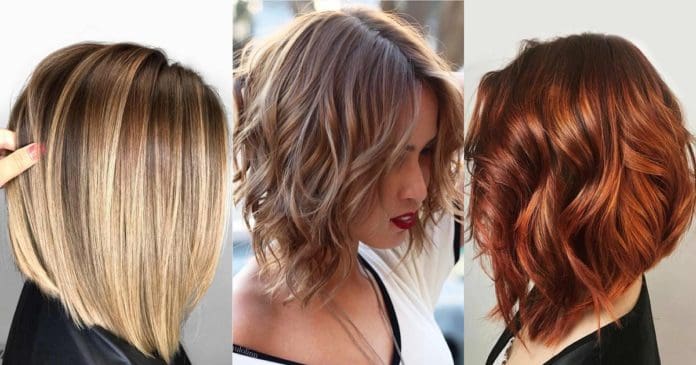 Shoulder length hairstyles are super popular. Show us a woman who could argue with that statement. Right, there isn't any. Because every woman understands that the shoulder length is the best and you can do practically anything with it. Let's see why women all around the globe choose to support medium hairstyles.
Shoulder length hair flatters everyone. Any woman can rock such length, disregarding her hair texture, face shape, and age.
Medium hair is very versatile. You can experiment with new looks even every day, and no committing is required. Plus, some hairstyles appear better on the medium than on shorter or longer hair.
It is not difficult to maintain and manage medium hair. This length is truly carefree, check it if you don't believe us. It is less prone to damage, tangles, and frizz, comparing to longer hair, and it requires less frequent trimming, comparing to shorter hair.
This length will not make your life more difficult. The medium-length needs less care and, as a result, it saves us nerve and time. And that can be of great value, especially for women who lack that already, like moms or women in business.
As you can see, medium length hair offers us many advantages. So, it is worth trying one of shoulder-length styles. And you can discover the variety of hairstyles of a medium length further in this post.
Shoulder Length Straight Hairstyles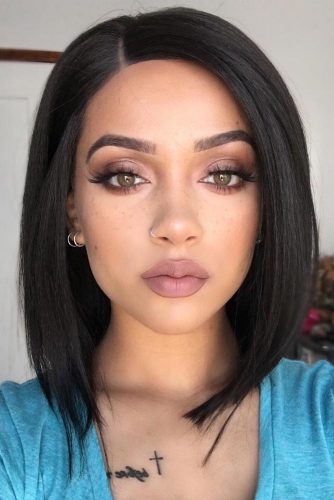 Let's talk about some of the pros of mid-length hair to help convince you to trim those tresses!
A mid-length cut can help emphasize your facial features.
There are countless styles for shoulder-length haircuts.
Shoulder length hair is great for the summer as it is much cooler and more lightweight.
Mid-length cuts add can remove dull weight from long, thick hair.
Shoulder-length hairstyles can add volume and bounce to thinner tresses.
Shoulder length hair is a great compromise for those who want to get rid of some length without going too short.
You can still wear your hair in a cute updo or half updo.
Shoulder length hair is perfect for playing around with fun color options such as ombre or balayage tones.
Medium length hairstyles are less prone to knots and tangles than really long hair.
A cute mid-length cut can really boost your self-esteem and make you feel years younger.
Source: hair_by_oana via Instagram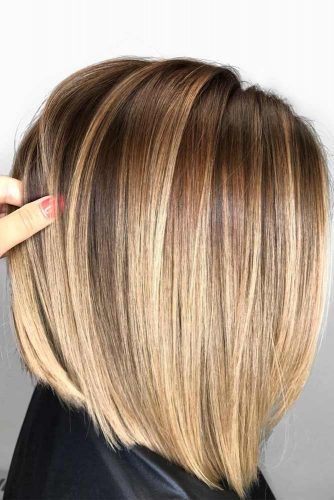 If you are looking for medium straight hairstyles to help remove some of the weight from your hair, you might want to consider one of these straight shoulder-length hairstyles. For those with naturally straight hair, it will be a breeze to style.
Straight medium length bob hairstyles are great as you are still able to pull your hair back if you wish. As well, they are comfortable for hot summer days and are very sleek and professional looking. However, if you leave them a bit tousled, they can be sexy as well!
Source: estelanewbold via Instagram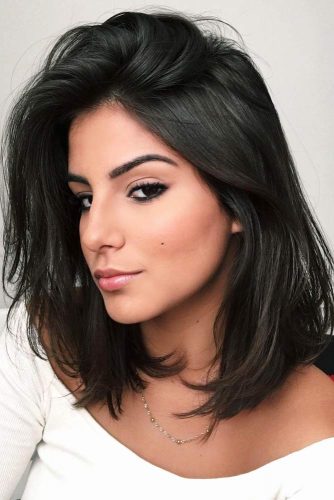 Shoulder Length Wavy Hairstyles
If you have naturally wavy locks, you will love these wavy hairstyles for medium length hair. Wavy bobs are very soft and feminine. As such, they work for almost every occasion, from a day at the office to a more formal event. Romantic, soft waves are very sensual and are guaranteed to make any man weak in the knees! Check out these cute styles for shoulder-length wavy hair.
Source: paulolinn via Instagram, cabeloscurtosdivos via Instagram, texasbalayage via Instagram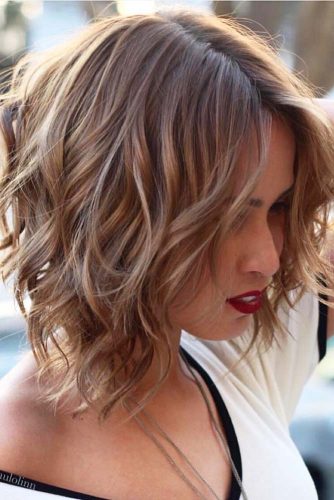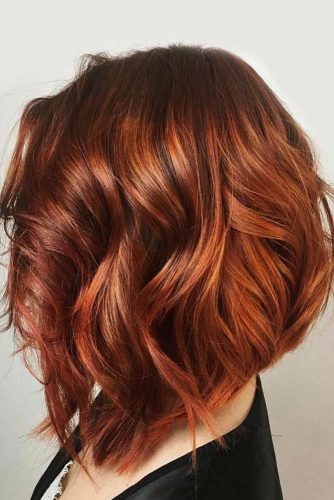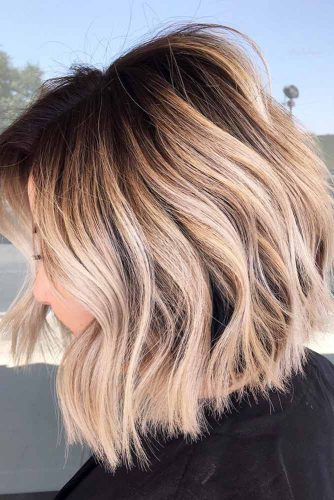 The best thing about mid length wavy haircuts is that they are super easy to style. For the most part, you simply need to wake up, spritz your hair with some sea salt spray, scrunch your curls, tousle your hair and go.
A shaggy blonde choppy lob is perfect for those who want a fun and carefree look. If you want a more sophisticated, style, this angled fiery red and auburn balayage is just stunning. Of if you want to go with a fun and flirty vibe , how about a cut with shoulder-length wavy hair with bangs?
Shoulder Length Curly Hair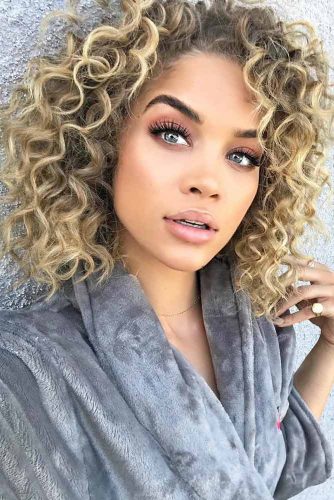 Girls with curls can attest to the fact that the longer their hair grows, the more out of control their curls get! Curly hair is a blessing, but sometimes, as your hair grows out, your curls can become rather unruly and almost impossible to style.
Curly hair with bangs and layers is a great way to get some of that old bounce back to your curly tresses. Here are some tips for to help keep your curls healthy and happy.
Source: salsalhair via Instagram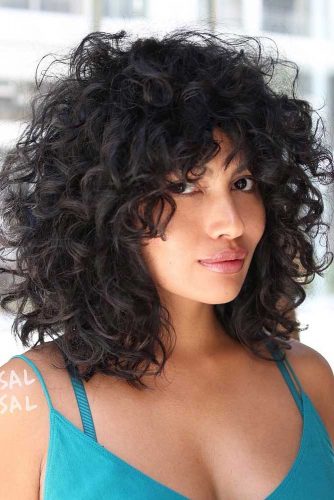 Use products that are designed for your type of curls.
Only wash your hair once or twice a week. You can use dry shampoo and leave in conditioner between washings.
Do not use a cotton towel to dry your hair. Instead, use a t-shirt or microfiber towel.
Air dry your hair as much as possible. If you must blow dry your hair, use a diffuser on the cool setting.
Don't brush or comb your hair. Use your fingers as much as possible to style.
Source: nathaliebarros via Instagram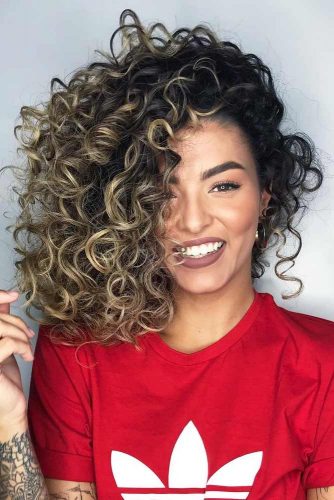 As you can see, mid length cuts add a ton of fullness to any type of curl. As well, some pretty highlights or lowlights can add some depth to your curly locks.