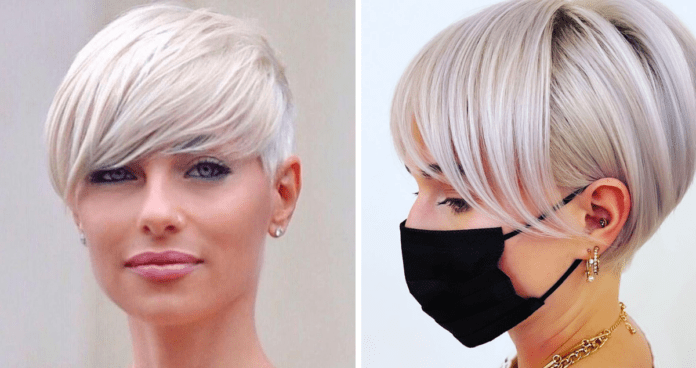 This and next season will be full of bolder and more experimental looks. A glamorous hairstyle is not only for special occasions – it is for every day! So now is the time to try out these shaggy, new haircuts with deep texture and gorgeous hair color designs.
Get a youthful pixie haircut
We're getting out of the house more and it's the perfect time to get some spectacular makeup done – something you've never tried before! There is no doubt that a pixie cut can make you look years younger. They always accentuate your eyes and upper face and are great for detracting attention from a round or heart-shaped face.
Be adventurous
And if you have thin hair, a pixie cut can add the illusion of thicker hair, making you more confident and attractive! So take a look at these exciting new styles featuring elegant greys complemented by pastel tones and subtle balayage in pretty pastel pinks, blues, purples and beiges. Choose from chic, shaggy, sleek and very flattering pixie haircuts!
1. Cute silvery-grey metallic blonde – short female pixie haircut designs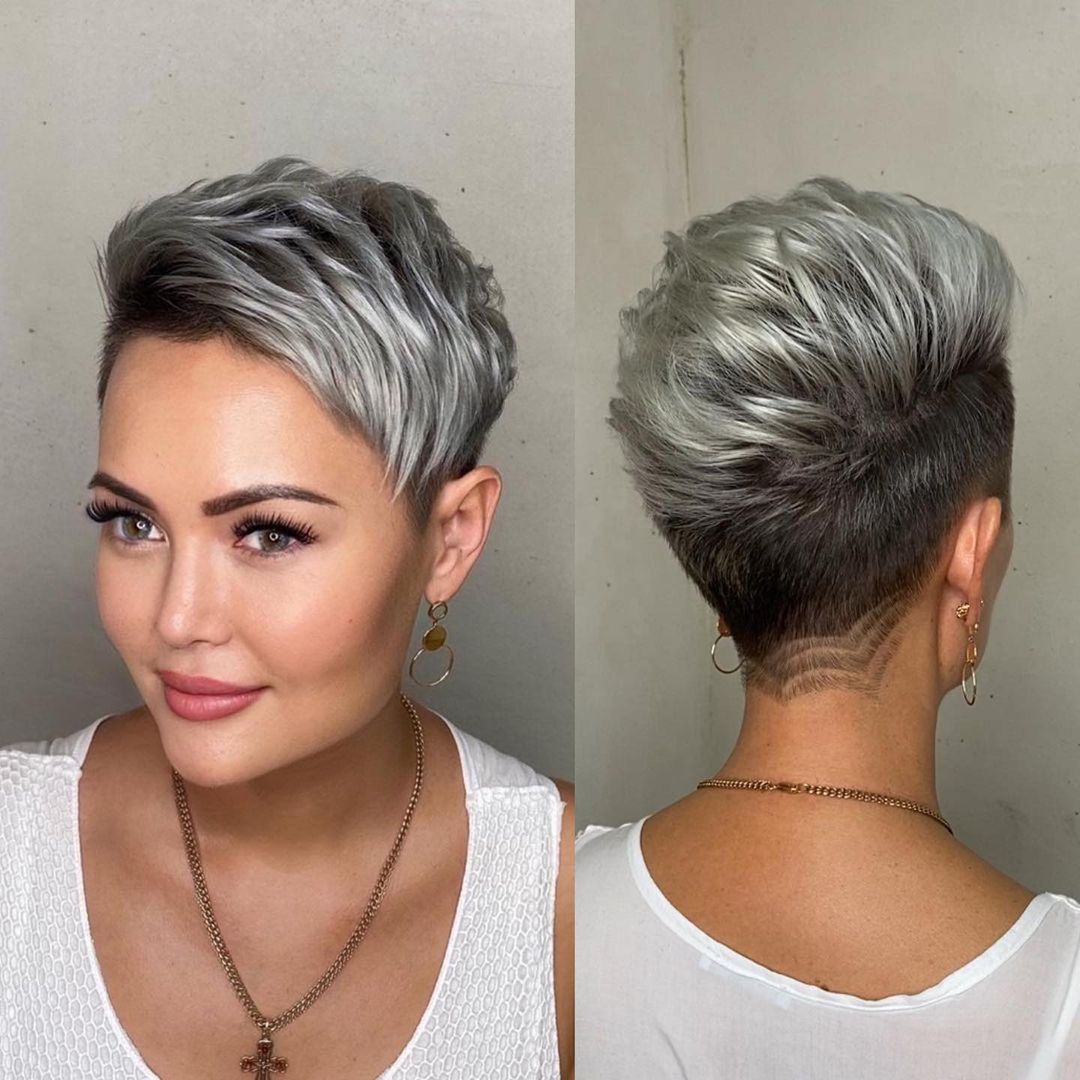 Credit
This cute look is perfect for those with blue, gray or green eyes. Gray color beautifully emphasizes the color of the eyes, and also emphasizes the oval shape of the face. The roots are medium gray and this creates a super contrast between the top and the short back and sides.
And the gorgeous silver-metal top frames the smooth forehead perfectly. But the really fashionable feature is the amazing deep texture and lush patterned nape!
2. Short blonde pixie cut for a wide/round face – female pixie haircut designs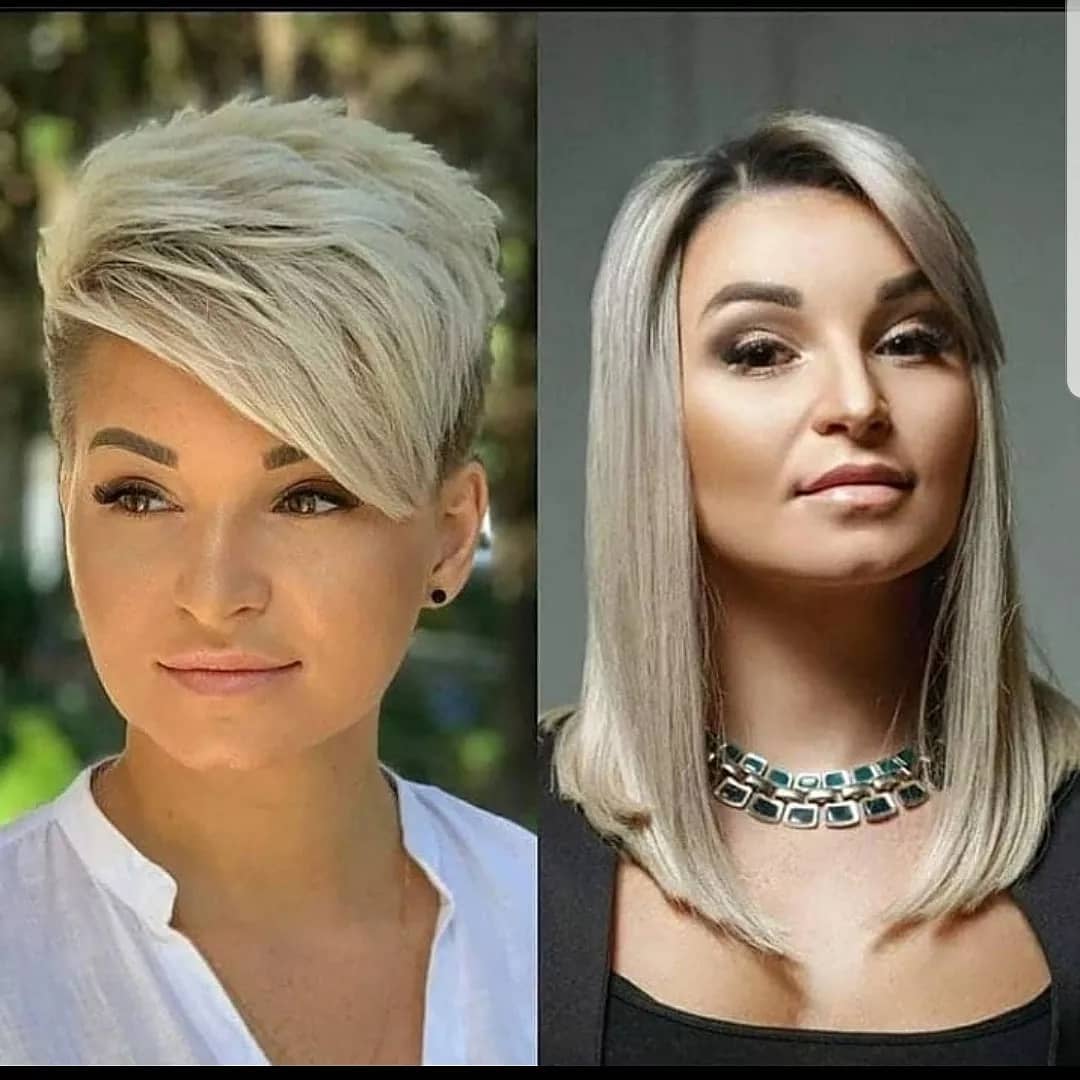 Credit
Here is a great example of how a short pixie cut can flatter a wide face. On the right, the model wears a beautiful straight bob, with flat sides that are good for a wide face.
But even so, when you see the same model with a pixie cut and no voluminous hair on the sides, her face looks much slimmer. With a pixie cut, you can see the beautiful curve of the jawline to the center of the chin. And the extra growth at the crown lengthens a wide heart-shaped or round face!
3. Deep textured pixie cut in steel-grey & beige – female pixie haircut designs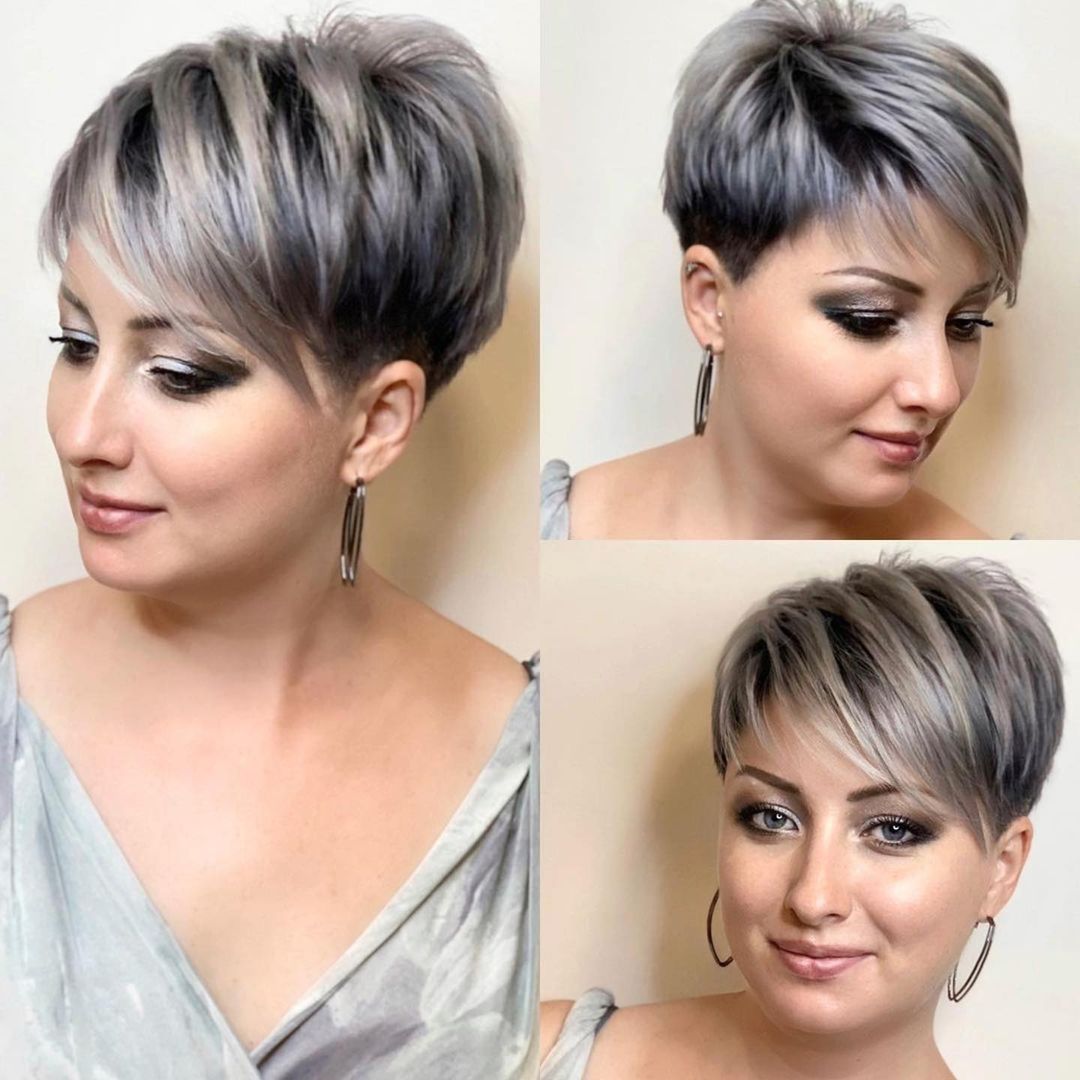 Credit
The current trend for short haircuts is to add deeper lines of texture than ever before. And instead of waves or curls, straight lines can be used to create attractive curves that make thin hair appear much thicker.
The colorist created a super cool hairstyle for the blonde with a blue-steel gray tint at the roots. However, the upper layers are highlighted with a warmer, beige-blond. And the contrast matches perfectly with the eyes and skin tone of the model!
4. Subtle raspberry roots on white-blonde – female pixie haircut designs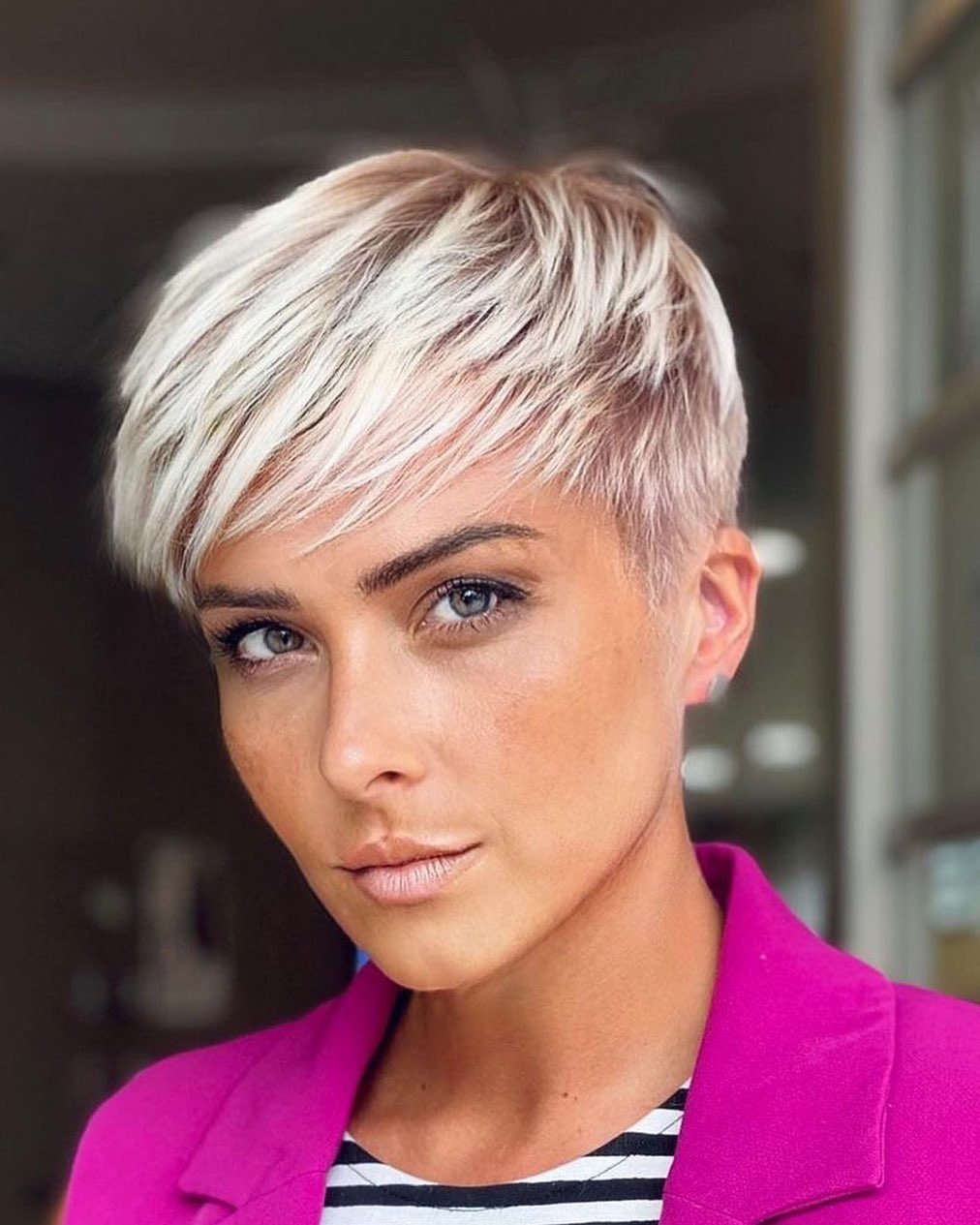 Credit
This simple short haircut is incredibly flattering and echoes the cute look of the original 1960s pixie cuts. The side dots are about halfway down the ears and end in the perfect spot to accentuate the model's cheekbones. And pale pink lipstick is the perfect complement to the retro 60s look!
By touching the product, you can get that lovely deep texture just by rubbing it in with your fingers! But the standout feature of this trendy look is the fabulous pink roots that are subtle enough to pair beautifully with the eye-catching white top!
5. Asymmetrical platinum-blonde short haircut with long, full bangs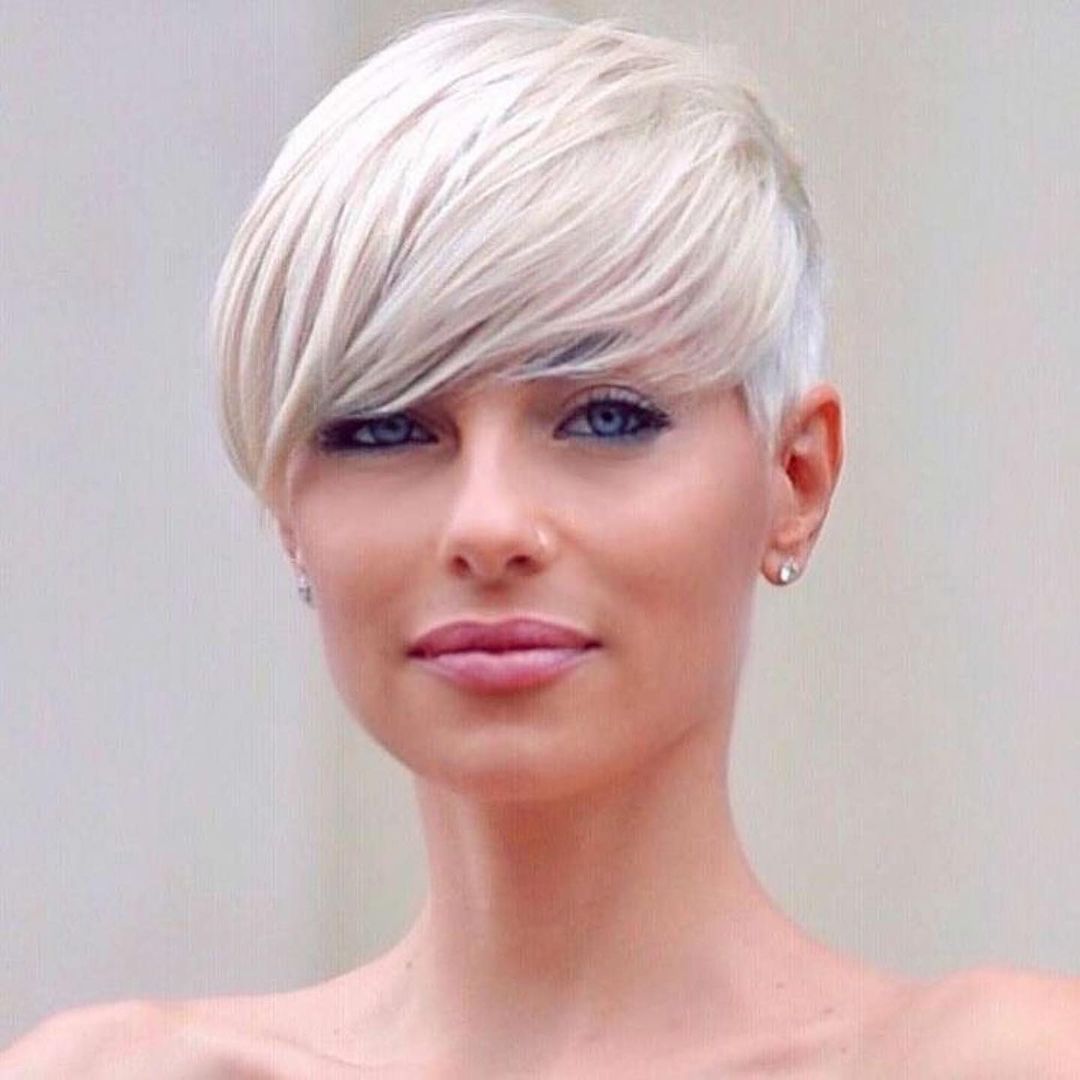 Credit
Here is another trendy style where the colorist used cool and warm shades to create a chic modern hair design. Long layers cascade from the top, creating a curved fringe at the length of the lashes. And in a warm coral beige color, it will perfectly complement blue eyes.
In addition, icy blue roots create a truly original hair color contrast that sets the trend for this season. This is a flattering style for thin hair and a wide, round or heart-shaped face!
6. Brunette roots short haircut with faded pink & greige balayage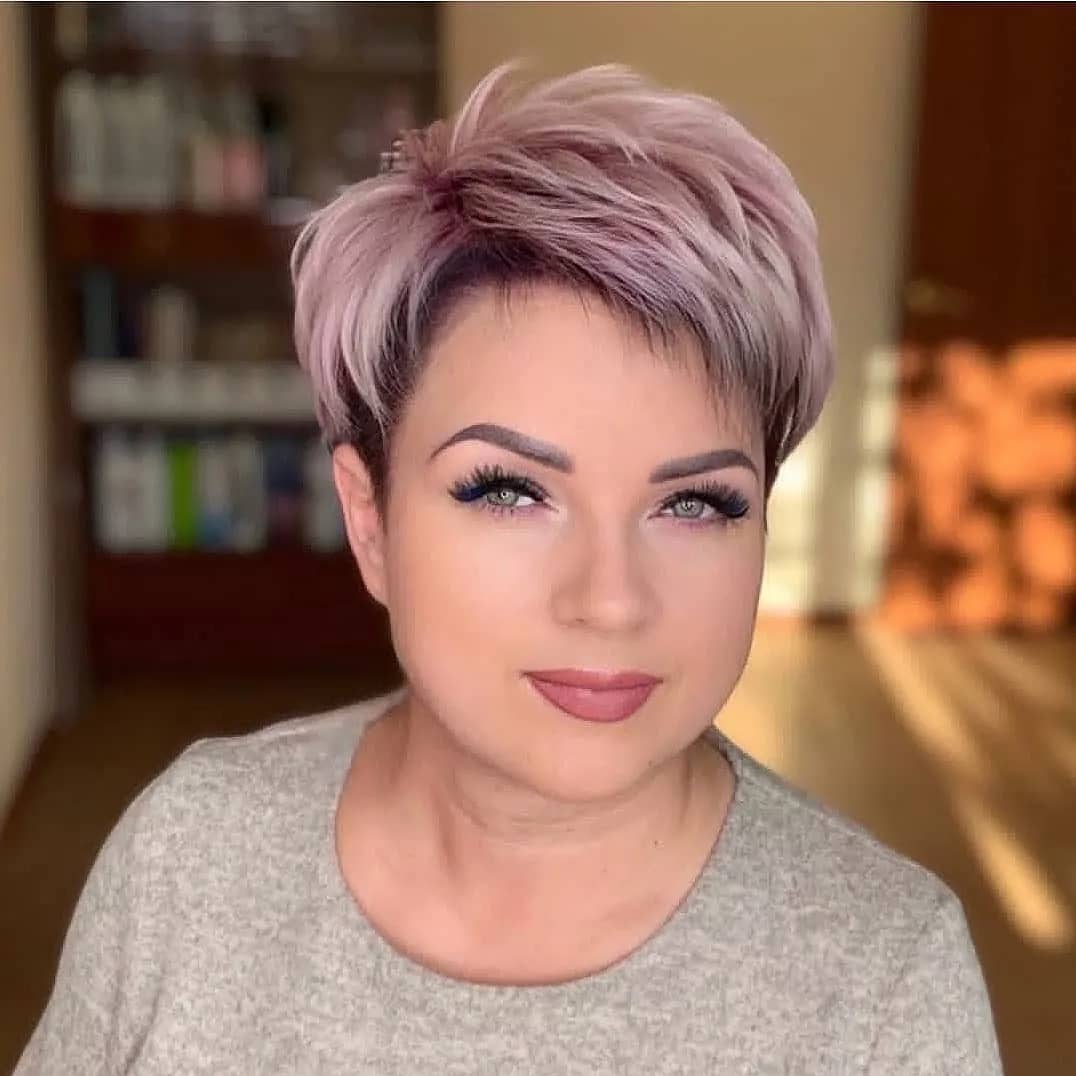 Credit
Clearly, many colorists and stylists have been busy creating crossover haircuts and colours this year. And this look skillfully combines chic, high fashion and fun! The stylist came up with this pixie hairstyle to accentuate the wide face of the model.
And that includes leaving the sides of the face free of side volume and adding height at the top. The short bangs were skilfully trimmed to soften the line and accentuate the perfect brows. But I absolutely adore the mix of warm brown roots with cool, pale raspberry pink and greige balayage!
7. Curvy volume on light ash-blonde short bob with long layers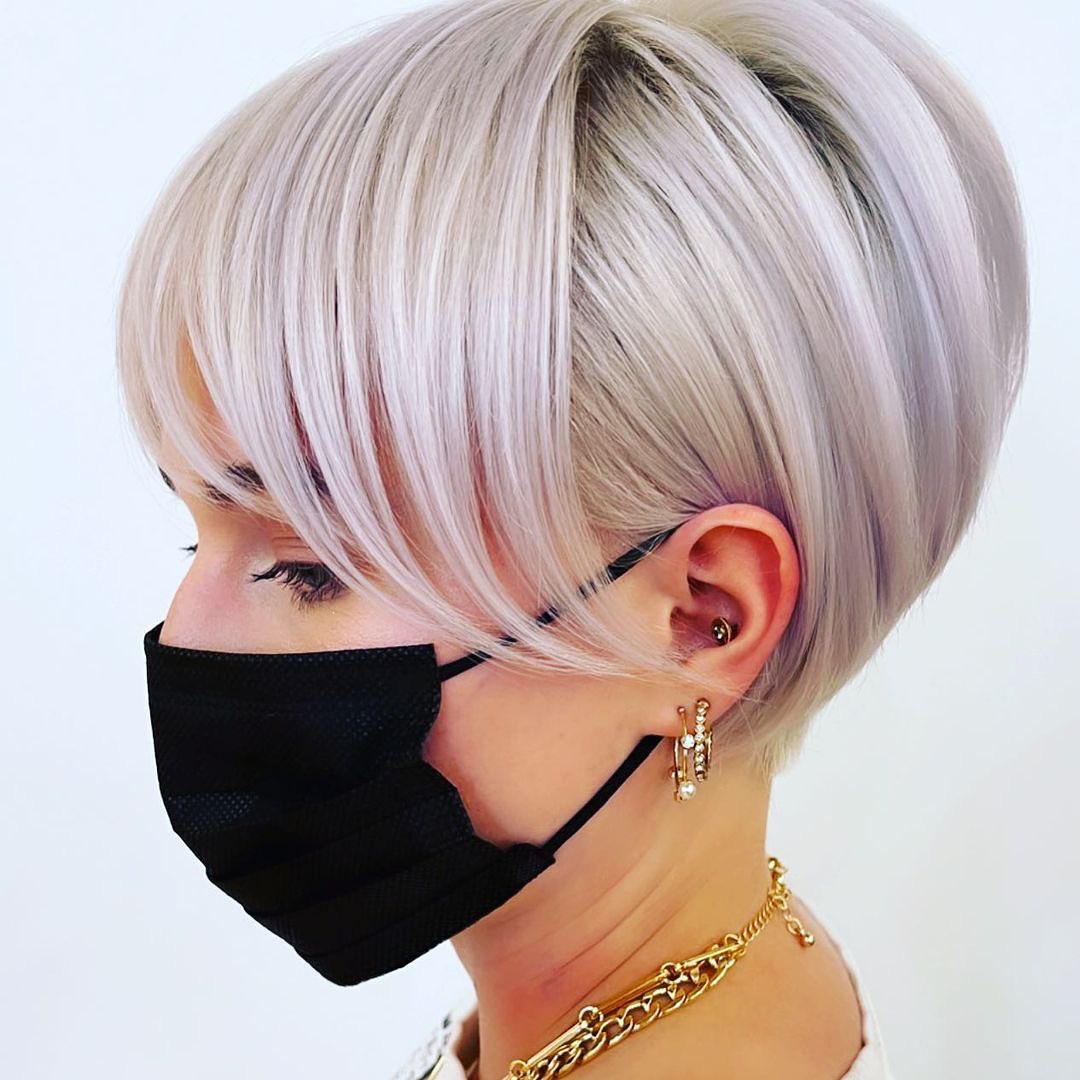 Credit
You have to look closely to realize this superb, short, straight haircut has several delicate color tones. It shows how a simple cut can be easy to style, but also full of interesting features! And although the hair is straight, the cut and styling have created beautiful curves and glamorous volume.
There's plenty of texture here, too. The differently toned sections have lively defined strands and deep texture. And altogether this adds up to a fabulous, modern look that shows off trendy ear studs and hoops!
8. Ice-cream-soda pink-blonde short hairstyle with curvy texture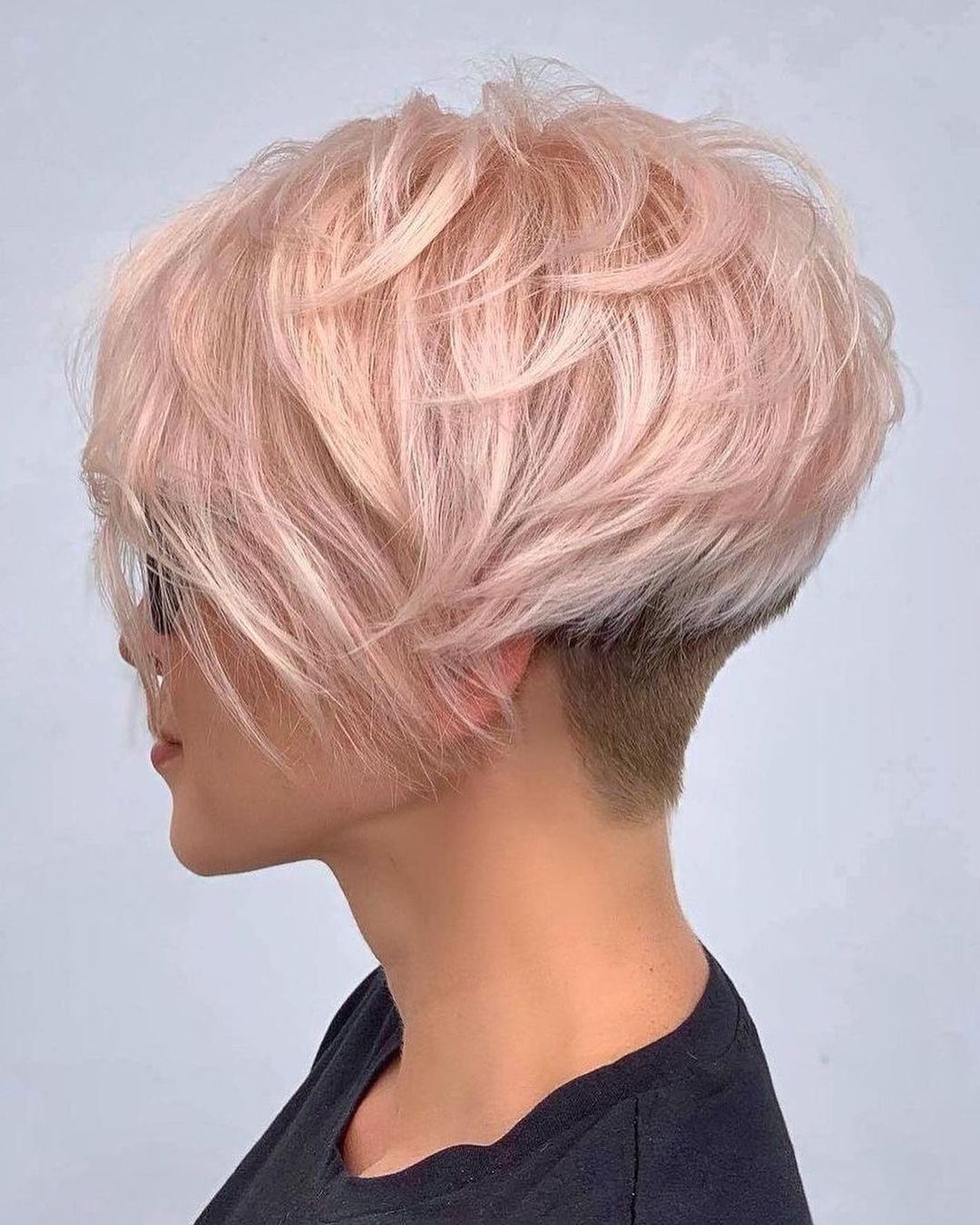 Credit
This subtle pink, short haircut is a totally chic and trendy look, which combines lots of up-to-the-minute features. The long fringe is styled for movement towards the back, and the back is styled forward – so that adds a fresh touch straight away.
Then the stylist has made a cute texture in the surface strands, which fits perfectly with the shaggy trend. The close-cropped nape is an attractive beige shade that blends beautifully with the cool white and pink-blonde. And delicate touches of gold-blonde finish off a very appealing and stylish look!
9. Super-trendy shaggy long razored short-cut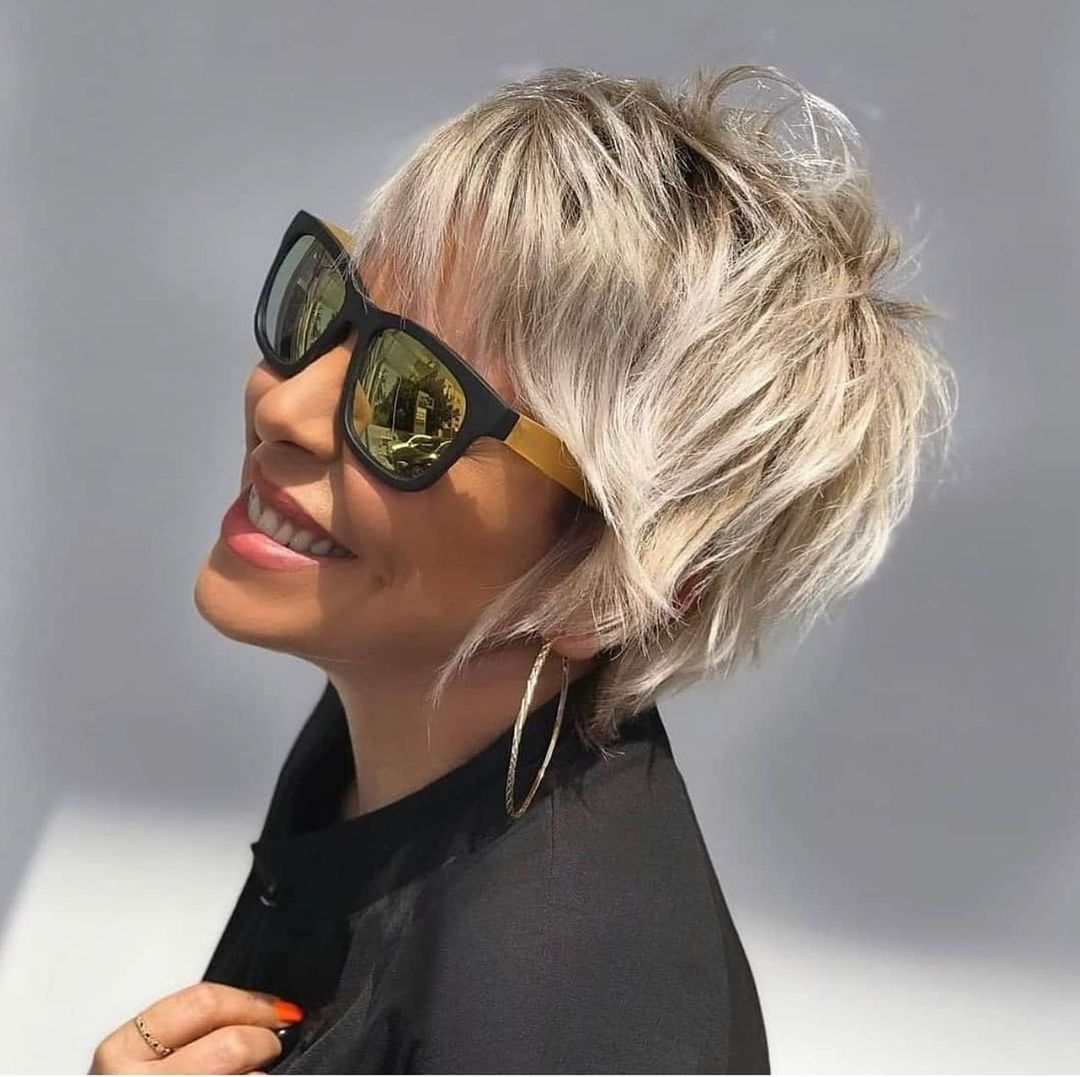 Credit
This shaggy style has lots of tapered tips, expertly cut with a razored finish for a wild, uneven look. The warm brown roots become white-blonde strands, with lovely golden beige balayage.
And this windswept haircut will always be easy to style and look smart, but casual, for fashionable everyday wear. Uneven layering is great for adding volume, movement and texture to fine hair.
10. Shaggy short boy-cut in cinammon-brown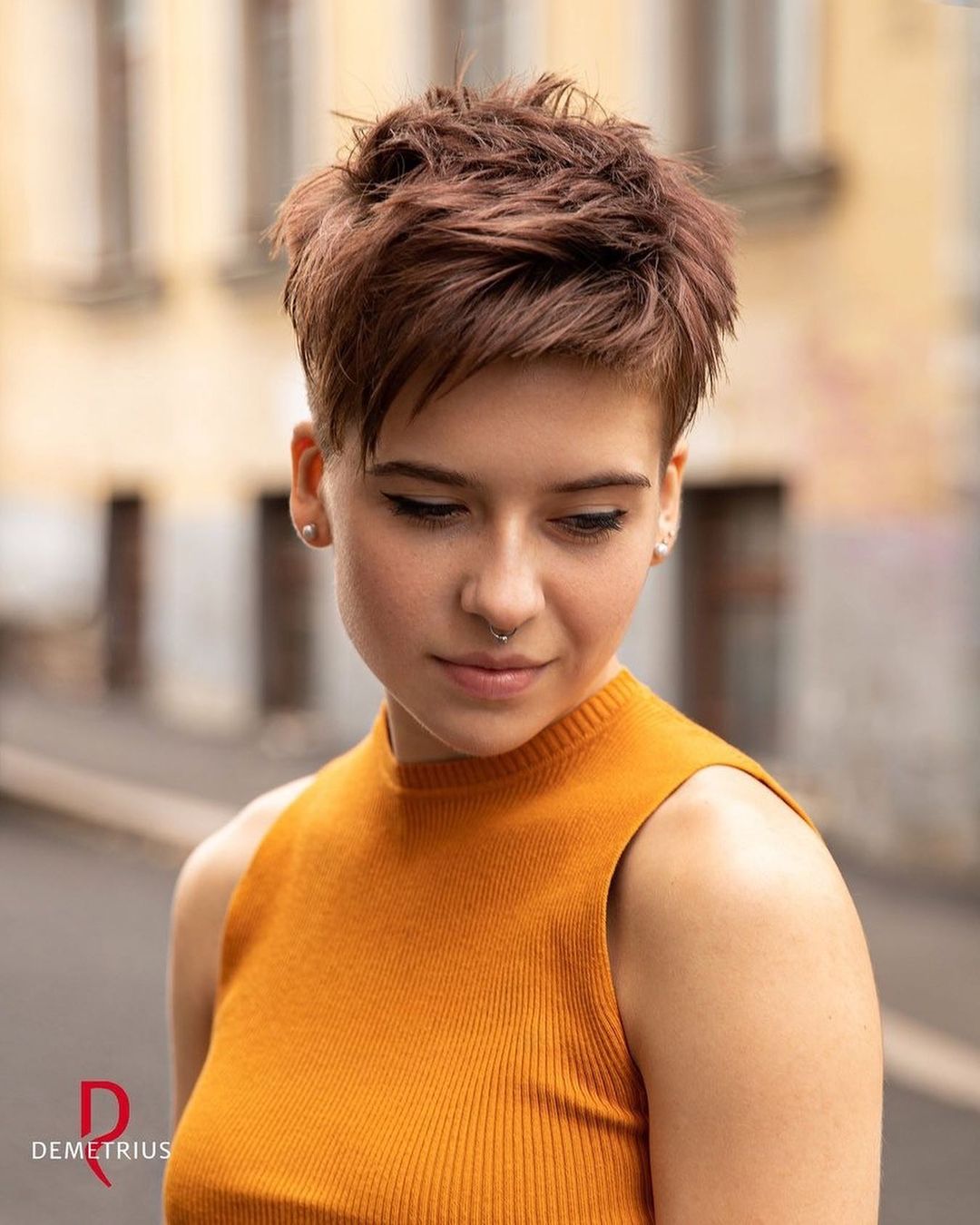 Credit
This warm, light-brown cinnamon shade is a very fashionable shade and will match perfectly with clothes in trendy earth-tones, like this citric-orange top. The cut is perfect for balancing out a heart-shaped face, with volume and texture on top to lengthen the model's face shape.
The uneven, choppy bangs add a rebellious vibe that accentuates the youthful look. Windswept top texture is emphasized by the extra-short sides and back. And all attention is focused on the upper face, to distract from an angular jawline!
Have you chosen your super new hairstyle yet? There are so many options to transform your style and greet the new season with a chic, easy-care look. Book your salon appointment today!