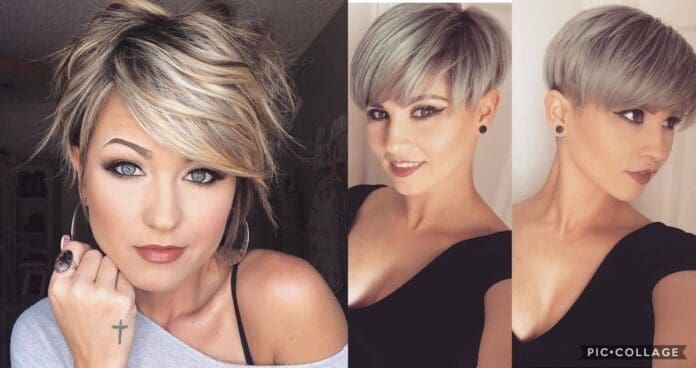 You don't have to have a ton of natural volume in your hair to pull off a super short cropped cut. Women with all hair types–straight, curly, wavy, textured, etc. etc.–can easily rock a short hairstyle.
These 10 super short hairstyles are ideal for women who have naturally straight hair or prefer to straighten their hair as part of their everyday styling routine.
1. Cropped Silver Pixie with Side-Swept Bangs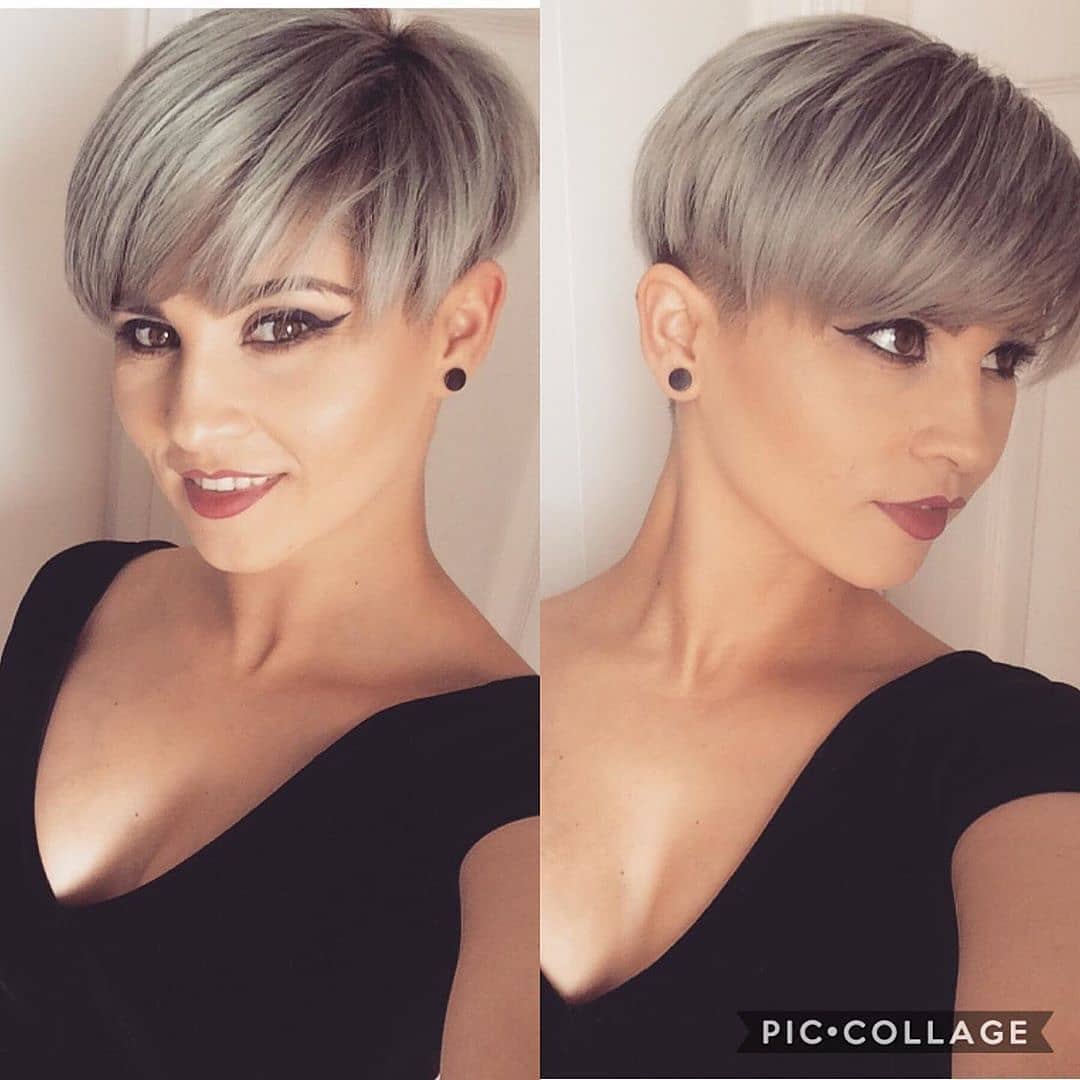 This cropped silver pixie cut is ultra-trendy in terms of color, cut, and style. Its bright silver color and super smooth finish are sleek and elegant, and its rounded side-swept bangs frame your face but won't get in your eyes.
Plus, this super short pixie cut is super low-maintenance and easy to style quickly in the mornings. You can use a round brush and a blow-dryer to quickly shape and style this cut in a few minutes flat.
2. Tousled Honey Blonde Pixie with Long Side Bangs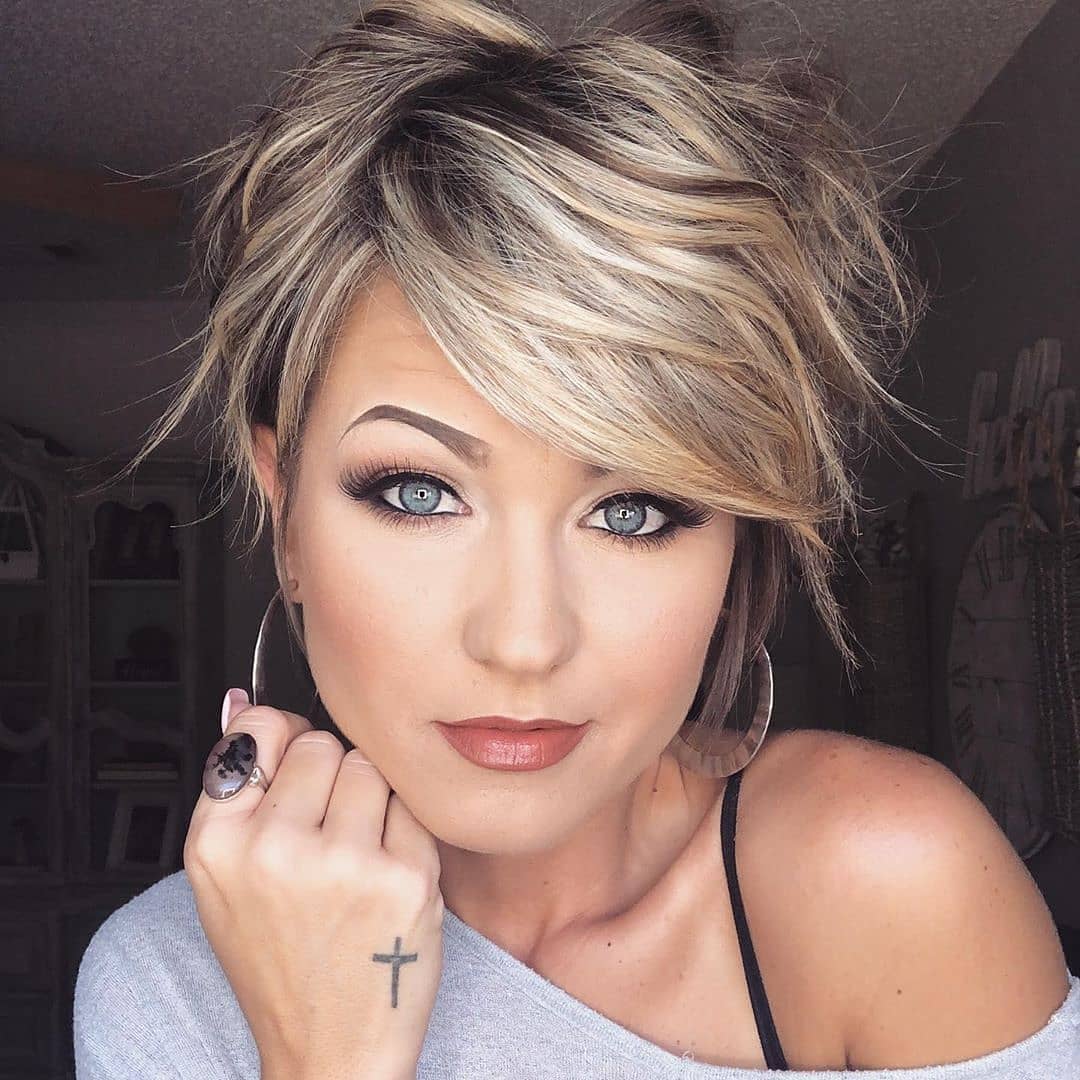 Pull off a sleek and slightly edgy style with this intentionally tousled honey blonde pixie cut. Its long side bangs add femininity to this hairstyle, and its straight but tousled texture adds volume and dimension.
This cut is also super easy to style. Smooth and straighten your bangs using a blow dryer and a round brush. Then, just rough dry the rest of your hair, apply texturizing spray or serum, and run your fingers through from roots to ends to create this cut's signature messy-on-purpose finish.
3. Straight White Blond Pixie Cut with Long Side Bangs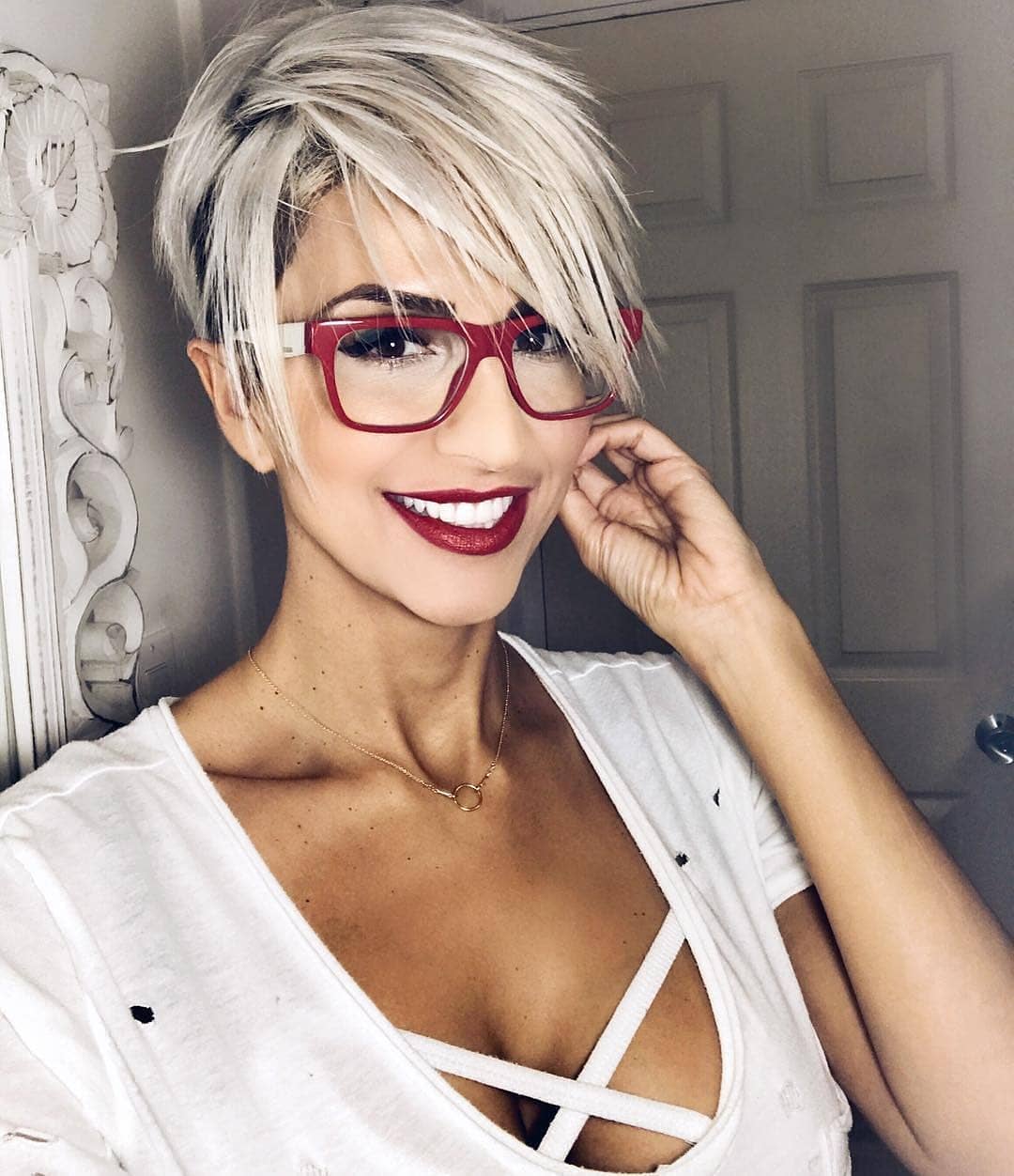 Look smart and chic with this ultra-trendy straight white blonde pixie cut. Its white blonde color is bright, bold, and flattering, and its long straight side bangs frame and flatter your face.
Styling this pixie cut is quick and easy. Just use a blow dryer and round brush or a flat iron to achieve the pin-straight, smooth finish that makes this cut work. Don't forget to apply heat protectant, and finish your styling off by applying a smoothing serum from roots to ends.
4. Smooth Ink Black Pixie Cut with Cropped Bangs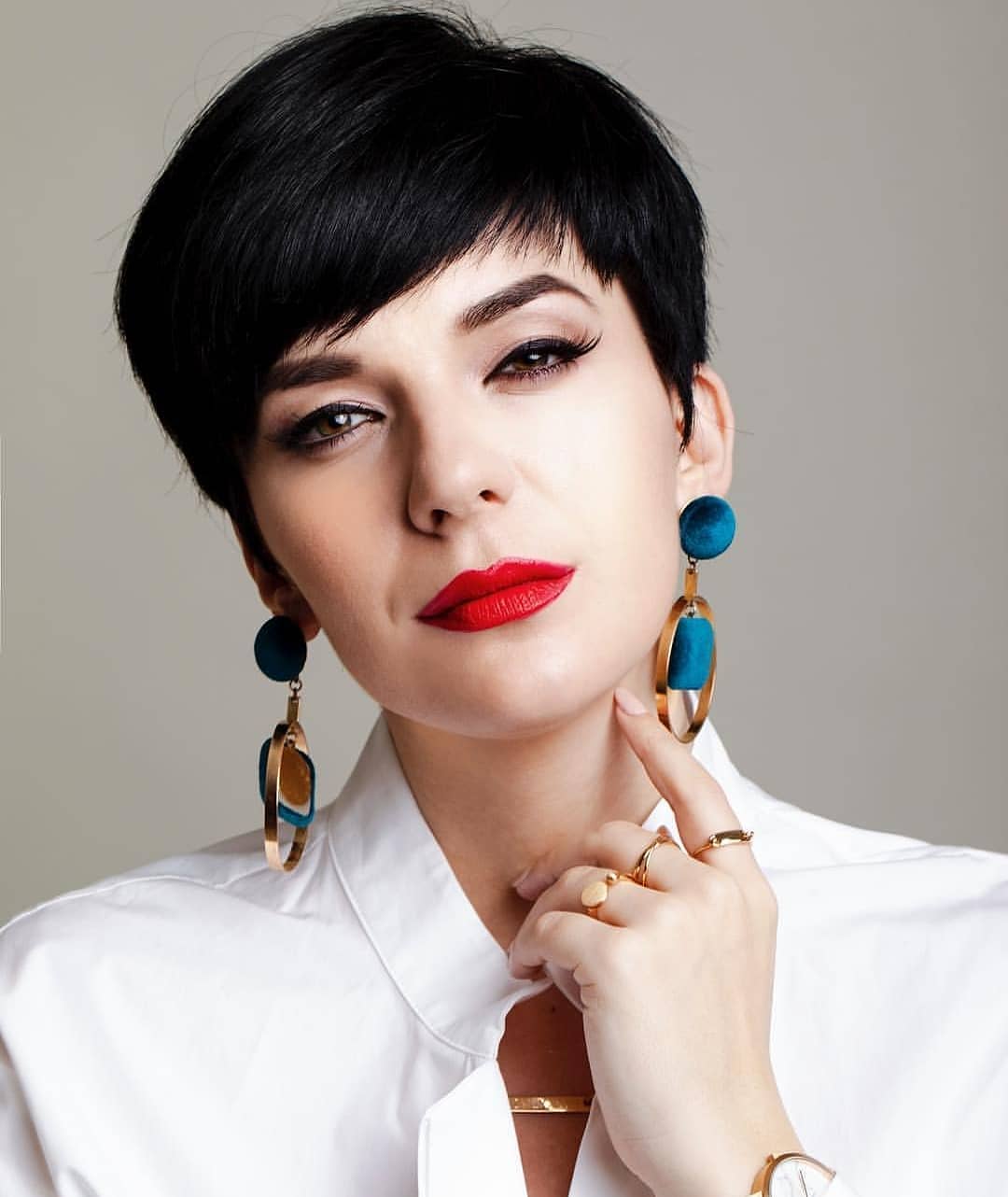 The ink black all-over color gives this classic pixie cut an automatic bold, attention-grabbing finish. Its cropped, asymmetric bangs add style to this smooth pixie.
This super sleek short haircut is very low-maintenance as well. Just apply smoothing serum from roots to ends and use a mini flat iron or a round brush and blow-dryer to straighten your bangs if needed.
5. Rosy Pink Pixie with Shadow Root and Long Side-Swept Bangs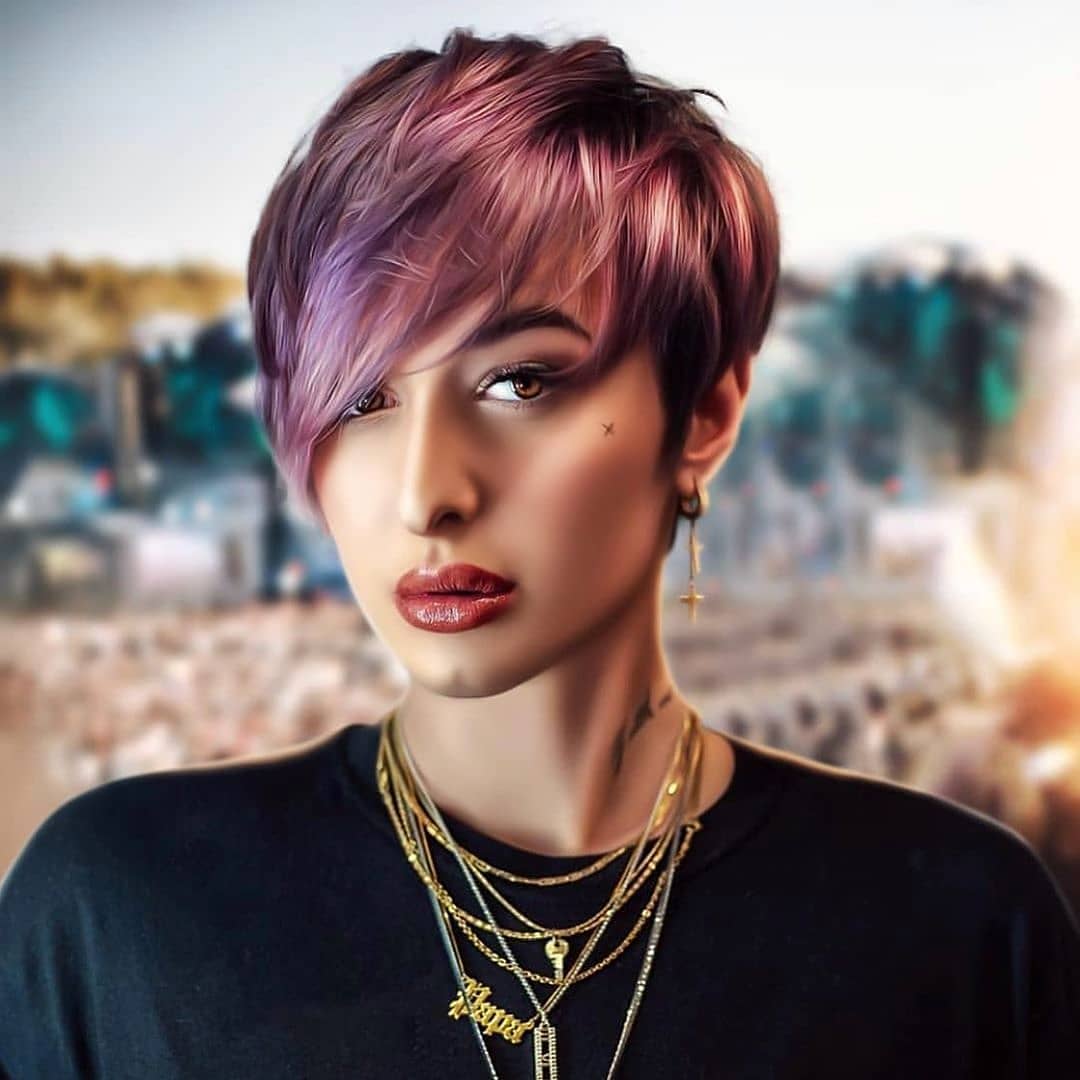 If you're looking to make a really bold style statement, try this daring and ultra-trendy bright pink pixie cut. A bright, rosy pink hue and super long side-swept bangs adds femininity and light to this hairstyle.
When you get up in the morning, apply smoothing serum through your hair from roots to ends and comb it forward to achieve a flattering forward-swept style.