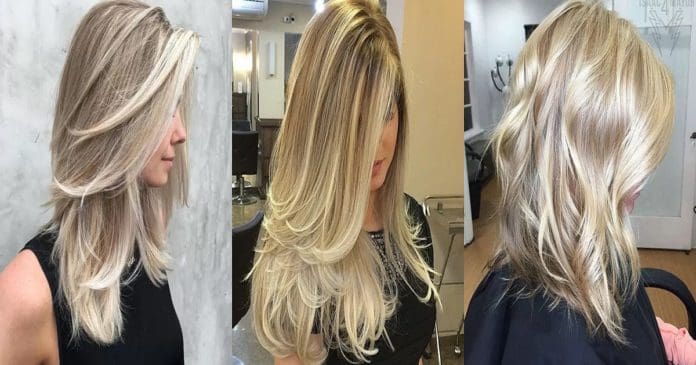 Blonde hairstyles are actually extremely versatile in hair hues and styling finishes. From spiky pale white crops to feminine golden waves shimmering in the sunlight, there is a myriad of options. When you add in texture, layers, shape, and length, you have so many different things to pick from that you don't even need to consider reds and browns. Get inspired by one of these 18 bold blondes.
Fresh Ideas for Blonde Hairstyles
We have picked out all the trendy blondes and popular textures that will help your new hair color to reveal its potential. Keep an eye out for haircut ideas too, because there are some really nice cuts here in every length.
#1: Ash Base with Light Long Bangs
When it comes to streaks, remember that it's more about the placement than the quantity, and they'd better be blurred to blend with the base color. A few chunky platinum pieces in the front frame the face and brighten the overall look.
#2: Beachy Waves with Ombre Color
Blonde hairstyles can have any vibe that your heart desires. If it is a cute, careless 'do that you're after, take inspiration from these center-parted beach waves. The medium-to-long length like this is the best for a loose hairstyle if you also choose a layered cut.
#3: Caramel Waves with Bleached Bangs and Tips
A bit of contrast is never a bad thing when it comes to your locks. Instead of having your hairstylist blend all of your colors together, have him/her keep them more or less separate. The resulting 'do will make your locks look thicker and more striking.
#4: Angled Icy Bob with Teased Back
What you see is a gorgeous hairstyle all around. The steeply angled bob with teased crown creates a statement shape, while the choppy layers help give the cut some much-needed movement. The lighter blonde color accented with pastel pink is fresh and fun.
#5: Textured Bob with Blonde Highlights
Today's casual short blonde hairstyles are tousled and full of texture. The choppy layers in her blonde bob are just the thing for a trendy hairstyle. Every lock goes in its own direction yet there is still a clear overall shape. The dark blonde base sets off the flow of the lighter pieces.
#6: Messy Platinum Hair
Talk about an ethereal beauty. The pale base has shots of silver and pale orange around the crown. The uneven bangs and undone texture complete the free-spirited vibe.