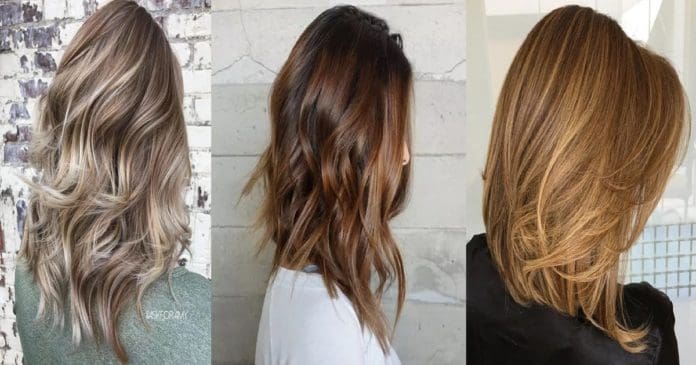 Layered Haircuts and Face Shapes
The good news is a skillfully done layered haircut can maximally bring your face shape to the ideal oval. If your face is round, the layering for the face-framing locks is going to elongate it visually. Side bangs will go fine with this type of haircut as for a long face, straight bangs, skimming your eye-brows, and out-flicked locks around your face are highly recommended. Girls with oval face shape are the luckiest. They are not restricted and can go for whatever type of layered haircut they desire, and it will look gorgeous.
Styling Tips for Layered Haircuts
This unique haircut is easy to style which is, undoubtedly, a big plus, because you can style your locks yourself at home. A layered haircut looks its best when you make an accent on the tips. You can curl the ends of your tresses with a curling iron or flat-iron your locks with a straightener. Most stylish hairstyles today feature volume at the roots that is achieved with a blow-dryer. Romantic locks slightly fixed with hair-spray are a wonderful idea of a hairstyle for special occasions.
Best Medium Layered Haircuts
Let's see all that in examples.
#1: The Perfect Bedhead
Source
Layers are a great choice for mid-length hair because they can add volume, depth, and texture, giving you a variety without sacrificing the length. Subtle highlights in medium brown tones with bangs are always a nice touch for brunettes!
#2: Feathered V-Layers
This v-layered style reminds us of a horse's mane flying free in the meadow breeze. Medium layered haircuts are the best of both worlds – a manageable length and enough to work with at the ends. Short feathered layers frame the face, while longer layers in the back draw the eye downward.
Source
#3: Shoulder Length Haircut with Flicked Ends
If your hair's length is medium to long, consider spicing up your cut with flicked, choppy ends. Layers define and add interest to all hair styles, but flicked ends work especially well if you like the quick rough blow-dry styling. Thick hair types can hold flicked out layers best.
Instagram / @idaaxenstedthairdesign
#4: Swoopy Layers for Mid-Length Hair
Add definition to mid-length hair by incorporating swoopy layers. This style of layered hair works great on nearly every face shape but especially well if your shape is long or oval.
Instagram / @meganreillyhairnyc
#5: Layered Wavy Lob
Long bobs are popular for a reason: they are flattering on everyone, versatile and modern. This hand-painted lob features shorter layered hair in the back to add volume without weighing the overall haircut down.
Source
#6: Long Layers for Messy Lob
Lobs may be trendy, but there is a reason why so many women gravitate to this cut. Lobs let you wear your hair 'short' while still keeping the length that feels feminine. Try a lob with longer layers instead of a blunt cut to appear playful yet polished instead of severe.
Instagram / @jeffersonbolina