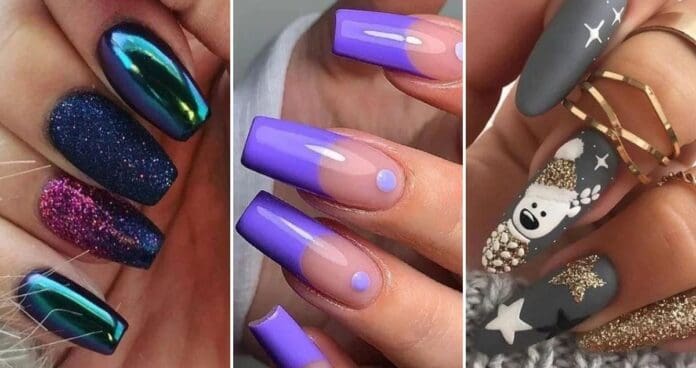 Get into the holiday spirit or add some color to your life amid the dark and gloomy winter days with a manicure. There are many different options to choose from; simple and chic styles that are perfect for all occasions, or bright and colorful artwork inspired by Christmas. If you love red, try a modern take on the classic red-tipped French manicure, and for those who prefer a less intense shade, grays, browns, and nudes are the perfect colors for your next manicure. Have some fun with sequins and Christmas designs, or opt for an ombre technique. There's also something for every skill level, so even beginners can create a stylish and modern look from the comfort of their own home. If you're looking for winter flower nail design ideas, keep reading to get inspired!
1. Blue Marble Nails
If you are looking for an interesting winter nail inspiration, yet sophisticated at the same time, blue marbled nails are perfect. The technique is created by placing drops of nail polish in a bowl of water and then stirring them. When you dip your nail into this mixture, you are left with a beautiful pattern. The effect can be done in a variety of colors, and you can also mix shades for a more dramatic choice. However, for an icy feel, navy blue polish is a great choice. Blue also looks good on nails of any shape and length and is associated with luxury and elegance. This color is also incredibly comfortable to wear and is great for those who want something different without being overly dramatic.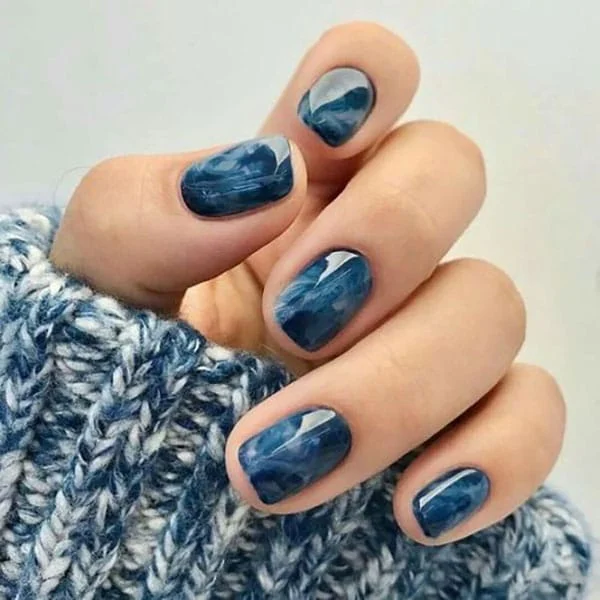 2. Gunmetal Nails
Gunmetal is a mix of silvery grays with metallic undertones. This is the perfect choice for the winter months and is great for those who want something different. The color looks futuristic yet glamorous and can be worn with nails of any shape and length. It can also be paired with other cool tones like navy blue, silver, or black. There are several nail design options, including painting each nail to look like bronze or opting for a custom nail. You can wear your gold jewelry to create a contrasting look. This is a great way to make yourself known and draw attention to your hands.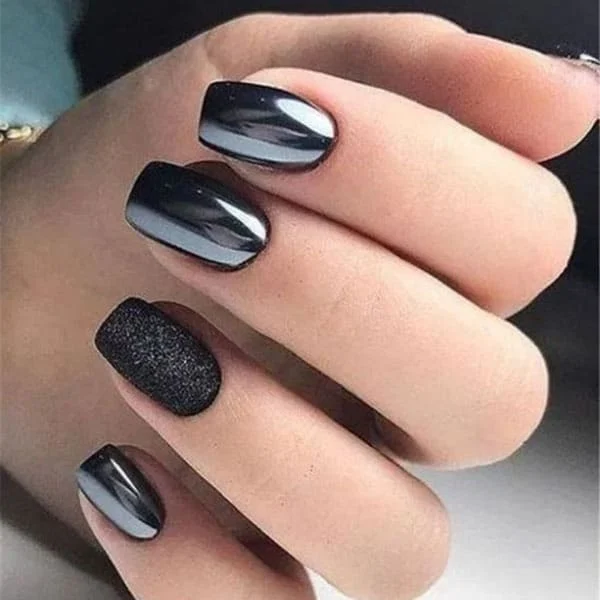 3. Leopard Nails
If you want to show off your fierce side, what could be better than a leopard print manicure? This animal print has been a favorite in the fashion world for decades because it can make a statement, but at the same time, it is very easy to wear and can be mixed and matched with other colors. The same approach can be applied to nails, but pair the print with brown nail polish for a more subdued and complementary look. Warm tones make for a wonderful winter manicure that is also fun and unique. Experiment with leopard print placement. For example, leave it only on the tips, play with a negative spacing, or choose only one printed nail and cover the rest with brown varnish.
4. Natural Palette Nails
The natural palette looks great on nails and is the perfect choice for a woman who wants a beautiful and interesting manicure. Such colors may include sand, beige, white, flesh, and other colors. The muted tones are comfortable to wear and work well in a variety of conditions. The subtle differences between each nail and color may not be noticeable at first glance but can make people look twice at your hands. Beauty is in simplicity, and this manicure will look great with rough knitwear. Complement your nails by choosing neutral tones, or create contrast by wearing something bold and bright, like red or orange.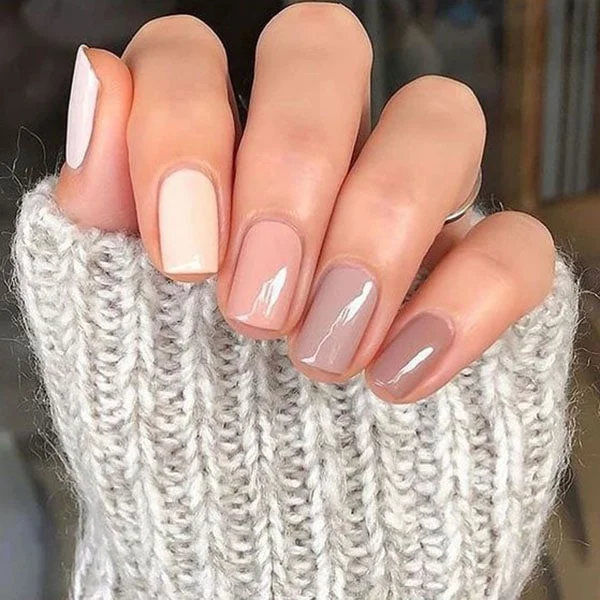 5. Black Line Tips
Black is a bold color that demands attention. It is also associated with strength and sophistication and is the perfect choice for those who want a classy and classy manicure. There are many different ways to try this color, from choosing a solid polish on each nail to a gothic-chic approach. Or, for those who want something more subtle, black line tips. Instead of going for a classic French manicure, you can get creative by swapping white polish for black. This design works best with longer nails as it gives you more space. Pair black tips with sheer or nude tones so they don't detract from your ends; they should be in the center of your manicure.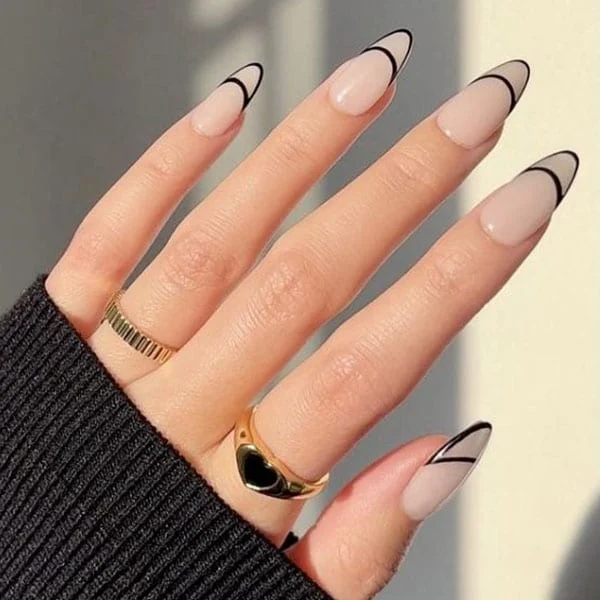 6. Classic French Manicure
Classic French manicure is a stylish and elegant look. It can be worn anywhere, including formal events and the workplace, and is beautiful and feminine. This approach includes a nude or pink base coat with a white streak along the top of the nail. It works best with longer nails and can draw attention to interesting shapes like coffin or almond-shaped nails. The simplicity of this look makes it appealing to women of all ages, plus it's relatively easy to create on your own; you don't need to spend a small fortune on a nail salon. A French manicure is great for the winter months as well as for all occasions.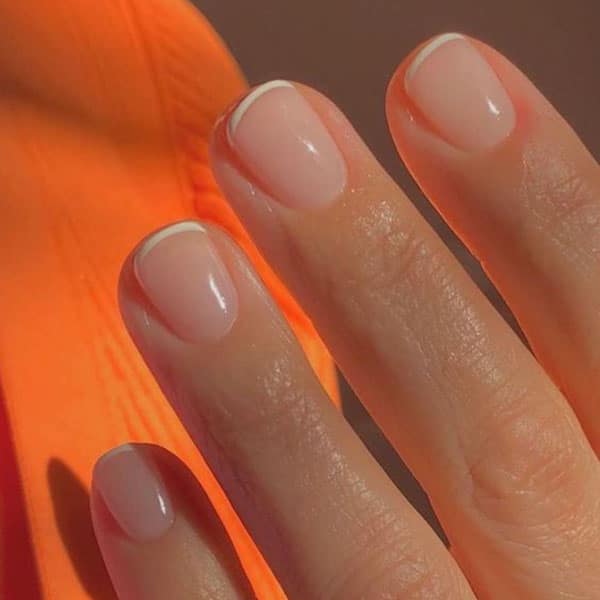 7. Check Nails
Checkered nails are a simple and chic look worth trying out. The beauty of the plaid is that it can be made in a variety of colors, allowing you to personalize the manicure to your liking. For a 70s feel, you can opt for brown and white plaid. You can play around with how you make them by choosing different sizes and locations for an interesting and unique finish. You can also paint all nails the same. Alternatively, you can highlight just one nail or mix it with different colors and prints. Get into the retro vibe and wear your favorite chunky jewelry to draw attention to your hands.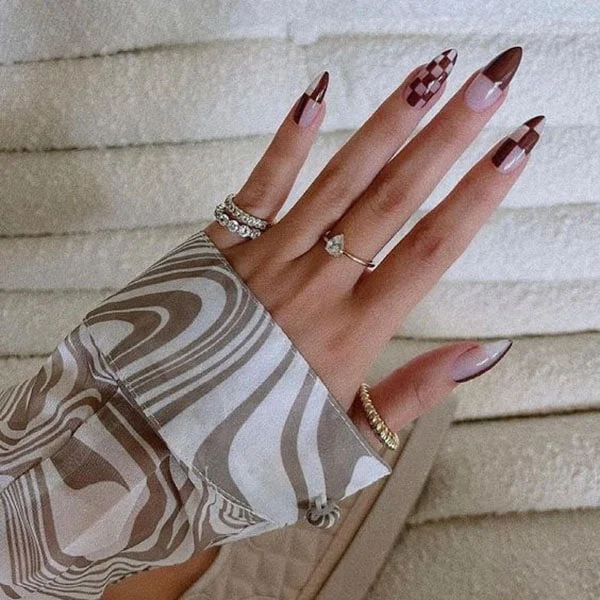 8. Purple Nails
Purple is a gorgeous color that is associated with luxury, royalty, and sophistication. So it's no surprise that purple nails are a big trend this year, and there are a few shades worth trying out. This allows you to choose an image that will be in harmony with the skin tone, shape, and length of the nails. Purple also pairs well with other colors and you can choose from different shades depending on your preference. You can also experiment with different effects and finishes, such as glossy or matte nail polish.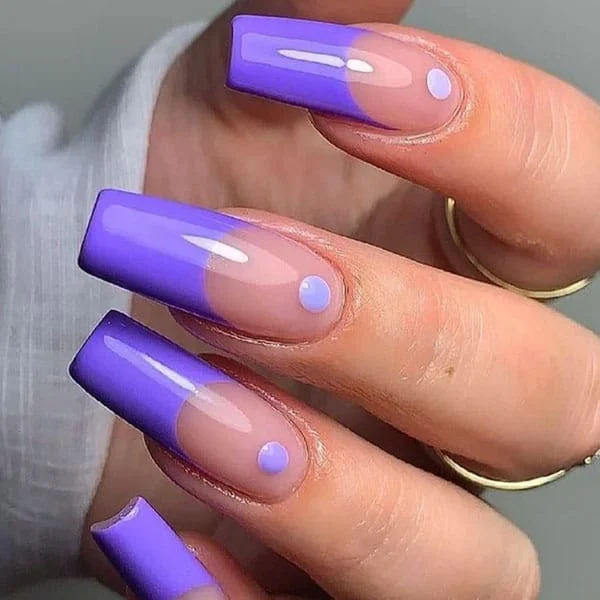 9. Valentine's Day Nails
Valentine's Day is a celebration of love and a great time to celebrate the special people in your life. However, you don't have to wait until February 14th for inspiration, and a cute manicure with hearts is a great choice for any time of the year. There are many ways to try this look, but one of the most popular is the combination of red, pink, and white. These colors can be very feminine, but they are also versatile and easy to mix and match. You can select several base layers and draw small hearts of a different color on top of them. Or make your work bolder by using bolder hues. You can opt for a more subtle and wearable look by painting just one heart-shaped nail and leaving the rest with your favorite shade of solid nail polish.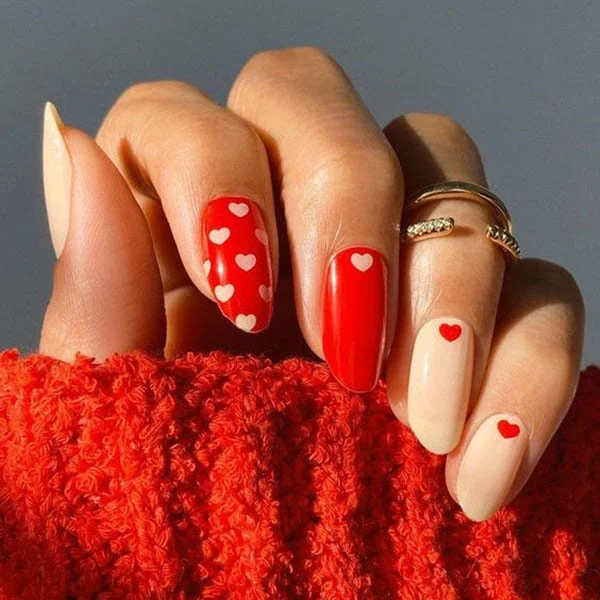 10. Wiggle Nail Art
Nail art gives you the opportunity to express yourself, and there are several ways to do this, including a more abstract approach. The wiggle is a fun way to add color to your manicure and they can be created in a variety of hues. You can choose a nude base coat and then add bright swirls on top of it or paint each nail a different color. The angle at which you add your wiggles can also vary, allowing you to experiment to find the perfect look. However, this detailing is suitable for nails of any shape and length, the longer the better. Longer nails can look feminine, but they also allow you to better show off your work. In addition, there is more room for creativity.