Valentine's Day is an opportunity to celebrate the love of your life and also an opportunity to enjoy super cute nail art. From tiny heart stickers to heart tips, there's something here to please every person and style. The classic pink, red and white palette always looks timeless and feminine, but don't be afraid to try bolder hues or make a playful or creative statement. If you prefer a more relaxed approach to your nails, look for a fun polish in a bright color like fuchsia. In addition, it can be worn in a variety of conditions. Those who love adventure will love a pink and red take on a classic French manicure or a Scrabble-inspired expression of affection with claws. Keep reading to find the perfect look for your love-inspired look.
1. Love Heart Tips with Pink Base Color
The pink Love Heart tips are a look that is sure to highlight your hands. To create this design, you will need long nails with pointed tips. Start by applying a base coat, then first draw one end of the nail in an oval shape. Complete the heart by making the other side. The combination of raspberry and pink may seem predictable for Valentine's Day, but it's an eye-catcher. This is a manicure that, although relatively easy to perform, is sure to grab people's attention.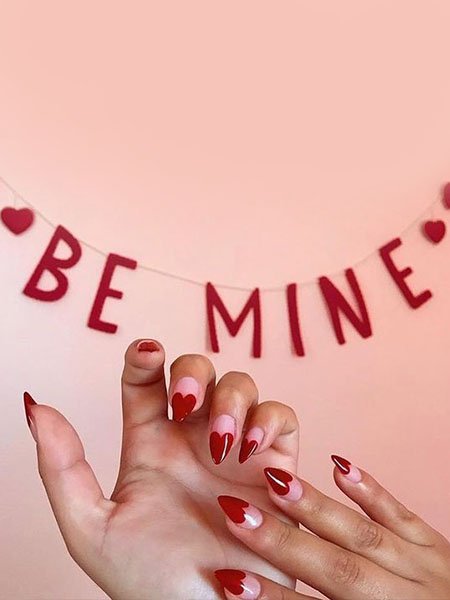 2. Mini Hearts on Feature Nail
If you want a cute yet understated look for Valentine's Day, then this option is for you. The beauty of this design is its simplicity. It is very easy to wear and is well suited for a wide variety of conditions. Even those who don't usually paint their nails on love day can get into the romantic spirit with this mini heart on a special nail option. You can create hearts yourself or, if you don't have time, choose stickers. Don't be afraid to experiment with different shades of pink to find what works for you. You can even match the shade of nail polish to your favorite outfit.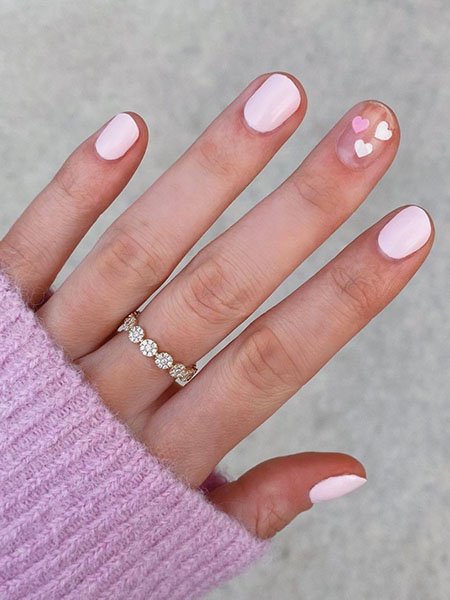 3. Red Nails with Heart Tips
Forget the classic French manicure and go for red nails with heart-shaped tips! Sometimes the best nail art is the thinnest. The detailing on these nails is very simple yet effective, especially when paired with such a vibrant shade. Red is a color that requires attention and a lot of confidence, but it is a feminine shade that represents love and seduction. It is better to create this look if you had a steady hand, because accuracy is important. It may take you a few tries, but mastering this look is well worth the time and effort. alternatively, you can head to your local salon and have talented stylists do it for you.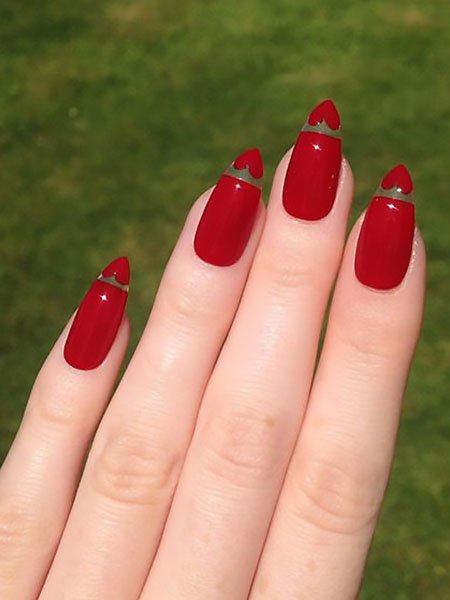 4. Romantic Florals
A bold manicure is a great way to show off the fun side of your personality. Heart nail designs will be popular for Valentine's Day, but you can also opt for something a little different, like romantic flowers. To achieve this effect, choose a neutral base layer and then paint tiny flowers on each finger. You can get creative with the colors you choose by tailoring your nails to your look or using your favorite shades. The result is feminine and sweet, and if you are single this year, this is also a good way to give yourself flowers.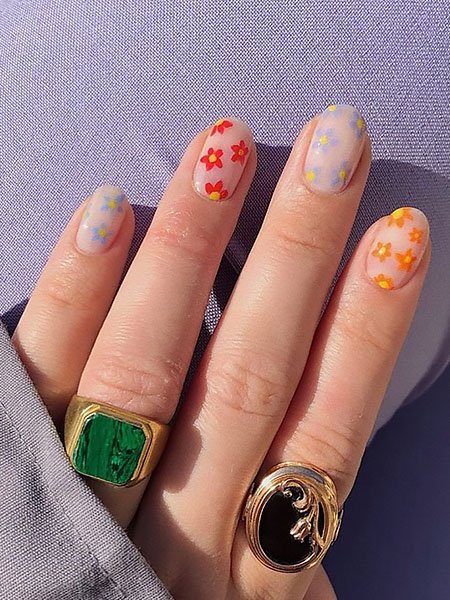 5. Pastel Hearts Nails
Pastel nails are pale and soft and have a particularly dreamy look. They are able to change your mood and brighten your day, and they are always in fashion. The most common shades are candy pink, creamy mint, pale blue and light yellow, and you can color each nail in a different shade to create an interesting manicure. If you really want to make a statement, try pairing your nail colors with accessories or your favorite outfit. alternatively, you can wear rings to draw attention to your hands.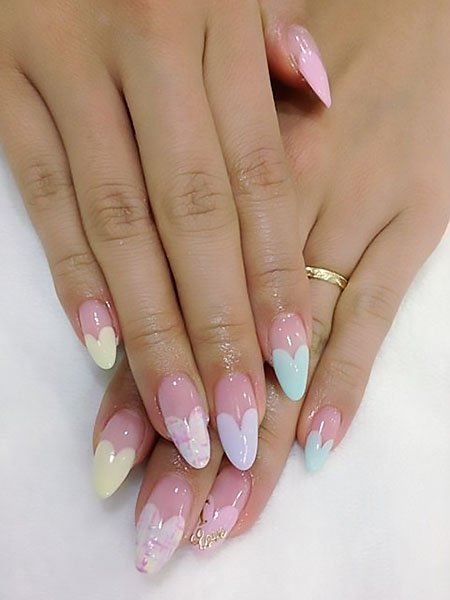 6. Pink and Nude Love Heart Nails
Do you want fingers that have the wow factor? Well, then look no further than pink and nude heart nails. The shades really complement each other and the nude base coat allows the pink to really stand out. Use a thin brush to paint the heart shapes, and if you have a particularly steady hand, you can also paint in a smiley face or other details that will add to the appeal of the look. When your partner takes your hand on Valentine's Day, he will definitely feel the love.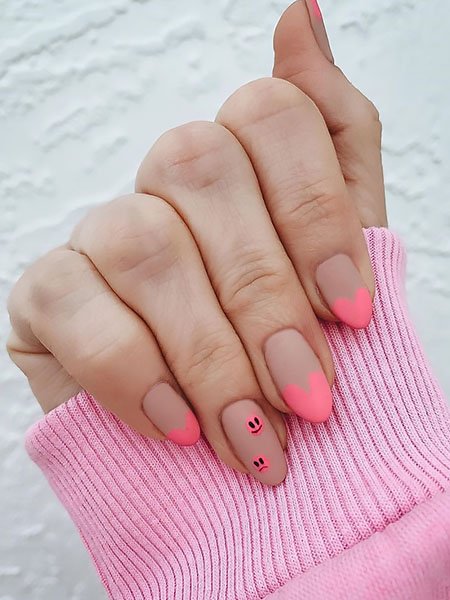 7. Red Hearts All Over Nails
Nothing says love like tiny red hearts painted on nails, right? Get creative by adding little hearts to your claws. You can play around with the look by selecting several hearts of different sizes: some are smaller, others are larger. It is also especially striking when each finger has something of its own. The overall effect is girly and cute. In addition, it is easy to look at and evokes feelings of happiness and joy. If you want your nails to be the center of your look, try wearing them with a solid neutral color like nude, white or black to really stand out. You can also try matching your claws with a stunning shade of red lipstick.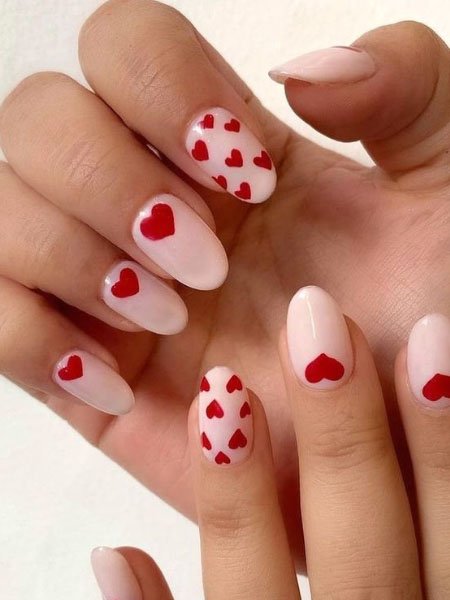 8. Scrabble Love Nails
Show off your creativity and spelling skills with the Scrabble Love manicure option. It's a great way to get romantic and celebrate the important relationships in your life, whether it's a partner, family, friends, or even self-respect. The black and white version is also particularly effective. The monochrome look lends itself well to many different settings. Plus, it's easy to pair with just about everything in your wardrobe. This is the perfect manicure for almost all occasions, whether you're planning to attend a cocktail party or enjoy a picnic on the beach.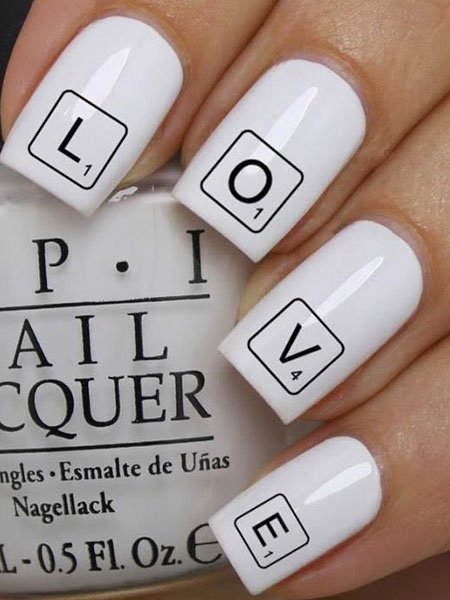 9. Baby Pink Love Heart Nails
You've heard the saying: wear your heart on your sleeve; why not on the nails too? Candy shades of pink are very romantic, but they are also on trend in 2021. This color is comfortable to wear and perfect for nails of any length and shape, be it stilettos or short rounded nails. However, you may feel like you've seen pink hundreds of times before, so using a shade to create little hearts is a good way to update it and make it more playful.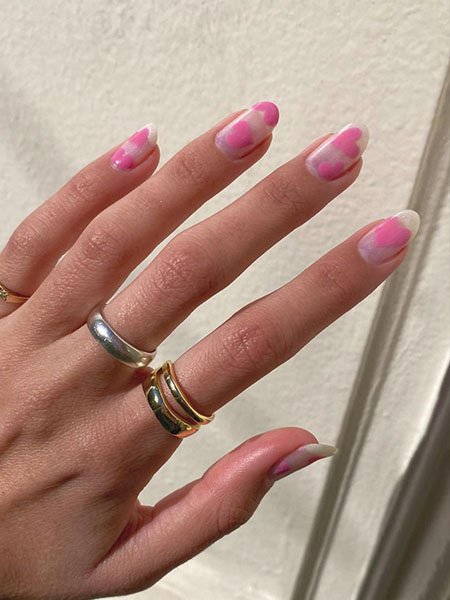 10. Comme Des Garçons Inspired Nails
If you love bold fashion brands, you will really be drawn to Comme Des Garçons inspired nail designs. It's a playful, bold look that's definitely worth a try for Valentine's Day. It is also a way to showcase your fashion skills. The inclusion of tiny eyes makes the manicure exciting and unusual, and surprises the people passing by you. Try it at home or head to your favorite salon to complete the look.