A-Line with Layers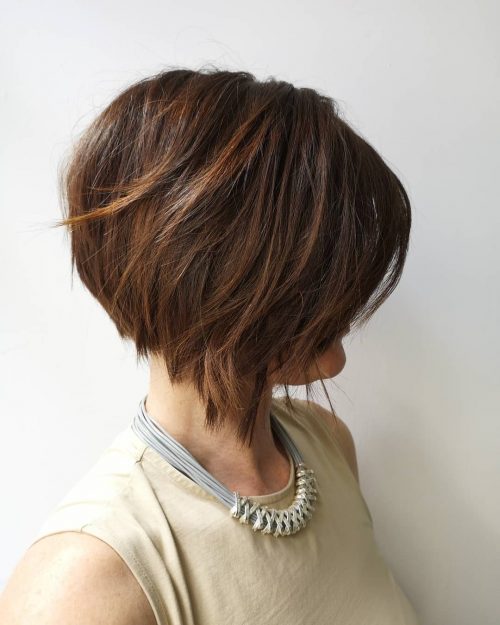 Instagram @erinlisahair
This A-line bob short haircut is packed with stacked layers that make all the fluff and puff action at the nape area. Layers around the head create kind of a rounded shape, but tapered edges maintain a nice flow towards the end.
Short Bob for Thin Hair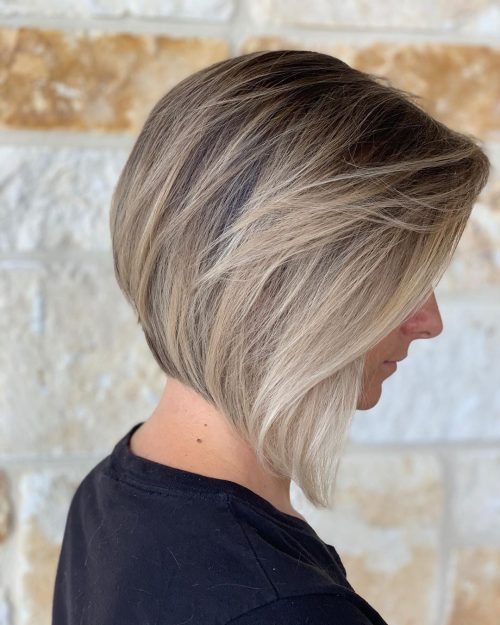 Short thin hair goes perfectly when an A-line bob. It provides body and volume, thanks to the layers. Now, your thin hair can be your friend!
Q&A with style creator, Emily Usher
Hair Stylist @ Artistic Designs Hair Salon in Colorado Springs, CO
How would you describe this look?
This short haircut is timeless, edgy, classic, which are just a few words to describe an A-line bob. Color-wise, with the shorter A-lines, I tend to stay darker at the nape and lighter throughout the top. Naturally, the sun never hits bottom, and I'm trying to mimic what the sun would naturally do. I'd consider myself a naturalist, lived-in color kinda gal.
When you have over 50% gray, camouflaging with highlights, balayage, foliage, a nice money piece, or anything in between is the way to go. How light depends on my client's end goal, the amount of maintenance, time, and budget they are willing to invest in their hair.
Any advice for someone considering it?
This look is great for everyone! I do not play in face shapes; I play into personality! At 240 lbs, I rocked an A-line bob for over three years. I was looking pretty hot, I must say. But according to the stereotype of face shapes, this wouldn't have been a "good" cut for me.
I will say I lean towards ladies with finer hair carrying this style — the shorter the hair, the more volume. The nape is the shortest to support the longer hair, creating the illusion of thicker, fuller hair. Now, for my fuller, thick-haired ladies, this is also a bomb cut! Debulking and texturing are key!
Short A-Line Bob with Bangs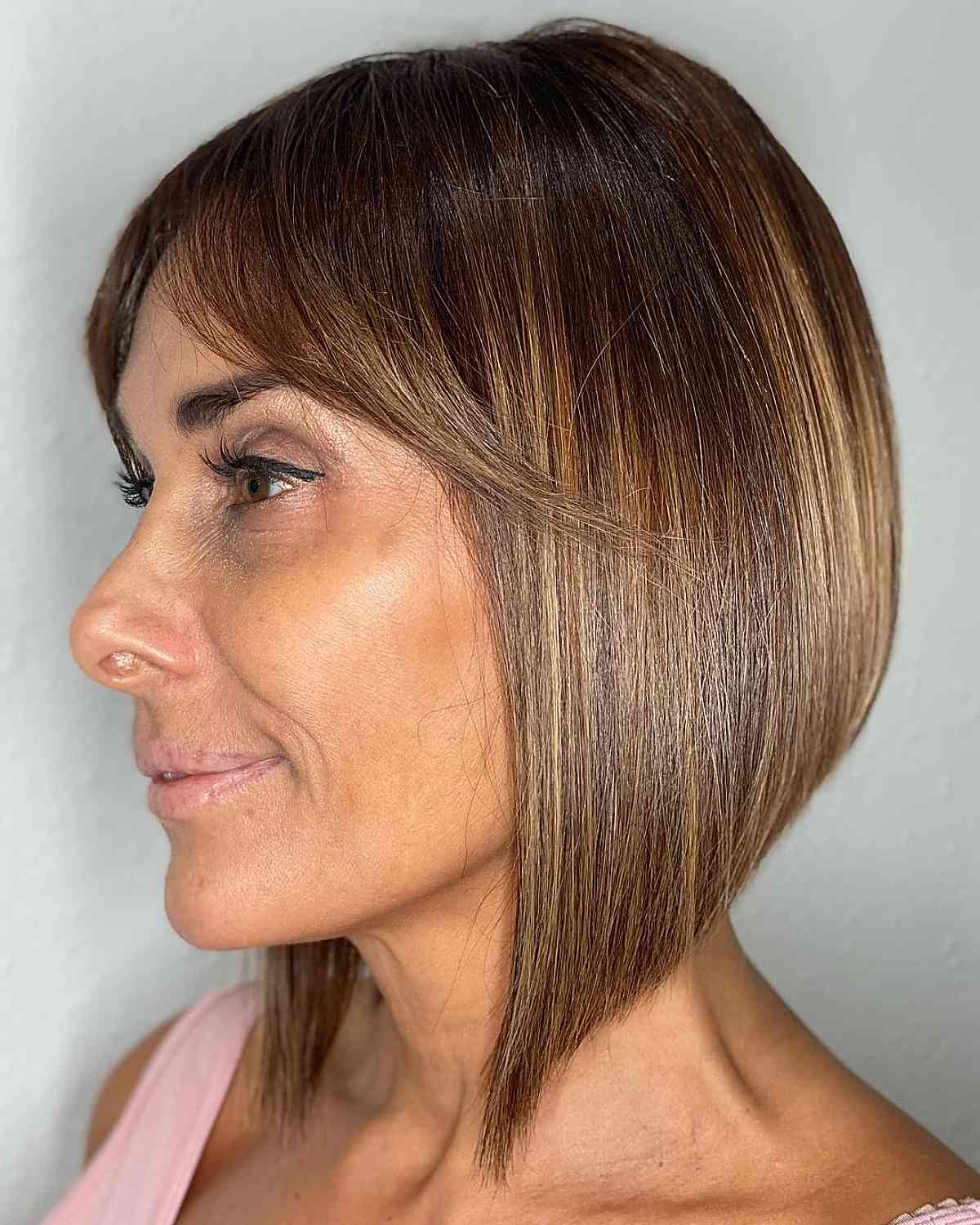 Instagram @hairpin_me_down85
Opt for a cute a-line bob for short hair. This is perfect for women with a classic style. It looks best with natural colors, too.
It's not for women with dense hair or curly hair. The style needs a straight and hair that's not too big.
It's easy maintenance and suitable for a woman who does not have too much time to style.
Stacked A-Line Bob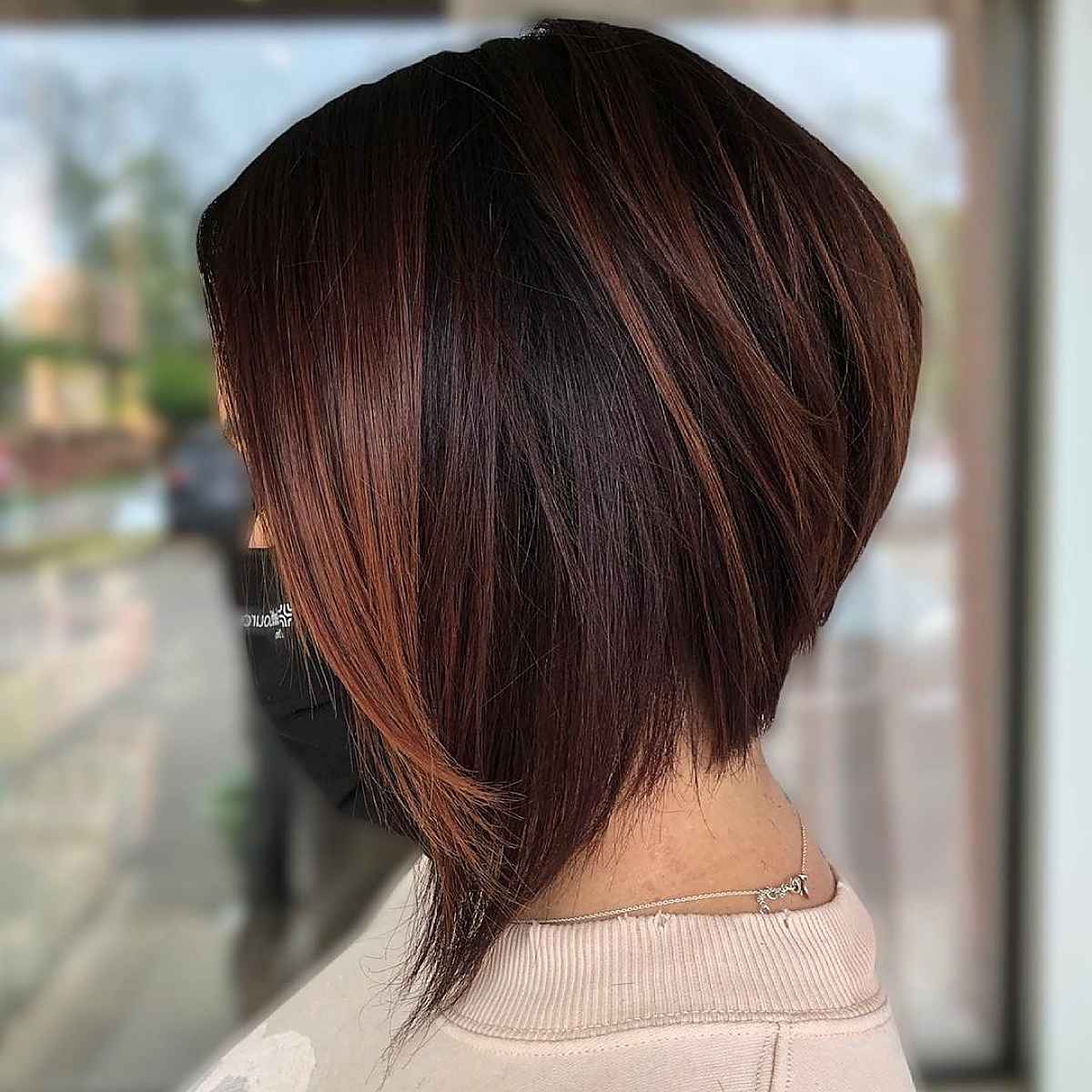 Instagram @color.by.caitlin
Consider a chic, short haircut with an A-line graduated bob with lots of texture. This short cut allows very dense, thick hair to fall right into place because of the careful shaping and weight removal/texturizing.
When it comes to bobs, it's all about the shape! It's up to you and your stylist to determine what degree if graduation will be best suited for your hair type (think density and thickness). Undercutting can also be your best friend here because it can take squirrelly hairlines out of the equation.
Short A-line bobs should be easy to dry with your hands or maybe a small flat brush because they're designed to fall into place right naturally.
Edgy Bob Crop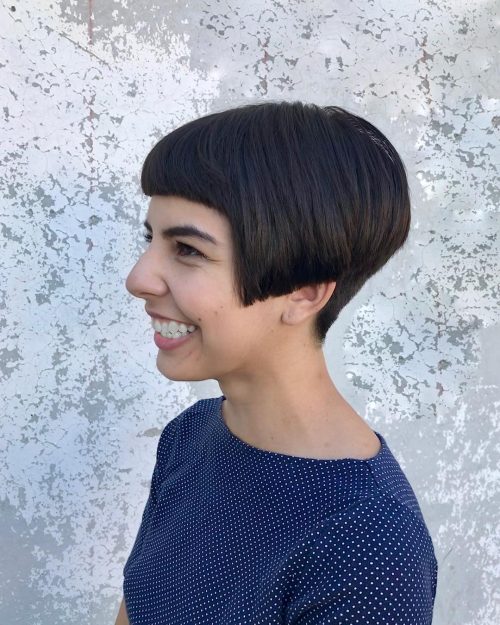 Q&A with style creator, Carrie Gouvion
Hair Stylist @ Be Rosie Salon in Claremont, CA
How would you describe this look?
What I love about this particular A-line bob cut on short hair is how polished it looks but still has a youthful, edgy look. I love the lines, precision, and shape of the overall cut. I love cutting shorter, more precise haircuts.
My client was growing her hair out from a super short pixie haircut, and we were trying to come up with something stylish while trying to get her through the awkward stages of grow-out. That's when I suggested this cut.
I kept her nape area disconnected to make her cut look edgier since she didn't want to look too old and matronly. The roaring '20s styles actually inspired me since she reminded me of a flapper girl because of her style, etc.
Any advice for someone considering it?
This A-line bob is especially great for women with thick and straight textured hair. Also, someone with fine, straight hair could pull this look off but would need some products to help with adding some volume on fine hair even though this is a pretty sleek look.
The type of products I would suggest for someone to use for this look depends on the hair texture and thickness. A serum of some kind, smoothing balm, or shine spray is all someone would need for fly-aways and keeping everything smooth and shiny and some sort of heat protectant spray/leave-in if someone is going to use a blowdrying and/or straightening iron.
This hairstyle looks great on women with an oval face of a very structured jawline and cheeks to enhance their features. I'd adjust this cut for a longer version if someone has a fuller face, as it might accentuate features someone wouldn't want to enhance in the jaw and chin area.
This is a great short hairstyle for women who doesn't want to do much styling for a put-together look or for someone who wants to wash and go with the right hair texture.
A-Line with Undercut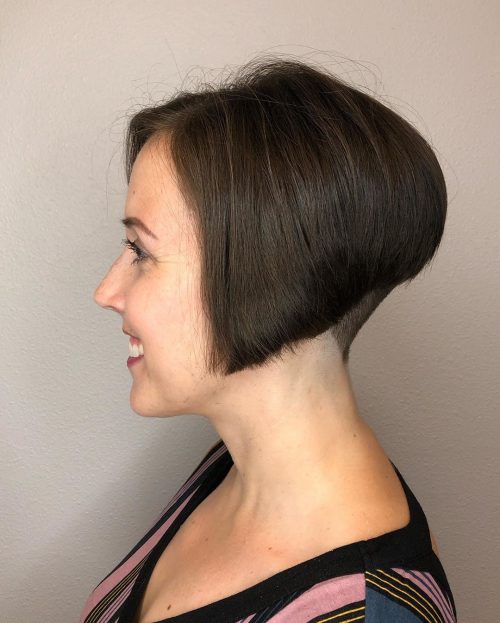 Q&A with style creator, Jeremy Sunshine
Cosmetologist @ The Parlor Aveda in Las Vegas, NV
How would you describe this look?
This is a modern short bob haircut with an A-line and undercut.
We decided to go with a longer fringe section to add some movement to the cut and softness around the face. This look is a relatively low maintenance style. It's conservative but edgy at the same time. That's what I enjoyed about this cut. If you need to show off the "adulting" persona, you can. If you want to get a little wild, rock it out and show off that undercut!
Any advice for someone considering it?
Having an undercut can be cooler in warmer weather and give you less styling headaches, especially if you have a thick scalp of hair. Styling this cut could be as simple as wash-and-go (varies on your hair type) or smoothing with a hot iron. You could even toss in a few curls or waves to classy it up a bit.
Just make sure with any thermal styling, you're using a thermal protectant. With this haircut being an undercut, keeping the underneath shaved could mean an extra visit to the salon in-between haircuts, so there's possibly more maintenance than a traditionally styled bob.
A bob undercut also opens you up to new styles, and some designs shaved into the nape area, and having half of your head shaved down will give you the confidence to try shorter/pixie cuts (you're halfway there!). It takes a confident person to take on short hair because there's nothing to hide behind!
Short and Wavy
Q&A with style creator, Sarah Brophy
Licensed Cosmetologist @ Lace'd Unisex Hair Salon in Langhorne, PA
How would you describe this look?
This is an eye-catching stacked A-line bob cut on short hair with highlights. This looks great on thick hair and has great texture. All of the natural body, so it makes styling so easy to do.
Any advice for someone considering it?
First and foremost, you have to have enough hair to achieve this look. It also has to be styled so the client would need time to style each day. Lastly, you'll need to maintain the look with getting a haircut every 8-10 weeks.
Choppy A-line for Fine Hair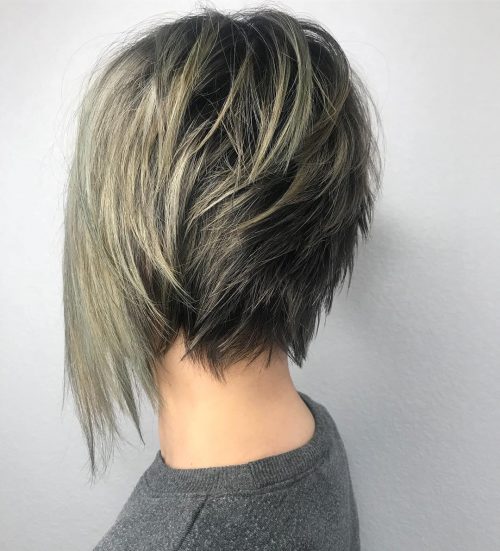 Q&A with style creator, Michelle Corpus
Hairstylist @ The Parlor Aveda in Las Vegas, NV
How would you describe this look?
This is a great choppy A-line bob because it's fully texturized on the ends, making it perfect wash and wear short haircut. This look is great for anyone because it elongates the front of the face while giving height options in the crown area.
The color was lightened to a light blonde and left natural in the nape area. I love this smokey gray color because it fades into a clean blonde. It gives me a brand new palette to work with when my client comes in again.
Any advice for someone considering it?
To style this look and showcase the great texture, you can use a very nice dry paste. My favorite is Aveda's control paste. It gives the perfect amount of "piecey-ness" while still being soft and movable.
This A-line bob is great for anyone with any face shape who loves short hair and still wants the option to be edgy at times!
Asymmetrical A-line Bob with an Undercut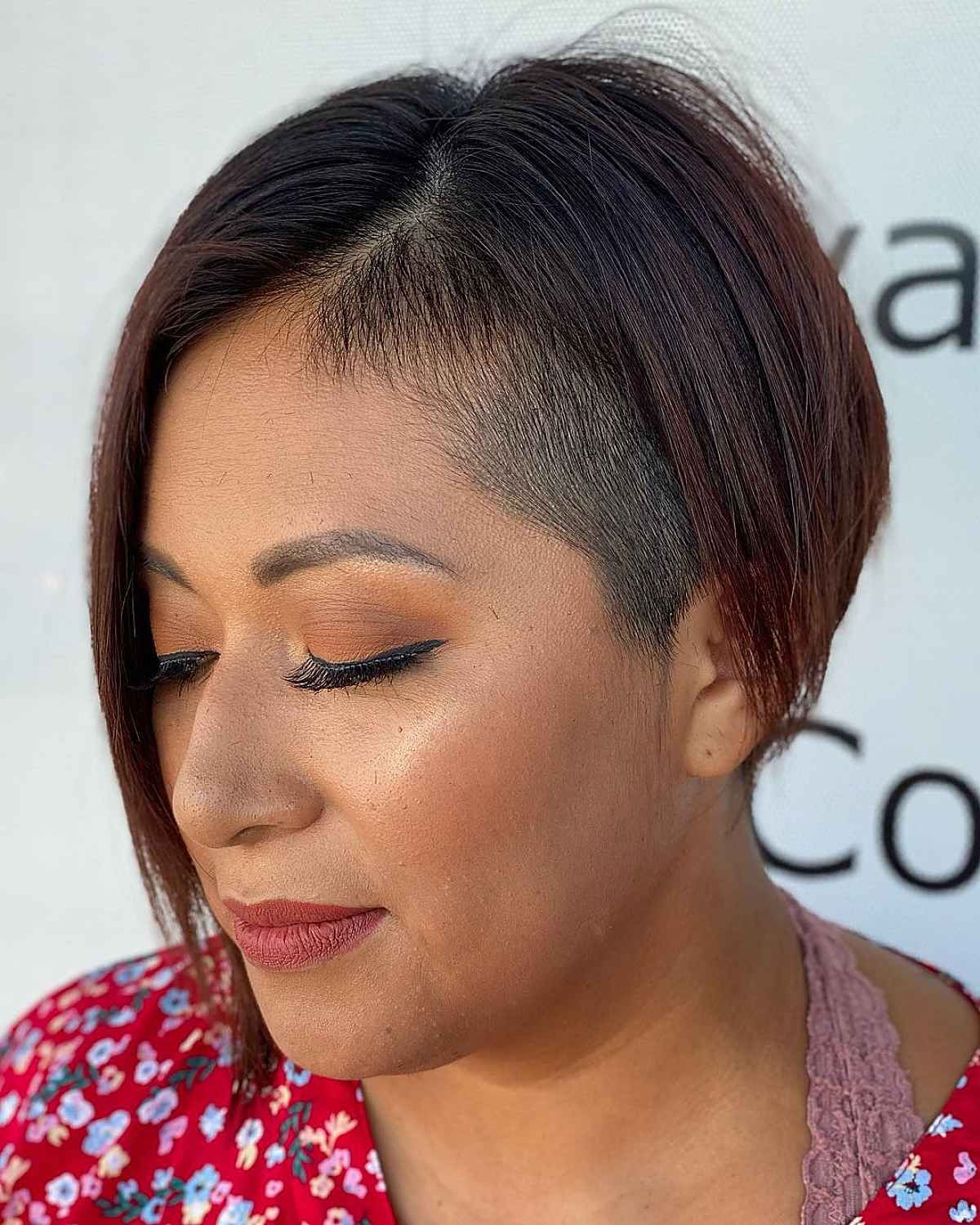 This is a flawless asymmetrical A-line bob with an undercut hairstyle for women with short hair. The cut is modern, contemporary, chic, and bold.
Make sure your stylist has familiarized themselves with your hairline. Over layering without a proper plan can leave gaps, holes, and an unnecessary choppy appearance instead of a sleek one.
Flat wrapping the hair using a smoothing serum or lotion can enhance the sleek appearance of the line and overall shape. Bobs come in all shapes and sizes, but an asymmetrical A-line bob is a power haircut and takes a particular level of confidence!
Neck-Length Sleek Bob with a Middle Part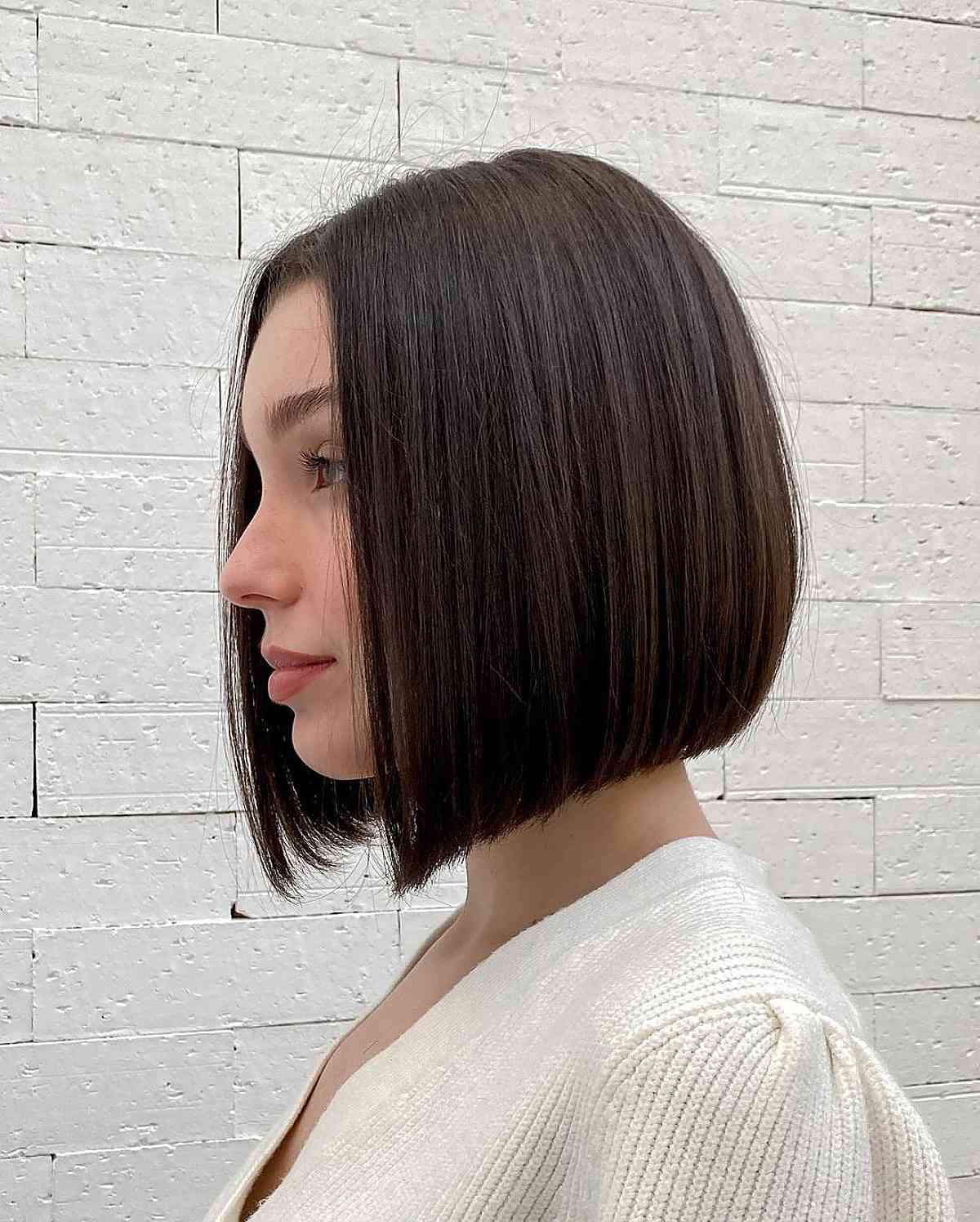 Instagram @nikcabral
Try a neck-length sleek bob with a middle part for a very sleek and classic look. A sleek neck-length bob is a perfect and versatile cut for the modern professional as it is a timeless and clean style. However, it can also be styled with more texture for a more casual appearance. For extra movement and smoothness try styling with a round brush and a blowdry cream.