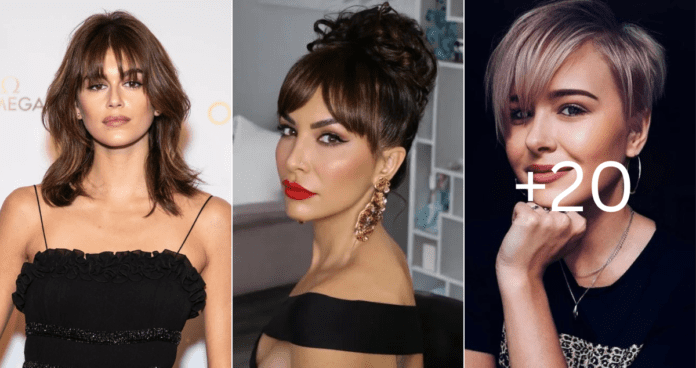 What are curtain bangs? Curtain bangs are a type of bangs that frame the face on both sides. Such bangs are cut shorter on the inside and become gradually longer outside. Most often a curtain fringe is center-parted. Should you get curtain bangs? This depends on your face shape and your goal. Curtain bangs perfectly hide big foreheads, are very good for showing beautiful cheekbones, and always highlight your best features, if cut right. Curtain bangs are good for all face shapes! You just need to find a skilled hairstylist to choose the bangs that suit you. "Curtain bangs give off a vibe of summer simplicity while elevating your entire look," says Xavier Velasquez, a celebrity hairstylist at Jenna Perry Hair studio, of what makes the look so desirable as the season kicks off. For the California born-and-bred pro, shaggy fringe calls to mind the characters of a groovy Paul Thomas Anderson films while also nodding to Jane Birkin in the French Riviera circa summer 1973. It's true that curtain bangs have distinct ties to the "Me Decade," but the style is right at home in 2023. They do hinge on individuality, after all.  There are many different options to style curtain bangs depending on the hair type and your face shape. Here are some top-class examples of perfect curtain fringe bangs for your reference. Are curtain bangs right for you? The answer is yes. Varying the length and the thickness, you can give every face shape and hair texture the opportunity to rock the perfect bangs. I have included 20 soft curtain bangs ideas to help you find the best bang for your buck.
#1: Soft Cheekbone Bangs
This bang hits right at the cheekbone and softly frames the face. This bang has also been referenced as the famous Bardot bang or 70's bang! My favorite piece to this bang are the side bits. If you wear your hair up those pieces add so much to a pony or half updo. It's a great bang to add to any haircut for a quick refresh.
#2: Chin Length Soft Curtains
These long curtain bangs sit at or below the chin, acting as a beautiful layer on long hair, and feathers softly to create that low maintenance curtain effect. If you are not fully committed to bangs, the chin bang is a great intro.
#3: Soft Curtain Bangs Bob
I am a sucker for a French Bob with soft curtain bangs. I love how this bang sits at the brow and frames the face beautifully. Oui oui.
#4: Classic Curtain Bangs with a Twist
I love these bangs and cut them often. It's perfect for the person that wants full bangs but is scared to commit. The fringe dusting the forehead can be worn down or pushed away for an effortless look. It's the type of bangs that compliments any face shape.
#5: Classic Soft Curtain Bangs
The curtain bangs start anywhere from the brow to the eyelid and feathers off to create the look of a curtain framing the face. Curtain bangs can soften a long face shape or add drama to any haircut. Most importantly, they will help your haircut look good at every angle and will make your profile pop.
#6: High Maintenance Bangs
These bangs have all the drama! It sits right in your eyes and requires constant trims. On the plus side, it can transform your entire look. When you're done with the drama, you can push them to the side to create that curtain feel.
#7: Soft Curly Curtain Bangs
A shoutout to my curly crew! Who doesn't love a good curly bang? This bang is wash and go. Air-dried to perfection or diffused for a little more volume. The cut is very important in achieving this look, so do your research and find a specialist who can cut this shape.
#8: Wispy Curtain Bangs
Here is another soft approach to the curtain bansg. It will compliment just about any face shape and will not require much maintenance. Wispy bangs can be tucked away or styled to show off.
#9: Micro Shaggy Bangs
This is a statement bang! You are ready for a change and not afraid to do it. I have the most fun creating these bangs for clients. It is one of a kind bangs designed to turn heads and start trends.
#10: Textured Curtain Bangs on Long Hair
These bangs are super chic and super low maintenance, and they compliment most face shapes. If you are looking for a change but are not ready for a big chop, this is a must-try.
#11: Textured Curtain Bangs on a Lob
The lob is still one of the most popular styles. It's classic and cool. These bangs add another layer to the lob and makes it edgier.
#12: Heavy Curtain Bangs
Cutain bangs pair well with the trending butterfly cut. The heavy layers and heavy bangs make for a very sexy combo.
#13: The Shaggy Curtain
Have a look at these very low-maintenance bangs that are cut to allow the hair to wisp and kick gracefully. Add your favorite styling product and watch it air dry to perfection.
#14: Curtain Bangs on Thick Hair
Curtain bangs look great on thick hair because they are light and effortless. Curtain bangs can be cut longer and softer to compliment thick hair.
#15: Curtain Bangs on Fine Hair
Curtain bangs can help add volume and dimension to fine hair. They can create volume and make the profile pop. If you are looking for a change but want to keep your hair long, adding curtain bangs is a great option.
#16: Soft Curtain Bangs on Straight Hair
Curtain bangs are low maintenance and versatile. They can transform a haircut and create texture in straight hair. To find the perfect bangs for you, simply experiment to adjust the length and thickness.
#17: Tousled Look with Soft Curtain Bangs
This soft bang is extremely versatile. You can wear it straight, down the middle, or pushed off to either side. These are no fuss bangs that are not to be underestimated. This bang can transform a haircut and face shape.
#18: Curtain Bangs and Glasses
All my friends in glasses! If you think you can't have bangs, think again. The curtain bangs often sit longer than other bangs, and one would assume they would interfere with the glasses. But they won't, they add to the look! Bangs and glasses can be an accessory – pick the perfect pair and enjoy!
#19: Half Up with Curtain Fringe
Here is the image showing how amazing curtain bangs look when hair is half up. This style is also worn by Dakota Johnson, our modern-day bang queen. Aside from her amazing style, she has great bangs so many of us want to copy.
#20: Updo with Curtain Bangs
The one and only Bridgette Bardot bangs! Want to see someone showcase the perfect updo paired with the perfect bangs – look for some retro images of the icon or this sample below. The way that bang frames the face is beautiful, and I am here for it.
Thank you for taking the time to read.