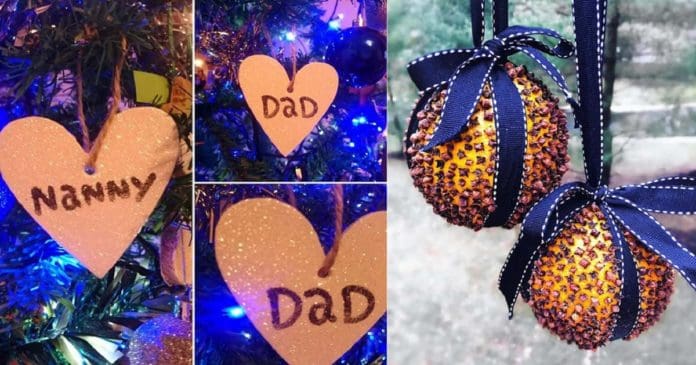 Christmas is on the way so you may be thinking about your decorations for the season. Instead of buying Christmas ornaments why not try and make some? It may sound difficult but it is not! You can create some cute festive pieces that can be hung on the tree or in your home. To get you inspired we have put together the best 21 DIY Christmas ornaments. Any of these can be made at home and you can get the whole family involved to!
1. PAPER SNOWFLAKE BALLERINA
First up we have this beautiful paper snowflake ballerina. We love this idea because it uses the classic Christmas snowflake craft but it has a twist. There are so many ballerinas that you can create. You could hang these in the tree or anywhere around the house. There are templates and tutorials to help you with the shape online.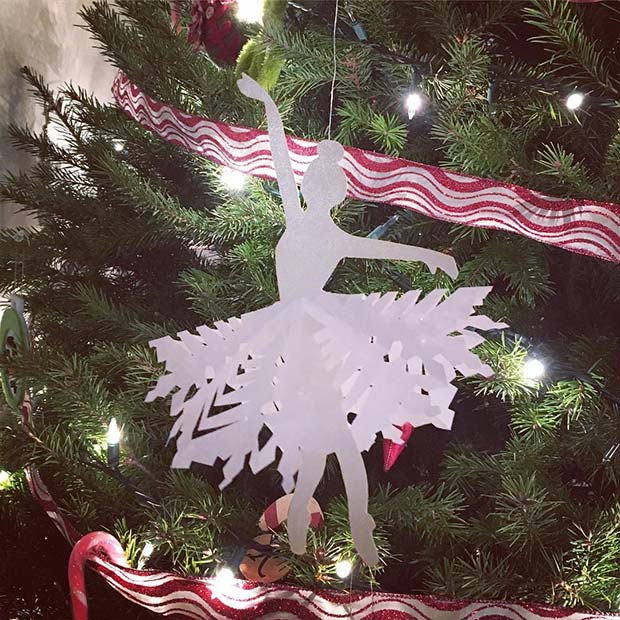 Source: @abbyofftherecord
2. CUTE ROBOT TREE DECORATION
Some people use a theme when decorating for Christmas. A few popular ones are traditional, vintage or Santa's workshop. Our next pick features a cute DIY robot that would be perfect for a workshop theme. The robot is made of little nuts, bolts and more. Something like this would look awesome on any tree.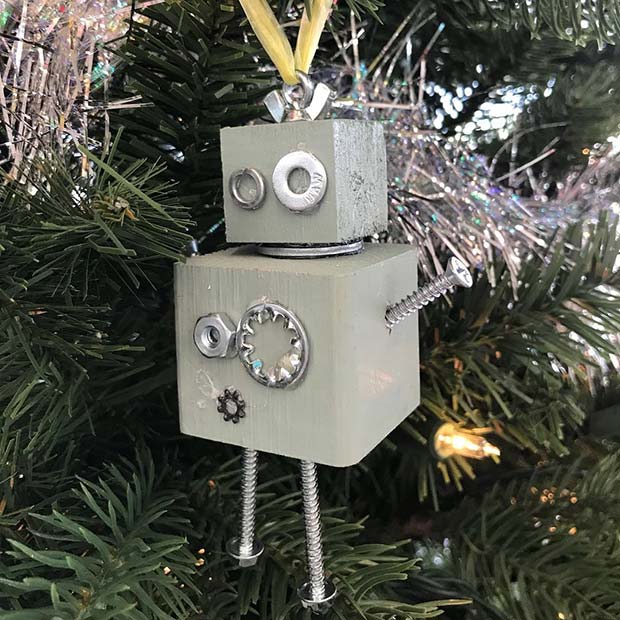 Source: @acehardwarehi
3. DIY STAR DECORATION
Our next ornament idea is great for anyone who loves crafts. This festive star was made with popsicle sticks, sequins, stars and glitter. Five sticks were glued together to make the shape and then decorated. This a fun and low-cost craft that you could do with the whole family. Any design could be used just be creative and experiment.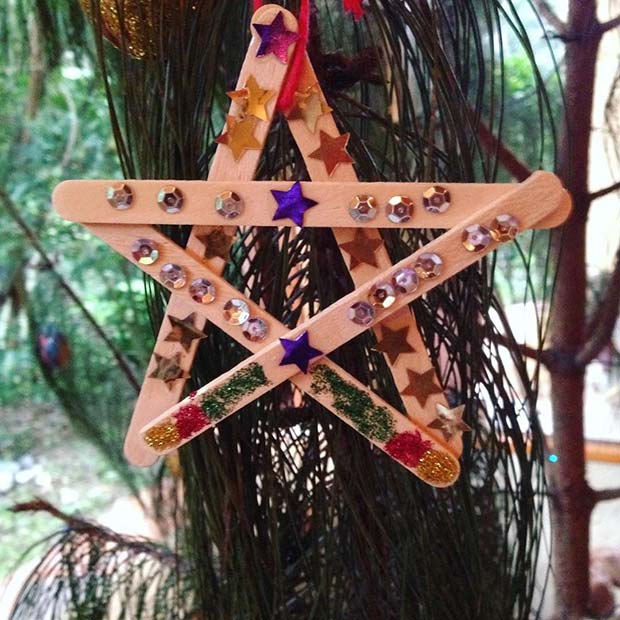 Source: @uma_fa_leung
4. HAND PRINT ORNAMENT
Next, we have an ornament that will keep memories alive to. This ornament features a child's hand print. This is such a cute idea as you can keep this ornament for years to come. So, when your child is older you can still remember Christmas time when they were small. You could also give these out as gifts to family members to. There are tutorials online to help you with a craft project like this.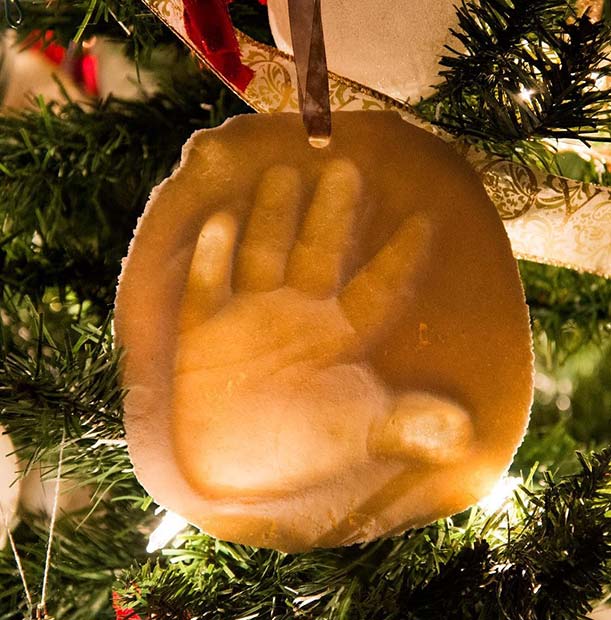 Source: @kaipaphs
5. DIY SCENTED CHRISTMAS DECORATION
While many love the look and smell of a real Christmas tree it isn't always practical to have one in your home. A lot of people choose artificial trees instead. Just because your tree is artificial it doesn't mean you can't have the smell of a natural tree. Our next pick features corks that have been scented with a tree smell and then hung in the tree. You could have one cork or make it in cute snowman design like this one.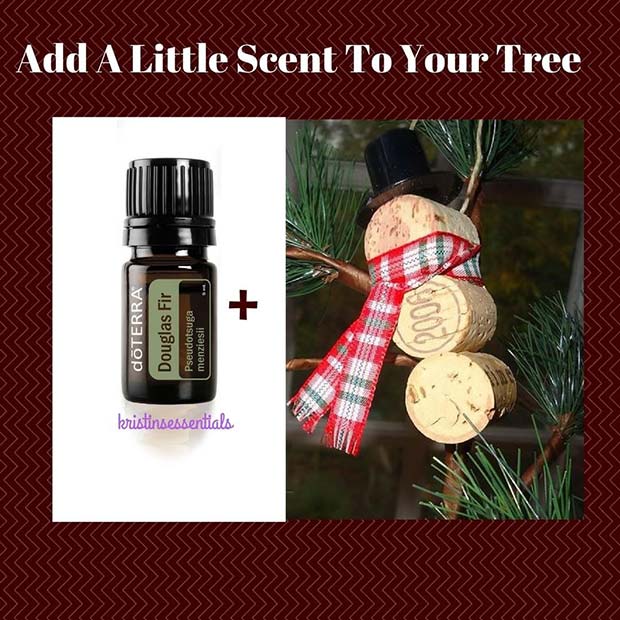 Source: @kristinsessentials
6. PINECONE HEDGEHOGS
Pinecones are everywhere at this time of year. Make use of them by turning them into Christmas decorations. These pinecones have been turned into hedgehogs. You could recreate these with some felt and some very small beads. Just glue them on in the design you would like. You could put these in a tree or put them around your home.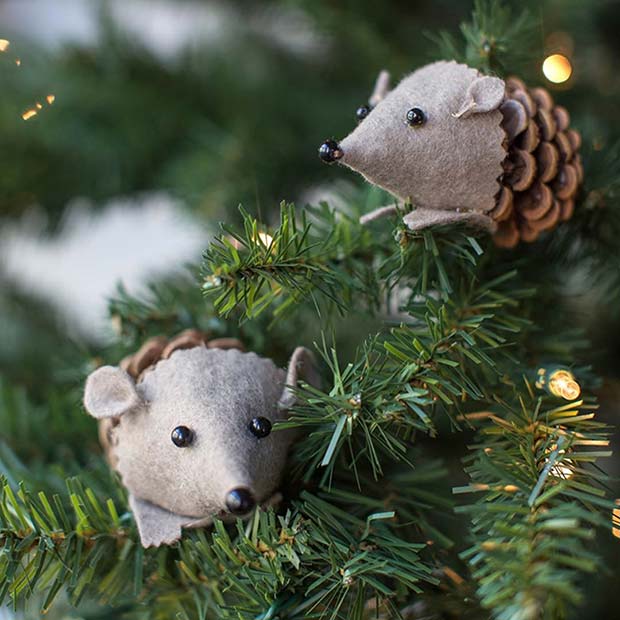 Source: @liagriffith
7. ORANGE DECORATIONS
Our next ornament is a classic Christmas craft. These ornaments were made with oranges and cloves. There are tutorials to help you make these online. The whole family can make these and the oranges will look beautiful in a tree. These last a long time and are a natural air freshener.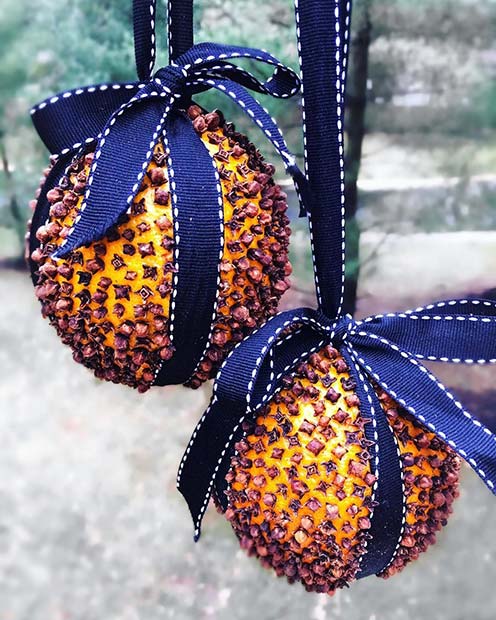 Source: @deirdre.robertson
8. WOODEN CHRISTMAS ORNAMENTS
If you like crafts and are creative this next idea is for you. These are wooden ornaments with a design painted on the top. There are deer designs as well as mama and papa bear. Decorations like these would beautiful and festive in your home. You could use designs like this or make up your own.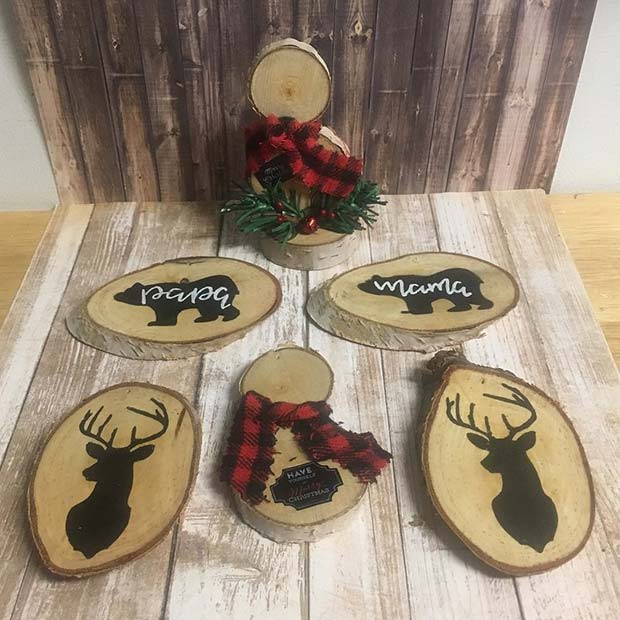 Source: @tammymacmaster
9. DIY BAUBLES
Make your tree decorations unique by painting your own. These baubles were created with a marbled look. There are plain baubles you can buy that are ready to decorate. You could create a marble design like this one or come up with your own festive style.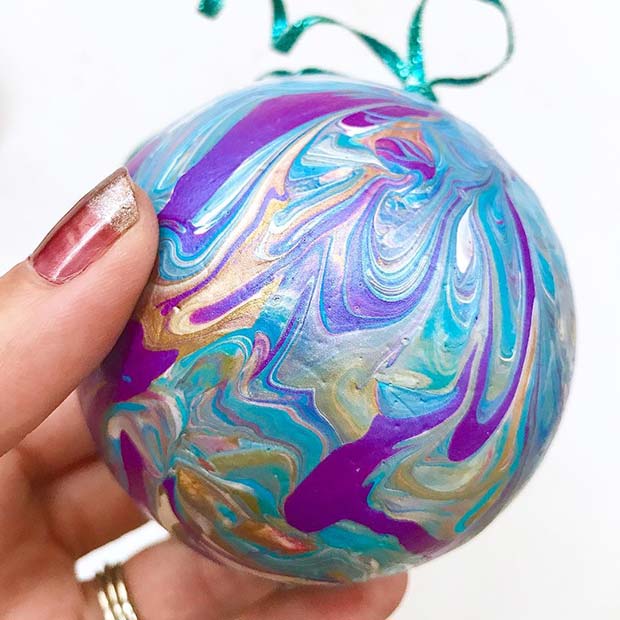 Source: @100directions
10. DIY FELT TREE DECORATIONS
Next, we have super cute tree decorations made from felt. There are three ornaments of a robin, Christmas pudding and a snowman. This is a great craft for all ages. You could sew your decorations together or use glue. Maybe make a few and give them out as gifts to family and friends.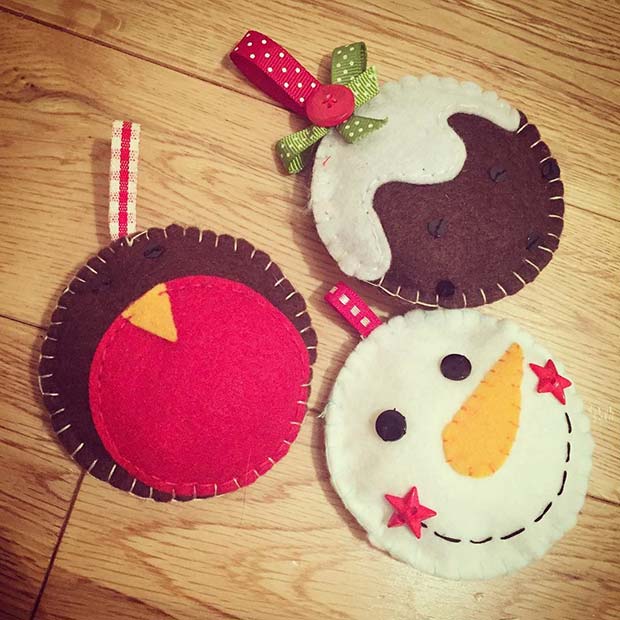 Source: @mehubbyandcharliet
11. PAW PRINT ORNAMENT
If you liked the hand print idea from earlier in the post, then you may like this ornament to. Instead of a human hand print this one is a paw print. This is the perfect craft for anyone who loves pets. You could use a paw template or buy a kit so you can use your dog's print. We love this cute idea.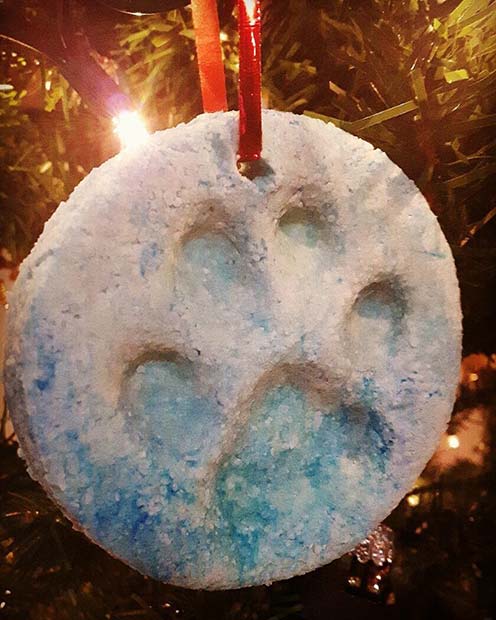 Source: @kai_blezius
12. DIY PAINTED CANVAS ORNAMENT
Like to paint? Then turn your masterpieces into Christmas decorations. Use a small canvas and paint a picture of your choice. Maybe a winter scene or something festive. Attach a ribbon and hang it up. This is a unique idea that will show off your artistic skills.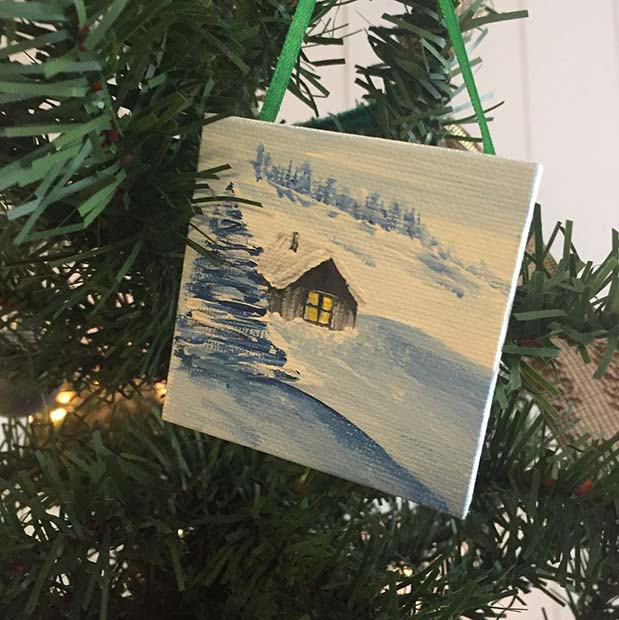 Source: @buyahousebuildahome
13. CUTE RUDOLPH DECORATION
Do you knit? If so this is an idea for you. The next ornament is a knitted Rudolph head. You could hang these on trees, make a garland or just use them as decoration around the home. Maybe even give some out as little gifts. Even if you haven't knitted before you could give these a go, there are plenty of tutorials and patterns available online.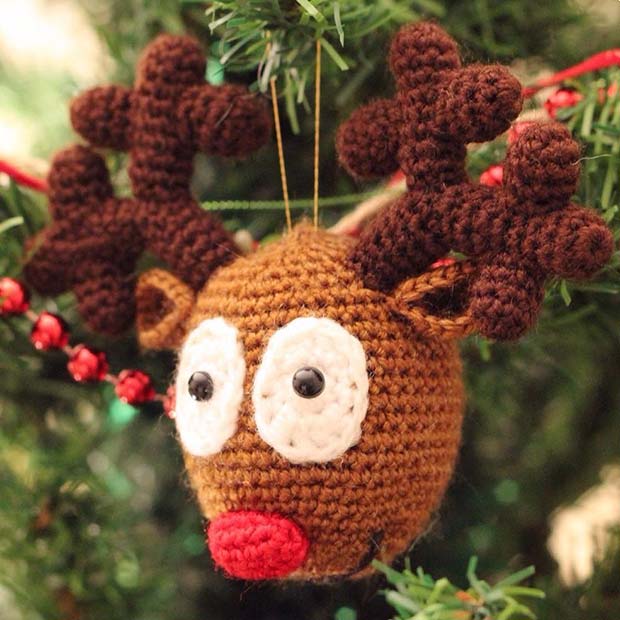 Source: @buddyrumi
14. WOODEN TREE DECORATIONS
Our next pick is another wooden idea. Instead of larger wooden decorations these are smaller tree ornaments. You can buy plain wooden decorations like these and personalize them yourself. You could design some with names, initials, Christmas quotes and more.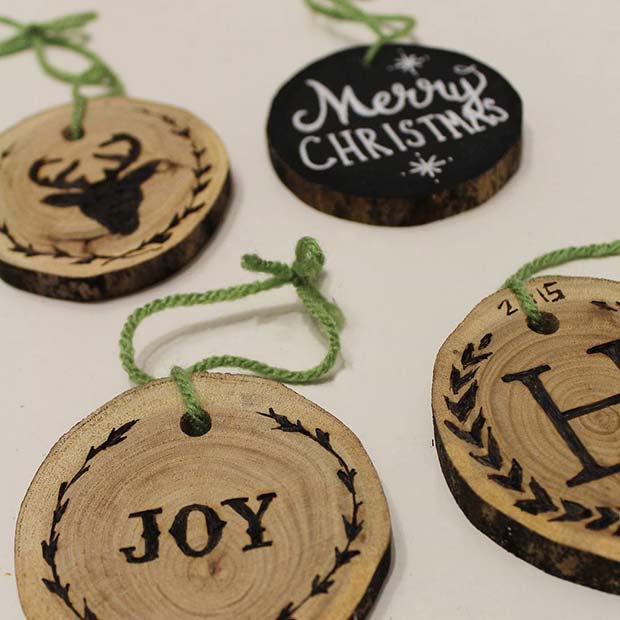 Source: @rowandharlow
15. STAR ORNAMENT
Liked the star decoration from earlier in the post? Then you may like our next idea to. Instead of a small star this one is a large star with lights around it. The lights just give the star that extra special festive finishing touch. You could hang something like this anywhere around the house.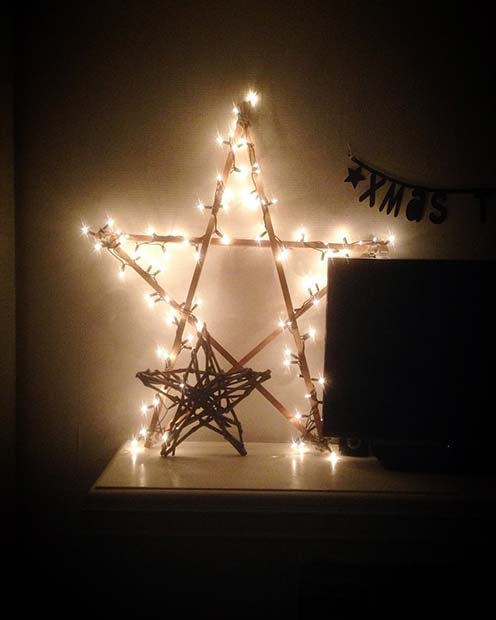 Source: @denepeen
16. PERSONALIZED TREE DECORATIONS
Next we have a personalized tree decoration idea. These heart ornaments have been personalized with family members names. These are great crafts as they can be given to family and friends as gifts. You could also make one for each person in the house. Another idea would be add the names to the tree of the people that cannot be with us at Christmas.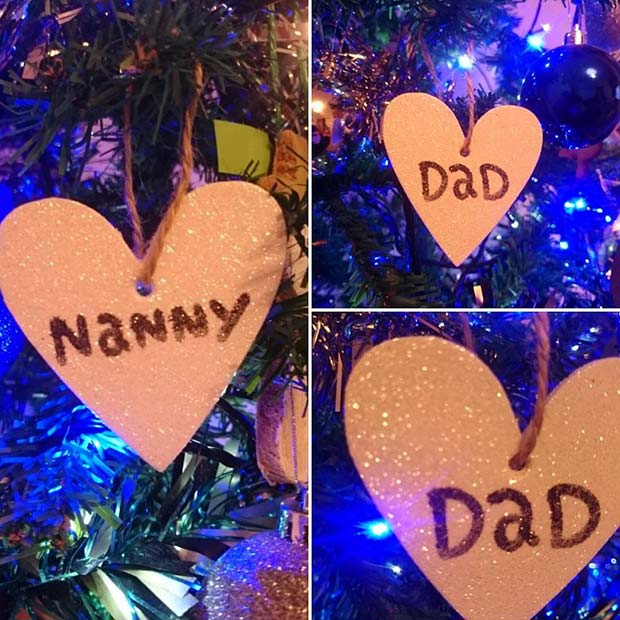 Source: @asuffolkdad
17. KEY ORNAMENT
Here is another print ornament idea. Instead of a hand print or paw print this one is of a key. This is such a cute idea if you have just moved into a new house. The ornament featured has the date and key print. This is a special and festive way to remember when you moved into your new home and your first Christmas there.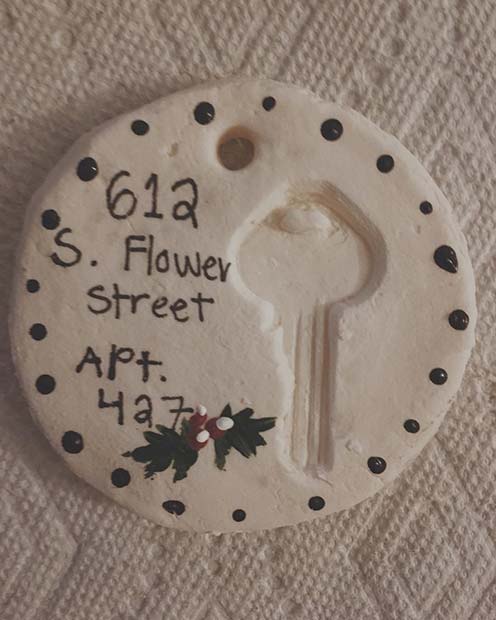 Source: @libbystimpson
18. DIY BUTTON TREE DECORATIONS
Our next idea shows how to use buttons to make Christmas decorations. There are three decorations that include a snowman, wreath and snowflake. These would look beautiful on any tree. This is a great idea for people who like sewing as you can bring your hobby into the festive decorating.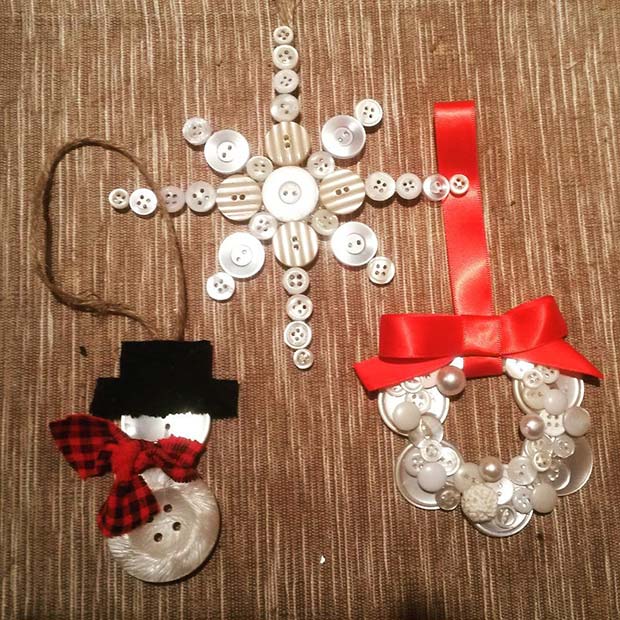 Source: @jogielei
19. SNOWMAN TREE DECORATIONS
Nothing says Christmas like cute snowmen. These snowmen have been painted onto plain wooden ornaments. This is a DIY idea that could be done with the whole family. Each person could create a different face. These would make fun and festive tree decorations.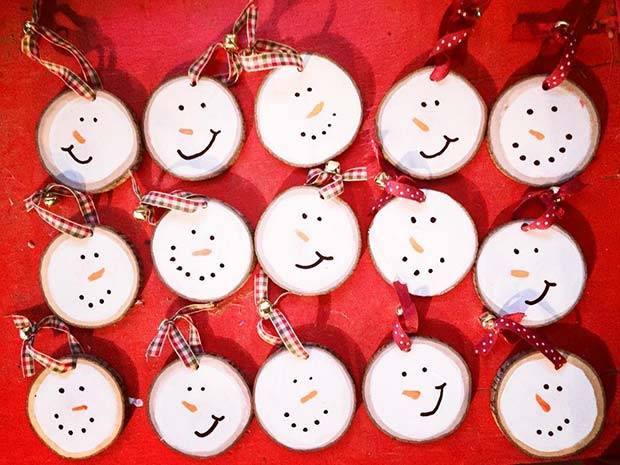 Source: @doemarianne
20. PISTACHIO BAUBLES
You can get baubles that can be filled with anything you like, from glitter to fake snow. This next idea shows you how you can be unique. The baubles are filled with nuts. These would look so cute on the tree and you can also have a snack. It's a win-win. You could also give these out to family and friends to.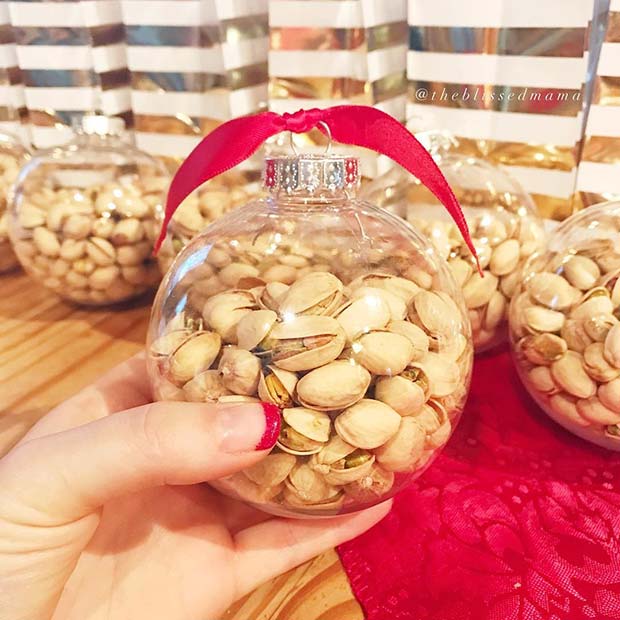 Source: @theblissedmama
21. SNOWMAN BOTTLES
Last on our list are these snowmen bottles. All you will need are some bottles and paint. Just paint any design you like, let it dry and place them around your home. You could paint any festive design on your bottles. We like this idea because you can recycle to!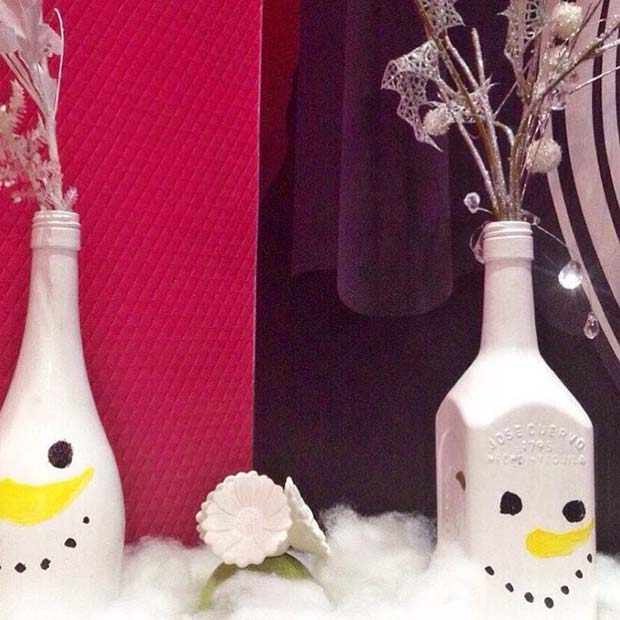 Source: @aru.satudivisi
We hope you have found some festive and fun craft ideas!