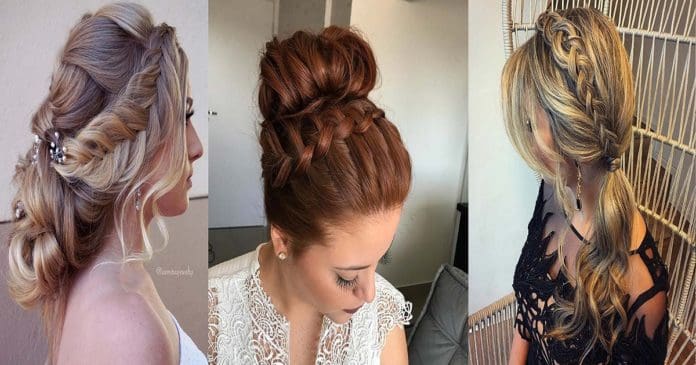 Looking for the perfect hairstyle for prom? Then you are in the right place! We know choosing a hairstyle isn't easy! You need a hairdo that suits your dress and your prom vibe. To help you get inspired we have found 23 of the most stunning prom hair ideas. There is something for everyone with long hair, short hair or anything in-between. Any of the hairstyles featured will give you a prom look that will wow.
1. BEAUTIFUL FRENCH BRAID AND BUN
Our first hairstyle is this beautiful bun with a French braid. A braid like this gives the classic bun a trendy and modern update. You can use this technique with a sleek bun or with a relaxed one. High braided buns like this would be perfect for a dress that has a neckline or detailing that you want to show off.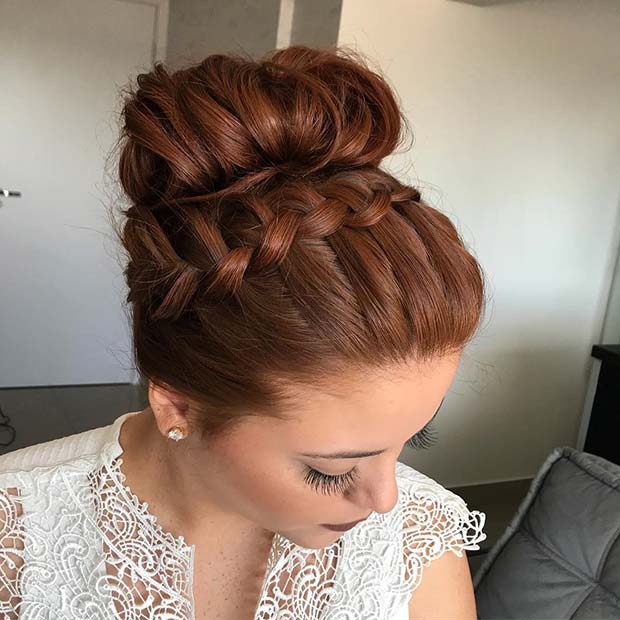 Source: @adnomoreira
2. GLAM PONYTAIL
Ponytails can be super glamorous. This ponytail has relaxed curls and loose hair at the front. The curls give the overall style a pretty and romantic look. You can recreate this hairstyle as a low ponytail or a high one and maybe even accessorize. Consider adding a pretty hair tie or even some small flowers.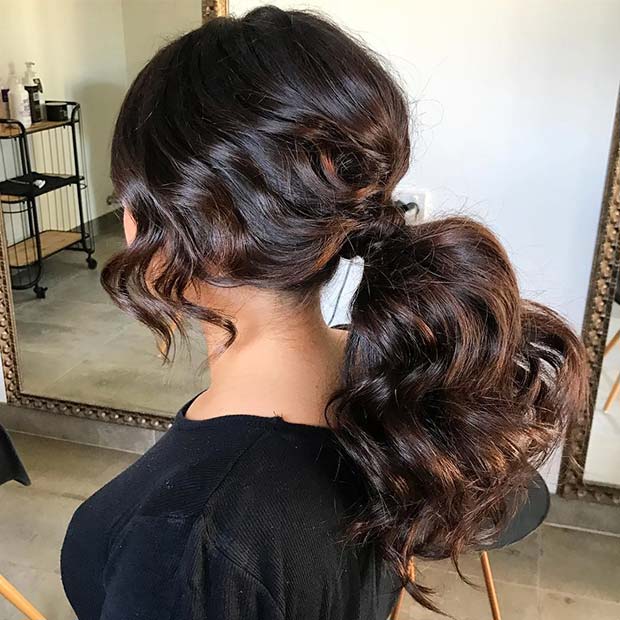 Source: @vdhair
3. HALF-UP HAIRSTYLE WITH A LOOSE BRAID
Next, we have a gorgeous half-up hairstyle. The updo features large side braids that are loose and that meet at the back of the head. There is also some lift in the hair at the top. This hairstyle is perfect for the ladies who want a trendy but elegant look.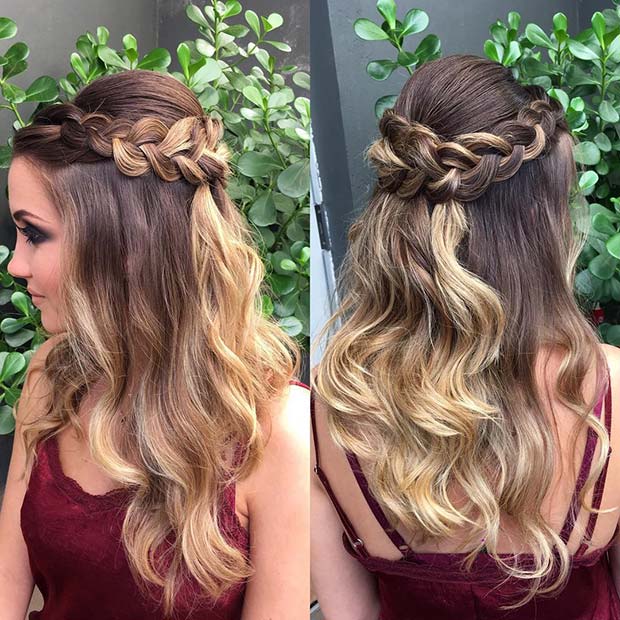 Source: @adnomoreira
4. STUNNING ACCESSORIZED UPDO
Prom is a very special occasion, so it is the perfect time to add some accessories to your hair. This stunning updo features loose braids and has beautiful pearl accessories throughout. You could recreate something similar with sparkly hairpieces to. An updo like this will suit a delicate dress in a soft color.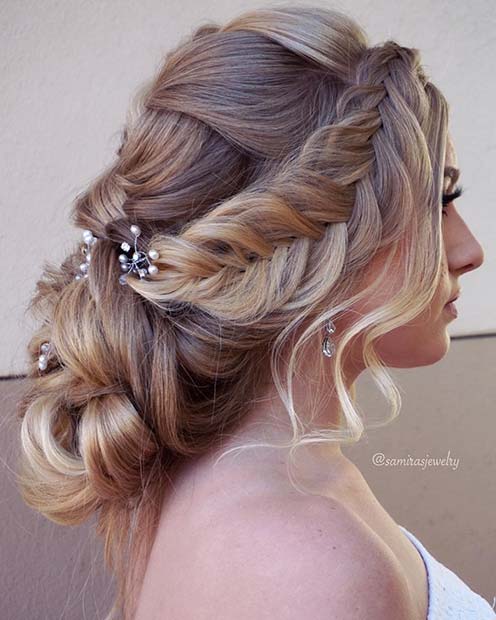 Source: @samirasjewelry
5. TRENDY SIDE BRAID PROM HAIR IDEA
You can still wear your trendy braids and have an elegant hairstyle to. Here we have an idea that features a side braid with the rest of the hair down. With this style you get the best of both worlds. You could curl or straighten the rest of your hair, waves would look beautiful too.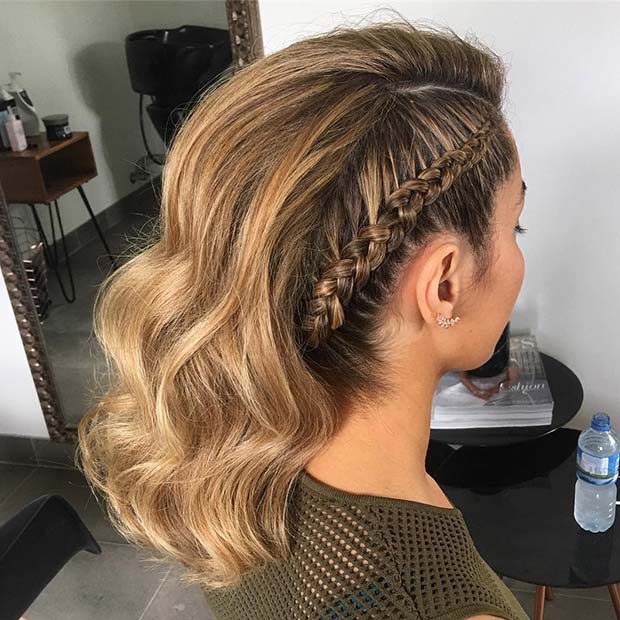 Source: @vdhair
6. CHIC HALF-UP, HALF-DOWN STYLE
If you want a simple and stylish hairstyle then this next idea could be for you. It is a half-up updo with volume. The hair looks retro and has a beehive vibe. You could wear this hairdo with an elegant dress or with a fun shorter dress for a 60's look.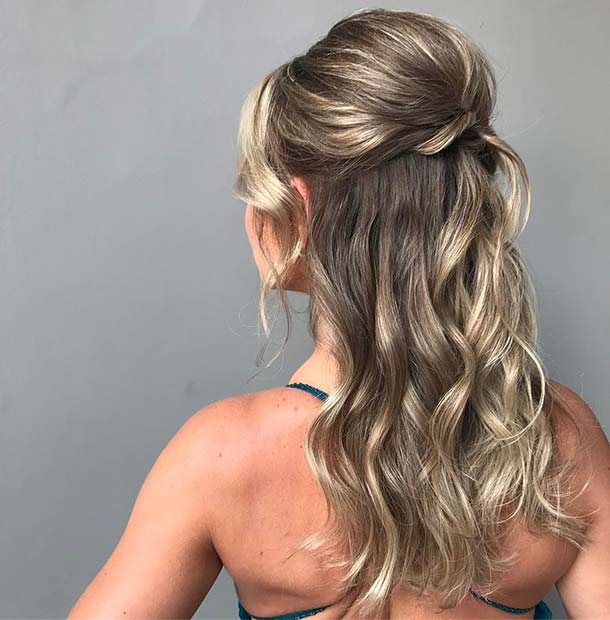 Source: @rodriguezalvesoficial
7. BRAIDED BUN
Braided buns are very popular hairstyles for the prom and we can see why! Our next hairstyle is beautiful. It features a loose Dutch side braid that wraps around into a bun. Anyone would suit this gorgeous updo. You could even add little hair gems to the braid too!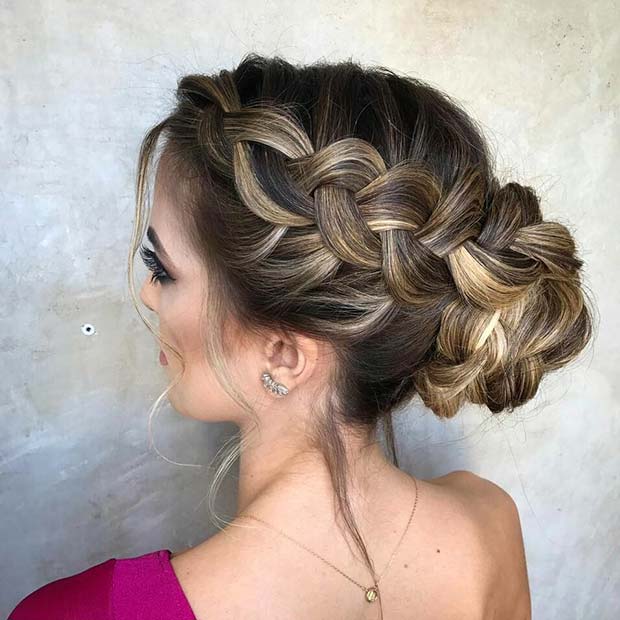 Source: @franaireshair
8. STUNNING UPDO WITH CURLS
Our next hair idea will wow! Here we have a stunning curled side hairstyle. We love this style because it will make a statement, this is the kind of updo that gives everyone hair envy. You could wear hair like this with any dress, but it is perfect for showing off beautiful necklines and detailing.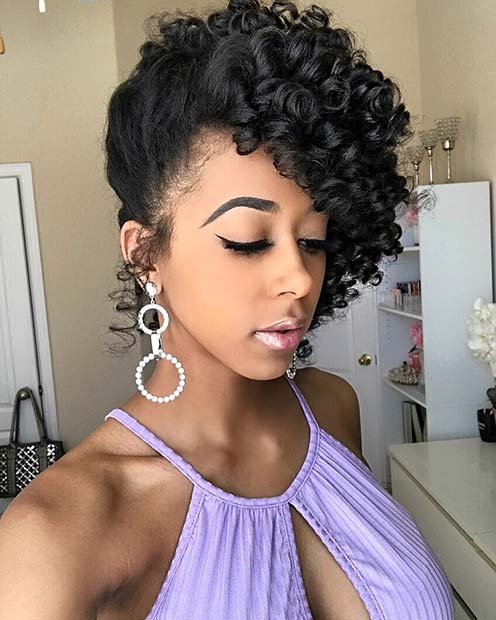 Source: @markele.dejanae
9. STYLISH MULTI BRAID LOOK
Looking for a trendy and edgy hairstyle? Then this could be for you! Here we have a ponytail that features multi braids. The braids are all loose and relaxed. This is a great choice for anyone who wants a unique look that stands out from the crowd.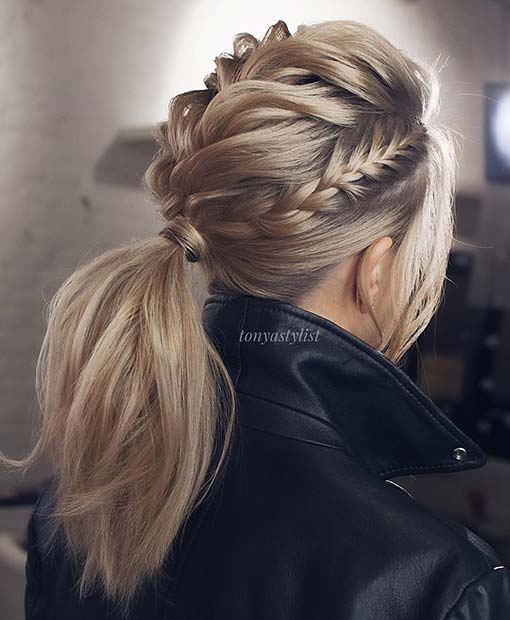 Source: @tonyastylist
10. LOOSE CURLS AND TWISTS
Next, we have a gorgeous hairstyle with curls and twists. We love this hair idea because it is simple but beautiful. You could recreate this look with straight hair or with tighter curls. It would also suit any dress, makeup and jewelry. Any hair length could wear this look too.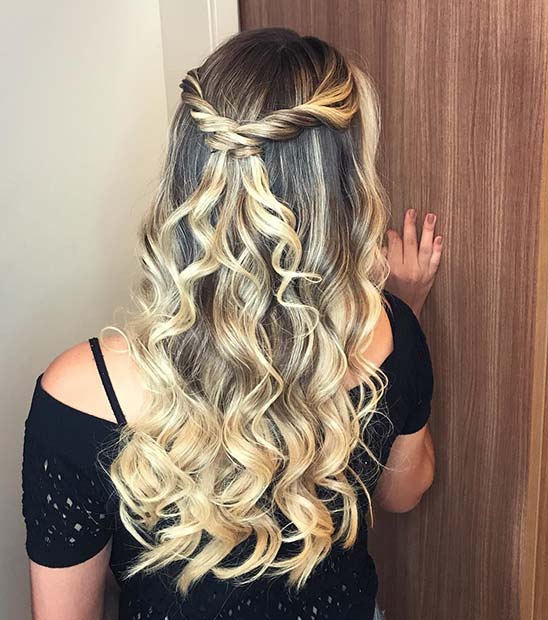 Source: @adnomoreira
11. ELEGANT BUN
If you want a classic prom look then choose a bun like this one. It is chic, pretty and elegant. With a bun like this you can wear it in a few different ways. Maybe try a high bun or keep it low like this. It is a hairstyle that is guaranteed to look amazing with your dress as it suits everybody and any style.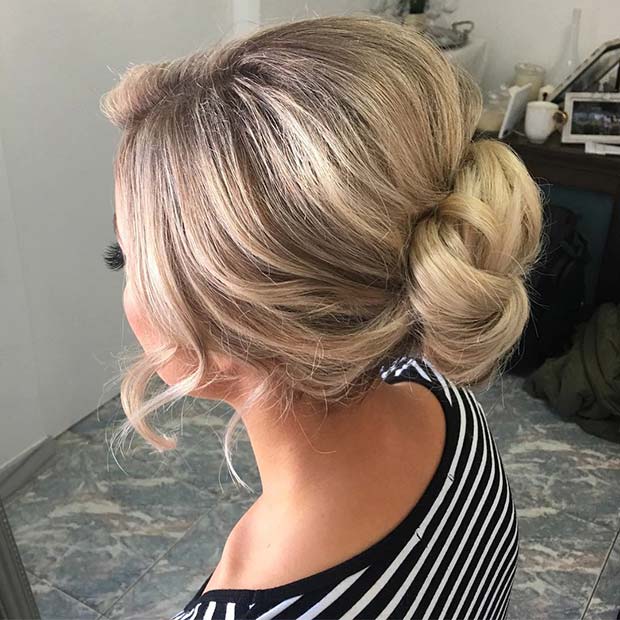 Source: @vdhair
12. VINTAGE GLAMOUR PROM HAIR IDEA
Bring some vintage glamour to your prom with our next hairstyle. This updo is half-up and half-down with a beautiful braid. It has volume at the top which gives it a beehive look. The rest of the hair is curled. This is a stunning hairstyle and it would look great with a vintage style dress or a long floaty dress.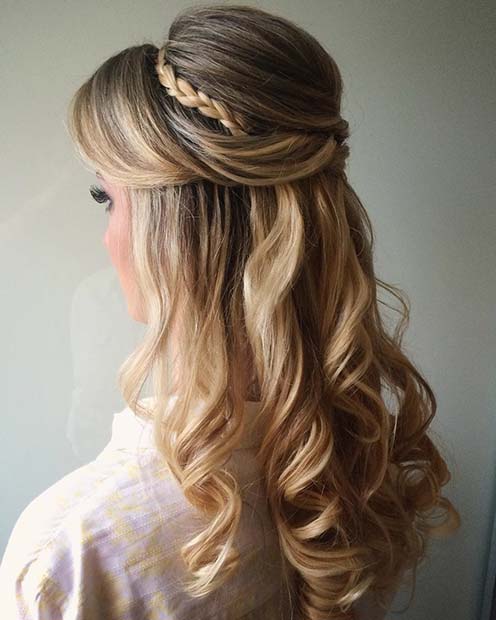 Source: @brunakoficial
13. CUTE PONYTAIL WITH FISHTAIL BRAID
Like the idea of wearing a ponytail? Then you might like our next hair pick. This ponytail features twists at the top and fishtail braid running through. The addition of a braid and twists gives the classic ponytail a glam update for the prom. You could leave out the twists and just use the braid for an alternative look.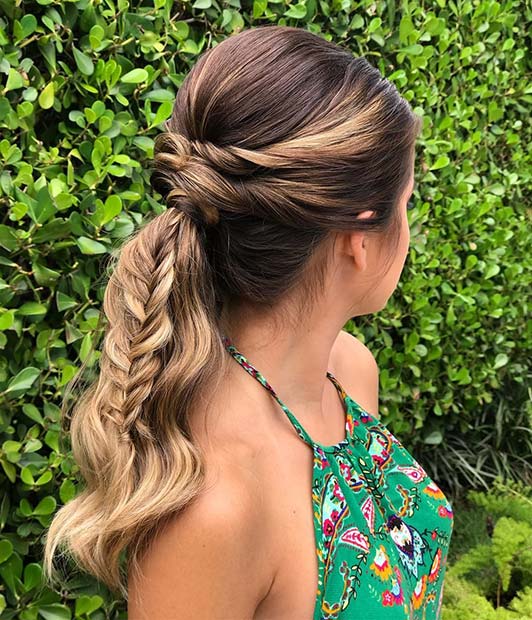 Source: @adnomoreira
14. TWISTS AND BRAIDS HALF UPDO
Next, we have another hairstyle that features twists. This idea features a half-up style that has been twisted and there are also two small braids. The overall look is very relaxed but will look super cute with a glam dress. A hairstyle like this is perfect for anyone and it would also be great for the ladies with a bohemian vibe.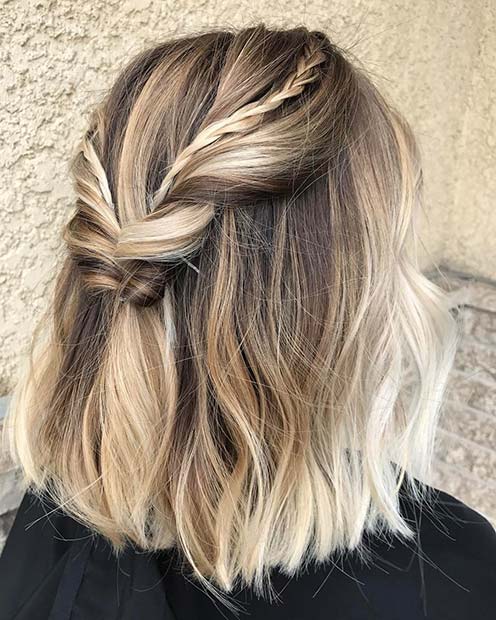 Source: @mallorymeganhair
15. BRAIDED UPDO WITH A SPARKLING-ACCESSORY
Our next hair idea is a beautiful updo with a sparkly accessory. The updo features multiple braids and a low bun. This hairstyle would look beautiful on its own but as it is a special occasion make the most of it and add some sparkle. You could add a hair accessory to other bun hairstyles too.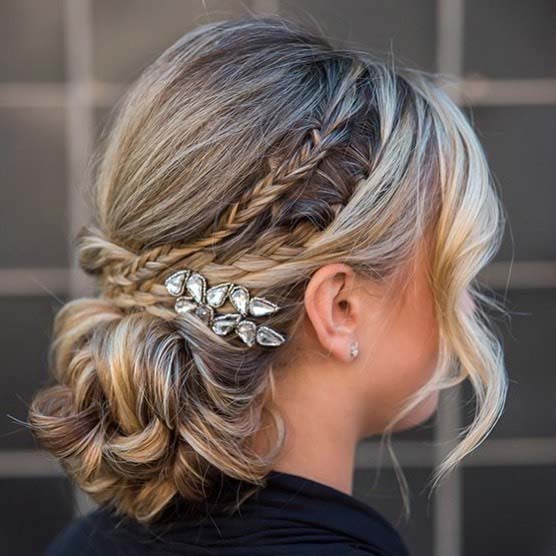 Source: @annette_updo_artist
16. BEAUTIFUL MULTI BRAIDED HAIR IDEA
A great way to jazz up your hair is with braids. Braids can be styled in so many ways, this one uses two different braids to create an elegant hairstyle. There are two fishtail braids and then one large braid at the bottom of the hair. We love the combination as it is glam and perfect for prom. Any dress and makeup style would suit this look.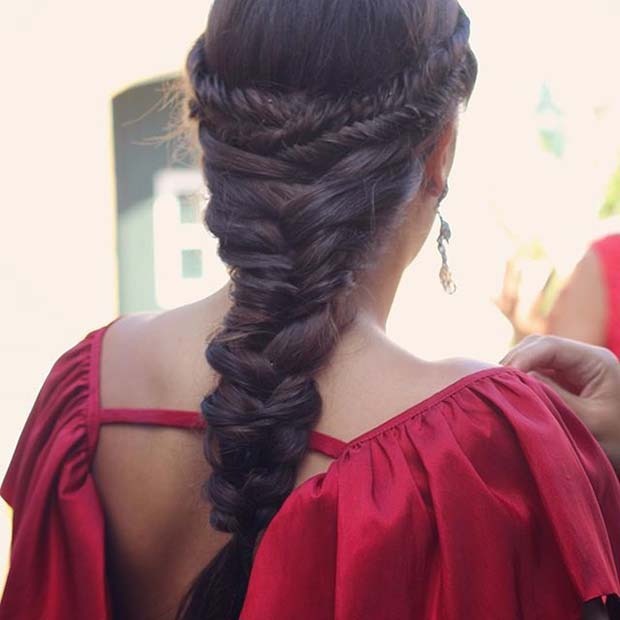 Source: @goldenlockshairstyling
17. PRETTY HALF-UP PROM HAIRSTYLE
Next, we have a beautiful half-up hairstyle. The hair has elegant twists at the top that create a beehive look and the rest of the hair is curled. A hairstyle like this is perfect for any prom queen. You could even add some hair gems or some small braids to make the hairstyle unique.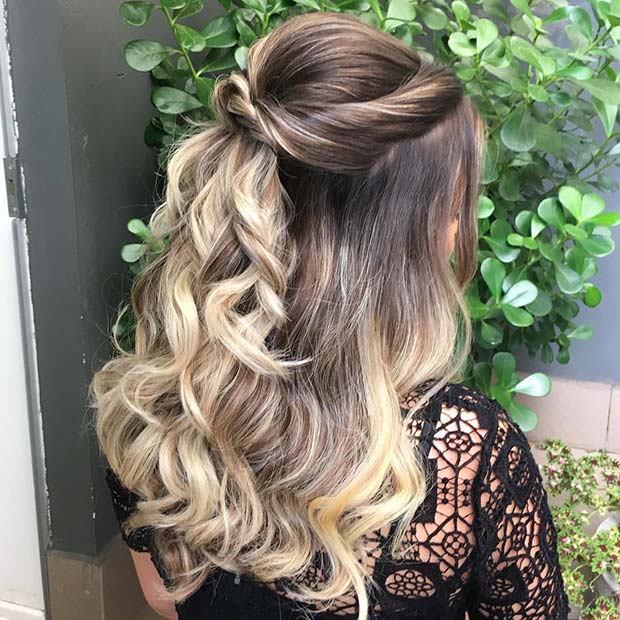 Source: @adnomoreira
18. CUTE DOUBLE BRAIDED UPDO
If you like braided hairstyles then you will love our next idea. Here we have double braids that meet to create a bun. This hairstyle is simple, stylish and will suit everyone. We love this hairdo because it will look gorgeous with sparkly earrings and a glam dress. It is a fun and cute hairstyle!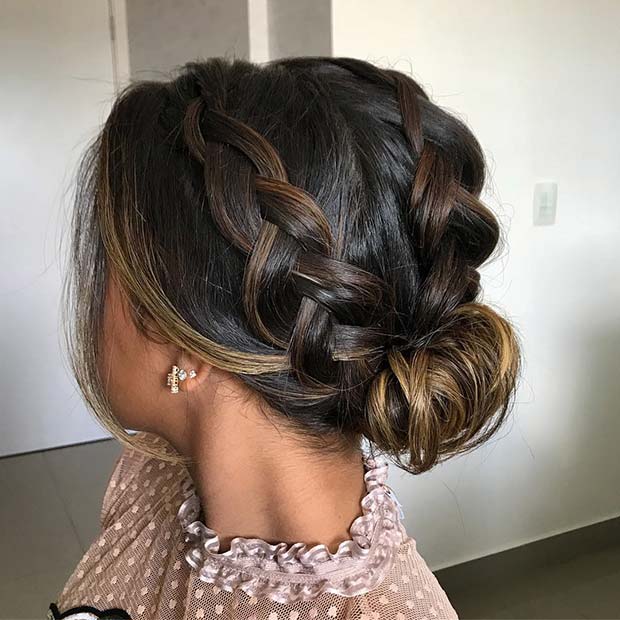 Source: @adnomoreira
19. SIDE BRAID WITH LOOSE CURLS
Our next idea features a beautiful side braid. The braid is very neat but still has a relaxed vibe and the rest of the hair is curled. This is an effortlessly stunning look and will suit any hair length, makeup and dress. You could also style the hair straight or wavy with the braid too.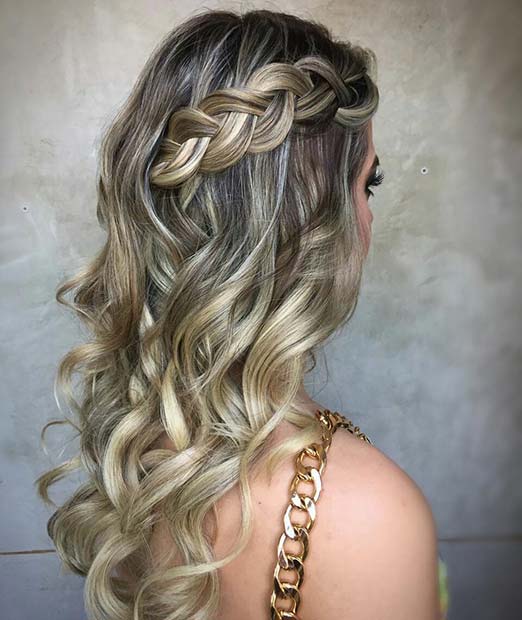 Source: @franaireshair
20. STYLISH PONYTAIL WITH TWISTS
Want a trendy look for prom? Then this hairstyle is the way to do it. The hair has multiple twists at the top and then turns into a beautiful ponytail. We love this idea because it shows how you can create unique and stylish looks with twists.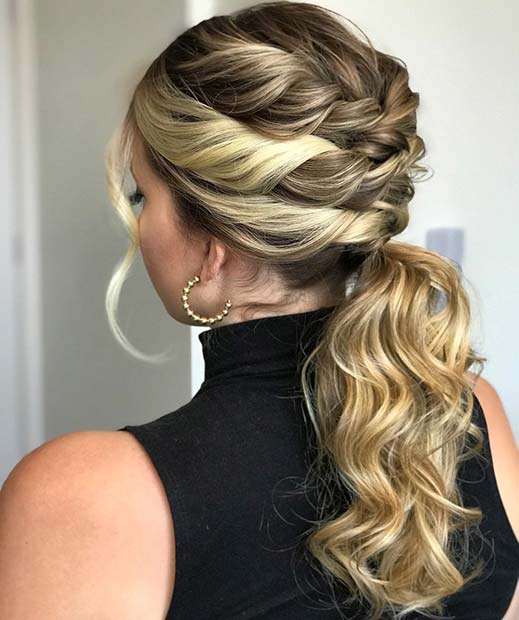 Source: @adnomoreira
21. SIDE PONYTAIL WITH BRAID
Last on our list is this gorgeous side ponytail with a side braid. A side ponytail is a beautiful alternative to wearing it the classic way. You could wear an elegant side ponytail with or without the braid. The braid gives the look a trendy twist. An updo like this will suit everyone.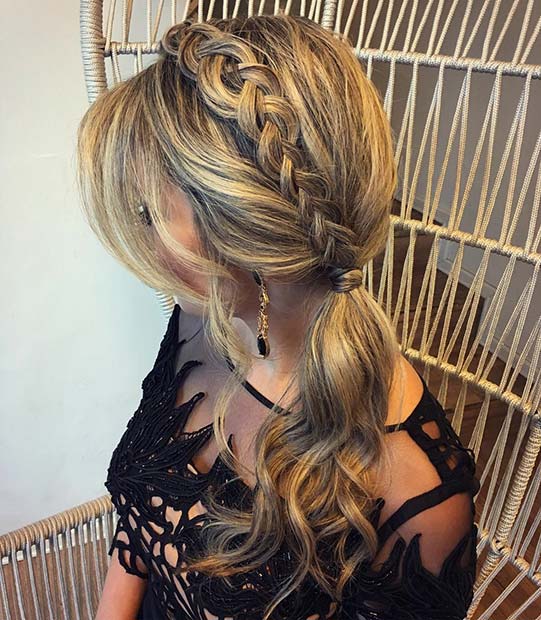 Source: @adnomoreira
We hope you have found the perfect hairstyle for prom!