Messy Inverted Bob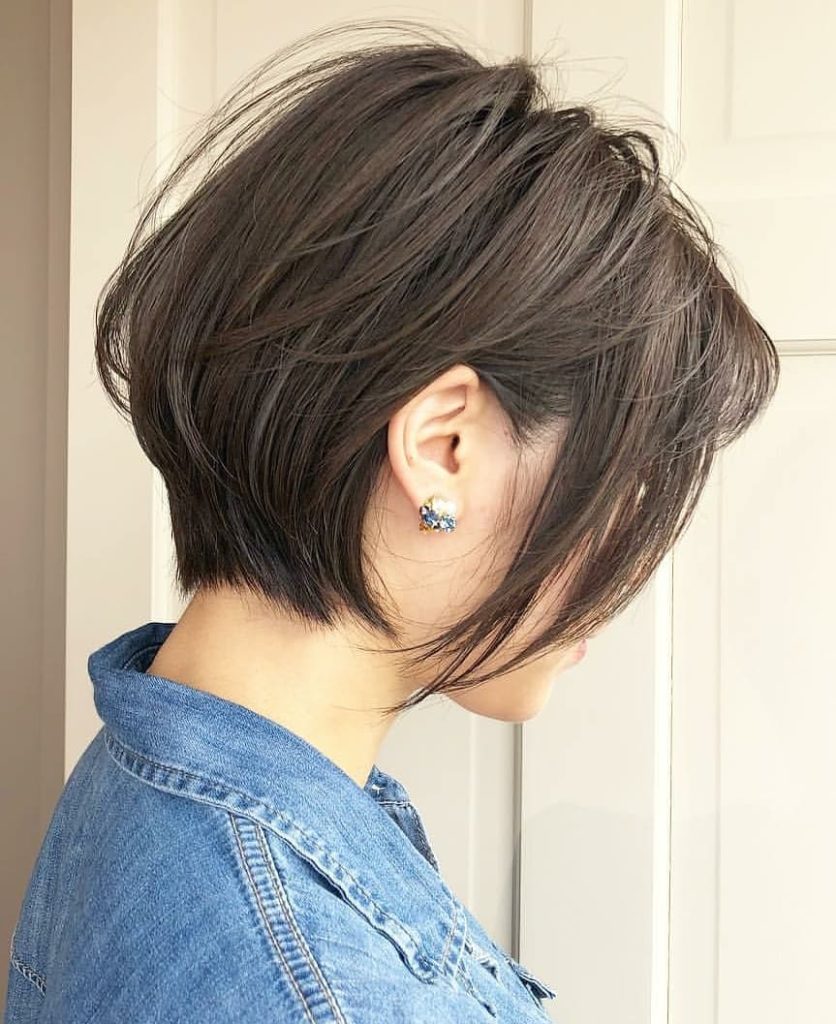 The messy Inverted bob style is beautiful and looks very different. Hair is short at the back and slightly longer at the front. There is thick hair at the top and very short tapered hair at the back. There are many different layers that create volume and increase the thickness of the hair. This suits best on the round and oval shape face. if you have thick hair, you can easily go for this bob style. Messy inverted bob is very popular and gives a relaxing look. You don't have to go to salons. You can style it on your own it looks good on all hair types. So if you think of giving a drastic change to your look, this messy inverted bob is best for you.
Peppy Bob Hairstyle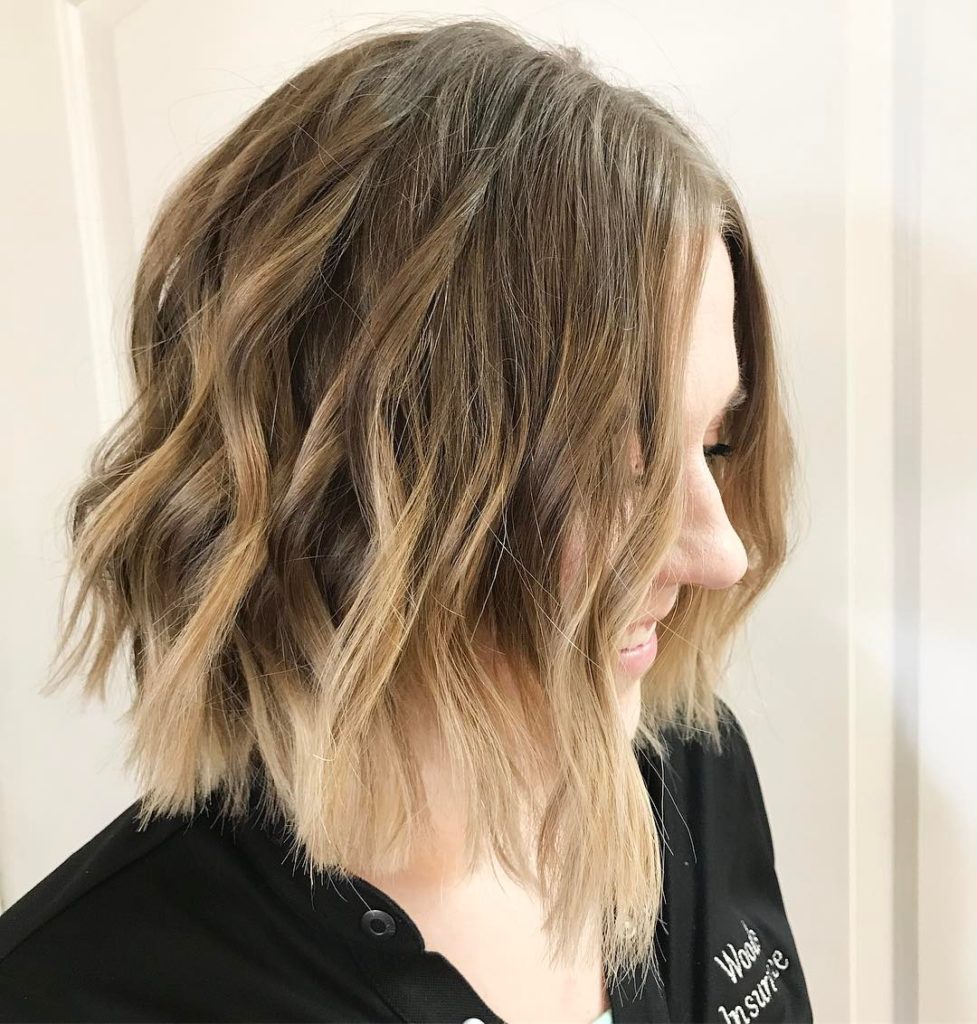 The hair in this pep bob hairstyle gives a messy appearance. The haircut is medium up to the neck, and the hair is blonde; it goes from the dark to light, and as it reaches the ends, it starts to fade and becomes even more light. The hair is parted from the middle and give an oblong shape face. This hairstyle can be carried on round, oval, elongated, or square-shaped faces. This pep bob hairstyle is in trend for the past few years and is also in the current trend. This hairstyle goes well with all skin tones. You can wear this bob style on any partywear or any formal dress. This bob hairstyle looks very amazing and sober if you carry it.
Blonde Long Feathered Bob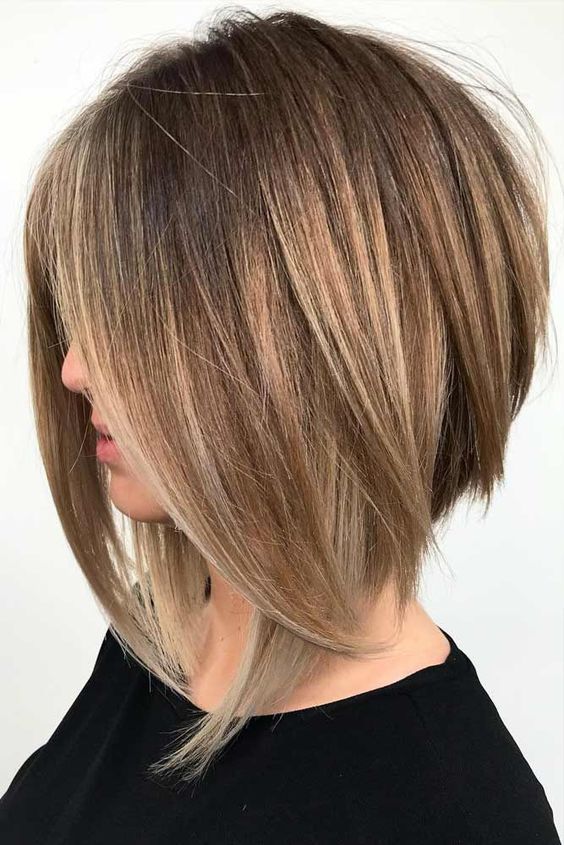 This is a medium well-layered bob parted from the middle and is up to neck length. The layers in bob haircut are uneven but provide a layer in the hair. And these uneven layers gives the best appearance. This haircut works great on thick hair, so if you have thin hair, I would recommend that you not go for this bob cut. The long hair from the sides covers the face and pops out the eyes and lips. It is one of the famous hairstyles, and suits are types of face shapes. This is a trending and fabulous hairstyle which you can carry. So this season goes for this blonde bob with a long feathered bob.
Black Sleek Bob Haircut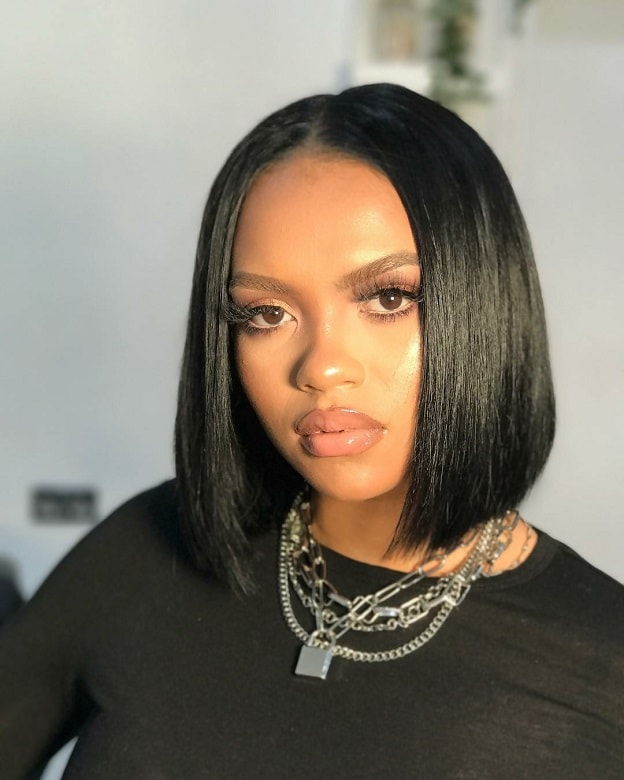 This sleek short bob is in trend for the past few years, and it never goes out of style. This is a simple classic weave hairstyle love by all age group women. This is best if you want to keep a simple and relaxed look. This is a medium straight hairstyle above the shoulder. Therefore it will work great on straight hair, and if your hair is curly, you can use a hair straightener for the sleek finish, and for maintaining your hair for a longer period, you can apply hair spray or creams on your hair. It is mostly done on an oval or elongated shape face. It gives a beautifully simple look and is easy to wear it.
Curly Wedge Haircut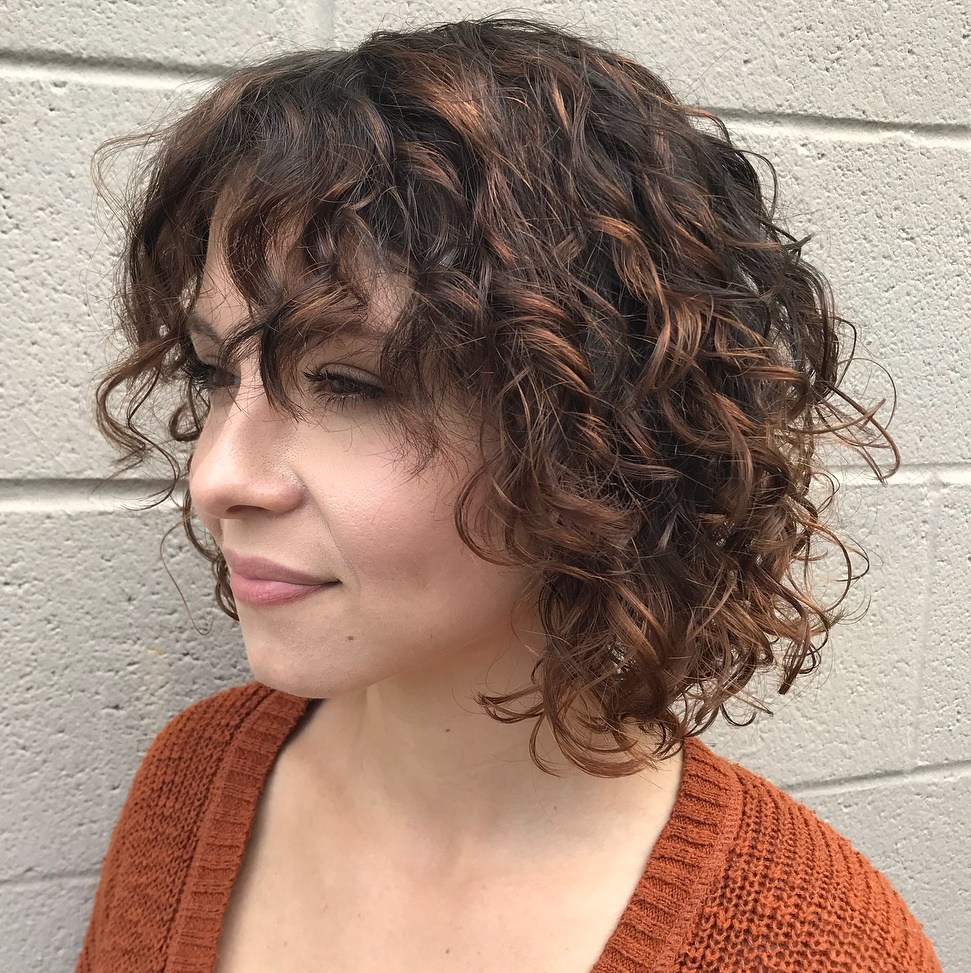 Curly Wedge bob styles give you brightening highlights and a messy look. The hair length is up to the neck, and the curly bangs give a super amazing look. To add shine and maintain curliness, you can use hair spray. This curly wedge haircut suits best on the round chubby face. The highlight on the curls gives a bright shiny luster. It goes well with all skin tones. It is fabulous for curly hair, but you can go for iron curling if you don't have naturally curly hair. This is a fun-loving hairstyle and gives a very cute bubbly look.
Short Black Bob Haircut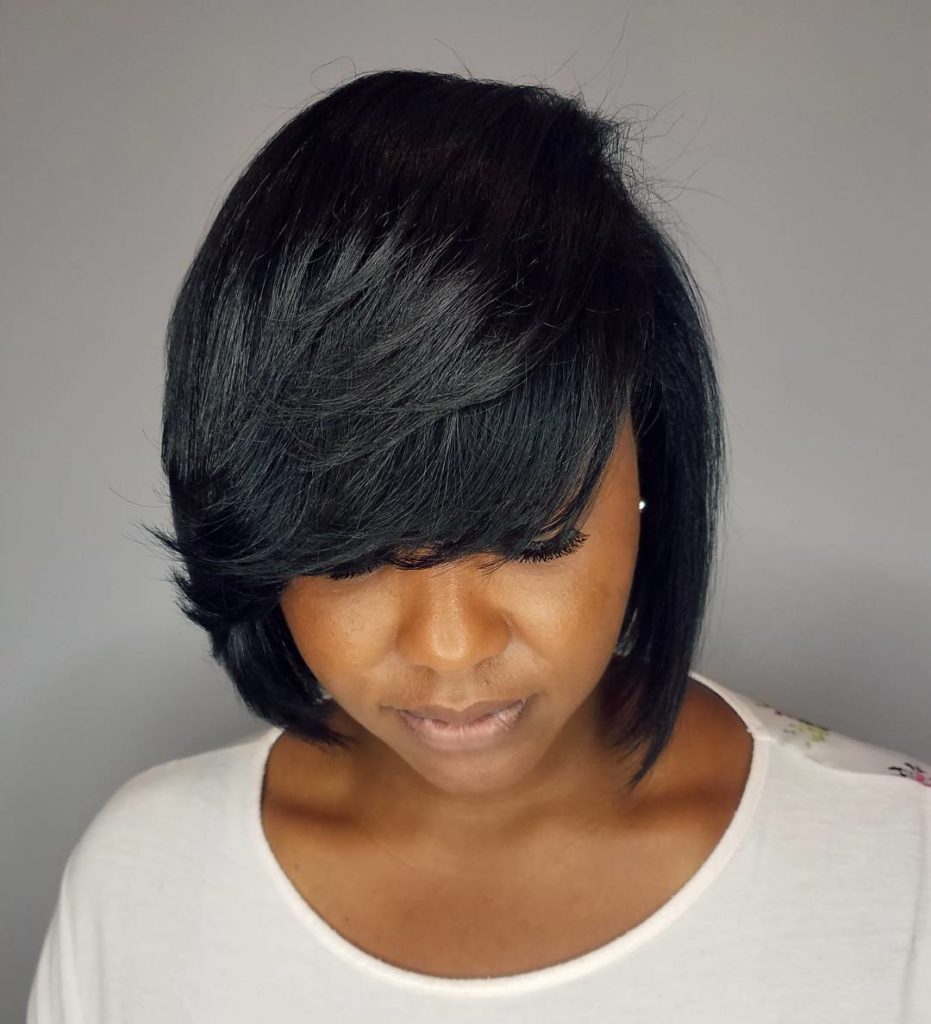 Short black bob hairstyle is a new hairstyle which is getting trendy and is mostly done by women with dark tones. The ends of this hairstyle are curved inward, and the length of the hair is up to the ear. It appears as your ears get covered by your hair. The thick and long bangs in the front make it look more stunning. The length of the bangs is up to the eyes. It is done on straight hair and suits all face types. It gives you a professional look, and for maintaining this short black bob haircut for a longer time, you can use hair spray. It is not for curly hair, but if you want it on your curly hair, you can use a hair straightener before styling your hair. This hairstyle is best for working-class women.
Sexy Wavy Short Hairstyle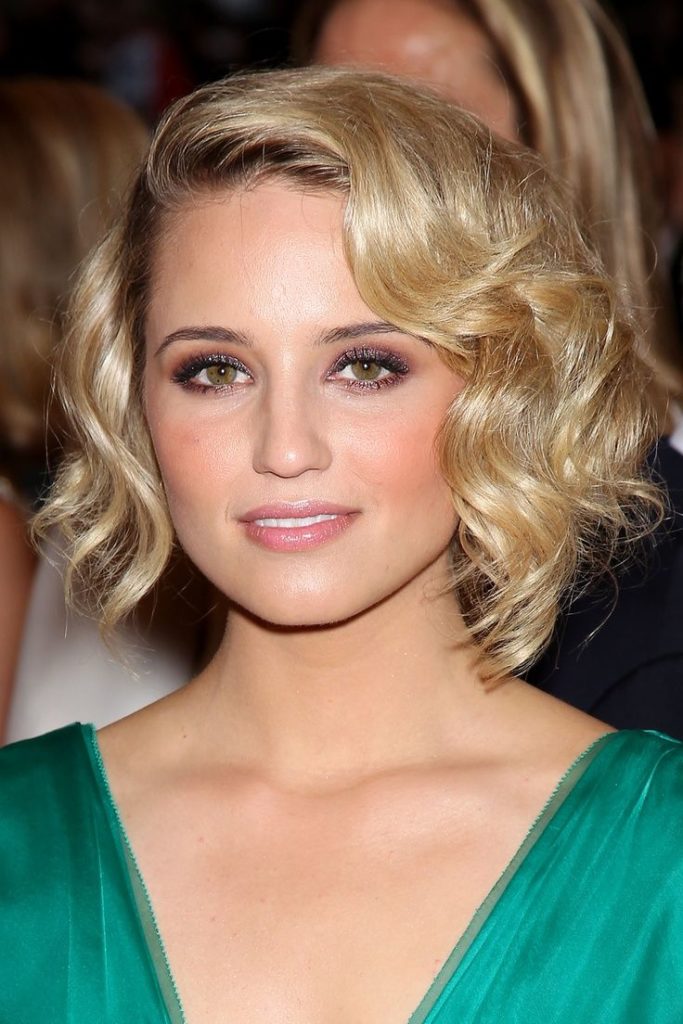 This pretty waved hairstyle is versatile, and the glossy golden blonde is just amazing. Recently, an American actress Dianna Agron carried this hairstyle, and after that, it became more popular. The hair is slightly layered at the lowered ends, and the waves are contemporary. These waves create volume at the side, and there is a pretty side fringe on the forehead. This hairstyle is great for medium hair, and it needs thick hair for styling. This is a formal hairstyle and looks amazing and attractive if you want to go with this. These fringes look cute and enhance their personalities.
Sweet Choppy Bob Hairstyle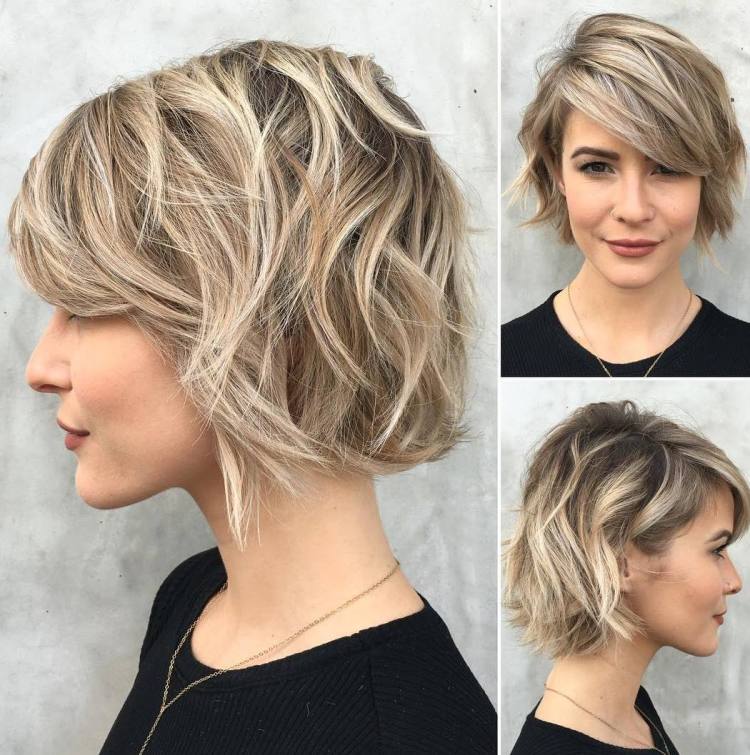 The right choice for you to try something new. This short, sweet choppy hairstyle with side bangs looks very attractive. It gives a messy and cute look. The hair has many short layers. This hairstyle is very interesting, and the lowest care is needed. This hairstyle is easy to maintain and is one of the quick styles. It is best for all hair types and suits mostly the elongated and square face shapes. The hair is a golden blonde with a dark base and looks very amazing on the one who carries it. If you don't have much time for styling your hair, you can carry this easy and quick hairstyle.
Thick Bob Haircut
Short thick bob is for thick hair and is of low maintenance. The hairstyle is very cute and of a medium length, i.e., up to the neck. The hair is black and mostly suits on round shape face; it highlights the face and looks great on the light skin tones. This is a versatile hairstyle since it looks very simple and cute. This is one of the popular looks and is loved by young girls and women. For maintaining the hair texture for a long period, you can use hair spray. This is best for both college girls and working-class women.
Bob Hairstyle for Fine Hair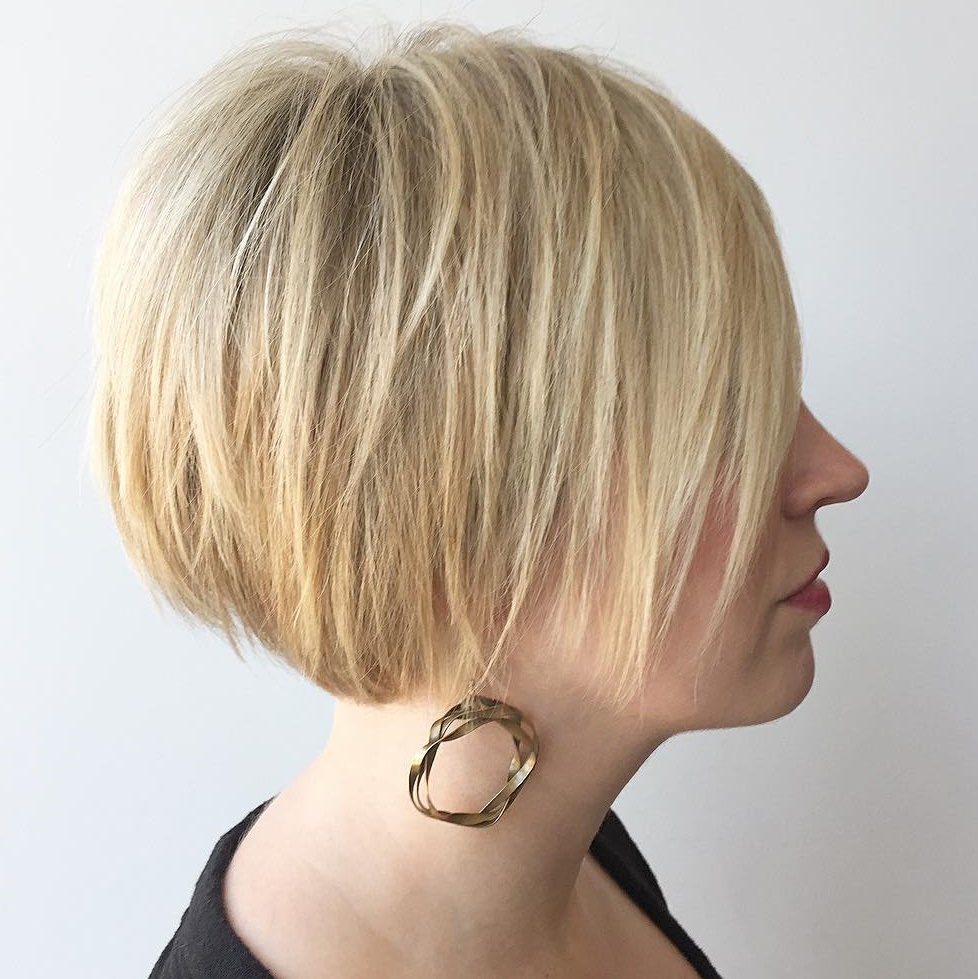 This bob hairstyle is usually done on thin hair. The hair at the back is chopped in short it is also called an undercut short style. It looks great on the blonde hair and gives you a unique look. So if you love experimenting with your hair, this hairstyle is only for you. This hairstyle is very different, and you may use hair spray for providing shine and volume in your hair. This is one of the easy and trendy hairstyles to go with. This undercut version will give you a fun-loving look. So if you want to stand out from the crowd, you must wear this bob hairstyle.
Wavy Bob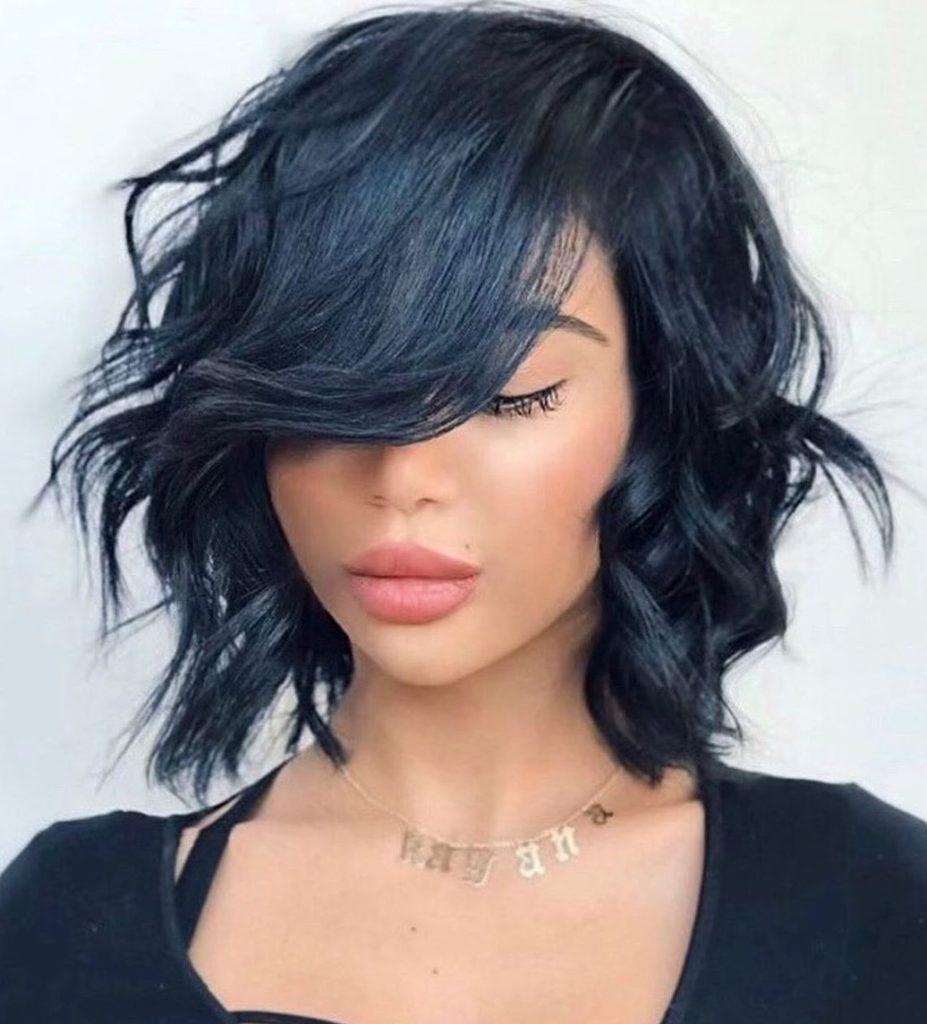 This hairstyle shows a very wide range, i.e., from shoulder length to short crops. This hairstyle has curls and side-swept curly fringe at the front. The fringe helps in smoothing down the cheekbones, jawlines, and chin. The hair looks wavy and gives a beautiful and amazing look to you. The style suits oval or elongated shape faces and is best for curly hair. Though this hairstyle is not long-lasting, if you want to maintain it for a longer period, you can use hair spray or visit your hairstylist for some tips. This wavy bob will give you a sassy and classy look, so go for this.
So go through all these hairstyles and choose the one which looks best on you. You can also consult with your hairstylist about the hairstyle, which can fit your personality and enhances your look.