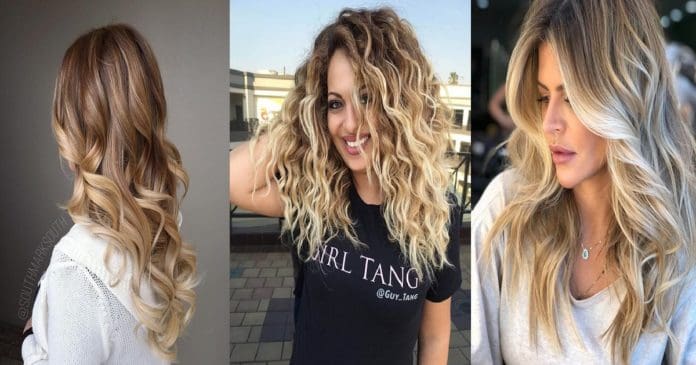 Highlights can certainly be a fun way to spice up your hair, and balayage hairstyles, in particular, can give your 'do a soft, natural look while still adding a new dimension of color. Many of us get bored with our hair color but don't want to erase it completely. Highlights can be a fun way to add some dimension to your hair color, but what if you don't want thick, chunky, noticeable streaks? What if you are just looking for cute easy hairstyles that find a way to enhance your color but still maintain a natural quality? Balayage hairstyles are a highlighting technique that accomplishes exactly that. Check out these 24 Balayage hairstyles below for ideas for your next cute hair colors:
1) Easy and Flirty Blonde Balayage Hairstyle
Looking for new fun hair ideas? These highlights heavily emphasize the blonde. This fun, beach-blonde color is introduced slowly out of dark brown roots. Mixed with darker highlights at the bottom, this is a fun summer look for anyone wanting the oxymoronic mix of subtlety and drama all at once.
2) Beautiful and Golden
For anyone who wants to maintain dark hair with highlights, this is a luscious combination of dark, golden, and nearly white blonde. This mix of balayage highlights is a little more reminiscent of the ombre style – it fades darker hair into a darker blonde towards the top and down into a generally lighter hue at the bottom.
3) Caramel-to-Blonde Flowing Balayage Beauty
When you have longer hair, a balayage style of hair highlights can be even more beautifully emphasized. With coloring specifically like this style, there is plenty of room on a head of long hair to allow each shade to really shine. The caramel provides a flawless and simple transition between the dark roots and undertones and the platinum blonde highlights.
4) Frosty Blonde Textured Balayage Hair Highlights
Balayage can be so versatile in that you can introduce a wide variety of different shades into your hair and it will still look natural. In this style, there are much lighter shades of blonde that make for a more wintry look. Contrasted with the darker shades, this style is beautifully textured.
5) Soft-and-Subtle Blonde Hair
For a much more subtle balayage look that is still a unique hair color, this is a beautiful option. The blonde highlights are left a little darker to allow for a more easy look. There are so many shades blending seamlessly together to form a look so subtly textured that it is simply elegant. If you want to mix up your hair color without being bold, this is a simple and gorgeous style.
6) Bold Ombre Balayage Textured Hairstyle
Sometimes, the style of your color can be both balayage and ombre. The overall tones in this ultra cool look start with a clear dark tone, fading quietly into a bold and beautiful bleach-blonde color. The tips here are pretty much all blonde, but the mixing technique here has the clear sweeping effect that is the signature of the balayage highlight technique.
7) Ombre Balayge Beautiful Princess Locks
As another style containing a mixture of an ombre effect and balayage technique, this bold look is especially beautiful on long hair. As you can see here in this example, adding some curls to this look make it look beautiful and effortless – giving it that flawless princess-like quality we all desire.
8) Flawlessly Fading Blonde Look
This look is a perfect example of the exact definition of balayage – the highlights appear to be perfectly swept through the hair. This look, featuring brown hair with blonde highlights, weaves the blonde in from all points on the head. In the front, the blonde highlights reach all the way up to the top. This is a classic example of the sun-kissed look you can get from balayage style highlights.
9) Full Spectrum Blonde Hair
This look is a way to feature nearly every shade of blonde imaginable in your highlights. Each shade is meticulously placed to give it the signature natural appearance found in balayage highlight styles. Even those with darker hair originally can achieve a beautiful blonde look from this style.
10) Subtle Dark-to-Light Ombre Balayage Highlight
At first glance, it appears as though this is an entirely blonde hairstyle, as it's easy to overlook the small amount of darker hair at the top. This subtlety is cute but also elegant and allows for each shade of blonde to shine through. The darker tones found at the top can still be found throughout as well. They're just so flawlessly blended in that you don't even know it.
11) Effortless Hairstyle for Light Hair
A balayage hair technique can work very well on naturally lighter hair as well. On this style, there is no dramatically darker portion of hair. This blending technique can work well if your hair is naturally on the lighter side but you still want to add the extra texture you get from a balayage style of hair.
12) Blonde Bombshell with Lowlights
In this style, the highlights are prominent enough that it's the lowlights that stand out more. The darker strands woven immaculately throughout the hair elevate the blonde hair to a new level. This would be a very pretty route to go with your hair if you want blonde and want it to look natural.
13) Sunny Winter Frost
For a dramatic change between very dark and very light, this is a fun hairstyle good for any season. The frosty tips match well with an icy winter vibe, but also will shine and glow in the summer sun. The brightness of the blonde only stands out more when blended with the darker lowlights.
14) Golden Sunshine Gradual Bayalage Hairstyle Idea
To provide a softer and more gradual ombre shift between your naturally dark brown and some glowing blonde, take a look at these golden caramel-ly colored highlights swept throughout the hair. This inviting color combination is reminiscent of a perfectly toasted marshmallow – giving us a warm, cozy feeling in a richly unique hair color.
15) Golden Beach Wave
Another classic beachy, sun-kissed look, these classic blonde locks seem to flow endlessly down from darker tones up top. You would never even notice where the shift begins and ends in this style, making it appear your hair was lightened from an entire summer in the sun rather than a day at the salon.
16) All-Natural Blonde Highlights
These highlights are applied such that they sweep through the top layer of hair. Instead of gradually fading in an ombre style effect, these highlights begin from the very top but allow the naturally darker tones to peek through to make for many cute hair colors. Perfect for when you want to be blonde, but you don't want to make it obvious that it's fake.
17) Curly Effect
Adding dimension to your hair color and be particularly successful with curly hair. With your curly hair laying on your face in such a beautifully textured way, it can only be enhanced by the extra dimension that comes from having multiple shades of color. Curl and color can really complement each other!
18) Natural Tow-Head
Kids can have such beautiful white-blonde hair that can sadly fade darker as they get older. Here the balayage highlights are applied with a light blonde shade in such a way that it appears to naturally be that soft, innocent blonde almost as if it never faded away from your childhood head of hair.
19) Gradient Balayage Blonde Highlights
With hair color, sometimes you can have the best of both worlds. This adorable style proves that you can have beautiful platinum blonde and a more subtle golden blonde all at the same time. Each color is swept through a darker natural color for a nice gradient of color.
20) Flirty and Fun Blonde Highlights
Adding your balayage highlights to a shorter bob haircut can have amazing results as well. These frosty tips fading out from a naturally dark color on this shorter 'do gives your overall look a fun and flirty look while still being unique as well as not being too bold.
21) Flirty All Season Balayage Hairstyle
This is another fantastic look that is extremely versatile. The darker highlights have a more golden tone to them, adding a sweet sun-kissed vibe to the style. However, this style also has those great frosty ends that are perfect for anyone looking to spice up their winter hair.
22) Ultra-Textured Summer Blonde Hair
There are a wide variety of blonde shades in this highlighted style. This is an effortlessly textured look that is applied in such a specific way to be perfect for your next summer look. The brighter highlights on the outer layers of your hair allow the golden tones to radiate through – perfectly sun-kissed and effortlessly cool.
23) Polarizing Dark-to-Light Hairstyle Idea
Who says a Balayage style of highlight can't be bold when you want it to be? We might think of this style as being more of a way to add dimension while still looking natural, but it can absolutely be a good choice for a more bold look as well. This look polarizes very dark hair at the top with frosty white tips at the bottom for a more exuberant take on Balayage highlights.
24) Easy, Creamy Caramel Hairstyle
For a hairstyle that is simple and effortlessly beautiful, these elegantly applied caramel highlights flow down into a lovely creamy blonde at the tips. All of this color blends together in a luxurious combination of different delicious tones and textures. A flawless way to blend dark to light!